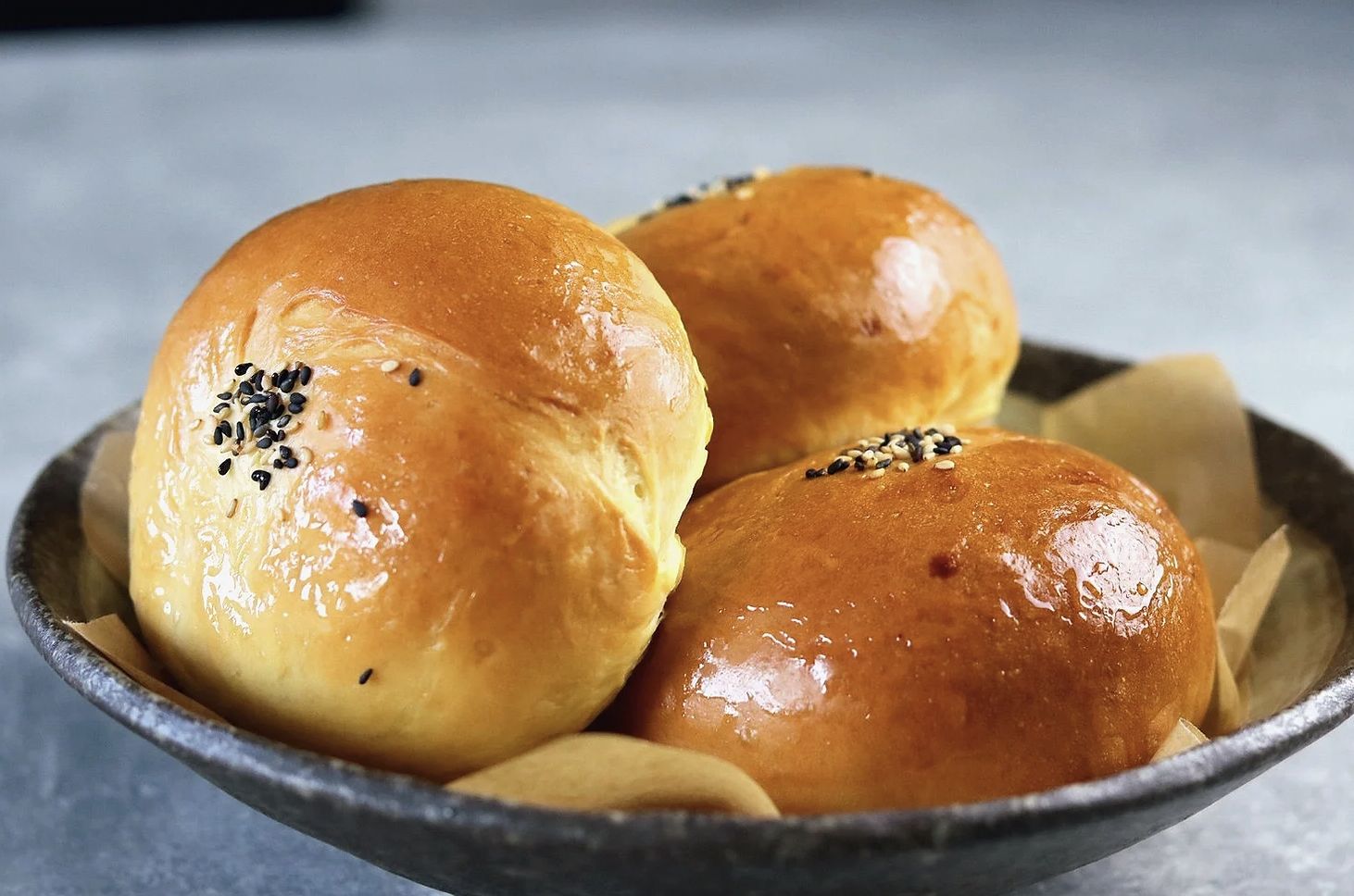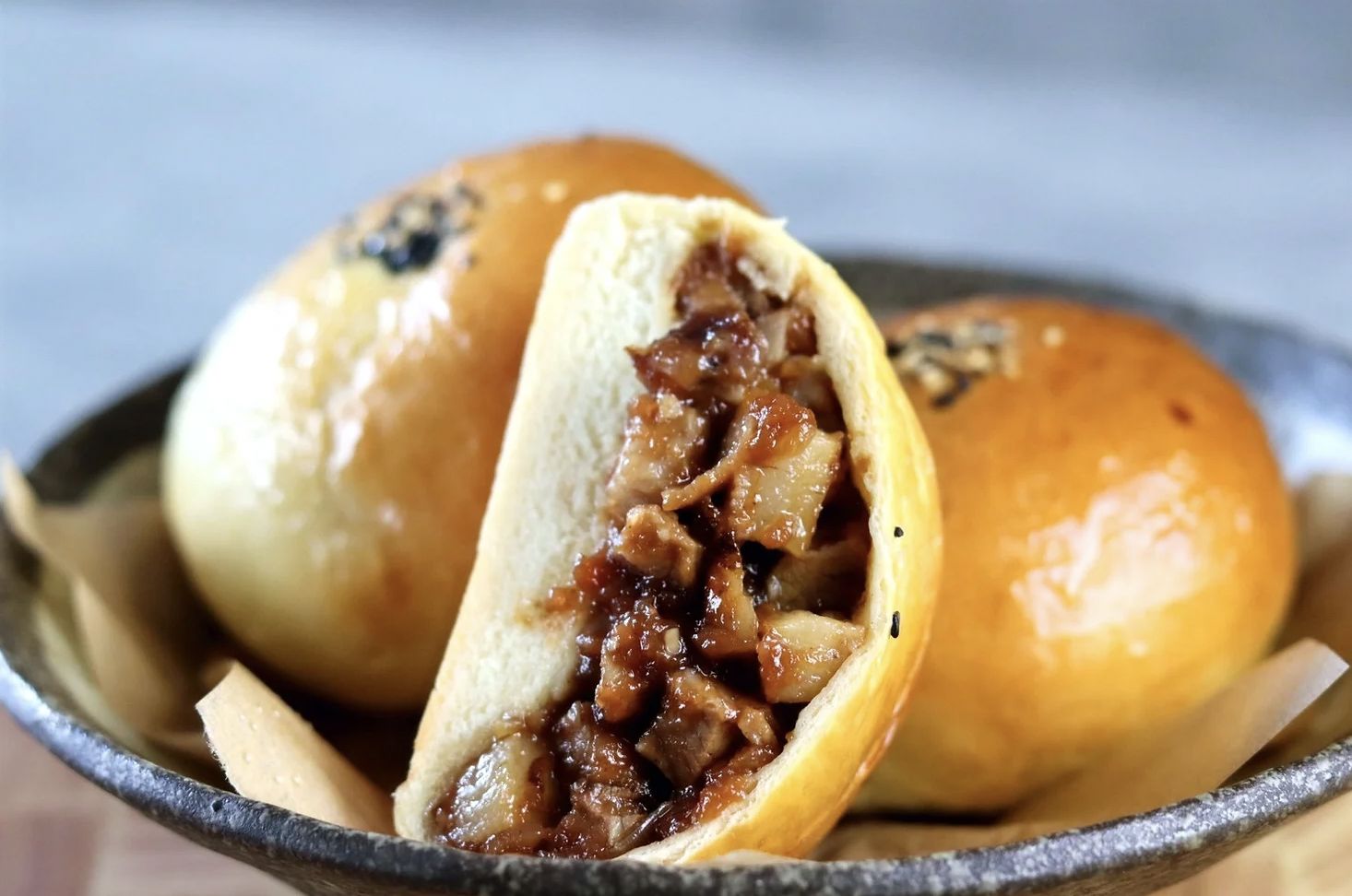 Intro:
These char siu buns are infamous throughout China towns across the world. What makes a really good char siu bun is a crispy fresh out of the oven bun with a soft and springy dough. The buns base is similar to milk bread and for the centre I decided to add a little texture to the char siu by adding cashews and sliced spring onions. Im genuinely excited to share this recipe and its one of those that you need to make asap! For this recipe I use a kitchen aid to kneed the dough, however, it is possible to be made by hand. With all that said let's get straight into it!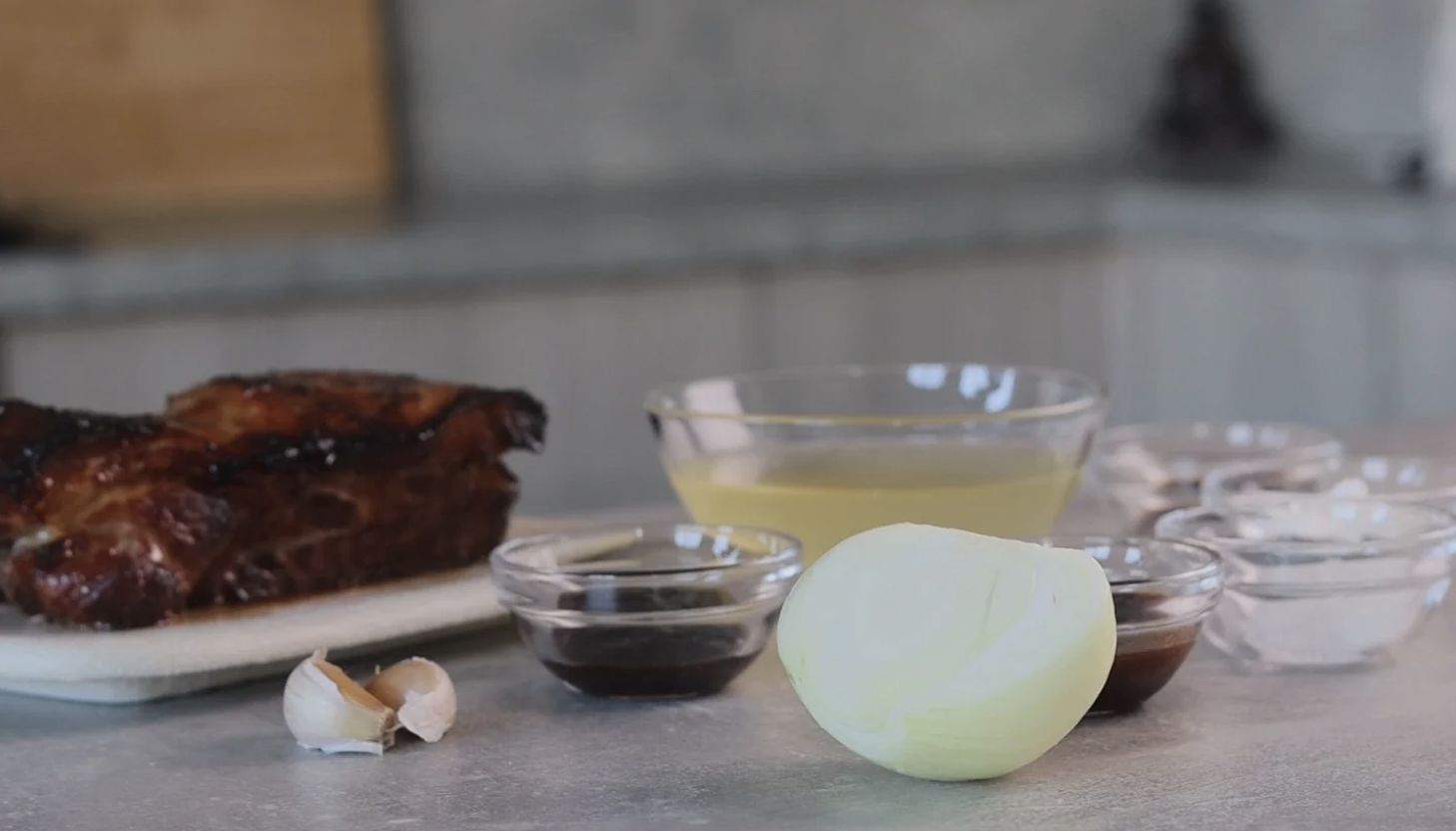 1. Let's start by making up the filling and preparing the Char Siu. For this recipe I used home made Char Siu and I will leave the link HERE. Alternatively you could also use store brought purchased from your local Chinese grocery store. Begin by slicing the char siu into a 1 cm sized dice then set to one side. Try and keep the dice relatively small as we do not want the filling to pierce through the baos during proving.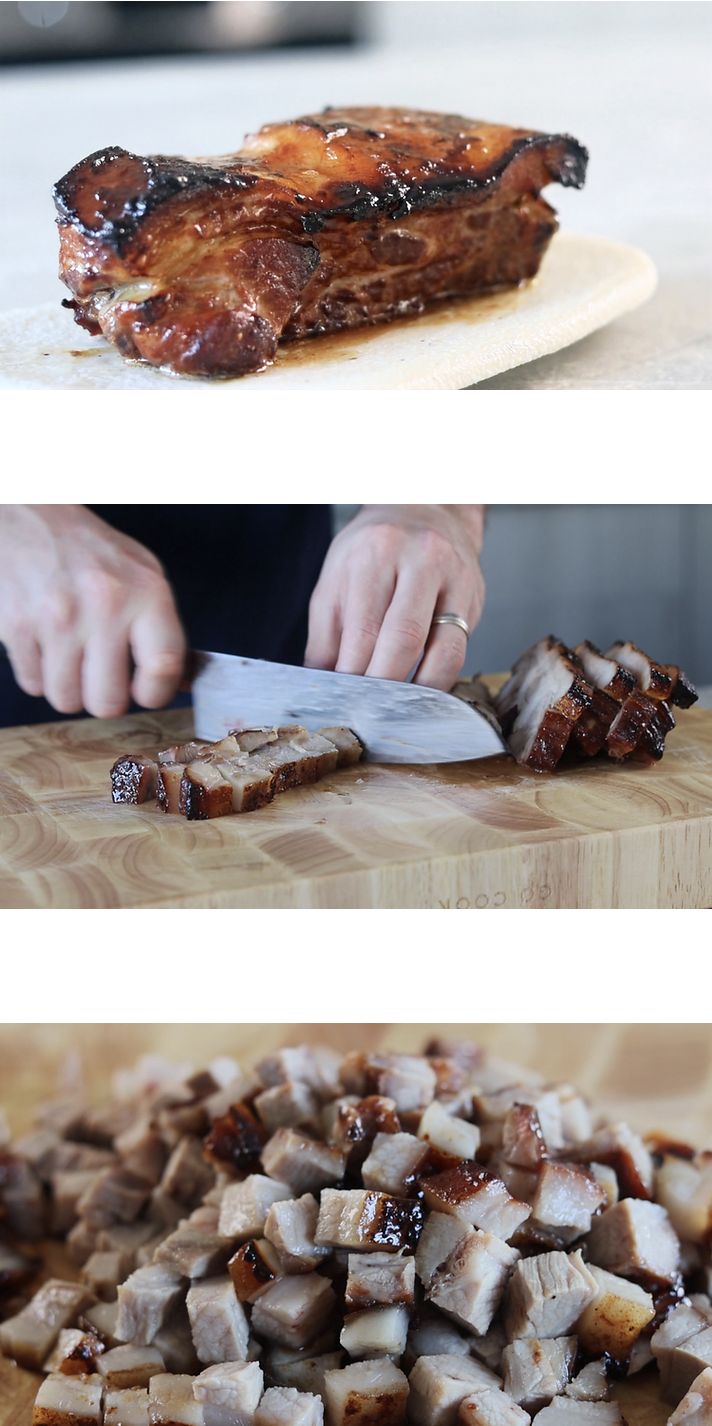 2. To make the filling we firstly need to finely slice 1/2 white onion and two garlic cloves. When chopped place a large sauce pan onto a medium heat, add a drizzle of oil then add the sliced onions and garlic. Cook the onions and garlic for 2 minutes until translucent then add 2 tbsps rice wine, 2 tbsps hoisin, 1 tbsps light soy, 1 tbsp oyster sauce, 1 tbsp white sugar and approximately 100mls of chicken stock. Bring the liquid up to a boil then add the diced char siu then reduce the liquid by half.

3. When nice and reduced its time to turn this into a thicker more filling like substance. In a small separate bowl dilute 2 tbsps of cornflour water to create a cornstflour slurry. Add the slurry to the filling and continue to reduce until a thick almost jelly like consistency is made. When ready season with a touch of white pepper then empty the filling into a bowl and allow to cool down completely.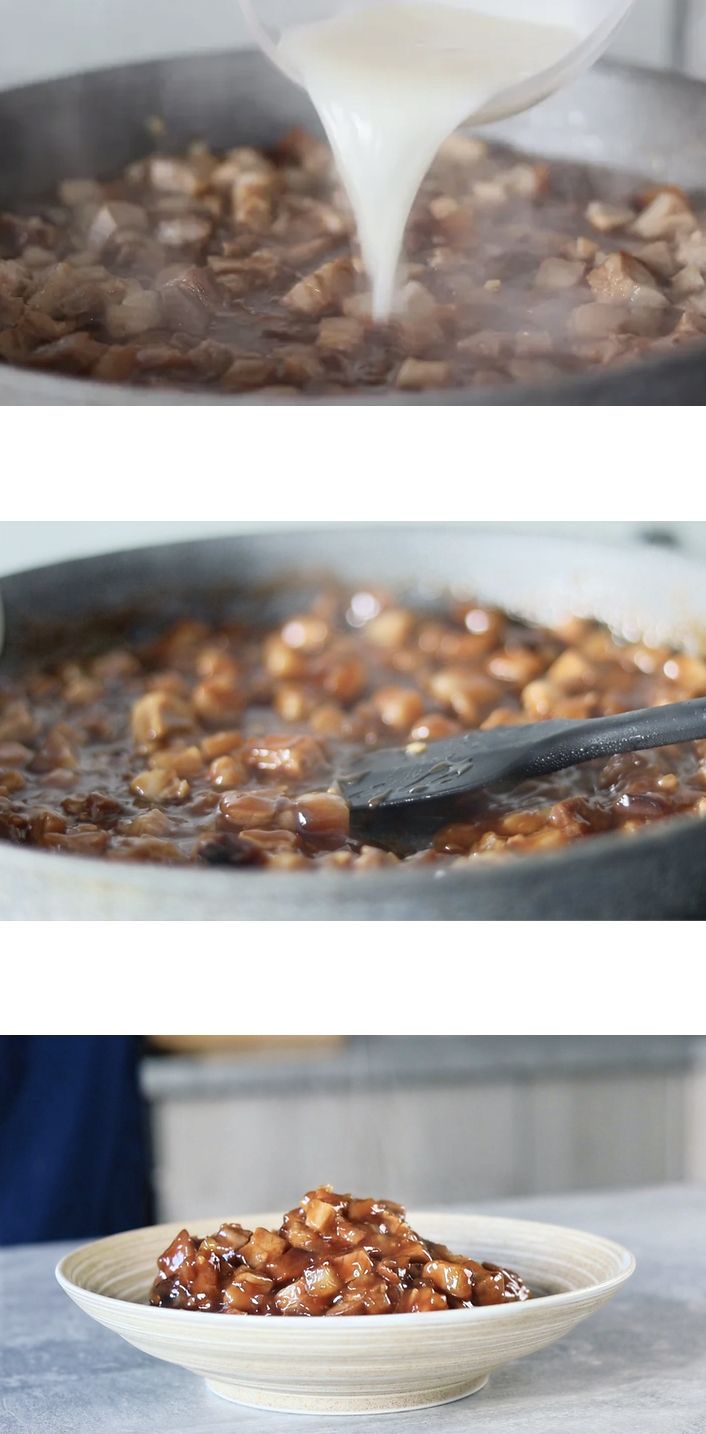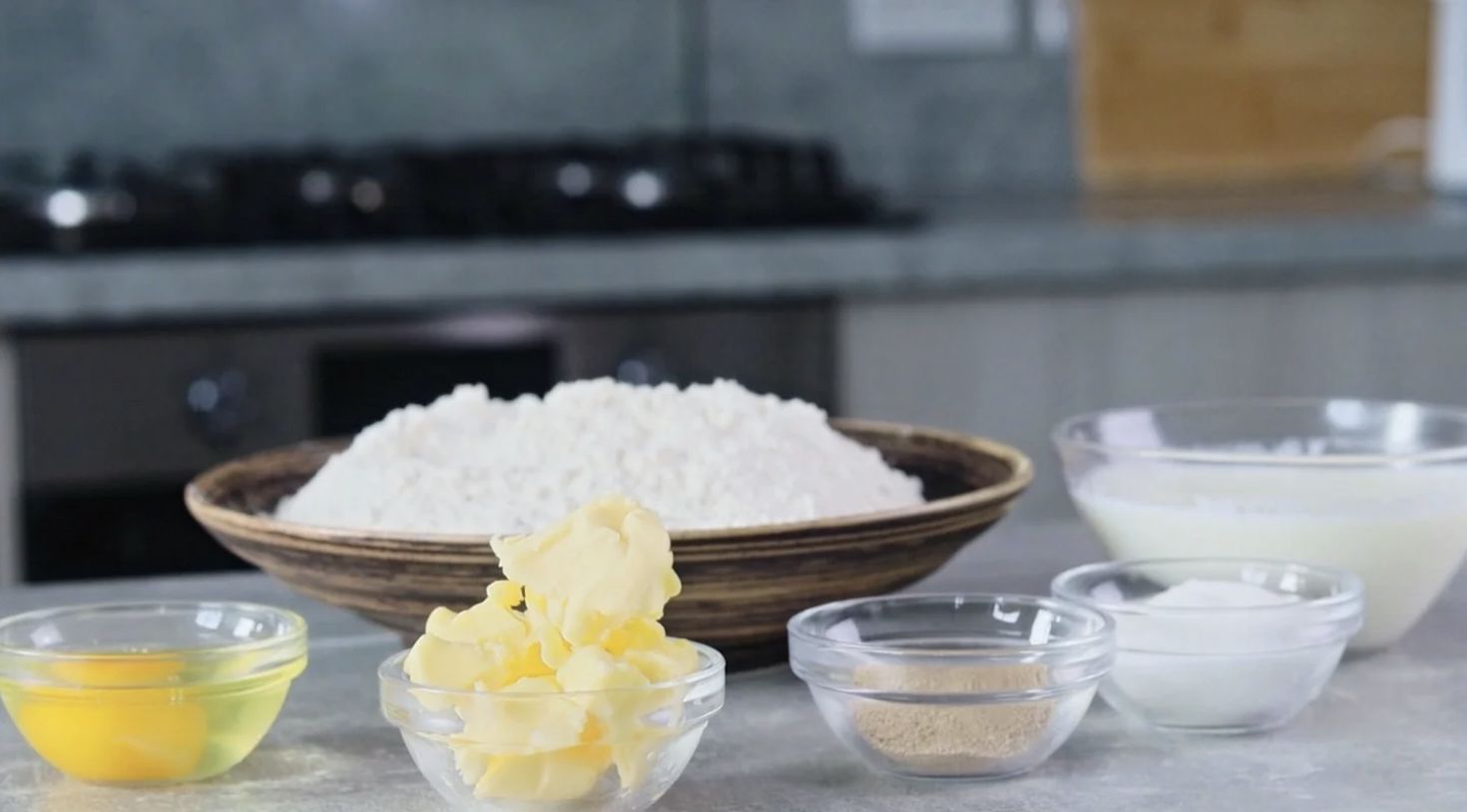 4. Now that the filling is ready and cooling let's move onto making the baos. For the baos I use a kitchen aid to assist as the dough can be quite wet during the kneading process. Start by by heating 245ml of milk either in a microwave or in a pan until around 35-40°c. Next, add 7g of active dried yeast then mix and set to one side to activate the yeast. Now in a mixing bowl add 400g of bread flour, 45g of sugar, 60g softened salted butter, 3g of salt, 1 medium egg and the yeast and milk when ready.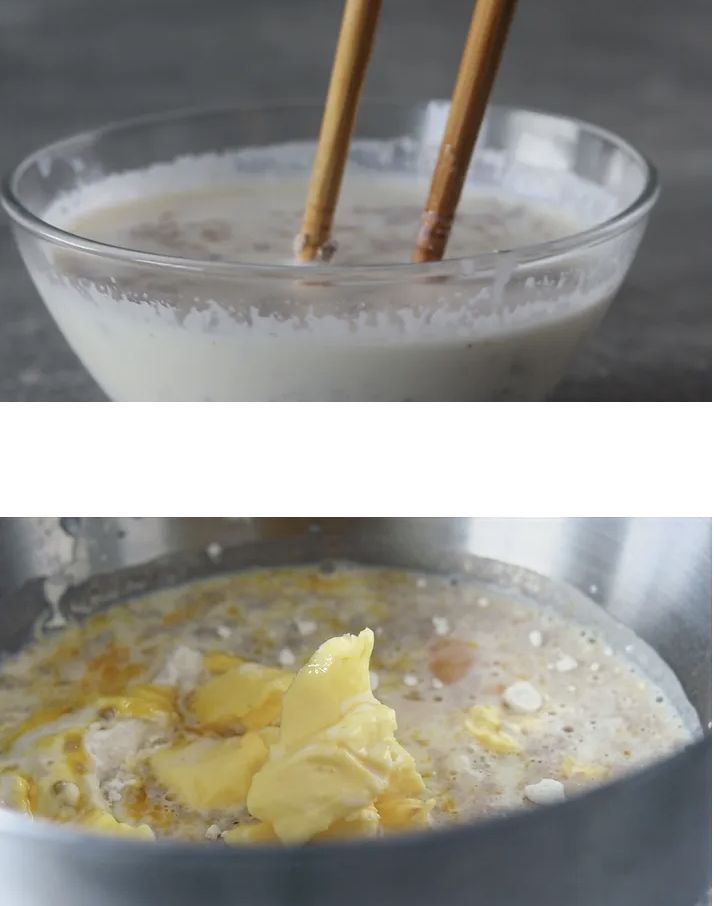 5. Next place the bowl into the kitchen aid fitted with a dough hook. Knead the dough on high for approximately 5-10 minutes or until the dough becomes cohesive and elastic. (If you are kneading by hand then you may want to dust your hands generously with flour before kneading as the dough is quite sticky at this point)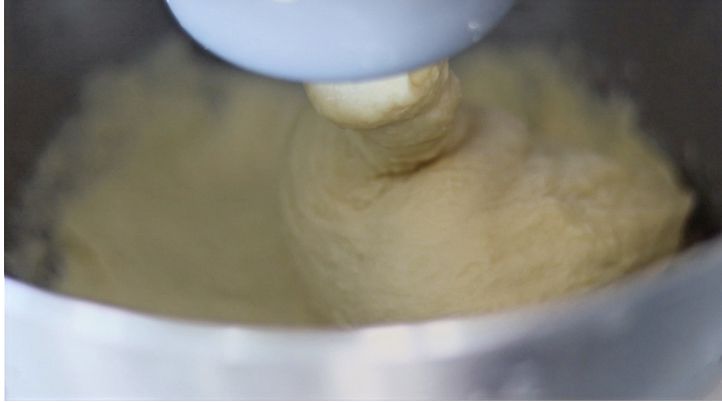 6. When the dough is ready empty out onto a worktop generously dusted with flour then begin to knead by hand for a further 2-3 minutes. Gather the dough to form a tight ball then place into a fresh bowl lightly oiled with some neutral oil. Cover then allow the dough to prove in a humid are for 60 minutes or until doubled in size.

7. After a good 60 minutes of proving the dough should have doubled in size and its time to make the baos. Push into the dough fist to release any air and unwanted gasses inside of the dough then empty the dough out onto a work top dusted with flour. Briefly knead the dough one last time for 1-2 minutes then gather the dough again to form a ball.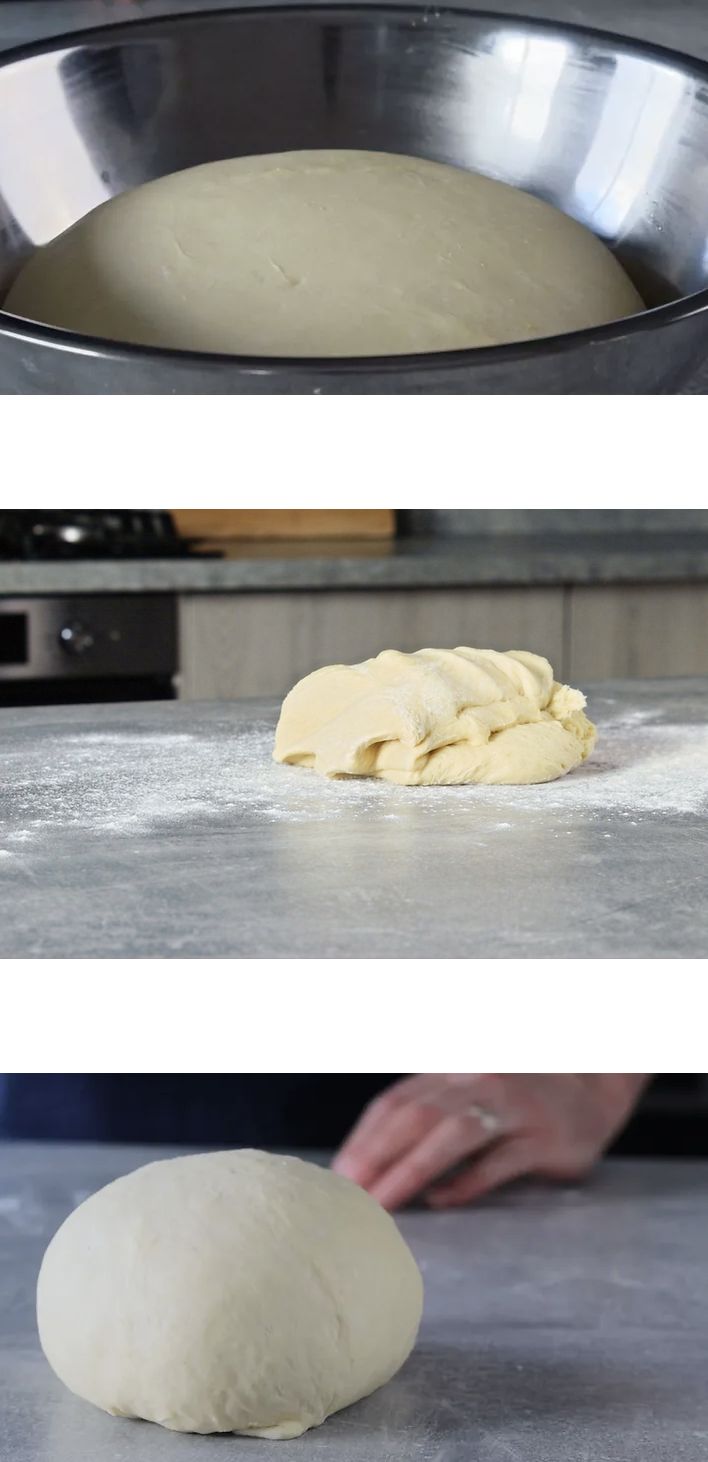 8. Now to divide, this ones up to you on how big you decide to make the baos, however, I was after the classic larger ones, therefore, cut the dough into 6 equal sized pieces. Naturally if your after more baos then divide into 12 equal sized balls…The approximate weight for each piece of dough weighed in at 140g just for reference. When divided, roll each piece of dough into small balls again then set to one side and cover with clingfilm.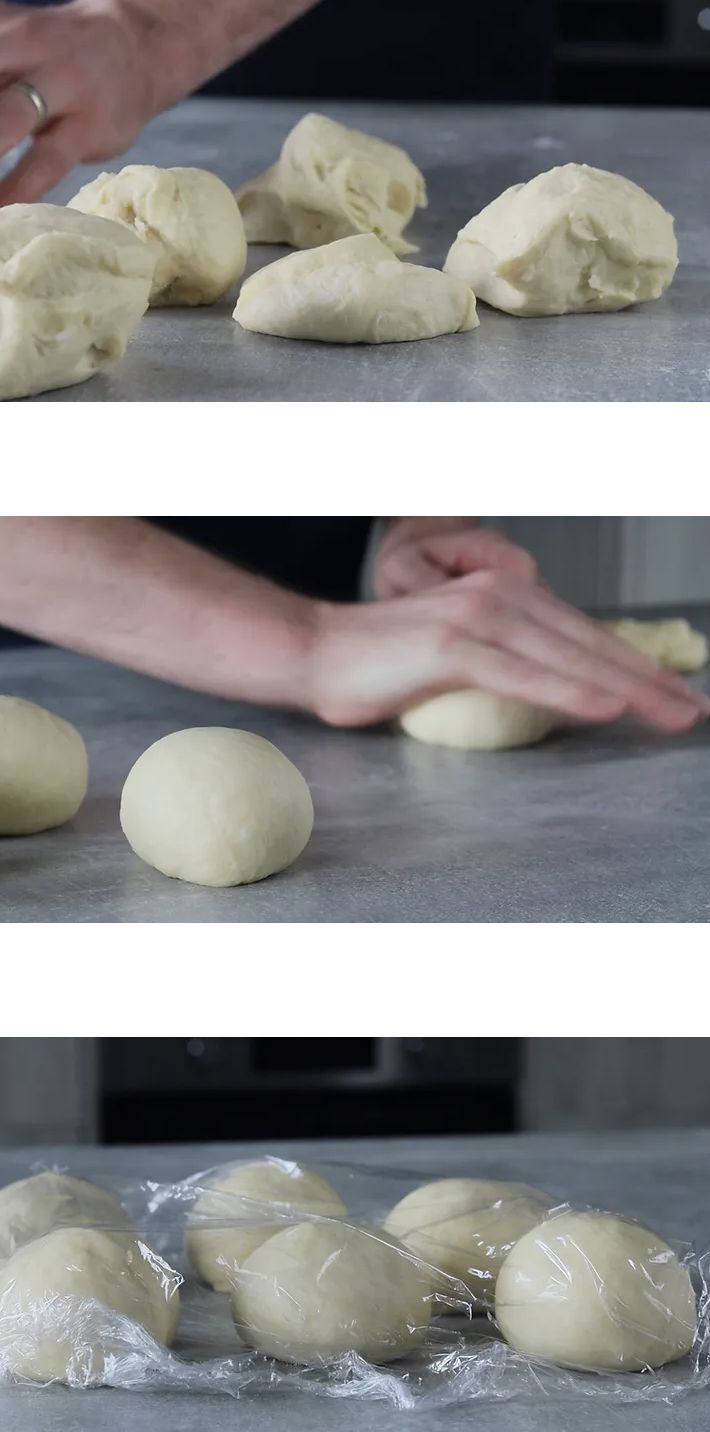 9. Now to build, take out the chilled filling made earlier and 1 piece of dough. Using your palm flatten the small ball of dough to form a flat disk then using a rolling pin, roll out the dough to make a round flat piece approximately the size of you palm. Next place a generous amount of the filling into the centre of the dough and bring the outside together to encase the filling. Pinch the dough together to seal then gentlyshape back into a tight ball. Repeat this process for each piece of dough then store onto a baking tray. Cover with clingfilm and allow to reprove one final time for 20 minutes.

10. Now we are ready to bake, in a small bowl add a drop of milk and 1 egg yolk. Mix well then use a brush to lightly coat each bun. Optional add some toasted sesame seeds onto then place into a pre heated oven set at 170°c. Bake the baos for 16-18 minutes or until nice and golden brown.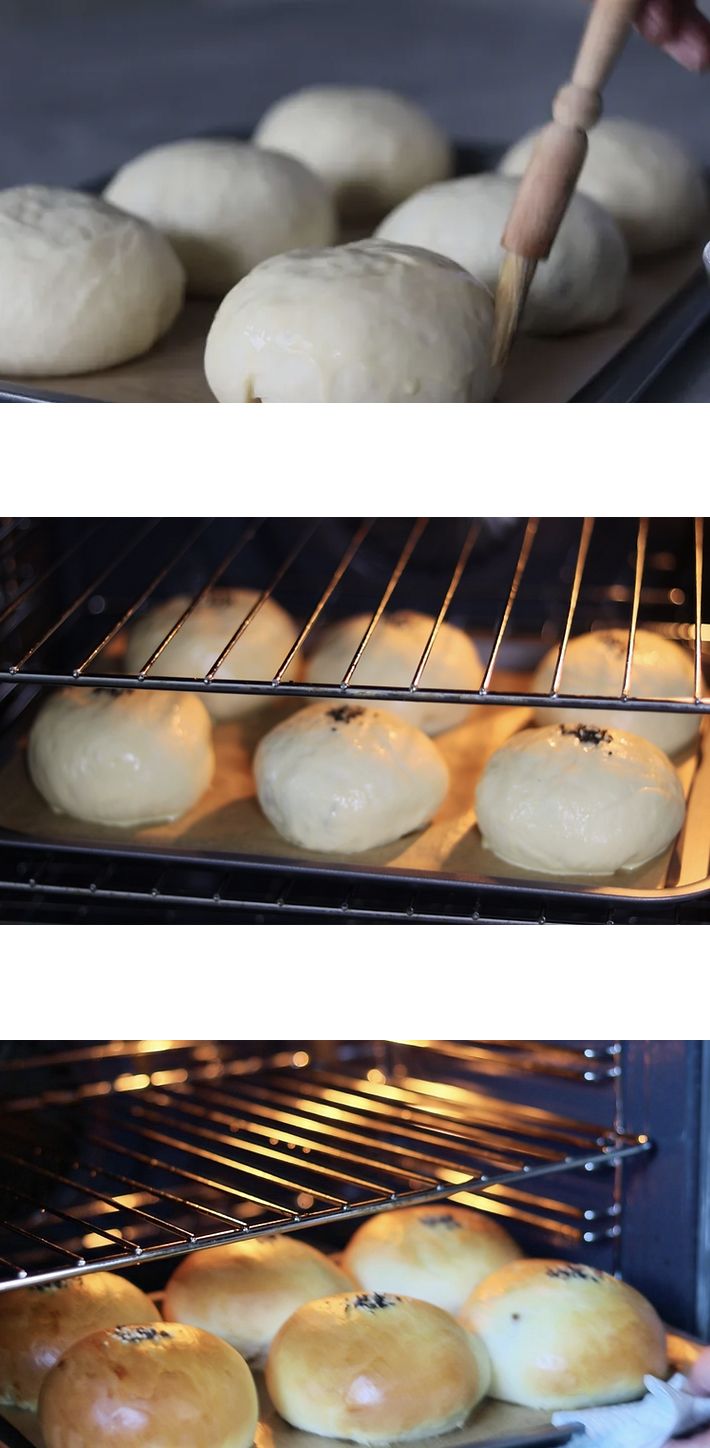 11. When baked remove from the oven then brush the baos with a touch of honey. This step is optional but at this point you might just swell go all out on them. When nice and glazey dig in immediately and nourish on the bus whilst they are still warm.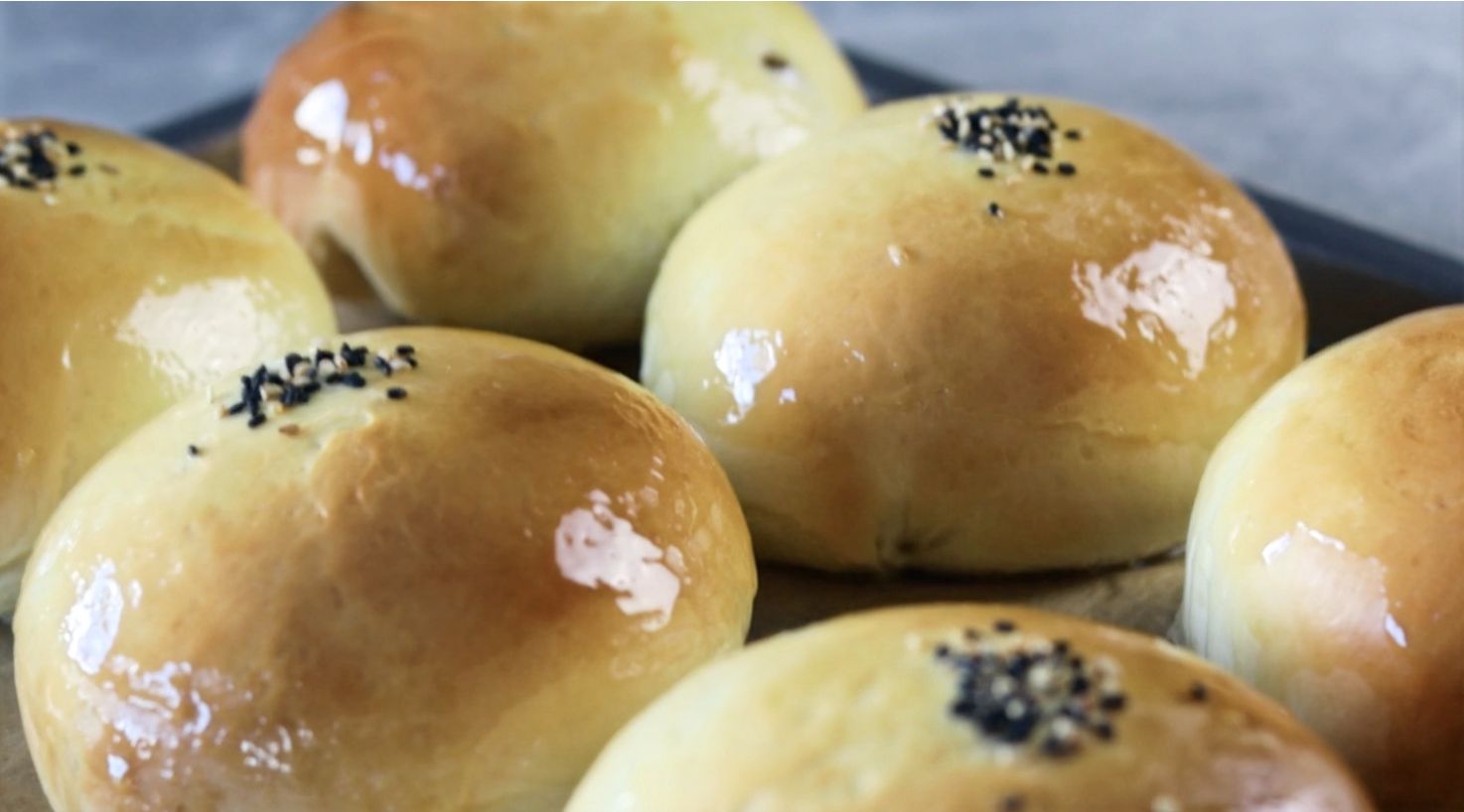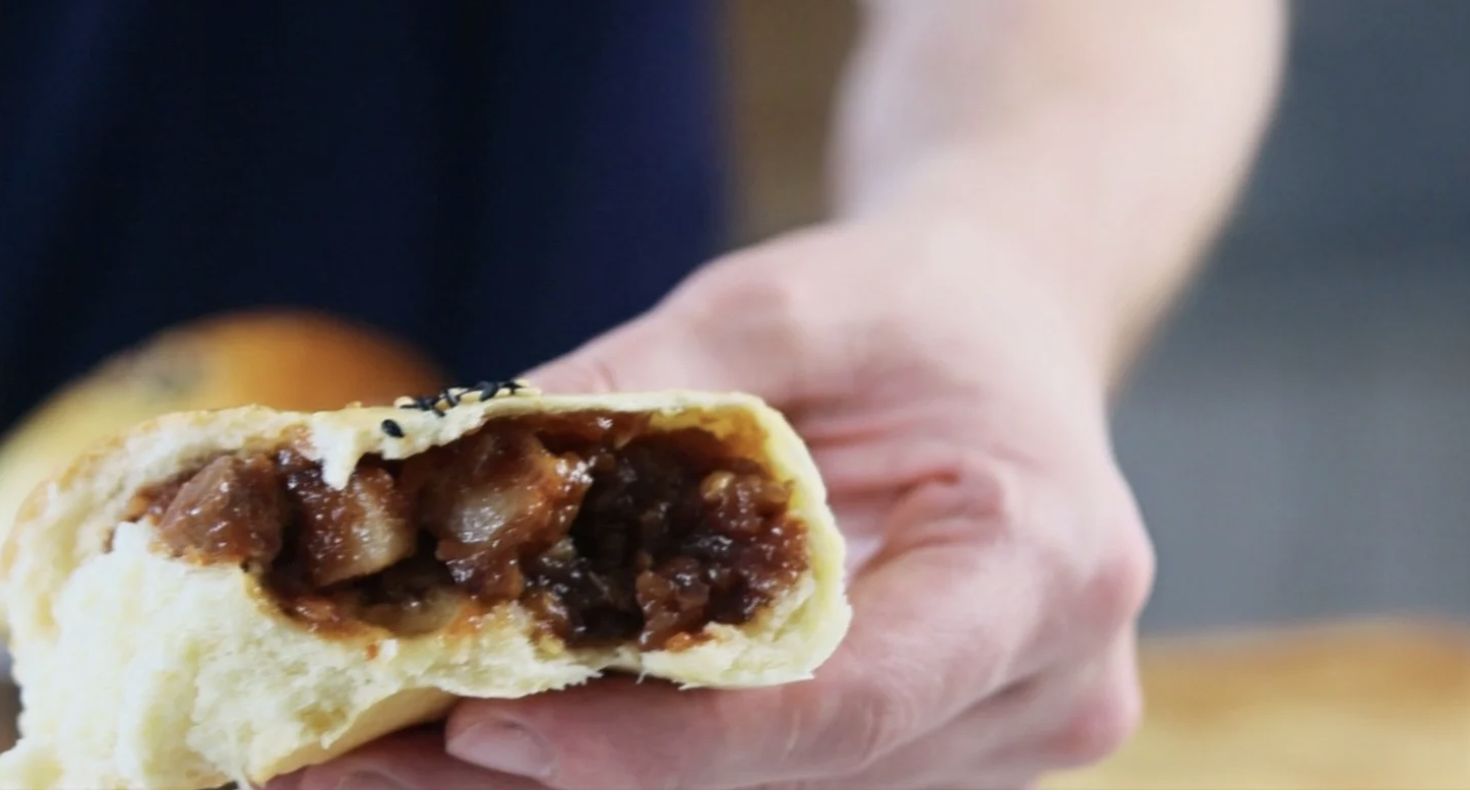 When it comes to the filling on these then alternatively you could also use lamb or chicken to switch things up. Other than that there's not a lot I would change when it comes to these baos and I'm sure when you make them your going to love them! Have fun and until next time peace!
Prep Time 60 mins + 1hr 20mins proving time / Bake Time 15 mins
2 medium eggs (1 for egg wash)
2 tbsp sake or cooking wine
1 tbsp cornflour + touch of water to dilute