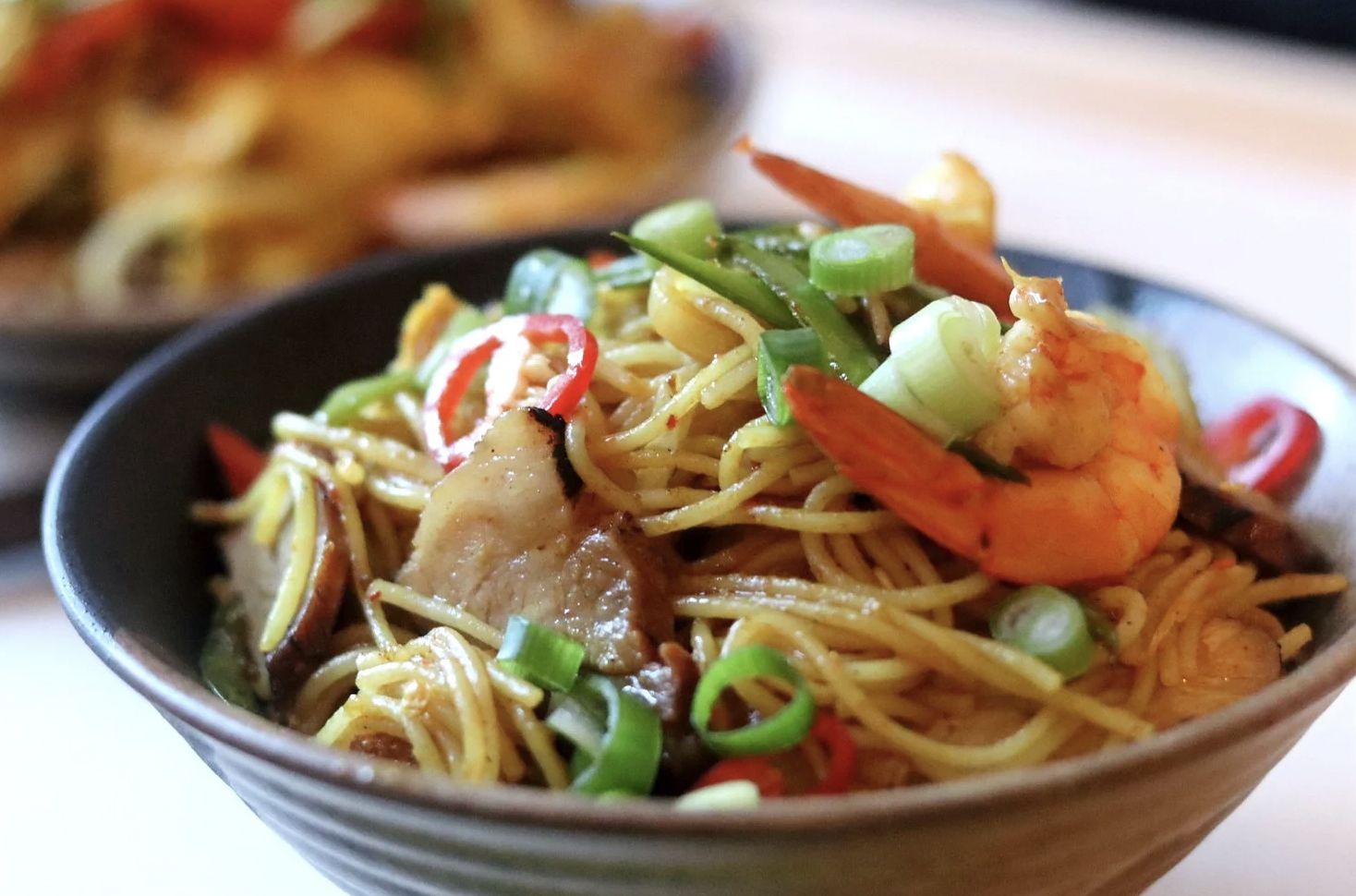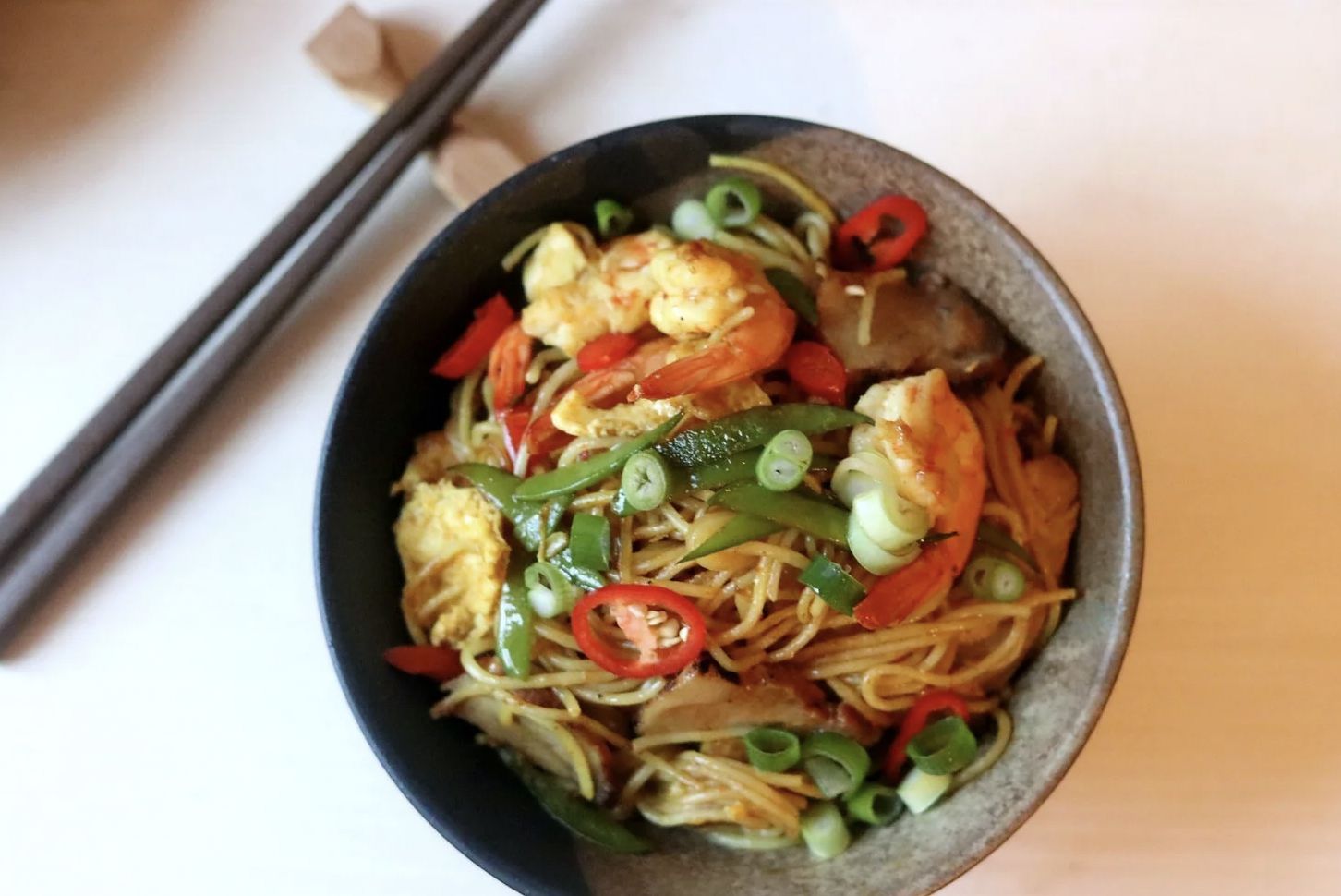 Firstly right off the bat, I have to say this type of fried noodle dish is more of a westernised style of stir fry. I'm almost sure this dish is not even from Singapore, however, the label western style Asian food doesn't mean a bad dish. This dish is super simple to make and can be flipped however you like. I included a recipe on how to make a delicious char siu pork that I think is a must-have with these noodles. Let's get straight to it!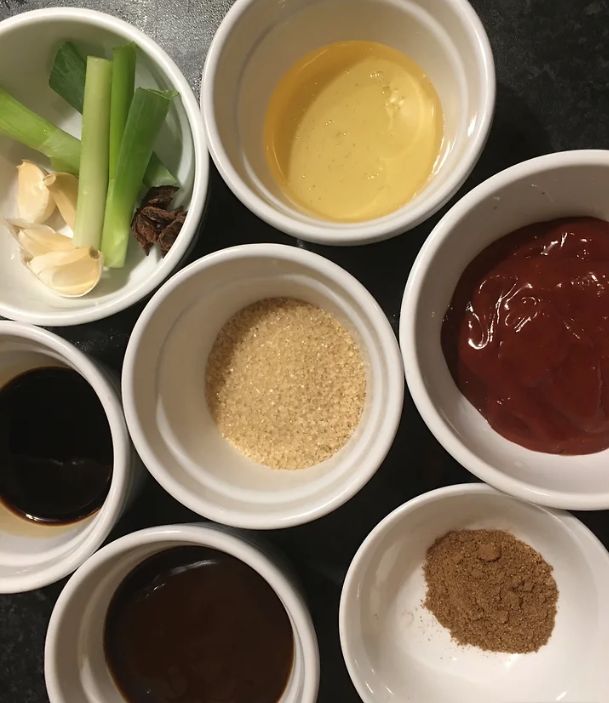 1. Let's begin with the char siu as this is the only part of the dish that takes time. Ideally it would be best to marinade overnight however, leave to marinade for at least 4-6 hours before cooking. To make up the marinade use a large mixing bowl then add 5 tbsp of fermented bean curd, 4 tbsp hoisin, 3 tbsp honey, 3 tbsp light brown sugar, 3 tbsp light soy, 2 tbsp 5 spice and finally 2 tbsp of oyster sauce. Mix well so that all of the sugar can dissolve then add 3 crushed garlic cloves, 2 star anise and 2 spring onions cut in half then place the marinade to one side.
2. For the pork I used pork shoulder although you can also use belly pork if you wish. Break down the pork into thin long sections removing the skin first as this won't be able to render down during the short cooking process. When ready add to the marinade ensuring all the pork is well coated then leave for at least 4-6 hours or overnight if possible.
3. When the char siu is ready place onto a baking tray lined with parchment paper then place into a hot oven set at 180°c and roast for 20-30 minutes depending on the size of pork. The best way to check that the char siu is cooked is by using a thermometer, you want the core temp to be 60-62°c. When cooked, touch the char up by using a blowtorch or salamander to get that bbq essence. Place the cooked char siu to one side for now and allow to slightly cool.
Stir Fry Ingredients prep:
4. Now moving on to the stir fry ingredients, finely slice 1 white onion, julienne 1 red pepper, roughly chop 75g mongetout and wash a good handfull of beansprouts. Finely slice 2 spring onions for a garnish and roughly chop 1 red chilli. For the prawns devein and remove the head and outer shell if still attached. I like to butterfly the tiger prawns by slicing along the back of the prawn as personally I think it gives the prawn more of a texture.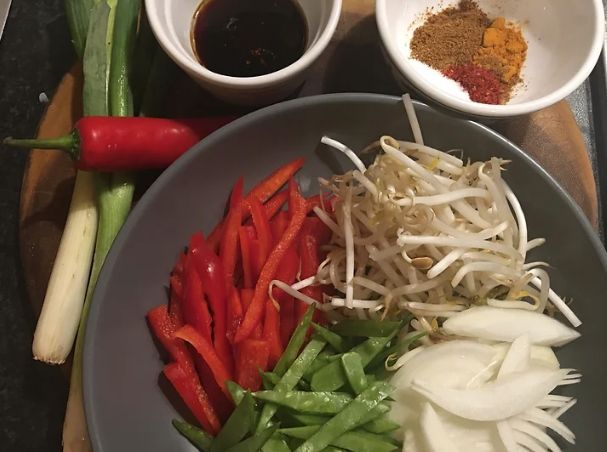 5. For the sauce we want an almost dry spice mix with very little liquid as this dish should not be overly saucy. In a small bowl add 4 tbsp light soy, 2 tbsp sesame oil and 1 tsp dark soy. In a separate bowl add 2 tbsp mild curry powder, 1 1/2 tsp turmeric, 1 tbsp sugar and 1-2 tbsp of chilli powder depending on how spicy you want the dish to be. One of the last things to prep before cooking is an omelette. Whisk together 4 eggs in a bowl then place in a pan with a drizzle of oil onto a medium to high heat. Add the eggs so that the egg mixture covers the pan and fry until the egg sets and forms an omelette. When just cooked remove from the pan and cut into small bit sized pieces.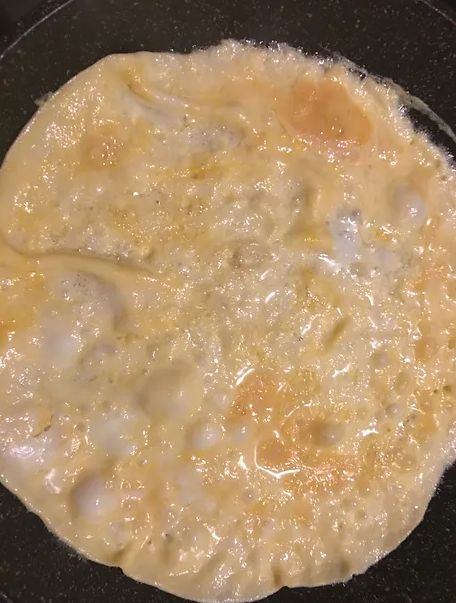 6. Last thing to do before cooking is hydrate the rice noodles. Place the noodles into a bowl and fill with boiled water. Allow the noodles to sit for 5 or so minutes or until the noodles lose its packet shape and become slightly softer. When ready drain off the water and place the soaked noodles onto a tray with kitchen paper. Leave the noodles to slightly dry for 10 minutes before cooking. The point in doing this is to ensure the rice noodles do not stick together whilst cooking or become mushy. To make things easier we can also now cut the char siu into thin slices then when ready place all the prepped ingredients to one side as it will make cooking of the dish so much easier to have everything to hand.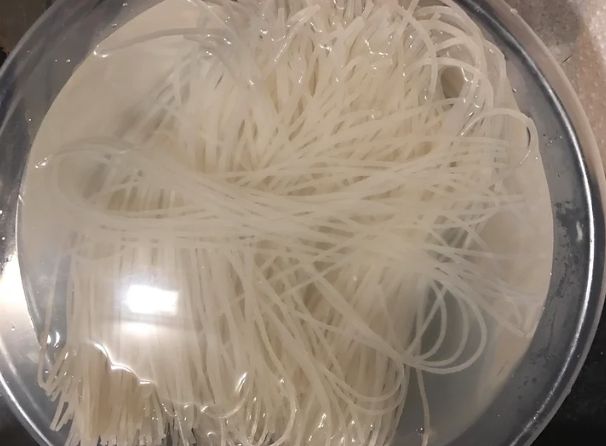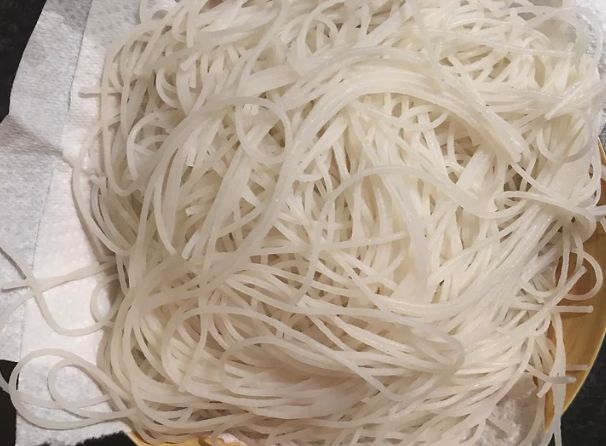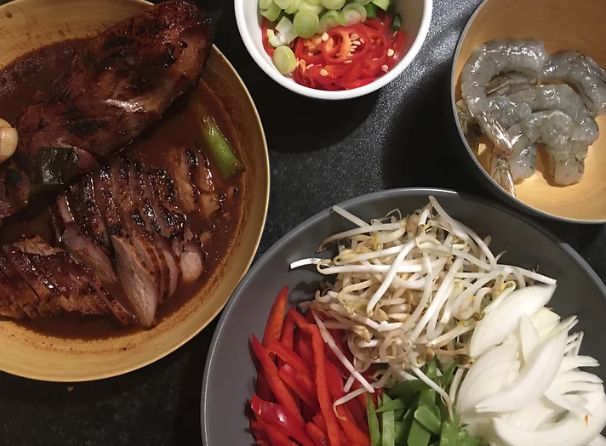 7. Now to cook, we want to cook things in stages as some of the ingredients cooking time will be different and this will prevent things from becoming dry and overcooked. In a wok preferably or a large frying pan place onto a medium to high heat and add a drizzle of oil. Then add the sliced onion, red pepper and mongtout and stirfy for 1-2 minutes. When fragrant and slightly soft add the raw tiger prawns and further stirfry for 1 minute.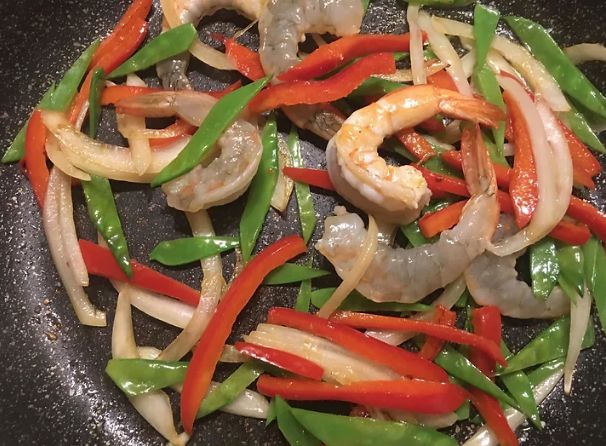 8. Next add the rice noodles, sliced cha siu, beansprouts, chopped chilli, sliced omlette, soy sauce mix, curry powder, chilli powder, sugar and turmeric. Stir fry for 2-3 minutes or until the noodles are cooked ensuring you mix well so that the noodles can incorporate all the spices, sauce and other ingredients. If the noodles seem to too dry then add a few drops of water.
9. Now to serve, just before adjust the seasoning by adding more light soy, salt, sugar or curry powder if needed…When the noodles are cooked divide into serving bowls and pour over some freshly sliced spring onions. I personally love to add chilli oil to this dish if you want to get after that spice! Hope you like this super simple recipe!
If making fresh char siu seems a bit long then you could alternatively use Chinese sausage, ham or beef. If you want to make this recipe vegan then simply remove the meat, fish and egg from the recipe and replace it with more additional vegetables eg broccoli, white cabbage, various mushrooms or water chestnut etc..If you can't get hold of rice noodles then you could also use egg noodles. Hope you like this simple recipe it really is one of those where you can add whatever you have left in your fridge! Have fun!
5 tbsp fermented red bean curd