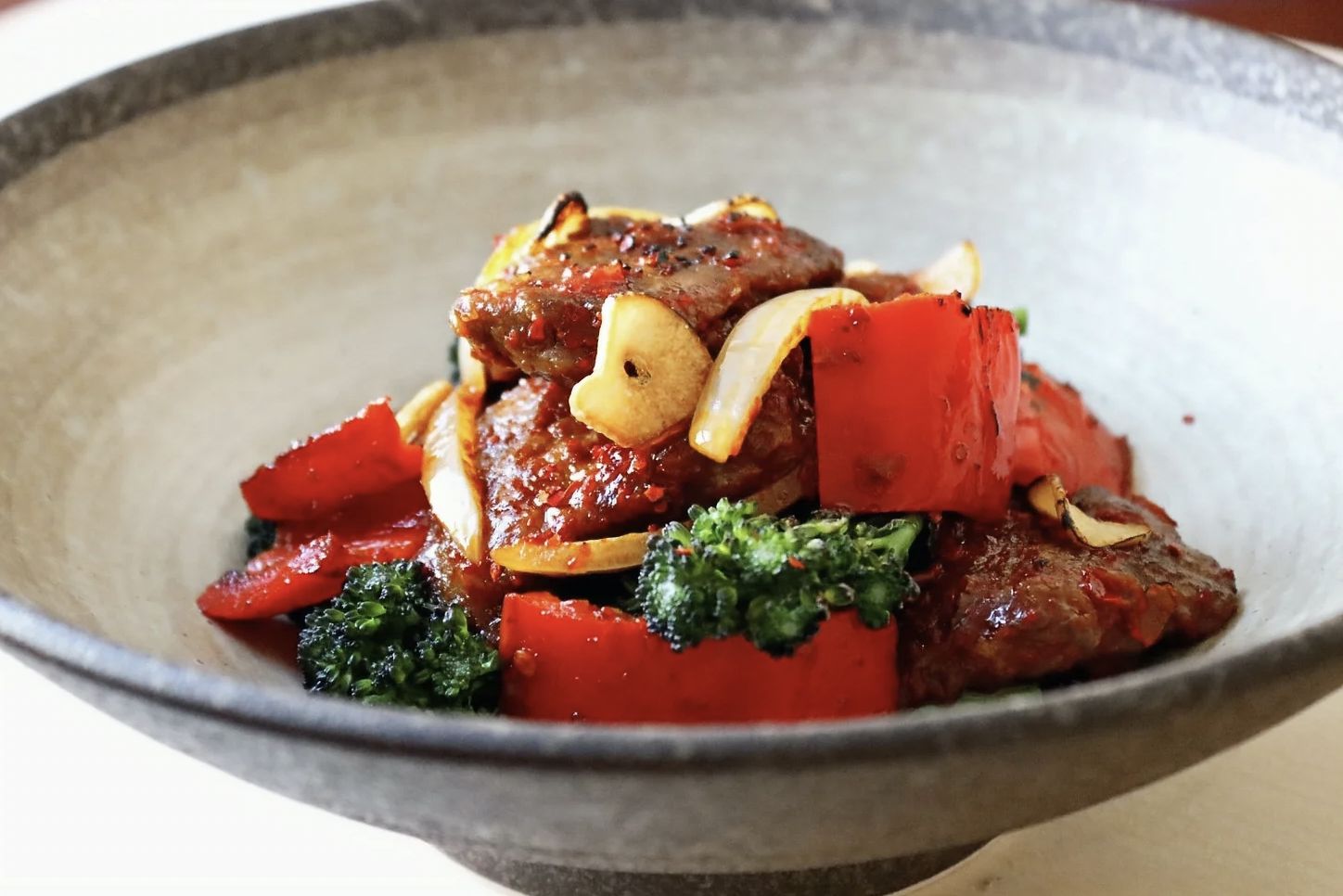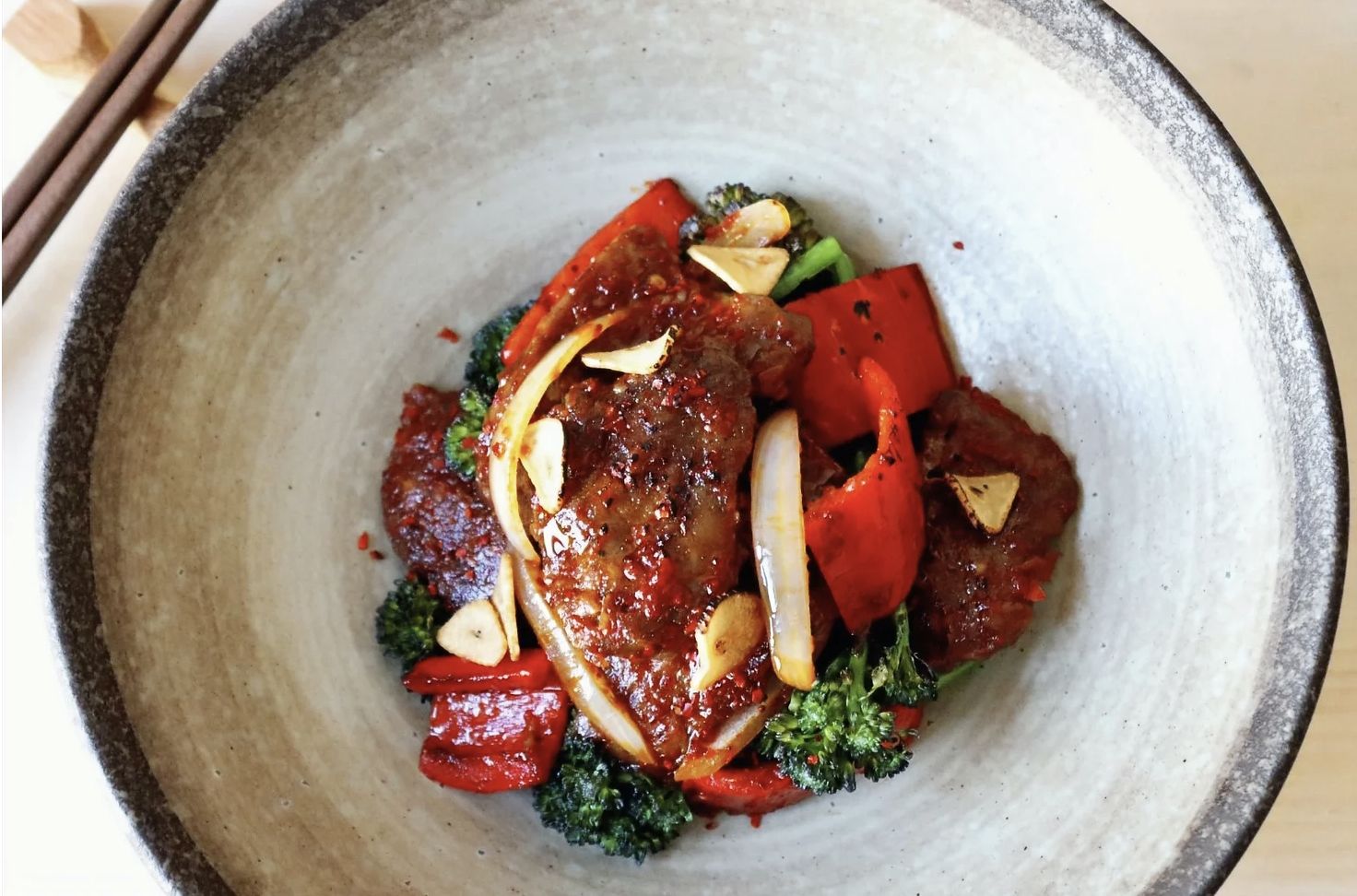 What makes such a simple Chinese dish to a whole other level is the process of "velveting" the meat prior to cooking. Velveting is a Chinese method that is used to seal in the moisture in the protein during cooking. You can use this technique on various meats and seafood and doing so makes the world of difference in the final product. I decided to use venison for this recipe as its not only packed full of protein but also the slightly gamey flavour compliments Sichuan style cuisine perfectly. Sichuan cuisine is know to have a unique "mala" sensation due to its use of fragrant spices that leave a slight aromatic tingle on your lips when eating. This is a super simple recipe but packed full of flavour and all that's needed is a little attention on the details. Feel free to use Beef instead of venison but the benefits of eating venison are tremendous. High in protein, lower in saturated fats, packed with zinc and has an array of essential b vitamins. With all that said let's cook!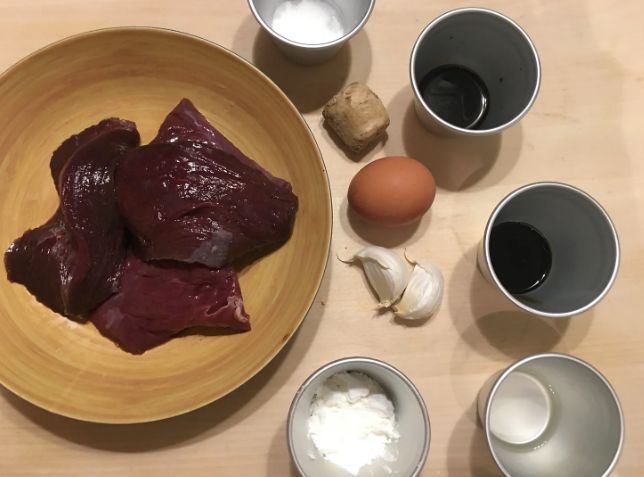 1. Let's start off this recipe by marinating and velveting the venison. Ideally it would be best to do this 2 hours prior to cooking, however, a brief 30 minutes marinade will do just fine. Begin with the venison, slice the steaks into strips against the grain. You don't want to slice too thinly as otherwise it may become overcooked. When sliced place into a mixing bowl and place to one side.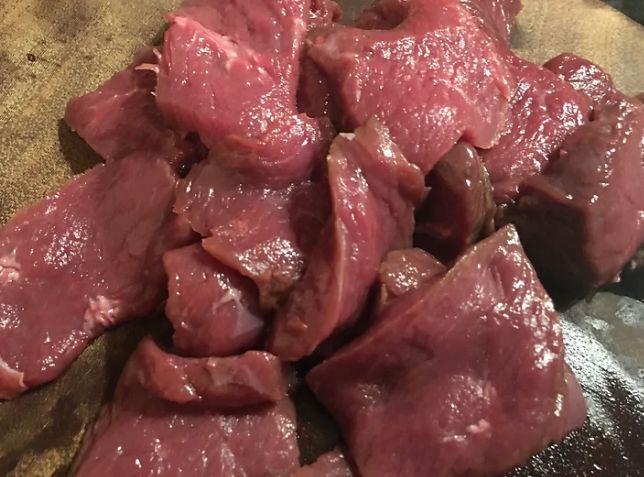 2. Now onto velveting, first we want to mince and add 2 garlic cloves and 10g of peeled ginger to the venison. Next add 1 tbsp light soy, 1 tbsp dark soy, 1 tbsp rice wine (I prefer sake), 2 tsp white sugar, 1 whole egg and 1 tbsp of cornflour. To velvet I prefer to use chopsticks opposed to a spoon, stir the mix in continuously going in 1 single circular direction until the venison becomes nice and velvety. If the marinade seems too wet opposed to velvety then add a touch of additional cornflour and continue to mix. When ready season with a pinch of cracked black pepper and allow to marinade for 30 mins – 2 hours.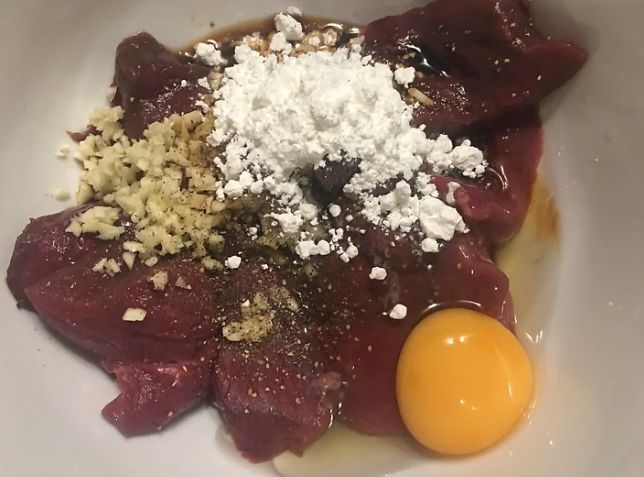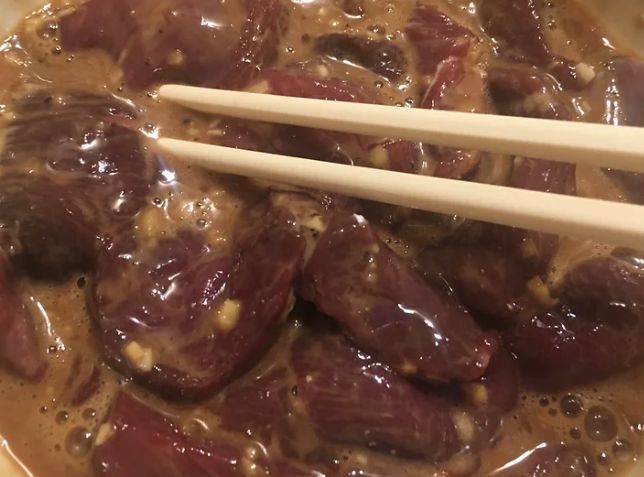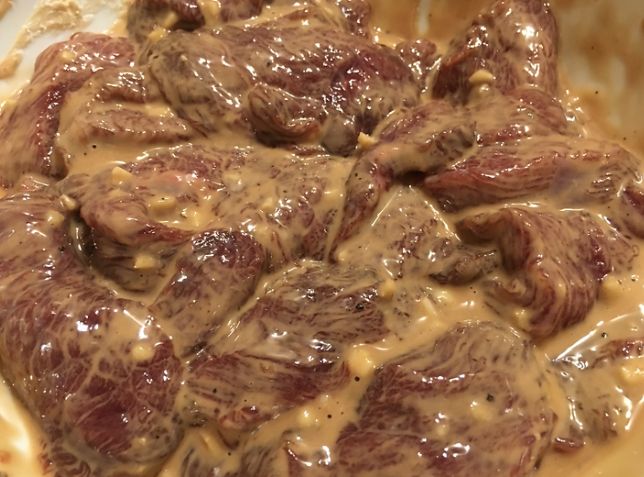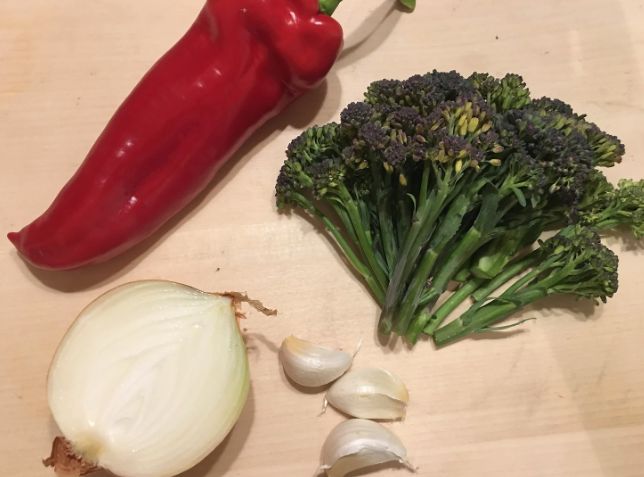 3. For the vegetables we simply want to prepare them into manageable bite sized pieces then add at various stages to balance out the venison. For the ramano pepper slice in half then deseed and cut into bite sized pieces. Cut 1/2 white onion into slices, thinly slice 3 garlic cloves (we will make crispy garlic here) and finally cut the tender stem into manageable pieces. Place all the vegetables to one side and we are now ready to cook.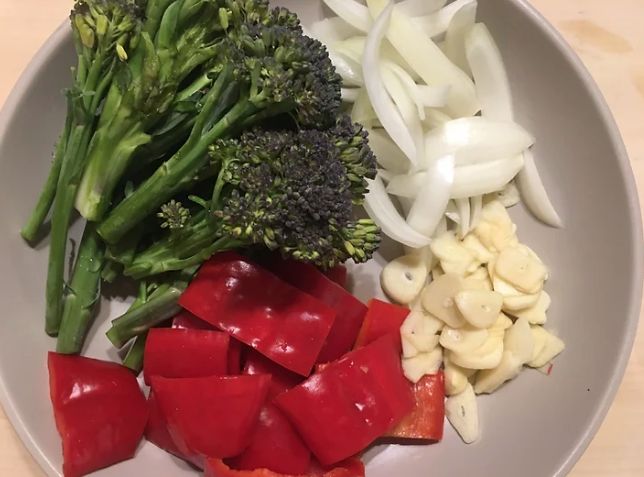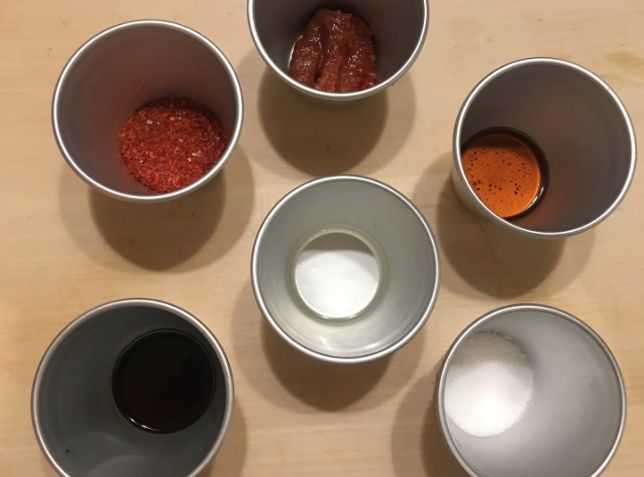 4. When the venison has finished marinating we can now begin to cook, I would recommend measuring out the sauce ingredients shown above before cooking just to make things much easier. To cook place a wok or large heavy frying pan onto a high heat with a drizzle of cooking oil. When smoking hot add the veal in batches and sear each side for 2 minutes either side. When nice and crispy golden brown place the sealed venison onto a plate to prevent it from overcooking.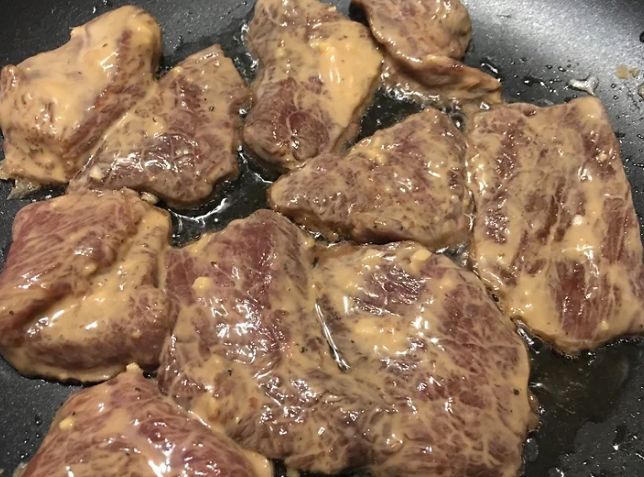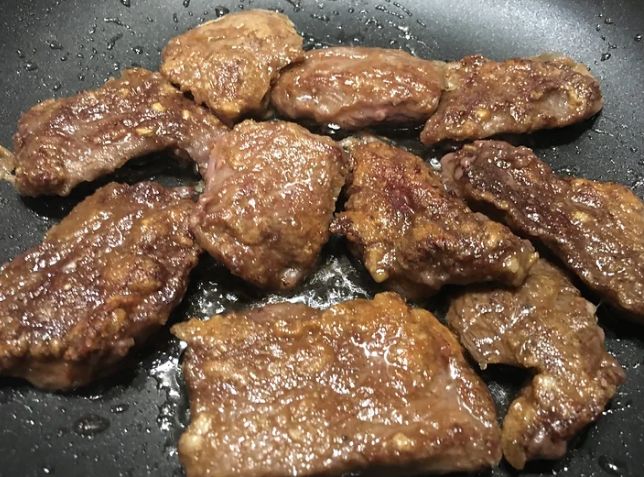 5. In the same pan that we sealed the venison in we now want to add another drizzle of oil if needed then add the ramano pepper and white onion. Stir fry for 3-4 minutes until seared and slightly softened. At the same time of stirfrying these vegetables place a separate saucepan full of water onto a high heat and bring to a boil. When boiling add the tender stem and briefly blanch in the hot water for 1-2 minutes. The next step is optional but you can either add the tender stem to the ramano and onions or I like a good char on tender stem, therefore, I seared in a griddle pan when blanched until charred separately.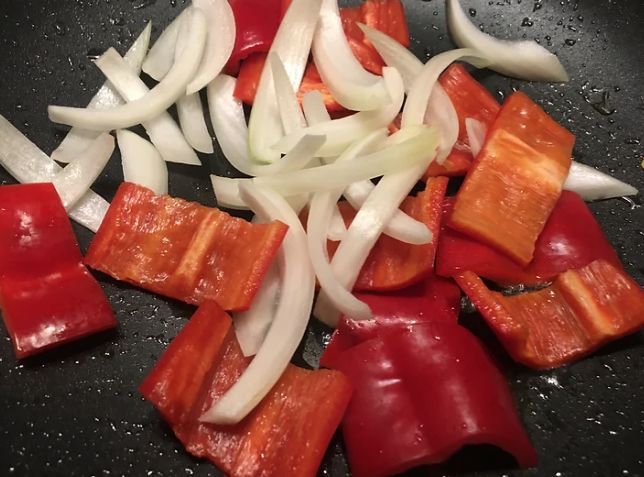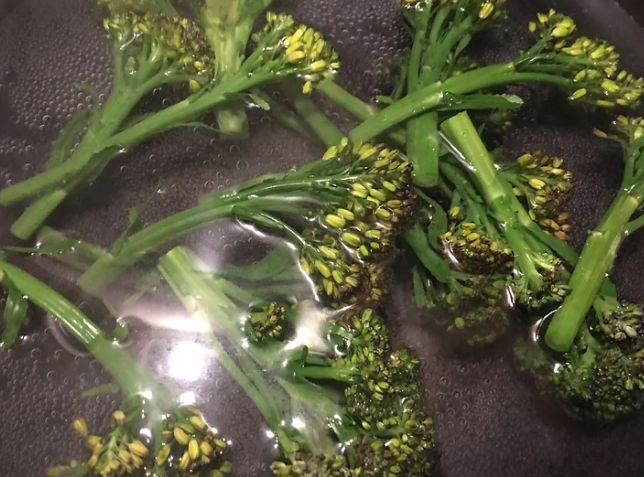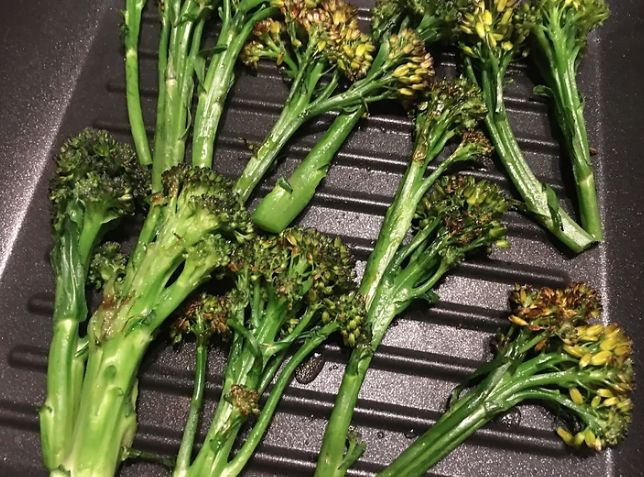 6. Now to bring everything together, when the vegetables are just about cooked add the sealed venison back in with the onions and ramano. Stir fry for 1-2 minutes to crisp up the venison again. To give this dish a classic Sichuan "mala" hit we now want to add 1 tbsp doubanjiang, 1-2 tbsp of korean chilli flakes, 1 tbsp black rice vinegar, 1-2 tbsp light soy to season, 1 tbsp dark soy for colour, 1 tbsp rice wine and 1 tsp of sugar. Cook out the sauce for a few minutes until nice and aromatic and it coats over all of the venison and vegetables. When nicely coated remove from the heat and we are just about ready to serve.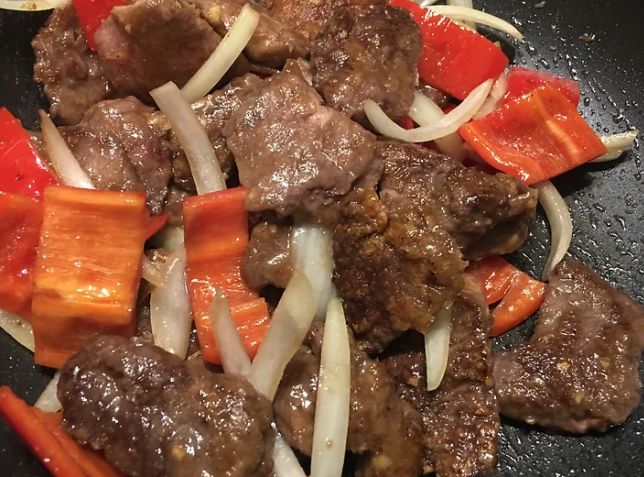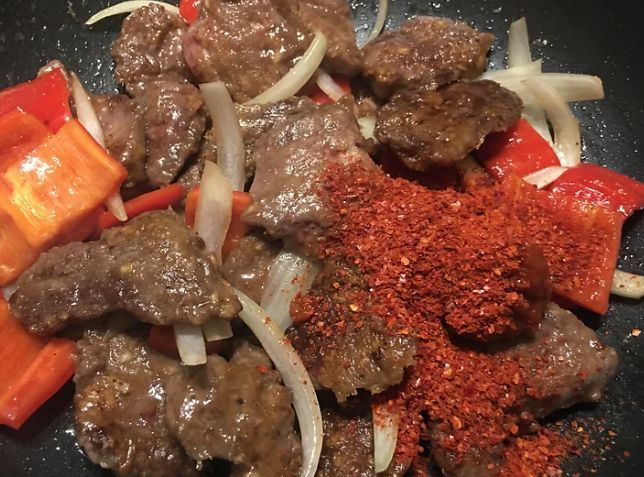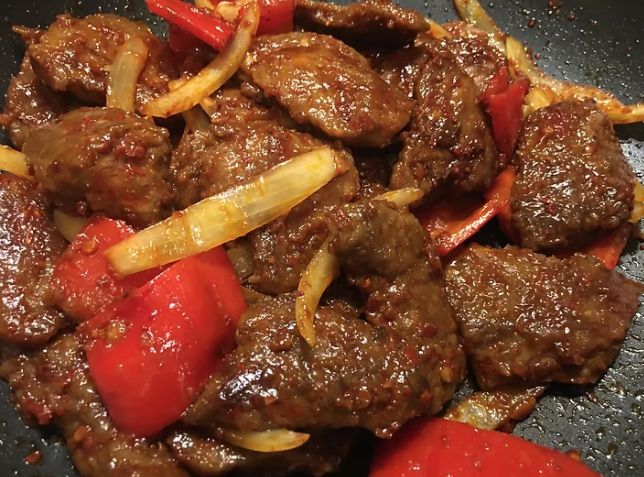 7. Just before serving I like to briefly shallow fry the garlic that we sliced earlier. I find this not only adds a bit of texture but its quite hard to resist fried garlic at any point! Add to a small pan with enough oil to cover the garlic and fry until crispy golden brown. Save the small amount of oil as we can drizzle this over the dish at the very end.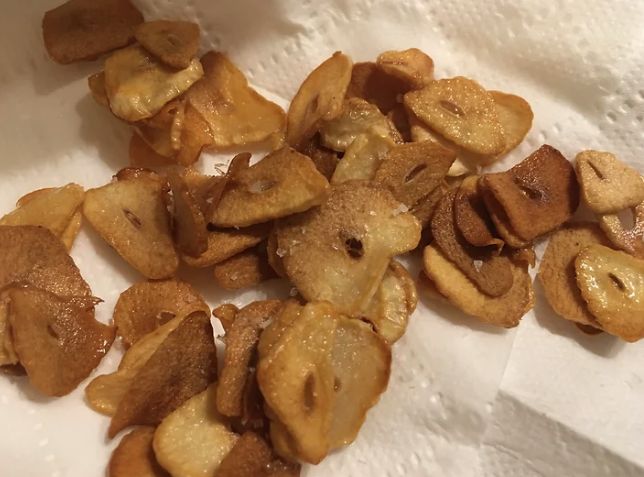 8. To serve add the venison, vegetables and charred broccoli into serving plates and scatter over some fried garlic. To take the dish that touch further add a small tsp of raw korean chilli flakes over the top and lightly drizzle over some of the hot oil saved from frying the garlic. Hope you like this super simple tasty veal recipe!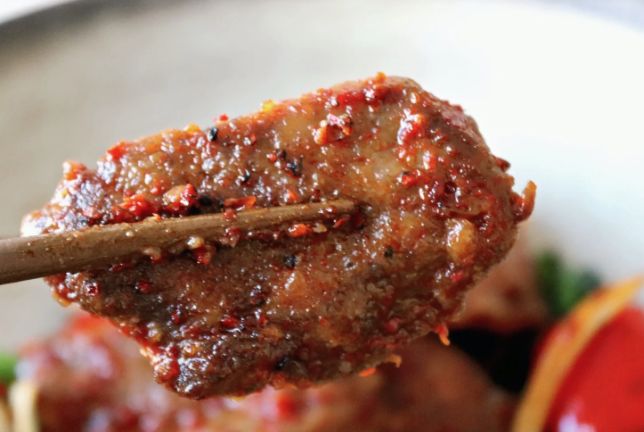 Instead of venison you can alternatively use various cuts of beef, pork, chicken or even fish. If spicy food is an issue I find the korean fine chilli flakes are more aromatic than spicy, therefore, try and get these if you can opposed to regular chilli flakes. The velveting method is really a game changer and to me indicates wheather a chinese restaurant is good or bad. You can use this technique on just about anything that has a quick cook stir fry vibe…Have fun, enjoy and peace as always!
Prep Time 20-25 mins / Cook Time 15 mins
400-500g venison steaks (4 steaks)
3 garlic cloves (fried garlic)
1 tbsp doubanjiang (chilli bean sauce)
1-2 tbsp korean chilli flakes
1 tbsp black rice vinegar