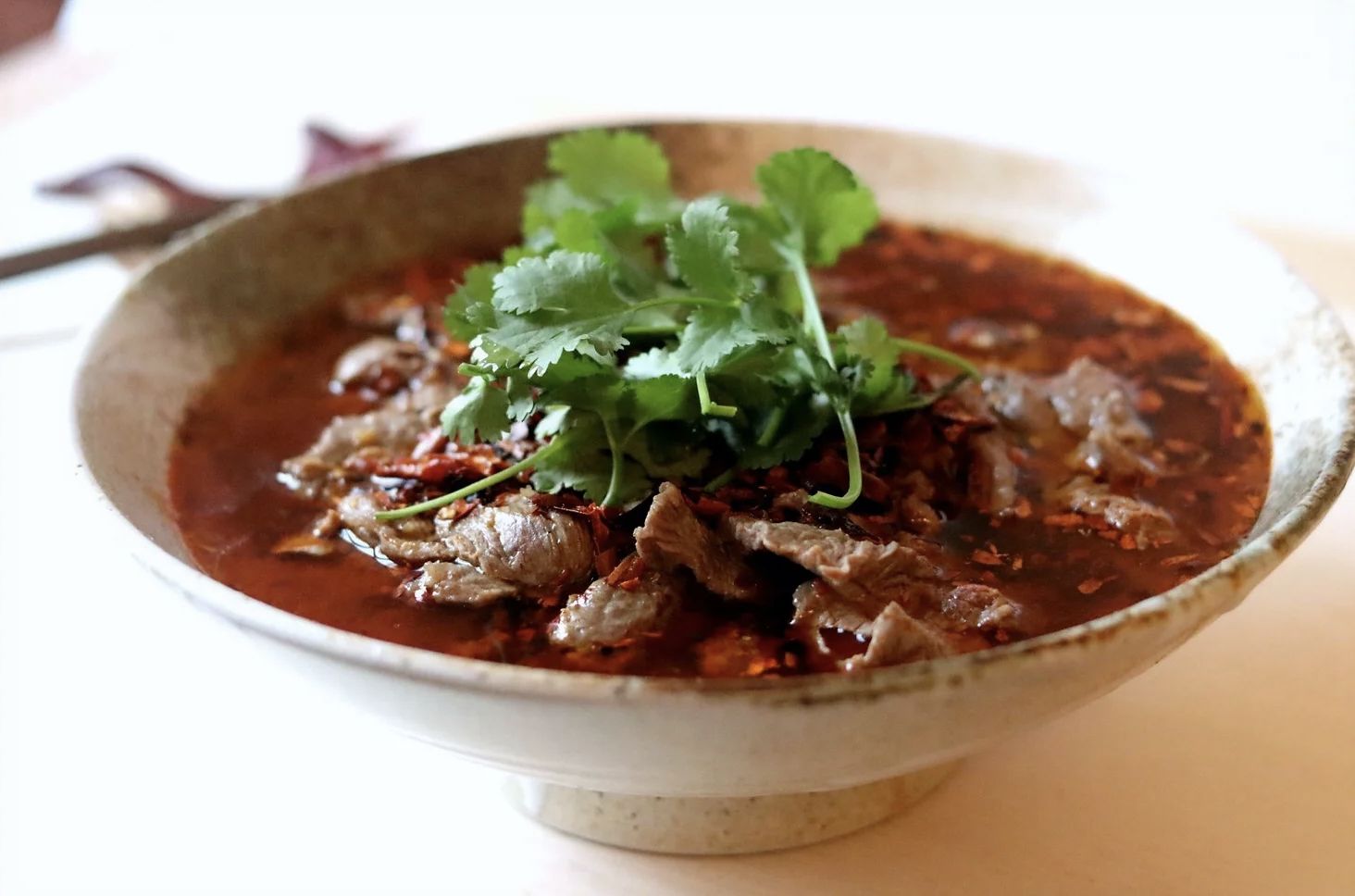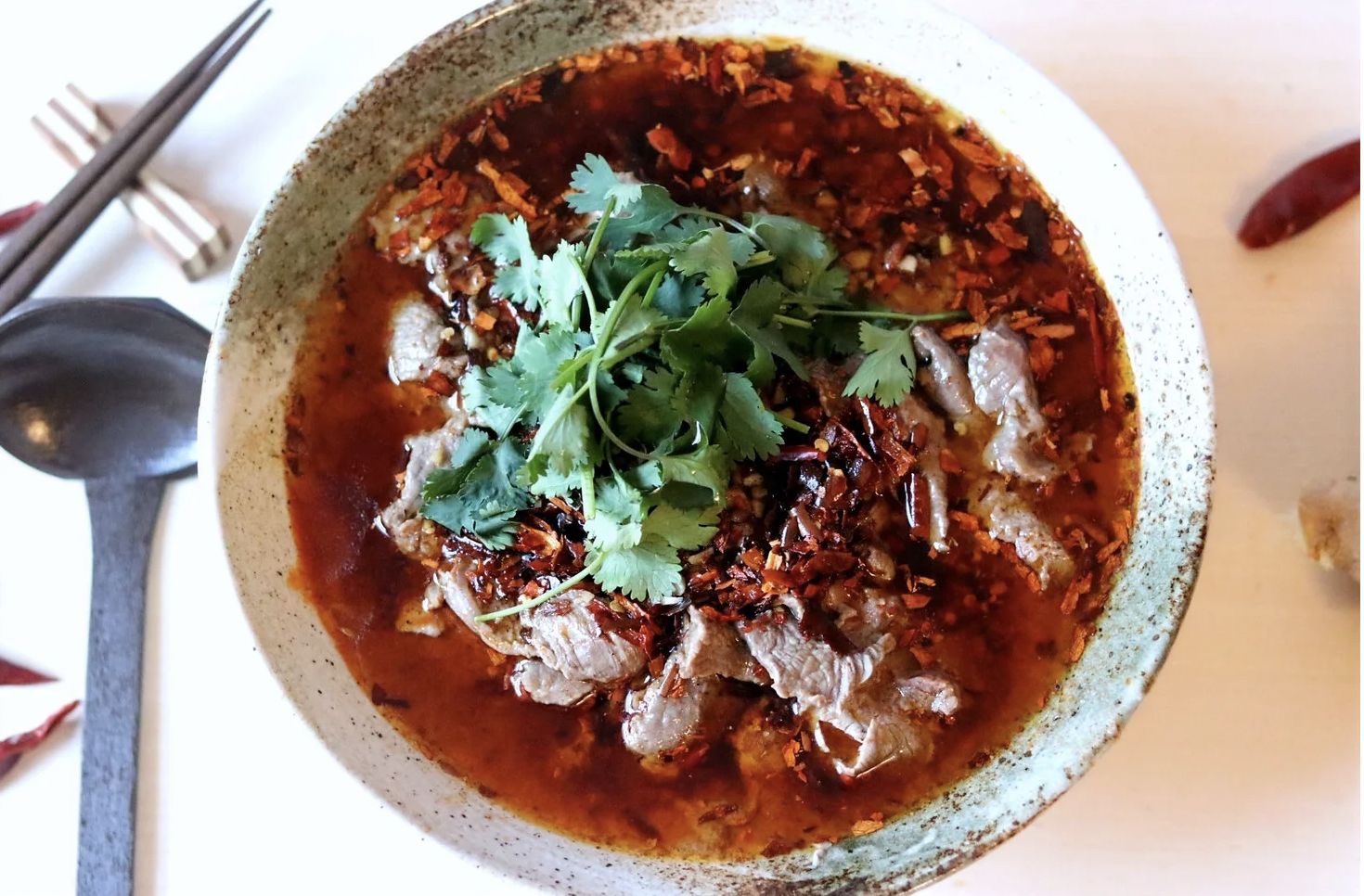 I love Sichuan cuisine as it's so unique compared to other Chinese dishes and I have to say it's my favourite type of Chinese food. This dish is spicy, slightly salty and extremely aromatic. I didn't want to mess with the dish too much, to be honest as it's just too good as it is. I find the vegetables and boiled meat in the dish really help balance out the intensity of the chillis making it pleasant to eat without being over spicy. "Mala" is a phrase that people of Sichuan use to describe the sensation of dry sizzled chilli on the lips, and this dish has plenty of mala! This is a classic and I highly recommend giving it a try! Let's get it!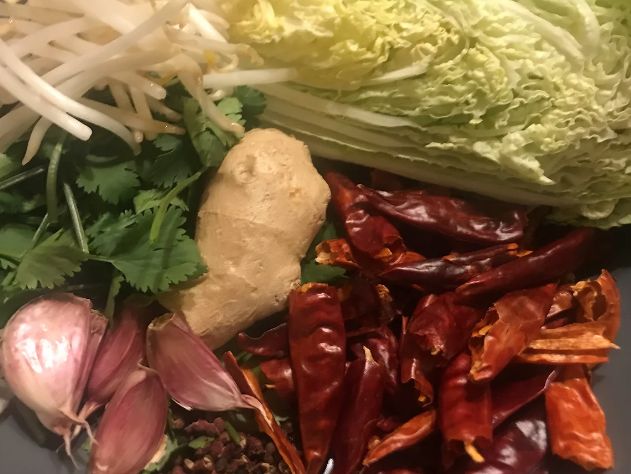 1. Start off by deseeding 25g of dried red chillis. Now in a wok or pan add a drizzle of oil and place onto a medium heat. Next add the deseeded dry chillis and 1 tbsp of Szechuan peppercorns. Fry until the chillies and Szechuan peppercorns become fragrant and slightly darker in colour. When ready place into a pestle and mortar then grind until slightly fine. Place the dry chilli mix to one side as we will add this at the end of the dish.
2. Next step is to "velvet" the beef. This is simply a method that helps meat become silky and super tender by adding egg white and cornflour. Finely slice 500g of beef fillet into thin strips then add to a bowl. Next add 1 egg white, 1 tsp rice wine, a pinch of salt, 1 tbsp light soy and 1 tsp cornflour. Gently mix well with your hands until the beef starts to feel velvety. Leave the sliced beef to marinade for 20-30 minutes.
3. Now for the last of the prep before we begin to cook the dish, for the vegetables slice 1/2 chinese leaf into bite sized pieces, wash 100g bean sprouts then finely chop 5 garlic cloves and a 4cm piece of ginger. Place a 1/4 of the chopped garlic to one side as we will add this at the very end of the dish. Finally make up 500ml of instant chicken stock and place to one side.
4. Let's start to bring the dish together, in the same pan we fried the chillis in earlier add another drizzle of oil if needed then place onto a high heat. When hot add the chinese leaf and beansprouts and stir fry for 2 minutes. You want the vegetables to keep their crunch and be slightly under cooked. When ready add the stir fried vegetables to a large serving bowl that we will use for the dish.
5. Using the same pan add another small drizzle of oil then add 3 tbsps of doubanjiang or chilli paste. Fry the paste on a medium to low heat for 1 minute taking care to not allow the doubanjiang to catch and burn. Next add the finely chopped garlic and ginger and further stir fry for another minute until fragrant and the doubanjiang gets slightly darker in colour. Next add 500ml of chicken stock and 1 tsp of dark soy for a richer colour then bring everything up to the boil.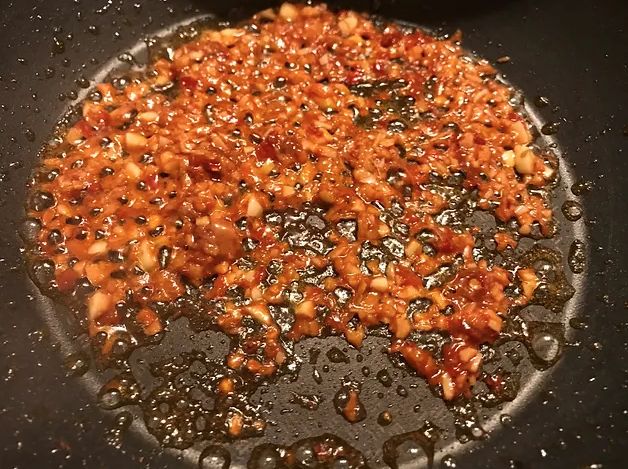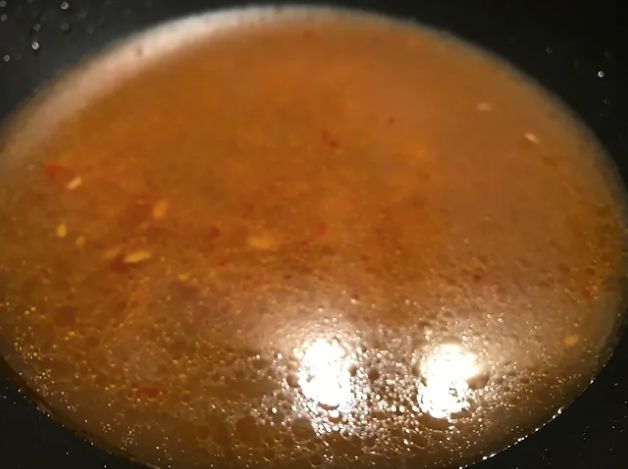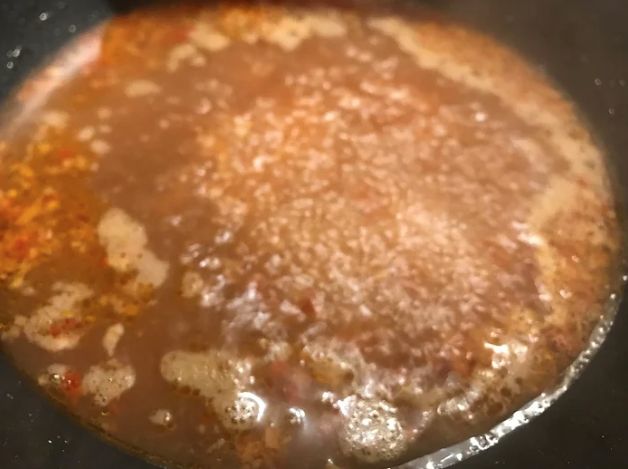 6. Now we can almost treat this spicy broth as if it were a shabu shabu or hot pot broth. Layer all of the marinated beef into the broth and cook for 2-4 minutes depending on how well cooked you prefer to eat your beef. When the beef is ready remove from the stock then place on top of the cooked vegetables followed by pouring over the broth.
7. We are now ready to serve and complete the key part of the dish, top the dish with finely chopped garlic and a generous amount of the ground Szechuan pepper and dried chilli. Finally heat 75ml of cooking oil in a pan until the oil begins to smoke. When smoking hot pour over the ground spices and watch the most amazing fragrant sizzle take place. Top with some fresh coriander and experience that classic "mala" hit!!! Hope you enjoy this wonderful recipe!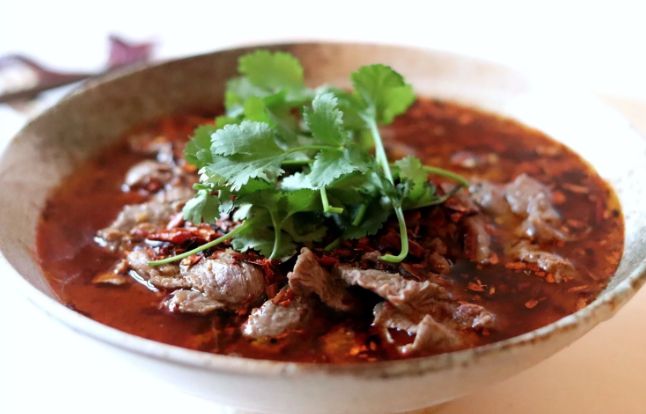 Instead of beef, it is also common to use thinly sliced pork or tofu also…As for what cut of pork to use then best to go with pork tenderloin, belly or shoulder. Instead of beef fillet then you could use sirloin, rib eye, skirt or rump also. As for which vegetables to add then I would recommend anything with a crunch really, carrot, tenderstem, pak choi, or Choi sum etc. I really recommend you try this dish if you enjoy spicy food! To be honest I do say it to serve 2 but I finished it all on my own! Perhaps double the recipe??? Have fun!
3 tbsp doubanjiang chilli paste or fermented chilli paste
Vegetables and Dried Sichuan chilli mix:
1 tbsp Szechuan peppercorns