For this recipe, I wanted to take a typical Cantonese-style take-out dish and completely finesse it. By making fresh egg noddles you really begin to add a whole new dimension to the dish in terms of textures. They are incredibly easy and cheap to make and need no extra equipment, therefore making this a simple dish to recreate or flip at home. Let's cook!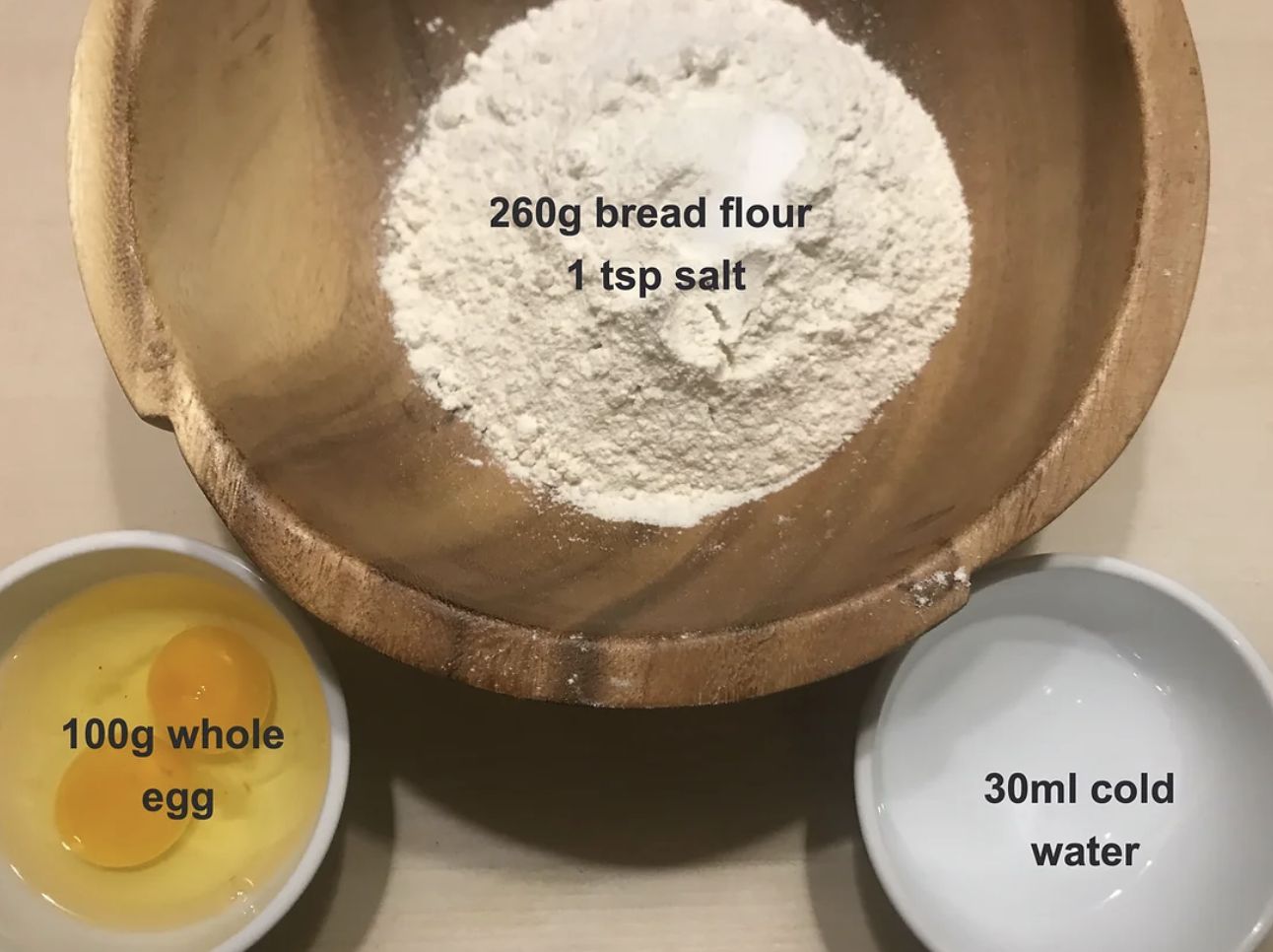 Start by making the noodle dough, add 100g of whole egg and 30ml of cold water to a bowl and whisk until the egg is incorporated into the water. Now add 260g of strong bread flour and 1 tsp of salt to a large mixing bowl. Slowly add the egg and water to the flour whilst mixing continually so that all of the flour gets hydrated. When all of the liquid is added the flour should almost look like a crumble.
2. Now begin to kneed the dough together by hand. Kneed until a ball of dough is formed and until there is no more excess flour left in the bowl. The dough may seem quite dry at first and does take around 10 minutes to kneed but trust me it will for a smooth ish dough eventually. When a smooth ball of dough is formed cling film then allow to rest for 30 minutes.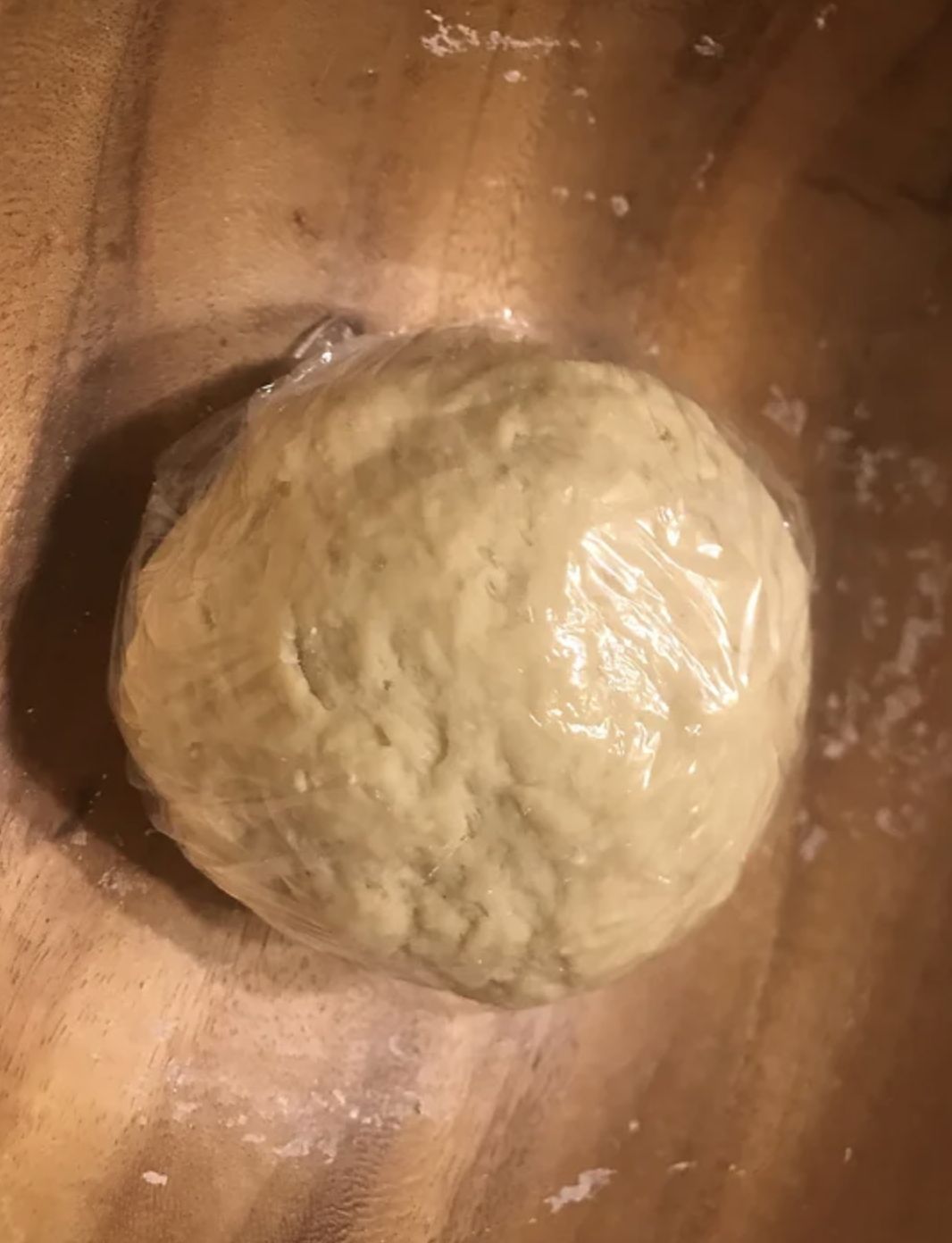 3. After 30 minutes of resting, the dough should be much smoother and easier to work with. Kneed the dough again for 5 minutes then roll back into a ball and clingfilm one last time then rest again for a final 30 minutes. This process allows the gluten in the flour to be more active ensuring a smoother dough.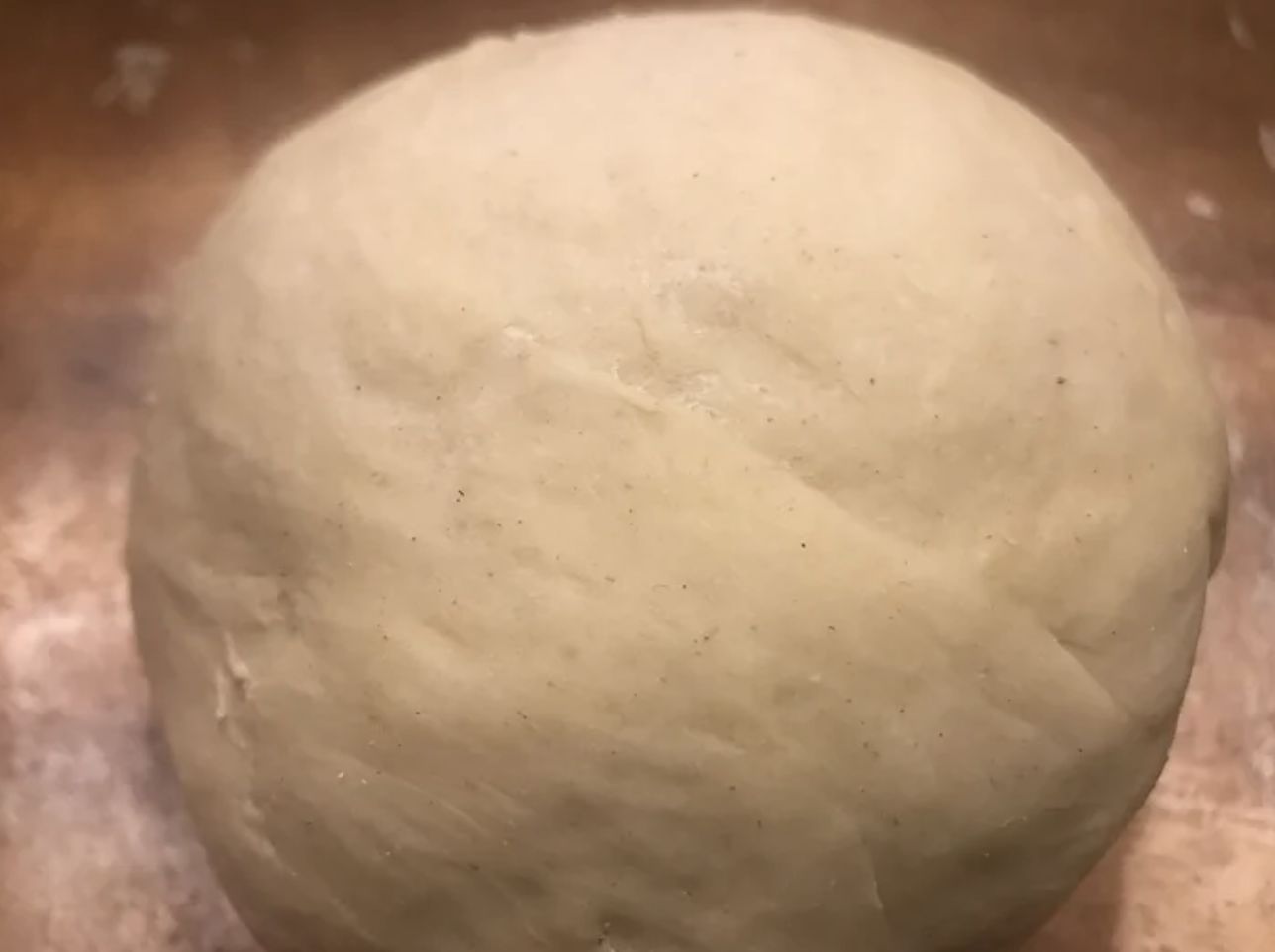 4. Now the dough should be ready to work with, lightly dust a work surface with flour and place the dough onto the work surface. Using a rolling pin flatten out the dough so that it becomes flat. Roll the dough until the dough becomes stretched and form a large flattish square piece of dough.
5. Continue to roll the dough keeping that square shape until the doughs thickness is approximately 1-2mm thick. Use the rolling pin to assist, by rolling the dough onto the rolling pin then rolling. When the dough is ready dust either side generously with flour and we are ready to cut. The doughs size will be approximately 60cm by 40cm.
6. To cut the noodles firstly overlap the dough into itself 3 times to make it easier to cut. Use a sharp large knife (I like to use a cleaver) and cut the dough into 1-2mm noodles. When all the noodles are cut dust again with flour and place the noodles onto a tray for now.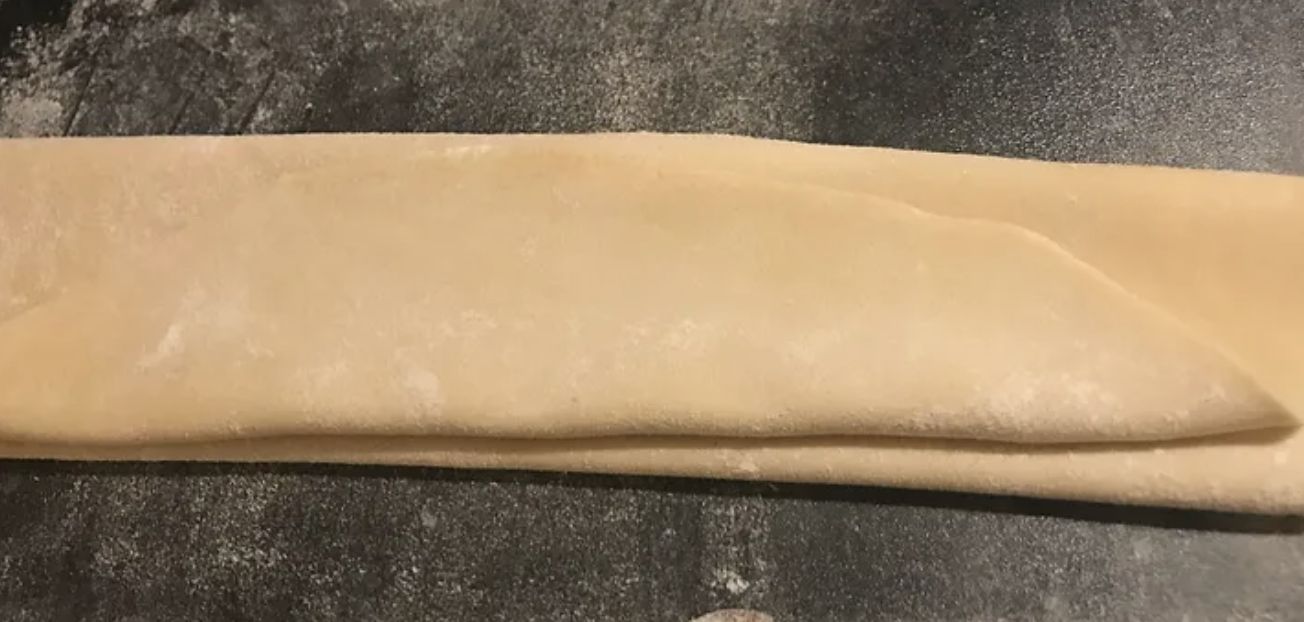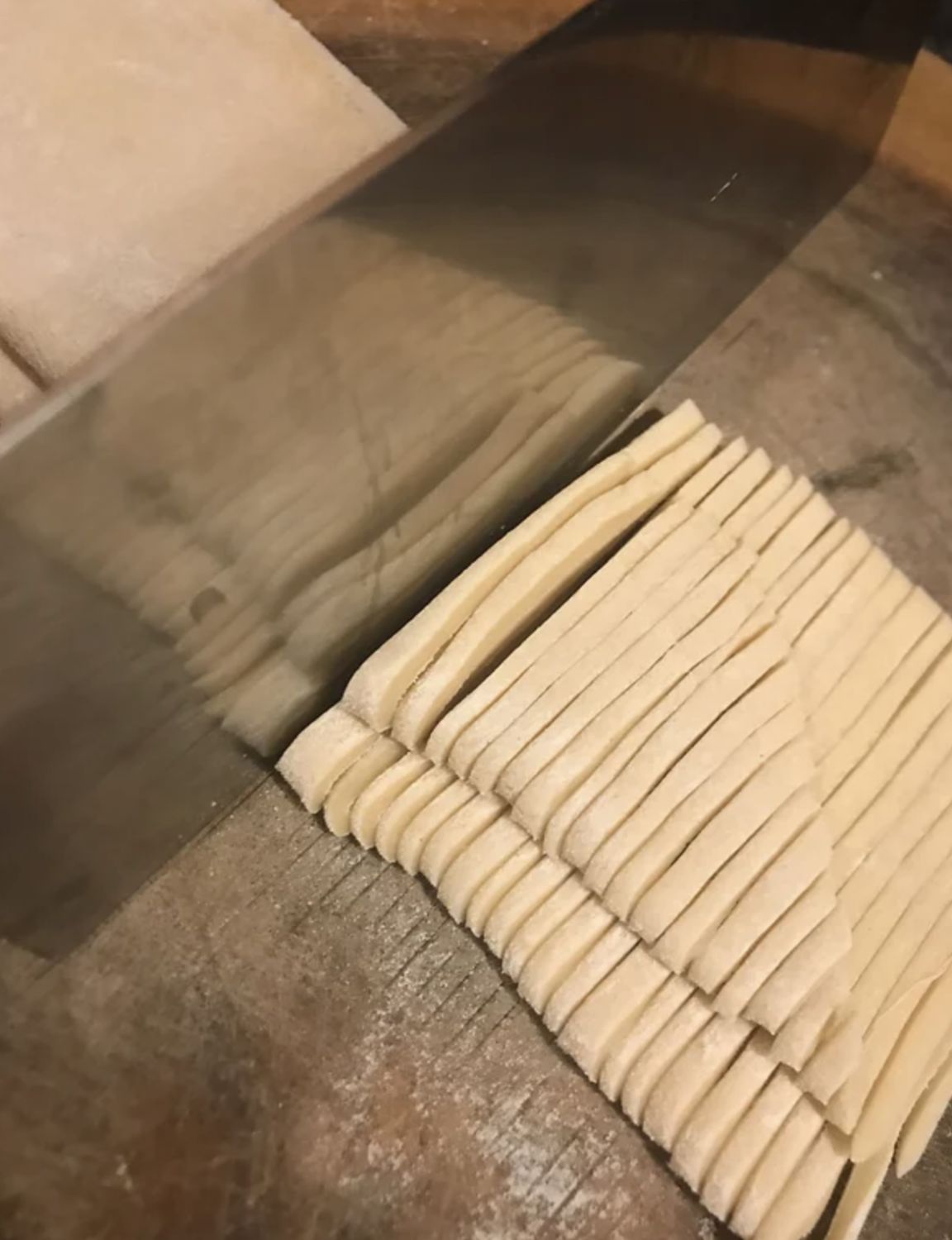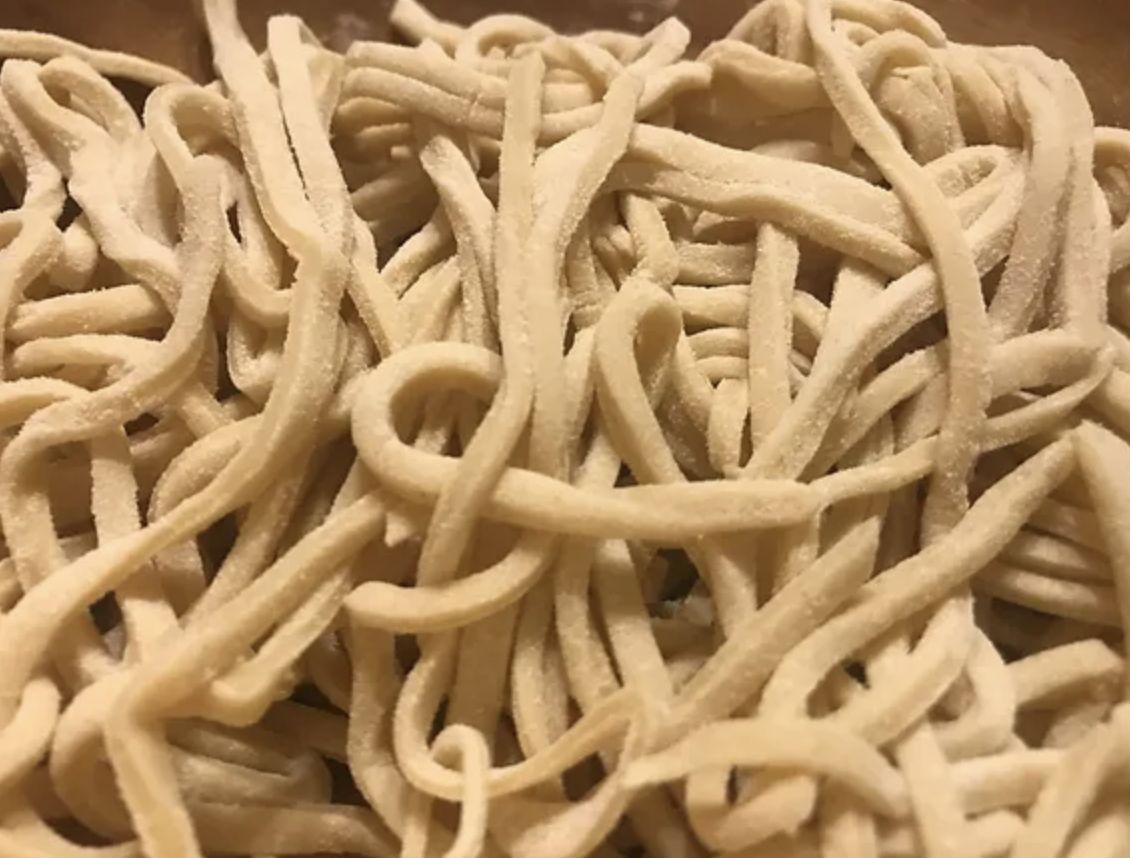 Remaining ingredients prep
7. Just before we cook the noodles we can prepare the rest of the dish. Slice 1/2 red pepper into julienne, 1/2 white onion into slices, cut the bottom half of the pak choi into large strips and shred the leafy part, then cut 6 spring onions into batons. For the prawns remove the outer shell if left on and de vein. Now cut the prawns into a butterfly by slicing down the back of the prawn. When ready add to a bowl then add 1 tbsp light soy, 1 tsp sesame oil, 1/2 an egg and 1 tsp of cornflour. Mix well until all the cornflour is incorporated into the prawns then place all ingredients to one side.
8. Last thing to prepare before cooking is the sauce, finely mince 1 tbsp of garlic and 1 tbsp of ginger. Now in a bowl add 3 tbsp light soy, 2-3 tbsp of dark soy (depending on how dark you want the dish to be), 1 tbsp sesame oil, 1 tbsp black rice vinegar and 1 tbsp sugar. Mix well until all the sugar has dissolved.
9. Now to cook, start by placing a large pan of water onto a high heat and bring to a boil. When boiling add the noodles and cook for 3-5 minutes (depending on how thick they were cut). When cooked drain off the noodles into a strainer and rinse under cold water to stop the cooking process. You want the noodles to be slightly under cooked as we will cook again when we add to the other ingredients.
10. To cook the remaining ingredients place a large pan or wok onto a high heat. Add a drizzle of oil then fry the prawns when the pan is smoking hot. Cook for 1 minute either side until the prawns become nicely red and crispy. Remove the prawns from the pan and place to one side to prevent them from overcooking then add another drizzle of oil, the sliced onion, pepper, pak choi and spring onions and stir fry for 2 minutes.
11. When the vegetables are nice and seared add the finely chopped garlic, ginger, cooked noodles, prawns and sauce to the pan and stir fry until all of the sauce is reduced and sticks to the noodles.
12. To finish the dish adjust the seasoning by adding either more light soy, sugar or a pinch of black pepper. Add dried chilli flakes if you want a little heat and a generous amount of sesame seeds. Mix well and divide into serving bowls and devour…Hope you like this recipe…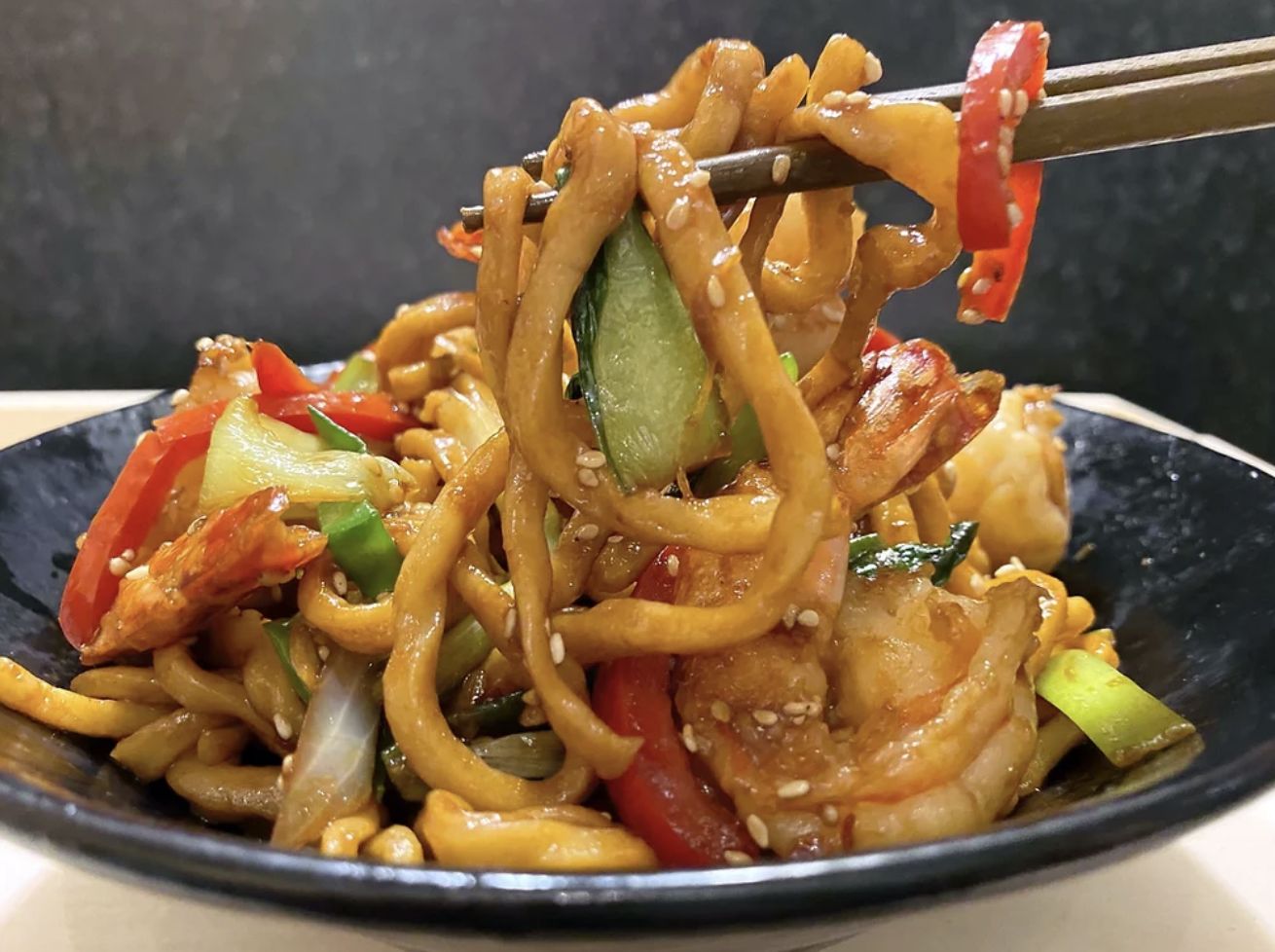 To cut the prep time completely down then you could choose to simply just buy egg noodles from the supermarket however do so with small guilt as these noodles are so easy and taste so much better when made at home. If you want to make this recipe suitable for vegetarians then simply replace the prawns with tofu and hard fry the tofu instead. As for what vegetables to use then broccoli, beansprouts, aubergine, courgette, and cabbage would also work just fine. Have fun with this one and never order Lo Mein to take away ever again!
2 medium whole eggs (100g)
1 tbsp black rice vinegar
1 tsp chilli flakes (optional)
1 tsp corn flour (for prawns)
1 tbsp light soy (for prawns)
1 tsp sesame oil (for prawns)
1/2 whole egg (for prawns)