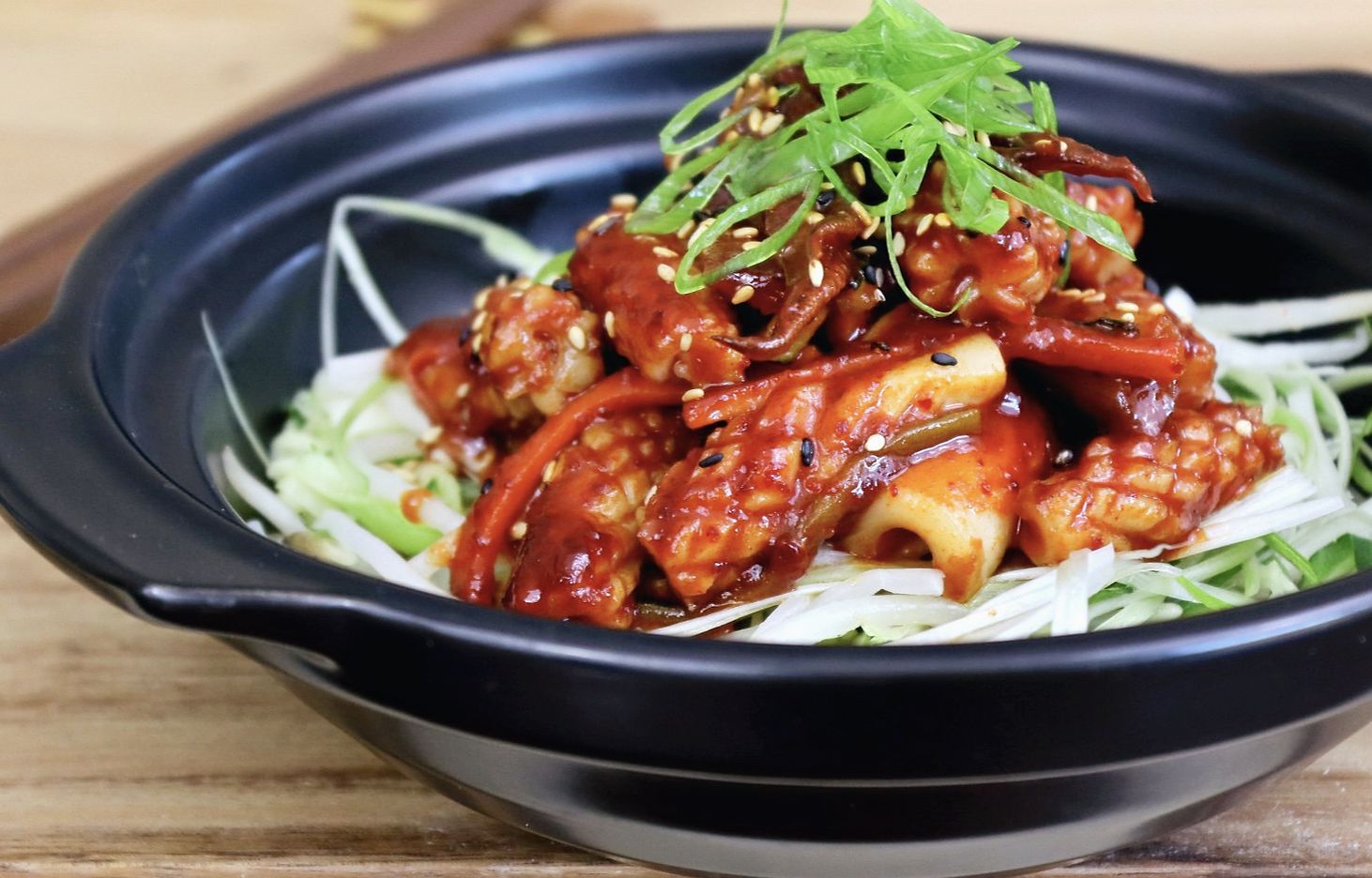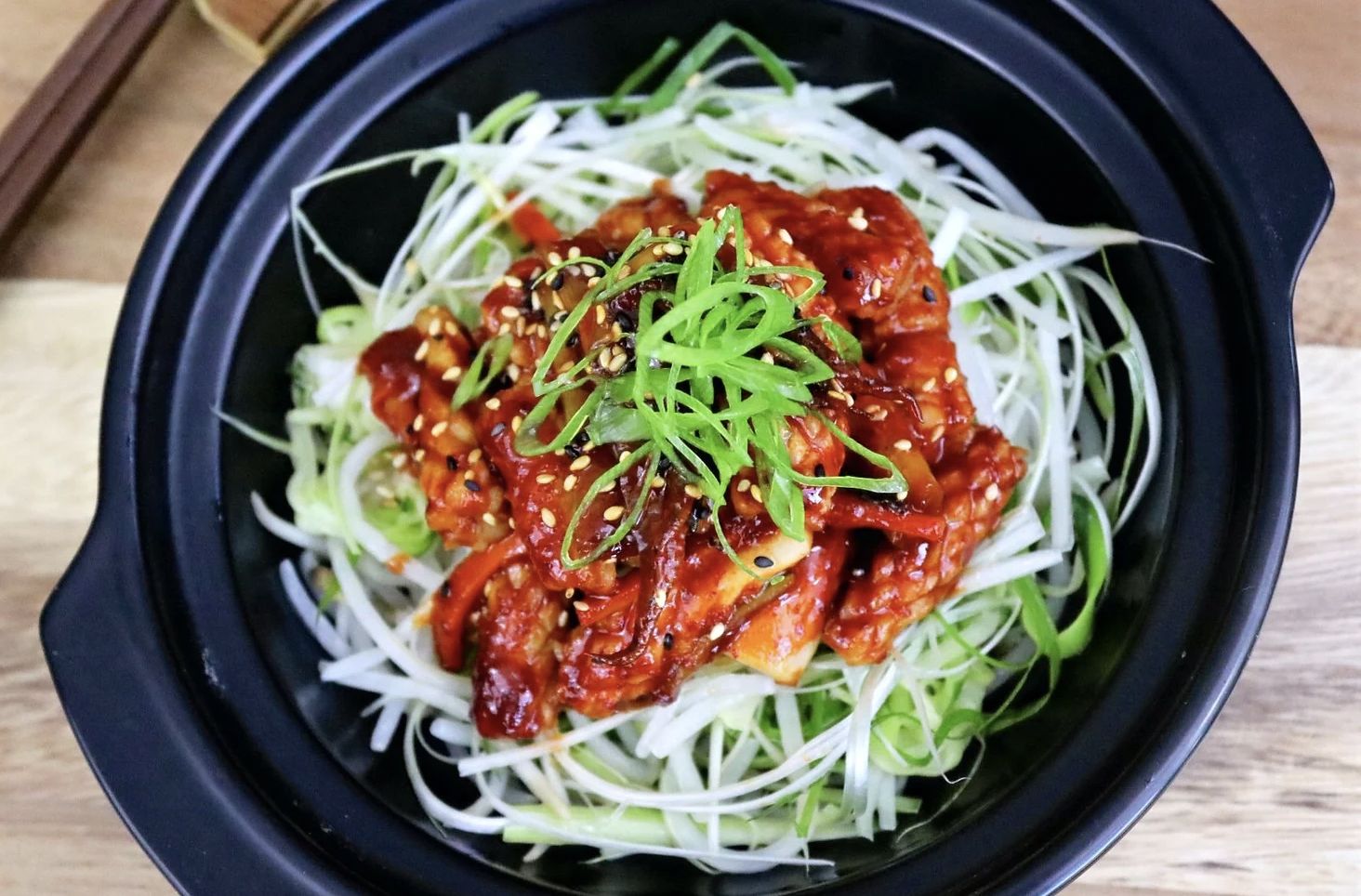 Ojingeo Bokkeum is possibly one of my favourite all-time dishes, slightly sweet, spicy and salty squid packed with umami! This is one of those dishes that you kind of need to have with a chilled beer, a squeeze of lemon, and some freshly steamed rice and make a massive deal out of the situation you're embarking on! I could not mess around with this dish as it's just too good the way it is supposed to be made! This is one of those dishes that you should go off and make right away! Let's get straight to it!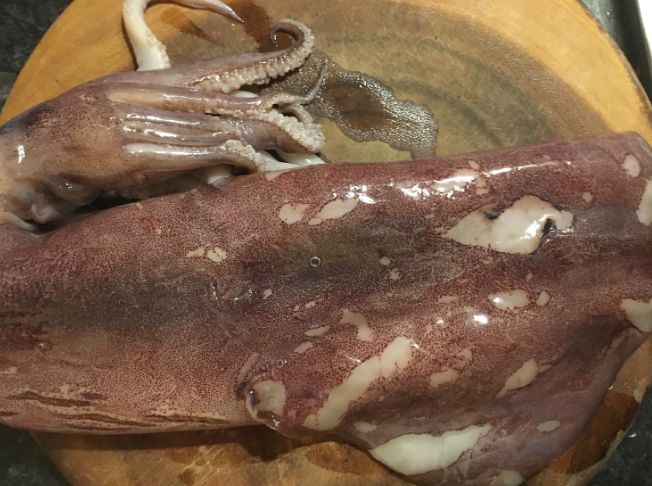 1. Before we begin with the recipe I firstly want to add a few points on what to look for when buying fresh squid. Firstly fresh squid should have a pleasant ocean like aroma and look fairly plump and not deflated. There should also be a purplish/grey membrane and finally try to avoid frozen squid as this can be milky and quite tough. Now to prepare, begin by removing the head and tentacles by slicing just below the eyes. When the head is removed push in the centre between the tentacles to remove the beak or teeth. Wash and run you finger along the tentacles to remove the small caps then cut the tentacles into bite sized pieces and place to one side for now.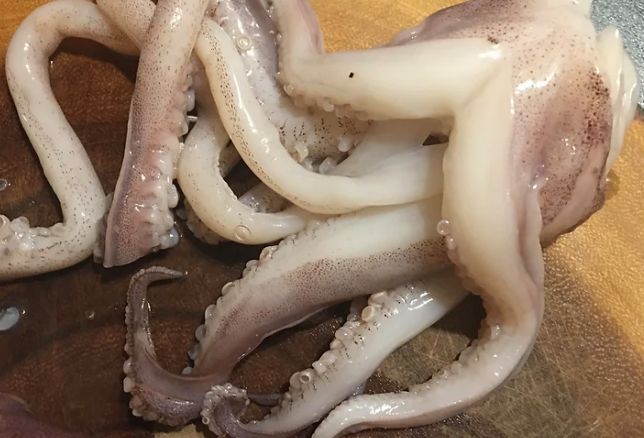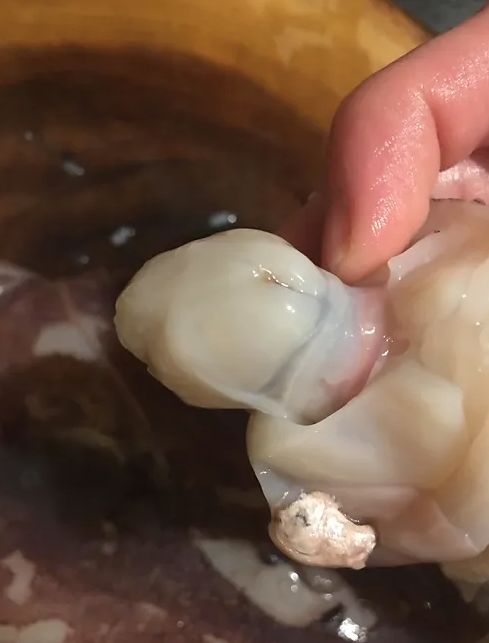 2. Now onto the tube section, start by carefully pulling out the intestines by pulling where the remaining parts of the head are. When removed you will find an almost plastic like looking spine attached, carefully remove this then wash inside of the squid with cold water. Lastly remove the outer membrane (you can leave it on but may be quite tough to eat) then when removed, cut the squid tube in half so it becomes a flat piece of squid. Now using a knife carefully scrape off any slime that may be attached to the flesh.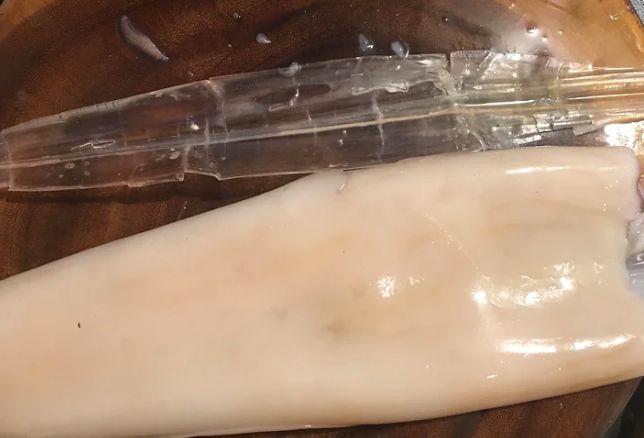 3. Now to make this thing look a bit more attractive, cut the squid tube into large sections to make scoring that little bit easier, as in this case the squid I used was literally 1kg. Now more manageable, lightly score the inner part of the tube taking care not to slice all the way through. Cross the scores to create a diamond patten then when ready cut the scored squid into bite sized pieces. The scoring process will not only look attractive but it will also ensure the squid becomes more tender. When all of the squid is prepared place onto a tray and set to one side.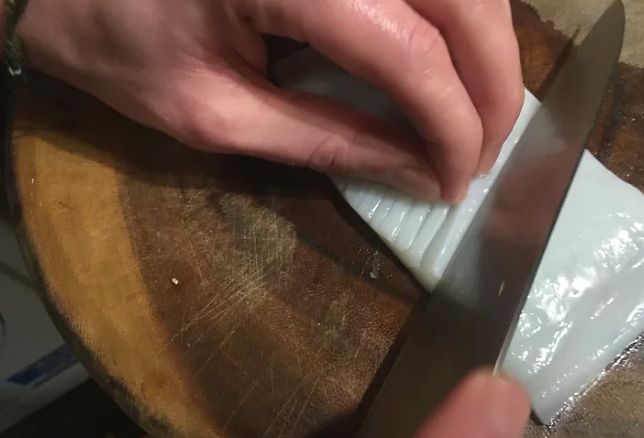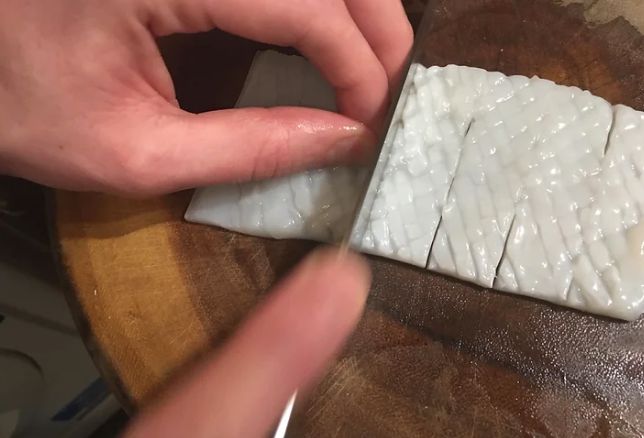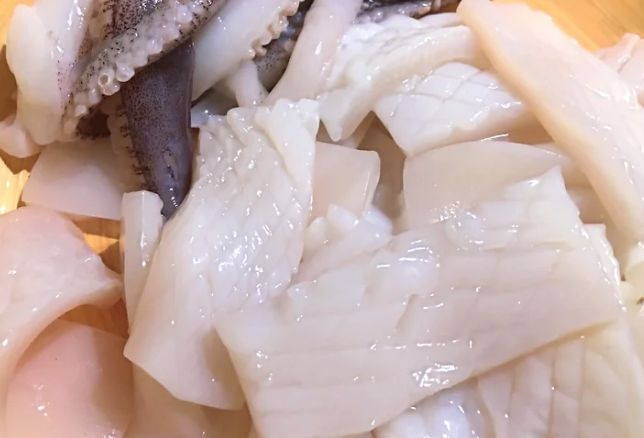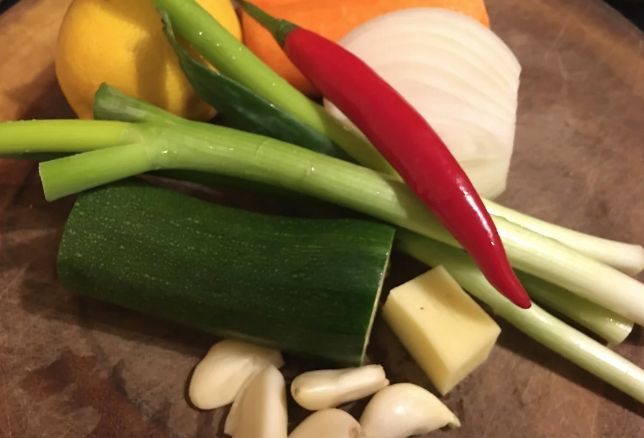 4. Next step is to prepare the vegetables for the dish, begin by finely slicing 4 garlic cloves, 1 red chilli (seeds optional) and mincing a small piece of ginger. Place these finely chopped ingredients in a small bowl to one side for now. Next use a peeler to shred 1 peeled and washed carrot into thin ribbons, cut 1 courgette into batons, and slice the onion roughly 1/2cm in thickness. When all prepared place everything to one side.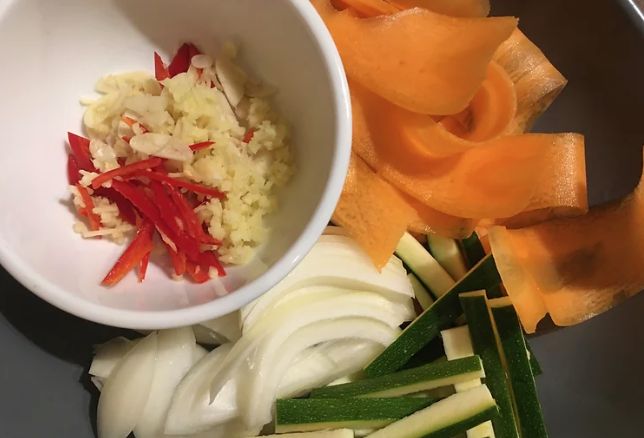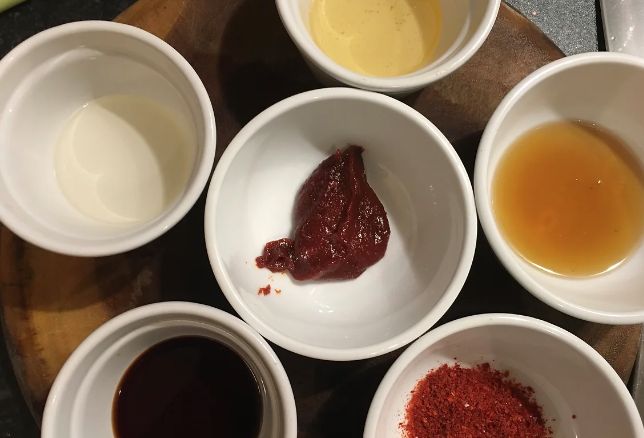 5. Now everything is ready we can now bring the dish together, start by placing a decent 4 tbsp of cooking oil into a pan then add the minced ginger, chopped garlic and sliced chilli. Fry on a low heat for 3-4 minutes until nice and fragrant then add 11/2 tbsp Korean red chilli powder, 1 tbsp gochujang then continue to fry on a low heat to create an almost thick chilli oil. Cook for a further 2-3 minutes Making sure to stir constantly as we don't want the chilli powder to burn.
6. Now to mellow and balance out the sauce, when the sauce is slightly darker in colour and more fragrant we can now add 3 tbsp light soy, 3 tbsp sesame oil, 2 tbsp light honey, 2 tbsp of mirin, and a few tbsps of water. Mix well and cook on low for a further 10 minutes then when finished add the juice of 1/2 a lemon then place the sauce to one side.
7. We want to cook the squid and vegetables separately as this will allow us to prevent from overcooking and also add a slight char. For the vegetables place a hot pan onto a high heat then add a small drizzle of oil. Add the sliced onion, courgette and carrot and stir fry until just under cooked then remove from the heat.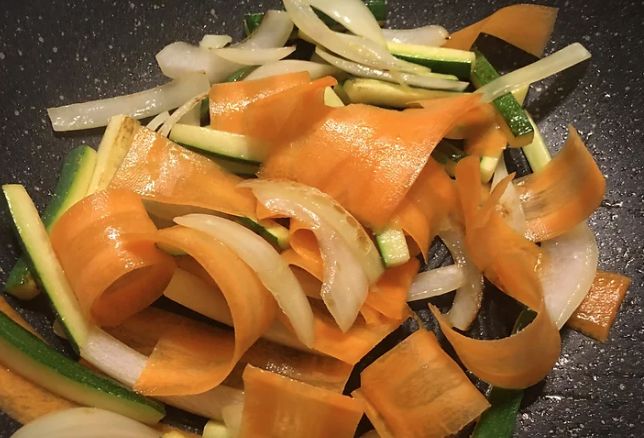 8. For the squid we want a serious char with minimal cooking time, place a pan or wok onto a high heat and wait until the pan starts to smoke. When smoking add a tiny drizzle of oil then add the prepared squid and stir fry for literally 45-60 seconds.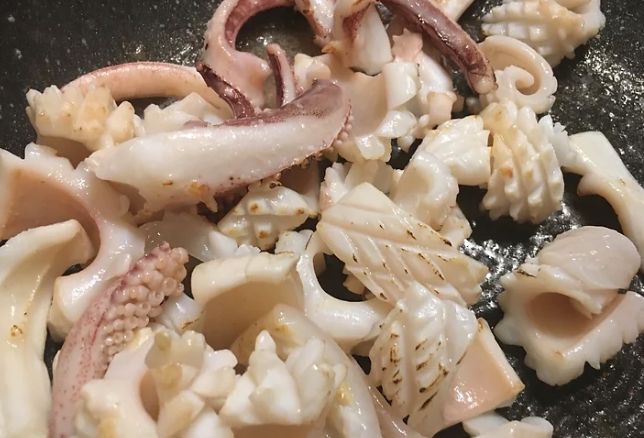 9. To bring everything together place the gochujang sauce back onto the heat then add the cooked vegetables and squid and mix well. Cook until the squid and vegetables are nice and coated in all of the sauce then adjust the seasoning by adding additional lemon if needed or a touch of water if to reduced.
10. Place the squid into a large serving bowl and top with some toasted sesame seeds, a drizzle of sesame oil and some finely sliced spring onion. This dish is perfect with beer and rice! Hope you like this simple delicious recipe!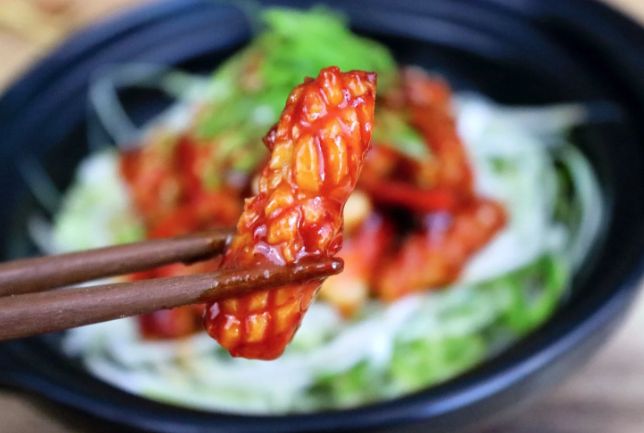 If you find this dish slightly too spicy then leave out the whole red chilli and use only a small tsp of gochujang. Instead of squid you can also cook beef, chicken, pork or tofu in this same way to make more of a spicy bulgogi. Have fun with this recipe its one of the greats!
thumb sized piece of ginger
1 1/2 tbsp korean chilli powder or mild chilli powder