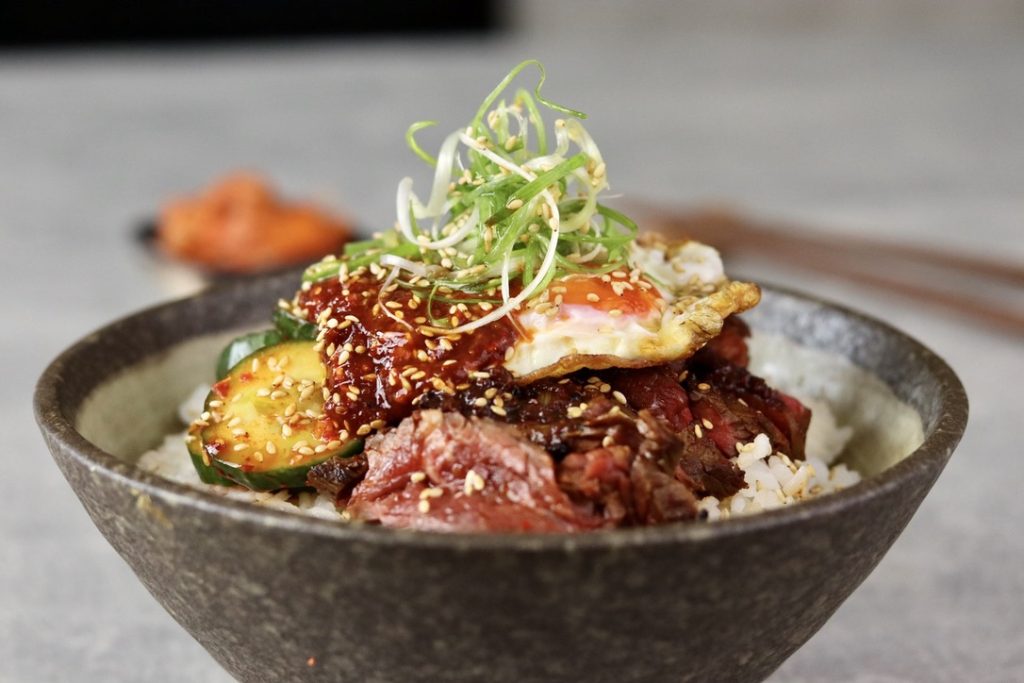 Rice bowls have been a thing for a while now and for good reason! Whether it be a Korean rice bowl, Japanese Donburi or a Vietnemese Thit Kho Tau what makes these rice bowls so special are not only how substantial they are but are a great healthy lunch/dinner alternative which can be made for a group of people with ease. For this rice bowl we are going to make a Kalbi beef version using skirt/flat iron which in my opinion is one of the best cuts of beef out there. Pairing that with some classic Korean cucumber pickles this is one of those recipes to make right away! With all that said let's get straight into it!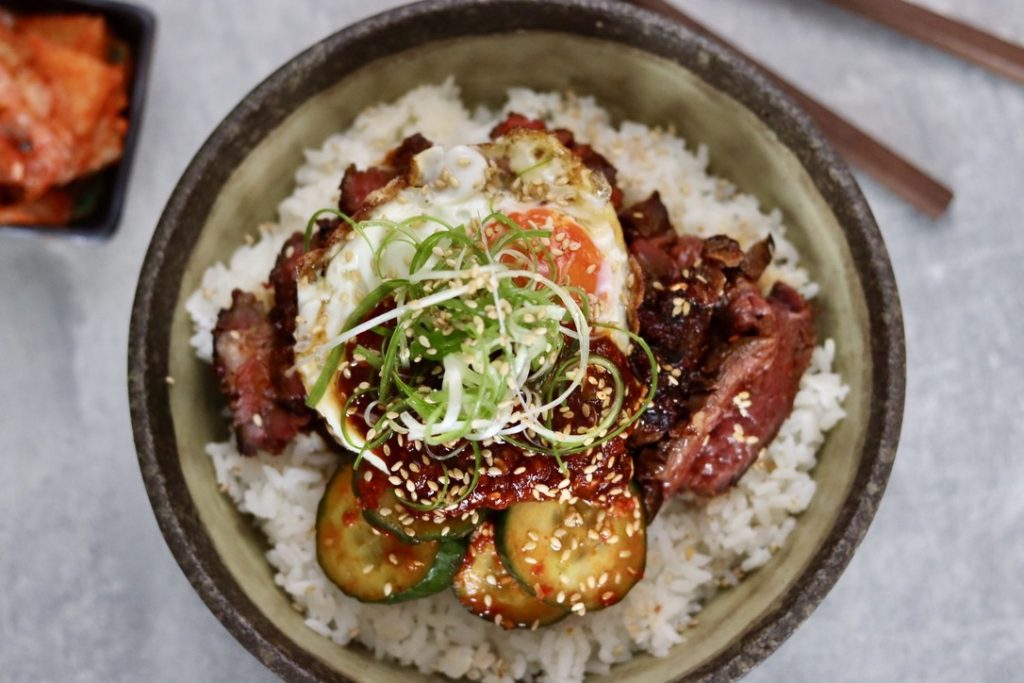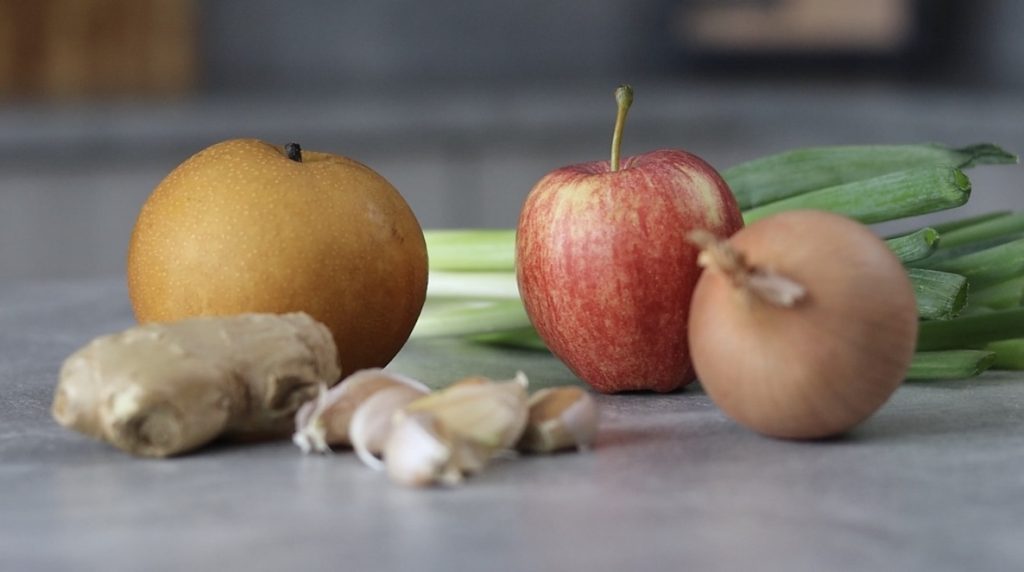 1. First thing to do is to get the beef marinating. To make the marinade we firstly need to prepare a few of the fruits and vegetables. Peel, remove the core then roughly slice 1 Asian pear or ordinary pear if you cant get hold of one, peel and roughly slice 1 red apple again removing the core first, peel and roughly chop 1 white onion, roughly chop 4 spring onions, grate 5g of ginger and crush and roughly chop 5 garlic cloves. Add all of the chopped vegetables into a large mixing bowl then add 100mls water, 150mls light soy, 3 tbsps sesame oil, 2 tbsp corn syrup or honey, 3 tbsps mirin, 2 tbsp oyster sauce, 2 tbsp red pepper flakes, 3 tbsps dark brown sugar and finally a good grind of black pepper. Now either using a hand blender or adding to a food processor pulse the marinade until nice and smooth until the marinade takes on an almost coffee colour then set the marinade to one side.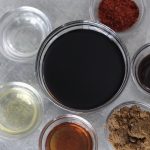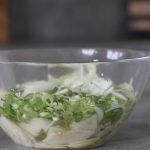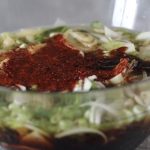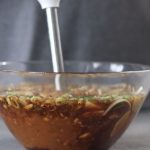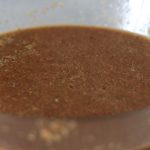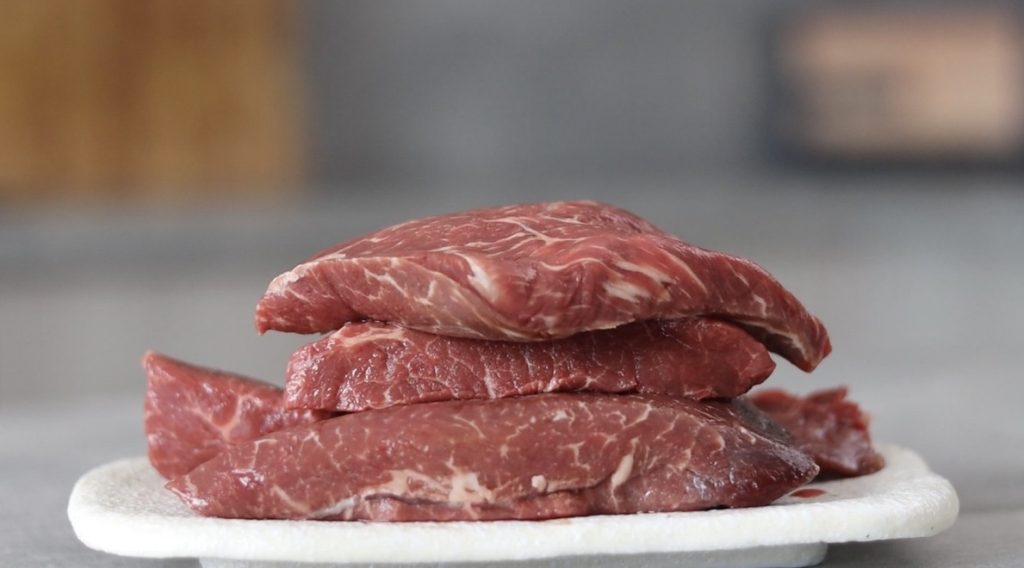 2. Now that we have the marinade ready to go it's time to move onto preparing the beef. First remove off any excess sinew that may be on the skirt steaks. Next lightly cross score each steak on either side taking care not to slice too deep. By scoring the steaks at this point we are not only enabling the beef to absorb more of the marinade but also to ensure a quick cook time. When ready add the beef to the marinade and allow to soak up all the goodness for at least 1 hr or overnight would also work perfectly.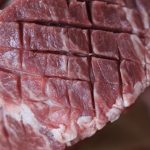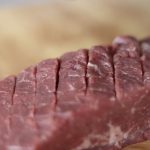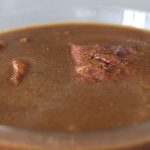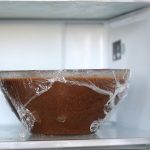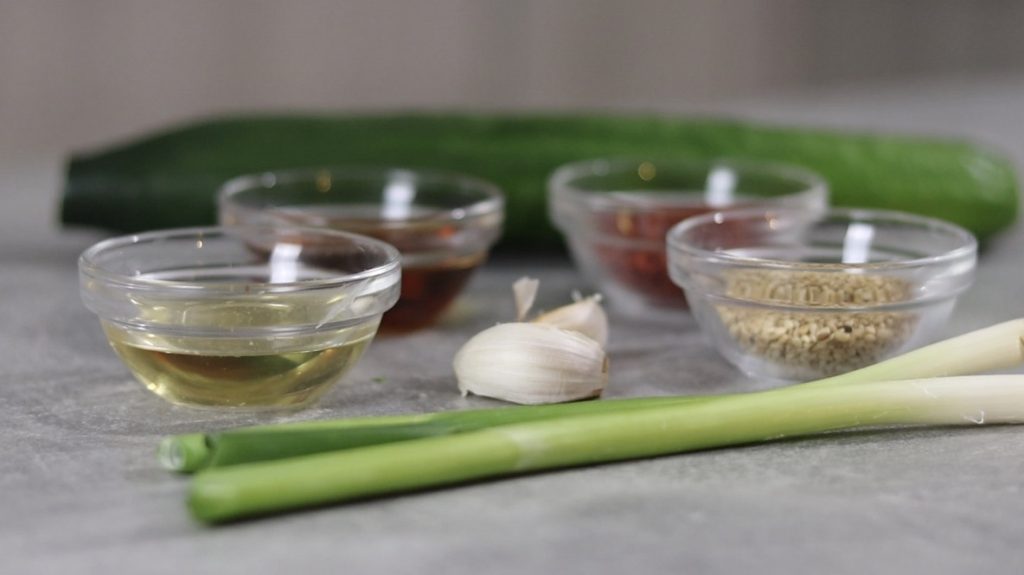 3. To make the pickled cucumbers we first need to try and extract as much moisture out of the cucumbers as possible. First slice 1 cucumber into 1cm thick slices then add to a mixing bowl. To the cucumbers add 1/2 tbsp of salt and lightly massage into the sliced cucumber then allow to sit in the salt for 20-30 minutes. When ready the water content from the cucumbers should be sitting at the bottom of the bowl. Place into a sieve and wash the cucumbers under cold running water to remove of the salt. When ready drain well then add back into the mixing bowl.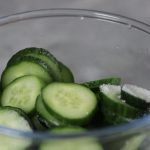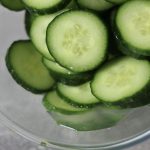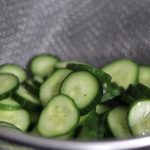 4. To make the pickle/marinade for the cucumbers in a small mixing bowl add 2 tbsp red pepper flakes, 2 tbsp sesame oil, 2 tbsp rice vinegar and 2 finely minced garlic cloves. Mix well until a paste is made then season with 1-2 tsp of white sugar and a pinch of salt if needed. Mix again then add the pickle/marinade to the sliced cucumbers along with 2 finely sliced spring onions. Mix well and these cucumbers can last for a few days easily.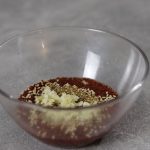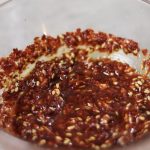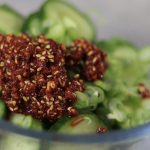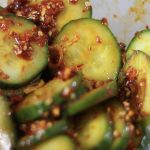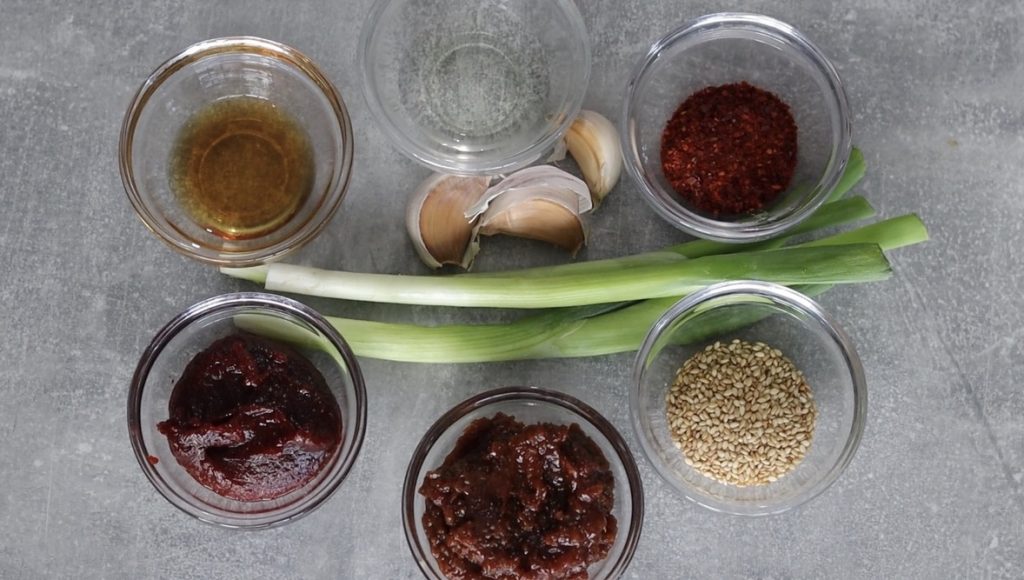 5. One of the final sauces to prepare is a basic Ssamjang paste which works perfectly with Kalbi or Korean bbq. We will add this at the very end of the dish and can also be made way in advance. To make the paste to a mixing bowl add 1 tbsp red pepper flakes, 3 finely minced garlic cloves, 2 finely sliced spring onions, 2 tbsp of Korean soybean paste, 1 tbsp Gochujang, 1.5 tbsps sesame oil and 1-2 tbsp of rice vinegar. Mix really well then the Ssamjang paste is ready.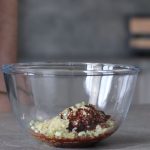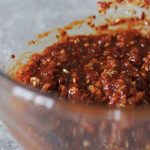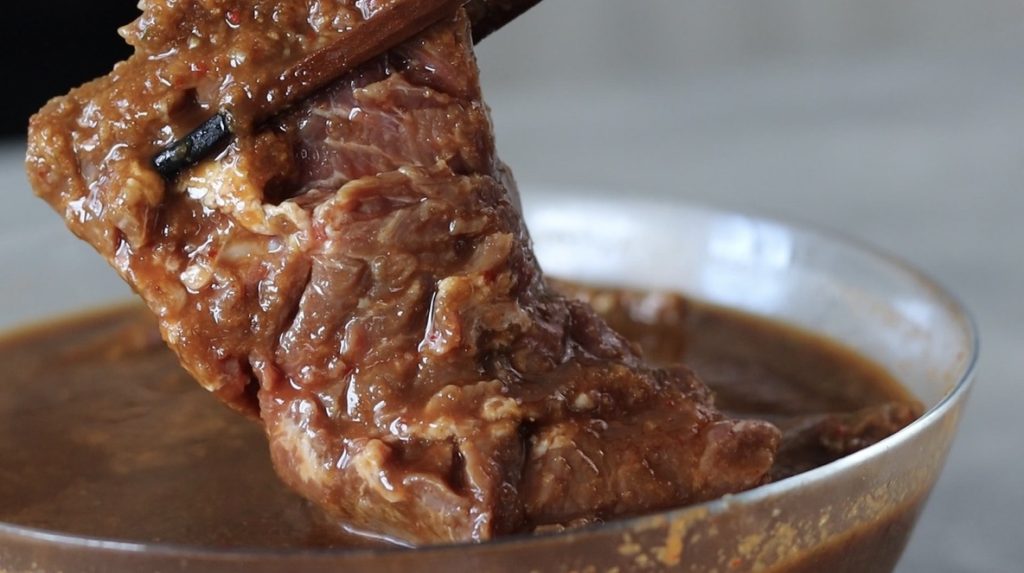 6. Just before we begin to cook the beef wash and cook enough rice for 4 in usual rice cooker fashion. When ready remove the marinated beef from the marinade and allow them to get up to room temperature. Store the marinade to one side also as we will use this also during the cooking process. Next, place a large pan or skillet onto a high heat then when hot add a drizzle of cooking oil. Add the beef and cook on both sides for 5 minutes flipping every 30-45 seconds or so to prevent them from burning. After 5 minutes of searing, add a few tbsps of the marinade to the pan and reduce on high to coat the beef and to also turn the marinade into a glaze like consistency. For a good rare steak and also depending on thickness you want a total cook time between 5 1/2 – 6 1/2 minutes for the beef, however, simply cook them longer if desired. When cooked and the marinade has reduced remove from the pan and place into kitchen foil and cover then allow to rest for 20 minutes. When rested and now much cooler, slice the beef into thin slices also simply fry a few eggs until the base becomes nice and crispy with a nice runny egg yolk then we are ready to serve.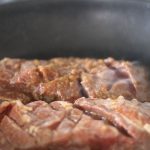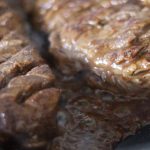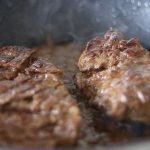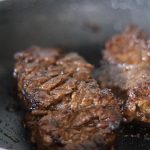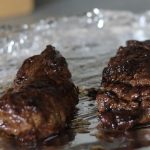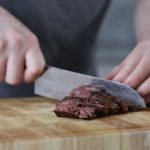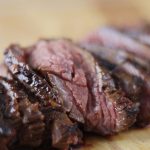 7. To serve divide the steamed rice into serving bowls then lay down the beef over each bowl of rice. Drizzle some of the excess glazed marinade over the beef then add some of the pickled cucumbers on the side. Place a crispy runny egg over the top and top that with 1 tsp or 2 of the Ssamjang paste. Finish with some toated sesame, sliced spring onion and perhaps serve with kimchi. Hope you like simple recipe and Im sure you will love it!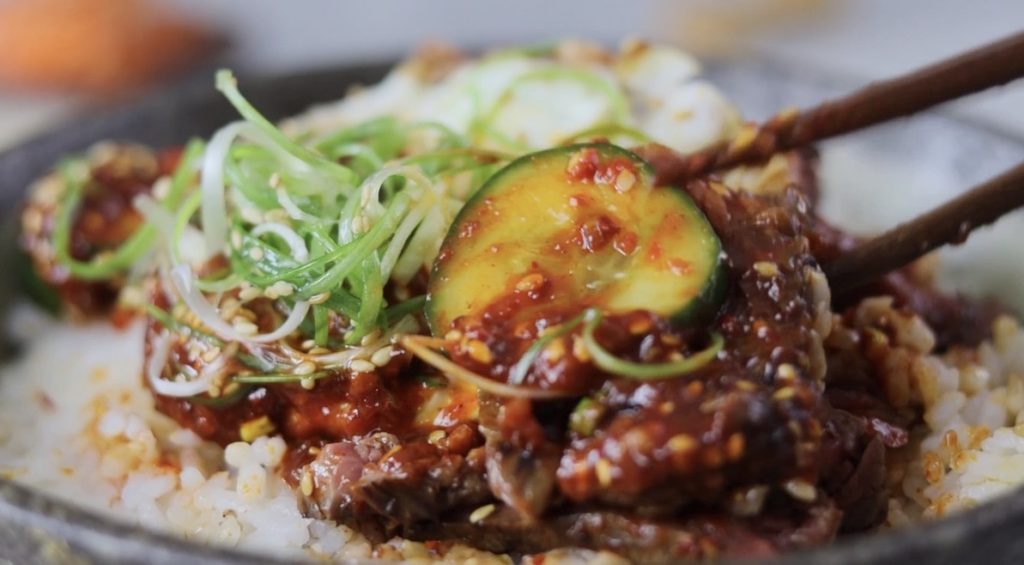 Instead of using skirt steak then bavette, ribeeye, fillet would also work just as well. If beef isnt your thing then sliced pork would also work perfectly using a cut like boston butt, shoulder or pork chops on the bone. Regardless of what you use, have fun cooking and will see you on the next recipe! 
To serve 4 bowls
Total cook Time: 15 mins
Total Prep Time: 30-45 mins
Marinade Time: 30mins – 12 hrs
Beef and Marinade:
4 skirt/flat iron steaks

1 asian pear

1 red apple
5 garlic cloves
5g ginger
1 white onion
4 spring onions
150ml light soy
3 tbsp sesame oil
2 tbsp corn syrup or honey
3 tbsp mirin
2 tbsp oyster sauce
2 tbsp red pepper flakes
3 tbsp dark brown sugar
100mls water
black pepper
Cucumber and pickle:
 1 cucumber
2 spring onions
2 garlic cloves
2 tbsp red pepper flakes
2 tbsp sesame oil
2 tbsp rice vinegar
1-2 tsp white sugar
Ssamjang paste:
2 spring onions
3 garlic cloves
1 tbsp red pepper flakes
2 tbsp korean soybean paste
1 tbsp gochujang
1.5 tbsp sesame oil
1-2 tbsp rice vinegar
Additional Ingredients:
4 eggs
sliced spring onion
rice for 4
toasted sesame seeds