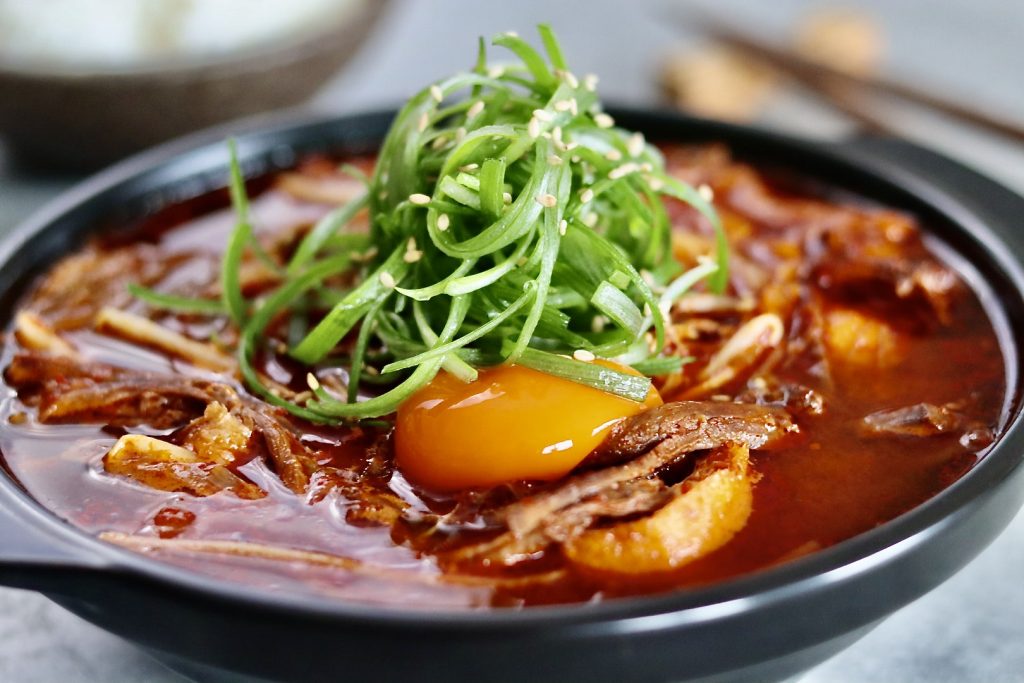 For this recipe I wanted to come up with a comforting, spicy and umami infused soup that was packed full of tender beef brisket and kimchi. To intensify the flavour of the broth the base if formed with bone marrow and then a classic assortment of usual aromatics then finishing that a hit of Kombu and dried anchovies for that Umami hit at the end. This is one of types of dishes that is perfect for a family and will leave you craving more after each spoonful of broth. With all that said, let's get straight to it!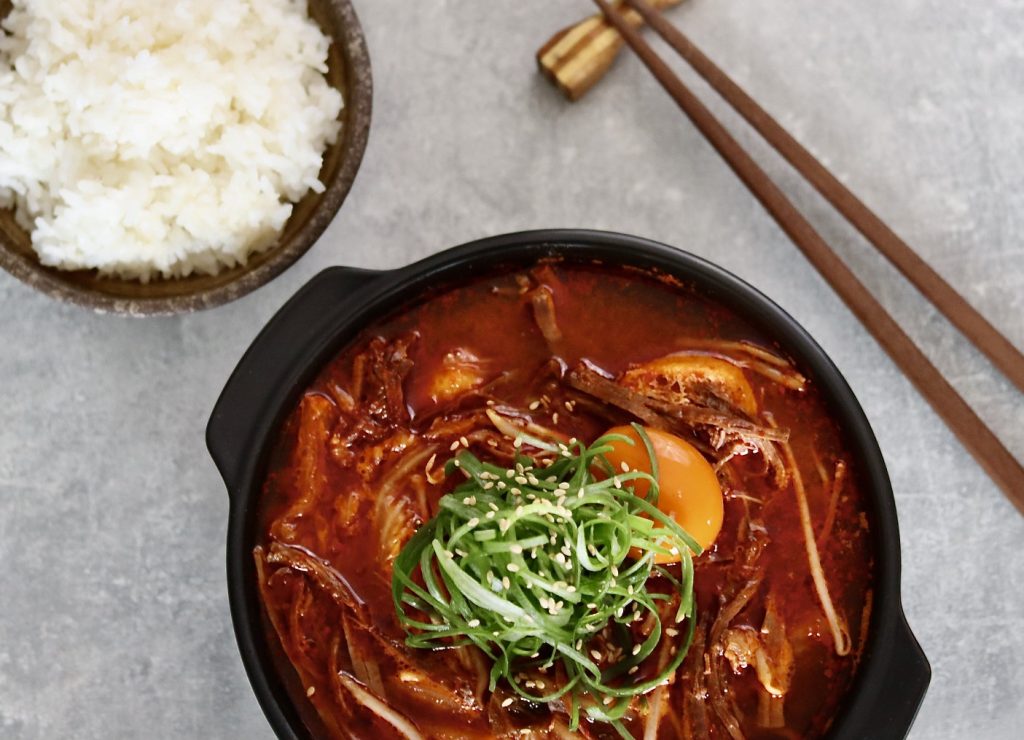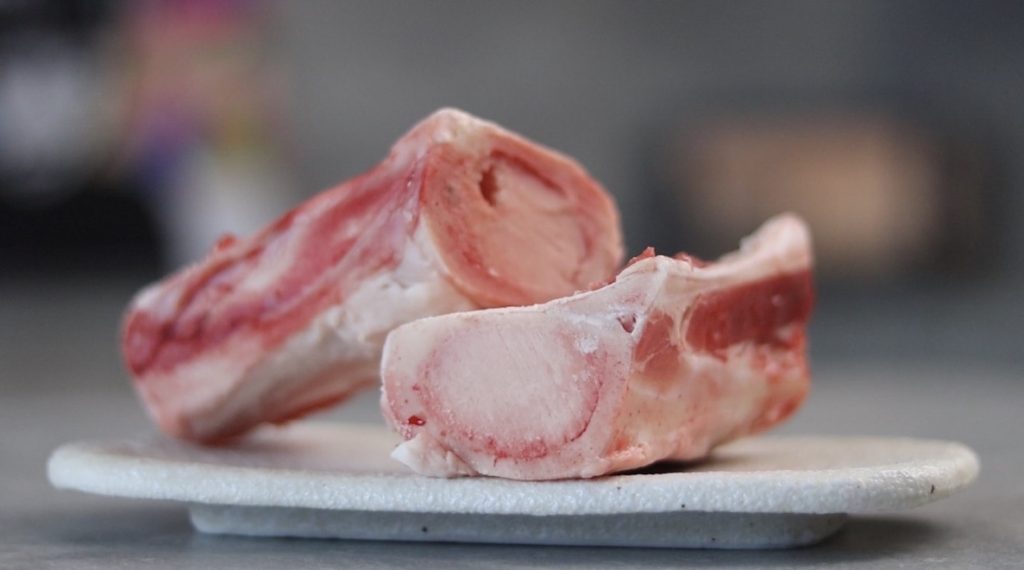 1. The first step when making any bone broth is to begin by cleaning the bones. Start by adding 2 bone marrows and 750g joint of brisket into a large pot. Cover the brisket and marrow with cold water and place onto a hight heat. Boil for around 20 minutes or until all of the impurities rise to the top of the water then when ready pull off from the heat. Next remove the marrow and brisket and clean under cold running water then when clean add back into a fresh pot.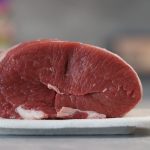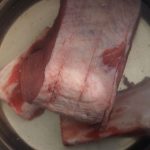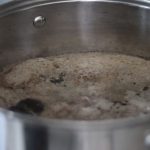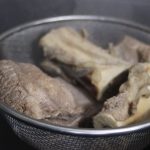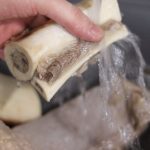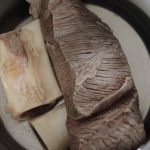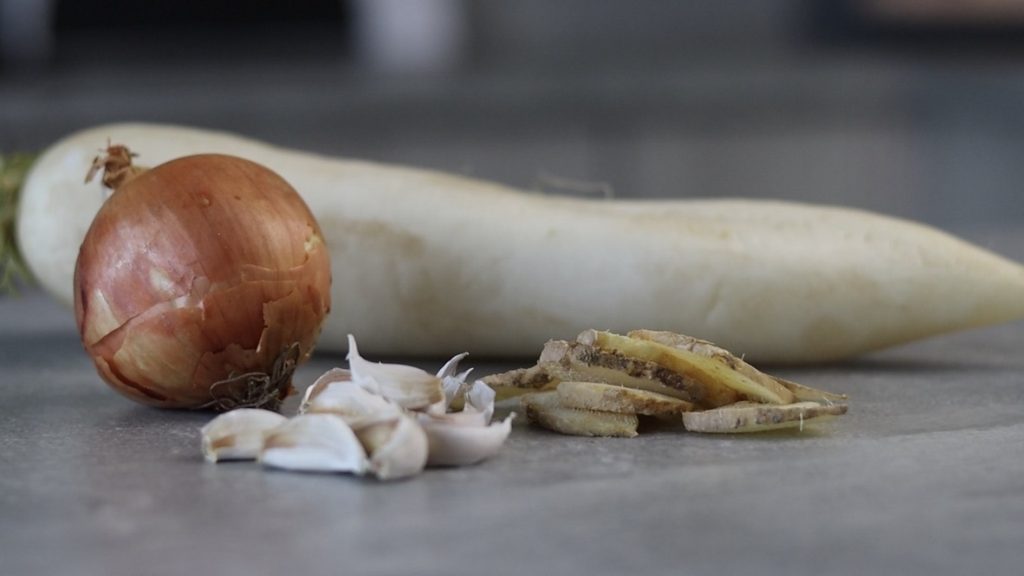 2. Now that the marrow bone and brisket are cleaned we can think about the aromatics, peel and roughly chop 1 white onion, slice 1 daikon radish in half then roughly chop one of the halves keeping the other for later, roughly slice 10g of ginger and crush and peel 1 whole bulb of garlic. Add the aromatics to the marrow bone and brisket then completely cover with cold water. Place onto a high heat then when boiling turn down to a medium simmer and place a lid over the pot. Allow to slowly simmer away for 2 1/2 hours.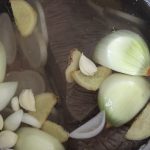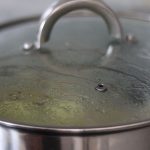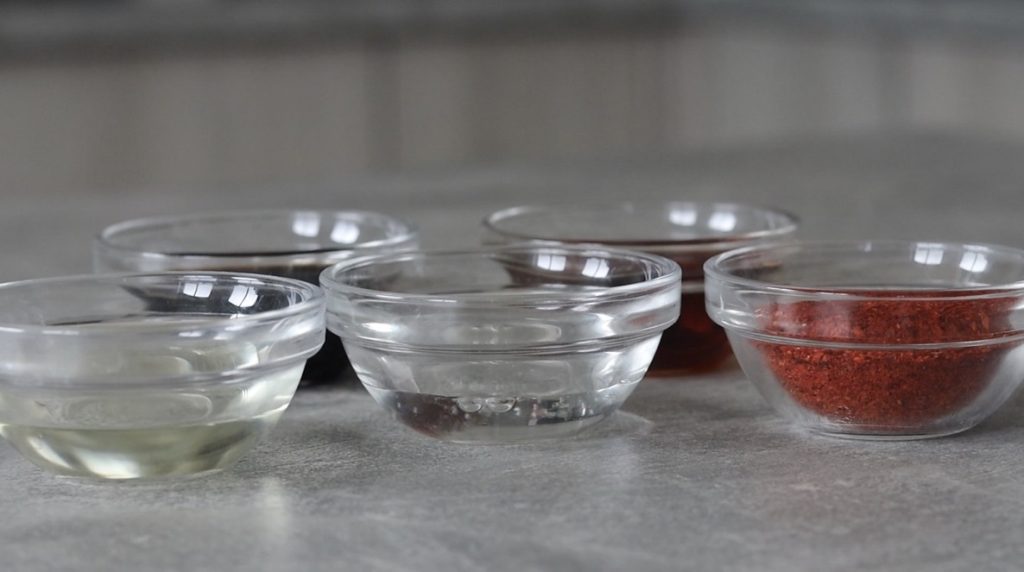 3. After a solid 2 1/2 hours of the broth simmering away it is at this point where we can remove the brisket. Carefully remove the brisket and place onto a wire rack to cool. Whilst cooling we can now make up a simple marinade/rub which will take the brisket to that next level. In a small mixing bowl add 3 tbsp of Korean red pepper flakes, 3 tbsp sesame oil, 2 tbsp good Korean light soy, 1 tbsp apple vinegar, 2 tbsp of corn syrup, a pinch of salt and some freshly cracked black pepper. Mix this well and set this to one side. Now, back to the brisket, when cool using a fork or your hands begin to pull the meat from the brisket into bite sized shreds. When read add the pulled brisket into a large mixing bowl then add all of the marinade/rub. Mix well making sure to evenly coat each shred of brisket then cover and store this in the fridge for now.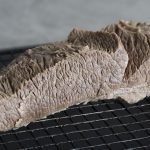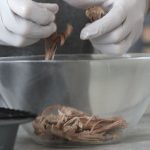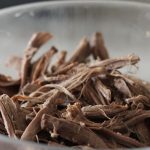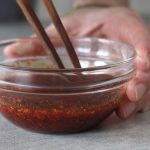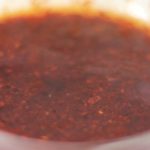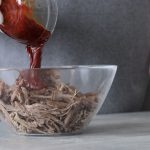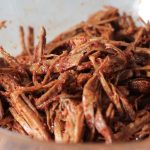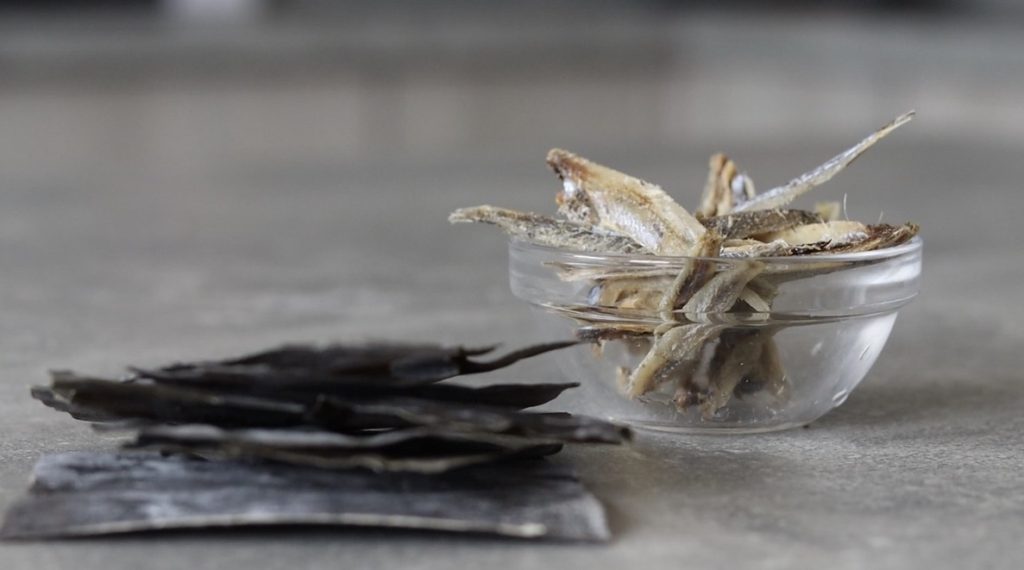 4. Going back to the broth, it's at the final stages once the brisket has been removed where we now want to bump up the umami. To do this we want to add some dried anchovies where the heads and intestines have been removed and some Kombu. If you cant get hold of anchovies then 3-4 tbsps of fish sauce would also work. Add 6-8 dried anchovies and 10g of Kombu to the broth then turn the heat down do the low. Allow the anchovies to sit and steep slowly for 20-30 minutes in the broth then when ready use a spider or strainer to remove along with the aromatics and bone marrow. Now that the base of the broth is ready its at this point where we can season and add a spice paste to transform the broth.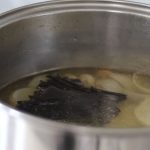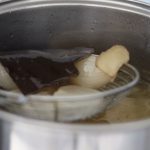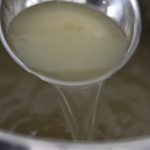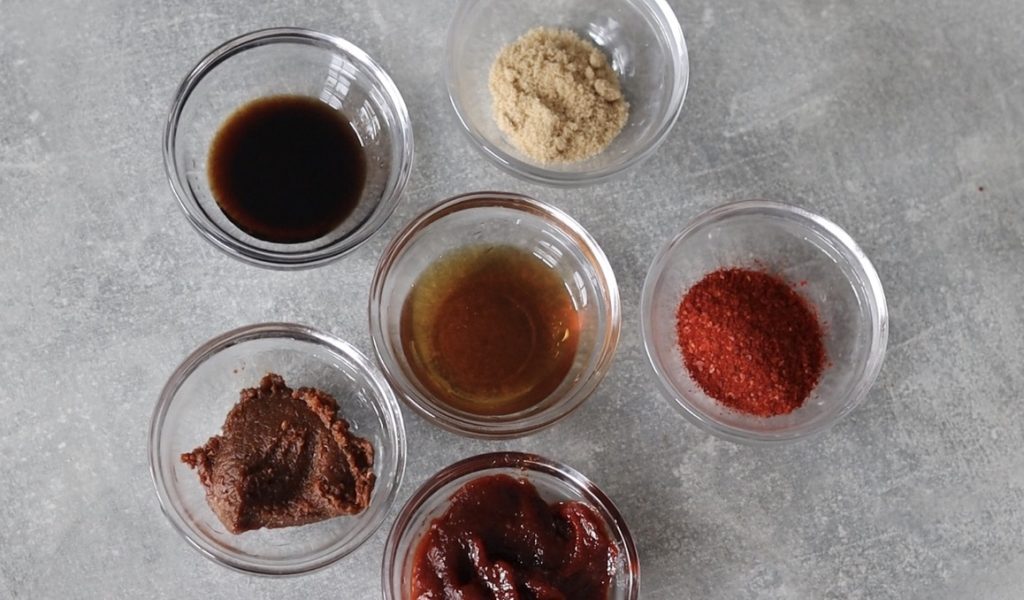 5. Before we begin to think about adjusting the seasoning we now want to incorporate a spice paste which will completely transform the broth. In a mixing bowl add 2-3 tbsps of Gochujang, 2 tbsp of soybean paste, 2 tbsps of Korean light soy, 3 tbsp of Korean red pepper flakes, 2 tbsps of sesame oil and 2-3 tbsps or light brown sugar. Mix this well then 1-2 ladles of the broth to loosen up the paste. When ready add to the broth and stir in the spice mix and turn the heat of the broth back up so a medium heat.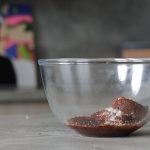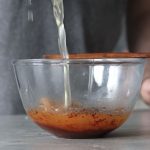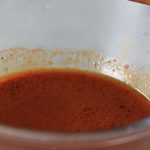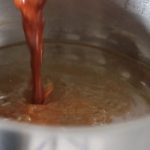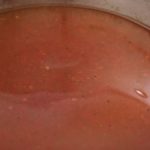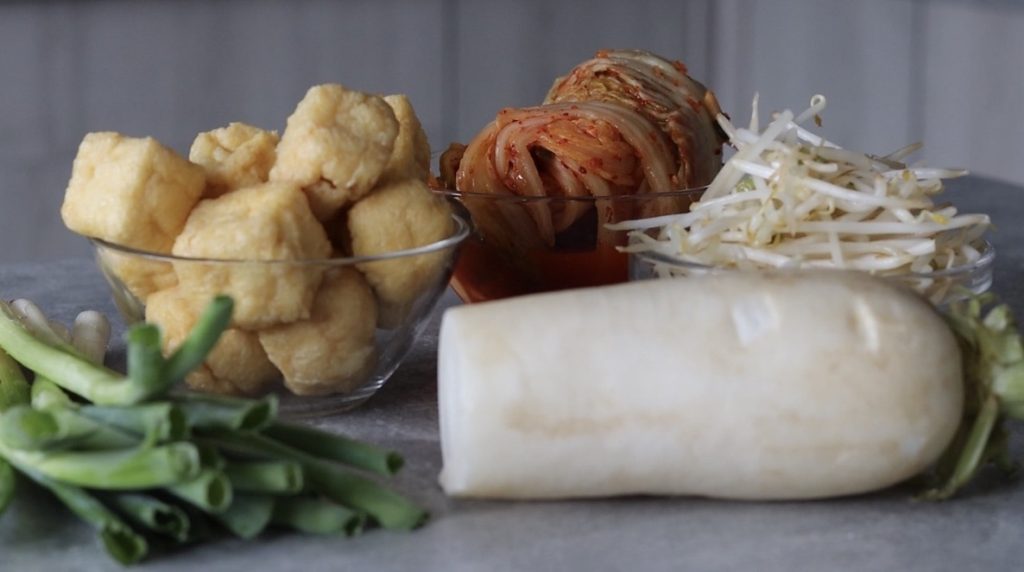 6. To give the broth some substance we now want to incorporate some Kimchi and sliced daikon. Peel and slice the left over half of daikon saved from earlier into bite sized pieces then slice 200g of kimchi into bite sized pieces reserving the liquid from the kimchi also. When prepared, add the sliced kimchi the kimchi  liquid and daikon to the broth and continue to simmer to cook the daikon and to infuse the kimchi into the broth. After around 20 minutes the daikon should be cooked in the broth. Just before we bring everything together wash a bunch of fresh beansprouts and slice 100g of either fried or silken tofu into bite sized pieces.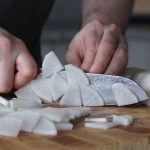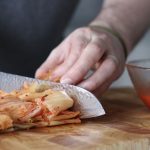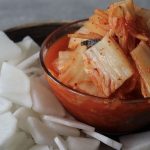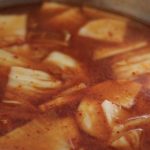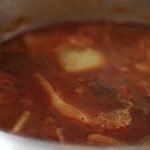 7. To serve I wanted to build the broth and other ingredients in a small claypot or Dulsot pot if you have one, however, an ordinary small pan would also work. This way of finishing a broth is quite common in Korea and will help intensify the broth and bring everything together. First place which ever small pot or pan you are using onto a high heat then add a few pieces of tofu first. Next add a generous amount of the pulled brisket then a good hand full of beansprouts and finally top that with some of the broth. Bring the broth up to a boil and allow to briefly boil for a few minutes to allow all of the ingredients to mingle. When ready remove from the heat and we are now ready to serve this broth!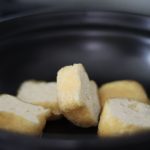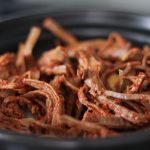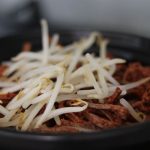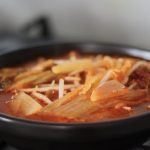 8. To finish the broth I like to add a tsp of minced ginger and a raw egg to make the broth slightly richer and creamier. Finally add a good hand full of sliced spring onion and some toasted sesame oil on top. Serve with some steam rice or pickles on the side and nourish!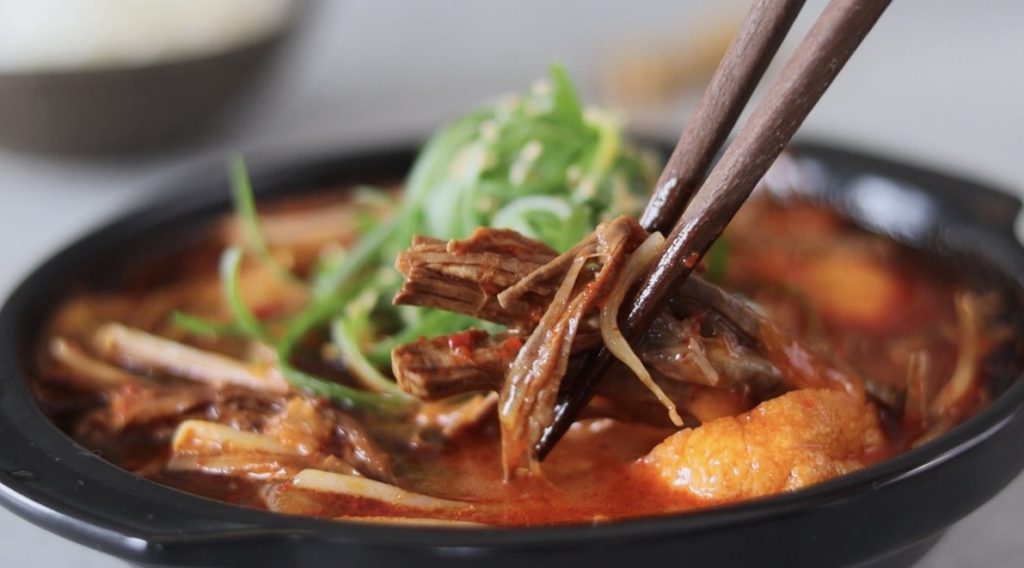 To speed up the total cook time of the broth then a pressure cooker would work perfectly for this recipe. Instead of brisket then beef short rib, pork shoulder would also work really well with this broth. Other options you could serve the broth with instead of rice are glass noodles, egg noodles or simply just serve it as a broth. I hope you like the recipe, have fun and peace as always!!!
Ingredients

To serve 4-5
Cook Time 3-4hrs
Prep Time 45mins
Broth & Brisket
750g beef brisket joint
2 marrow bones
1/2 daikon radish
1 white onion
10g ginger
1 garlic bulb

8 dried anchovies (optional) 

10g kombu
Salt
sugar
Broth Seasoning
2-3 tbsp gochujang

2 tbsp soybean paste
2 tbsp korean soy
3 tbsp korean red pepper flakes
2 tbsp sesame oil
 2 tbsp light brown sugar
Brisket rub
3 tbsp korean red pepper flakes
3 tbsp sesame oil
2 tbsp korean soy
1 tbsp apple vinegar
2 tbsp corn syrup
salt 
black pepper
Additional Ingredients
200g kimchi + liquid
100g fried tofu
1/2 daikon raddish
100g beansprouts
bunch of spring onions
rice for 4-5
4-5 egg yolks (optional)