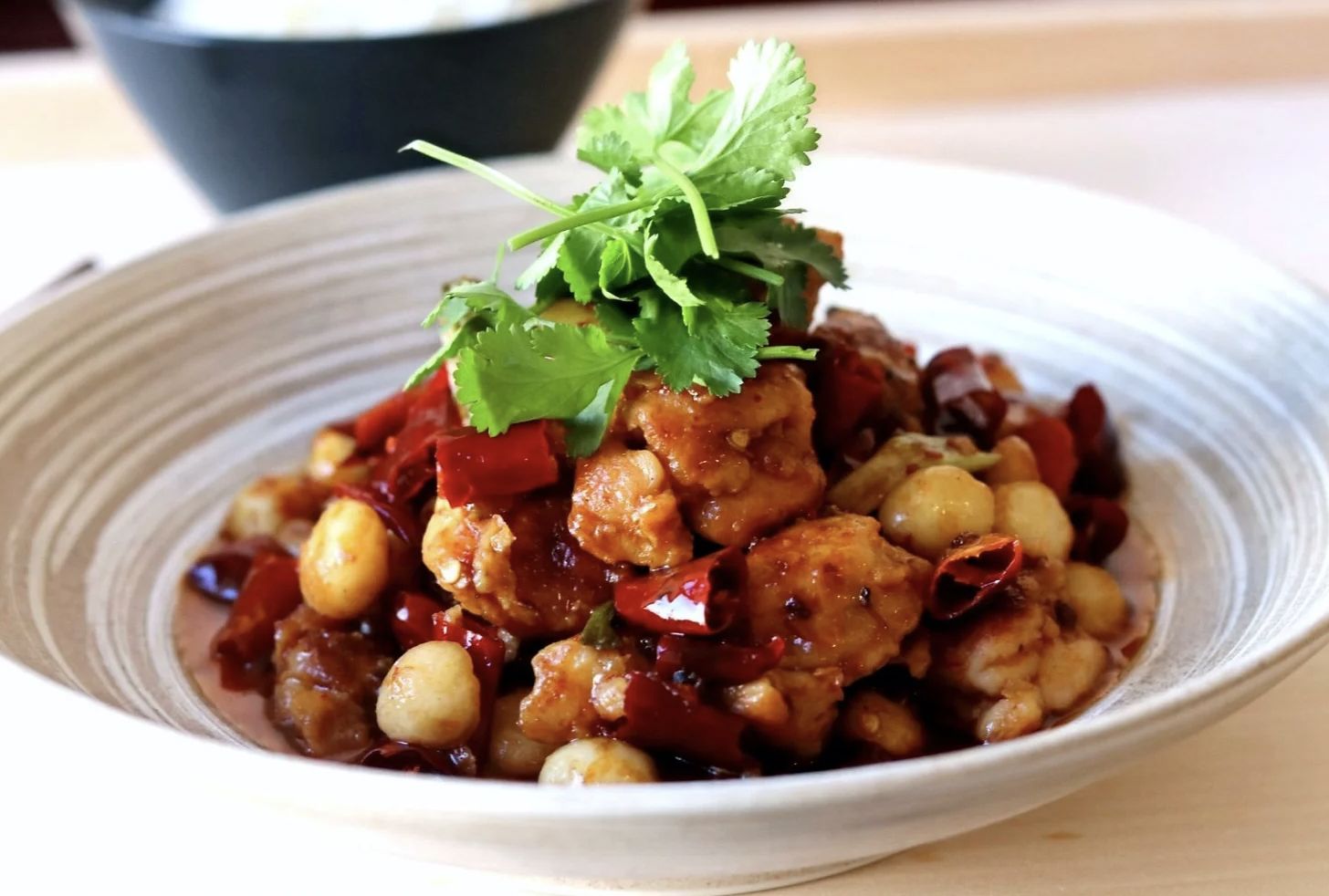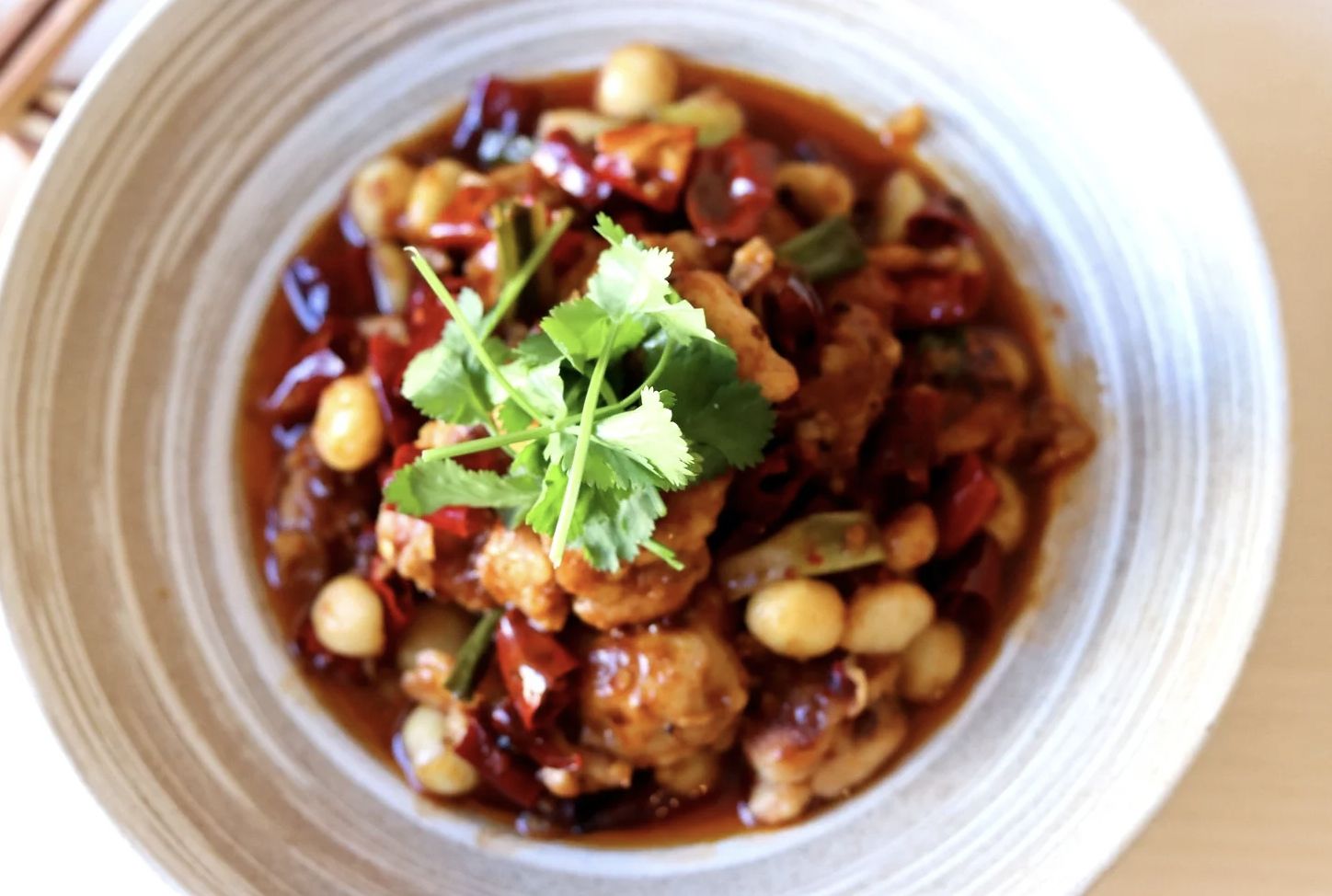 Kung Pao is a classic Sichuan dish that you can find almost anywhere outside of China in decent Chinese restaurants. What makes this classic so special is its "Mala" Sichuan smack you get on your lips from the Sichuan peppercorns and dried chillies! Kung Pao is incredibly simple to make at home and when done the right way you will be surprised how delicious this dish is…Instead of switching this recipe up, I wanted to pay homage and cook it the way it should be! With all that said let's cook Kung Pao Chicken!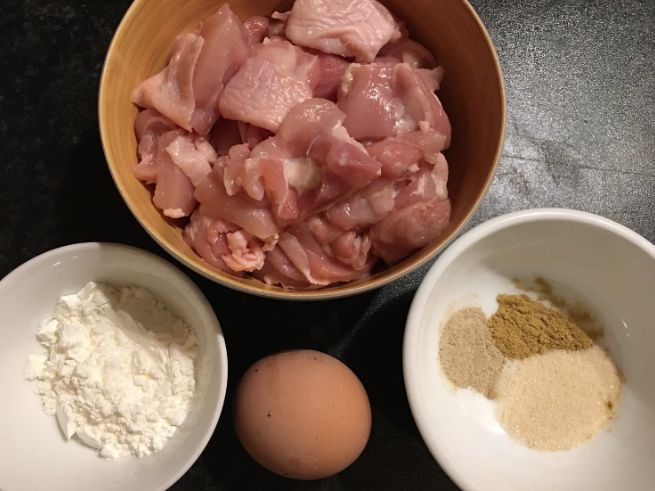 1. Let's begin with the chicken and the marinade, this ideally needs to be done at least 1/2 hour before cooking the chicken. Start by removing the thigh bones from the chicken if needed then slice the thighs into a bite sized dice leaving the skin on. When cut place the chicken into a mixing bowl.
2. Now to the marinade, the method we will use is known as velveting and is a common Chinese technique used to make the meat more tender. Add to the diced chicken thighs 2 tbsp of sake, 1 tbsp mirin, 1 tsp ginger powder, 1 tsp onion powder, 1/2 tsp white pepper, 1 egg white and 1 1/2 tbsp of cornflour. Mix the marinade into the chicken continuously until all the cornflour is incorporated and the chicken becomes velvety. When ready place to one side and allow to marinade for at least 1/2 an hour.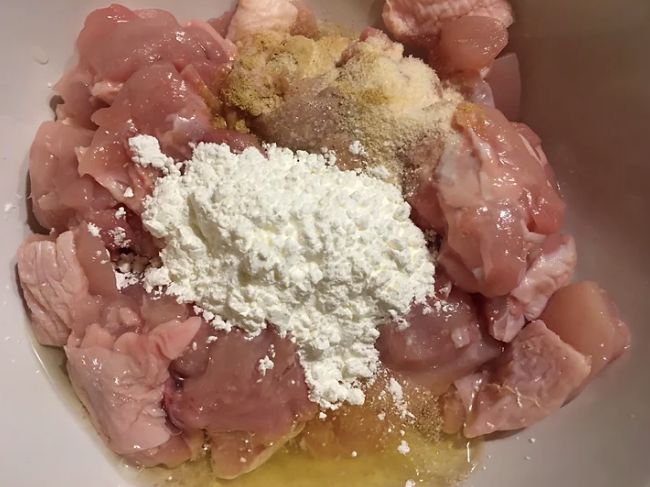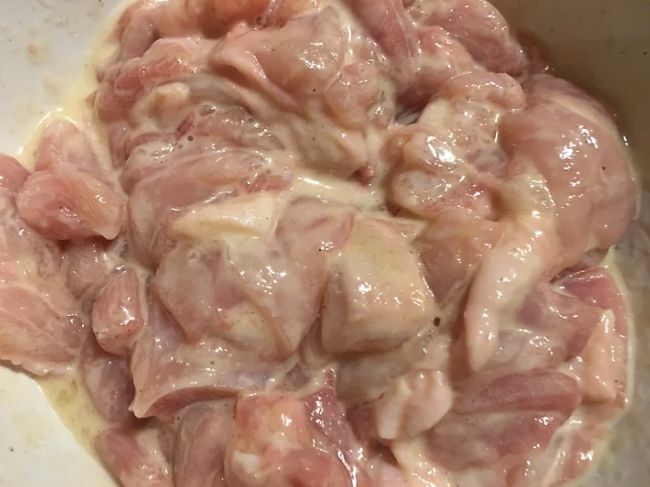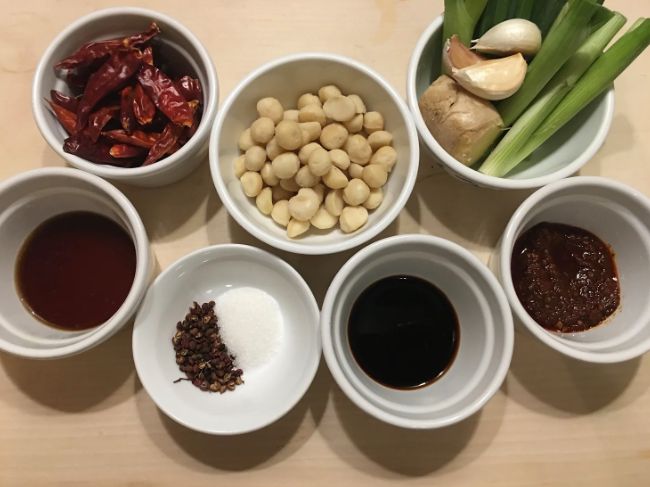 3. Whilst waiting for the chicken to marinade let's prepare the remaining ingredients before we start cooking. Begin with the dried red chillies, remove the seeds if you wish first, then use scissors to cut into 1cm pieces, for the spring onions wash and again cut into similar sized pieces as the chillies. Finely mince 3 garlic cloves and a 4cm piece of ginger. For the macadamia nuts add to a dry pan and sear until toasted. Finally, crush the Sichuan pepper corns with a knife until ground then place all the ingredients individually to one side for now.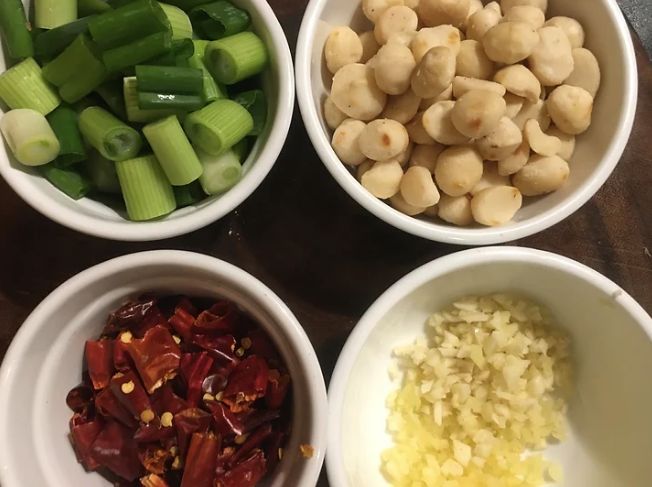 4. Now to bring everything together and make kung pao, start with the chicken, place a wok or pan onto a hight heat then when hot add a drizzle of cooking oil. Add all of the marinated chicken to the hot wok and sear for 5 minutes until golden brown. When ready place the seared chicken onto a plate and set to one side.
5. Then using the same pan as we seared the chicken in this time add a slightly generous
amount of cooking oil then add the minced garlic, ginger and 1 tsp of doubanjiang. Fry on a low heat for 1-2 minutes until fragrant. Now add chopped dried chillies and the chicken back to the pan, mix well to coat in the all of the spices.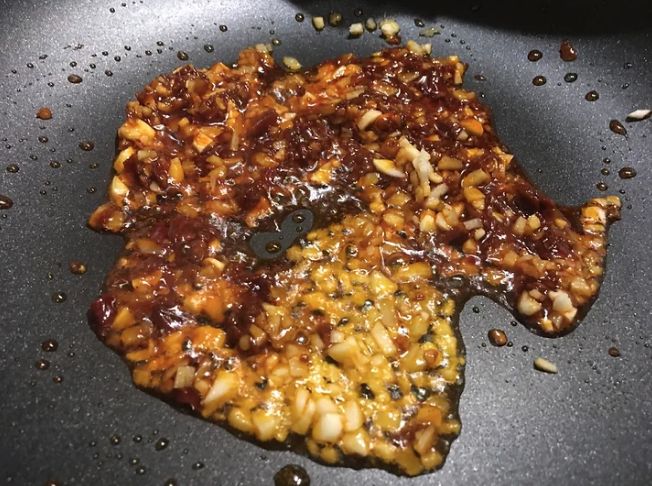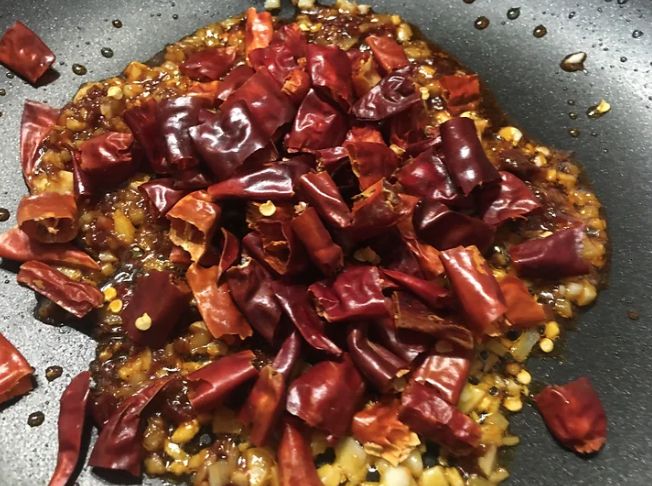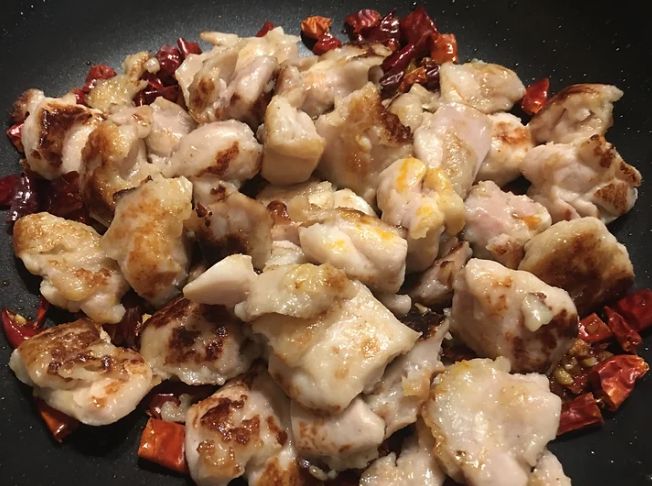 6. To take the chicken to the next level we now want to add the remaining ingredients. Add the toasted macadamia nuts, 2 tbsp of black rice vinegar, 1 1/2 tbsp light soy, 1 tsp dark soy, 1 1/2 tsp sugar, 2 tbsp sesame oil, 1 tbsp of the crushed Sichuan peppercorns and finally the diced chopped spring onions. Mix all of the ingredients well add a touch of water then continue to stir fry for 6-8 minutes and we are now just about ready to serve.
7. Just before serving adjust the seasoning by adding more black rice vinegar for tartness, more sugar for sweetness and more light soy for salt. If the seasoning is too strong then add a touch of water to balance everything out. When ready pour into a serving bowl and top with some fresh coriander and some freshly cooked rice on the side! Hope you like my version of a classic Kung Pao!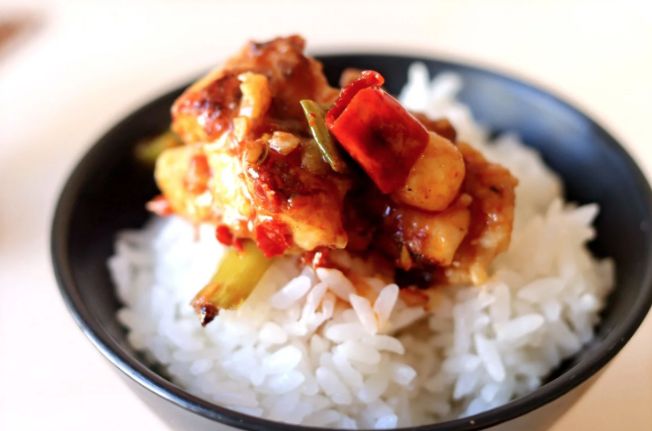 Whats great about Kung Pao is that it is so diverse. Alternatively, instead of chicken, you could also use white thinly sliced fish, pork loin, tofu or even various vegetables. Also instead of chicken thighs, you could use chicken breast if you like. Like many Chinese stir fry dishes, the best way to approach it is to get all the prep out of the way first then your coasting…Have fun with this classic!!
Prep Time: approx 30-40 mins / Cook Time 15 mins
2 tbsp sake or cooking wine
75g macadamia nuts or cashew nuts
1 tbsp sichuan peppercorns
1 tbsp doubanjiang or red chilli flakes
2 tbsp black rice vinegar
chopped coriander (optional)