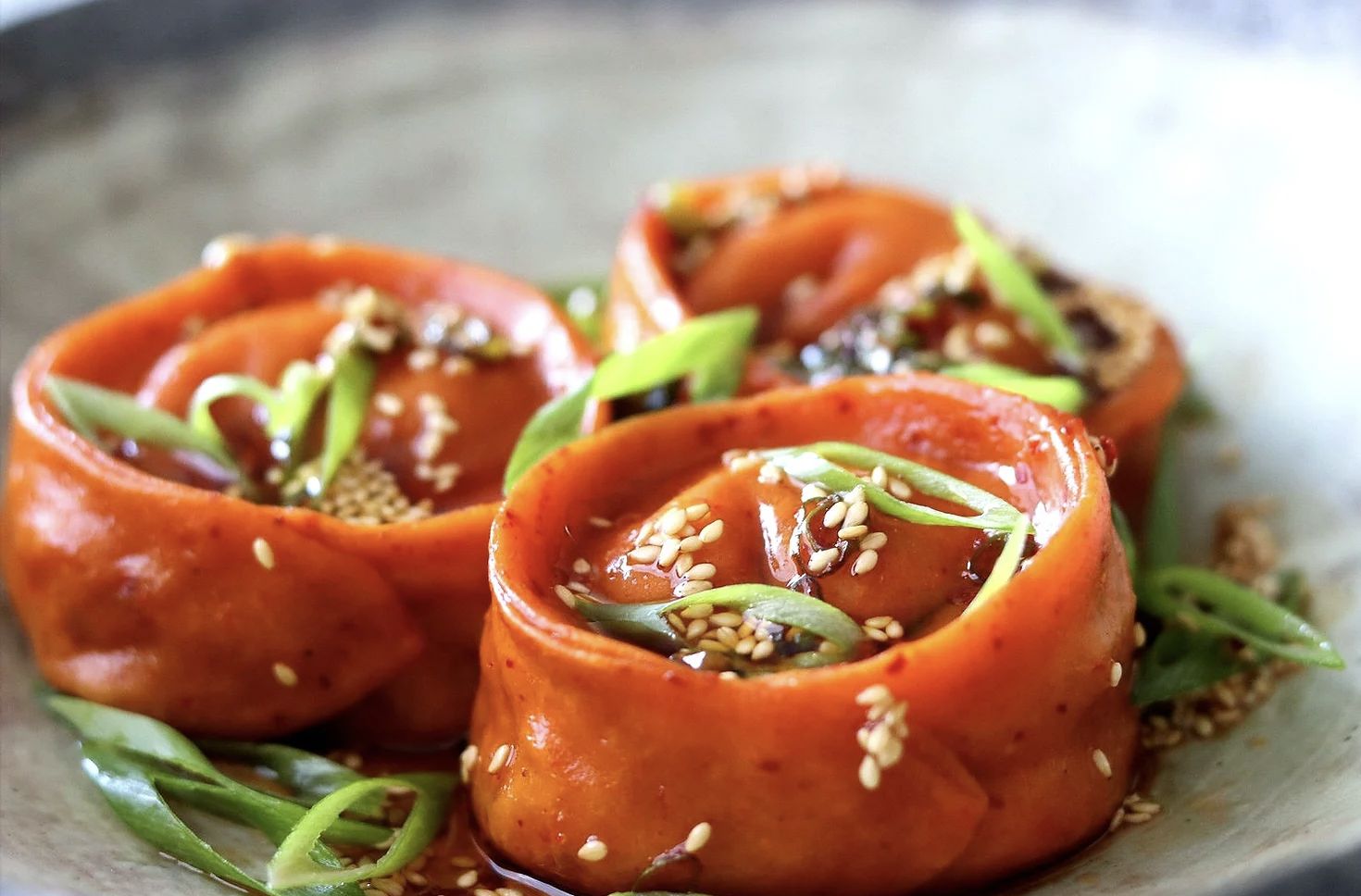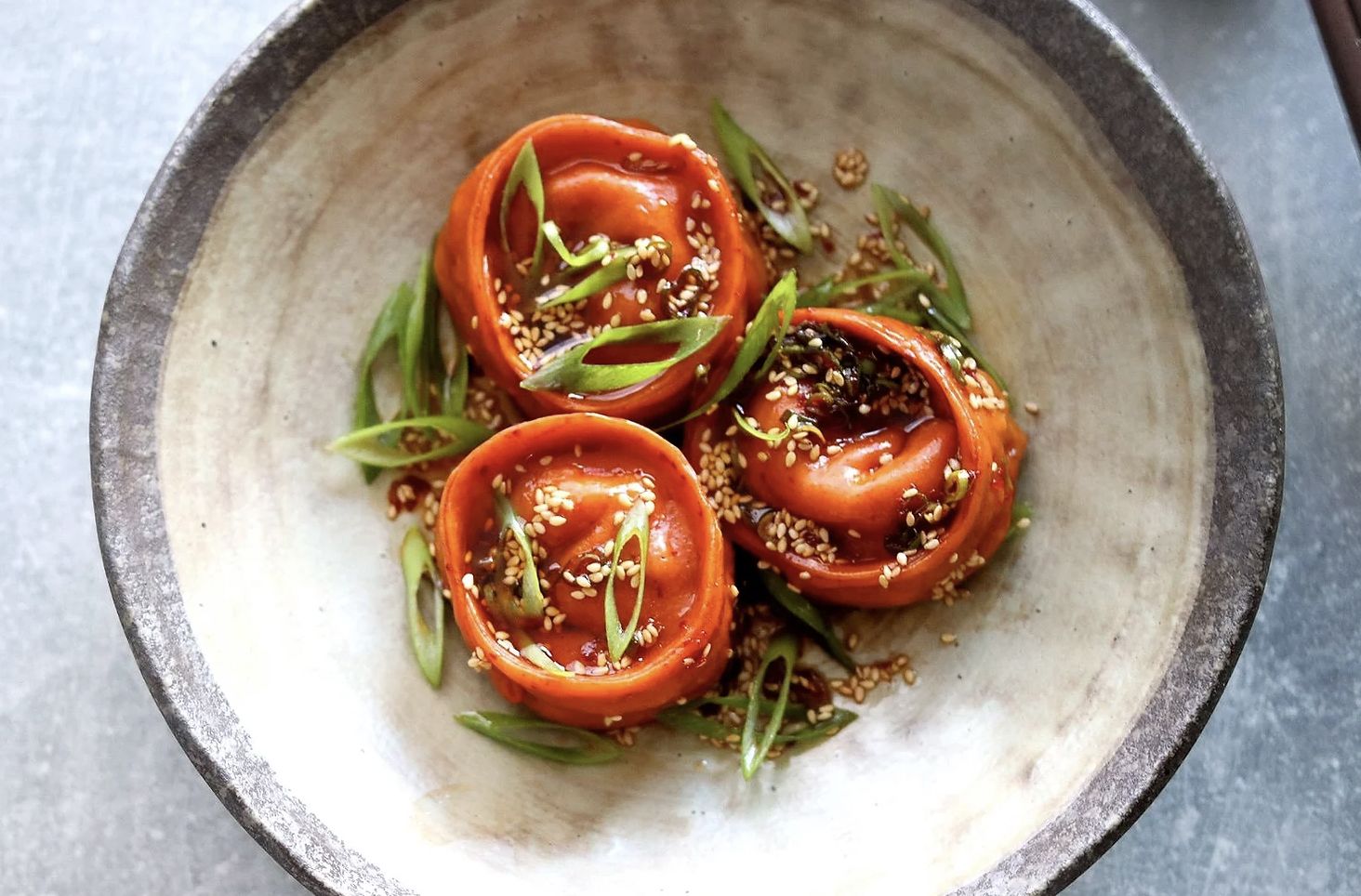 Mandu are a popular Korean street food snack that are quite unique compared to other dumplings yet still so incredibly delicious. Unlike Chinese style dumplings Mandu has a much lighter filling that is made up of minced tofu, glass noodles and for this recipe kimchi. By having lighter ingredients incorporated into the filling these dumplings are much easier to eat with a much better mouth feel. As for the wrappers I made a classic Gyoza style wrapper with the addition of gojuchang that gives a little heat and the obvious bright orange colour. These are a must try and let's get straight into it!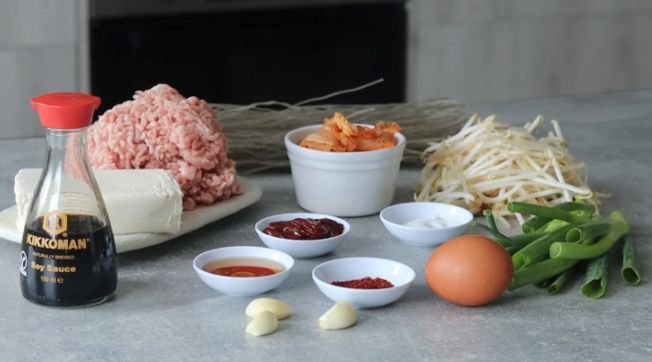 1. Let's start this recipe with the Mandu filling, this can be done the night before to make things easier and will also improve the flavour of the filling, however, you could also make just before making the dumplings also. Before we make the filling we need to try and remove some of the moisture from the tofu as this can make the filling too wet. Cover 300g of firm tofu in kitchen paper and place a weight such as a heavy tin over the top to try and extract some of the moisture. Next soak 100g of dried glass noodles in a bowl and cover the noodles in boiled water. For the beansprouts add to a small saucepan of boiling water and cook for 60 seconds. After 60 seconds drain from the boiling water and chill under cold running water.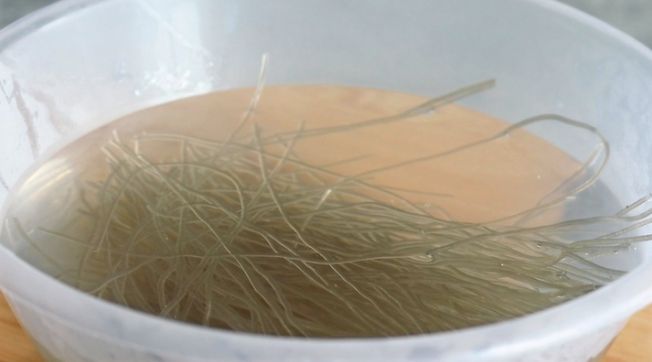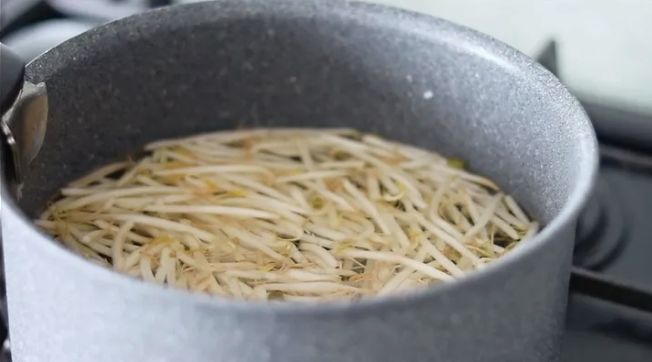 2. The next stage of the filling is to mince some of the larger ingredients as this will make the filling much tighter making it easier to fold the dumplings. When the tofu has exacted some of the moisture place into a kitchen cloth and briefly squeeze through to release any excess. Next cut the tofu into a smallish crumble/dice. For the beansprouts again drain and finely slice. When the glass noodles are softened and become translucent drain from the hot water and also run a knife through to roughly mince.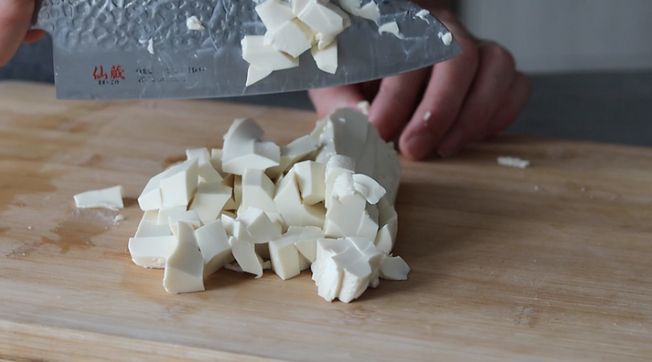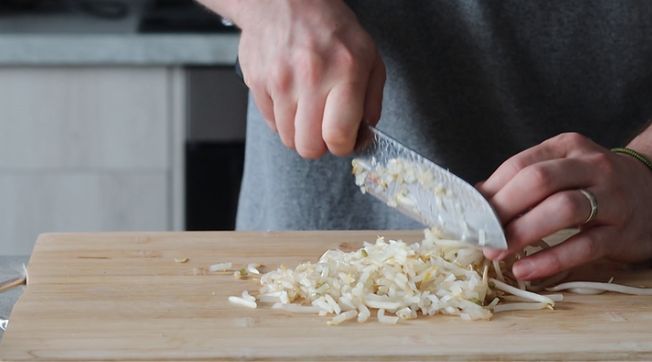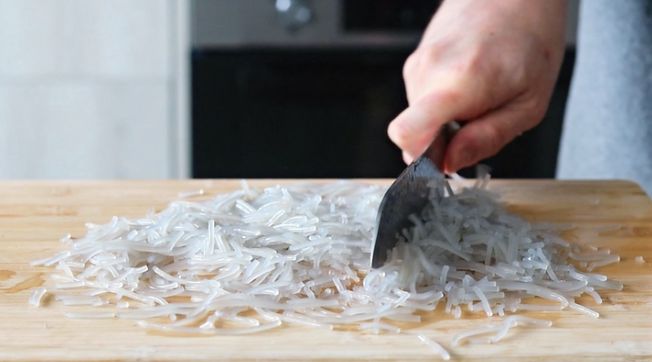 3. Now in a large mixing bowl add all of the chopped tofu, beansprouts and glass noodles then add 300g of minced pork, 200g of chopped kimchi, 4-5 finely sliced spring onions, 4 minced garlic cloves, 2 tbsp gochujiang, 1 tbsp korean chilli flakes, 3 tbsp sesame oil, 2 tbsp light soy, 1 tbsp of white sugar and 1 whole egg. Season with a touch of salt and cracked black pepper then fold the filling until all of the ingredients combine. We are looking for a filling that is not too dry yet not too loose. When ready cover with clingfilm and store in the refrigerator for now.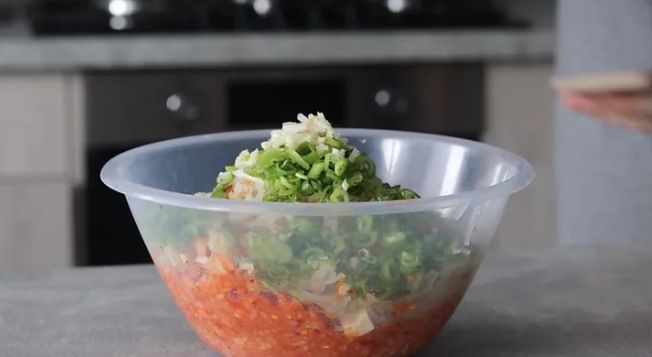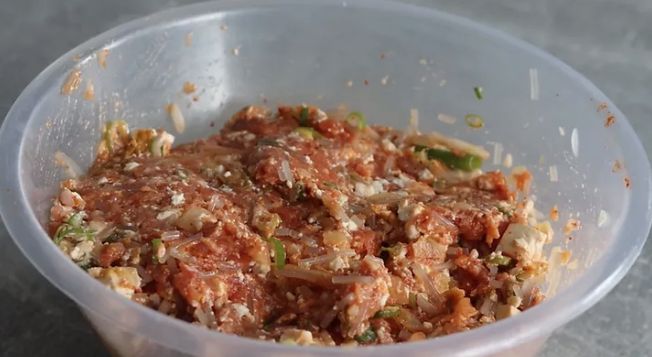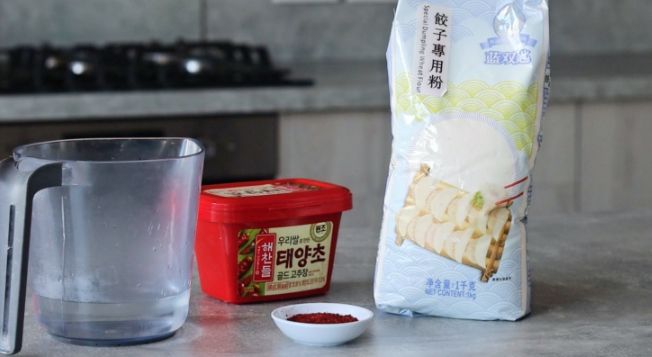 4. Now let's move onto making up the dumplings wrappers, to give the wrappers that korean spicy red vibe add 2 tbsps of gochujiang to 180mls of hot water then whisk well. In a large separate mixing bowl add 290g of dumpling flour or plain flour then add 1 tsp of salt and 2 tbsp of korean chilli flakes. Mix well then slowly add the gochujiang liquid to the flour mix whilst stirring constantly with chopsticks. Add all of the liquid until a crumble like dough is formed.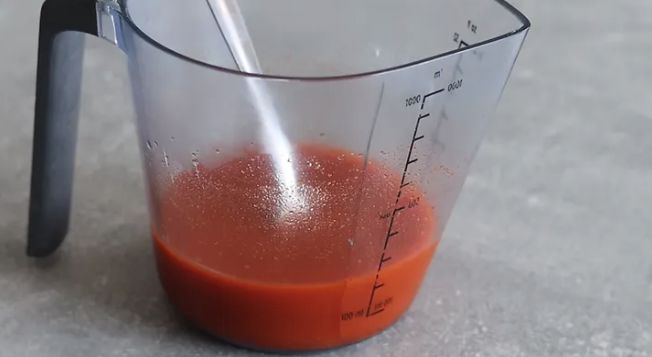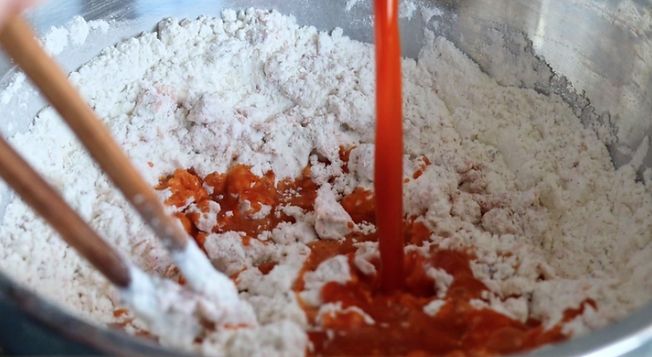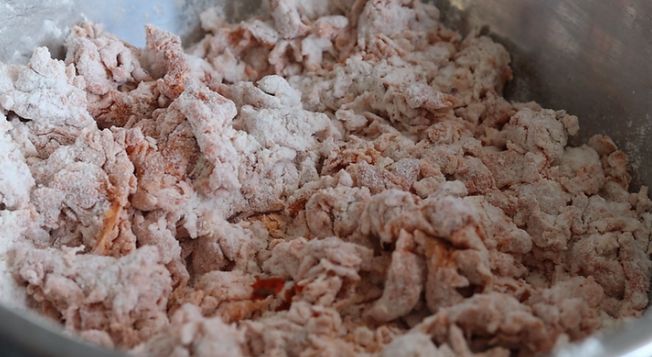 5. When all of the liquid has been added we can now begin to kneed the dough by hand. Kneed the dough for approximately 5-10 minutes until a rough ball of dough is formed. When ready cover with clingfilm and allow the dough to rest for 45-60 minutes.
Soy Sesame Dipping sauce: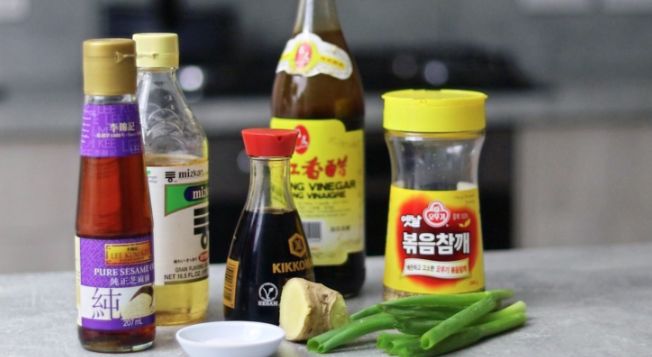 6. Whilst we wait for the dough to rest we can swiftly make up the dressing. To make a classic Korean style dressing for these types of dumplings in a small mixing bowl simply add 2 finely sliced spring onions, 4 tbsp of light soy, 2 tbsp of sesame oil, 1-2 tbsp of korean chilli flakes for some heat, 1-2 tbsp apple vinegar which will work well with the pork and 2 tbsp of toasted sesame seeds. Mix well then gradually top up the dressing with water until evenly balanced to your liking.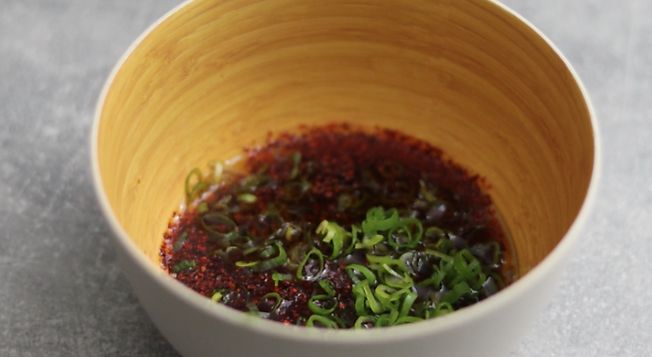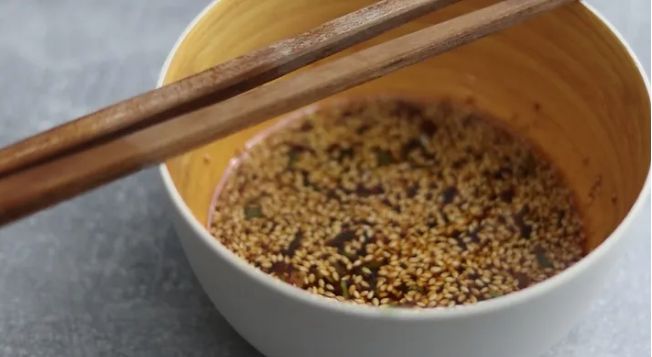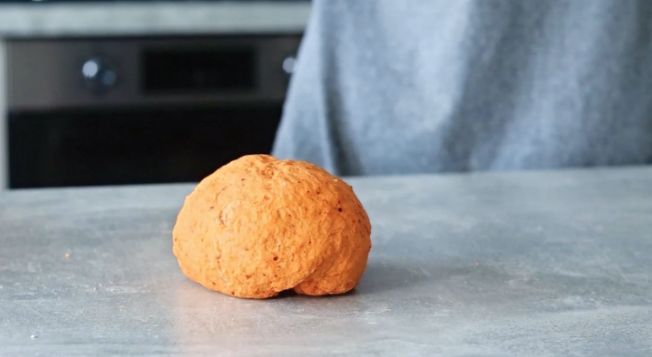 7. By this point the dough should have rested at least 45mins and this has allowed the gluten to work its magic. All the ingredients are ready and we can now make up the dumplings. Start by placing the dough onto a worktop and begin to kneed for 5-10 minutes until smooth. Next roll the ball of dough into a large ball then create a hole in the centre of the dough using your thumb to create a doughnut shaped piece of dough. Start to stretch out the dough to make an evenly shaped larger ring. We now want to cut the ring to make 1 long log of dough, then roll the dough until it has a thickness of approximately 2 inches.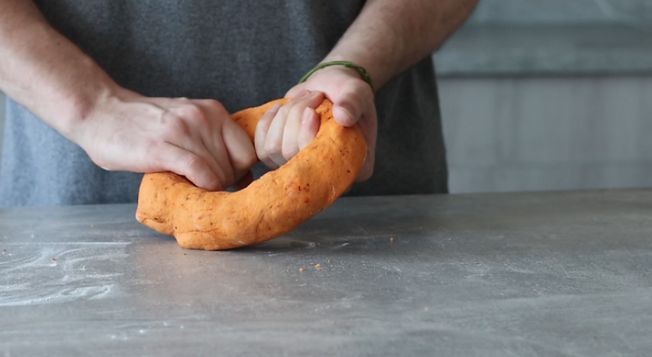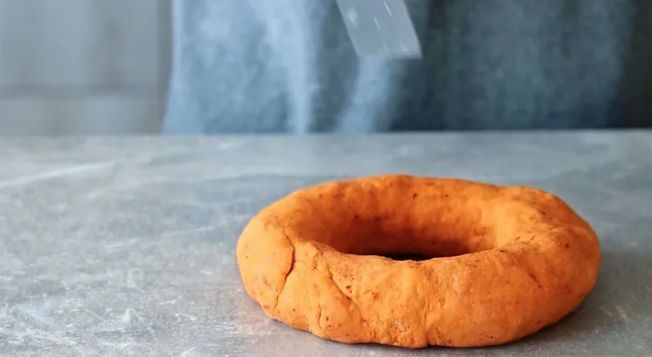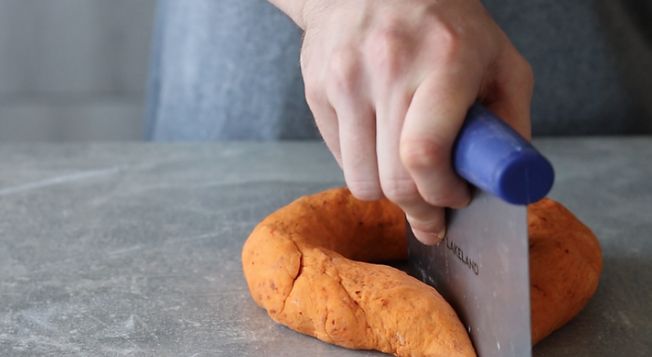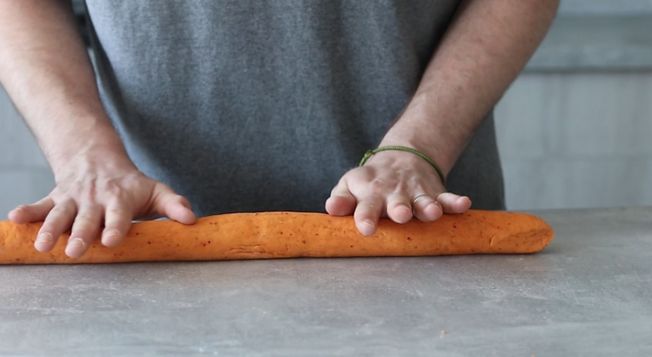 8. Now cut the dough evenly to make 16 equal sized pieces. Each piece of dough should weight approximately 30g in weight although its totally cool to allow 1-2g either way. When ready lightly dust the cut dough with a flour then place to the side of the worktop and cover with clingfilm and we can now start making up the Mandu.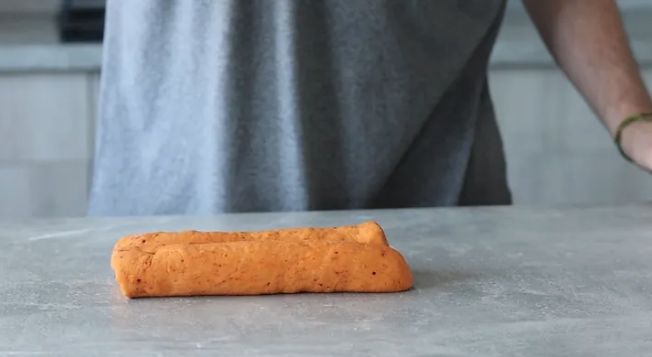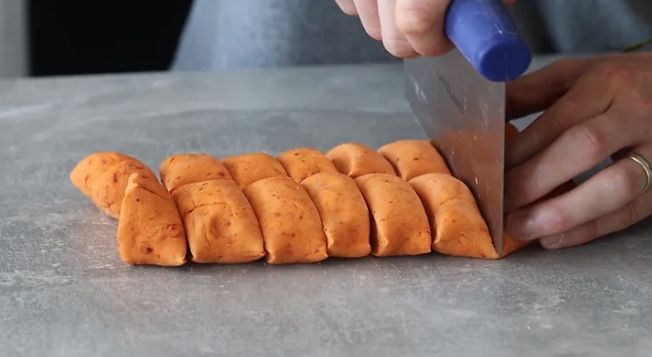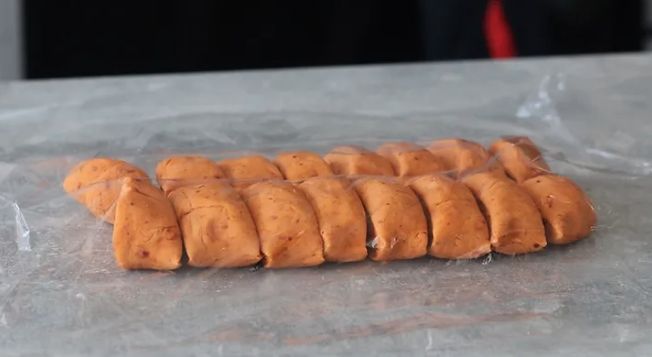 9. To build up the mandu take 1 piece of dough then roll into a small ball. Flatten with your palm to make a disk then use a small rolling pin to roll out the dough to make a large flat disk roughly the size of your palm or approximately 5 inches in diameter (these are slightly larger than regular dumplings). The best way to roll the wrappers is to roll from edge to the centre of the dough whilst rotating the dough round after each roll. This will give you a slightly thicker centre in the dough which will be able to hold the filling much better. If the dough starts to stick then again dust lightly with additional flour. Repeat this process for each piece of dough then set them to one side and cover again.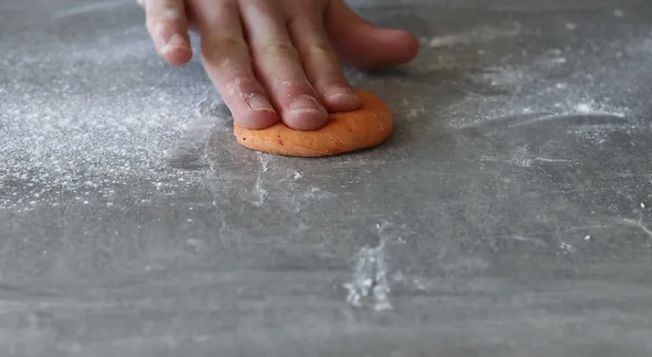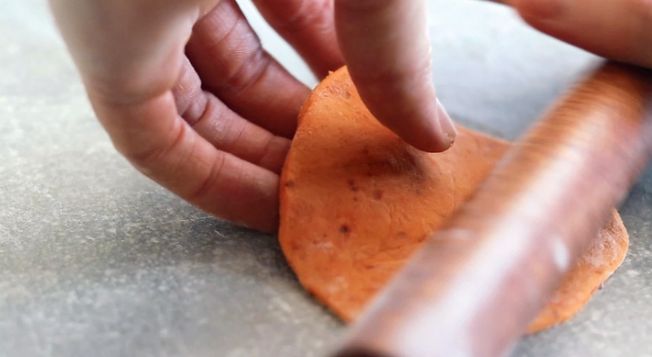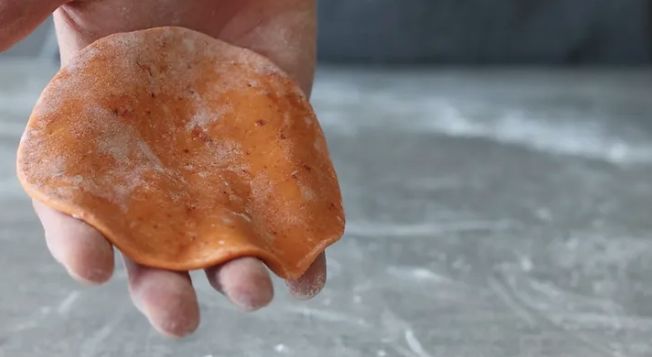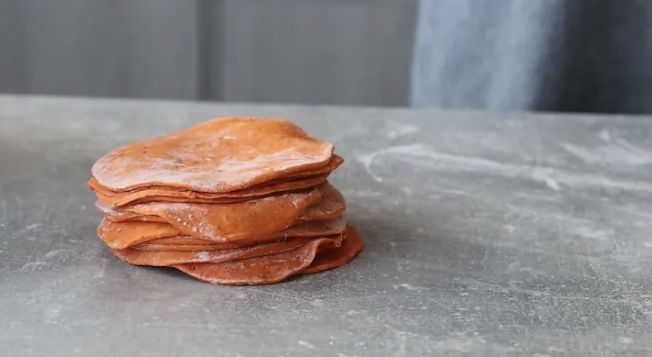 10. Now to fill and fold the mandu, take the filling out of the refrigerator and we are good to go. Brush half of the dough around the edge with water tmaking it easier to stick then add 1 heaped tbsp of filling into the centre of the dough. Leave a rim around the dough that is around the filling which is 1-2cm approx then fold the dough in half to form a crescent shape. Seal the edge of the dough together to seal the dumplings ensuring there are no open gaps.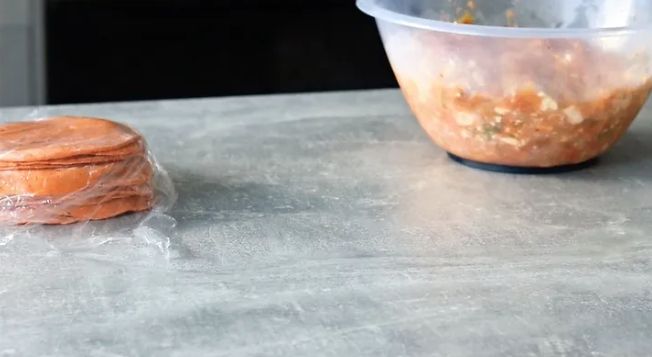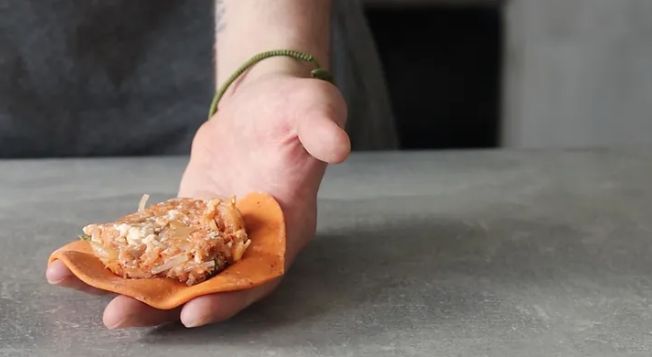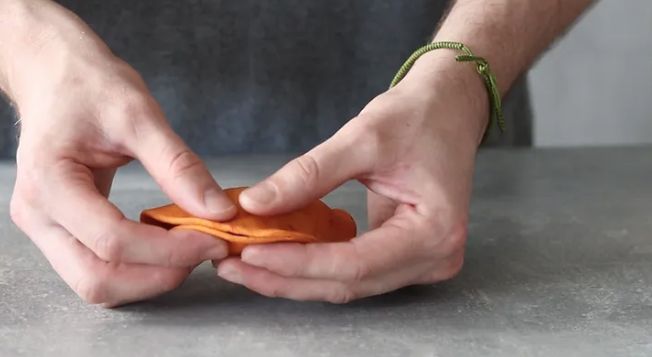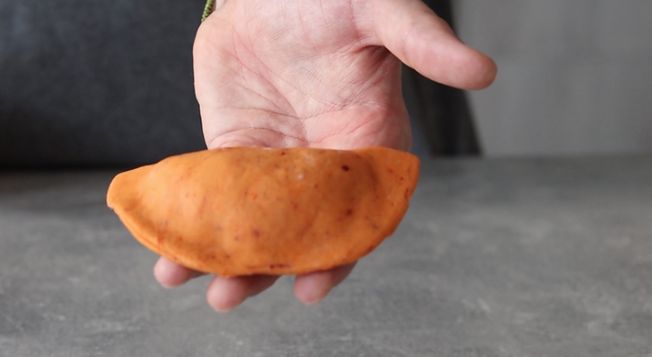 11. To make a much more prettier dumpling take each of the bottom corners of the dough and bring them together. Lightly wet each corner with water and seal together. If that sounds like madness then refer to the image below and its not as bad as it sounds. When ready ensure there are no open gaps and gently tighten up the dumpling by pinching around the edges. Place the dumpling onto a tray and cover with clingfilm. Repeat this process for all of the wrappers then when ready we can begin to cook.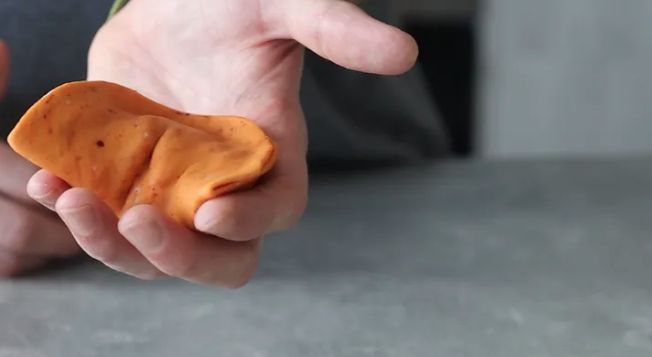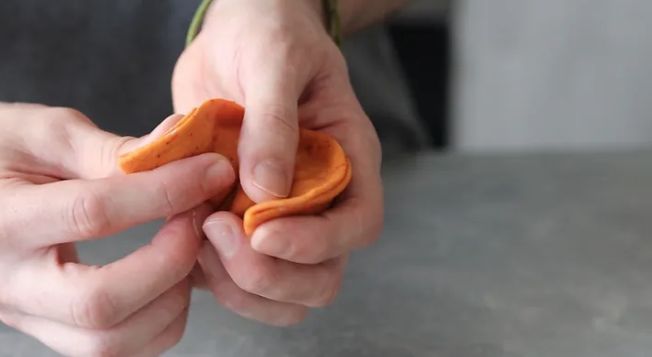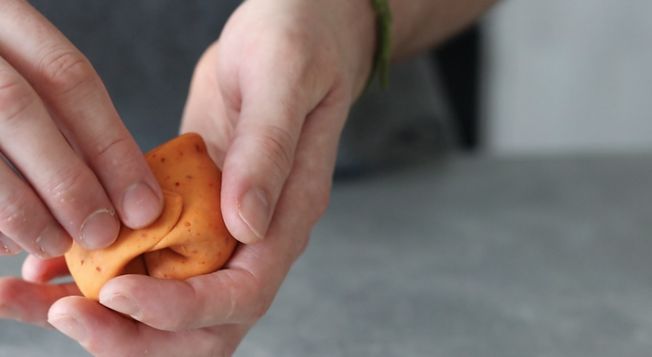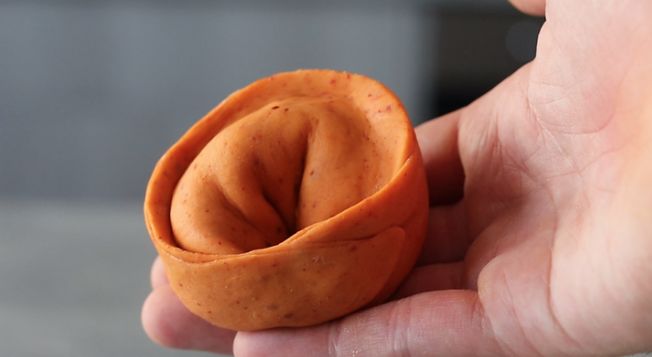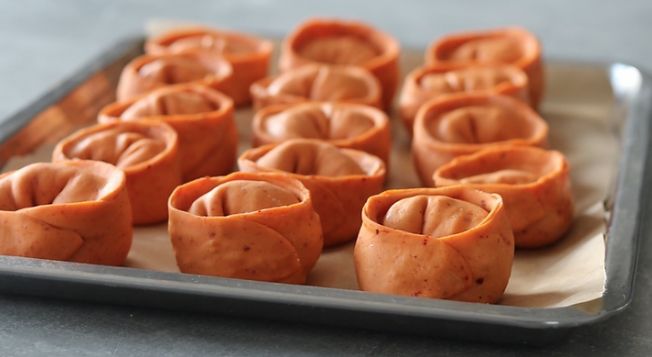 12. To cook the Mandu traditionally you can simply steam them from here in a bamboo steamer for 8-9 minutes, however, I find it easier and nicer to cook them the Gyoza way by creating a crispy base then steaming in a pan. Place a large pan onto a high heat then add a drizzle of cooking oil. When hot place a handful of the dumplings into the pan and fry on the base side for 2-3 minutes or until the base becomes golden brown. When ready add approximately 100mls of cold water around the pan and place a lid on top. Steam the Mandu for 8-9 minutes (size depending). When cooked all of the water should have evaporated and the Mandu are ready. Remove from the heat and we are now ready to serve.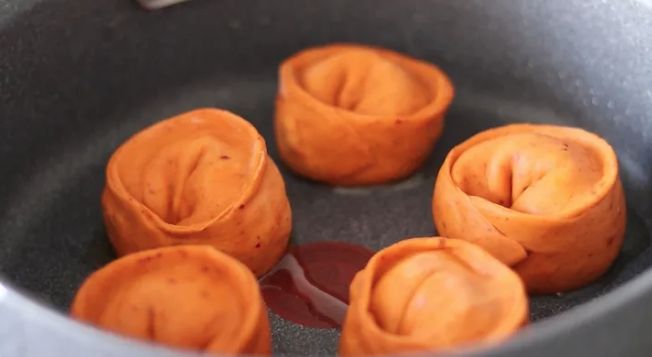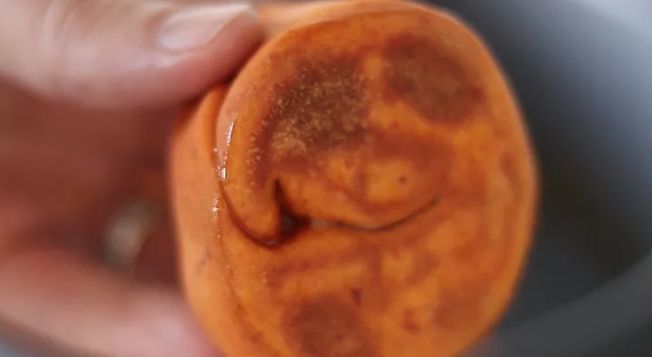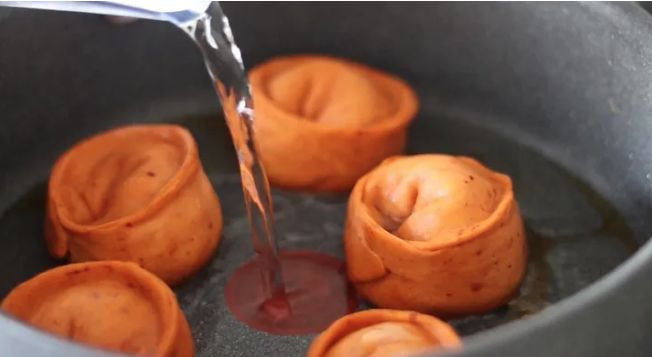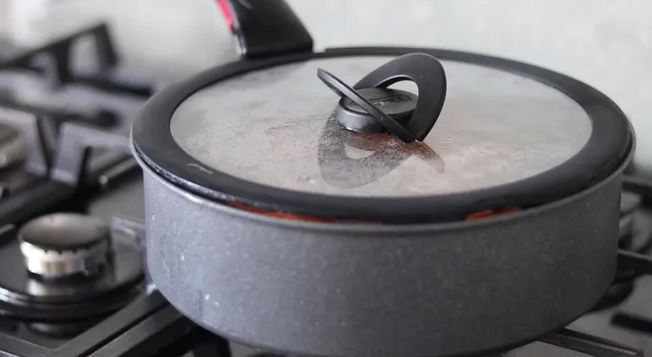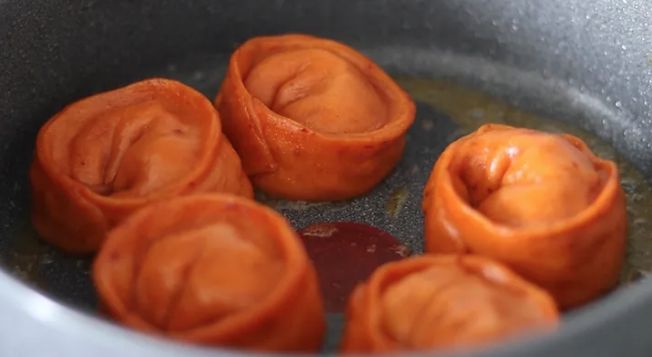 13. Now to finally serve, carefully remove the dumplings from the pan and divide into serving bowls. I find 3-4 Mandu's of this size are a good sized portion per person. Drizzle lightly with some of the dressing that we made earlier. Serve with a small side dish of additional dressing on the side. Have fun making Mandu and I'm sure that you will love them!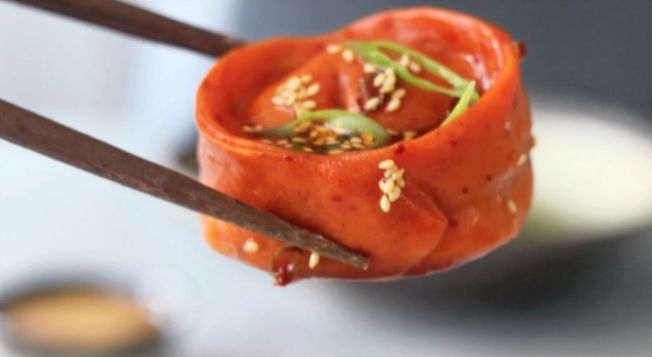 As for the wrappers, rather than making them you can speed things up by simply buying them. You can usually find these in the frozen section in most Asian supermarkets, however, I have never seen frozen gochujiang ones…If making 18 dumplings is far too many then when made you can store these in a ziplock bag and freeze for up to a month. Regarding the filling if you want to make this recipe vegan then remove the ground pork and replace with minced mushrooms or even cooked and drained spinach would also work well. Have fun making Mandu and peace!
Cook Time 10 minutes / Prep Time 1 hr 30 mins / Dough Rest Time 1 hr
390g chinese dumpling flour or plain flour
2 tbsp korean chilli flakes
1 tbsp korean chilli flakes
Soy Sesame dipping Sauce:
2 tbsp toasted sesame seeds
1-2 tbsp korean chilli flakes (optional)
1-2 tbsp apple vinegar or rice vinegar