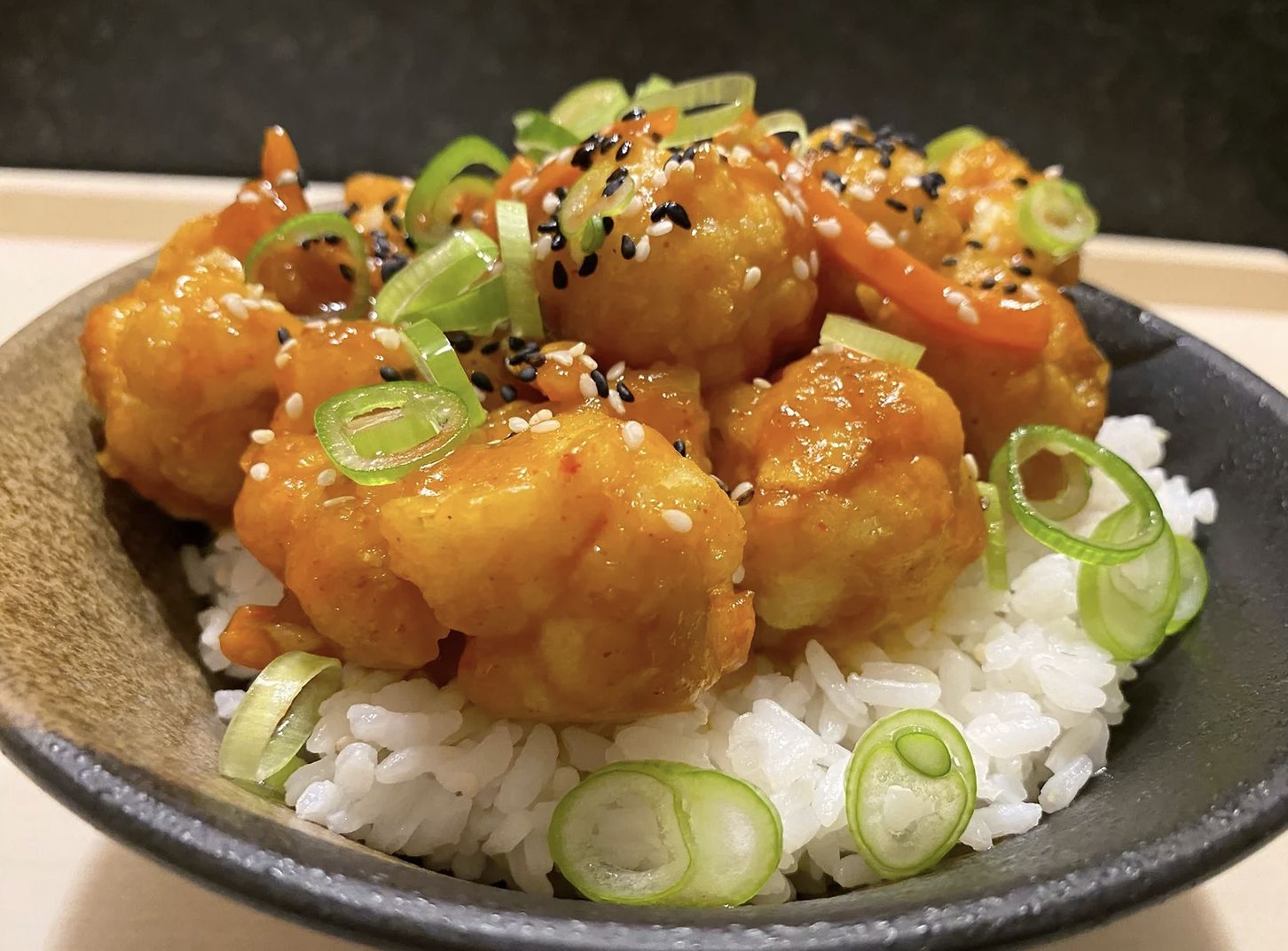 This recipe follows a fairly classic Korean Gochujang sauce that is usually used on fried chicken or beef. Cauliflower makes a great alternative as of its slightly meaty texture and distinct flavour. This dish takes very little time to make and works great as a main course or as a side dish. This recipe is great if you want to take simple vegetables to a whole different level! let's cook!
1. Start by preparing the cauliflower, wash first then cut into bite-sized florets. Place to one side then, for the dredge for the cauliflower, in a bowl add 2 large tbsps of cornflour and 2 tbsps of plain flour. Now add 1 tsp chilli powder and 1 tsp of garlic powder and mix thoroughly. When ready add the cauliflower to the dredge and place to one side for now.
2. To cook the cauliflower add a generous amount of cooking oil to a pan and place onto a high heat. Wait for the oil temperature to reach 180°c then add the cauliflower in batches, try not to add all the cauliflower at once as this will reduce the temperature of the oil. Cook for approximately 5 minutes or until just before cooked then carefully remove and place on kitchen paper to drain off the excess oil.
3. To make the gochujang sauce, in a bowl add 1 tbsp Korean chilli paste, 2 tbsps of light soy, 1 1/2 tbsps honey, 1 tbsp mirin, 2 tbsp sesame oil and 1 tsp of black rice vinegar. Mix all together and place to one side. Now finely chop 2 garlic cloves, a 2cm piece of ginger then slice 1 carrot into a fine julienne. Add a drizzle of oil to a pan and place onto a medium heat then add the carrot, garlic and ginger and fry until fragrant. When ready add the sauce that we mixed before and place the heat onto a low simmer.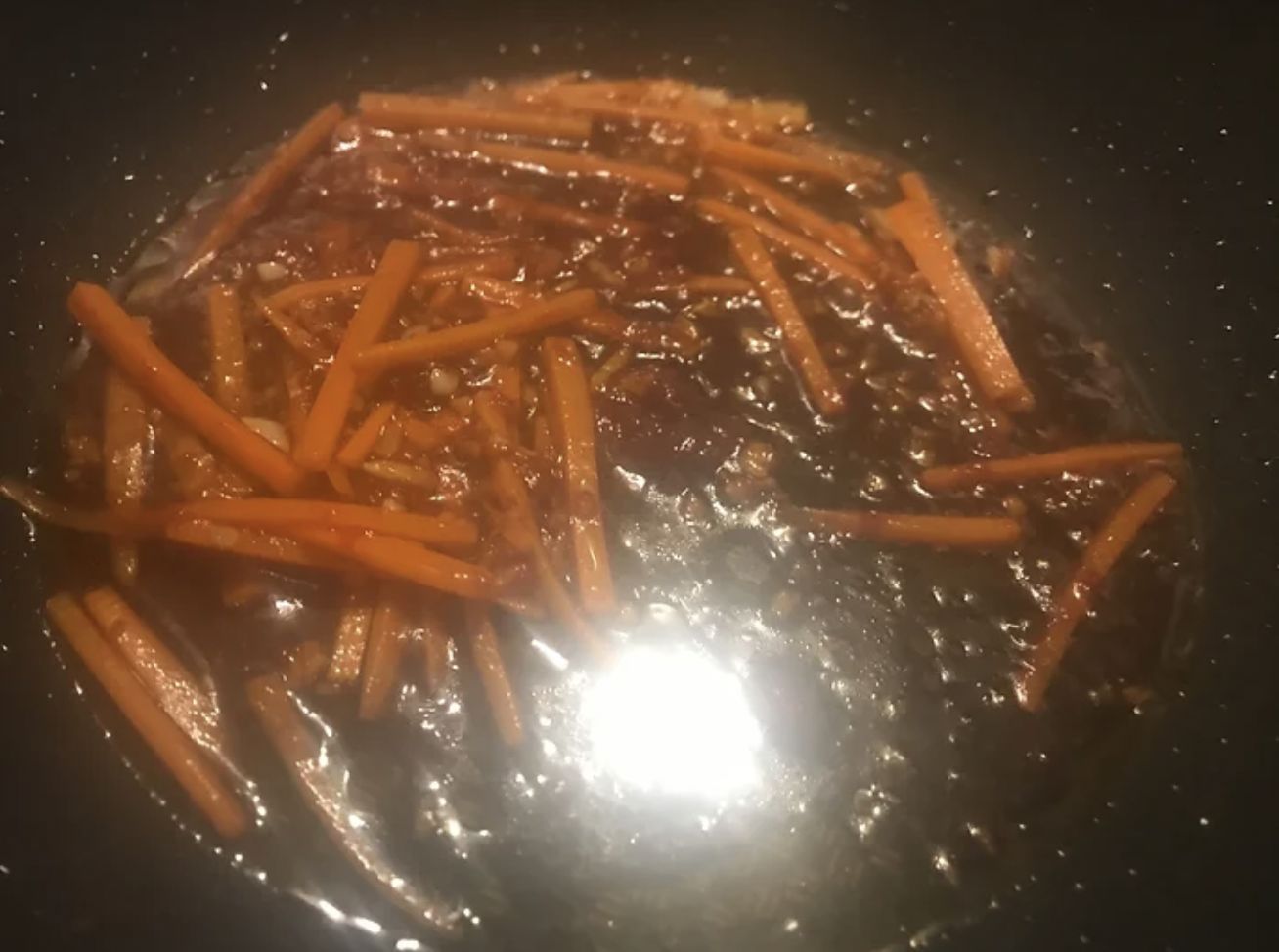 4. When the sauce has slightly reduced add 90ml of water and stir. To thicken the sauce dilute a small amount of cornflour in a bowl and add a drop of hot water. Mix until the cornflour is diluted then gradually add the cornflour bit by bit until the sauce is at the right consistency (you want the sauce to be able to coat the back of a spoon). Now add the fried florets of cauliflower and ensure all the cauliflower gets coated nicely. Check the seasoning by adding more light soy or water if the flavour is too strong.  
5. To serve, place on top of either some freshly cooked boiled rice or some cooked glass noodles. Add some sesame seeds and finely sliced spring onions over the top and nourish…Hope you all like this super quick and easy recipe!
Instead of cauliflower, you could replace it with tofu, chicken, sweet potato or any other meaty type of vegetable…If you cant get hold of Korean chilli paste then you could alternatively use siracha or fresh chilli. have fun making this simple dish.
2 tbsps cornflour (dredge)
2 tbsps plain flour (dredge)
1 tsp chilli powder (dredge)
1tsp garlic powder (dredge)
1 tbsp korean chili paste