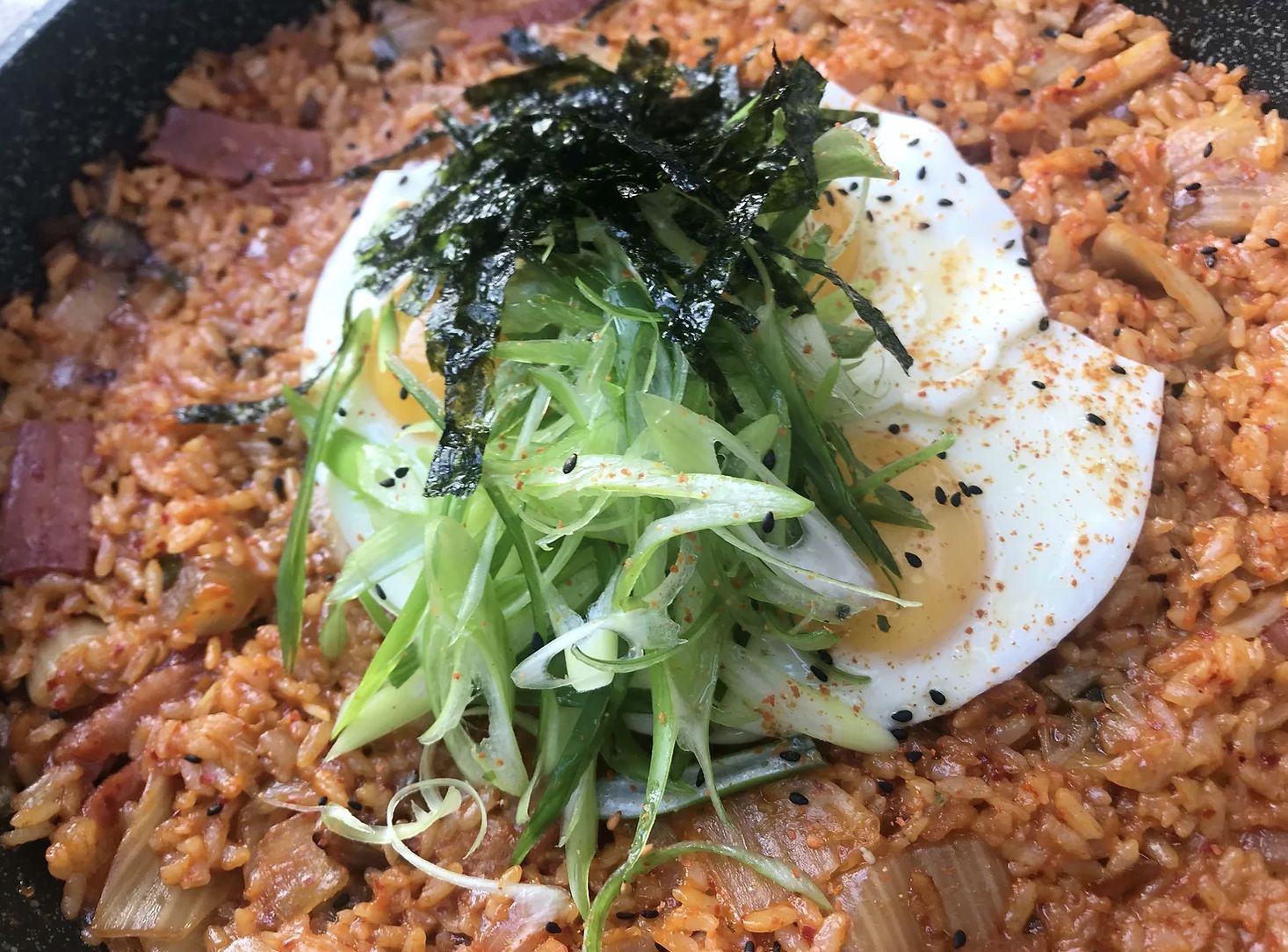 This dish is a great introduction to people that want to learn how to cook Korean food. It is one of those simple Korean dishes that you can add to whatever you have left over in the fridge. As long as there's plenty of chopped kimchi you should be good to go. The aim of this simple recipe is to enhance the flavour of the kimchi with the other ingredients. To accomplish this, instead of cooking regular fried rice I decided to take more of a risotto technique approach to it. Let's get to it…
Start this dish by cooking rice for 4. When cooked allow the rice to cool and set to one side. Now to prepare the other ingredients, cut the ham into lardons, finely slice spring onions, chop the white onion into a medium dice and finely slice the garlic. Remove the kimchi from the packet and roughly chop, pour the remaining kimchi juice into a separate bowl. When all the ingredients are prepared add the ham into a dry pan with a tiny drizzle of oil and fry on a medium heat until caramalised.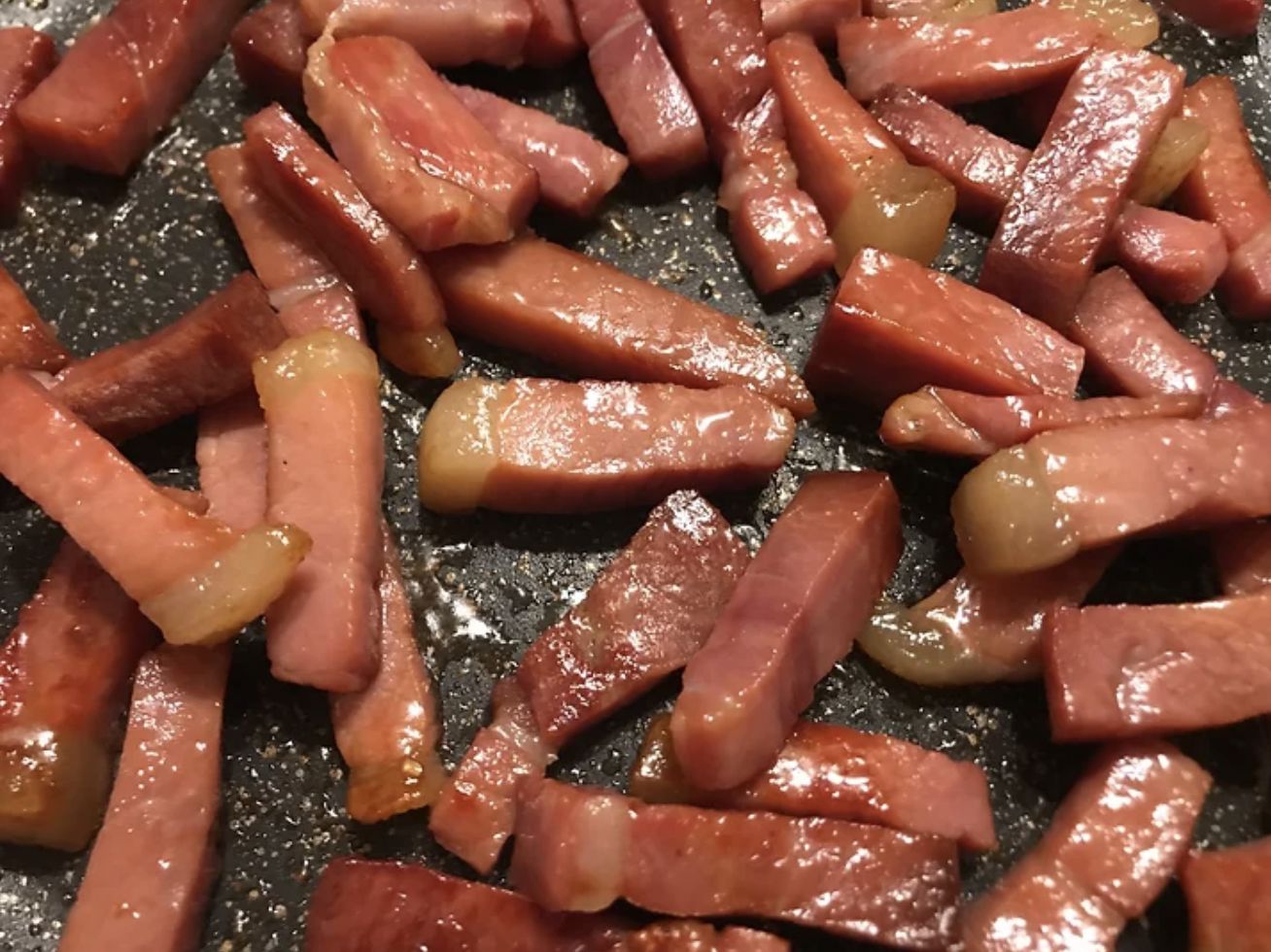 2. When the ham is nice and golden add the chopped onion and garlic and fry for a further 5 minutes. Now add chopped kimchi and turn the heat down to a low simmer.
3. Next to add some sauce to the dish, dilute the korean pepper paste with a few tablespoons of hot water then add to the pan followed by the remaining juice from the kimchi, 1 tbsp rice vinegar, 1 tbsp honey, 2 tbsp soy and 2 tbsps of sesame oil. Bring to the boil then add the cooked rice and mix. Turn the heat down to low and allow all the flavours to mingle.
4. Now onto the risotto element, add 75g of chopped butter and add to the rice. Gently fold in the butter to make the rice almost creamy. Next reduce the liquid until the bottom starts to lightly catch then prepare to serve.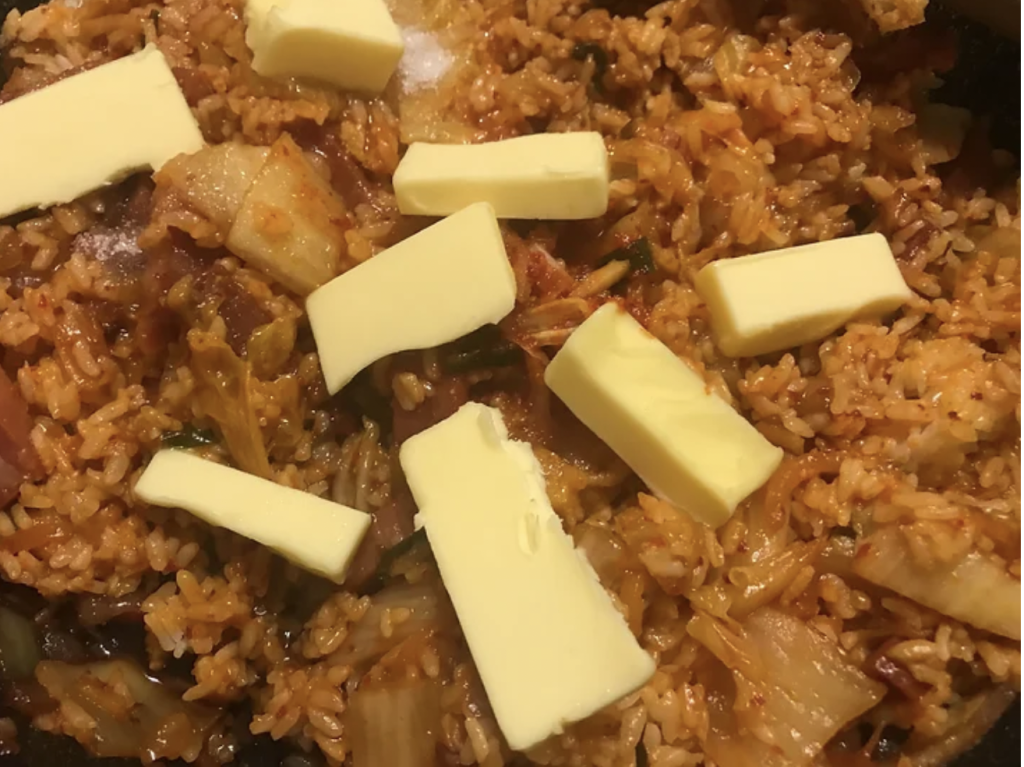 5. The easiest way to serve is by keeping the rice in the pan. Now fry 4 eggs in a pan leaving the yolks runny and place in the centre of the pan of rice. Add chopped spring onions and sliced nori over the top. Drizzle with a touch of sesame oil and sesame seeds and devour…Hope you enjoy this super simple recipe.
If you want to make this recipe vegetarian simply remove the ham from the recipe or substitute it with tofu. You could also add other vegetables to the dish for example carrots, cabbage or mushrooms. Hope you enjoy this recipe!
200g Serano ham or Panchetta (or tofu if vegetarian)
750g cooked short grain rice
1 tbsp korean pepper paste