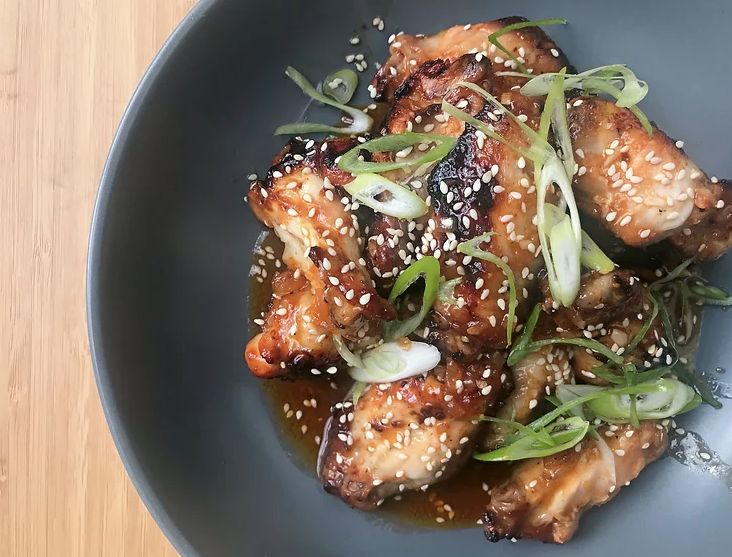 1. Begin by preparing the chicken wings, cut into 2 pieces by slicing down the elbow of the wing then add to a bowl. Next add 1 tbsp of gochujang chilli pepper paste, 1 tbsp minced garlic, 1 tsp minced ginger, 1 tbsp of soy, 2 tbsp sesame oil, 1 tsp dark soy then season with white pepper. Next mix thoroughly and marinade the chicken and when the marinade is ready divide the chicken wings onto two bamboo skewers with around 5 wings on each skewer. When prepared, clingfilm the skewers and let marinade for at least 3 hours in the fridge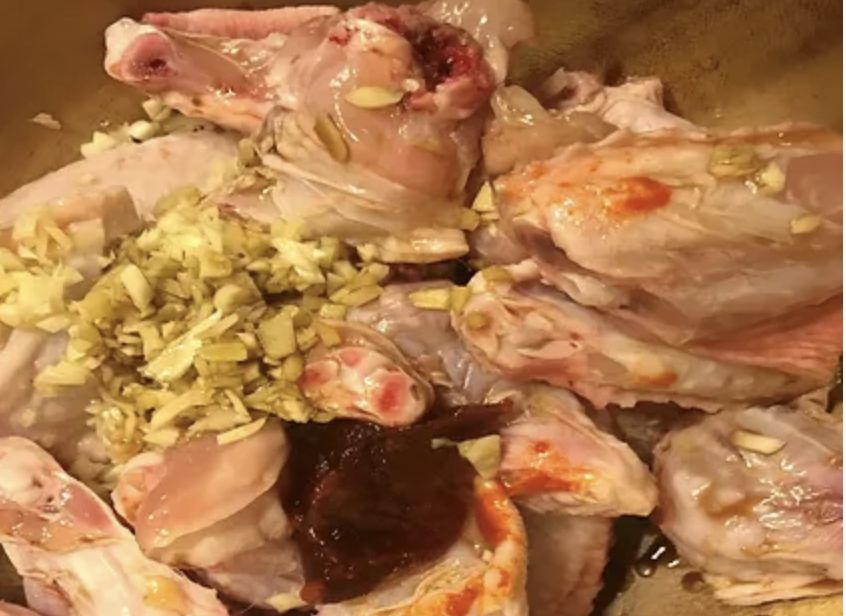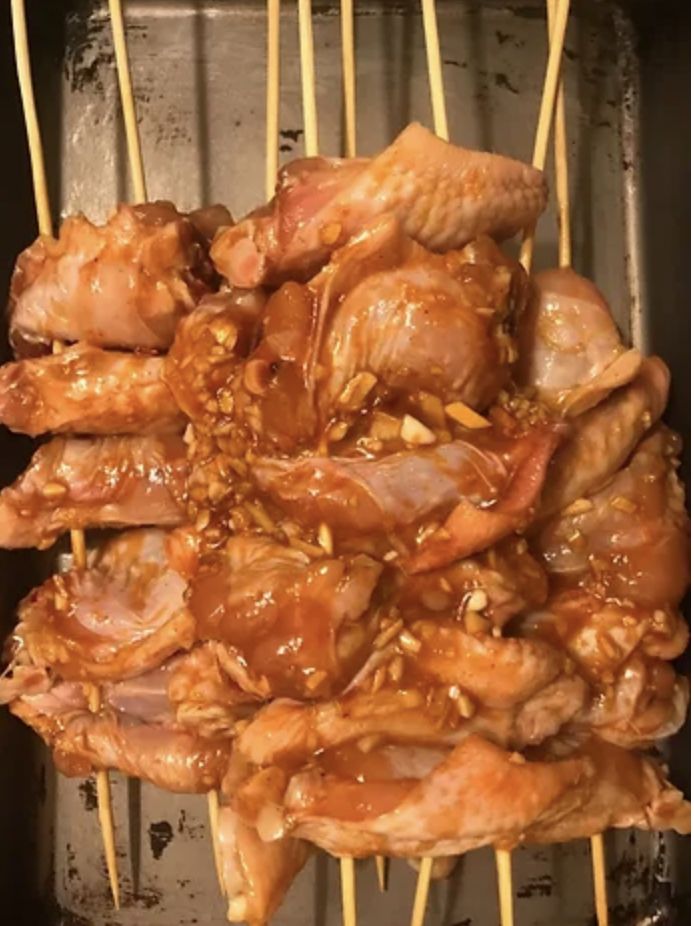 2. Now onto the sauce, in a pan add 1 tbsp of oil, 1/2 a finely sliced white onion,1 tbsp minced garlic and fry until fragrant. Next add 1 tbsp of gochujang chilli pepper paste, 1 tbsp light soy, 2 tbsp of honey then 500 ml of water. Simmer for around 10 minutes enabling all the flavours to infuse, next dilute 1 tbsp of corn flour with a drop of boiling water then add 1 tbsp of the diluted cornflour to thicken the sauce. Check the seasoning by adding white pepper or additional sugar, (you want the sauce to be fairly strong as this will coat the chicken wings). When ready set aside as we will add the wings to this sauce when cooked.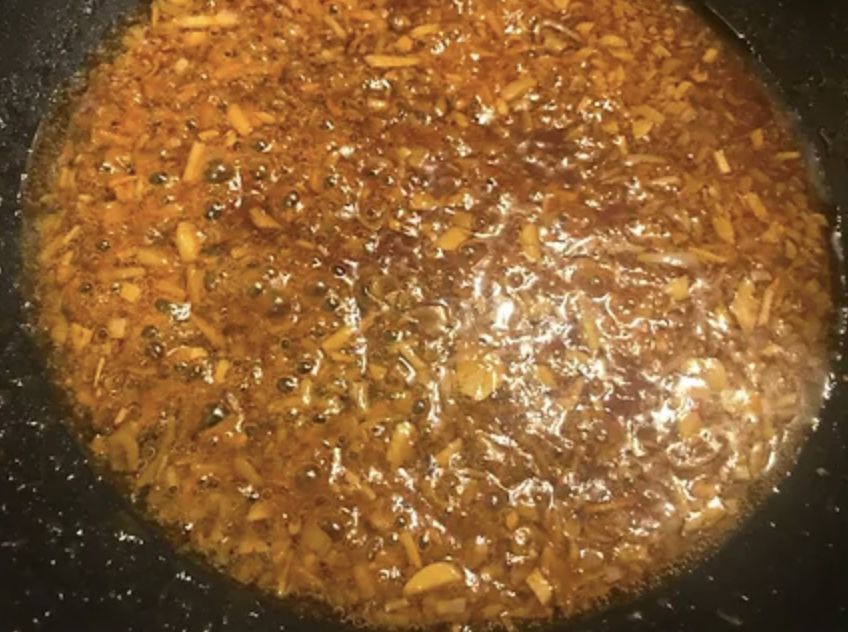 3. Lets cook the chicken wings! for this recipe I recommend grilling on a bbq but if that's not an option for you, you can bake the marinated chicken wings in the oven at 180 degrees centigrade for 35 minutes until cooked. If you opt for barbecuing I recommend cooking on a medium flame (around 180 degrees centigrade) for approximately 35 minutes constantly turning to ensure the wings are cooked and evenly charred.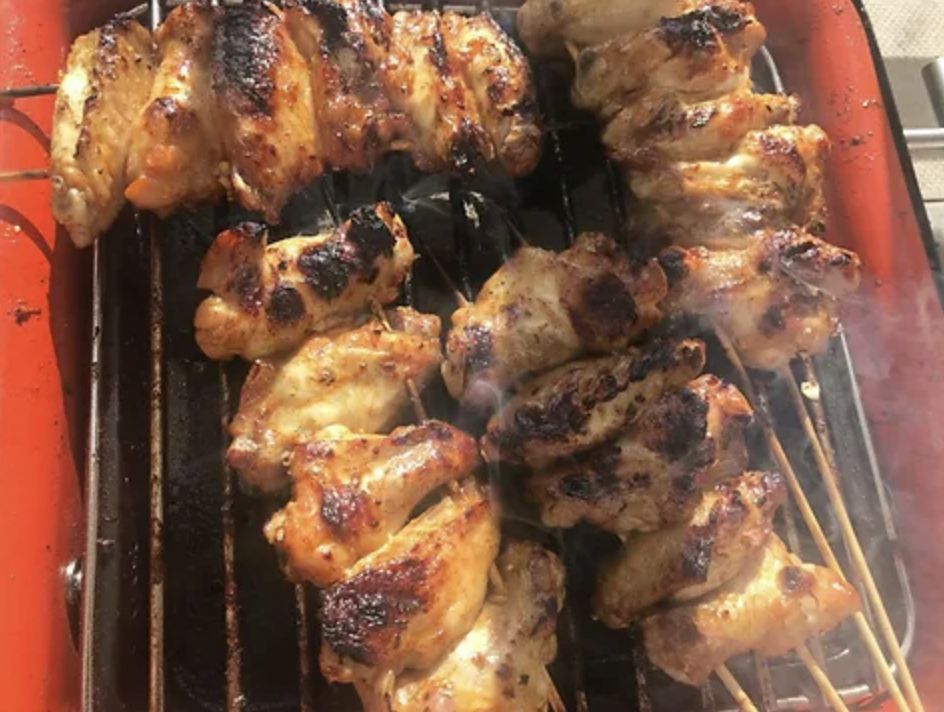 4. When the wings are cooked add to the sauce that we made earlier, add sesame seeds and finely sliced spring onions. Coat all the wings in the sauce and serve with fresh boiled rice.
5. Enjoy making this alternative wings recipe!!!
If you prefer making this recipe more spicy add 2 tbsps of gochujang chilli paste instead of 1. If you can find kimchi this would make an awesome accompaniment to the wings.
1 tbsp gochujang chilli pepper paste
1 tbsp gochujang chilli pepper paste
1/2 finely sliced white onion
1 tbsp corn flour diluted with water