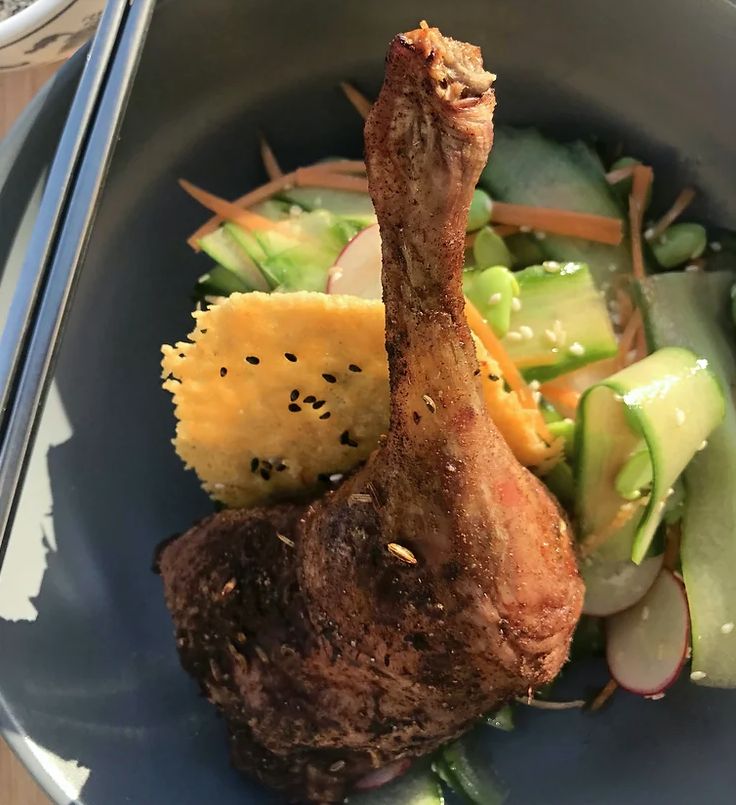 Duck legs…nice and flavoursome when roasted or confit. For this dish I wanted to roast as a healthier option (not that duck legs are healthy anyway), duck goes great with cucumber and sesame so this is a quick salad recipe I made for you all that is packed full of flavour and semi healthy. For a bit of texture I added a Parmesan and toasted sesame crisp, firstly because I felt it would add a bit of texture and secondly because I had some Parmesan lying around. The Parmesan crisp is totally optional. Let's cook…
1. Let's start by roasting the duck legs, we want to create a dry rub for the duck so in a small bowl add 1 tbsp of 5 spice, 1 tsp fennel seeds and 1 tbsp of sugar then mix. Next massage the rub into the duck legs and season with salt and pepper. Place onto a roasting tray and bake at 180 degrees centigrade for 1 hour 15 minutes.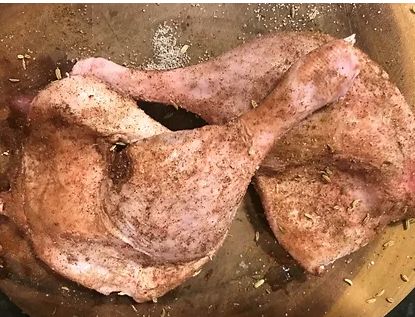 2. While the duck is cooking we can build up a quick salad dressing. Add 2 tbsp of sesame seeds to a dry pan and dry fry until toasted. Then add to a pestle and mortar and grind gently until they break down (this adds more aroma to the sesame seeds), next add 1 tbsp sugar, 1 tsp rice vinegar, 2 tbsp sesame oil and 1 tbsp of soy. Mix all the dressing well ensuring that the sugar dissolves and set to a side.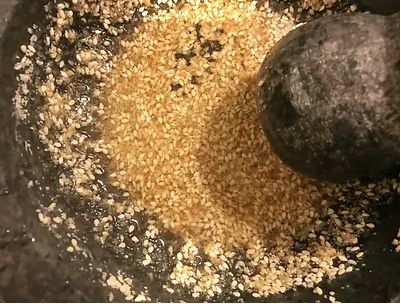 3. When the duck is nearly cooked we can prepare the salad, you don't want to do this too soon as the salad may wilt. Start by cutting the cucumber in half then slice thin strips with a peeler, slice half a carrot into a fine julienne, slice a few radishes then for the soya beans place into warm water and pop from the outer skin. You can prepare the vegetables anyway you prefer this is just how I decided to do it.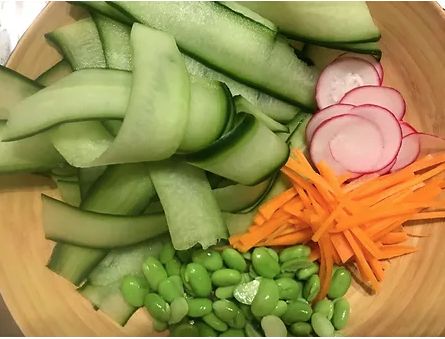 4. When the duck is cooked remove from the oven and set aside, you will know the duck is ready as the skin towards the bone will start to break away. We can now put everything together, add around 2 tbsps of the dressing to the salad and lightly mix (you don't want too much dressing). Add to your serving bowl then place the duck on top and drizzle a little more dressing over the top. If you like you can pull off the meat from the duck with a fork and place on top.
Enjoy this easy duck recipe…
To make a Parmesan crisp you quite simply add a thin circle of grated Parmesan to a dry pan and fry until crispy. This recipe would also work great with chicken or even steak. You can really play around with what vegetables you want in your salad but I think as long as it has cucumber you should be good to go.