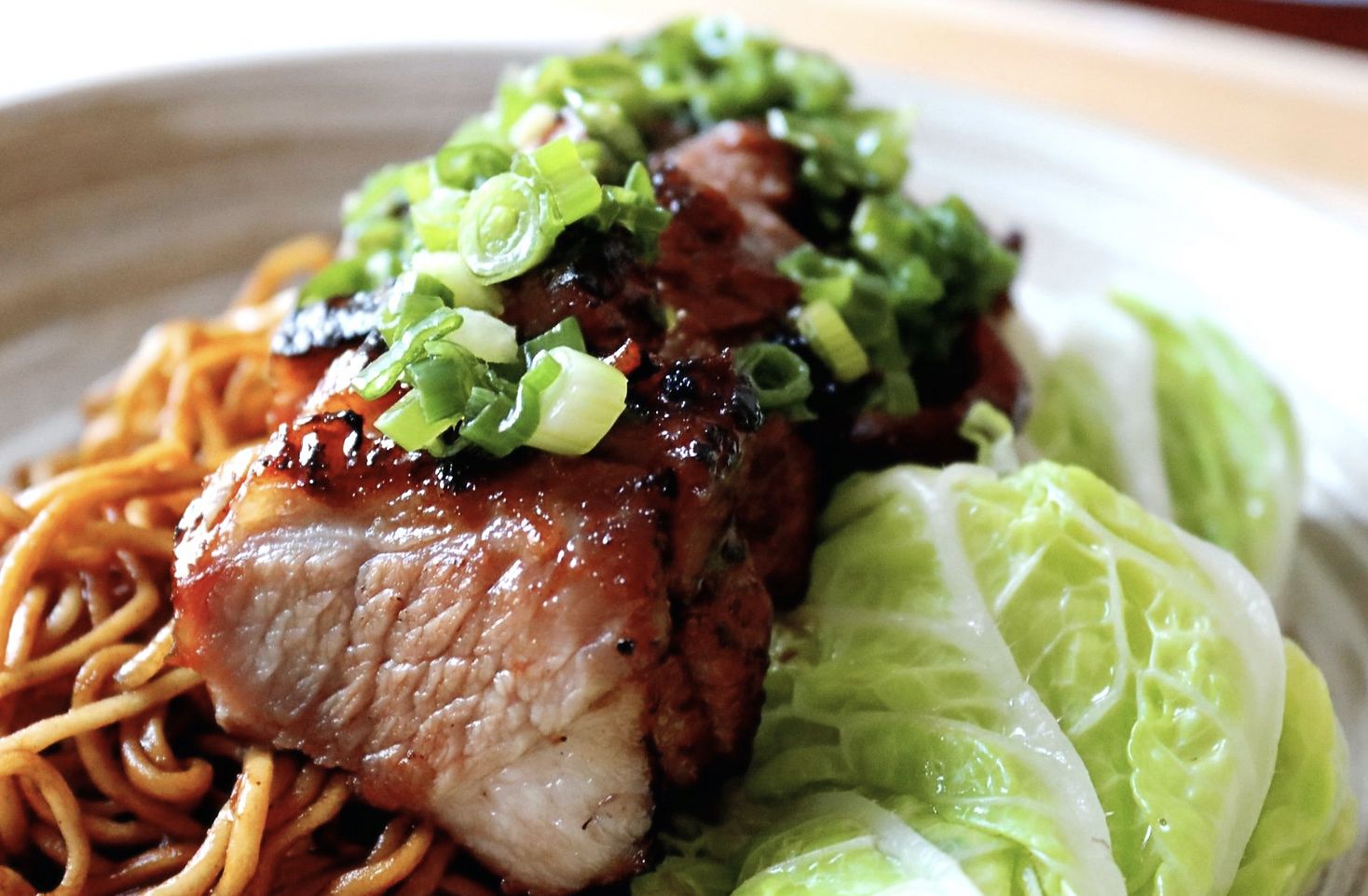 The inspiration for this recipe comes from all the street food hawkers out there serving char siu noodles from various street venders. This delicious combination of barbecued meat and fried egg noodles can be found in Hong Kong, Malaysia and Singapore. This combination creates the most intense umami and is absolutely delicious. The secret to making such a simple thing so delicious is freshly made hokkien noodles and a good char siu marinade. Unlike the usual pork char siu, I used lamb shoulder to enhance the flavour even more for this dish. As for the noodles, I will briefly go over again how to make fresh egg noodles with a pasta machine. Let's get straight to it.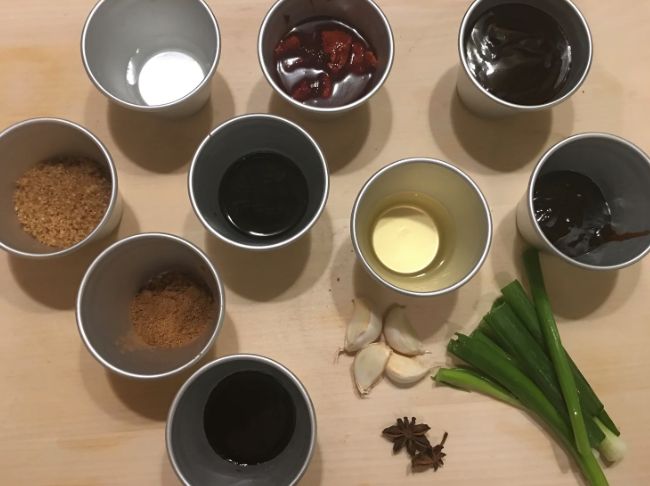 1. Let's begin with marinating the lamb, for a much deeper char siu this ideally is best done the night before serving. Before we get into the marinade we want to prep the lamb. To make things easier ask your butcher to debone the shoulder before you buy. Start by trimming off any excess fat on the shoulder removing of any sinue on the joint. Due to a fairly quick cook time we want to remove the tougher fat as this will not have time to render whilst cooking. When ready, slice the lamb into large strips (same size as a pork fillet for example). When our lamb is prepared place to one side and we can now prepare the marinade.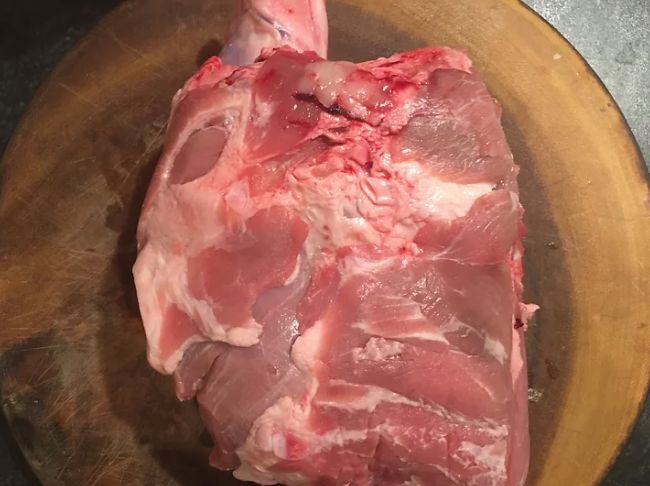 2. To make the marinade in a large mixing bowl begin by adding 5 tbsp fermented bean curd then smooth out with the back of a spoon. Next add 4 tbsp beetroot juice, 4 tbsp hoisin, 3 tbsp light soy, 3 tbsp corn syrup or honey, 3 tbsp brown sugar, 2 tbsp sake and 2 tbsp oyster sauce. Mix all of the ingredients well then we want to add 3 peeled garlic cloves, 2 spring onions cut into 2 and 2 star anise. Now that our marinade is prepared we want to add the lamb and cover well in the marinade. Clingfilm and store in the refrigerator overnight.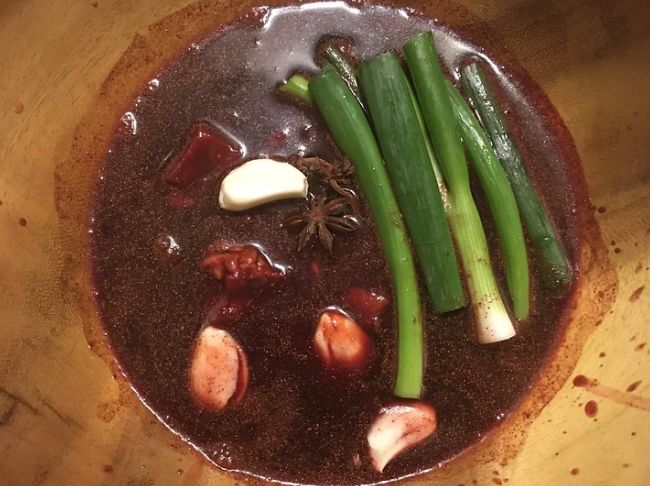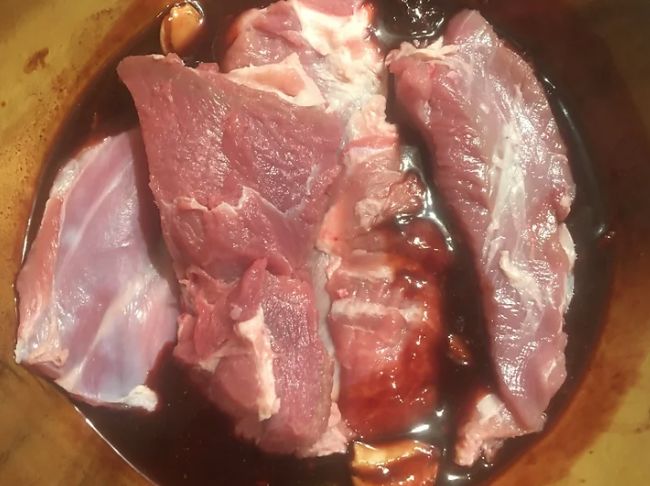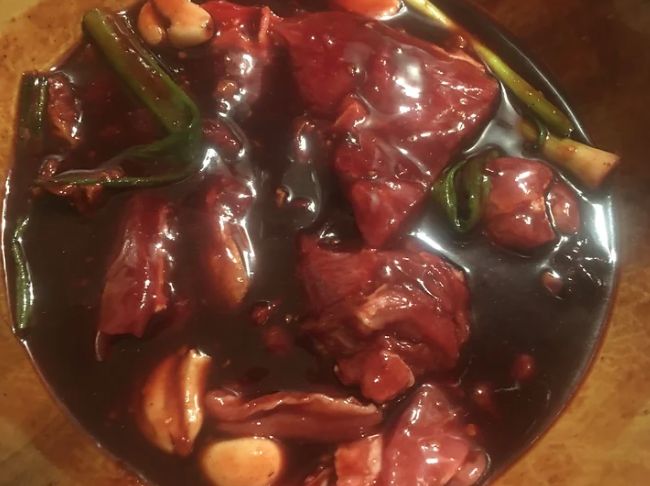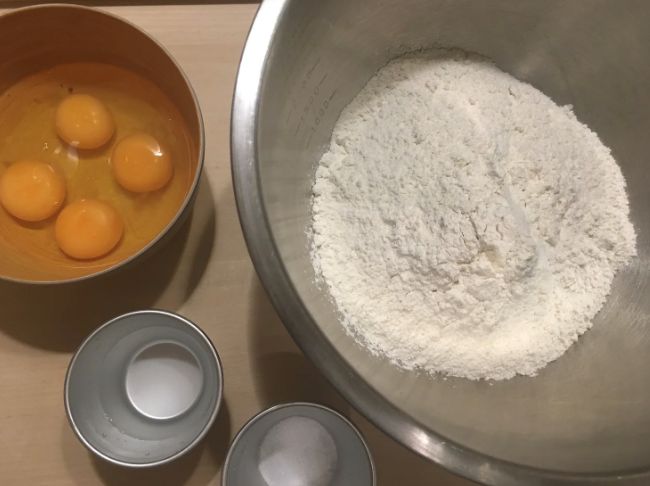 3. Now onto making the noodles, these can either be done the night before, just before serving or simply just go and buy them. As I have covered the process of making egg noodles in previous recipes I will try and put together a condensed version of how to make them. Start in a small bowl by adding 200g of whole egg (approx 4 eggs), 2 tsp salt and 60mls of cold water. Whisk well then we want to slowly add the egg to 500g of breadflour stirring constantly as we add the egg. When all of the liquid is added we now want to begin to kneed by hand (for approx 10 minutes) until a rough ball of dough is formed. Cover the dough with clingfilm and allow to rest for 30-45 minutes.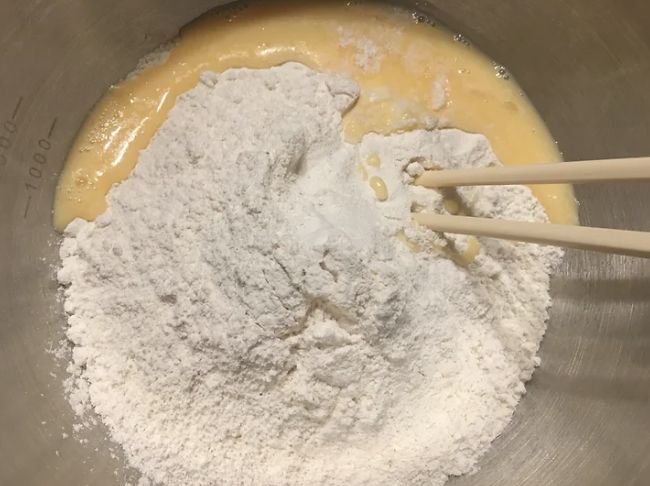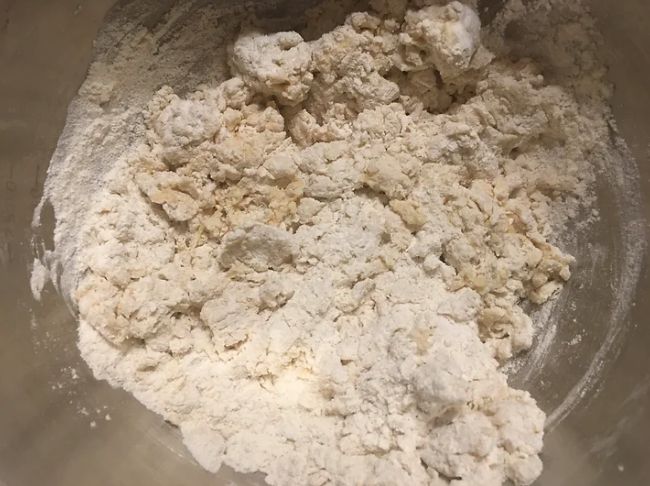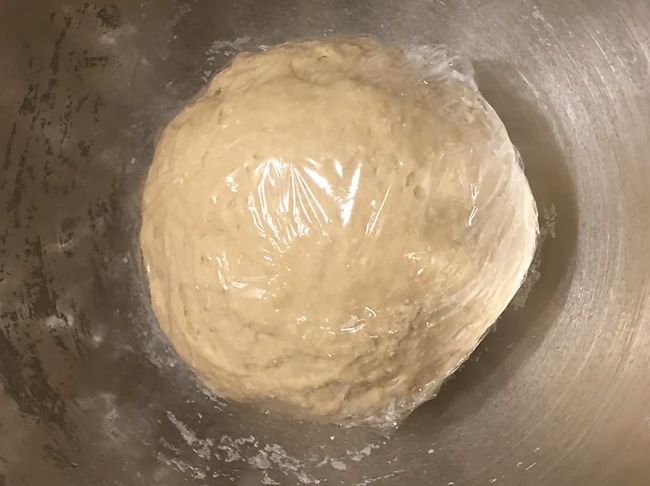 4. After at least 30 minutes of resting, the gluten in the dough should have relaxed making it much easier to roll. Place the dough onto a work top then kneed the dough again for another 10 minutes until smooth (take care not to rip the dough). When ready divide the dough into 4 equal sized pieces. Roll each piece of dough out to make a flat rectangular piece of dough that is thick enough to go through the widest setting on your pasta machine.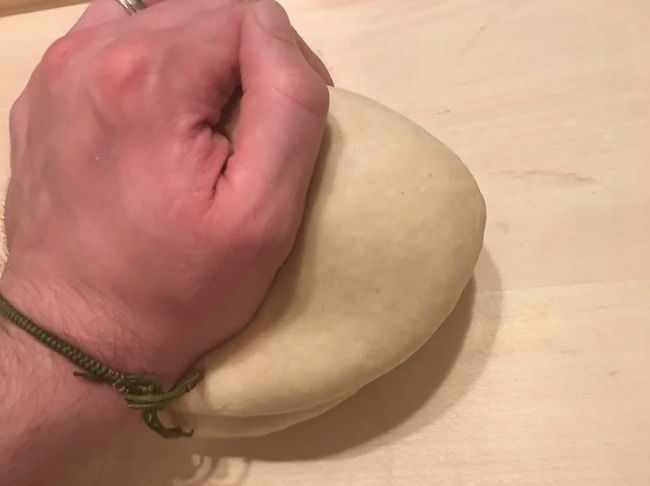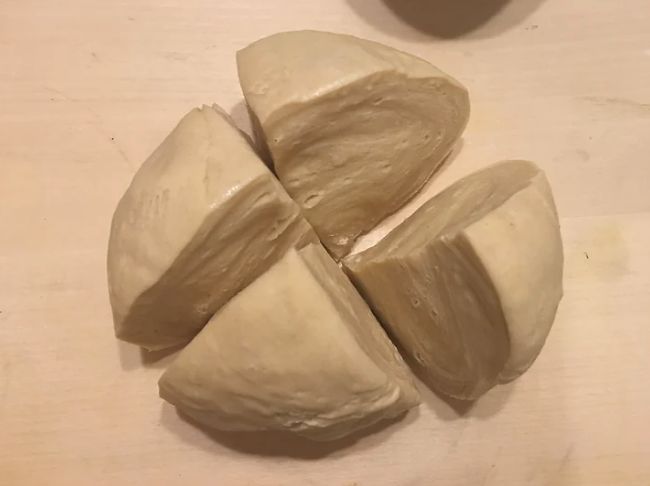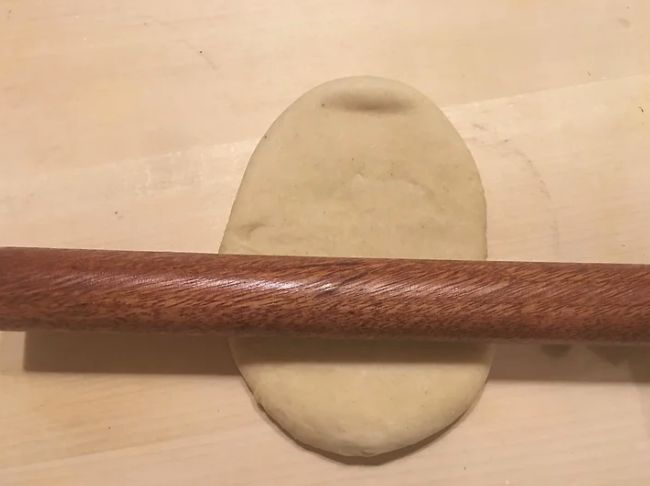 5. Before starting to feed each piece of dough through the pasta machine, dust generously on both sides of the dough with cornflour. Work your way through the settings until we get a sheet of dough that is approx 1-1.5mm in thickness. When ready dust again with cornflour if needed then feed the sheet of dough through the cutting mechanism. Separate the noodles when cut then store on a tray dusted with cornflour.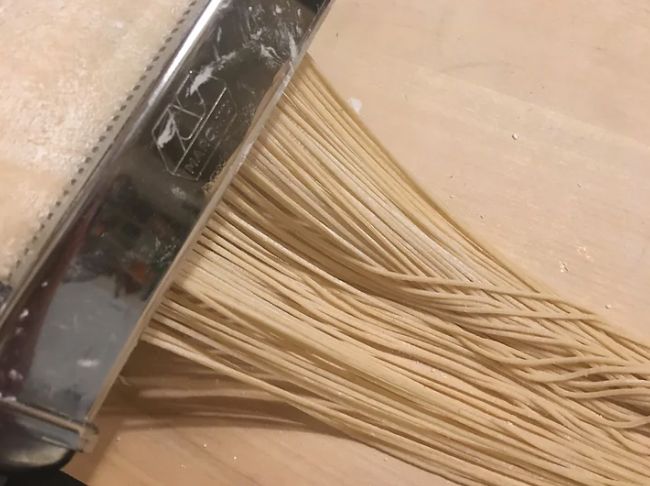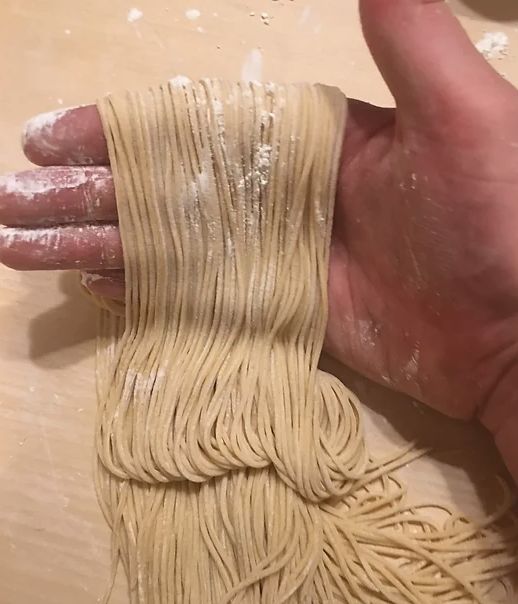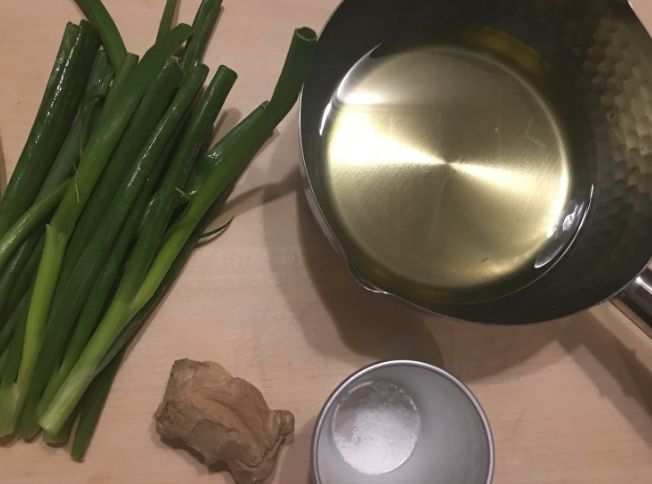 6. To make up a simple aroma oil to go with the noodles and lamb, start by placing 100ml of rapeseed oil into a pan then turn the heat up to high. Then mince and add 15g of ginger to the oil and fry until just fragrant. Turn the heat off then add 1 bunch of finely sliced spring onions and a pinch of salt. Place the oil into a bowl and allow to cool and infuse.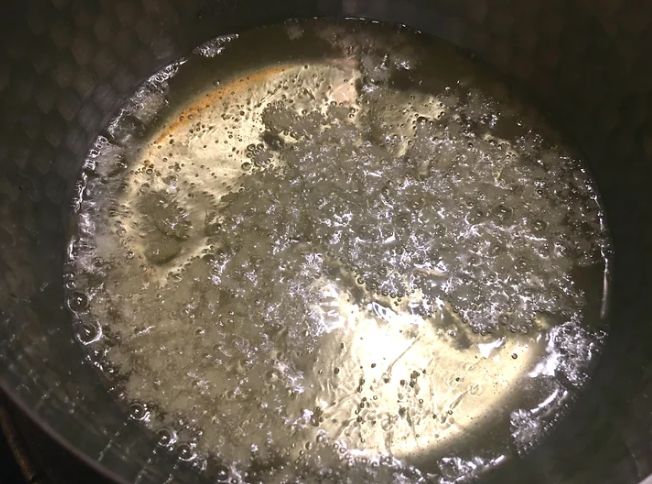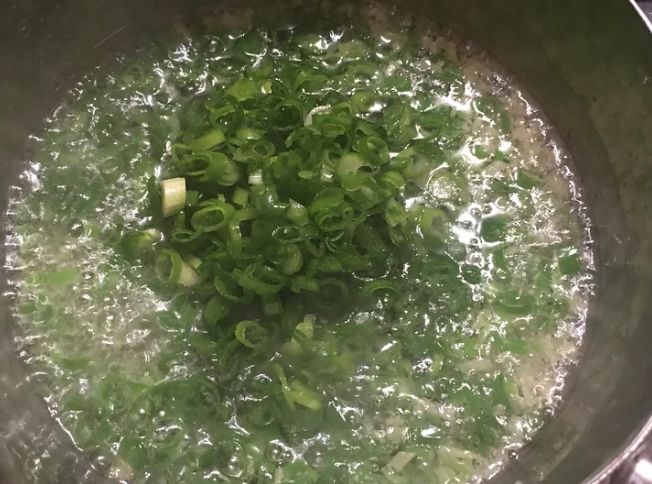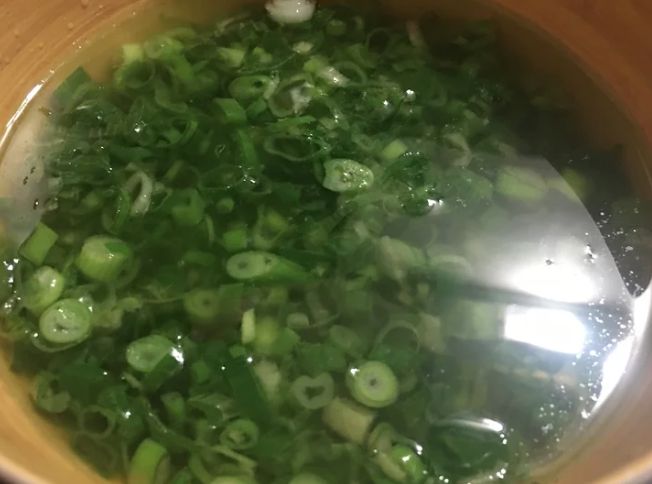 7. When the lamb has had sufficient time marinating and the noodles are made up we can move onto bring the dish together. Start with the char siu, remove from the marinade and place onto a baking tray lined with parchment paper. Place the marinade into a small saucepan and slowly heat as we will use this as a glaze. When reduced remove from the heat and place to one side. Now place the lamb into a hot oven set at 180°c and we want to roast for approximately 20 minutes or until the core temperature of the lamb reaches 60-65°c.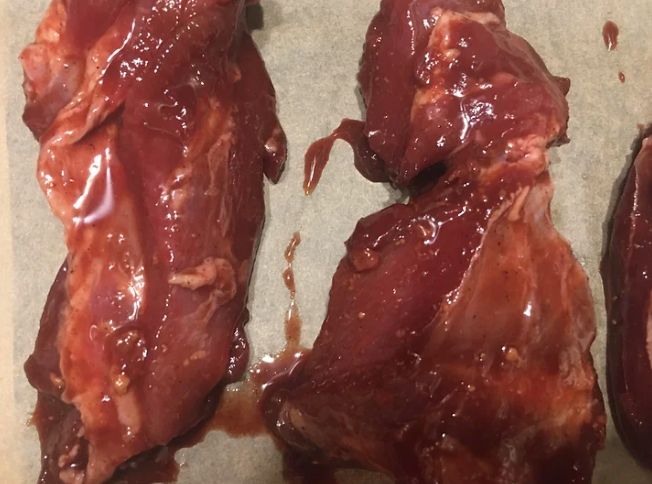 8. Whilst the lamb is roasting we want to place a deep sauce pan filled with water onto a high heat to boil the noodles. When boiling just before we add the noodles we want to slice 1/2 Chinese leaf into bite sized pieces then blanch in the hot water and cook for 1-2 minutes until soft. When ready remove the cooked Chinese leaf and chill into cold water to stop the cooking process. Drain and place the Chinese leaf to one side for now. Using the same water we now want to add the noodles in batches stirring well with chopsticks to prevent them from sticking. If cooking fresh noodles literally cook for 50-60 seconds then remove from the water and chill under cold running water again. If using noodles out of the packet cook for however long the packet suggests then again chill under cold water when cooked.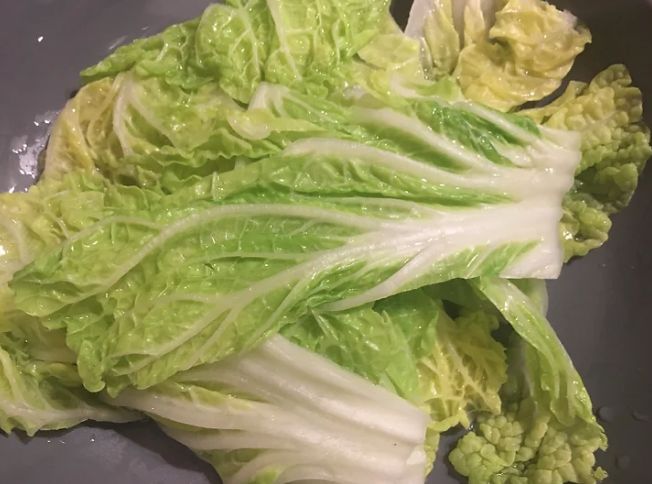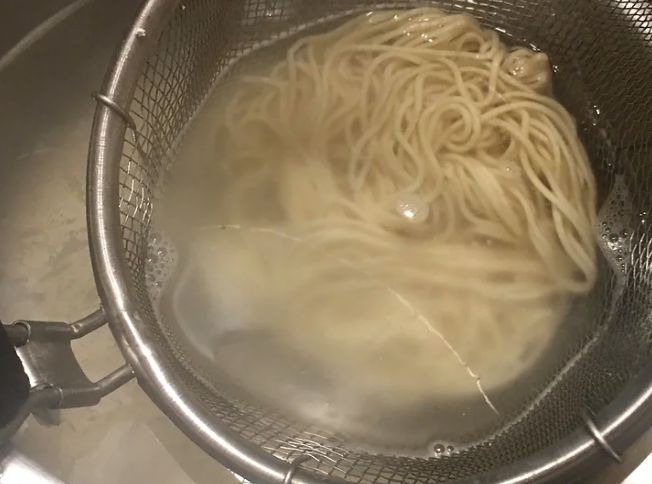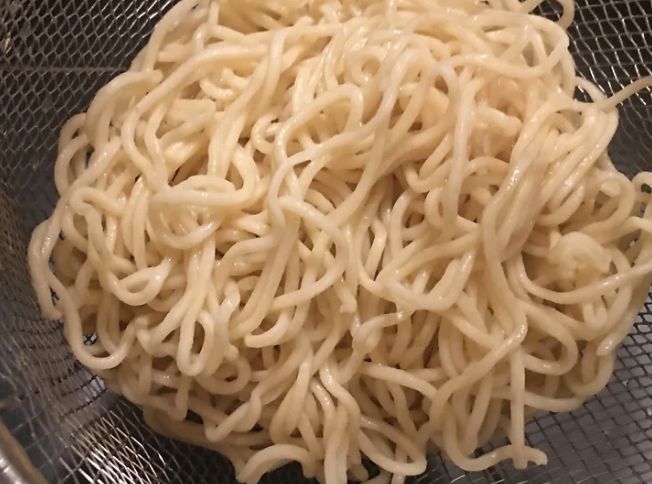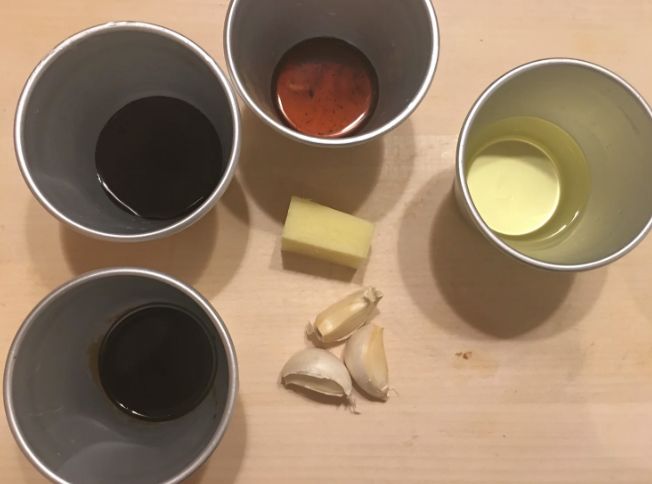 9. Just before the lamb has finished roasting we want to season and fry the noodles, place a wok or large heavy pan onto a high heat with a touch of oil. When hot we want to mince and add 4 garlic cloves and 20g of ginger and stir fry briefly until fragrant. Next we want to add the noodles and stir fry until the noodles start to produce what's known as wok hei (slightly charred). Add additional oil to prevent the noodles from sticking if needed. Now we want to season with 3 tbsp light soy, 3 tbsp dark soy, 1-2 tsp white sugar and 1 tbsp black rice vinegar. Continue to stir fry until all of the noodles are nicely combined into the sauce. When ready remove from the heat and place to one side to keep warm.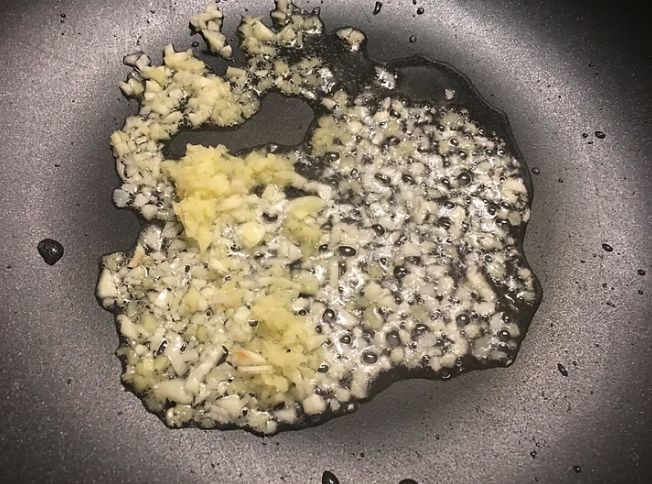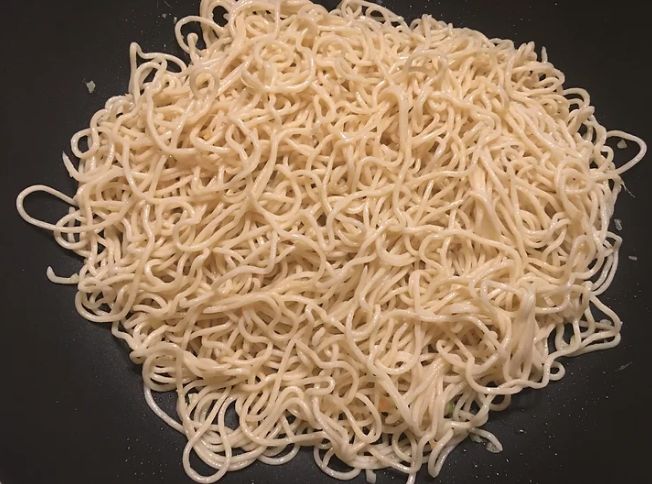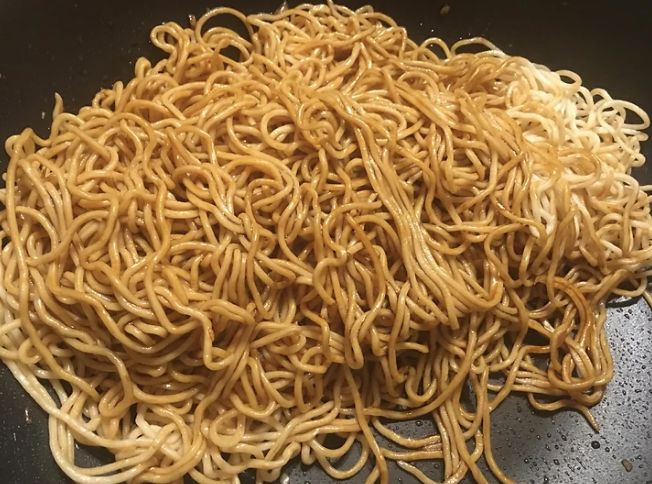 10. When the lamb has finished roasting we are looking for a core temperature between 60-65°c which will give us a pink lamb. If you want to cook for longer then cook until 70-75°c. Place the roasted lamb onto a tray and coat in the glaze that we heated earlier. To take the lamb to another level and top up the char either use a blow torch or salamander to briefly char the glaze. Rest the lamb for 5-10 minutes then carve into bite sized pieces.
11. Now that everything is set we are ready to serve, divide the noodles into bowls then place some of the cooked cabbage on the side. Layer the roasted char siu over the top and finish with a generous drizzle of spring onion oil. If this type of food does not get you going then I'm afraid you are lost…Hope you like this simple and delicious hawker style recipe!!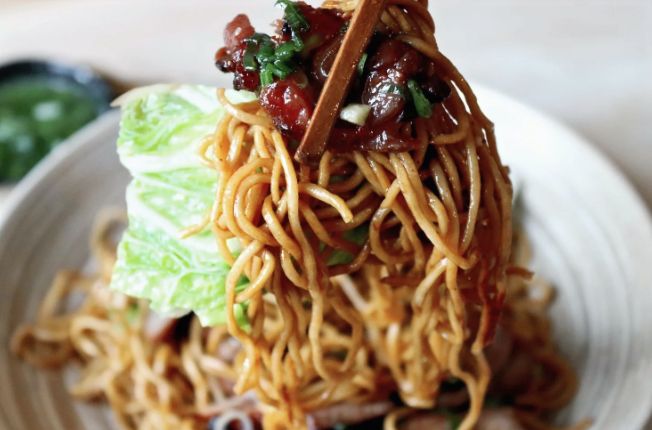 If lamb isn't quite your thing then go with the classic pork char siu, you can use pork belly, shoulder or fillet. If meat isn't your thing then you could replace with tofu using the same marinade to make char siu tofu. This recipe also works perfectly with boiled or a good egg fried rice. Have fun, enjoy and peace folks!
Cook Time 30-45 mins / Prep Time 1hr 30 mins / Marinade overnight
Char Siu Lamb and Marinade:
1 lamb shoulder joint deboned
5 tbsp fermented red bean curd
4 tbsp beetroot juice (optional)
3 tbsp corn syrup or honey
200g whole egg (4 eggs approx)
1 tbsp black rice vinegar
1/2 Chinese leaf to serve