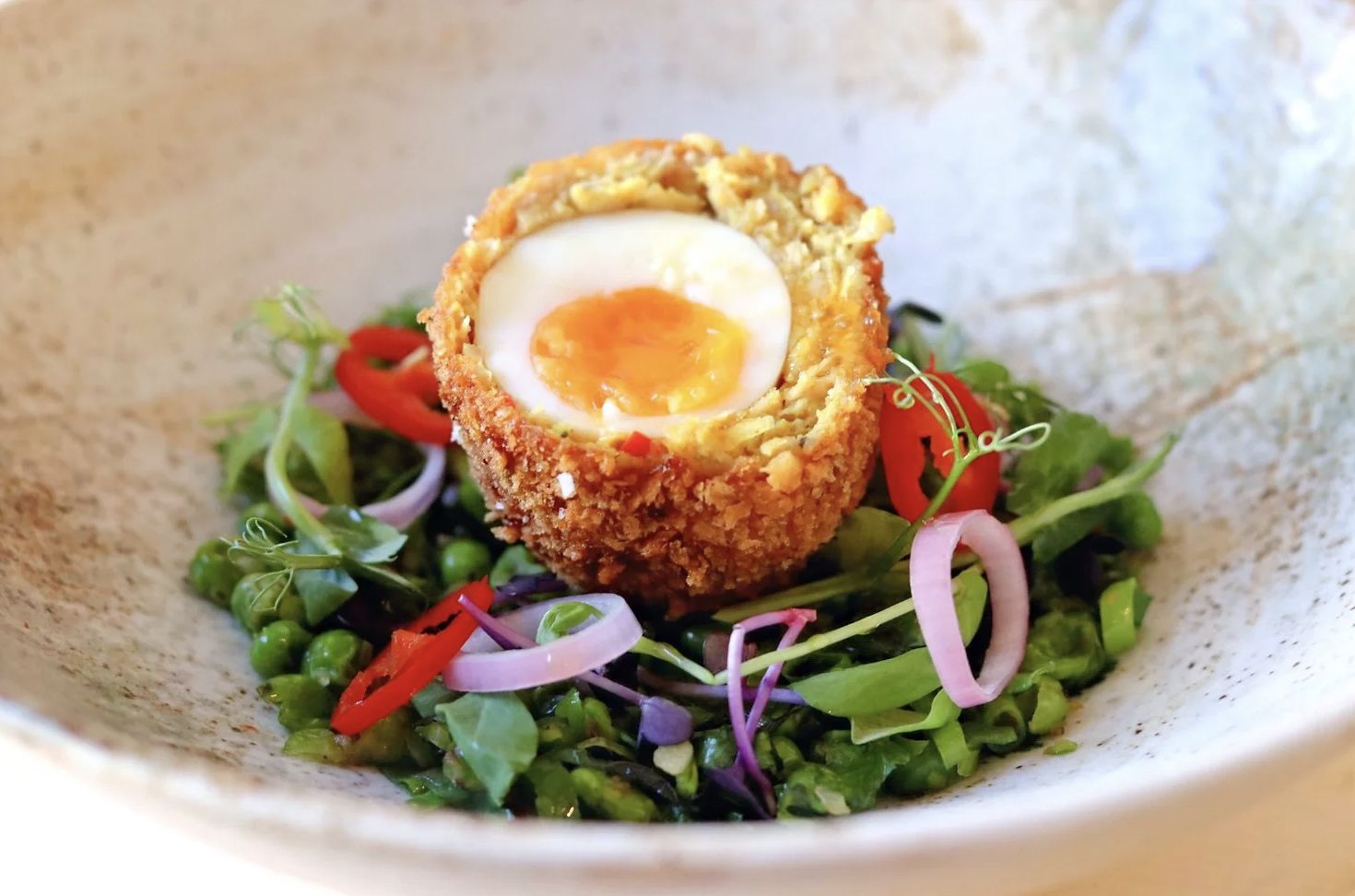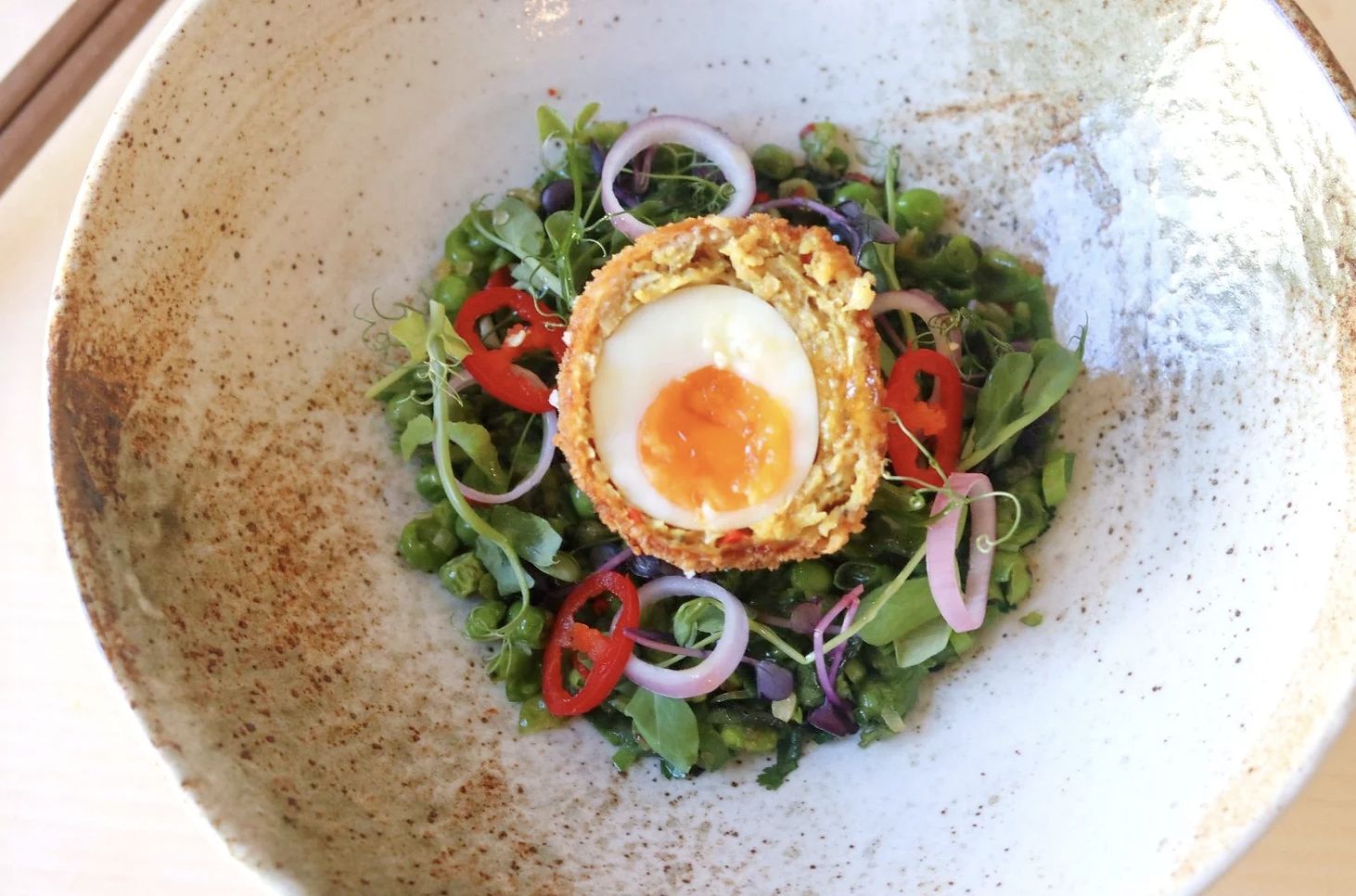 This recipe is a hybrid of a classic scotch egg mixed with bold Vietnamese flavours. As for the warm salad I wanted to create something fresh to balance out the fact that a scotch egg is deep fried and to add an element to make the dish lighter. This recipe worked out great as everything worked well together with nothing overpowering. Let's get straight into it!
1. Let's start off this recipe with the eggs, for a standard soft boiled egg add 5 eggs to a pan of boiling water and boil for no more than 6 minutes. If you want them hard boiled then boil for 8 minutes. As soon as the boiling time elapses immediately shock the eggs by placing into a bowl of ice cold water and leave to chill. When ready carefully crack the shell and peel the soft boiled egg. When ready place all of the peeled eggs to one side for now.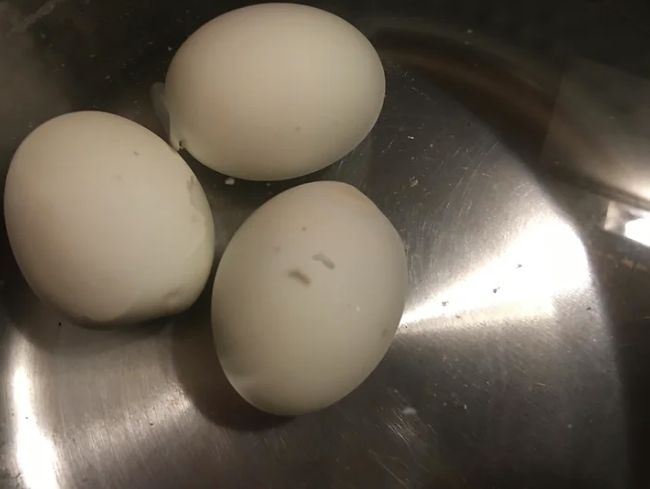 2. Now that the eggs are ready let's move onto the next step. For the meat layer instead of using only sausage meat I mixed together regular sausage meat with pork mince. This enabled the farce meat to be able to carry the spices without only tasting of sausage. In a large mixing bowl slice then add the meat from 4 sausages and 400g of pork mince. Mix well then add 1 finely diced shallot, 2 bruised finely sliced lemongrass, 1 finely chopped red chilli, 3 minced garlic cloves, the zest of 1 lime, 2 tbsp fish sauce, 1 tbsp oyster sauce,1 tsp hoisin, 2 tsp turmeric, 1 tsp of sugar and finally season with salt and fresh cracked black pepper. Mix well to combine everything together and place to one side.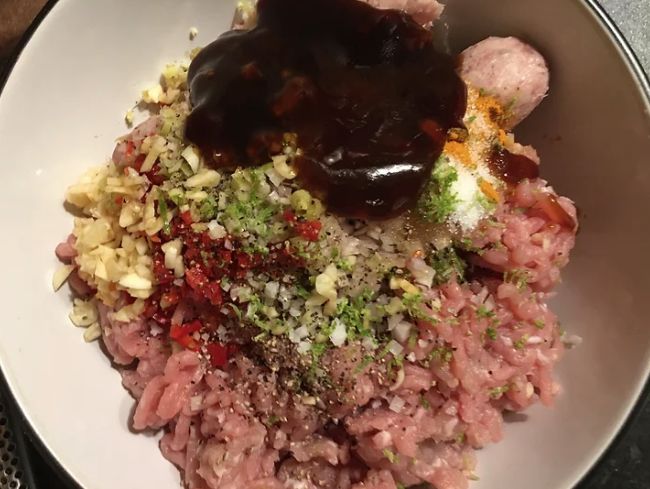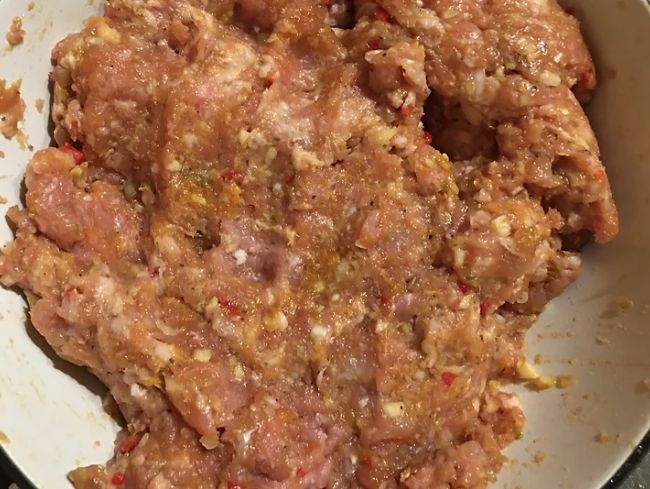 3. Before we encase the egg divide the meat mix into 5 equal balls. Flatten one of the balls with your palm to create a flat disk then place one of the soft boiled eggs into the centre. Lighty wet your fingertips with cold water to make encasing the egg much easier. Carefully fold the meat over the egg sealing the opening together. When ready gently shape to reform back into an egg shape then place onto a tray. Repeat this process for all the eggs then place into a fridge to chill for 10 minutes.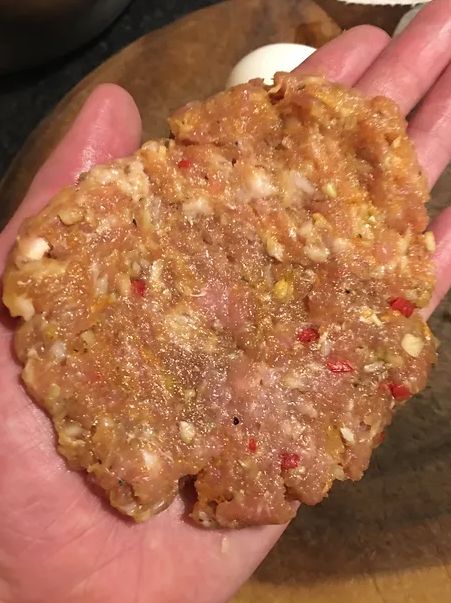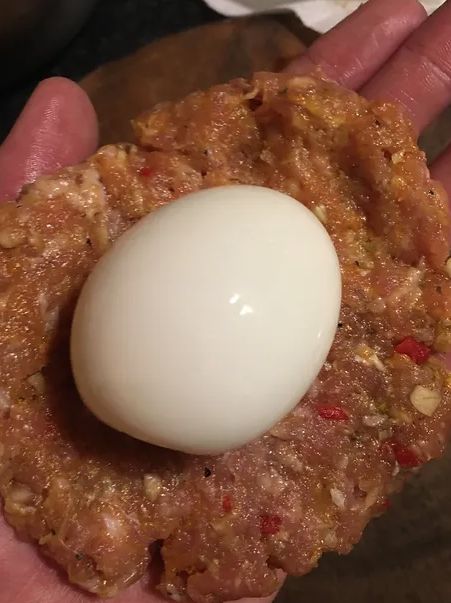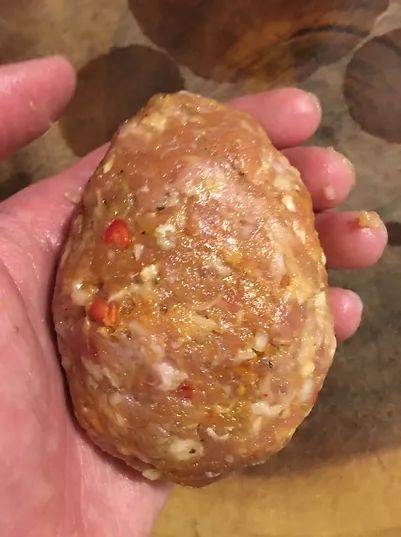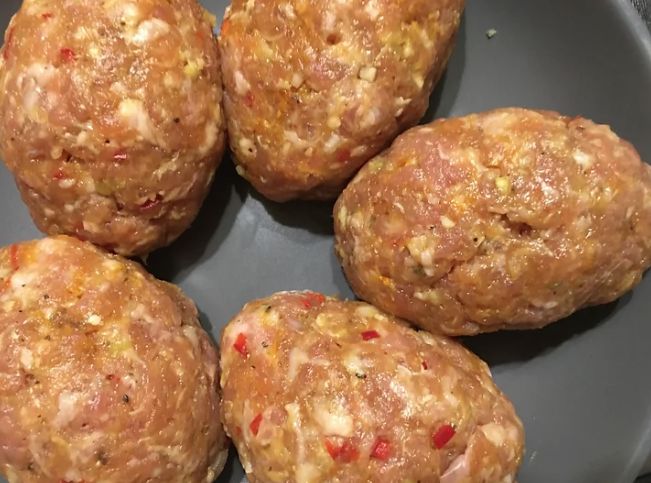 Flour, Egg wash and Panko breadcrumbs: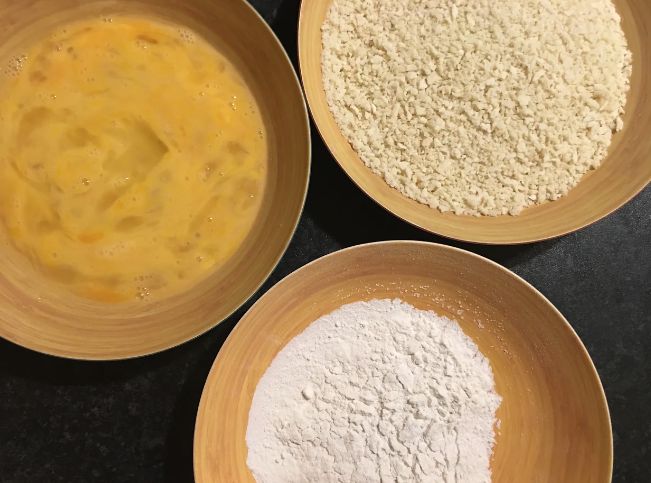 4. The last thing to do for the scotch eggs is to coat in the classic flour, egg wash and panko breadcrumbs. In 3 separate bowls add 3 beaten eggs, 50g plain flour, and 150g of panko breadcrumbs. Now begin by lightly coating the scotch eggs firstly in the flour tapping to remove any excess flour. Then add to the egg wash, and finally coat well in all of the panko. When all the scotch eggs are ready place onto a tray and set to one side as we will cook these at the very end.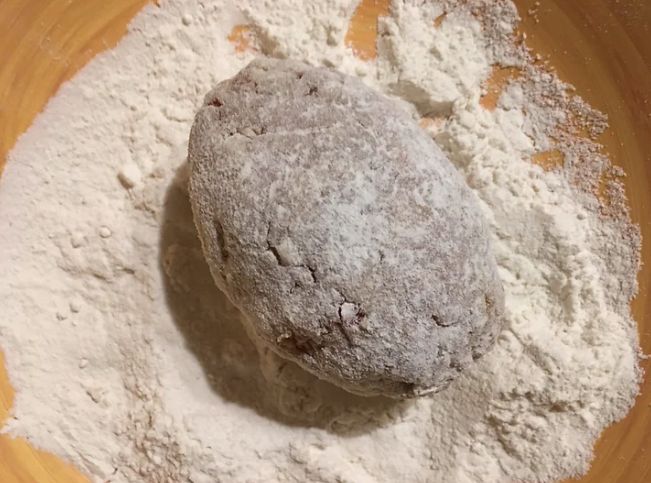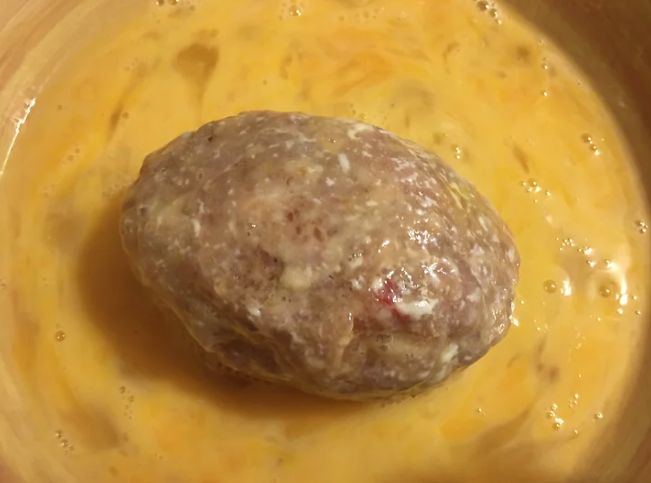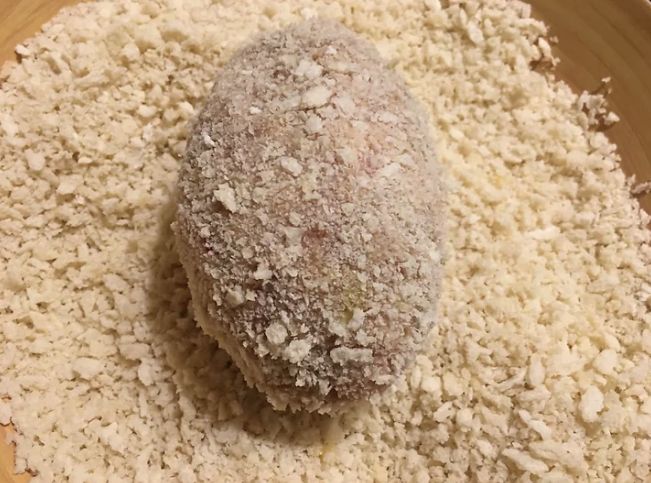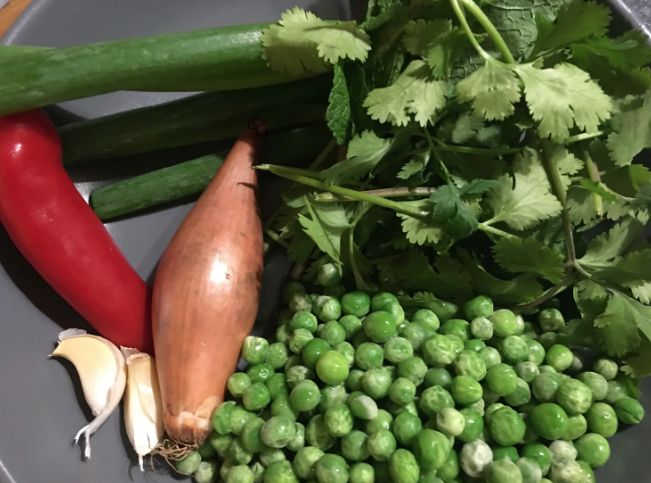 5. Moving onto the salad element of this recipe, the whole point of this was to add freshness and lighten things up. Begin making the pickled shallots, simply peel and slice 1 shallot into rings. Now in a separate small bowl add 1 tbsp white sugar and 2 tbsp of rice vinegar. Whisk well until the sugar dissolves then add the sliced shallot. Allow the shallot to pickle for at least 10 minutes.
6. For the next part of the warm salad finely dice 1 shallot, 3 garlic cloves and 1 red chilli. Now in a pan add a small drizzle of oil and place onto a medium heat. Add the finely diced shallot, garlic and chilli and fry for a few minutes until fragrant. Defrost 250g of peas then add to the pan and turn the heat down to low. Cook for 3-4 minutes to soften the peas then when ready roughly crush the peas with the back of a spoon to slightly break down.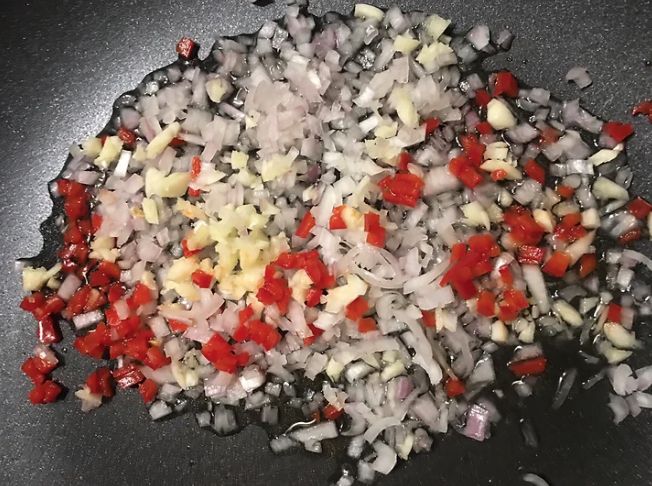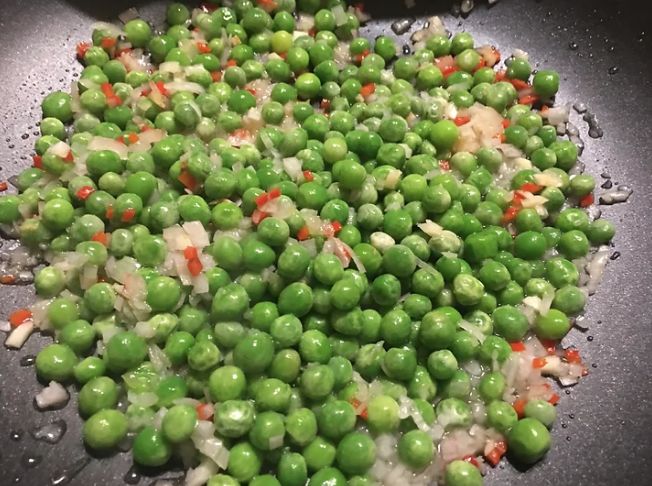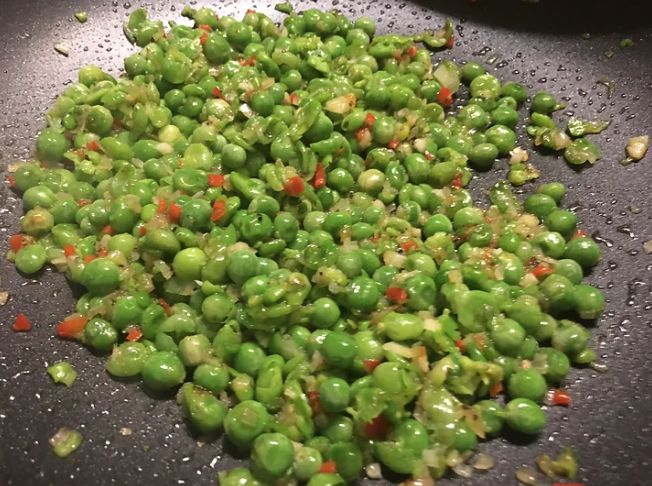 7. To make the crushed peas a bit more interesting we want to attack them with herbs. Roughly chop some coriander and mint and finely slice 3 spring onions. Add to the peas and season with salt, some freshly cracked pepper and a pinch of sugar. Mix well and remove from the heat. The last thing left is to do now is to finish the scotch egg.
8. To cook the scotch egg place a generous amount of cooking oil to into a saucepan and place onto a high heat. When the temperature reaches 160°c add the scotch eggs in batches and deep fry for 5-6 minutes until golden brown. When ready remove from the oil and drain onto kitchen paper. Season with a touch of salt and we are now ready to serve.
9. To plate up add a generous spoon of the warm pea and herb salad into the centre of the plate. Now either slice the scotch egg into 2 or place as it is on top. Finish with some pea shoots, red reddish leaves and the pickled shallots and we are good to go…Sure you will love this simple take on a delicious Vietnamese inspired scotch egg.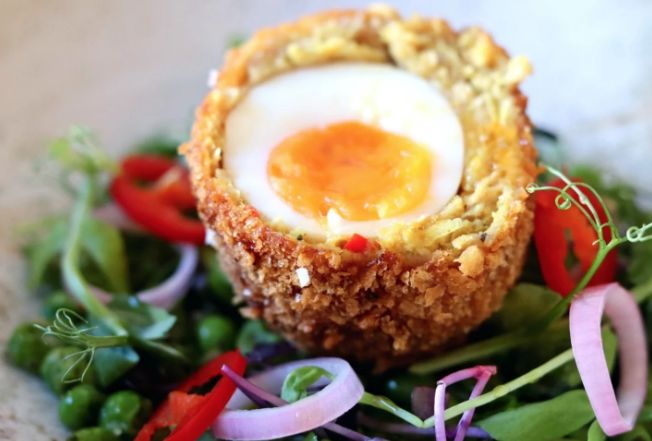 Instead of using regular eggs you could alternatively use duck eggs or quails eggs to take things to another level. If you a vegetarian then instead of using the sausage and pork you could use various mushrooms or vegetables to replicate. If you try this way you will need to use cornflour and egg white to bind together the veg mix. If you want to skip the pea and herb salad then go for it, these scotch eggs taste great on their own…Have fun and I'm sure you will like this recipe!
Prep time: 45 mins / Cook time: 10-15 minutes
1 tbsp white sugar (for pickle)
2 tbsp rice vinegar (for pickle)
Pea shoots and purple reddish leaves (optional)
salt, black pepper and white sugar to season