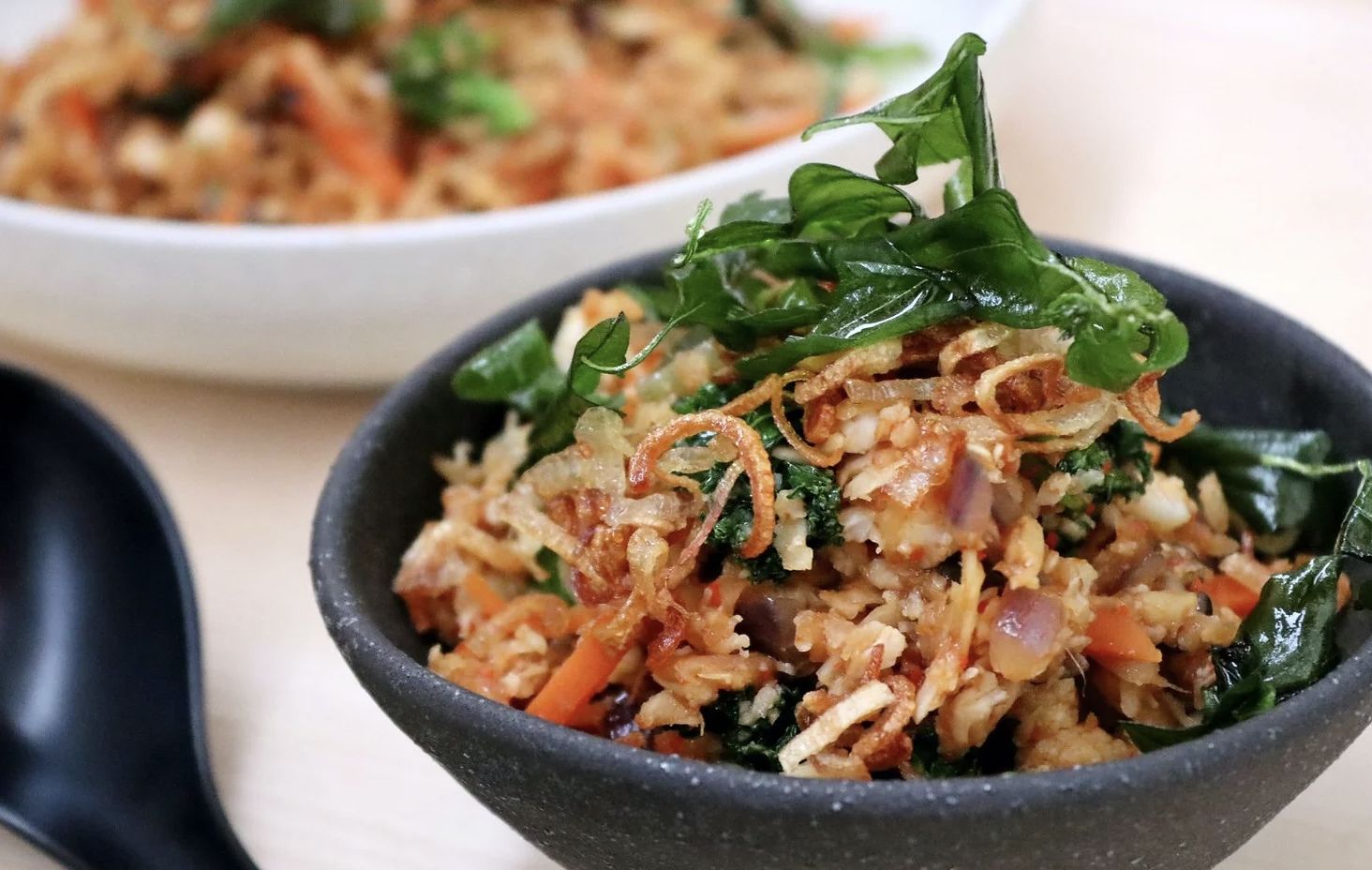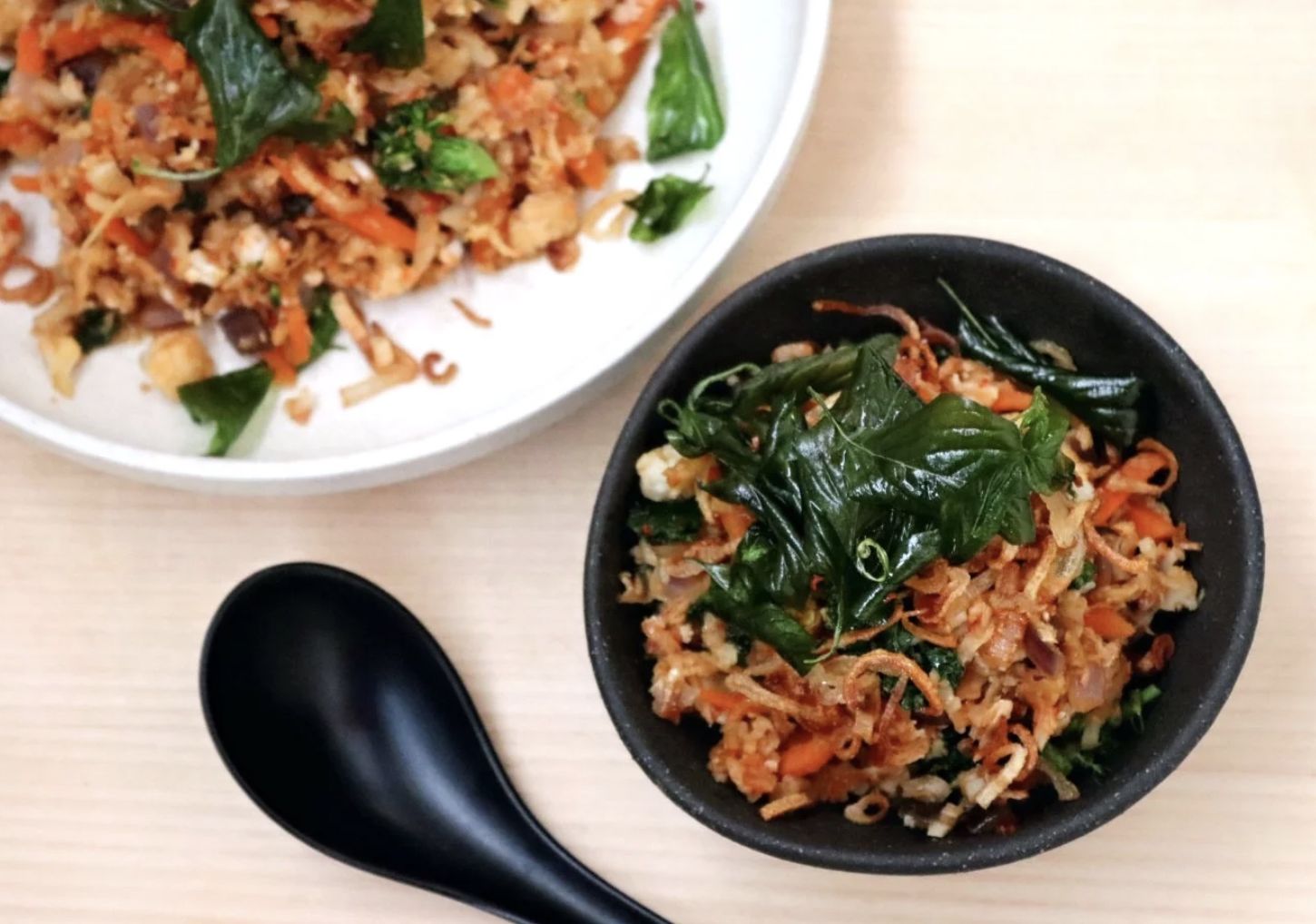 This super healthy, simple and delicious Vegan recipe is based on the infamous Indonesian Nasi Goreng. To switch things up I decided to supplement the rice for some shredded cauliflower making this dish completely packed with veggies yet have that delicious Indonesian fried rice effect. The key to making a good Nasi Goreng is a freshly made sambal as this will take the dish to a whole other level. Super tasty, super simple, and super healthy let's cook!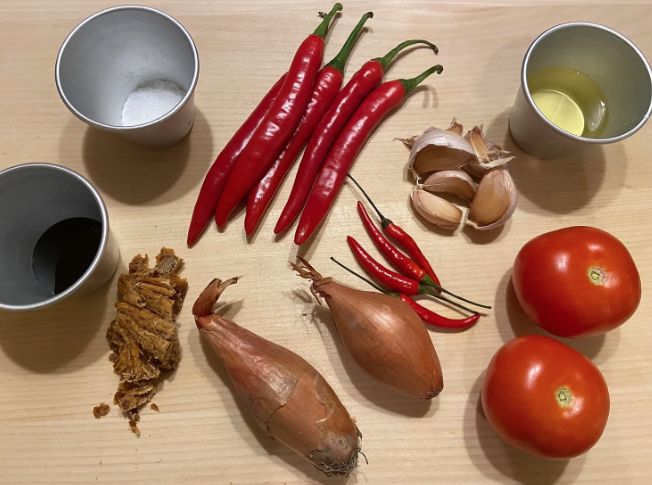 1. Let's begin by making the Sambal, as far as sambas go they usually have quite a spicy kick, however, if you're after a slightly milder sambal simply leave out the seeds from the chillies and skip on the birdseyes. Start by roughly slicing 6 long red chillies and 2-4 optional Birdseye chillies. Add the chillies to a food processor then also add 2 sliced tomatoes, 2 roughly chopped shallots and 6 peeled garlic cloves then pulse to a rough paste. To season the sambal, add 2-3 tbsp shaved palm sugar, a pinch of salt, 1 tbsp kecap manis or dark soy and 1 tbsp of optional vegan fish sauce. Pulse again and adjust the seasoning if needed. We are looking for a slight salty, slightly sweet, sambal. When ready place to one side and we can now take the sambal to the next level by frying to make it even more aromatic and slightly jammy.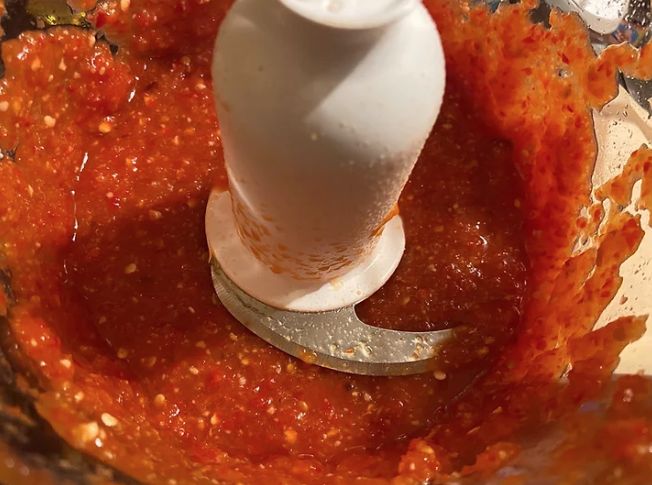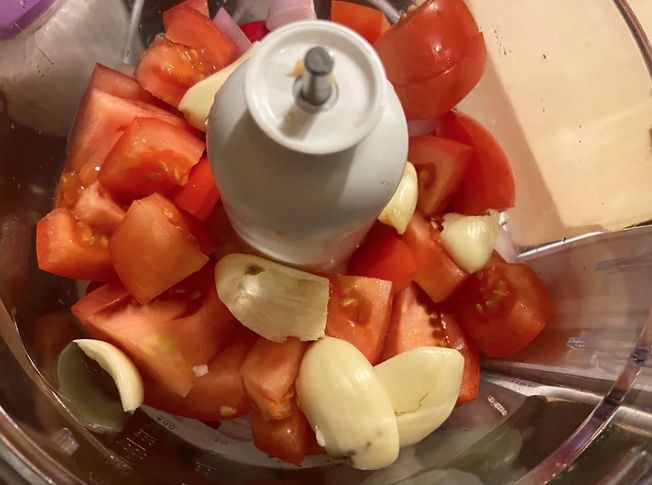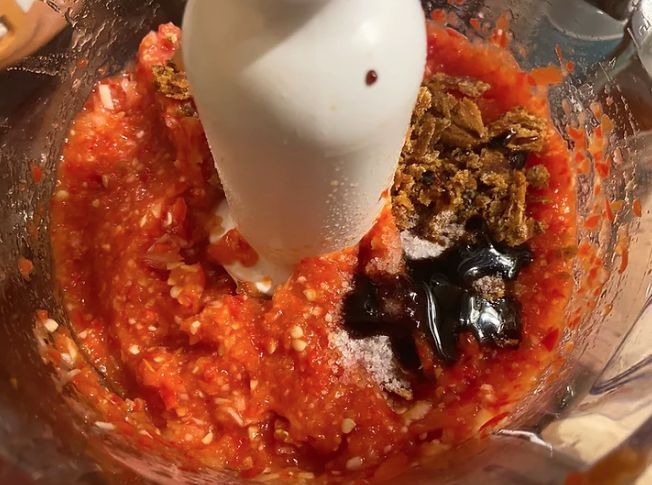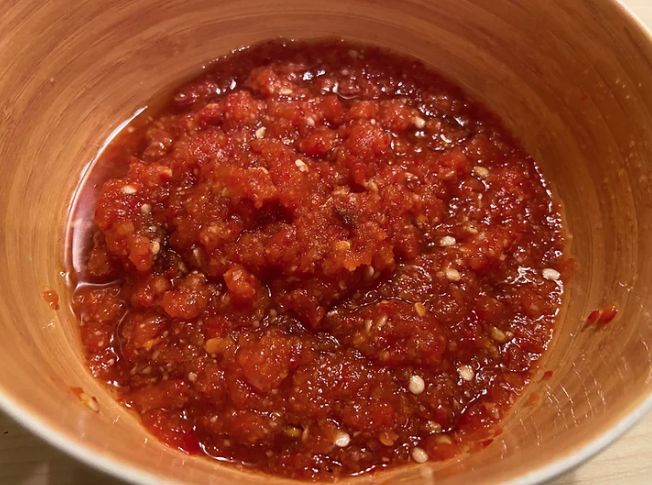 2. To fry the sambal add a generous 40ml of cooking oil to a wok or pan and place onto a medium heat. Add all of the sambal and fry whilst occasionally stirring for 15 or so minutes or until the sambal becomes aromatic, slightly darker and slightly jammy in texture. When ready adjust the seasoning again if needed then place the sambal into a small container for now.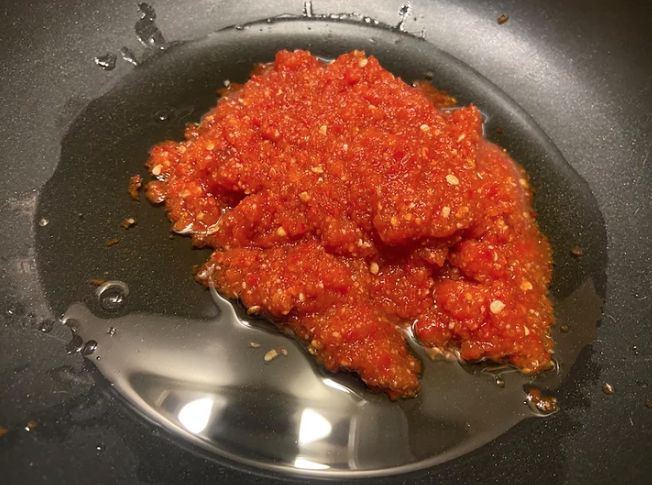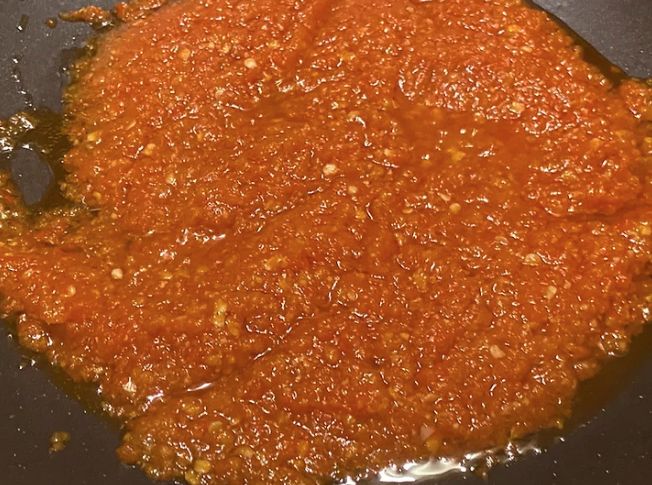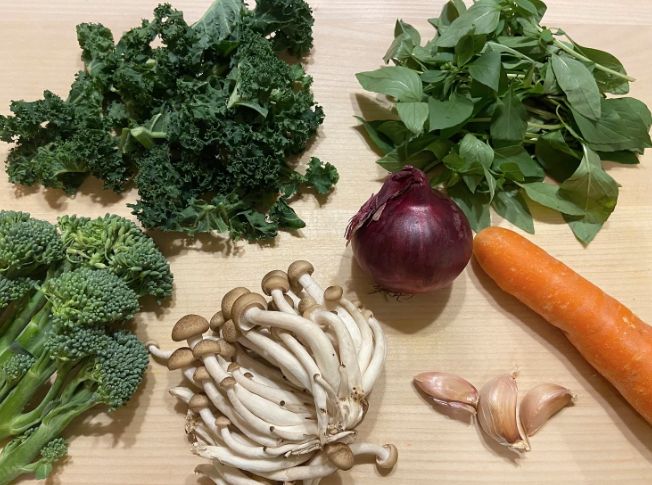 3. Now that we have the sambal prepared we can move onto the core of the dish that is the the vegetables. As for what vegetables you can use then what's listed in this recipe are just an option. Varius other vegetables will work just as fine, although, I find cauliflower acting as rice works best. Starting with the cauliflower, first wash well in a sink of cold water then simply use a large grater or food processor to create grated cauliflower that resembles rice in size. When ready, gather the cauliflower into a kitchen towel and try to drain off any excess water. When ready place to one side and we can move onto the supporting veg.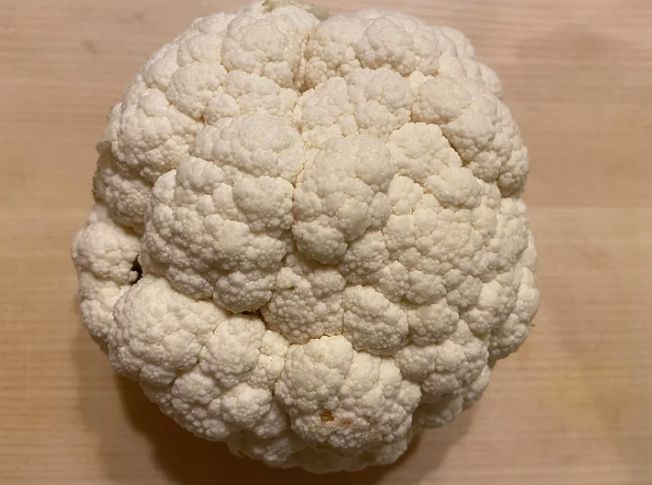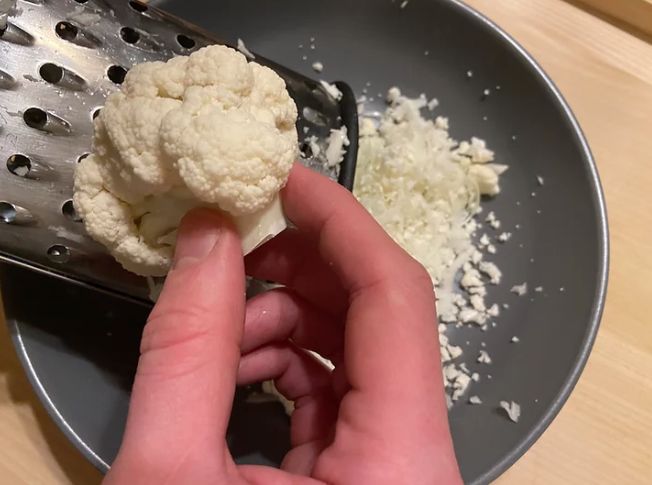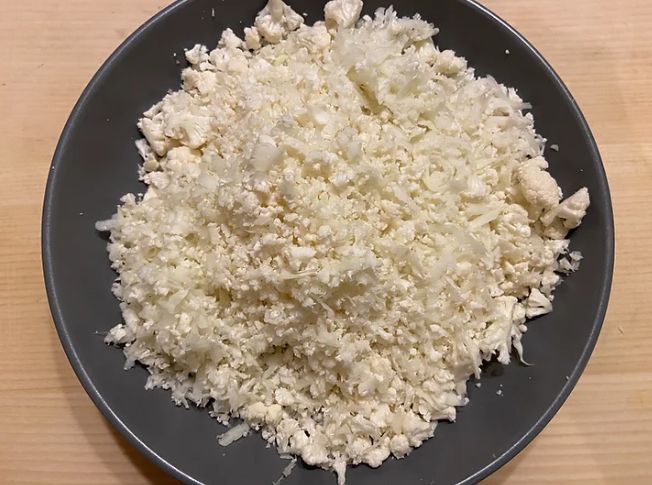 4. For the other vegetables start by peeling and slicing 1 carrot into a matchstick sized julienne, cut 1 red onion into a medium dice, mince 3 garlic cloves, roughly slice 100g tender-stem broccoli, roughly chop 75g shimeji mushrooms and tear 75g of kale into bite sized pieces. Place all of the prepared vegetables separately to one side as these will cook at various different times.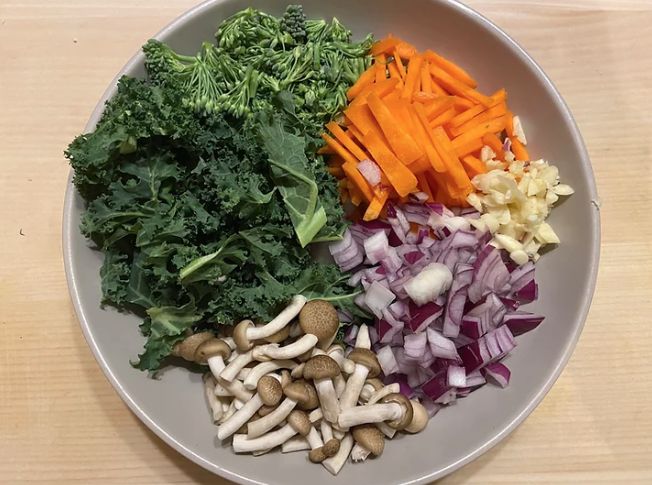 5. For a little added texture and richness to add to the dish when cooked, we can optionally fry some shallots and basil until crispy. Place a saucepan onto a high heat and add 100mls of cooking oil then bring the oil temp up to approximately 160°c. Pick 1/2 bunch of Thai basil or basil leaves then add to the hot oil and fry for 10-15 seconds or until crispy. Carefully remove the basil and drain onto kitchen paper. In the same oil we can also add 2 peeled and finely sliced shallots and fry for 4-5 minutes or until golden brown. Drain the fried shallots on kitchen paper also then lightly season with a pinch of salt.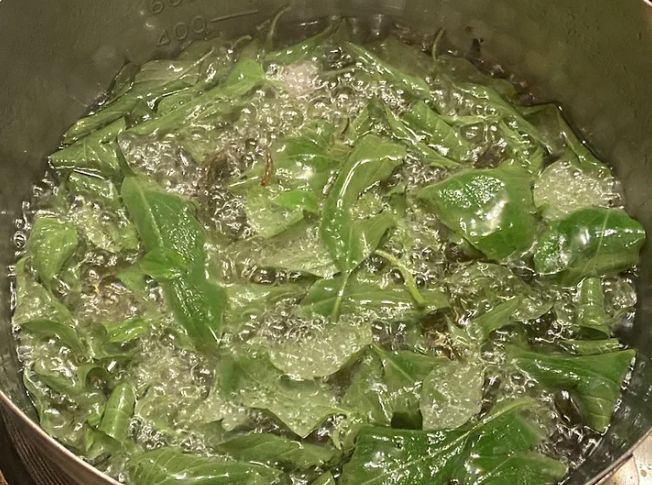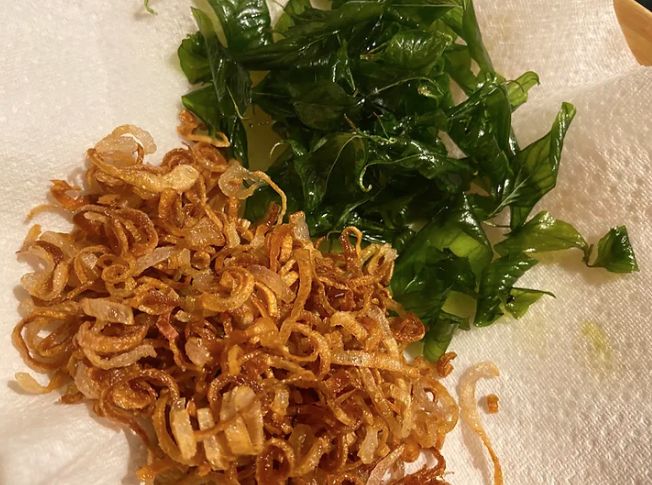 6. Now everything is prepared we can now move on to cooking the dish and bringing everything together. Start by placing a wok or large pan onto a high heat then add a drizzle of oil. When hot add the diced red onion and garlic first and stir fry for 2 minutes or until fragrant. Next add the sliced carrot and shimeji mushrooms and continue to stir fry for an additional 2 minutes to crisp up the mushrooms.
7. At this point we now want to add the remaining vegetables, add all of the riced cauliflower, tender stem broccoli and kale then stir fry all of the ingredients together for a further 4-5 minutes. Keep the heat as high as possible at this stage as we are looking to create a slight char on the cauliflower opposed to it becoming mushy.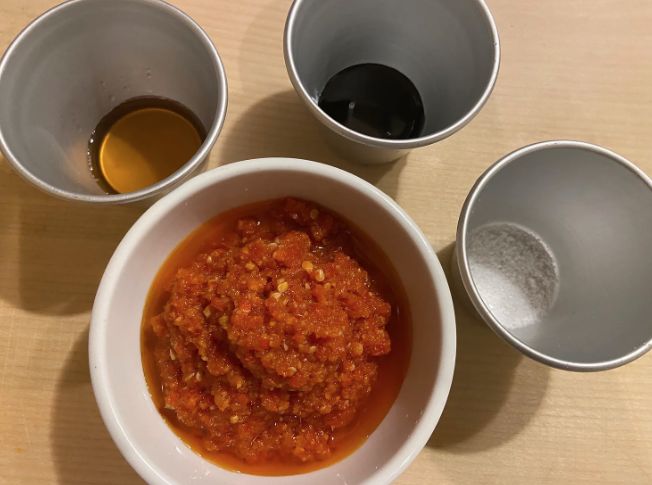 8. When all of the vegetables are just about cooked and nice and crispy we can now take the dish to the next level. To the vegetables now add 2-3 tbsp of the sambal, 2 tbsp of kecap manis or dark soy, 2-3 tbsp of vegan fish sauce (optional) and a pinch of salt. Continue to stir fry and coat all of the vegetables in the sambal and sauce. Next check the seasoning and adjust if needed by adding additional sambal, salt or kecap manis. When ready add a handful of Thai basil to the vegetables and we are now ready to serve.
9. To serve add all of the vegetables to a large serving bowl then top with some additional sambal for a little extra heat, some fried basil and a good handful of fried shallots and we are done. Hope you like this super simple, delicious and healthy take on a vegan nasi goreng!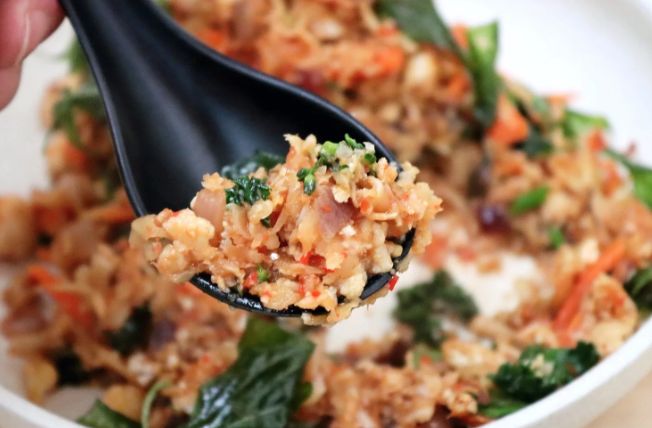 As for what other key vegetable you could use to act as rice then I think sweet potato, celeriac or suede would also work…In terms of what other supporting vegetables, you could add then some pak choi, choi sum, spinach, sweetcorn, napa cabbage or aubergine could also be added. If you're vegetarian then a good fried egg sunny side up would also work perfectly with this dish. Have fun with this one and I'm sure you will love it! peace!
Cook Time 30 minutes / Prep Time 20-25 minutes
2-4 Birdseye chillies (optional)
1 tbsp kecap manis or dark soy
1 tbsp vegan fish sauce (optional)
40ml cooking oil for frying
1/2 bunch Thai basil or basil
2 tbsp kecap manis or dark soy
2-3 tbsp vegan fish sauce (optional)
1/2 bunch Thai basil or ordinary basil
100ml cooking oil for frying basil and shallots