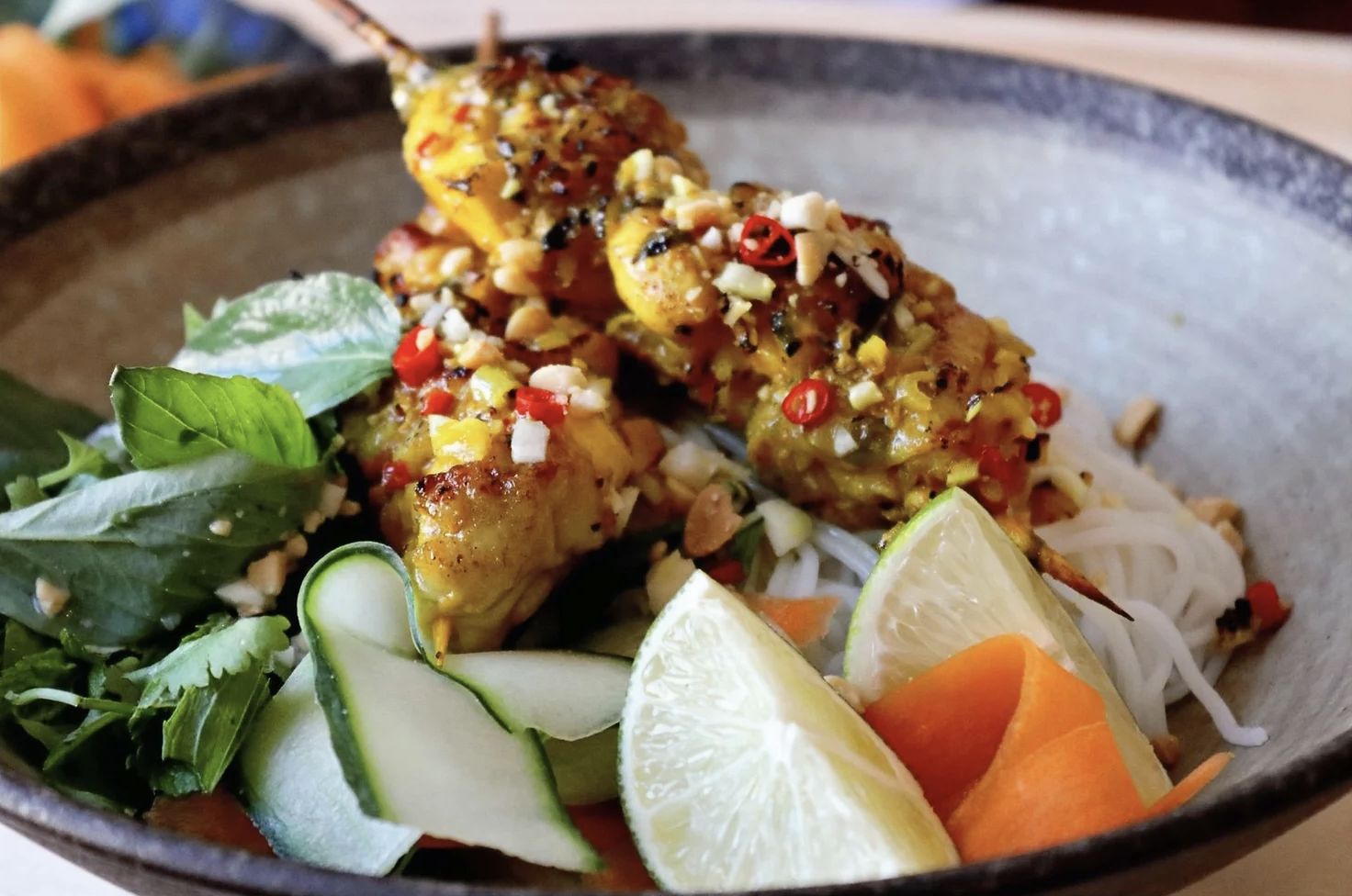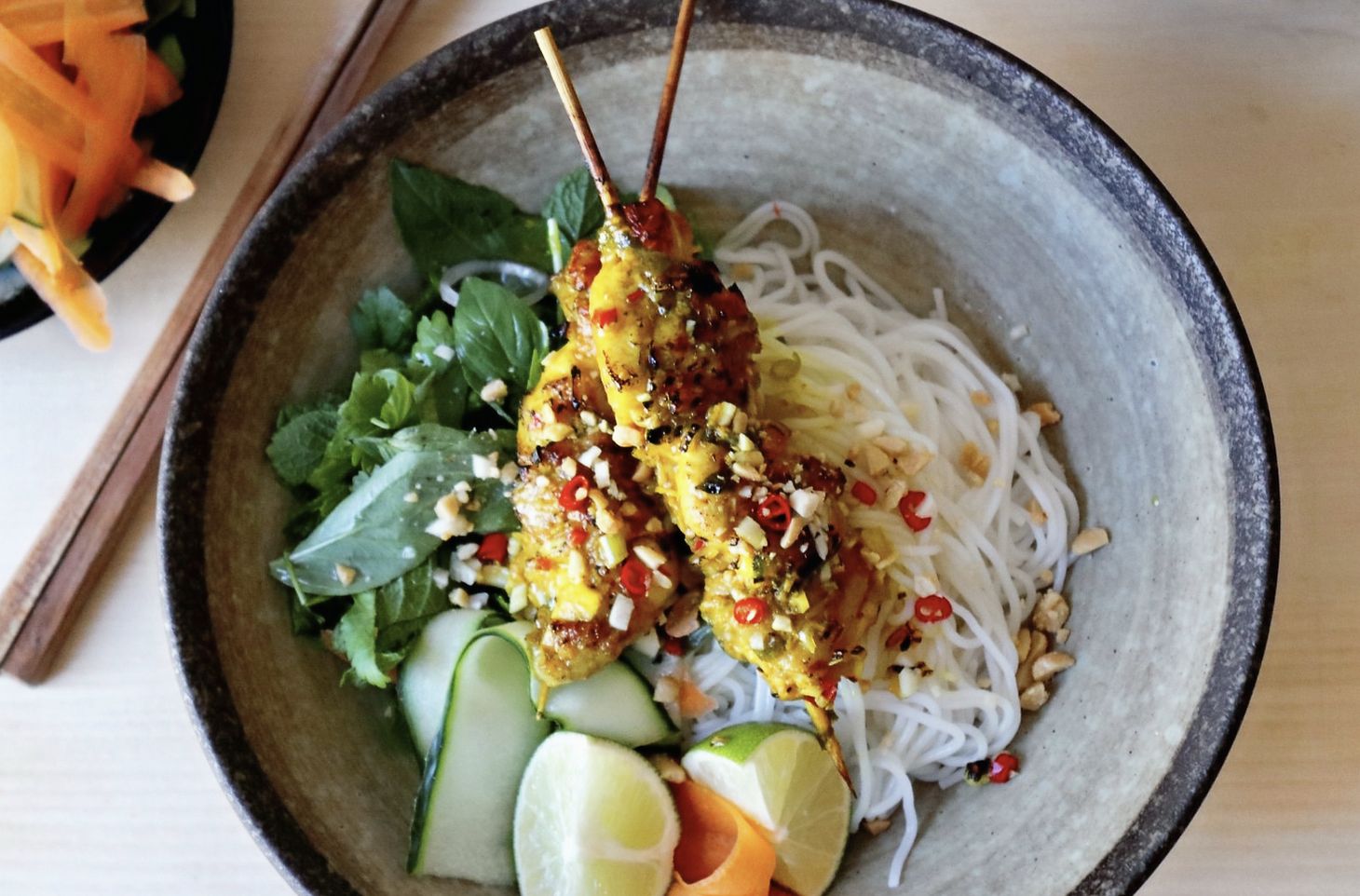 My first encounter with this type of dish was in Hanoi, Vietnam! Granted the place I tried this style of rice noodles, herbs and grilled meat was in an average mall and I guess it was sub par. However, when eating I immediately knew what to do with the dish to take it to that next level. The key is in a heavy intense aromatic marinade that we not only use to marinade the chicken but to also add as a sauce to carry the noodles. Similar to Cha Ca I want to use the marinade to transform the noodles and add a slight bit of oil to enrich and add even more flavour to the dish. I promise this recipe will be a once a week go to for you when you try it! With all that said let's cook!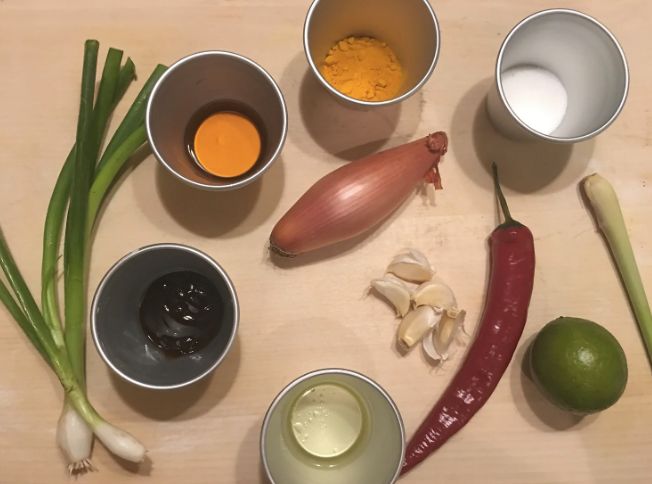 1. Let's start off with the marinade/dressing, ideally you could marinade the chicken 2 hours prior to cooking, however, it's not essential to do so. In a large mixing bowl add 2 finely sliced lemongrass stalks, 1 minced shallot, 1 optional finely diced red chilli and 5 minced garlic cloves. To bring the the marinade together next add the juice and zest of 1 lime, 2 tbsp of turmeric, 1 1/2 tbsp oyster sauce, 3 tbsp fish sauce, 1-2 tbsp of honey, 2 tbsp of white sugar and finally 4-5 tbsp of rapeseed oil. Mix well then place the marinade to one side for now.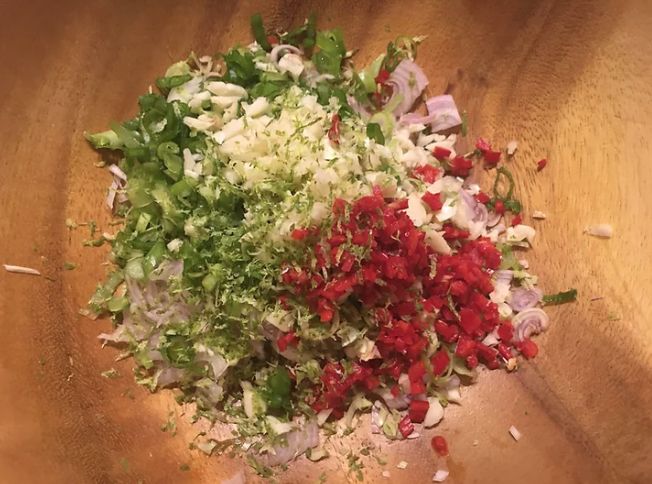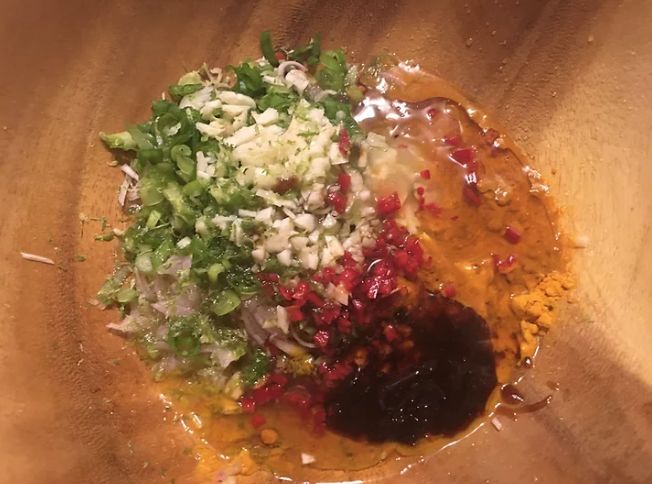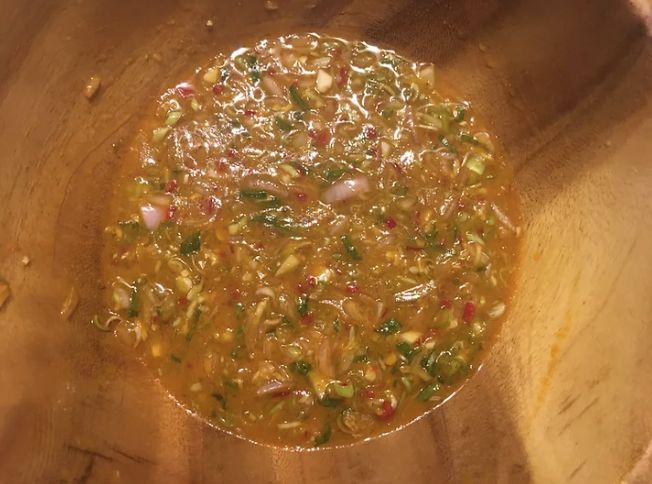 2. Now that we have our marinade we can move onto prepping up the chicken. I use chicken thighs but you could also use chicken breast of even chicken wings if you prefer. For the thighs, start by removing the thighbone by using a boning knife to reveal then remove. You can remove the soft bone also if you like but I personally love the texture, therefore, more the better. Next slice the chicken thighs into bite sized pieces.
3. Add the diced chicken to the marinade then add a good pinch of black pepper to season. Mix well (maybe use gloves as turmeric is a nightmare) then we can move onto to skewering. I like to skewer the chicken when grilling as I find it easier to cook and I can control the char much easier. Skewer all of the chicken then pour the remaining marinade over the skewers. Allow the chicken skewers to sit in the marinade until we are ready to grill.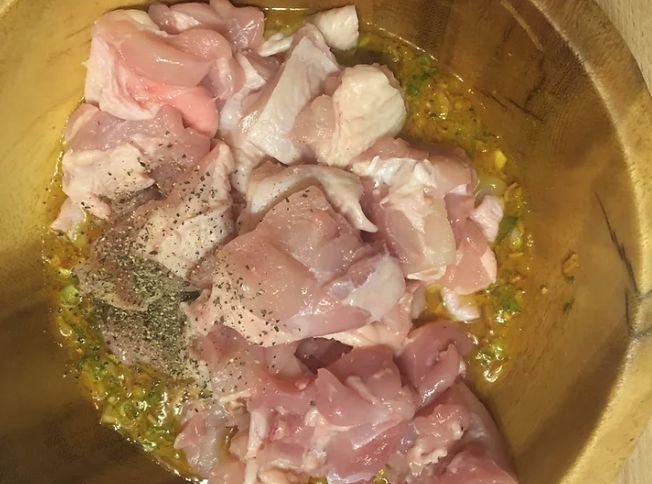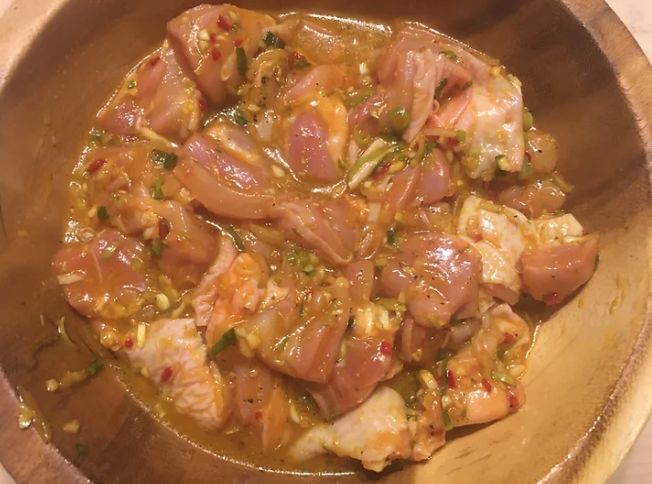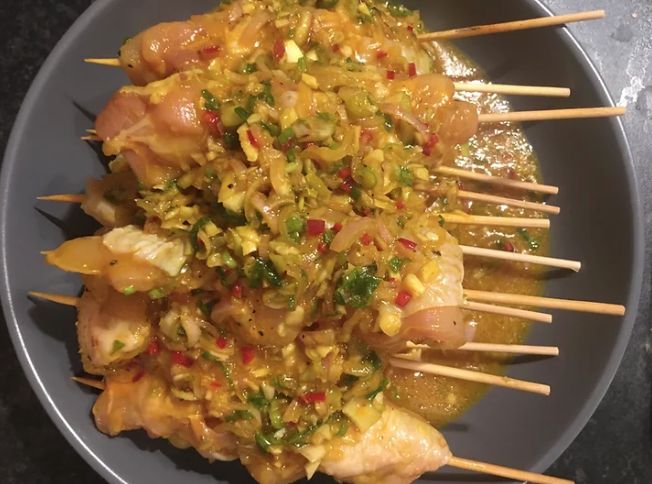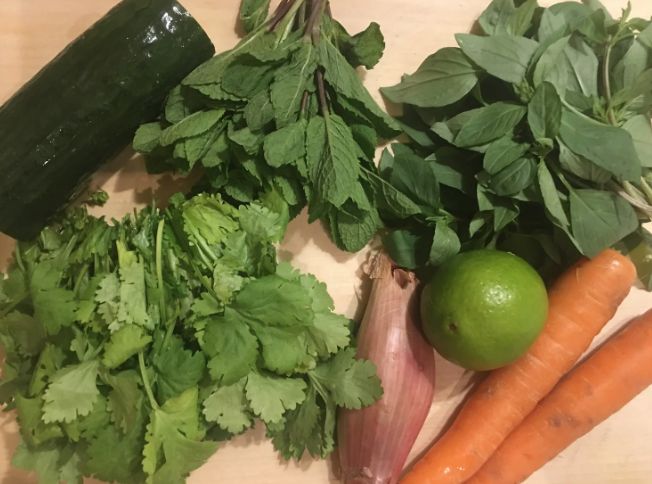 4. Whilst the chicken is marinating we can move onto preparing the other components for this recipe. Starting off with the salad, you can add which ever raw herbs or vegetables you prefer but this is a good medium to start with. Begin by washing a bunch of coriander, mint and Thai basil then roughly chop the mint and coriander and pick the Thai basil leaves. Next use a peeler to shave strips of carrot and cucumber and finely slice 1 raw shallot. Finally slice 1-2 limes into wedges then place the salad separately into a serving bowl when ready.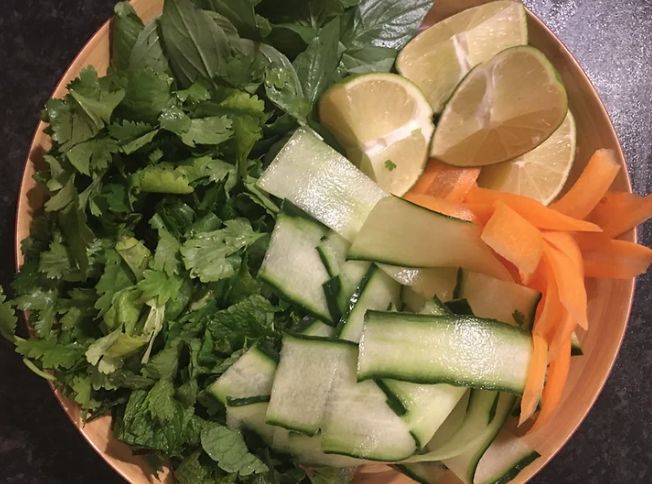 5. As for the rice noodles its quite common in Vietnam to serve these cold. Place a large pan full of water onto a high heat and bring up to the boil. When boiling add the dry rice noodles and boil for 5-6 minutes until just cooked or to however long the packet suggests (brand depending). When cooked carefully drain the cooked rice noodles and refresh under cold running water to chill and to stop the cooking process. Place the chilled cooked rice noodles into a bowl when completely drained and set to one side.
Nouc Cham and Toasted Peanuts: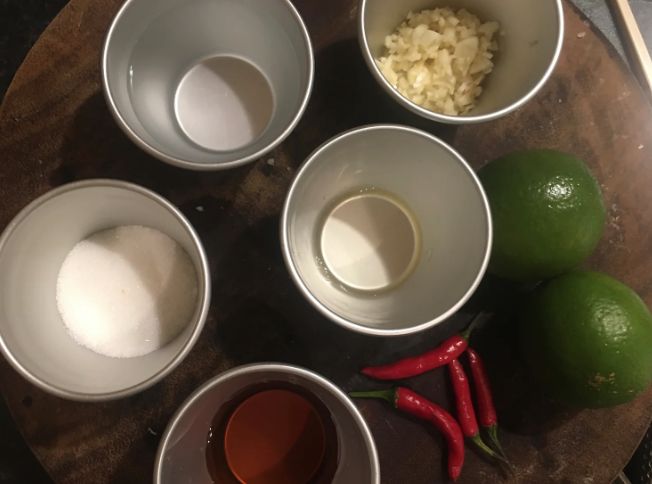 6. The last 2 components to prepare before grilling the chicken are the Nouc Cham (classic Vietnemese dipping sauce) and some ground toasted peanuts. For the Nouc Cham start by adding 4 tbsp of white sugar into a small mixing bowl then add the juice of 2 limes, 1 optional tbsp of rice vinegar, 1/2 cup of fish sauce and 3/4 of a cup of warm water. Whisk well until the sugar dissolves then add 3 minced garlic cloves and as many finely sliced Birdseye chillies as you can take. Mix well then adjust the seasoning by adding additional water, lime juice or sugar if needed.
7. Finally we want to lightly toast 100g (approx) of peanuts in a dry pan. When nicely toasted add to a pestle and mortar and grind until roughly ground. We are after a little texture, although, its really up to you how fine you want to go.
8. Now that all the components are ready we can move onto finishing the dish and to grill the chicken. Grilling these skewers over a bbq would be perfect, but if cooking at home then place a griddle pan or regular pan if you don't have one onto a high heat then brush lightly with a touch of cooking oil. When hot add the skewers in batches and briefly sear on both sides until charred. When ready place the skewers onto a baking tray lined with parchment pour over the remaining marinade over the seared skewers. Finish the skewers off in a hot oven set at 180°c and roast for an additional 10-15 minutes until cooked. When ready remove from the oven and we are ready to plate up!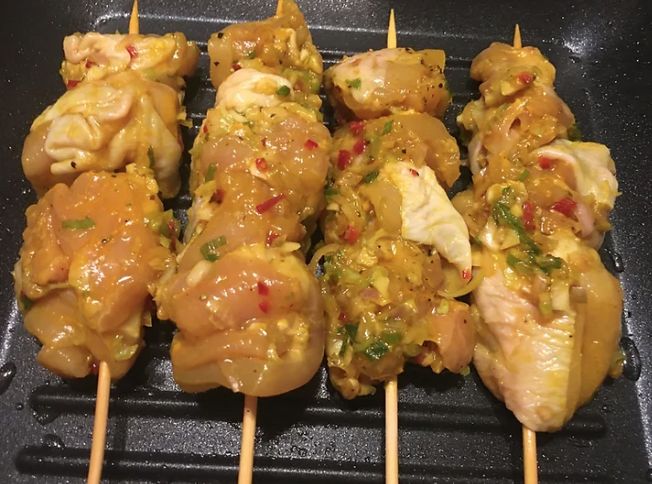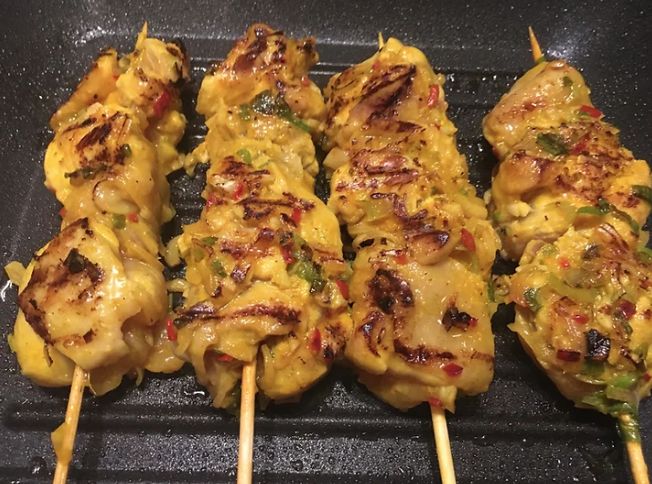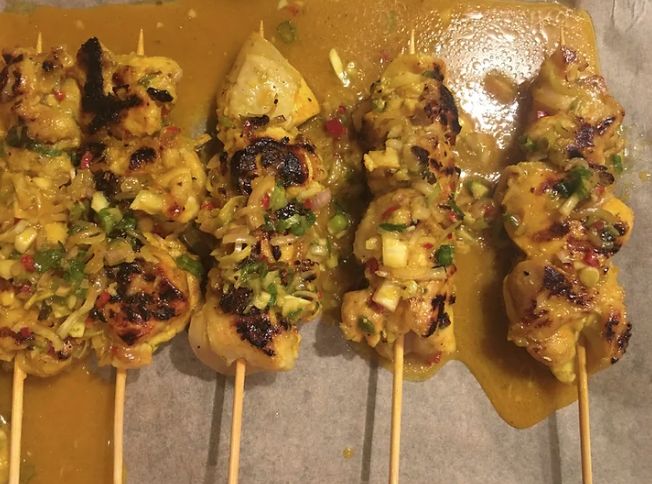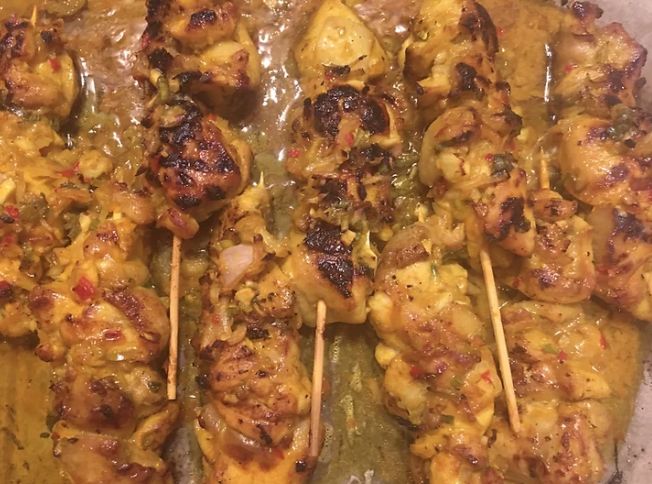 9. Now to plate up! Add some cooked rice noodles to a bowl and scatter around with some herbs and salad. Place over some of the skewers then drizzle some of the cooked marinade/sauce. Top the grilled chicken with some Nouc Cham, toasted peanuts a squeeze of lime and mix everything together and devour!!!! Have fun and I know you will love this super simple, healthy, delicious recipe!!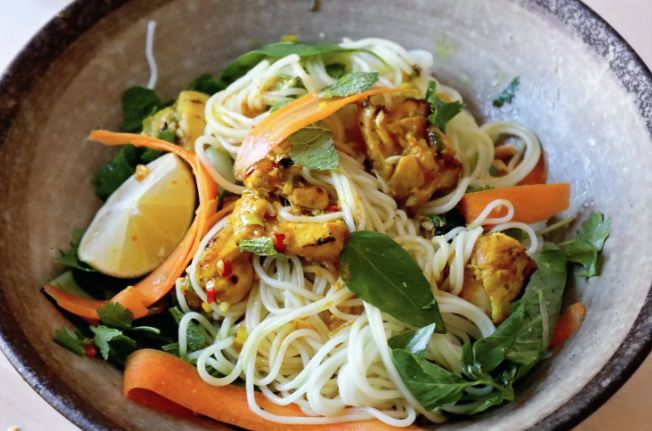 You could recreate this dish by substituting the chicken thighs with beef, pork, shrimp or tofu if you prefer. I think as long as you have the concept of a good marinade that is also used as a sauce then you will be fine. In terms of what salad and herbs to use then you can also add baby gem lettuce, shredded red cabbage, beansprouts, raw green beans, baby tomatoes etc…You can even skip the rice noodles also and create a salad if you prefer? Have fun, hope you like this recipe and peace!
Cook Time 30 minutes / Prep time 45 minutes / Optional Marinade Time 1-2 hours
1 long red chilli (optional)
good pinch of black pepper
400g rice vermicelli noodles
Nouc Cham and toasted peanuts:
1 tbsp rice vinegar (optional)