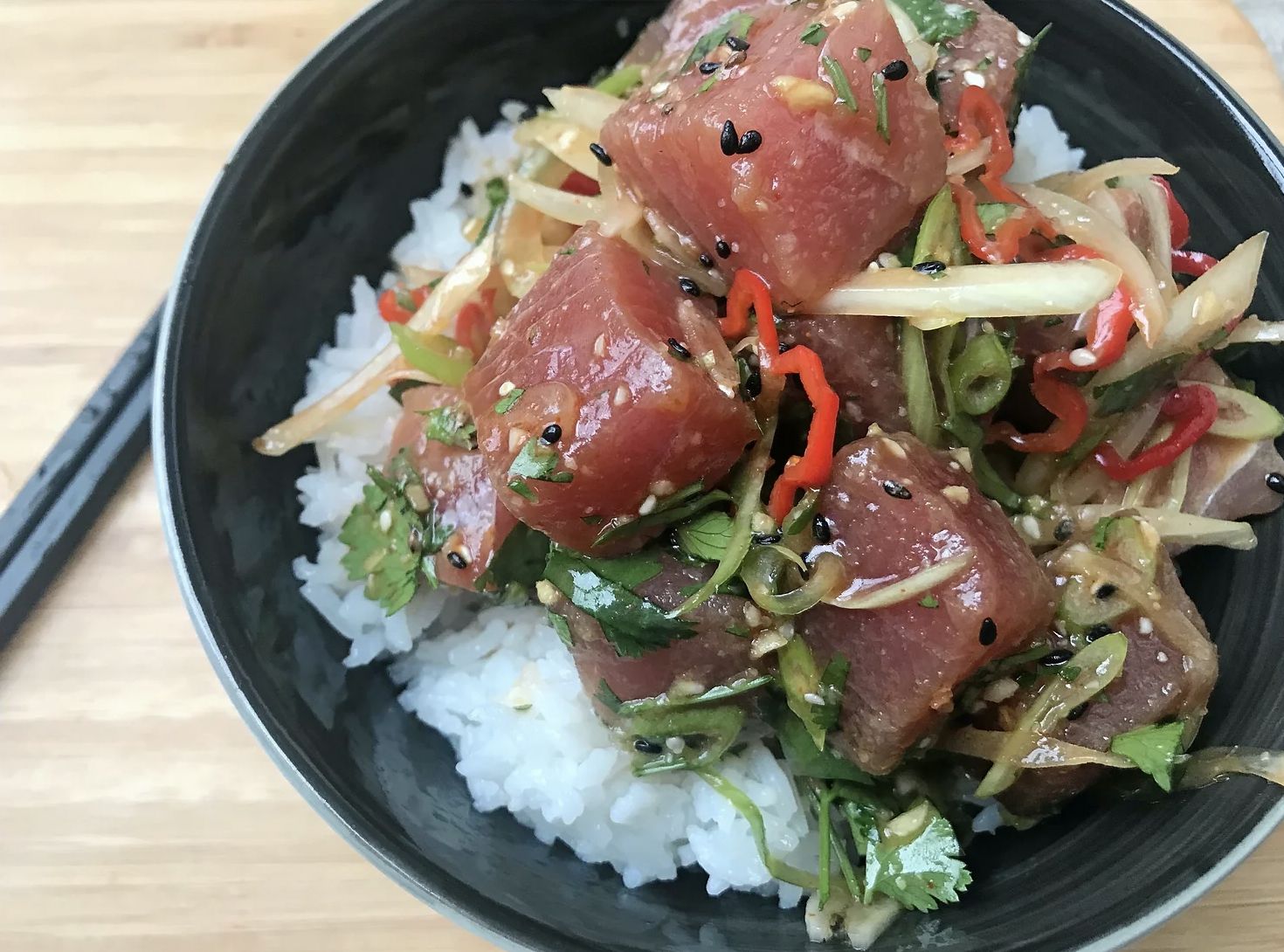 Poke is one of those underrated hybrid dishes that originates from Hawaii. For this dish I was torn between using tuna or salmon but I decided to use tuna. The goal when creating this poke was to keep it fairly authentic maintaining that sesame and soy kick. I managed to get hold of some scotch bonnet chillis and I have to admit they make a great addition to this type of dish. Poke is super healthy as raw tuna is full of lean protein with omega 3 and a wide array of vitamins and minerals. I can't stress how great this dish is and I urge you to try it ASAP! Let's make a poke!
Lets start by making the dressing, Begin by toasting sesame seeds in a dry pan along with some ginger and garlic until all are nicely toasted. When ready add to a pestle and mortar followed by 3 tbsp light soy, 3 tbsp sesame oil, 1 tbsp mirin, 2 tbsp sugar and 1 tsp of rice vinegar. Next grind all ingredients until the sesame seeds, garlic and ginger are nicely ground then set the dressing to one side.
2. Now we can prepare the vegetables and tuna for this dish, in a large mixing bowl add sliced white onion, sliced spring onions, roughly chopped coriander and finely sliced chillis. Then cut the tuna into bite sized cube pieces and add to the bowl.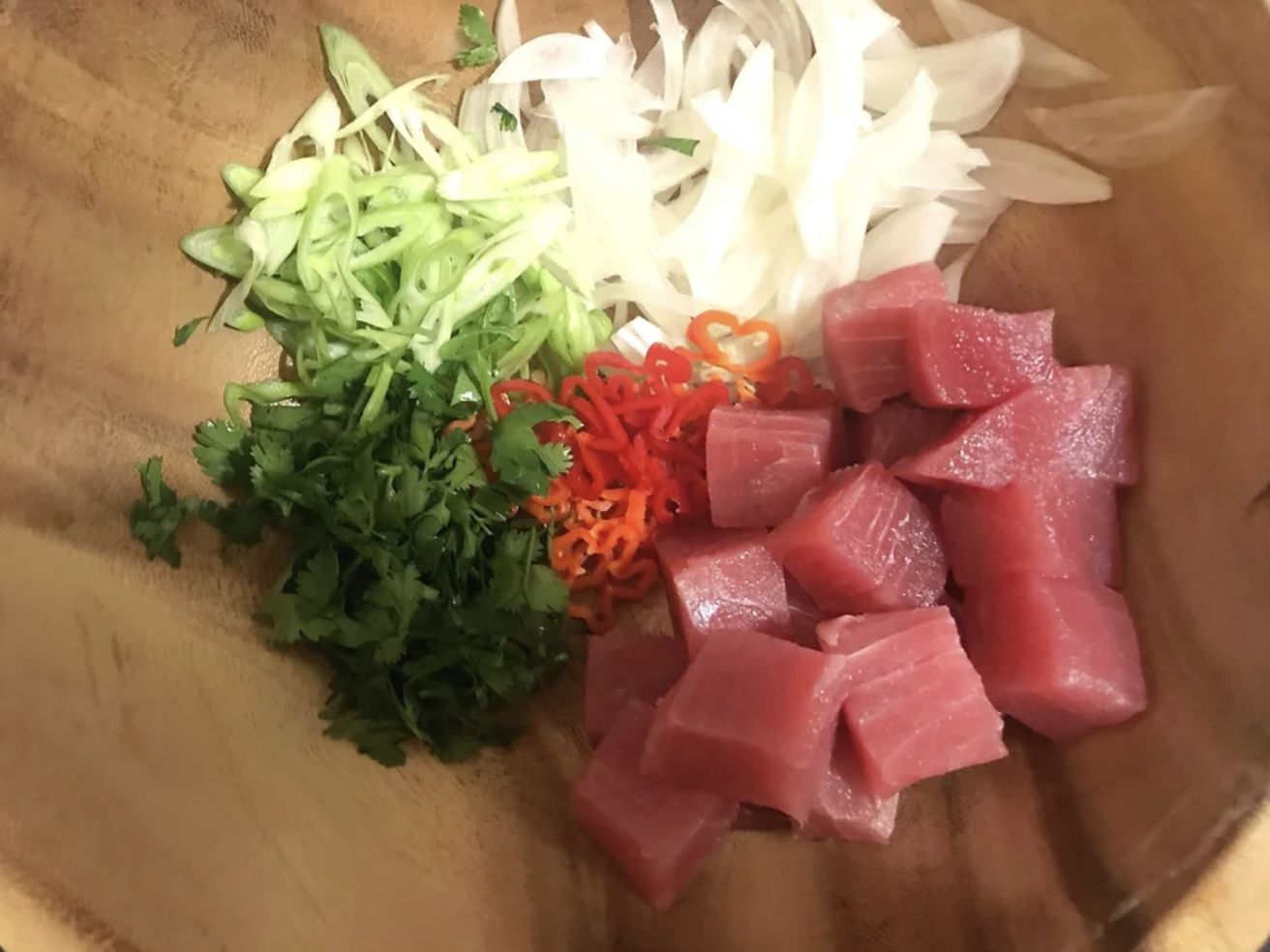 3. Now everything is prepared we can serve, add around half of the dressing to the large mixing bowl of tuna and vegetables and mix carefully with a spoon. Add the juice of one lime and some shichimi pepper then check the seasoning to see if it needs any more lime, salt or cracked black pepper. When satisfied add cooked rice to 2 bowls then divide the poke into 2 and place on top of the cooked rice. Serve with the remaining dressing on the side and nourish.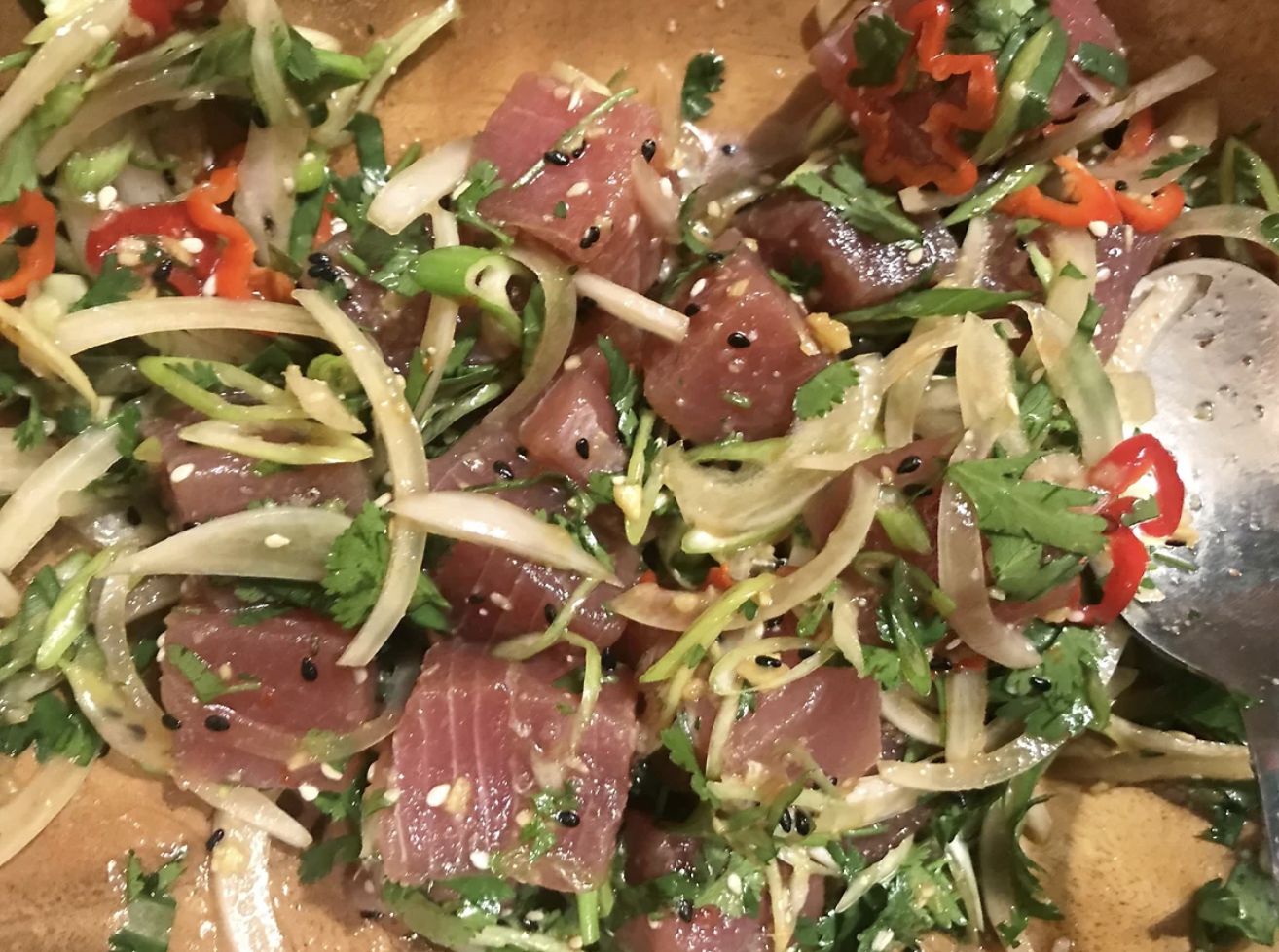 Hope you all enjoy my poke recipe!!
I recommend you try this recipe with raw salmon also, if you don't like the idea of eating raw seafood then you could also try it with cooked fish. Another way is by adding lime juice to the tuna beforehand so that it starts cooking the fish like a ceviche. You can also add some Korean pepper paste or even siracha to this recipe if you really want to get after that spice. Have fun playing around with this recipe I think it's such a flexible dish to create.
approx 300g fresh raw tuna (2 tuna steaks is fine)
2 scotch bonet chillis (red chillis will be fine)