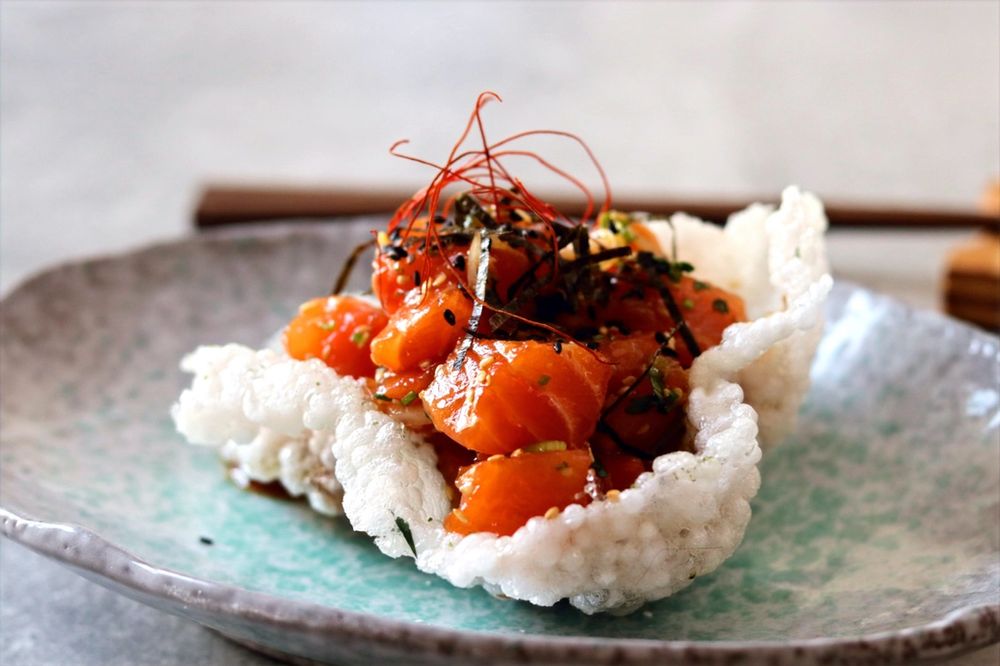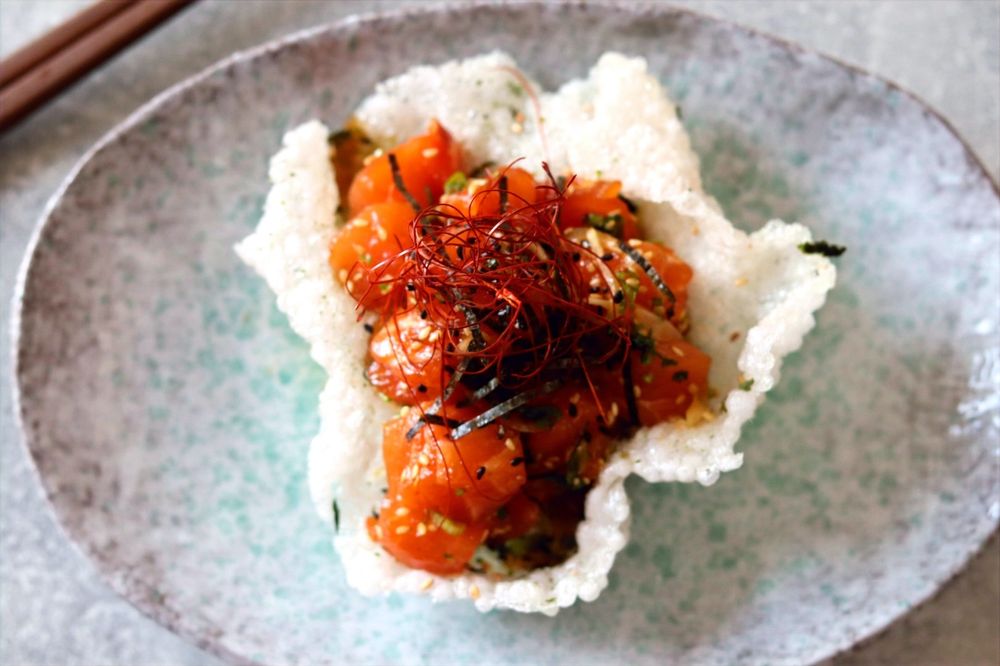 Poke easily has to be one of my favourite things to make and eat. The secret to a good poke is good sushi grade fresh fish. For the recipe I went with salmon as it was the freshest thing at the market. Traditionally poke is served over rice, however, for this recipe I wanted to switch things up by making a shell made up of tapioca to hold the poke. If you can get hold of fresh fish this recipe is a must try! Let's get straight to it!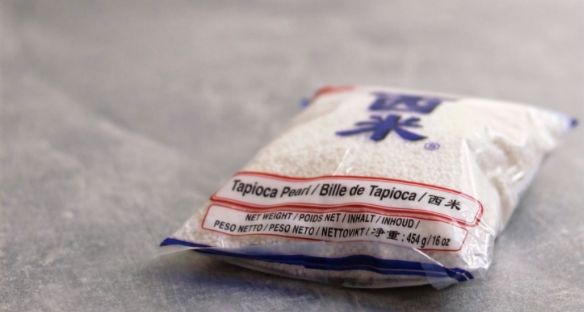 1. Let's begin by making up the tapioca shells, as it takes some time to dehydrate the tapioca when cooked its best to start this way before or even a day in advance. In a small saucepan measure and add 100g of small tapioca pearls, 1 tsp salt and 500g of cold water. Place the saucepan onto a medium to high heat and cook the tapioca for approximately 10 minutes or until the tapioca becomes translucent.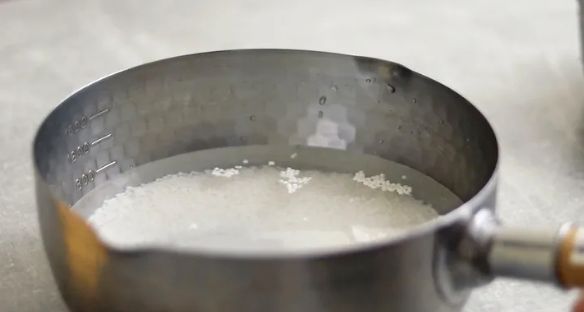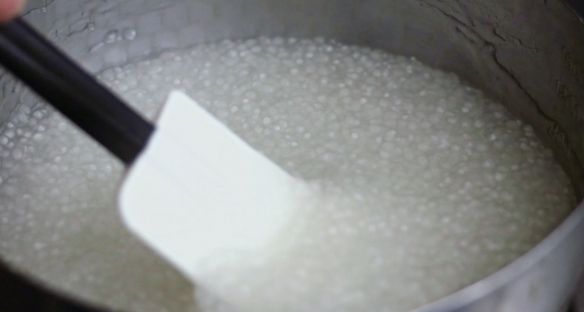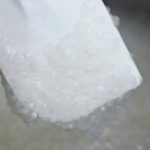 2. When the tapioca is ready place to one side and allow to briefly cool. Next, line a baking tray with non stick parchment paper then add all of the cooked tapioca pearls. Use a spatula to spread the tapioca to form an even thin sheet. Next preheat an oven to 60°c (the lowest setting) then add the sheet of tapioca. Allow the tapioca to completely dry for 2-3 hours flipping the sheet over half way through drying.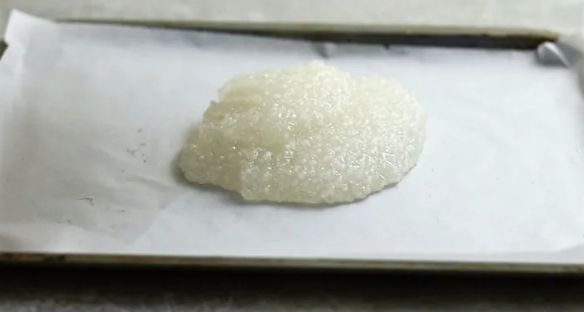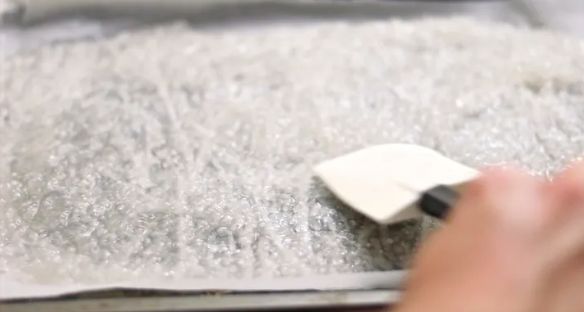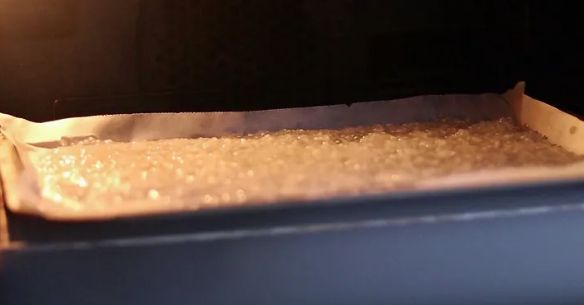 3. After 2-3 hours of dehydrating the tapioca should now have formed a thin dry sheet that can be easily removed. Roughly tare the sheet into various hand sized pieces and the shells are now ready to fry.
4. All that's left to do now is to fry and transform the tapioca into crispy shells to hold the poke. Add a generous amount of cooking oil to a saucepan and place onto a high heat. When the oil temperature reaches 170°c – 180°c add each ripped sheet to the oil and fry for 10-15 seconds until crispy. Repeat for all the sheets then drain the shells onto kitchen paper. Season the shells with furikake seasoning then we can now make up the poke.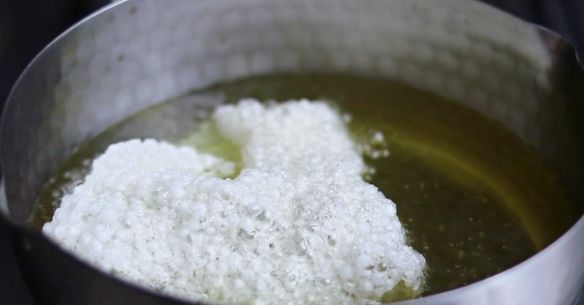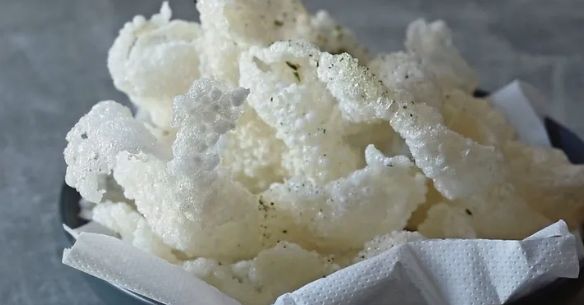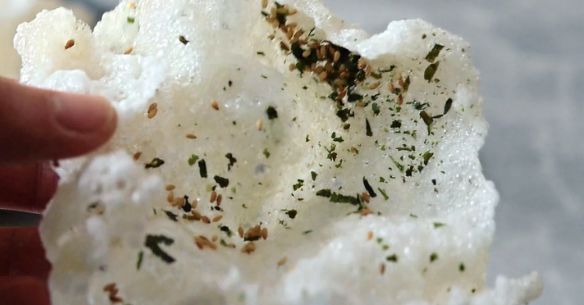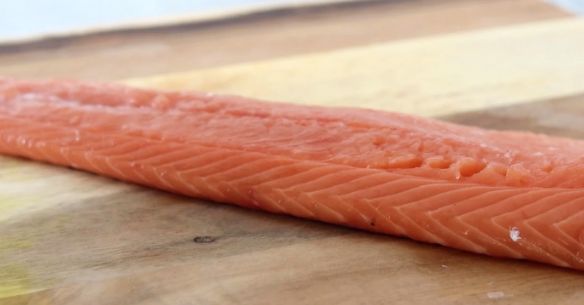 5. As for when choosing the salmon to use for poke then fresh sushi graded salmon would be ideal, however, if that's impossible to source where you live then we can simply marinade the salmon for longer in more of a citrusy marinade to slightly cook the fish. To prepare the salmon start by removing the skin and remove of any pin bones. When ready cut and dice the salmon into bite sized cubes then place to one side for now.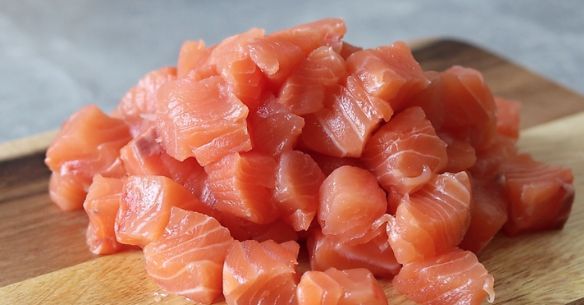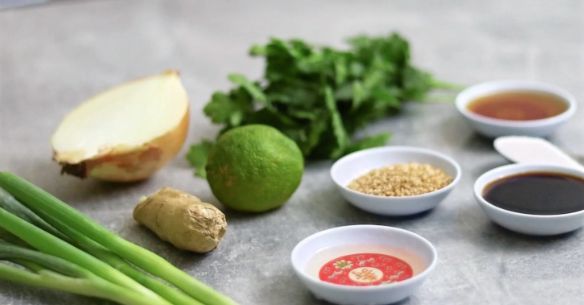 6. For the poke marinade start by finely slicing 1/2 white onion, roughly chop 1/4 bunch of coriander and finely slice 4-5 green part of spring onions. Now in a large mixing bowl add 3 tbsp sesame oil, 2 tbsp light soy, 2 tsp of white sugar, 1 tbsp toasted sesame seeds, 1 tbsp of sushi vinegar, 5g grated ginger and the juice of 1 lime. Mix the marinade well to dissolve the sugar then adjust the seasoning if needed by adding additional soy, sugar or sesame oil.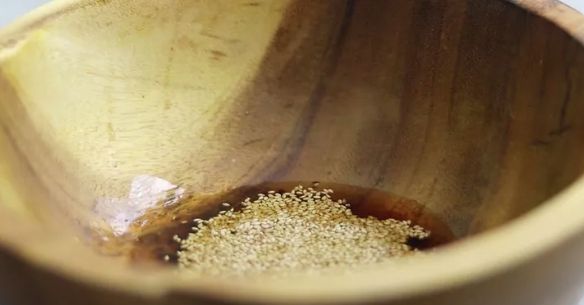 7. Next to the marinade add the sliced onion, spring onion, coriander, diced salmon and a pinch of togarashi pepper. Mix well then allow the salmon to marinade for 20-30 minutes. After marinading the salmon is ready and we can now serve.
8. To serve, take a tapioca shell and completely fill with the poke. Finish with a drizzle of marinade some optional shredded nori sheet, some additional toasted sesame a squeeze of lime and nourish…
Instead of salmon then you could also use tuna as a substitute or even pickled vegetables or roasted to create a vegetarian friendly version. If eating raw seafood isn't your thing then you could simply marinade the fish for longer or even briefly blowtorch to take away the raw edge. I hope you like this recipe and peace as always!
Cook Time 15 minutes + 2-3 hours tapioca drying time
1 tbsp toasted sesame seeds
100g small tapioca pearls
furikake seasoning (optional)