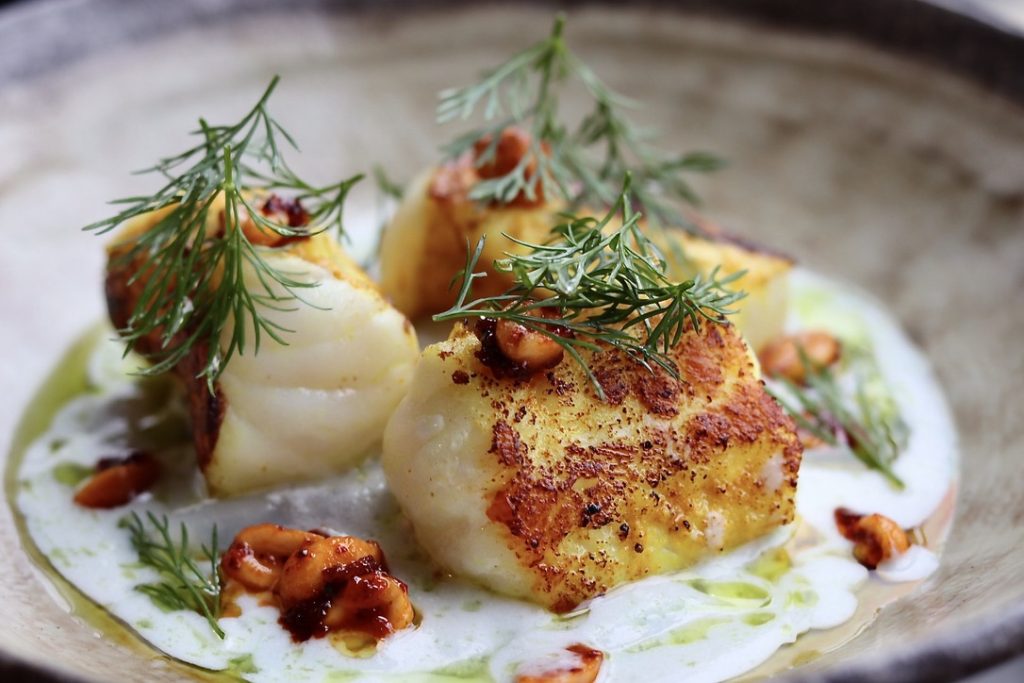 For this recipe I wanted to try something a little different by recreating one of my favourite Vietnamese dishes Cha Ca. This whole dish is inspired from Cha Ca taking some of the key flavour profiles such as turmeric, dill and of cause the fish. This is my working 2.0 version and let's get straight to how I made this dish!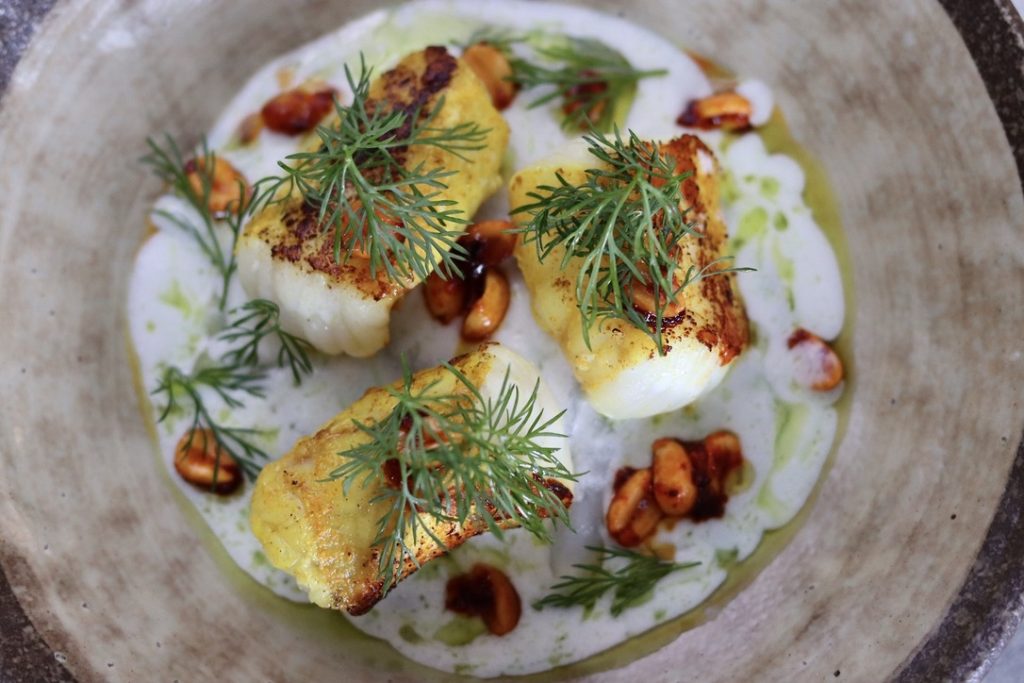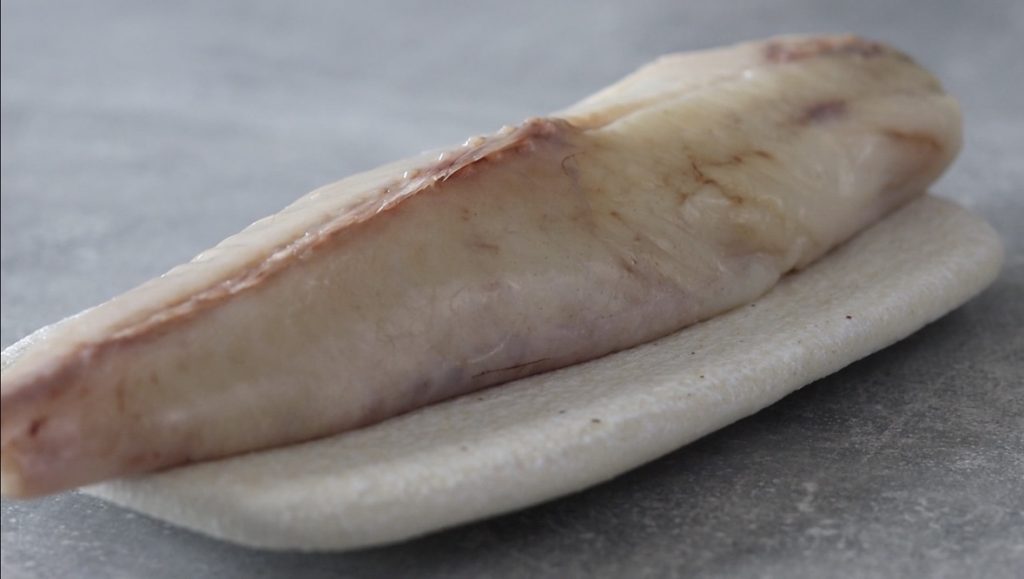 1. Fist let's start by preparing the monkfish, this has to be one of the easiest fishes to prepare as there is only one single spine bone of the tail. Slice long swift scores going along the backbone to release the two fillets. When ready, remove any excess sinue left on the fillets then place onto a tray for now.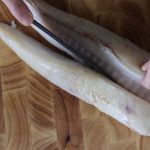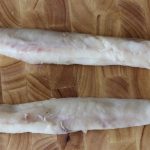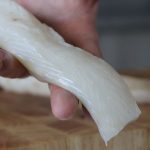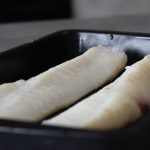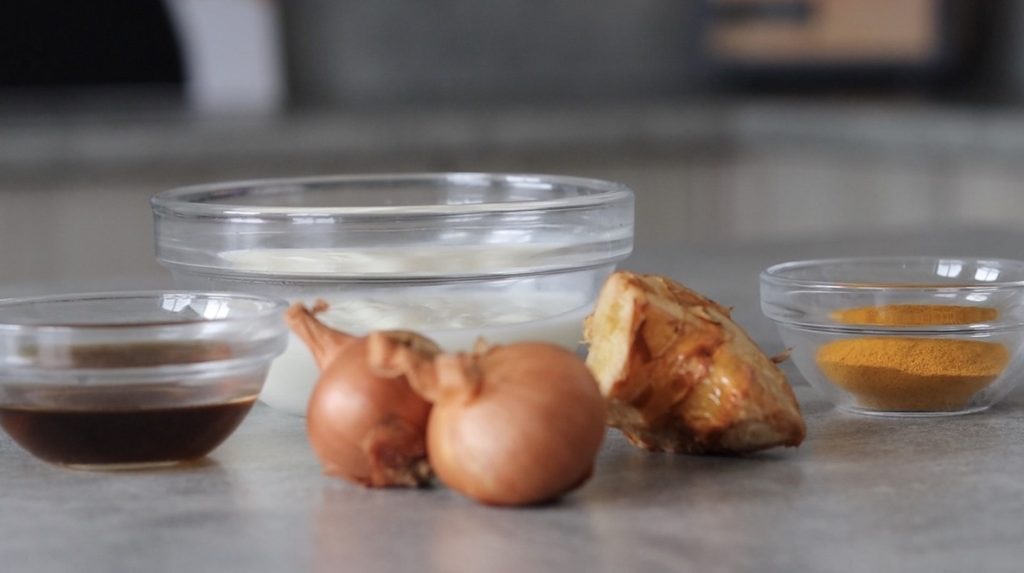 2. Now that we have our fillets to make a simple classic Cha Ca marinade in a small bowl add 3-4 tbsps of full fat yogurt, 1 finely chopped shallots, 3g worth of grated galangal or ginger, 1 tbsp of turmeric and 2 tbsps of fish sauce then mix well until smooth.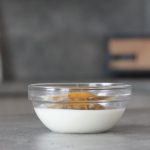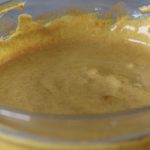 3. Next take a small brush and lightly brush the marinade on all sides of the monkfish fillets. When nicely but lightly coated take out a sheet of clingfilm then add one of the monkfish fillets. Tightly roll in the cling film then twist the edges to seal. Repeat this for both fillets and this step will help the monkfish hold its shape during cooking. Store in the fridge and will will come back to these towards the end.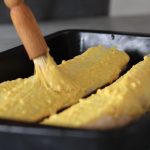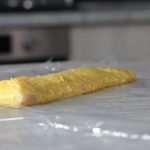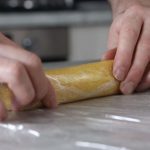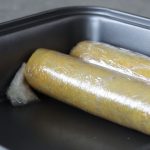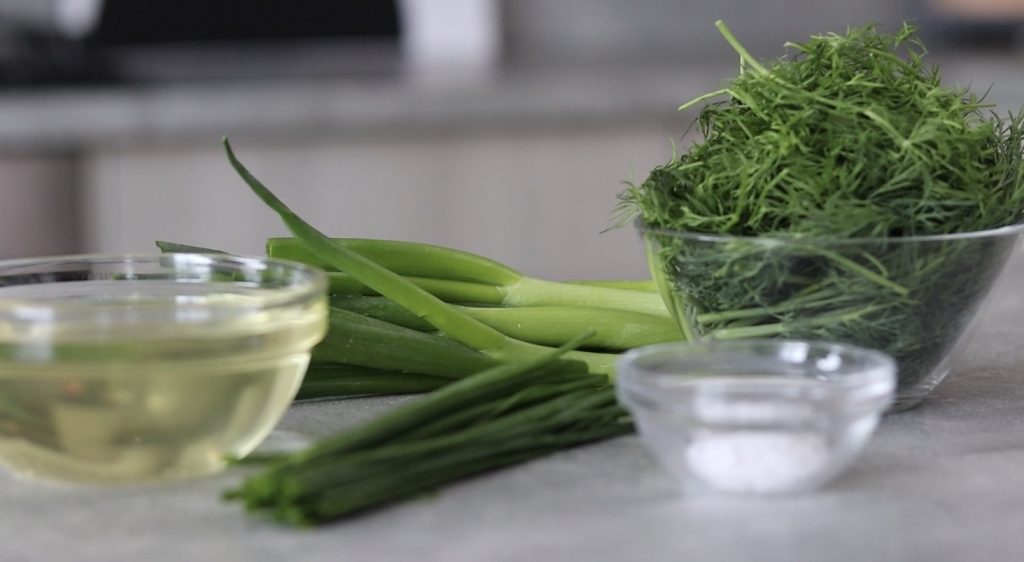 4. To make the oil start adding 100g of dill, 1/2 bunch of roughly chopped spring onions and 1/2 bunch of chives into boiling water. Briefly blanch the herbs for 60 seconds to lightly wilt then remove and chill in a bowl of ice cold water. When chilled, add the blanched herbs to a food processor along with 100mls of neutral oil and a pinch of salt. Pulse on high for 5 minutes to completely breakdown the herbs and to infuse the oil. To finish the oil, lightly line a fine sieve with a piece of kitchen paper or a coffee filter then pour out the blended herbs into the sieve. Cover and allow to slowly drip away in the fridge then when ready we should be left with an intense dill oil. Keep the oil to one side and we will split a coconut reduction with this later.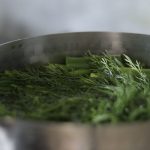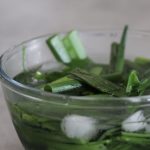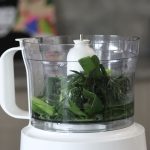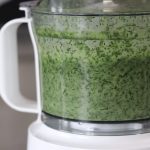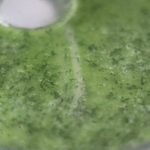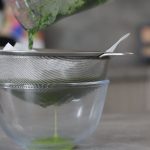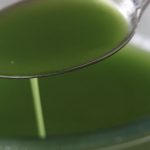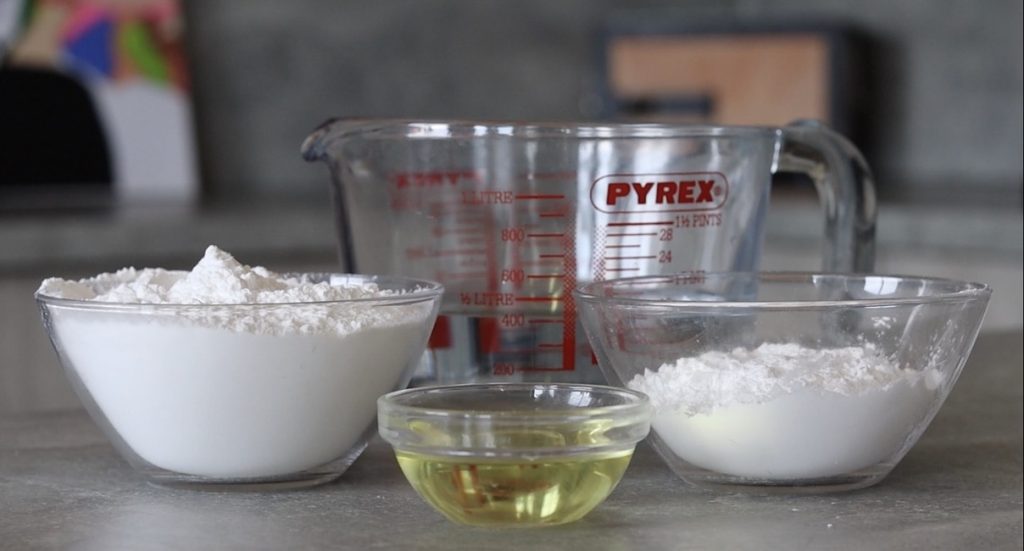 5. Recreating Cha Ca simply would not work without some form of noodle element, therefore, unlike the usual verminceli rice noodles I decided to make and transform the Banh Cuon wrappers into thin disks which will carry a great texture to this dish. In a large mixing bowl start by adding 75g of rice flour, 60g tapioca starch, 1 tsp salt then mix the dry ingredients well. Next slowly add 500mls of warm water to the flour whilst constantly mixing. When all of the water is added the batter should be nice and smooth. Add 1/2 tbsp of cooking oil, mix one last time then cover and allow to rest at room temperature for 1/2 hour.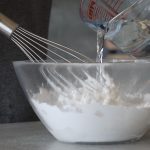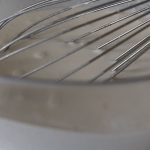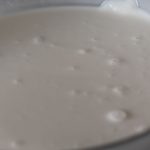 6. After 30 minutes of resting the flour should have sunk slightly separating itself from the liquid, briefly mix again until smooth then place a flat non stick pan onto a medium to low heat. Brush a touch of oil to the pan when hot then wipe away any excess oil. Now that the pan is borderline hot add 1/2 ladles worth of the banh cuon batter then immediately swirl to coat the pan evenly to form a sheet. We are after a slightly thicker Banh Cuon as to the usual thin sheets as we will make small disks of the wrapper when cooked. Now place a lid over the top and cook for 1 1/2-2 minutes depending on thickness. When ready empty out the wrapper onto a cutting board coated slightly with cooking oil then allow to cool. If the wrapper tends to overlap on itself then use a spatula to flatten out the wrapper into a circular sheet. To finish and when cool use a small pastry ring to cut into the wrapper to form small flat disks roughly slightly small than your palm. Carefully remove the disks and store onto a tray that is again lightly greased with cooking oil. Repeat this process for all the batter and a few key points when making these is the temperature of the pan and to also allow the wrappers to cool before cutting into them. Another point to add is that making these is quite tricky, however, with some endurance and patience the wrappers are definately worth the effort. When the disks are prepared cover and store these at room temperature until ready to serve.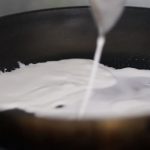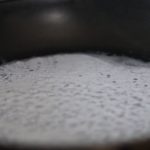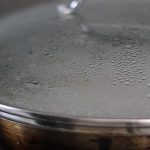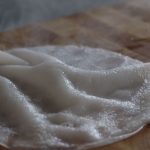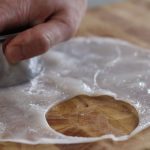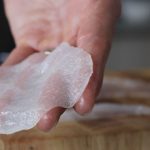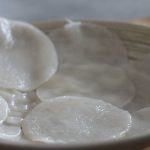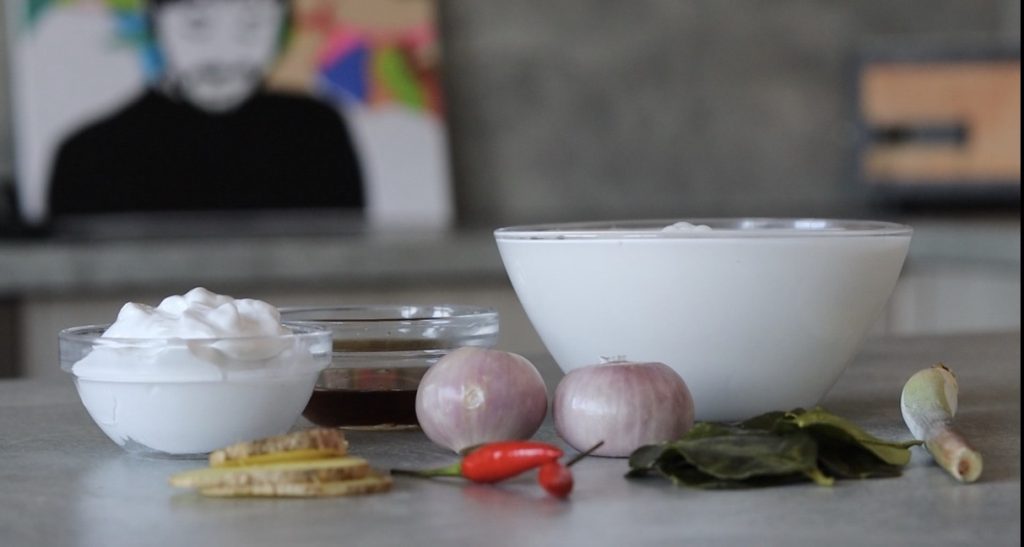 7. Now onto making a simple coconut reduction that we will infuse then split with the dill oil just before serving. To make the reduction in a small saucepan add 400mls coconut milk, 100mls coconut cream, 2 roughly chopped shallots,  1 bruised and sliced lemongrass, 2 small birds eye chillies sliced in half, 5g of sliced ginger and 5 or so kafir lime leaves. Place onto a medium to high heat then begin so gradually reduce the cream by half. When reduced and the consistency can coat the back of a spoon, remove all of the aromatics then season with 1-2 tbsps of fish sauce. Keep warm to one side and all thats left is to finish the monkfish.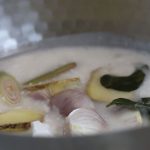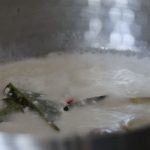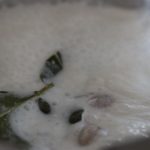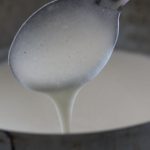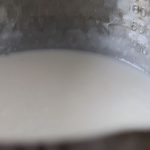 8. The final component to prepare before we begin to cook is a rather simple one. Add 30g of unsalted peanuts to a dry pan and toast until fragrant. When nice and golden brown add 1 tbsp of sweet chilli sauce and 1 tbsp of mild chilli powder. Briefly mix then remove from the heat and store the peanuts to one side. 
9. By this point the monkfish should have set much firmer. Take out the monkfish then slice each fillet into much more manageable bite sized pieces then remove the cling film. Place a heavy pan onto a high heat, add a touch of cooking oil then when hot we can add the monkfish. Cook on each side for 2-3 minutes until nicely caramelised then when cooked remove from the pan and allow to rest for a few extra minutes then when rested we care now ready to serve.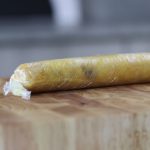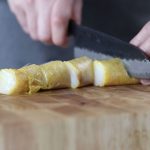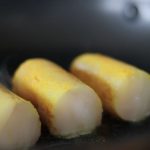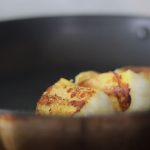 10. To serve let's begin by adding a few tbsps of the dill oil to the coconut reduction then lightly stir to spit the sauce. Next in a serving plate lay the base of the plate with the Banh Cuon noodles then top that with the split coconut dill sauce. Place a few pieces of monkfish on top then scatter some of the chilli peanuts around the dish. Finish with some fresh picked dill and one final drizzle of the dill oil and the dish is now ready…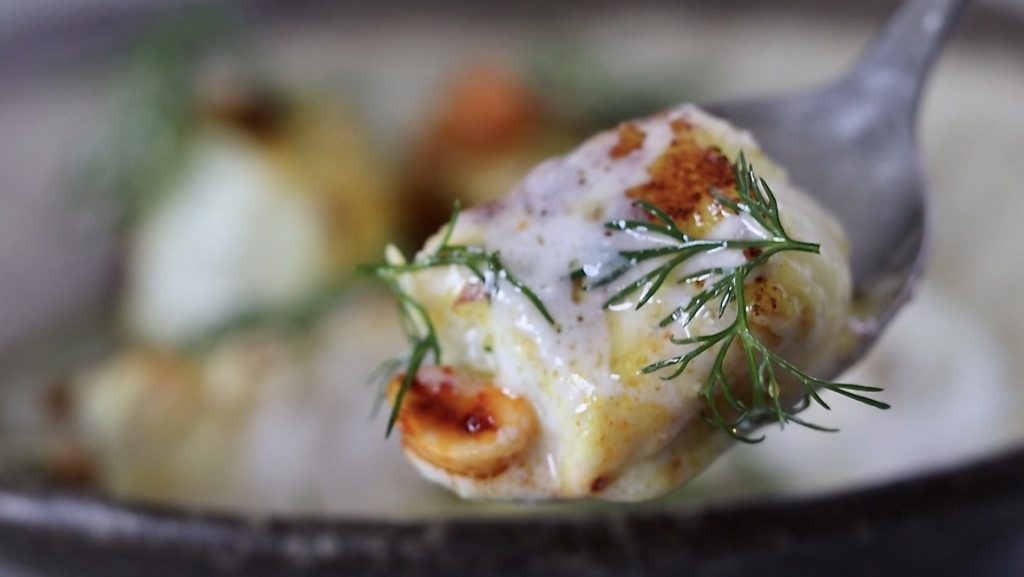 The final dish tasted pretty delicious as it was with a good mix of subtle flavours and textures, however, I would still like to develop and come back to this again and try to improve it somehow…If you ant get hold of monkfish then I think some large king scallops would also work perfectly. As for the Banh Cuon noodles then of cause ordinary noodles would be fine, however, the gelatinous texture of these was really quite special for this dish. Regardless this was a fun experiment to shar have fun and peace as always! 
To serve 2-3
Cook Time 30 mins
Prep Time 1 hour

Ingredients
Fish & Marinade
1 medium monkfish tail
1 shallot
3g galangal or ginger
3 tbsp yogurt 
1 tbsp turmeric
2 tbsp fish sauce
Coconut Reduction
400mls coconut milk
100mls coconut cream
2 shallots
2 birds eye chillies
1 lemongrass 
 5g ginger
5 kafir lime leaves
 2 tbsp fish sauce
Dill Oil
 100g dill
1/2 bunch spring onions
1/2 bunch chives
100ml neutral oil
1 tsp salt
Banh Cuon Noodles
 75g rice flour
60g Tapioca starch
1/2 tbsp cooking oil
1 tsp salt
500mls warm water
Additional Ingredients
30g peanuts
1 tbsp sweet chilli (peanuts)
1 tsp chilli powder (peanuts)
1 tbsp cooking oil (peanuts)
dill