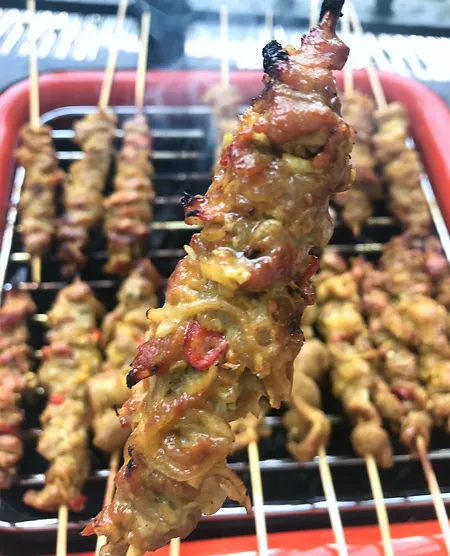 1. Start by slicing the pork shoulder into thin strips (longer and thinner the better) after add to a large mixing bowl.
2. Using all the ingredients above we now need to make the marinade. In a separate bowl add sliced chilli, finely chopped garlic, bruised and finely sliced lemongrass and sliced shallots (you can also use a food processor and roughly chop if you like). Add the brown sugar, turmeric, oyster sauce lime juice and fish sauce and mix until the sugar has emulsified. Season with white pepper and add to the pork shoulder.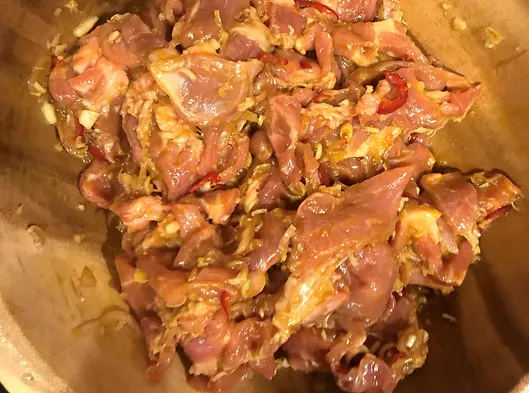 3. Now we have everything prepared we can begin to fold the meat onto the skewers almost by making a constant figure of 8 motion taking care not to add too much meat onto the skewers. When the skewers are all set clingfilm and marinade between 4-6 hours.
4. To cook I defiantly recommend using a bbq to grill as that char flavour works extremely well with the sweet and salty element of the pork. You can also cook by pan frying with rapeseed oil on a medium high heat until they are cooked and nicely seared. These skewers taste great on their own or I also suggest that you serve them with sticky rice.
This marinade is also fantastic with chicken thighs, you can also give them more of a kick by replacing the medium red chillis with scotch bonnets. Another way to cook them without using the skewers is to bake at around 180 degrees for approx 20 mins.
Hope you all enjoy this one nice and easy!
4 Pork shoulder steaks
2 medium red chillis
4 small shallots
4 cloves of garlic
2 lemongrass stalks
1 tbsp turmeric
3 tbsp soft brown sugar
3 tbsp oyster sauce
3 tbsp fish sauce
1 tsp white pepper
1 whole lime