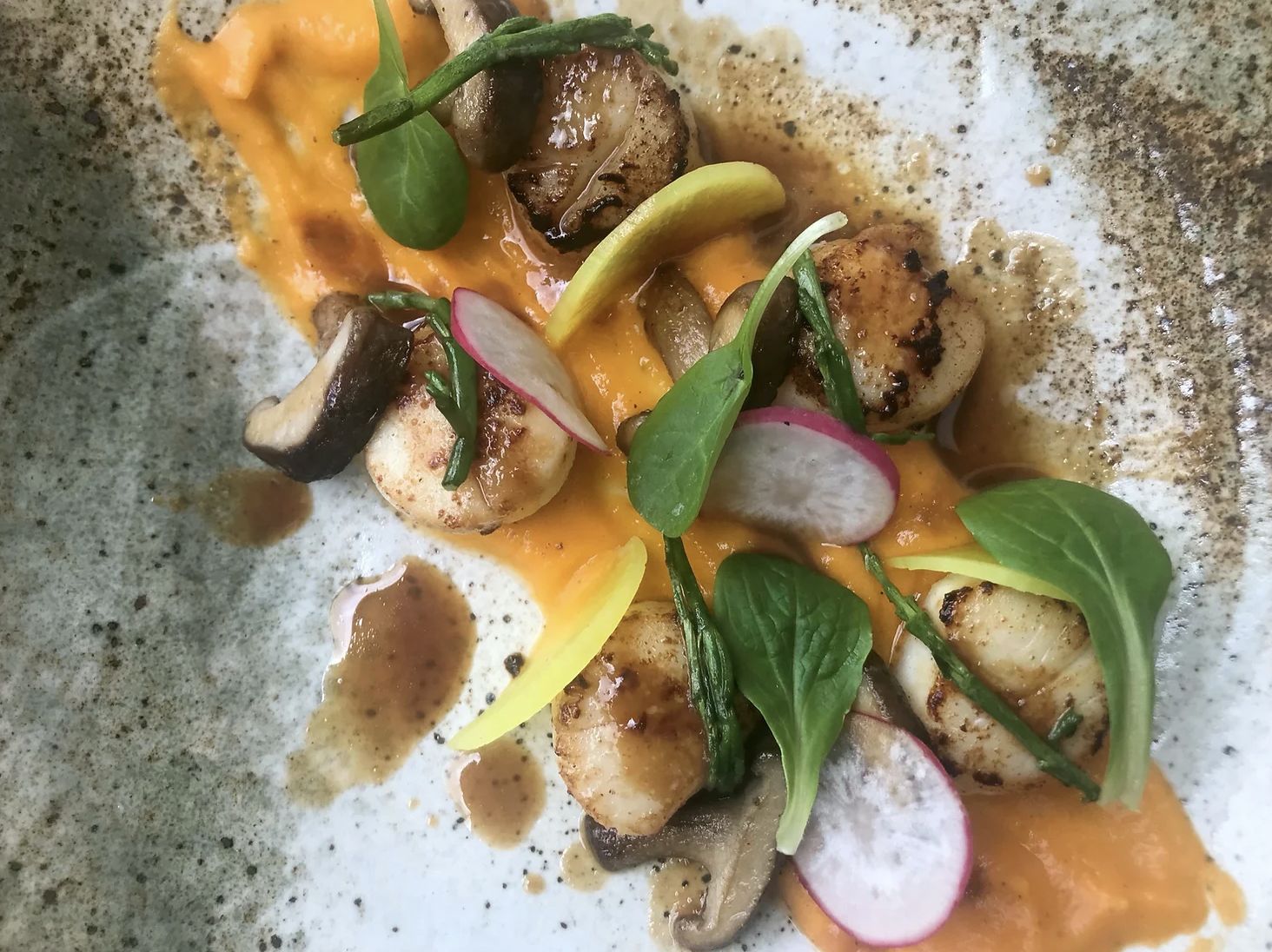 Ok, I wanted to create a scallop salad kind of dish and then began to play around with taste and textures then after quite a few trials this combination of flavours worked out perfectly. For this dish, all I could not manage to get hold of were these small fresh Canadian scallops but I would definitely recommend getting hold of some line-caught king scallops if you can. I aimed to make a light salad/starter so if you want to make this dish a meal, simply add more leaves and vegetables to make it more of a substantial meal. Let's cook!
Let's begin by making the puree, begin by toasting 1/2 a red pepper in the oven until charred. Next cut the butternut squash into cubes then add both the sliced pepper and butternut squash to a pan of boiling water. Cook for around 20 minutes until all the ingredients are soft. Next drain the water from the pan and add to a food blender and blend until smooth then add 2 tbsp of olive oil a drop of water then season with salt and white pepper. Pass the puree through a fine sieve then set to one side.
2. Now we can make our miso glaze, add 10g kombu and 10g of bonito flakes to 200ml of cold water. Next add 2 garlic cloves, 10g ginger, 1 tbsp of sugar and slowly simmer on a medium heat. Then bring to the boil and drain off the dashi stock into a fresh pan and place onto a simmer. Then add 40ml of light soy and whisk in 1 tbsp of miso paste and reduce until the sauce becomes silky and condensed. When ready set the pan to one side.
3. For the salad element we simply want to arrange all ingredients to however you want them to be served. For this dish I sliced the shiitake mushrooms, kept the samphire whole, sliced the radish and daikon, and peeled off the lambs lettuce leaves. You can make this salad as large as you want by increasing the amount of all the ingredients to make a larger salad if you prefere.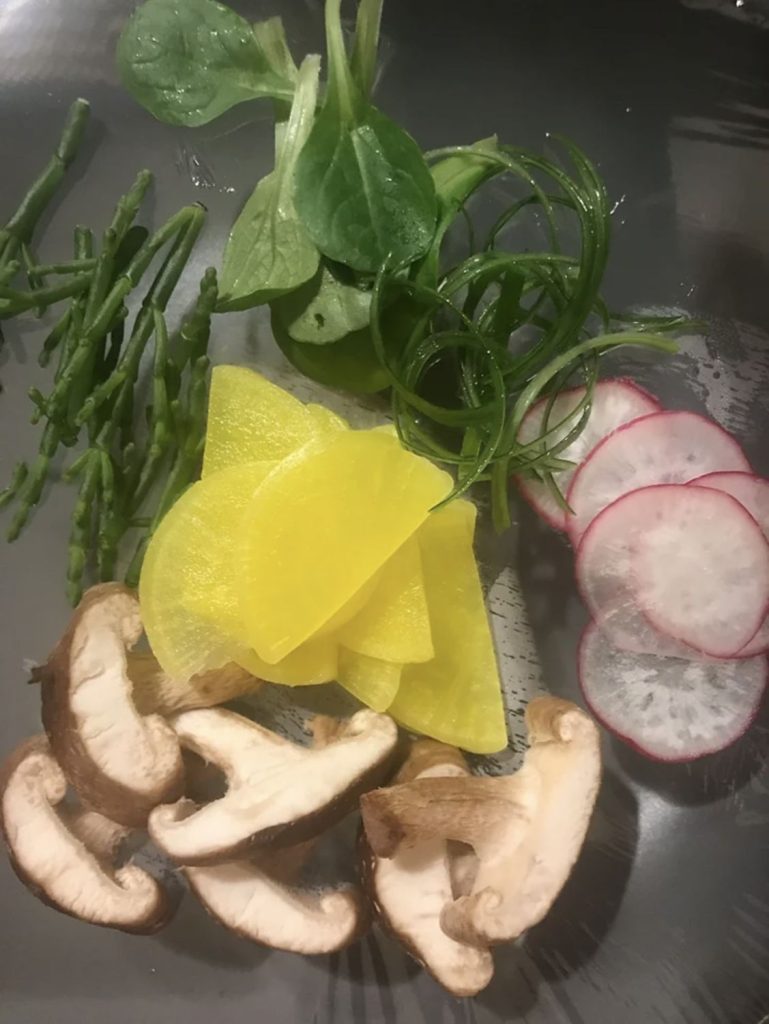 4. Now everything is ready we can now cook the finishing ingredients, in a pan add a drizzle of oil and a small tsp of butter then turn up the heat until the butter starts to foam. Next add the shiitake mushrooms and fry until golden. Then add the samphire and fry for a further 2 minutes until cooked, then season with salt and black pepper. Remove the ingredients onto a plate and set aside.
5. To cook the scallops, place a pan onto a high heat then again add a splash of oil and butter and wait until the butter starts to foam. Season the scallops on both sides with salt and white pepper then add to the hot pan. Cook the scallops for 1 minute either side until nice and golden brown. When cooked place onto a plate and allow to rest for 5 minutes.
6. Let's serve, you can plate this however you like, but to make a salad add the pickled daikon, raw radish and lambs lettuce to a bowl then add the cooked samphire and shiitake mushrooms and a drop of olive oil and toss. Place the salad onto the side of the plate and a nice spoonful of the squash puree on the side. Add the cooked scallops on top and glaze the scallops with the miso sauce. Enjoy this umami bomb!
This salad would also work great with diced chicken thighs treated the same way as the scallops. You can make this dish as fancy as you want when plating or if you want, just make it a quick simple salad dish perhaps removing the squash puree. As long as the flavour combination is there then you should be fine, enjoy!
pickled daikon (optional)