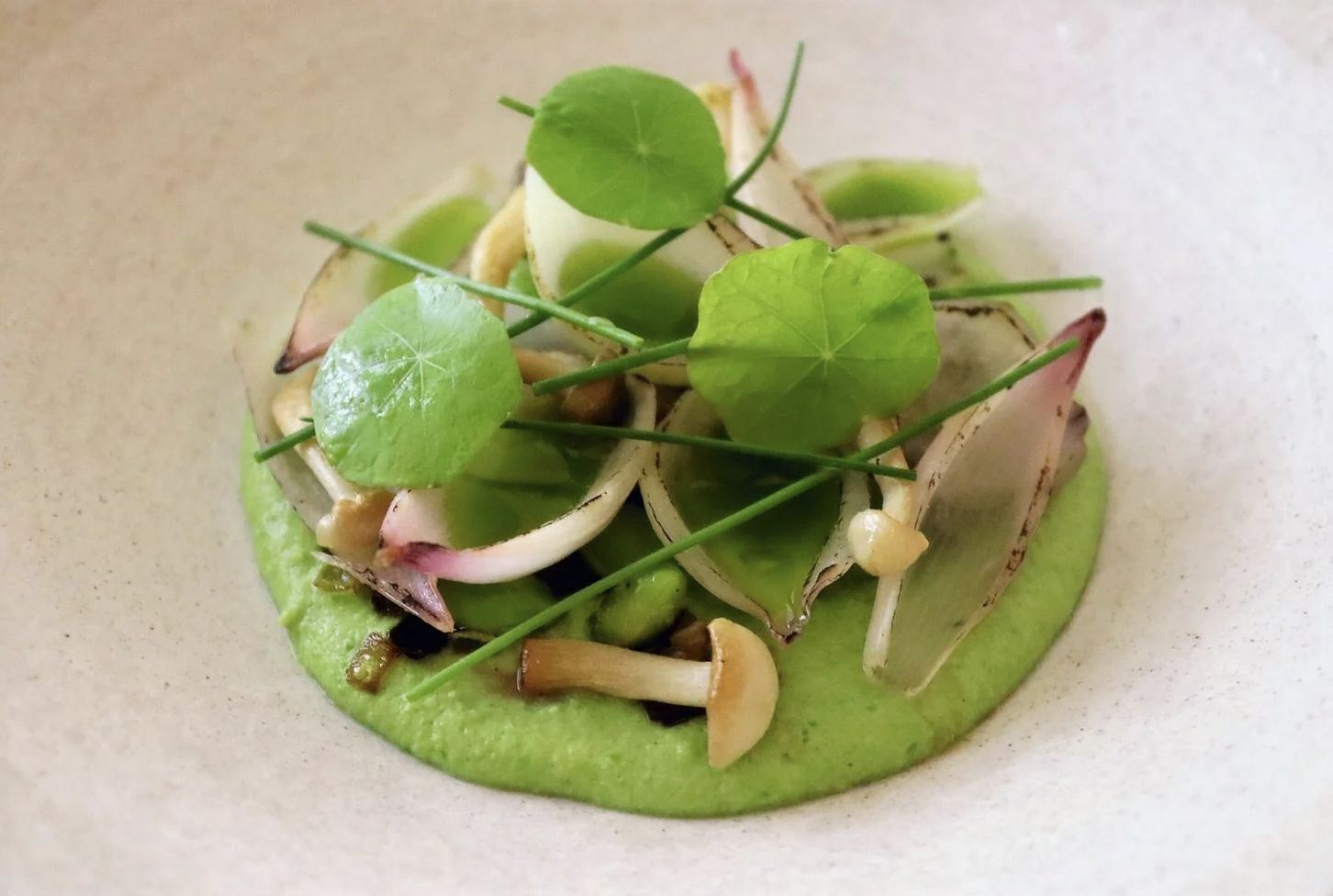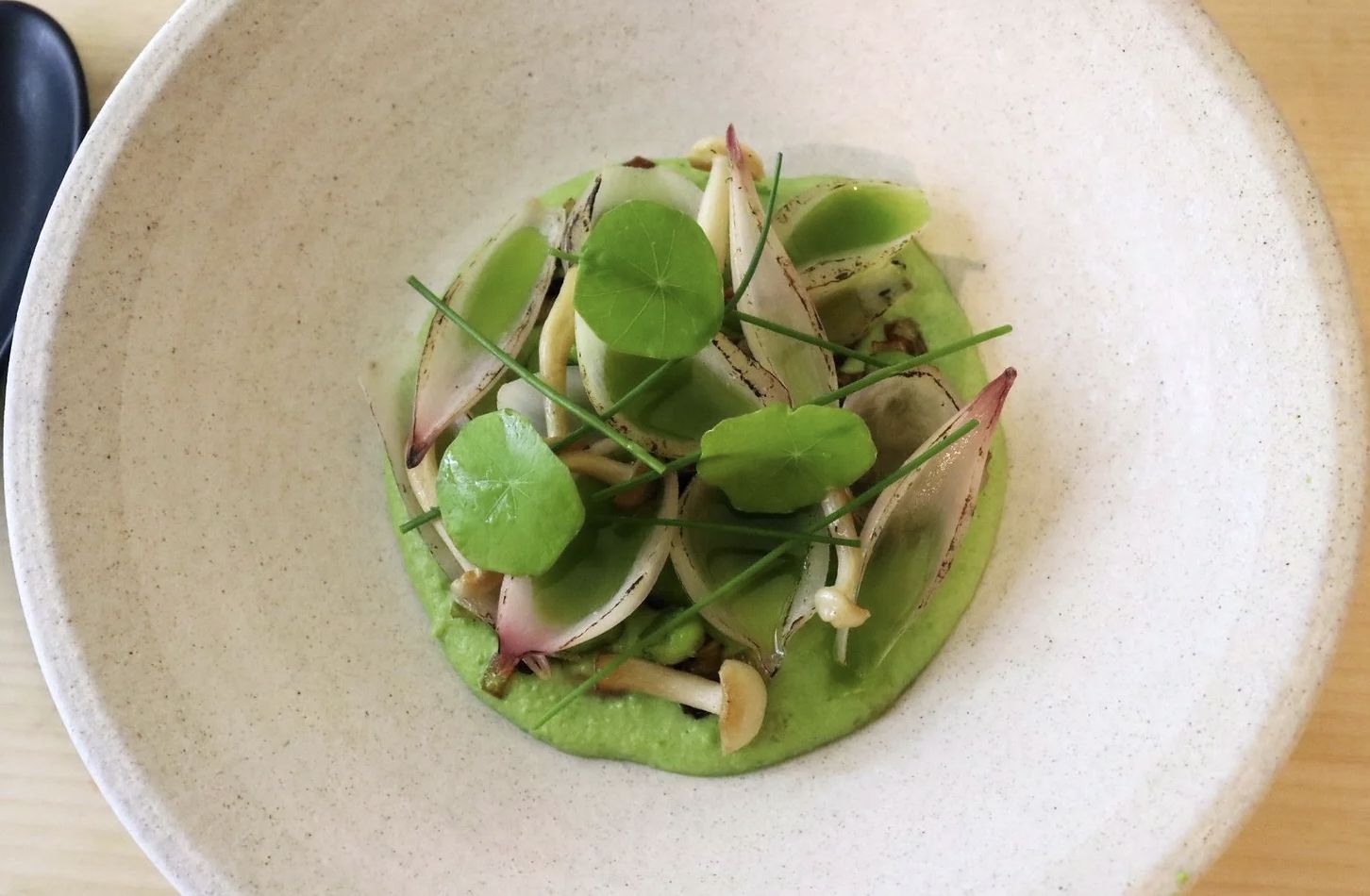 The idea behind this recipe was to create a simple but elegant vegan dish that is packed full of umami and freshness. When you combine onions, a form of pea and mushrooms together the combination of flavours is already there and all that's needed is a few various cooking techniques that are able to highlight each ingredient to the maximum. Overall this dish is super light, healthy and packed full of flavour. Let's cook!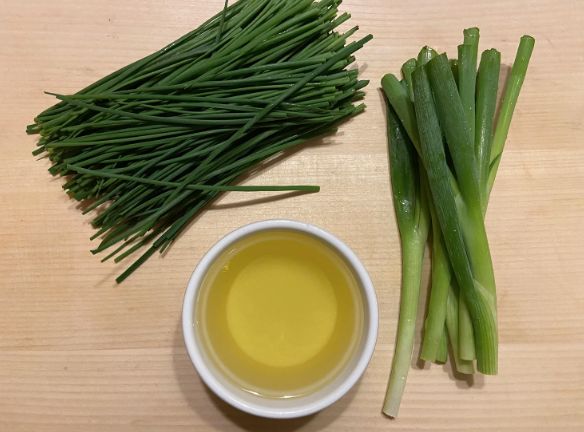 1. Let's begin by making up a simple onion inspired oil. Begin by roughly chopping 40g of chives and the green part only of 20g of spring onions. When ready place a small saucepan of water onto a high heat and bring up to a boil. When boiling add the chopped chives and spring onions and blanch for 20 seconds. After, carefully remove and chill the chives and onions in ice cold water.
2. Next add the blanched chives and spring onions to a food processor then add 100mls of rapeseed oil and a pinch of salt. Pulse for 3-5 minutes or until completely liquidised. When ready place the herb oil through a fine sieve lined with a sheet of kitchen paper or muslin cloth and allow to slowly drip until a deep dark green oil is made. This oil can be made up the night before to save on some time then allowed to drip overnight in the refrigerator.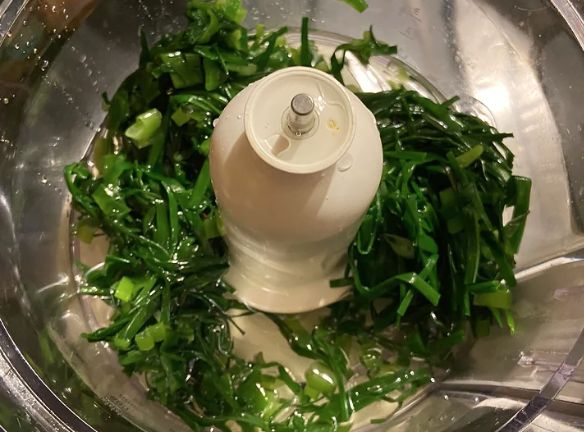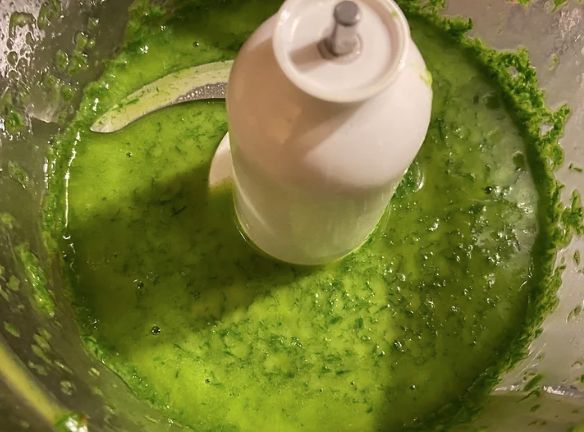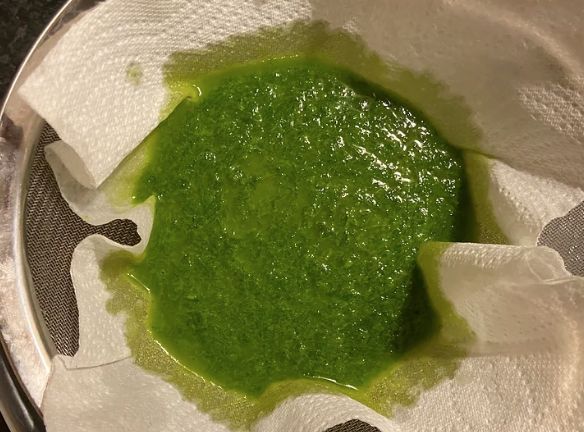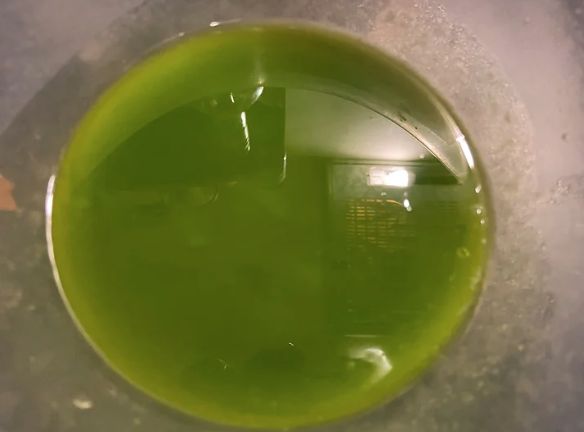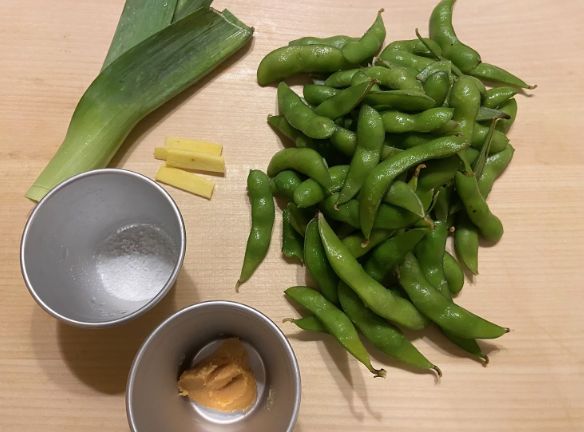 3. Next to make up the edamame puree, if brought whole then begin by removing the edamame from the pods then when removed save a handful to one side as we can add these to the fricassee towards the end. Now, place a saucepan full of water onto a high heat then when boiling add the edamame beans, 1/2 sliced leek and 5g of sliced ginger. Blanch for 2 minutes until the beans become soft then immediately drain and refresh in ice cold water.
4. When cool drain again then add to a food processor along with 1 tbsp white miso, 3 tbsp olive oil and a pinch of salt. Pulse on high until a smooth puree is formed then pass the puree through a fine sieve into a small bowl. When passed adjust the seasoning if needed then store until ready to use.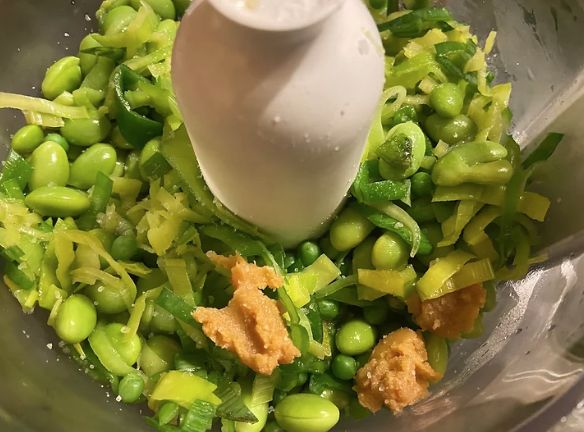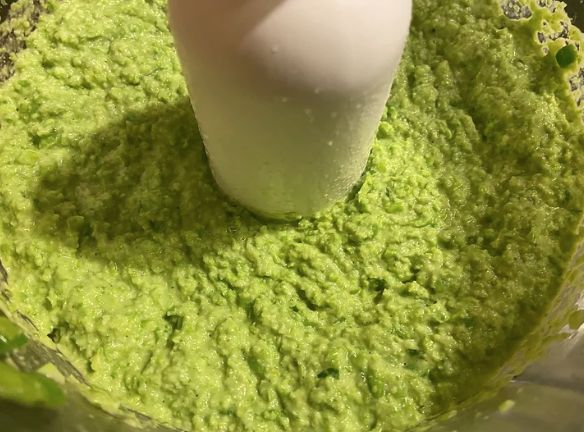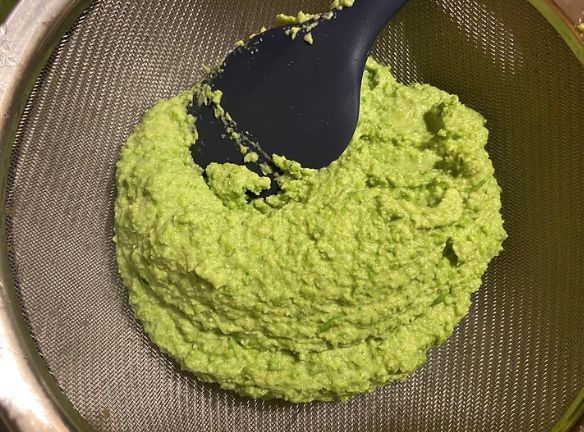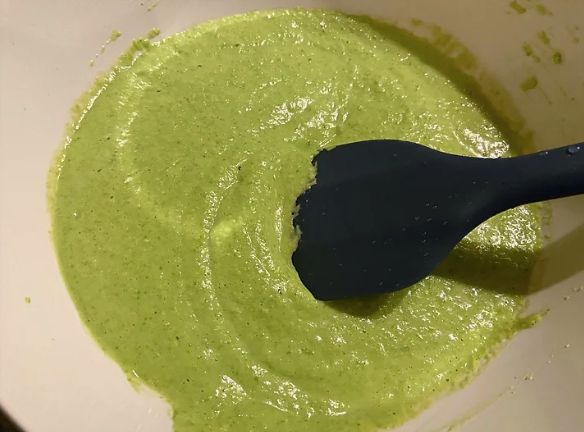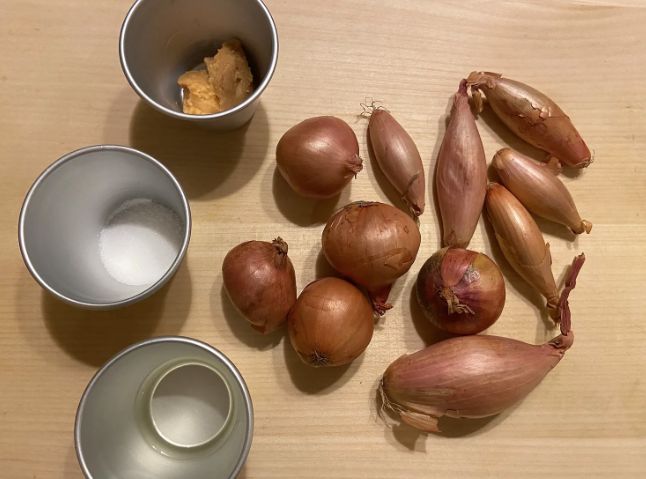 5. Now to make up the onion skins, start by slicing 6-8 various shallots lengthways in half leaving the skin on. Place the shallot halves onto a baking tray then blow torch or grill until completely evenly charred.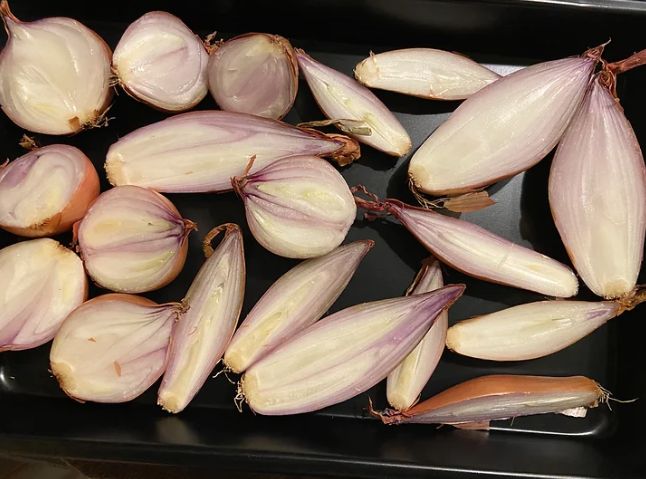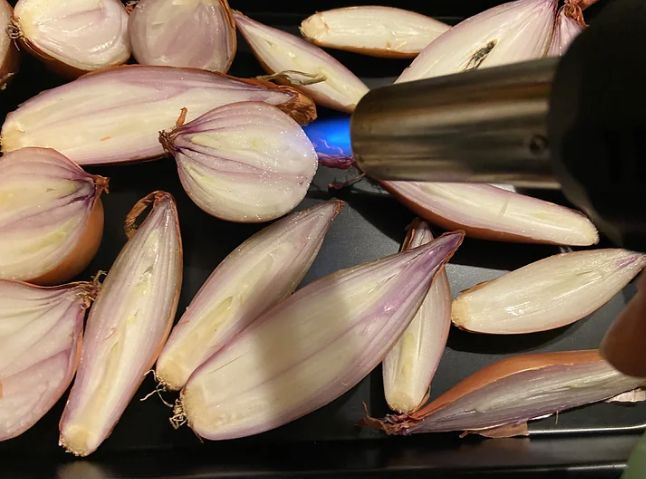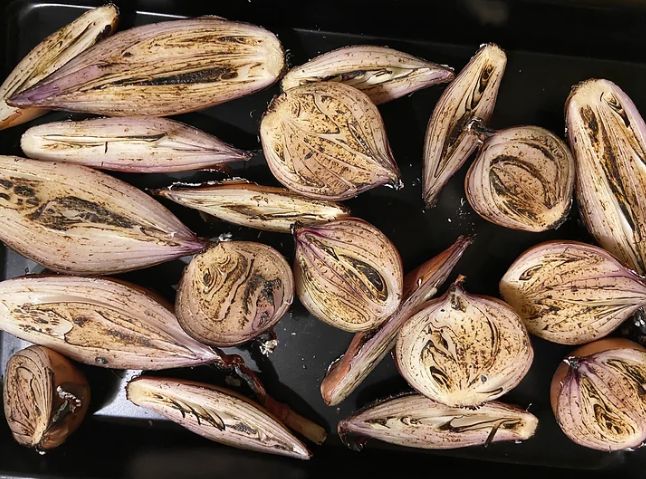 6. Next, in a saucepan add 1 tbsp of white miso, 3 tbsp of apple vinegar, 1 tbsp white sugar and 75mls of water. Place onto a medium heat and whisk well until smooth. Now add the charred shallot halves skin side up and slowly braise for 4-5 minutes or until just cooked and slightly softened. When ready remove from the miso stock and set to one side to cool. As for the miso broth, pass this through a fine sieve and also set to one side as we can use this when finishing the dish. I was actually taken back by the broth as the combination of charred shallots, apple vinegar and miso was absolutely deliciously unexpected, therefore, I had to incorporate it for a slight touch of acidity to the final dish.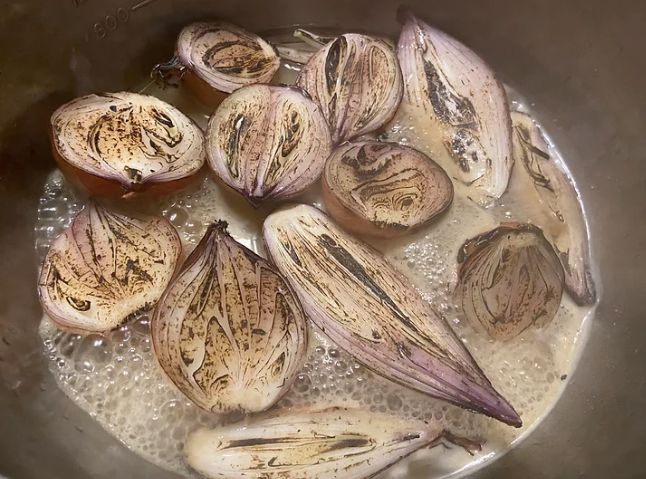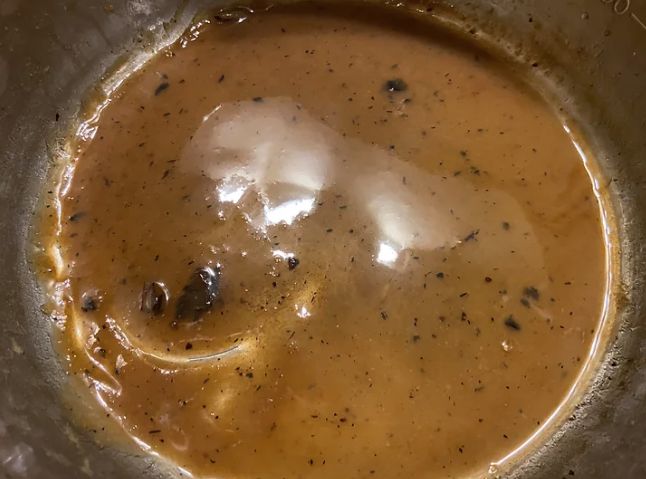 7. To finish the onion skins, carefully peel when cool then unravel each of the shallot layers and place each skin onto a tray. I was going for a mix of shapes and sizes here and we are looking for the shallot layers that are medium in size but have a small amount of depth so that they can be filled with the onion oil.
Mushroom fricasse and fried leeks: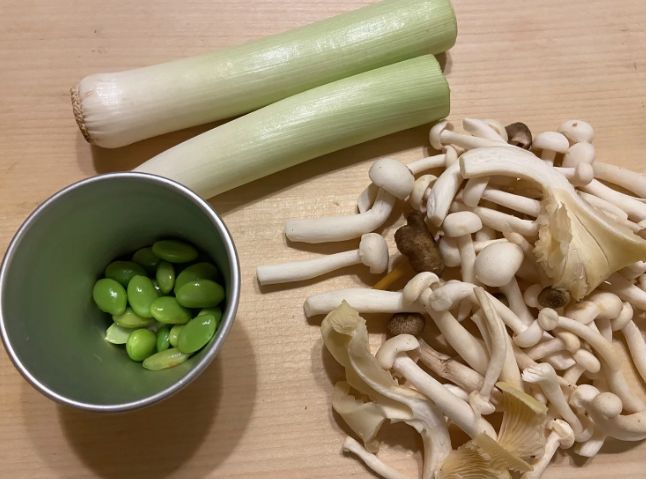 8. To add another layer of texture and to add over the edamame puree I went with simply frying some leeks until crispy. Place a small saucepan with approximately 100ml of cooking oil onto a high heat. Next slice 1/2 leek into a small dice then when the oil temp reaches approximately 160°c add the diced leek and fry for 3-4 minutes or until crispy. Next drain from the oil and allow to dry on a piece of kitchen paper. Season the fried leeks with a pinch of salt then set to one side until ready to use.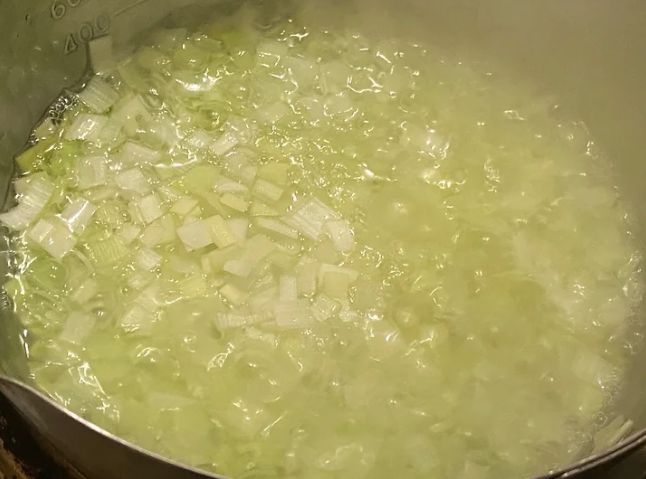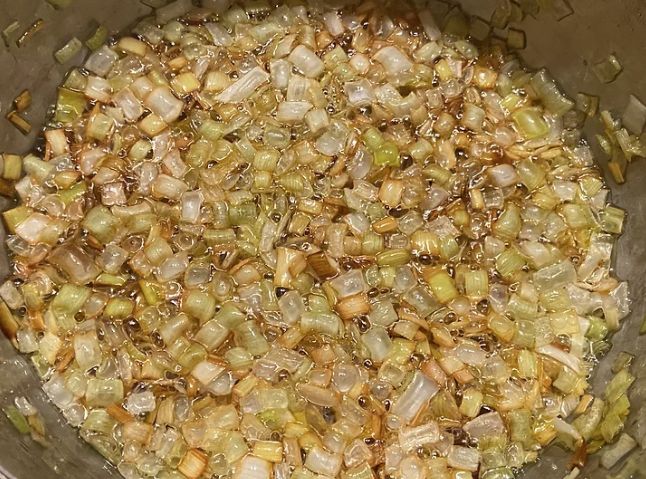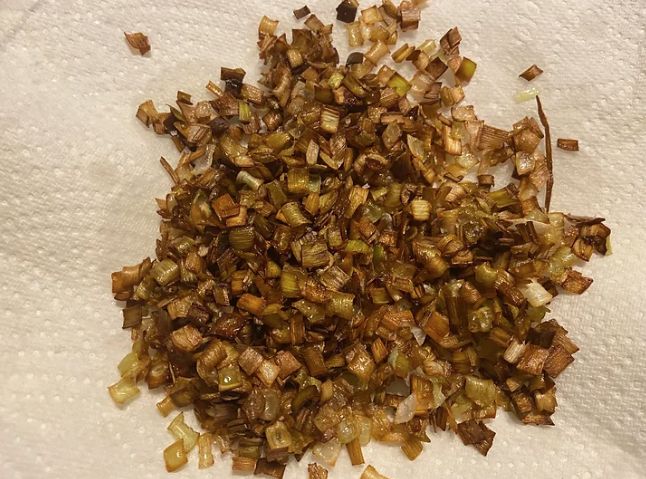 9. All that's left to prepare and cook now is a simple mushroom and edamame fricassee that we will scatter over the puree. Start by using a small brush to brush approximately 150g of various wild mushrooms clean if needed. For this recipe I used mainly shimeji, however, various other wild mushrooms will do just fine. When clean, cut the mushrooms into bite sized pieces and place a large pan onto a high heat. When hot, add a drizzle of oil then add the various mushrooms and a handful of the edamame beans saved from earlier. Fry on a high heat until crispy golden brown then when cooked drain onto a sheet of kitchen paper and lightly season with salt and black pepper. When ready all that's left to finish the dish is to reheat the other components and plate up!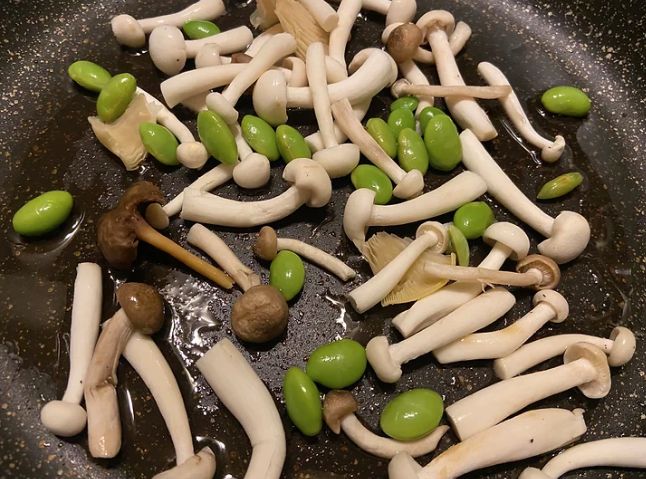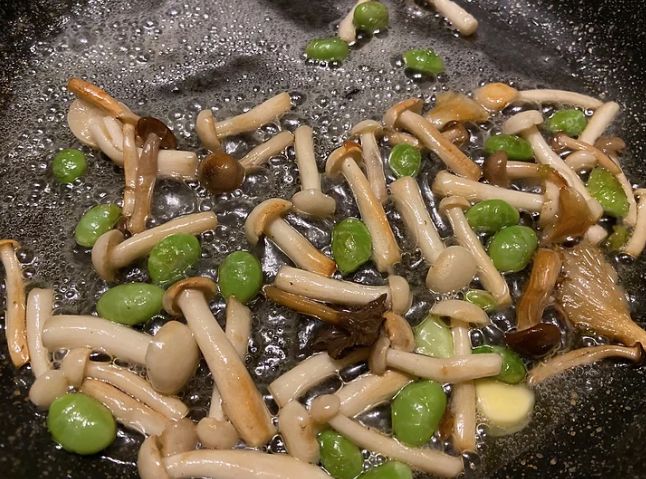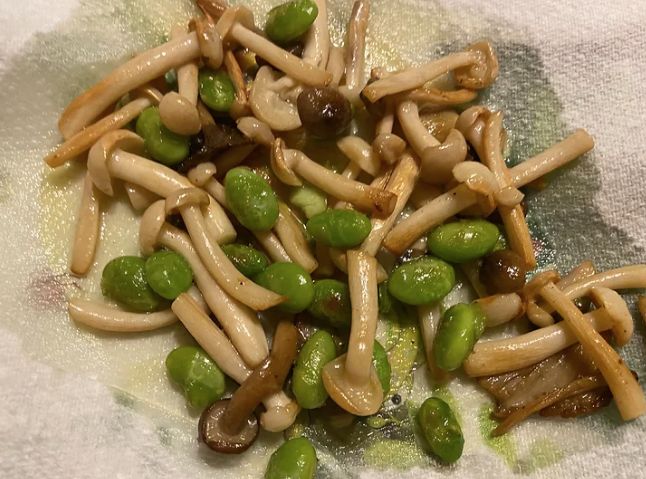 10. Just before plating reheat the edamame puree in a small pan or by briefly using a microwave. To reheat the shallot skins briefly pass under a grill, however, its not necessary as this dish is more of a light warm salad. When ready begin by placing a generous amount of the edamame puree into the centre of the plate. Next scatter over some of the fried leeks and a small drizzle of the miso shallot braising liquid. Next scatter the mushroom fricassee and some edamame over the top of the puree and cover with shallot skins. Fill the shallot skins with some of the onion oil and top with a few chives and some optional peppery herbs then nourish! Hope you like this simple but elegant, delicious vegan dish!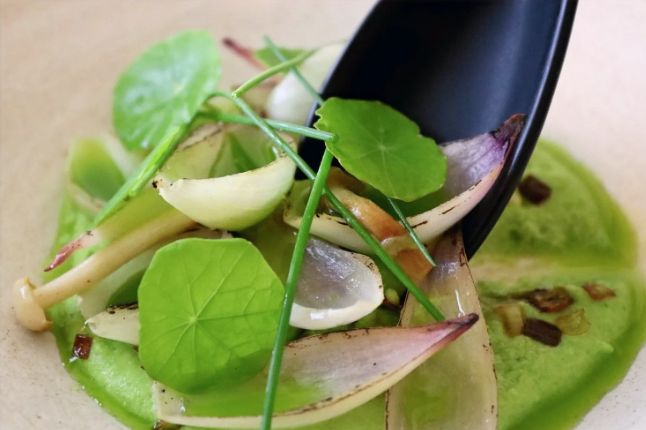 As for the key ingredients in this recipe you could substitute regular pea's instead of edamame and use regular chestnut or portobello mushrooms instead of shimeji. As long as there is the combinaion of peas, mushrooms and various mushrooms you should be just fine. The outcome of this dish went beyond my expectations and I was super stoked with the finished dish. Looking back however I do feel like this dish needs some form of crispy rice cracker on the side acting as a scoop? Regardless I hope you like this unique and alternative recipe and as always peace!
Total Cook Time 45 mins / Total Prep Time 1 hr 30 mins
20g spring onion green part only
150g shimeji mushrooms or mixed wild mushrooms
peppery herbs for garnish (optional)