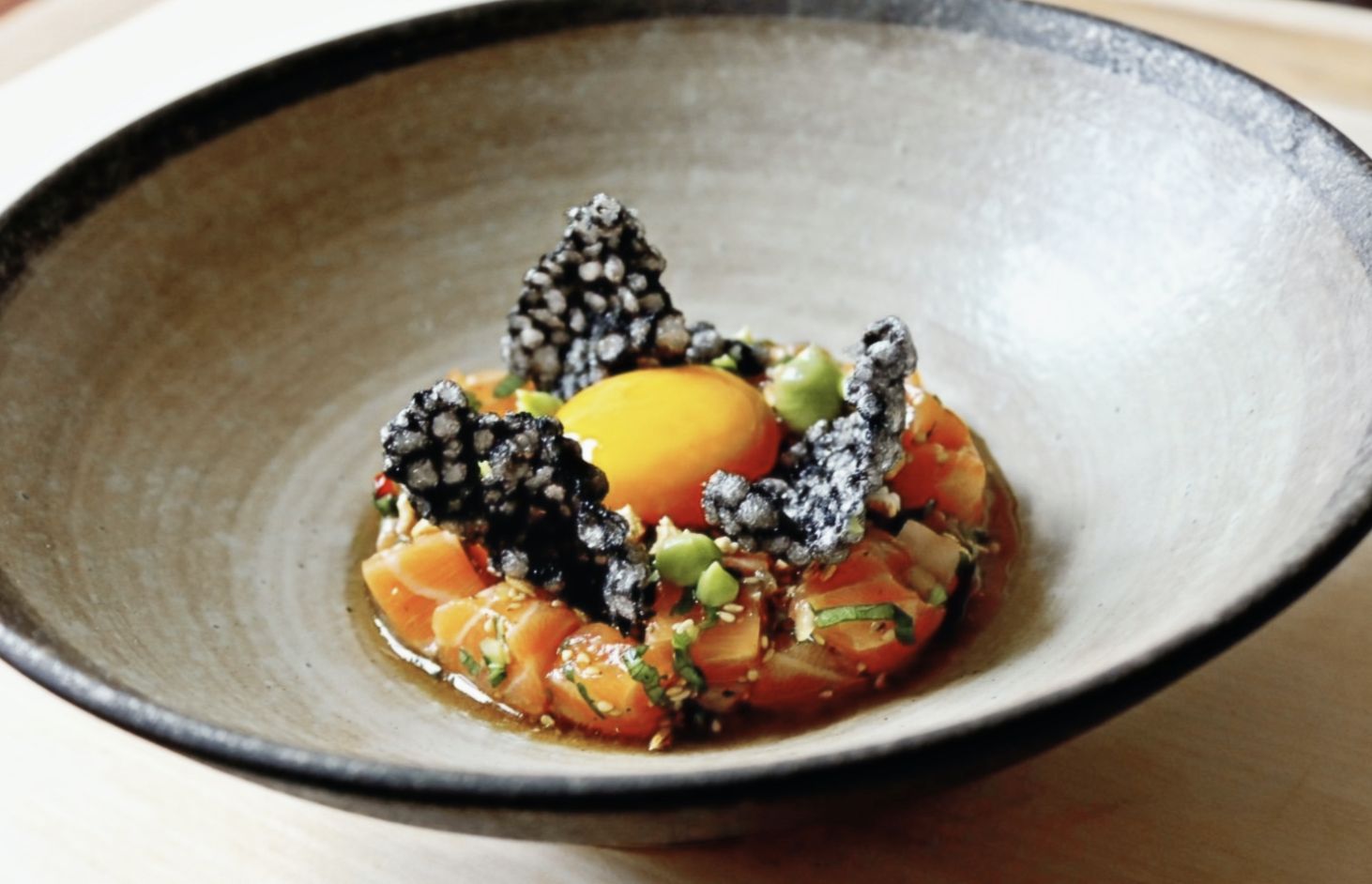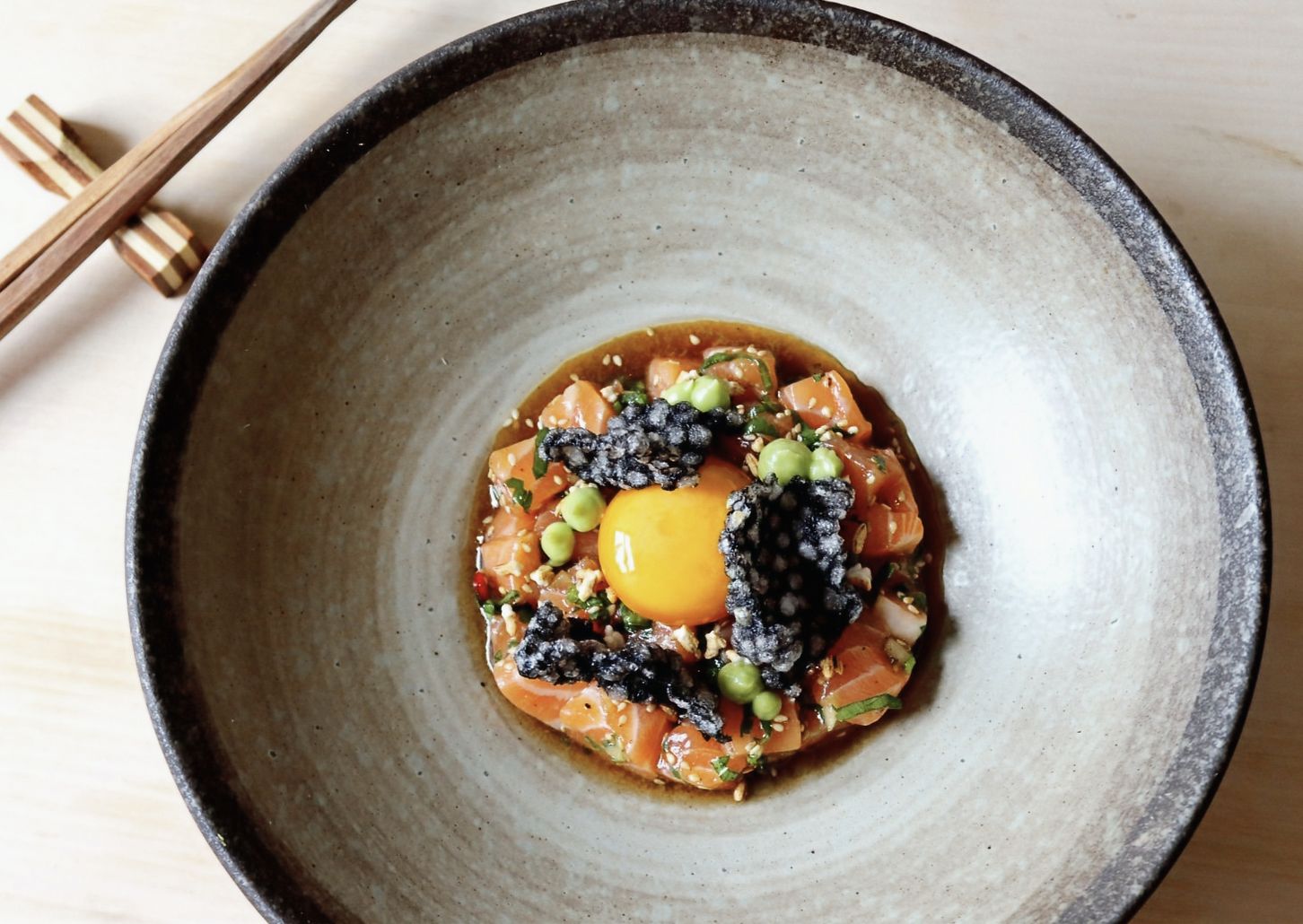 Poke is a classic Hawaiian dish that is lightly cured raw fish that is served over rice. I wanted to recreate this recipe by adding some additional textures and umami whilst still keeping with the original essence of poke. Poke to me is food that speaks and has a story, therefore, whilst flipping this recipe I wanted to maintain that food conversation opposed to just making a "fancier" version. As for the tapioca cracker, this does take some time to dry, however, these can made the day before in advance to make the overall process much more manageable. With all that said here's how to make my version of classic poke!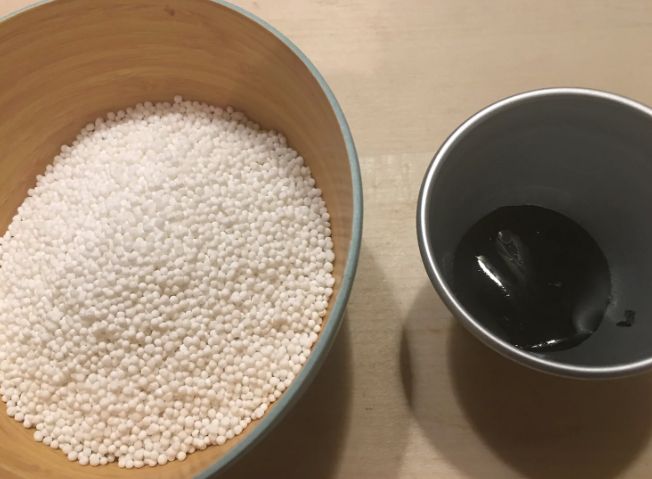 1. Let's start off this recipe by making the tapioca cracker, these take quite some time unfortunately due to drying the tapioca out when cooked, however, they can be made the day before to make things more bearable. Start by adding 50g of tapioca pearls to a deep saucepan then fill with water. Place onto a medium heat and slowly bring the tapioca up to a gentle simmer. Cook the tapioca pearls for 10-15 minutes or until the tapioca becomes translucent stirring occasionally.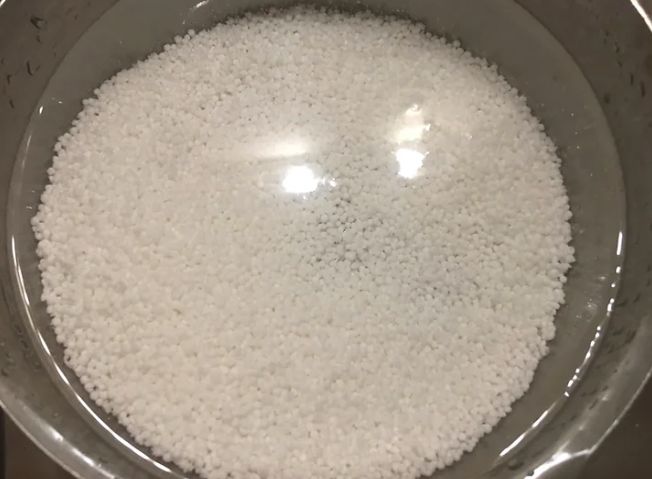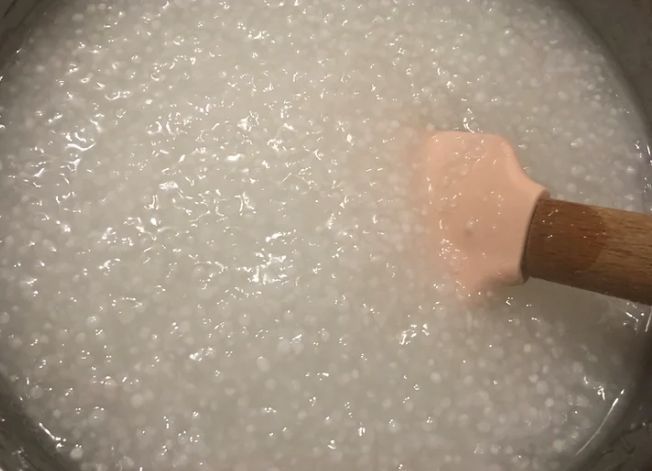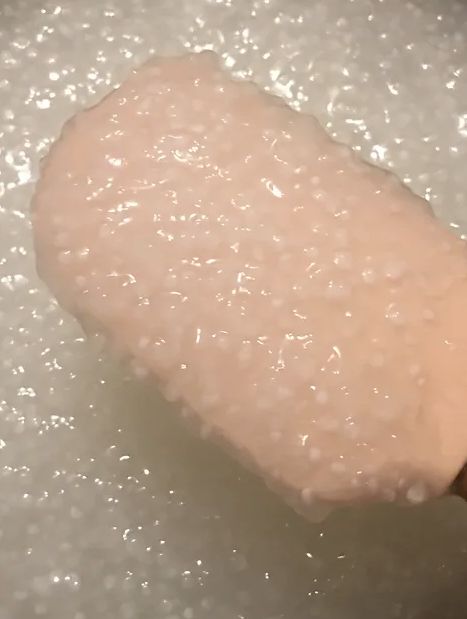 2. When the tapioca is cooked we now want to drain through a fine strainer and wash with cold running water until the tapioca becomes less starchy. When drained add to a bowl then add 1 tsp of squid ink and mix well until the squid ink coats all of the tapioca. When ready add the tapioca pearls to a baking tray lined with parchment paper and spread with a pallet knife to make a even thin sheet. Bake at 90°c for 3-4 hours or until the mix becomes dry and crisp.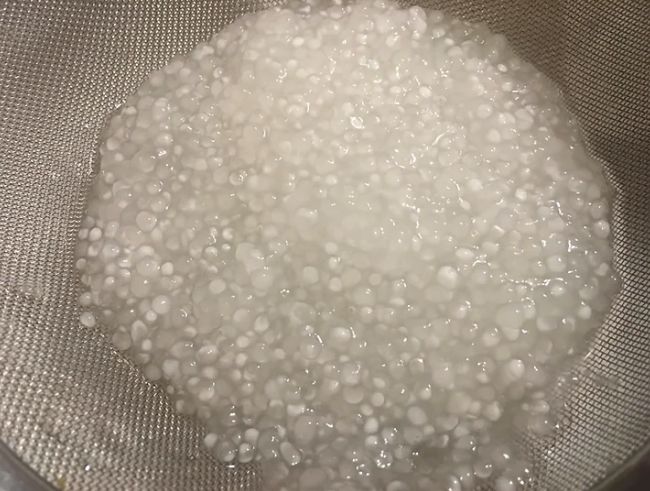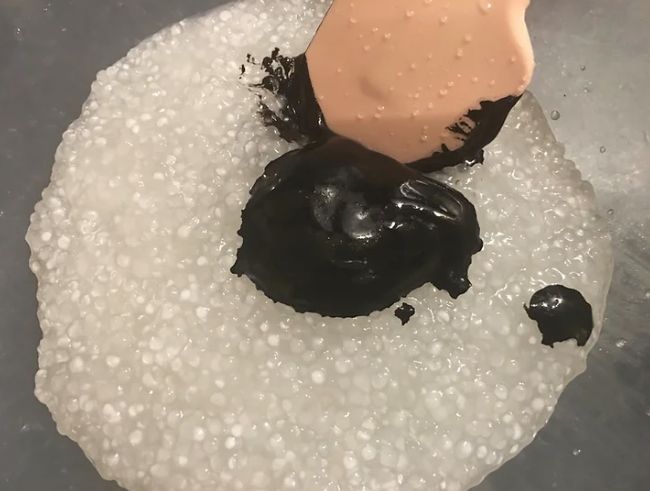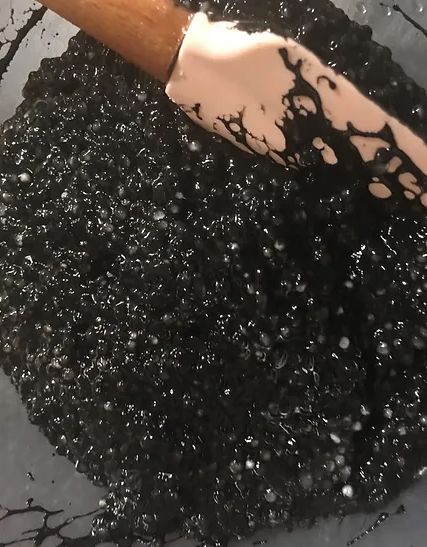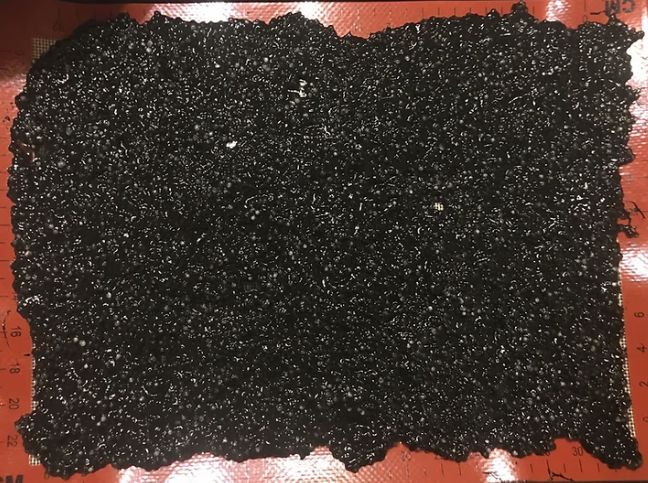 3. When ready what we are looking for is the tapioca to have now formed a thin sheet that is crisp and can be easily peeled from the baking tray. To finish the tapioca cracker we now want to breakaway the sheet to make small random pieces. Then place a small pan with a generous amount of oil onto a high heat. When the temperature of the oil reaches approximately 180°c add the tapioca pieces in batches and literally deep fry for 5-10 seconds. The tapioca should immediately puff up and expand. Place the tapioca crackers onto kitchen paper and allow to drain.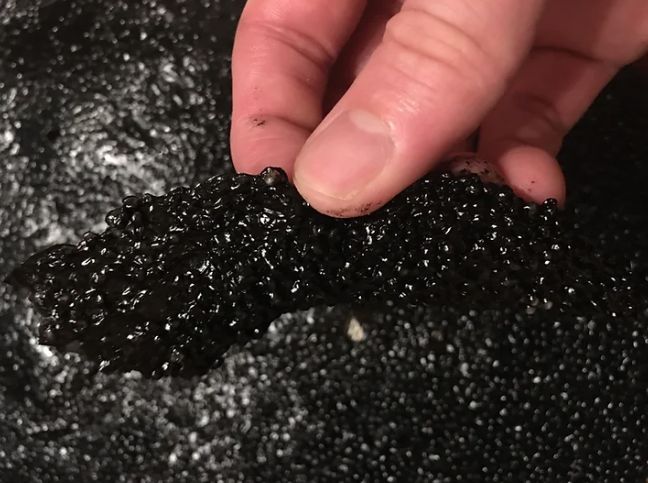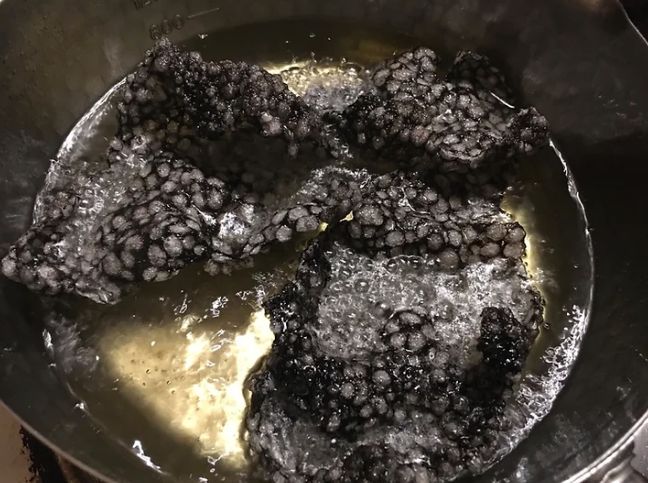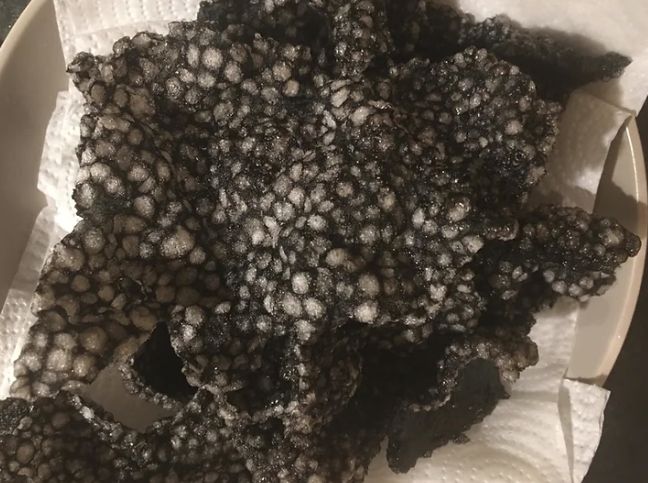 4. Whilst we still have hot oil we can also make the puffed rice. Simply add 1/8 cup of short grain rice to the hot oil and fry for a few seconds so that the rice puffs up. When ready carefully use a slotted spoon to remove and drain the rice onto kitchen paper. When drained the puffed rice can be seasoned with almost anything, for now simply add a touch of salt and some fine chilli flakes if preferred.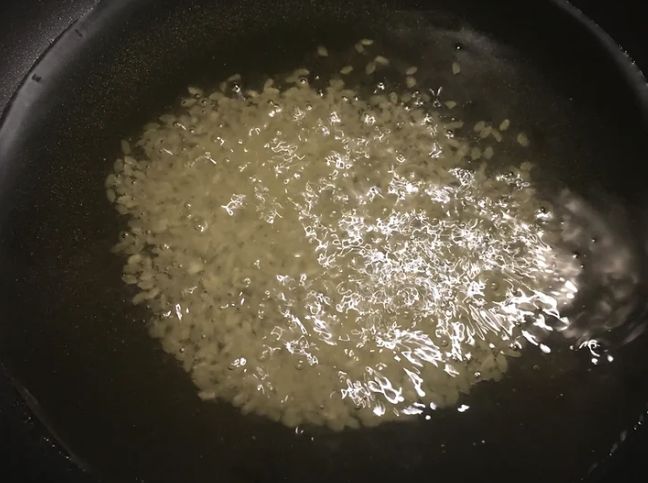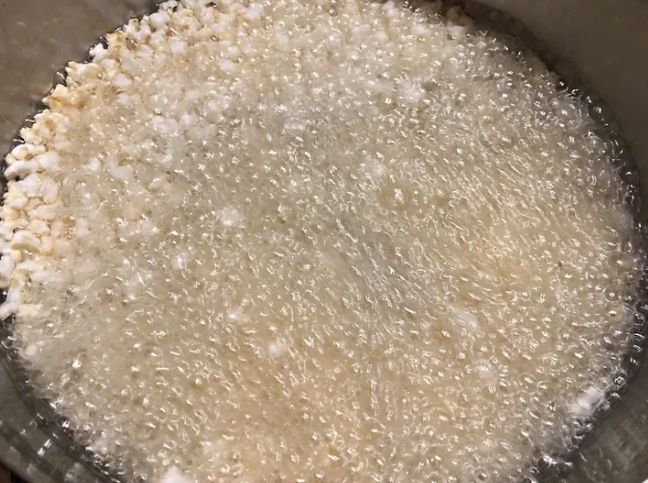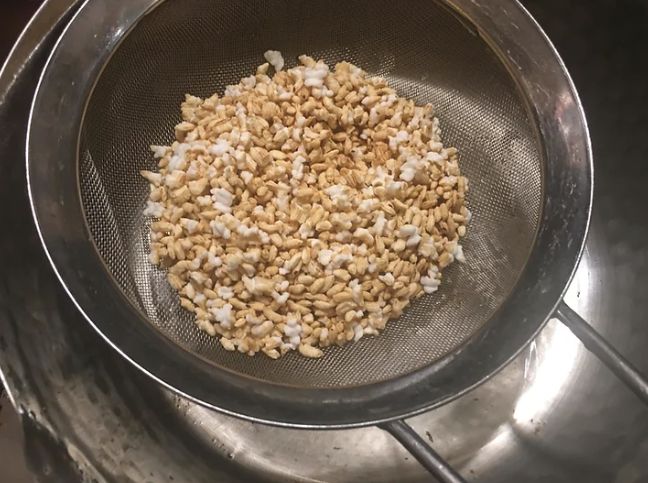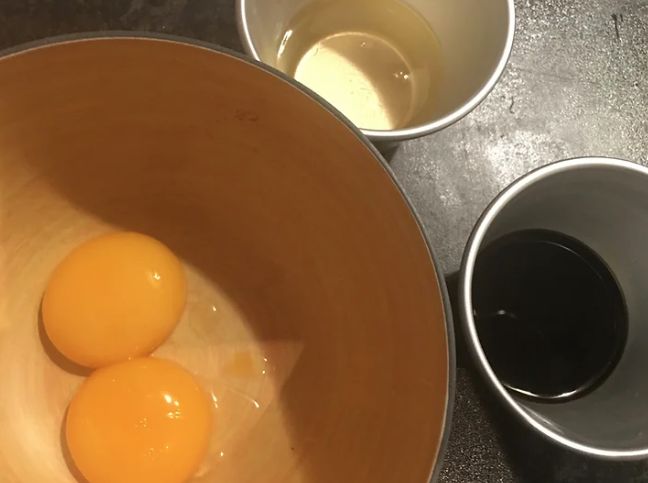 5. To make up the soy egg yolks, very simply begin by separating the egg yolks from the whites first. Place the egg yolks into a small bowl then to the egg yolks add 40ml of mirin and 40ml of light soy. Coat the egg yolks and allow to marinade until we are ready to serve.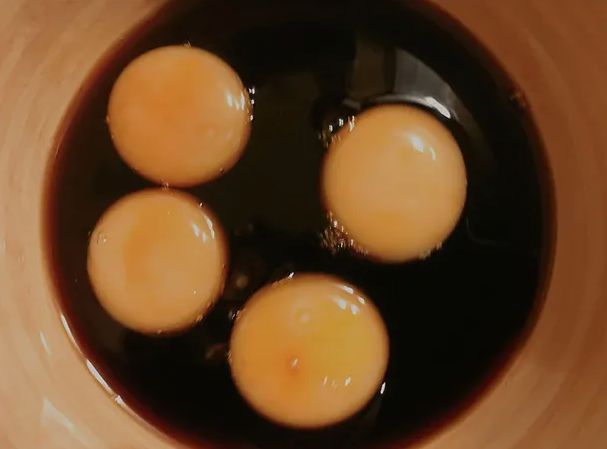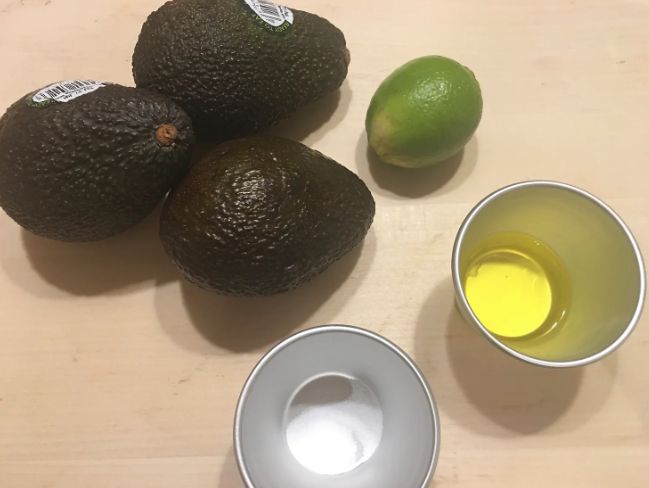 6. Just before we prepare the actual poke itself lets make up a simple avocado puree. Start by slicing the avacado in half then remove the seed. Scrape the avacado flesh into a small bowl then add a pinch of salt, the juice and zest of 1/2 a lime and 2 tbsps of olive oil.
7. Using a stick blender or food processor pulse the avacado until a puree is formed adding additional olive oil if needed and additional salt to season. When ready we want to now pass through a fine sieve into a bowl and we now have our simple avocado puree.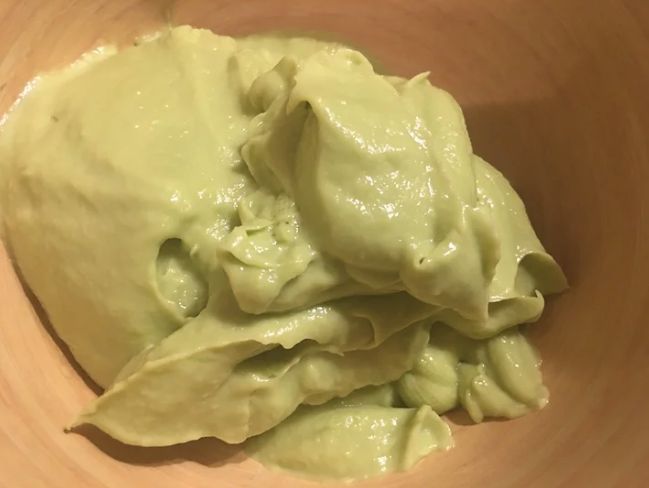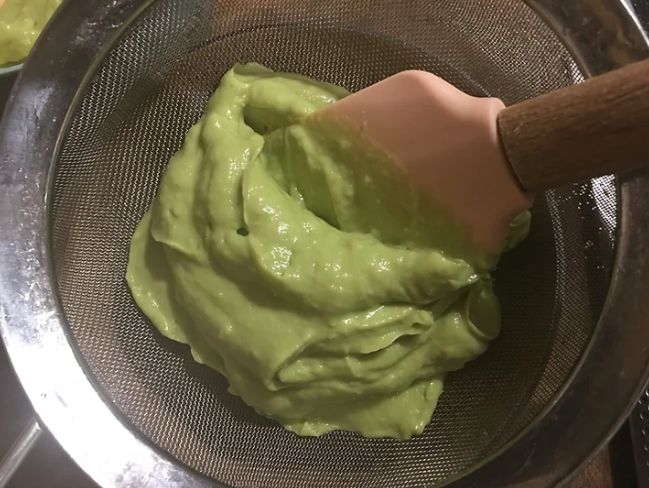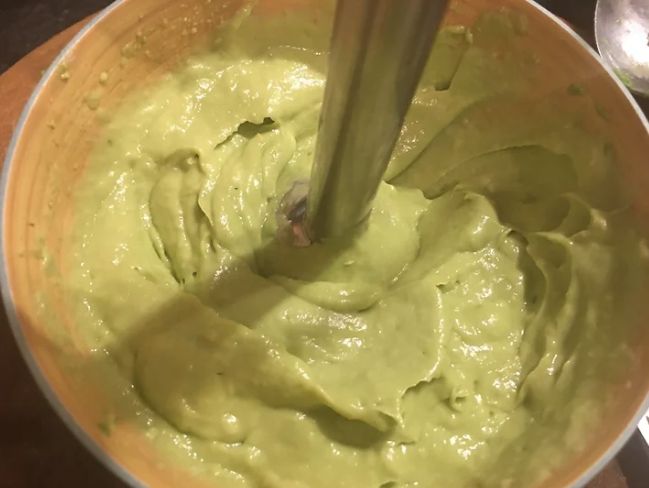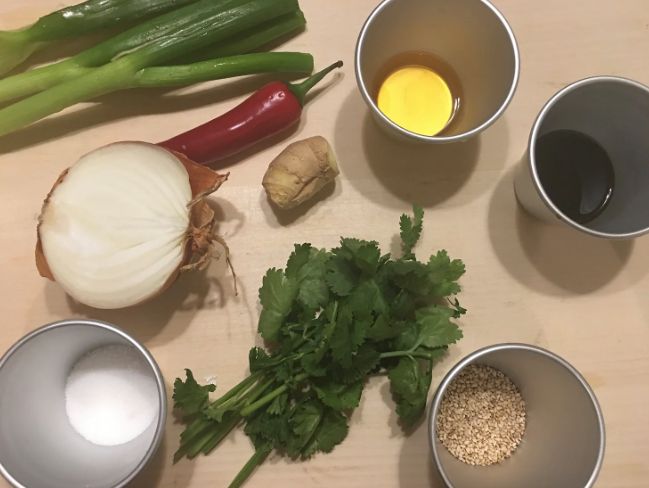 8. Now that everything is prepared all that's left is to make up a classic salmon poke. For the salmon I went with fresh fillets as 1 average fillet per person should be plenty. When buying salmon fresh to eat raw what we are looking for is a nice appetising rosy flesh with clear to see white lines going through it which is the fat. First we want to remove the skin then slice the salmon into strips approximately 1 cm in thickness. Now cut the salmon into 1 cm cubes then place the salmon into a bowl.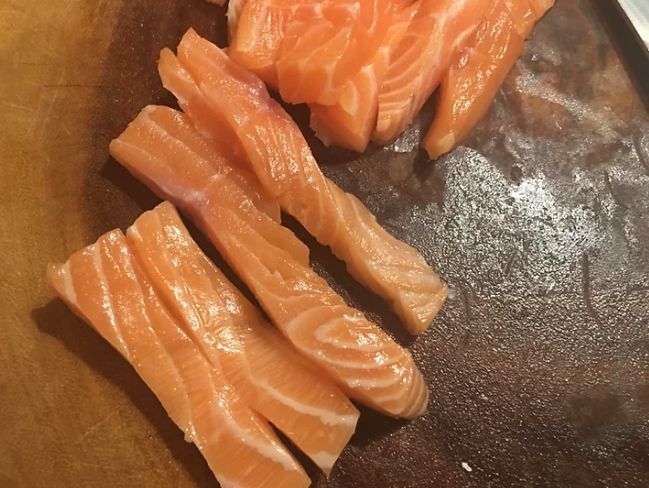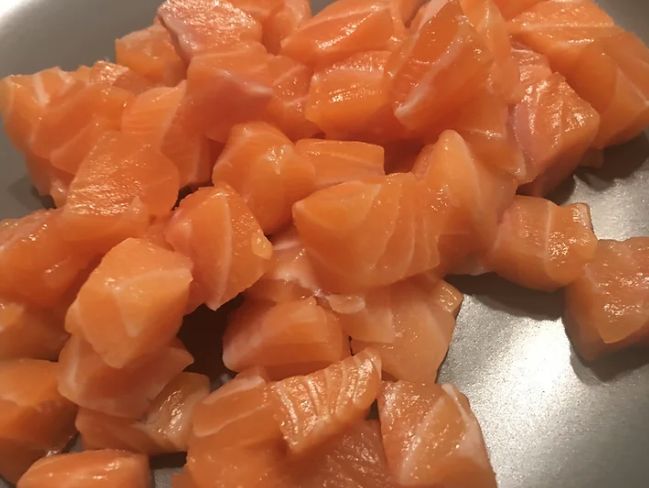 9. For the sauce/marinade for the poke, in a bowl add 1/4 of a finely diced white onion, 2 finely sliced spring onions, 5g of minced ginger, 1 finely sliced red chilli and 1/4 bunch of chopped coriander. To bring the marinade together now add 3 tbsp of sesame oil, 2 tbsp light soy, 1 tbsp mirin, 1 tsp rice vinegar, 2 tbsp of toasted sesame seeds, 1 1/2 tbsp of white sugar, the juice and zest of 1 lime and a pinch of salt and black pepper. Mix well until the sugar dissolves and all of the marinade begins to mingle nicely then adjust the seasoning if needed.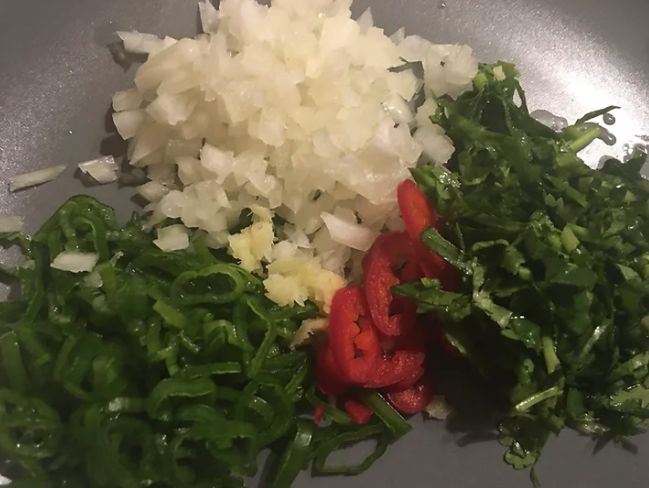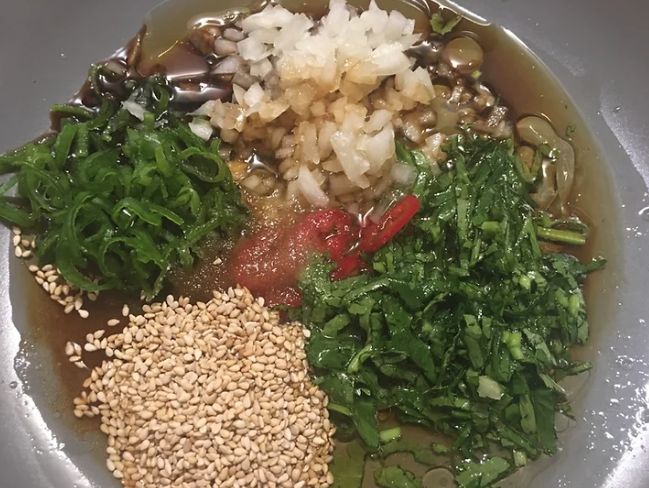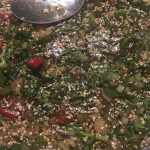 10. Now that all the components to this dish are ready we want to add the salmon to the marinade just before we are ready to serve. Add the salmon and coat well in the marinade. We want to lightly cure the salmon almost like a ceviche, therefore when well mixed allow to marinade for 10 minutes just to allow the flavours to penetrate into the salmon. If you want to cure for longer then feel free although I wouldn't recommend going over 4 hours.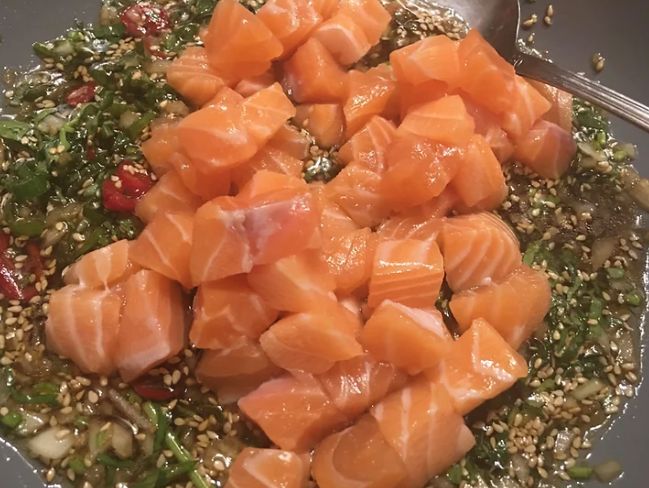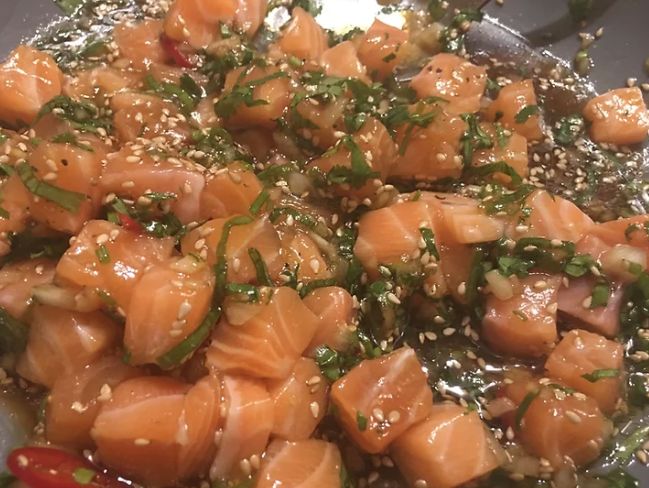 11. Now to plate up, if you made it this far first of all well done and your in for something special! You can plate up however you wish really have fun with it, although, what I did was I placed a pastry ring to the centre of the plate first then lined the base tightly with the salmon poke. Next to add some texture I added some of the puffed rice over the poke, then remove the egg yolk from the soy marinade and place on top in the centre of the poke. Break up the tapioca cracker into bite sized pieces and place around the poke, and finally finish the dish with some scattered dots of the avocado puree and were set! Hope you like this delicious take on salmon poke!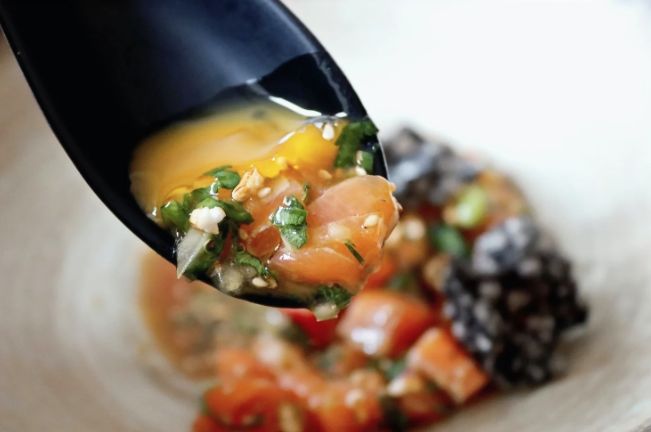 If eating all things raw isn't quite your thing then you could eliminate the raw factor by curing the salmon for longer or even lightly hitting it with a blowtorch at the very end to sear the salmon. If that's still not enough then perhaps you could use smoked salmon as a backup backup…Alternatively instead of salmon you could use fresh tuna or various other safe to eat raw fish as a replacement. As for the tapioca cracker I know these things take a while to dry out, however, you can make these the night before if you wish and instead of squid ink you could make these using beets or seaweed versions which would also work great! Have fun with this recipe and peace!
Prep Time: 50-60 minutes / Cook/Bake Time 4 1/2 hours (Tapioca crisp)
300g salmon fillet (approx 2 large fillets)
2 tbsp toasted sesame seeds
Tapioca Cracker and Puffed rice: