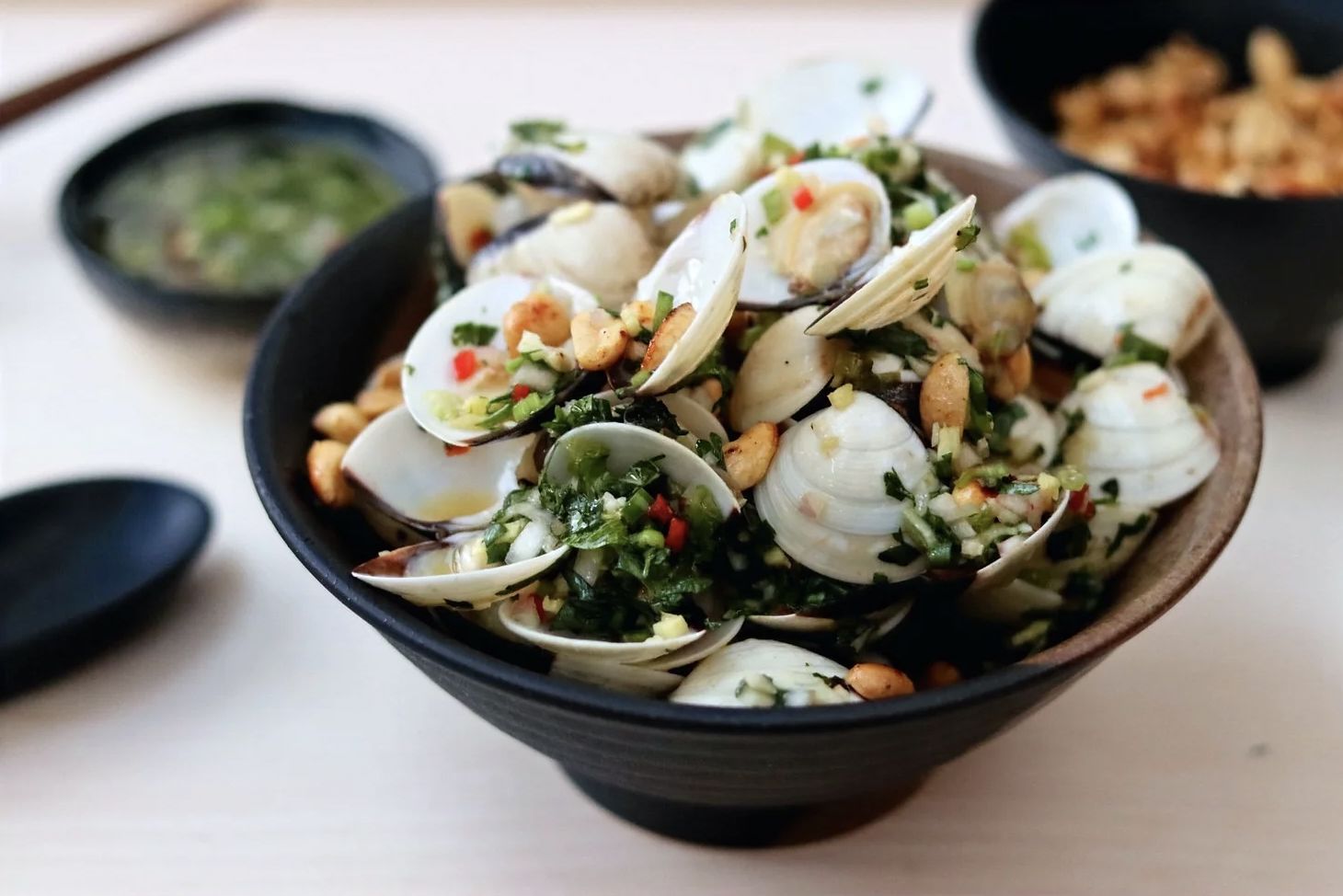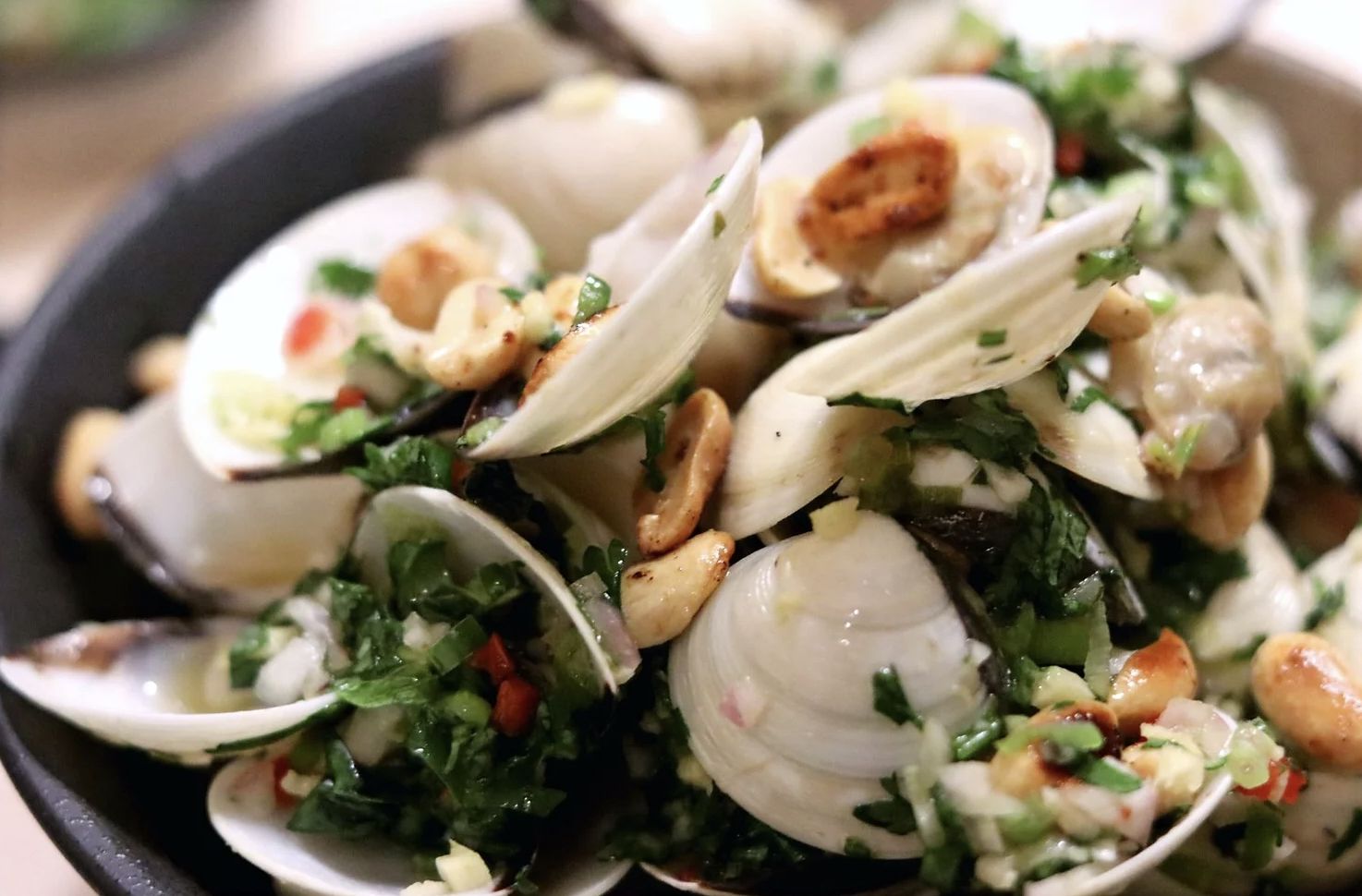 Vietnam has some of the best shellfish dishes in the world in my opinion. When it comes to cooking shellfish the best way is to keep things nice and simple and allow the freshness of the shellfish to do the talking. For this dish I wanted to essentially grill the clams over a naked flame, however being in peak winter time cooking over a bbq, unfortunately, is not possible. With that said it's still possible to create those smokey flavours at home with the aid of an extremely hot dry pan and a blow torch. As for the dressing, I made a simple Viet-style dressing/vinaigrette to simply enhance the flavour of the clams…With all that said let's get to it!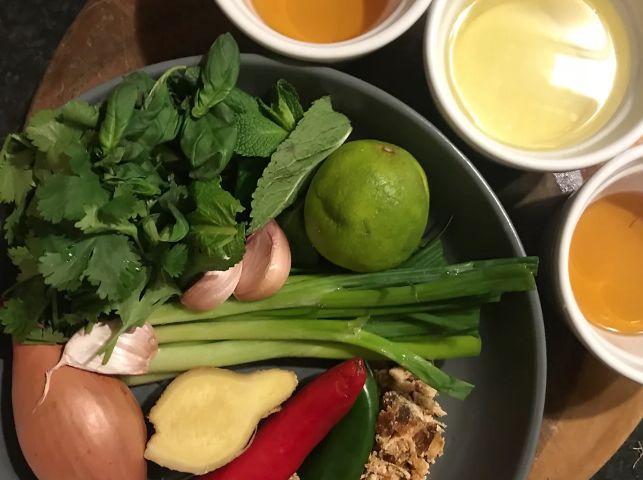 1. Begin with the dressing, in a mixing bowl add and finely chop, 1 shallot, 5 spring onions, 1 red chilli, 1 green chilli, a 3cm piece of ginger, 3 garlic cloves. Now wash and roughly chop basil, coriander and mint then add to the finely chopped vegetables.
2. Now that all of the chopping is done its time to transform into a dressing, to the bowl add 30ml fish sauce, 20ml sesame oil, 2 tbsps of palm sugar, 60ml nut oil, a drop of cold water and the juice of 2 limes. Mix well together then adjust the seasoning if needed. For sweet add more palm sugar, sour add more lime and for salty add fish sauce. You want the balance of sweet, salty and sour to be equal, meaning none of the elements overpower the other. If the dressing is too intense then you can make it more mild and balanced by adding additional nut oil. When the dressing is ready place to one side for now. Just before moving onto the clams toast a handful of peanuts in a dry pan then season slightly with salt.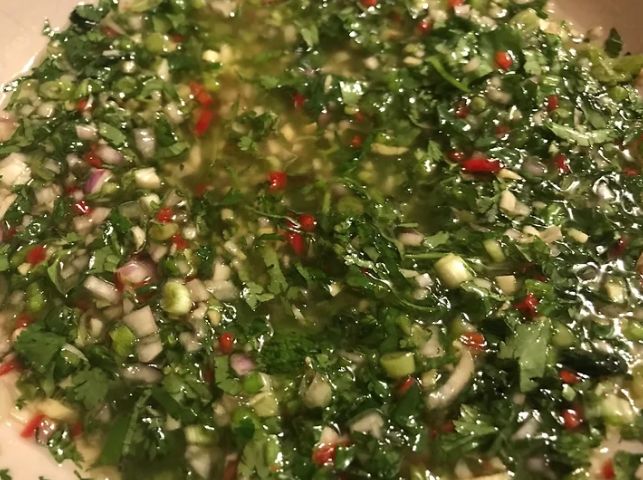 3. Next step is to clean and prepare the clams. Use a brush to scrub any unwanted dirt off the shells then when all clean place into a bowl filled with cold water. Change the water 3 times until most of the sand inside has been removed. When clean we are ready to bring the dish together.
4. To cook the clams we want to get as much of a char as possible. To do this place a large heavy dry pan onto a high heat and allow the pan to start to smoke. When the pan is smoking hot add all of the clams and place a lid on top. Cook for 1-2 minutes dry or until all of the clams start to open. When the clams have opened remove any excess moisture from the pan then use a blow torch to briefly sear the shells to create that charred aroma. Now turn the heat off and add half of the dressing made earlier. Mix well and allow the clams to sit for another minute in the dressing.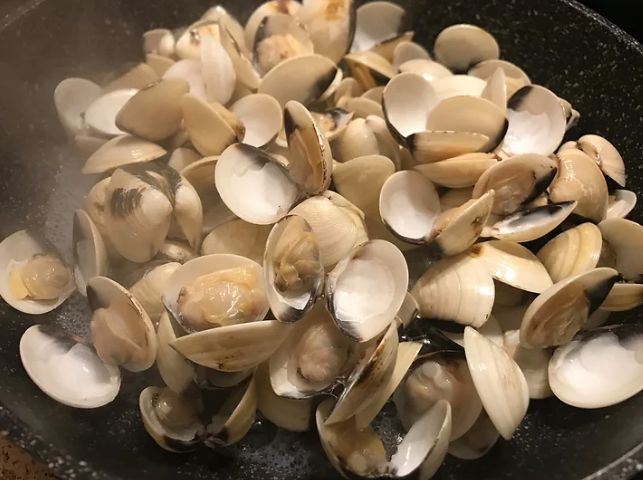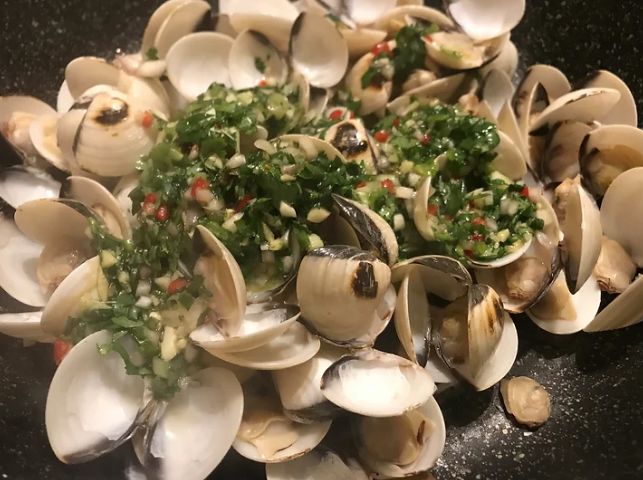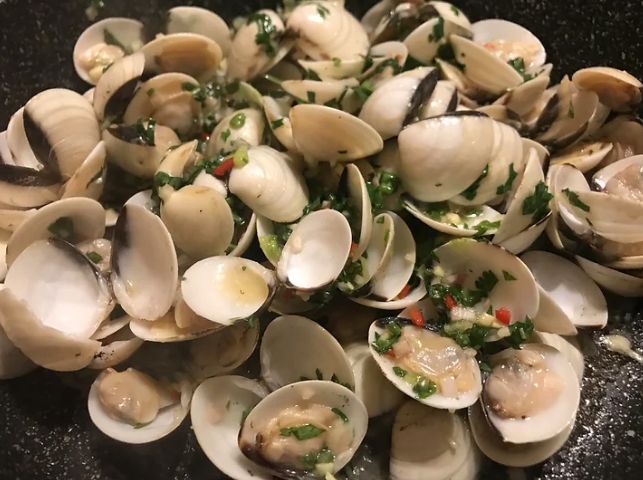 5. To serve divide the clams into small serving bowls and drizzle more of the dressing over the top. Add a squeeze of fresh lime and some toasted peanuts. Hope you like this simple but delicious recipe!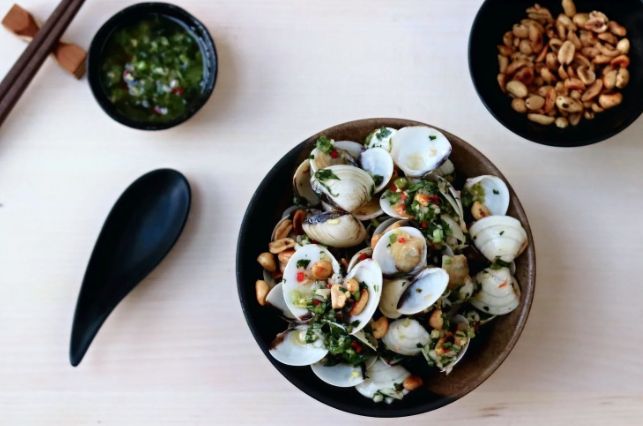 If you need some form of carbs to go with these clams then by all means serve with some freshly cooked rice. Instead of clams, you could also use muscles, razor clams, oysters or even prawns. Again I actually prefer to grill clams over a naked flame but that will have to wait until summer, unfortunately…Hope you like my simple clams recipe!
1/2 bunch Thai basil or basil