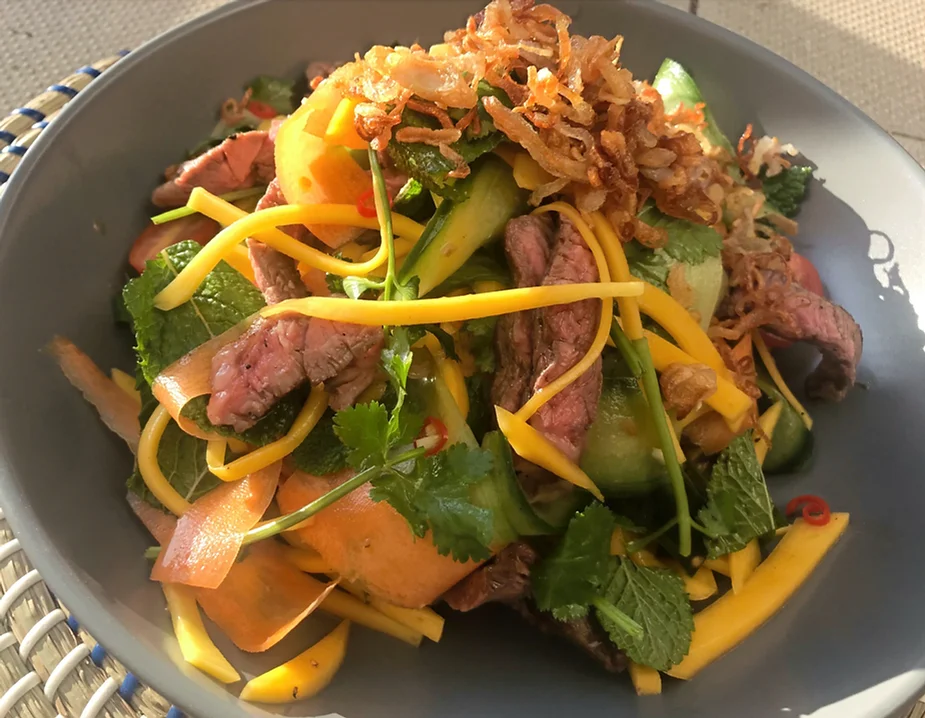 1. First and most important step take the steak out of the fridge to ensure it gets to room temperature. Next we can make the dressing, in a small bowl begin by adding the sugar, lime juice a drop of water and the rice vinegar. Whisk until the sugar has emulsified then chop and add the birds eye chilli and garlic and set aside.
2. For the vegetables and mango wash firstly then slice how ever you like (refer to the image it you like. Personally I like to julienne the mango and shave the carrot and cucumber with a peeler as I feel the texture is far more interesting. Next wash and tear the herbs and add all the vegetables and herbs to a large mixing bowl.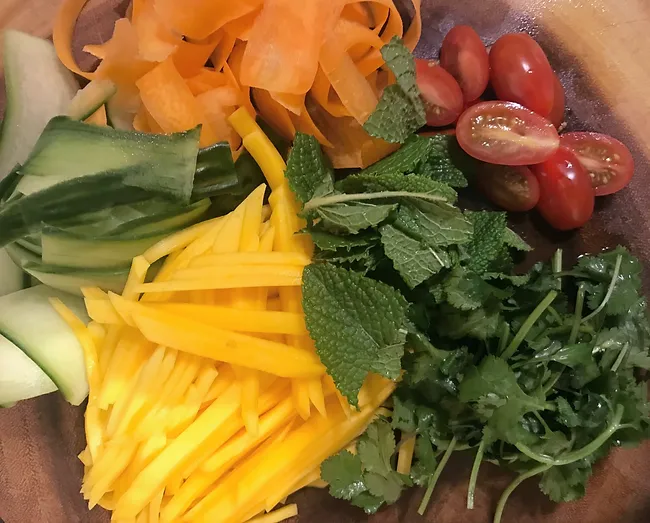 3. For the steak begin by seasoning well with salt and fresh cracked pepper. It is completely up to you if you would rather pan fry or grill I recommend grilling as the char off the grill compliments the sharpness of the salad. When cooking depending on the thickness of the rib eye 2 mins either side on a high heat should be enough for a medium rare ribeye. The most important part when cooking beef is to let it rest for around 15 minutes as this will offer the maximum flavour before slicing it.
4. To serve start by adding half of the dressing to the salad and mix well, you don't want to add too much dressing as you still want a bit of a bite to the vegetables. Arrange the sliced beef, shallots and serve.
Hope you all enjoy this very simple but delicious salad recipe!!!!
The salad works perfectly well with grilled prawns or chicken. You don't need to worry too much about the protein element also as this works great on its own as a side salad. Recommend eating with coconut sticky rice or on its own. Regarding the vegetables papaya is another good addition but you can really use whatever vegetables you like.
Rib eye steak
1 under ripe green mango
2 small carrots
1/2 Cucumber
Hand-full of Cherry Tomatoes
Bunch of Mint
Bunch of Coriander
Fried Shallots
1 birds eye chilli
1 clove of garlic
1 tbsp sugar
1 Lime
1/2 tsp rice vinegar
1/2 tsp water or vegetable oil