For this recipe I wanted to make a simple yet decadent dumpling that is both rich and packed full of umami. This dish is a mix of Japanese, Korean and French but on the whole all of the components worked together in harmony. For the filling I went with a simple aromatic confit duck leg and cabbage mix then wrapped that in a korean style mandu dumpling. For the broth I used the duck leg bones as the base then added miso, aromats and some fresh plums to mingle well with the rich confit duck leg. This recipe takes a little prep time but the overall outcome makes it definitely worth the effort! Let's cook!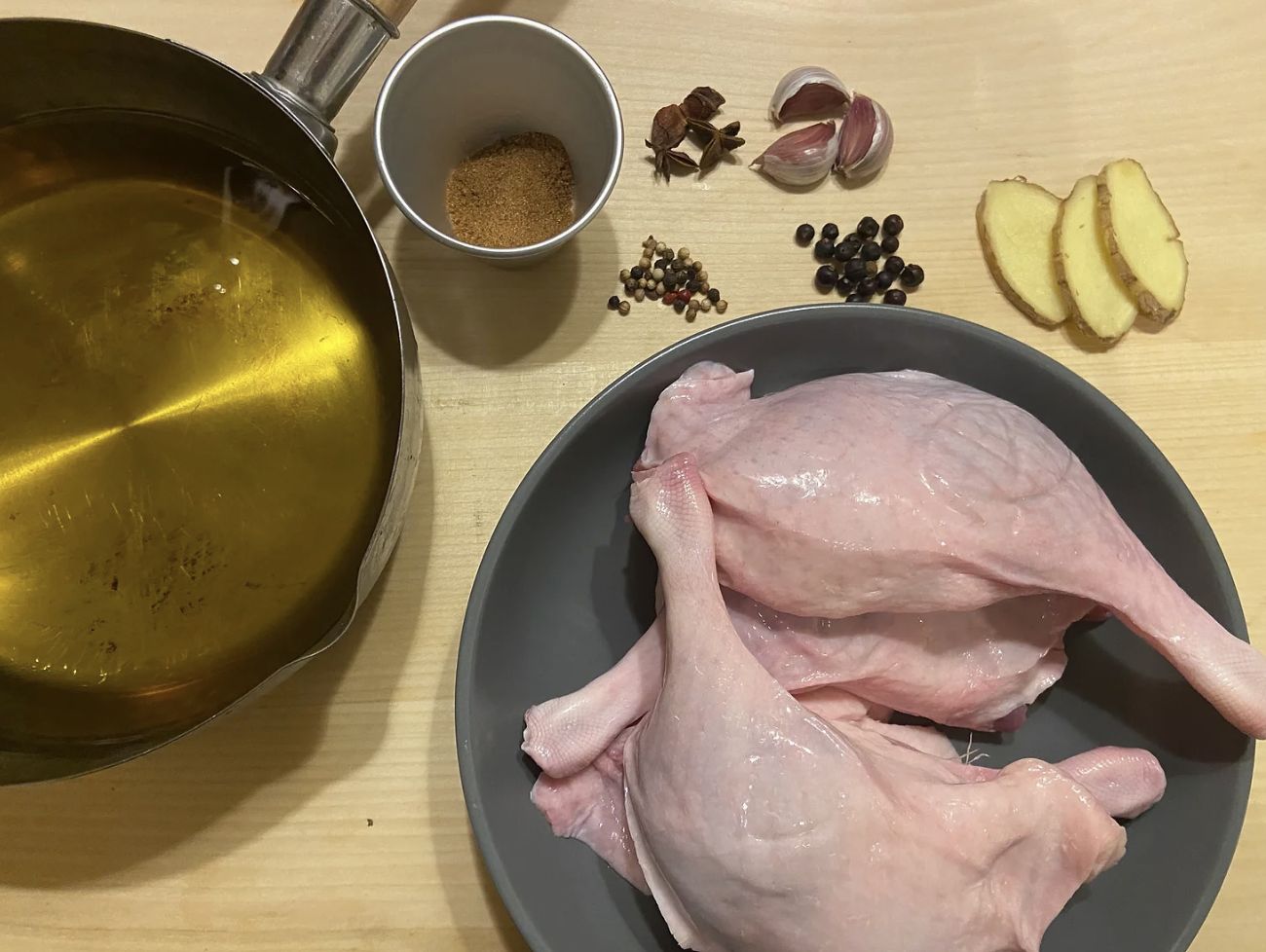 1. Let's begin with the duck confit, start by seasoning the duck legs completely with 2 tbsps of 5 spice, salt and black pepper. Place the duck legs into a medium sized saucepan then add enough rapeseed oil to cover (approx 600ml). Next add 15g of sliced ginger, 4 whole garlic cloves, 1 tsp juniper berries, 3 star anise and 1 tsp of whole black peppercorns. Place onto a medium heat and bring the oil temperature up to approximately 93°c – 95°c then at this temperature confit the duck for 1 1/2 hours.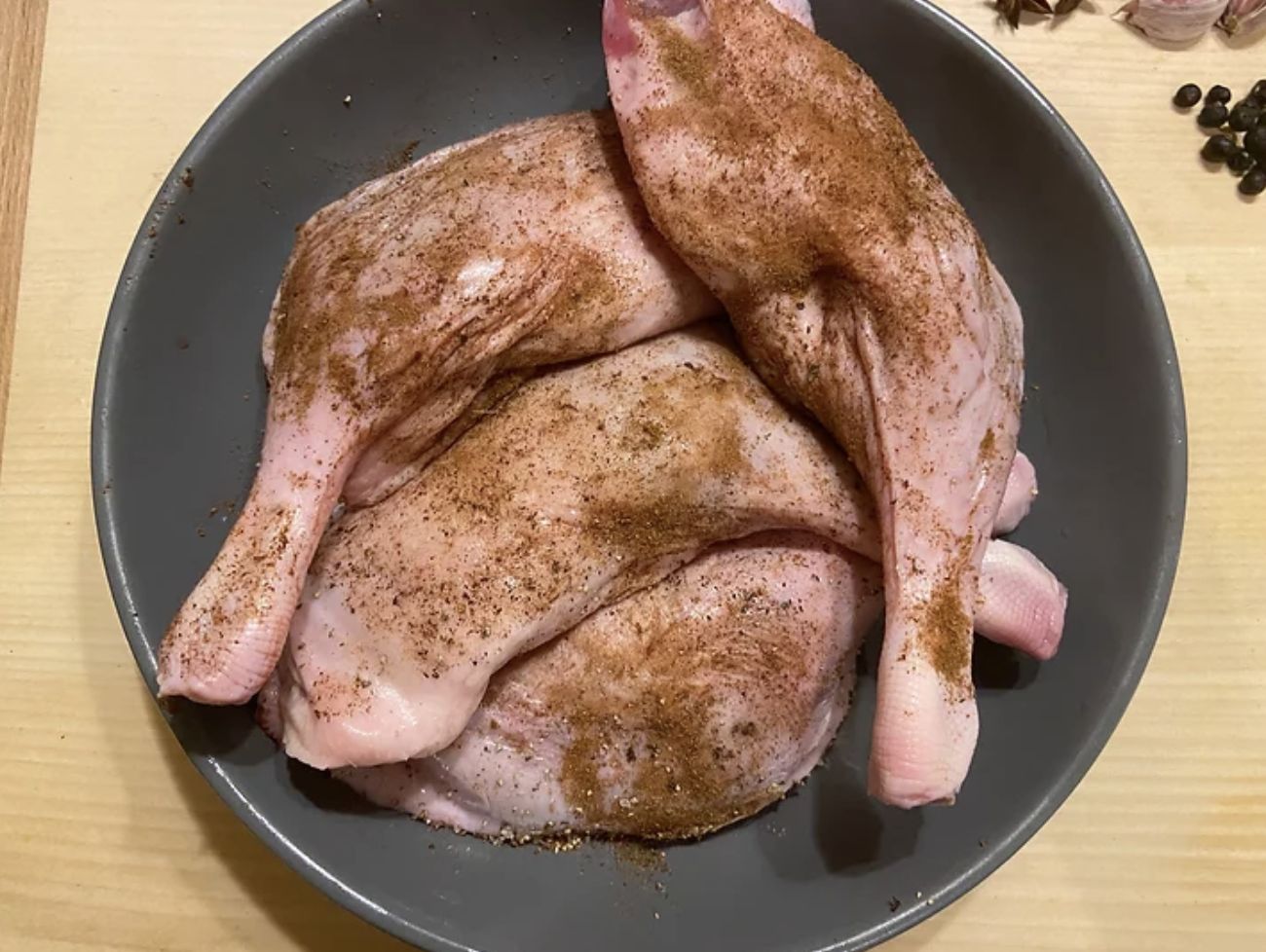 2. After 1 1/2 hours the duck legs should be completely cooked and tender enough to pull off the bone. Remove the duck legs from the confit and place onto a small tray to cool. Remove and keep the confit garlic and ginger as we can add this to the filling. When the duck has cooled remove the meat from the bone and place into a large mixing bowl. Keep the duck bones to one side as we will use these to form the base to the sauce. Next, break up the duck meat so that its pulled, we want a little texture here but not so much that it is difficult to add to the dumplings. When ready mince and add the garlic and ginger also to the duck.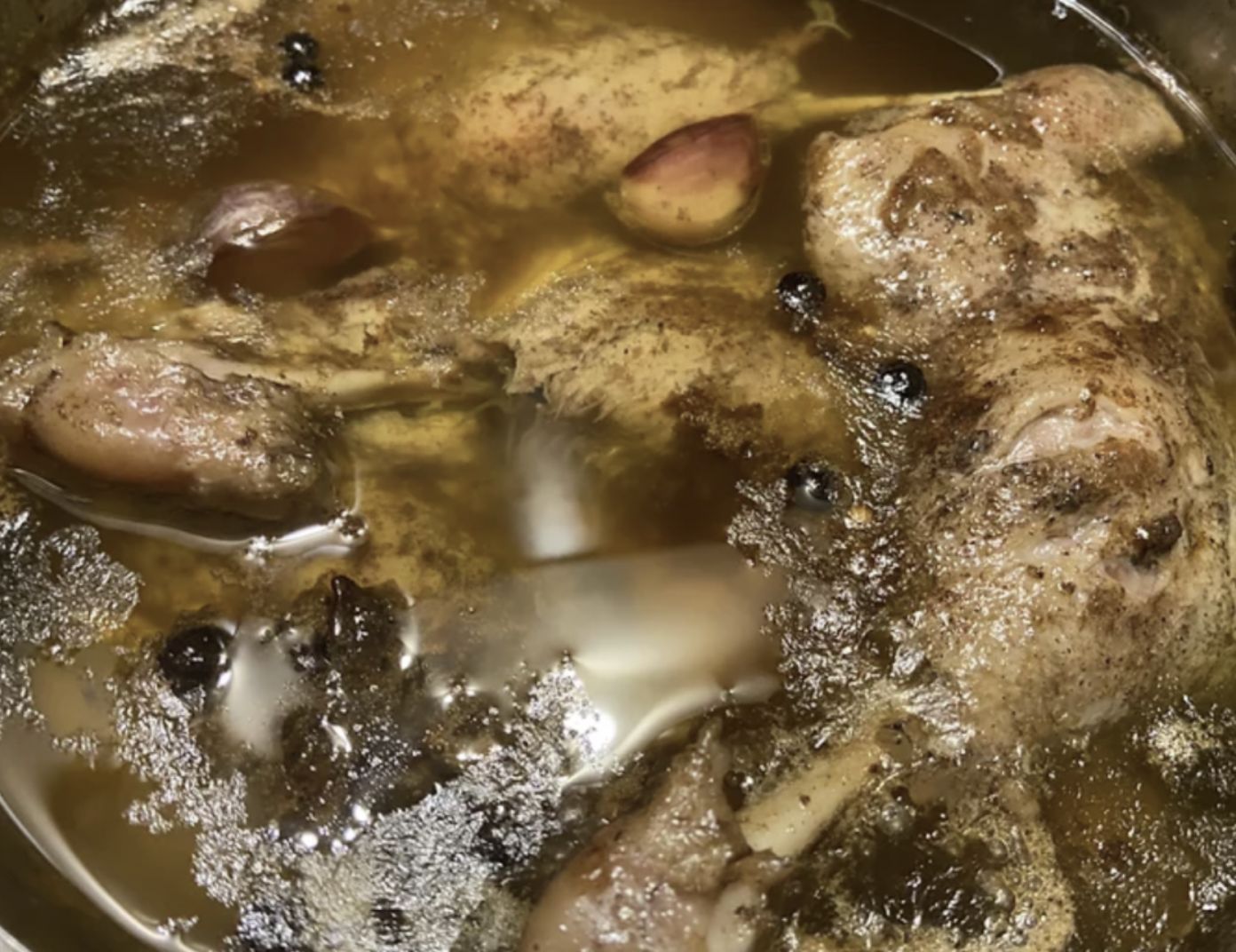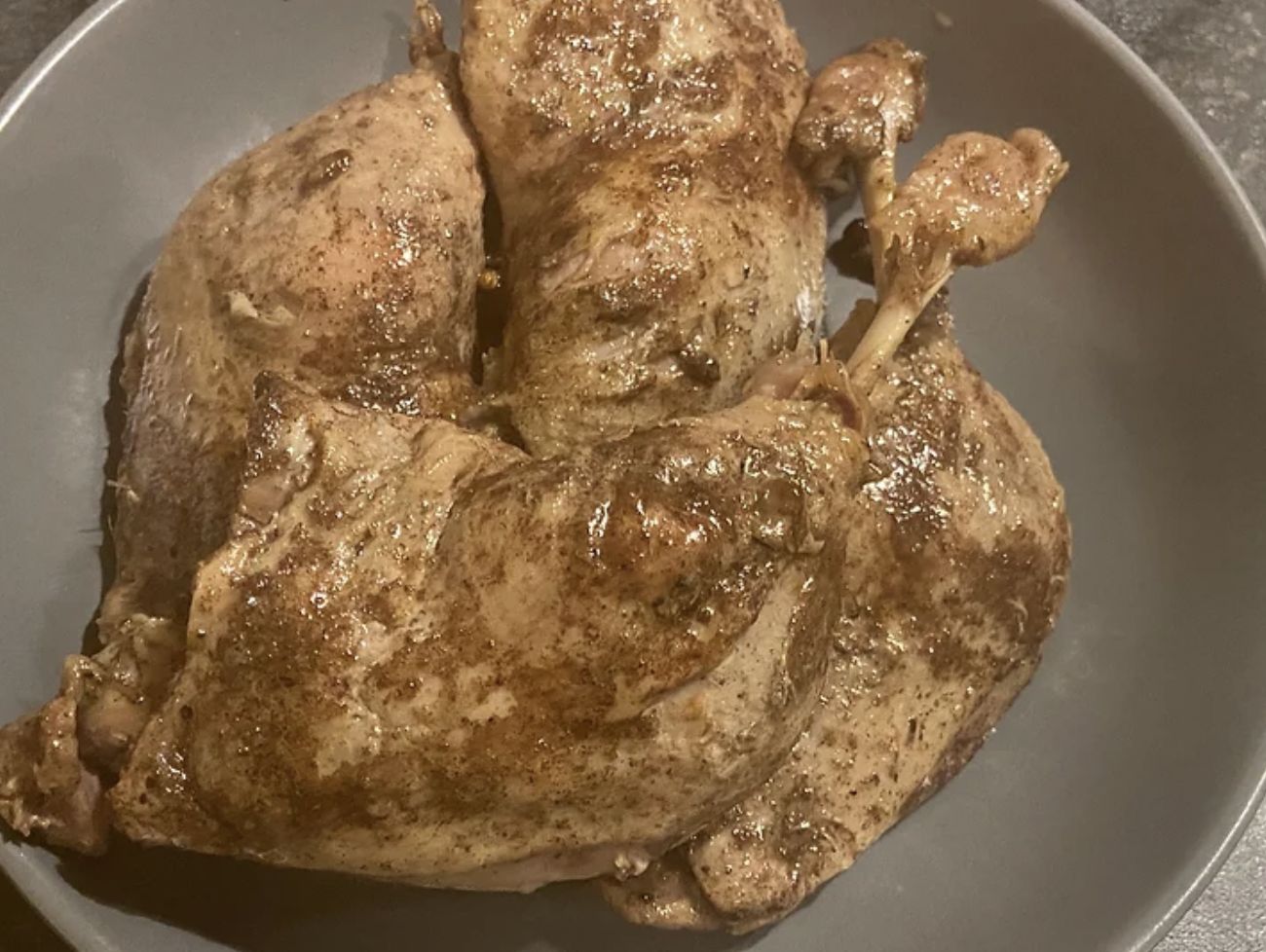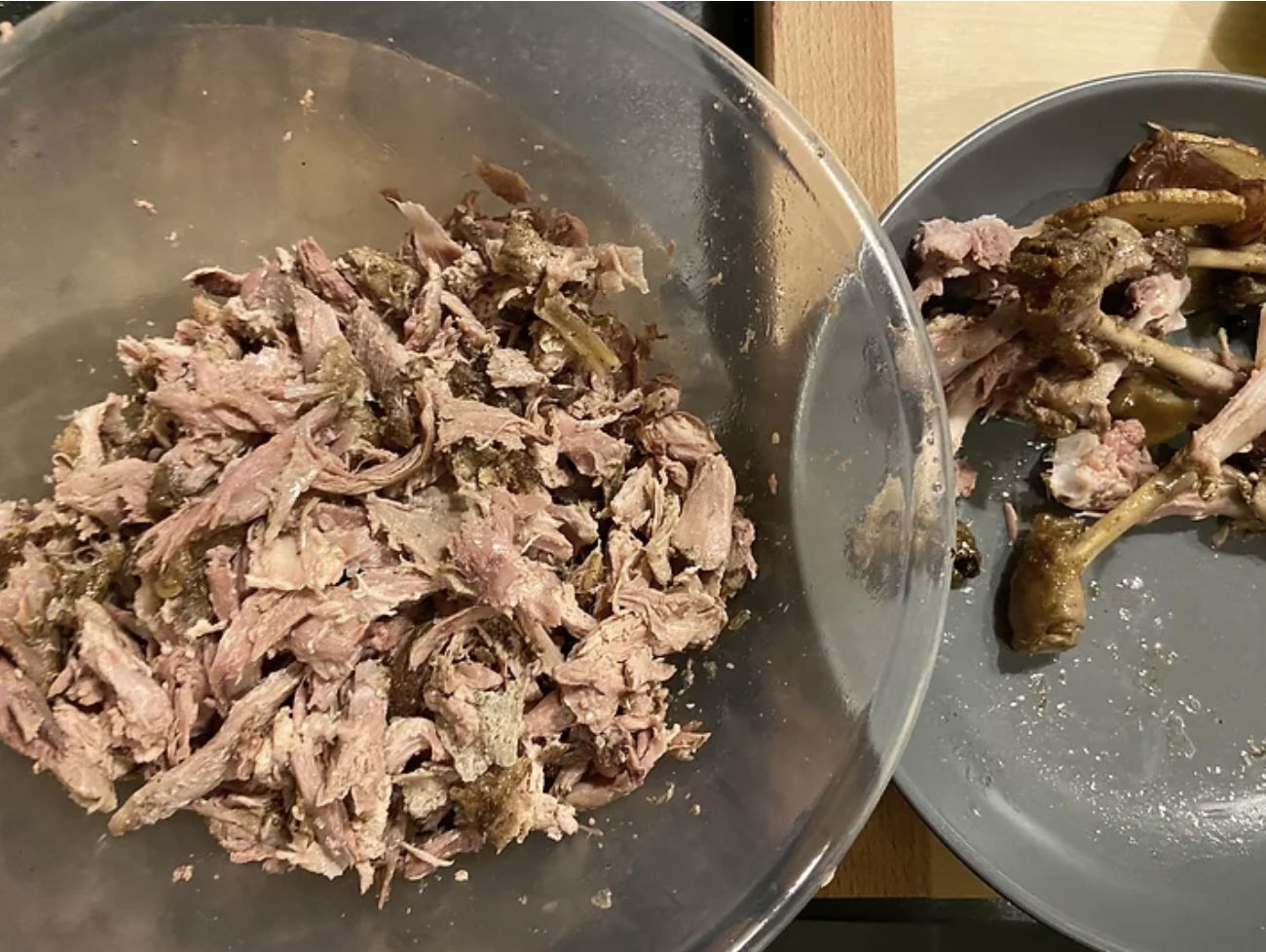 3. To bring the duck to life and to add a little extra texture to the filling we can now add a few aromatics, sauces and vegetables to the filling. Wash and remove the leaves from 1/2 sweetheart cabbage then add to a saucepan of boiling water, blanch for 2-3 minutes or until just cooked. When cooked drain and chill under cold running water to stop the cooking process then cut the cabbage leaves into a small dice. Add the diced cabbage to the confit duck along with 4 minced spring onions, 2 tbsp light soy, 2 tbsp hoisin sauce, 3 tbsp of sesame oil and finally season with salt and some fresh black pepper. Mix well then adjust the seasoning if needed. We are looking for a filling that is neither too dry or too wet that still holds some texture from the duck. Cover the mix and store in the refrigerator until ready to use.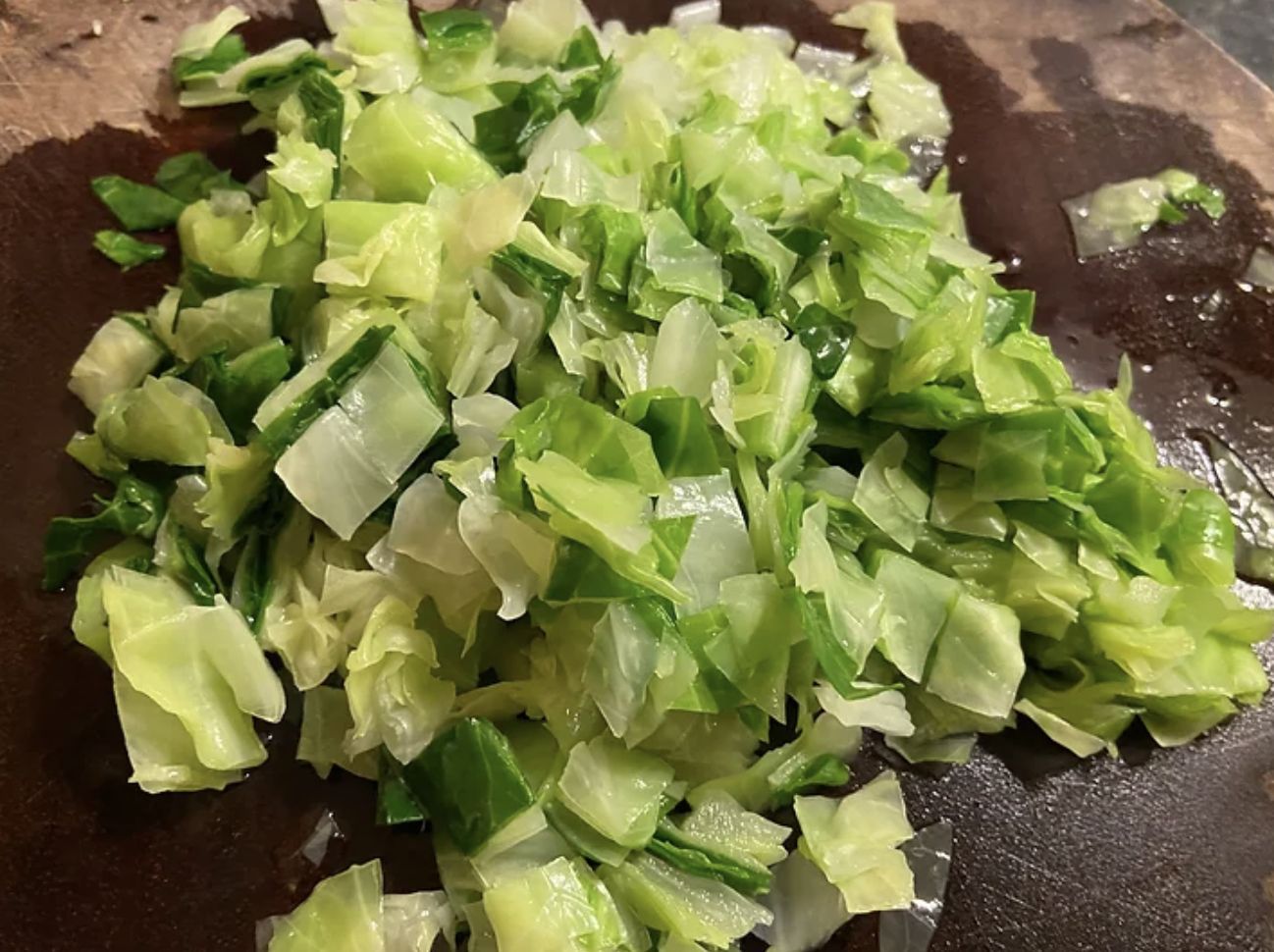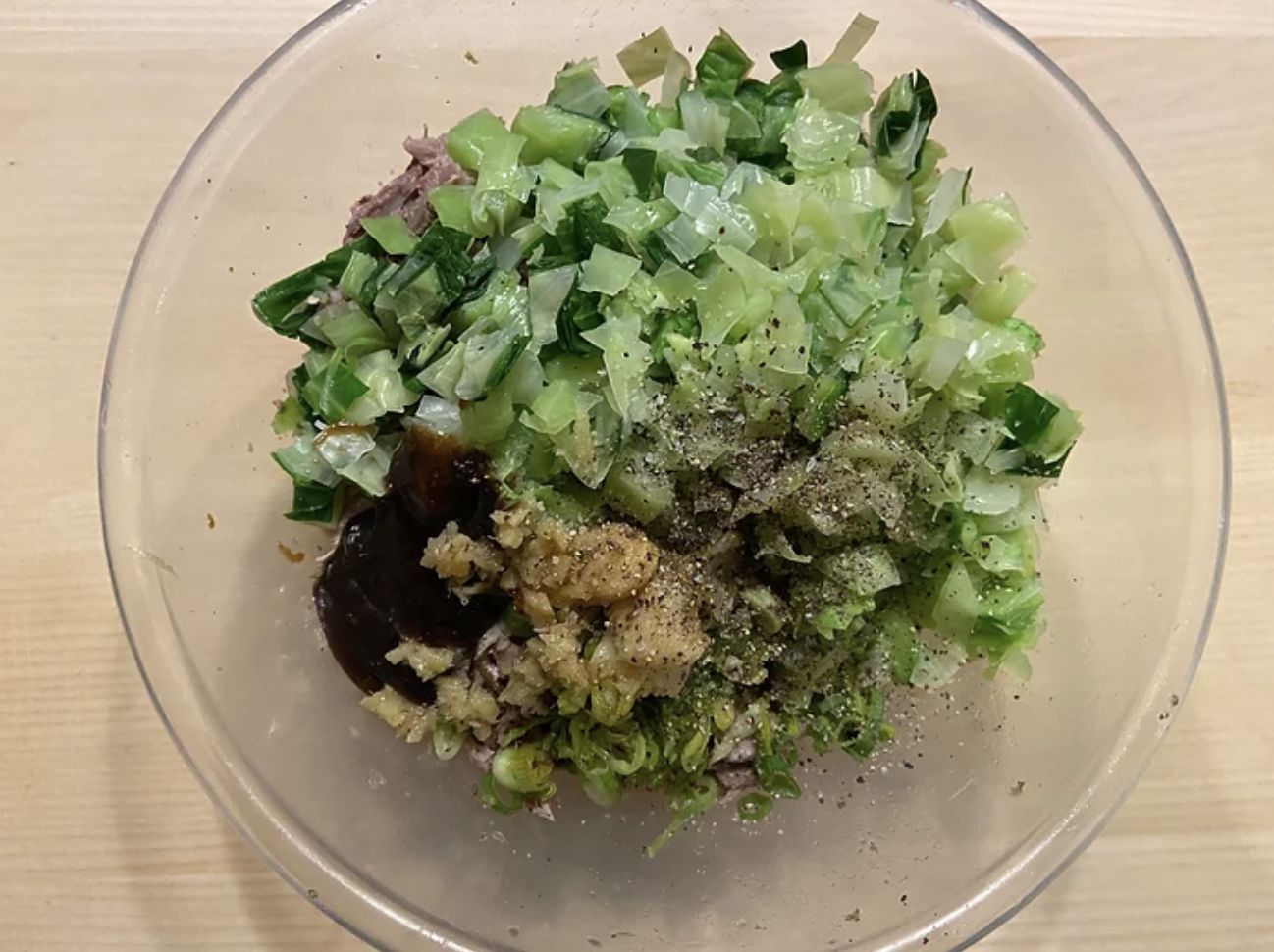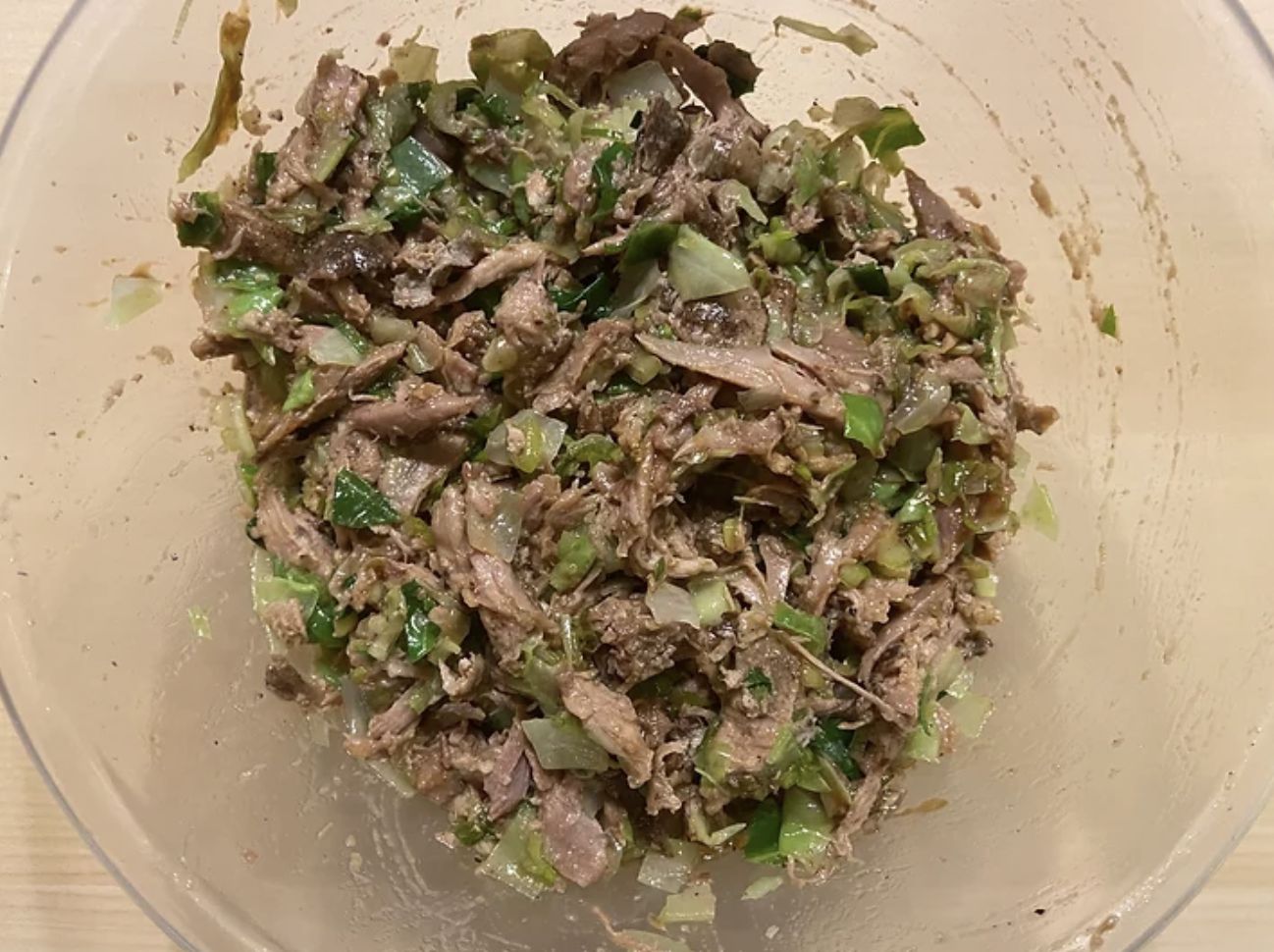 4. Now that we have our filling made up we can move onto making up the dumpling wrappers. To save on time and reading the next few points you can simply use frozen store brought wrappers, however, its fun to make them from scratch and super simple. Begin by adding 390g of dumpling flour into a large mixing bowl, then in a separate jug add 190ml of warm water and a 1 tsp of salt. Mix in the salt until dissolved then gradually add to the flour whilst constantly mixing. When all of the salt water has been added begin to knead by hand until 1 cohesive ball of dough is formed. When set, cover with clingfilm and allow the dough to rest for 45-60 minutes.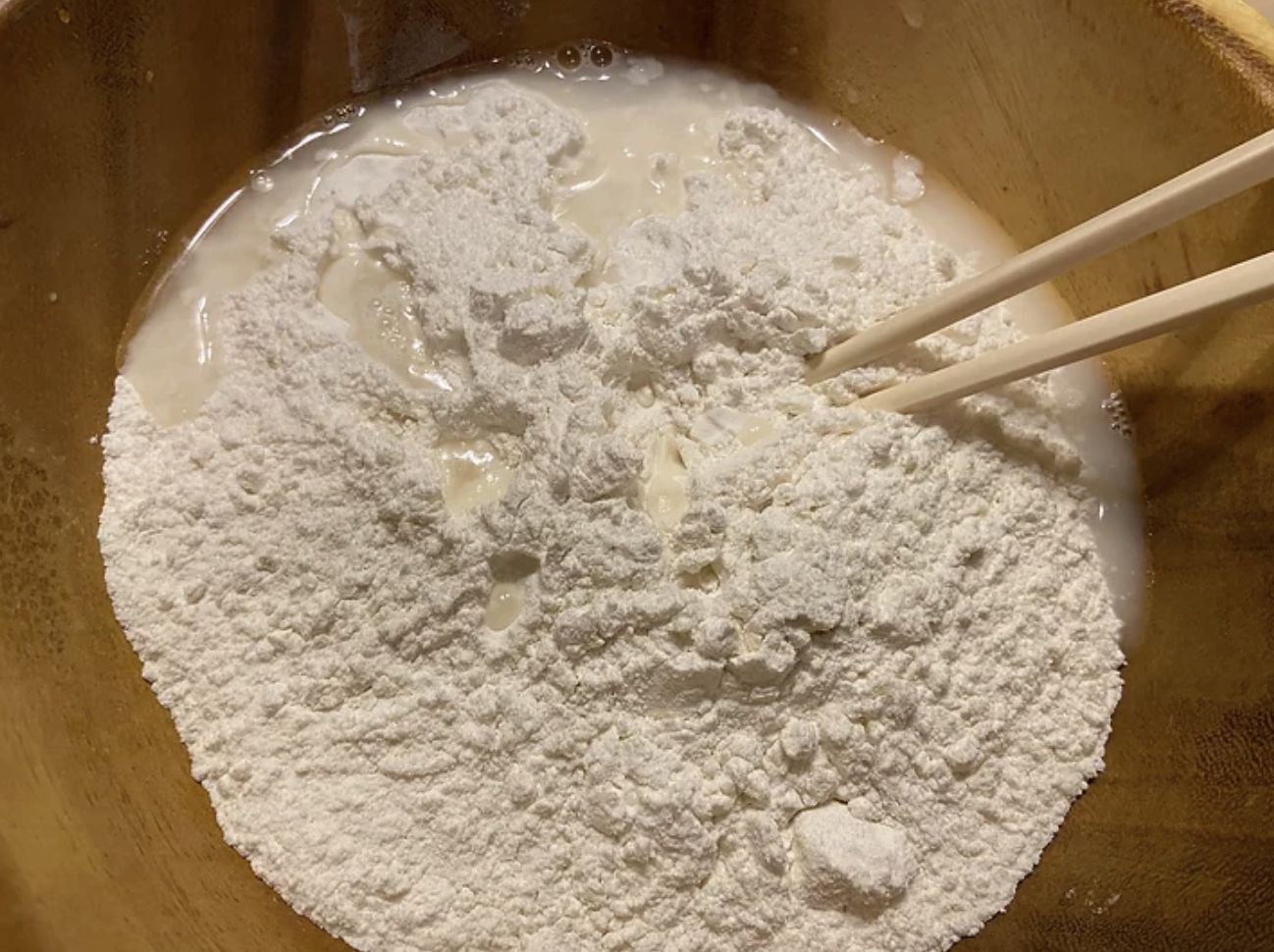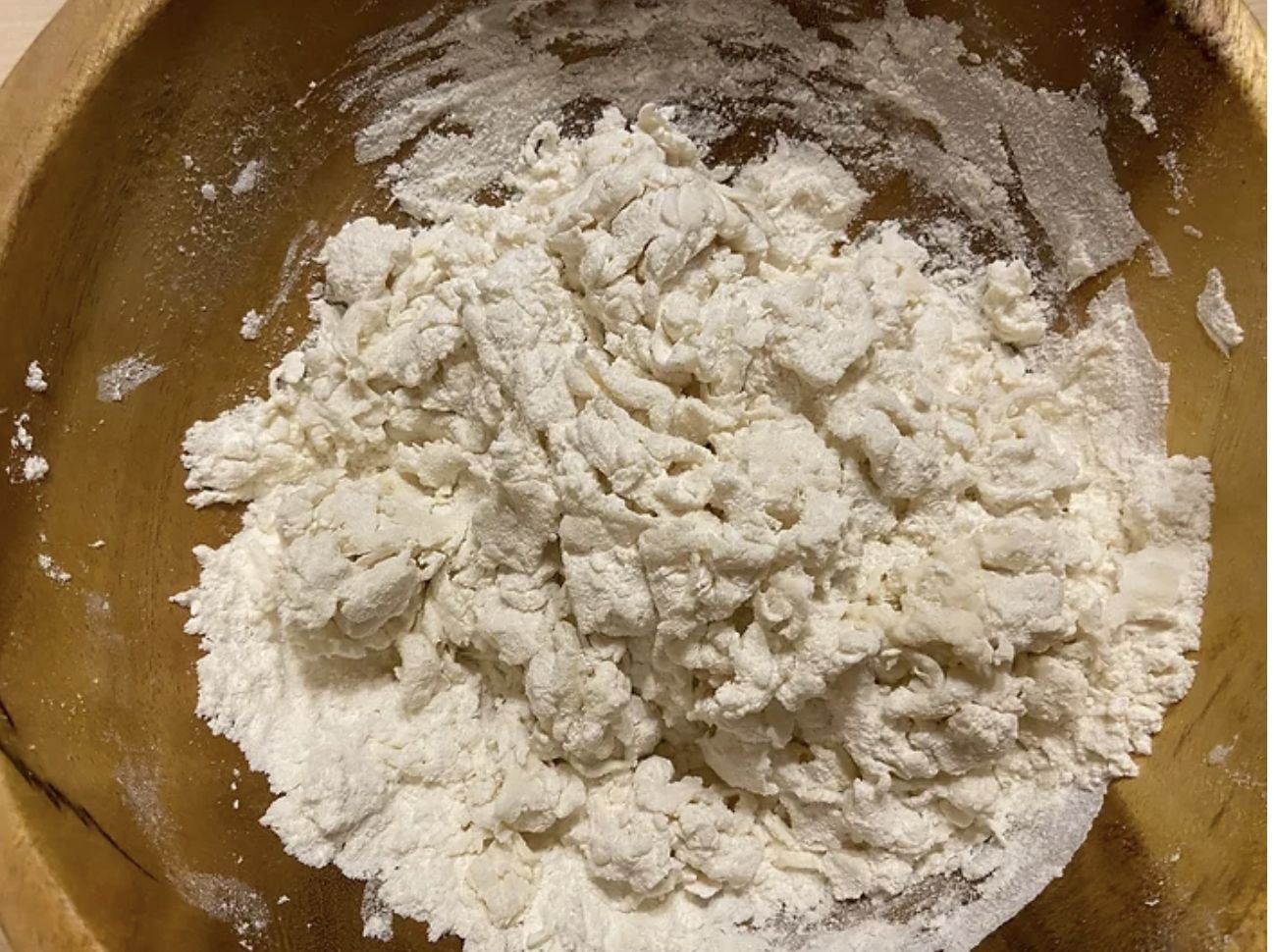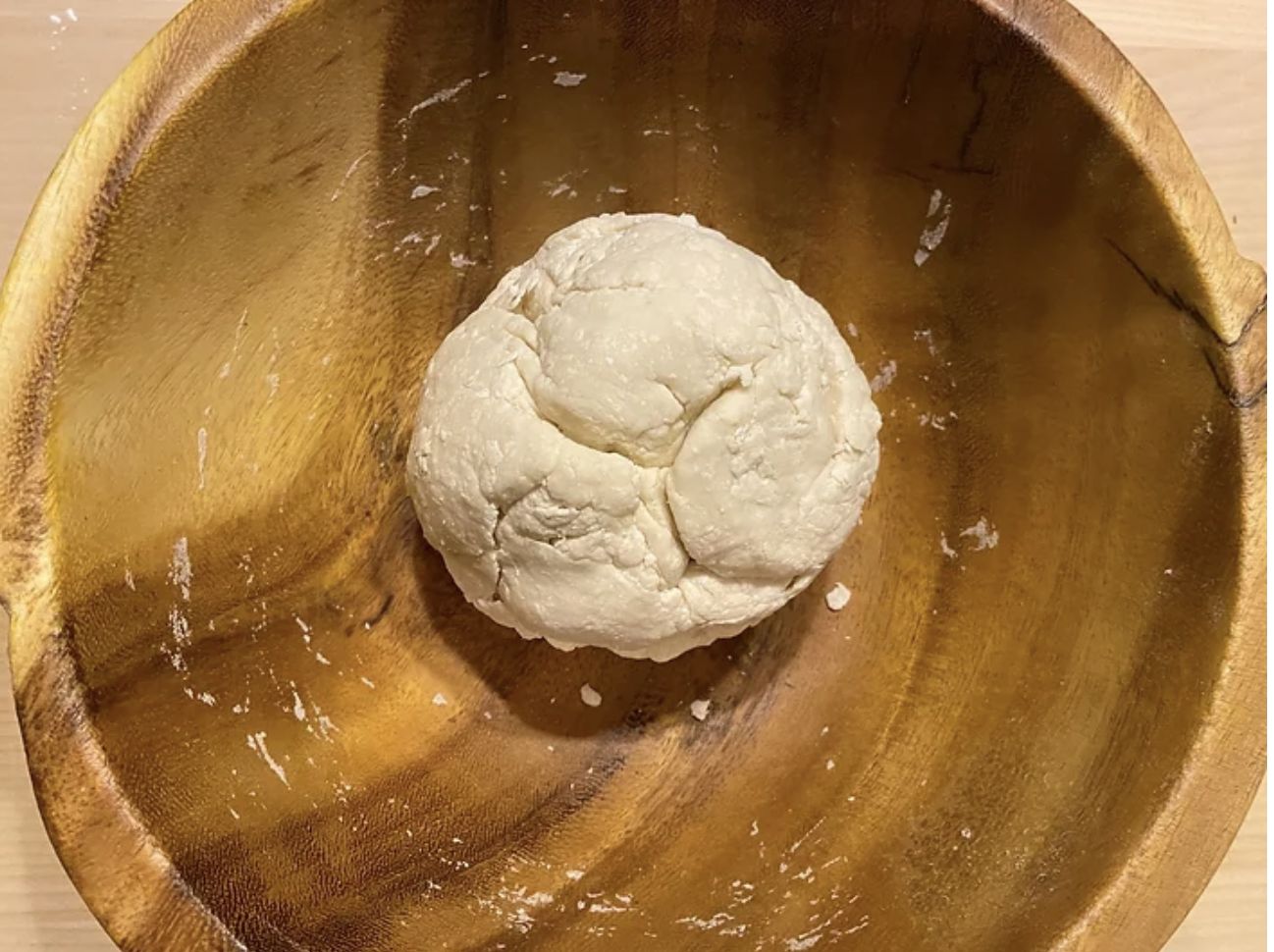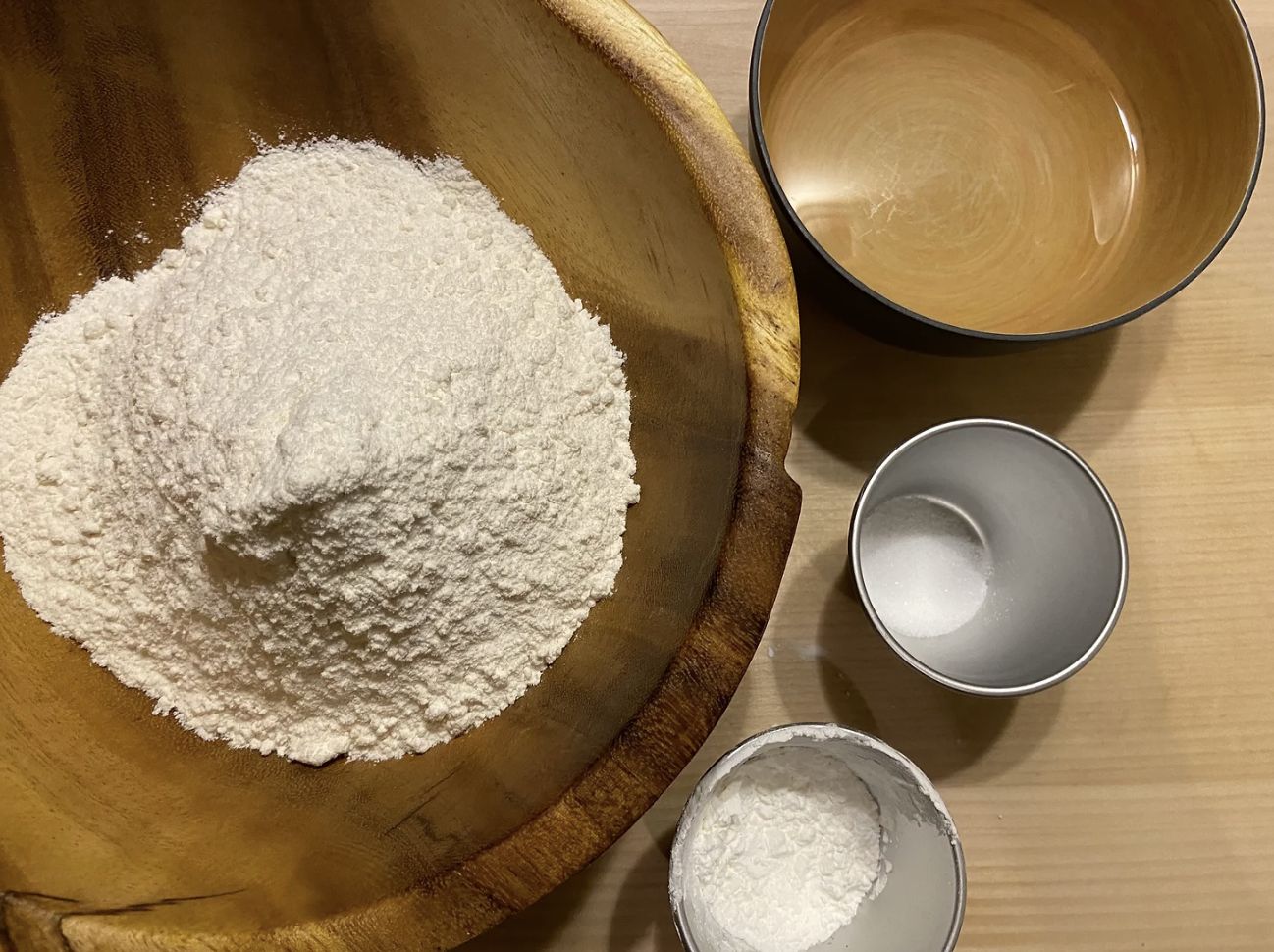 5. When the dough has rested, place onto a work top and knead the dough again for 4-5 minutes to smooth out and form a ball. Next create a hole in the centre of the dough using your thumb to create a doughnut shaped piece of dough. Start to stretch out the dough to make an evenly shaped larger ring. Cut the ring in half to make 2 logs of dough, then roll the each piece of dough until it becomes larger and has a thickness of approximately 2 inches. When ready cut the dough into 16-24 (size depending) equal sized pieces then dust lightly with cornflour to prevent them from sticking. Place the pieces of dough to one side and cover with clingfilm then we are now set to make up the mandu.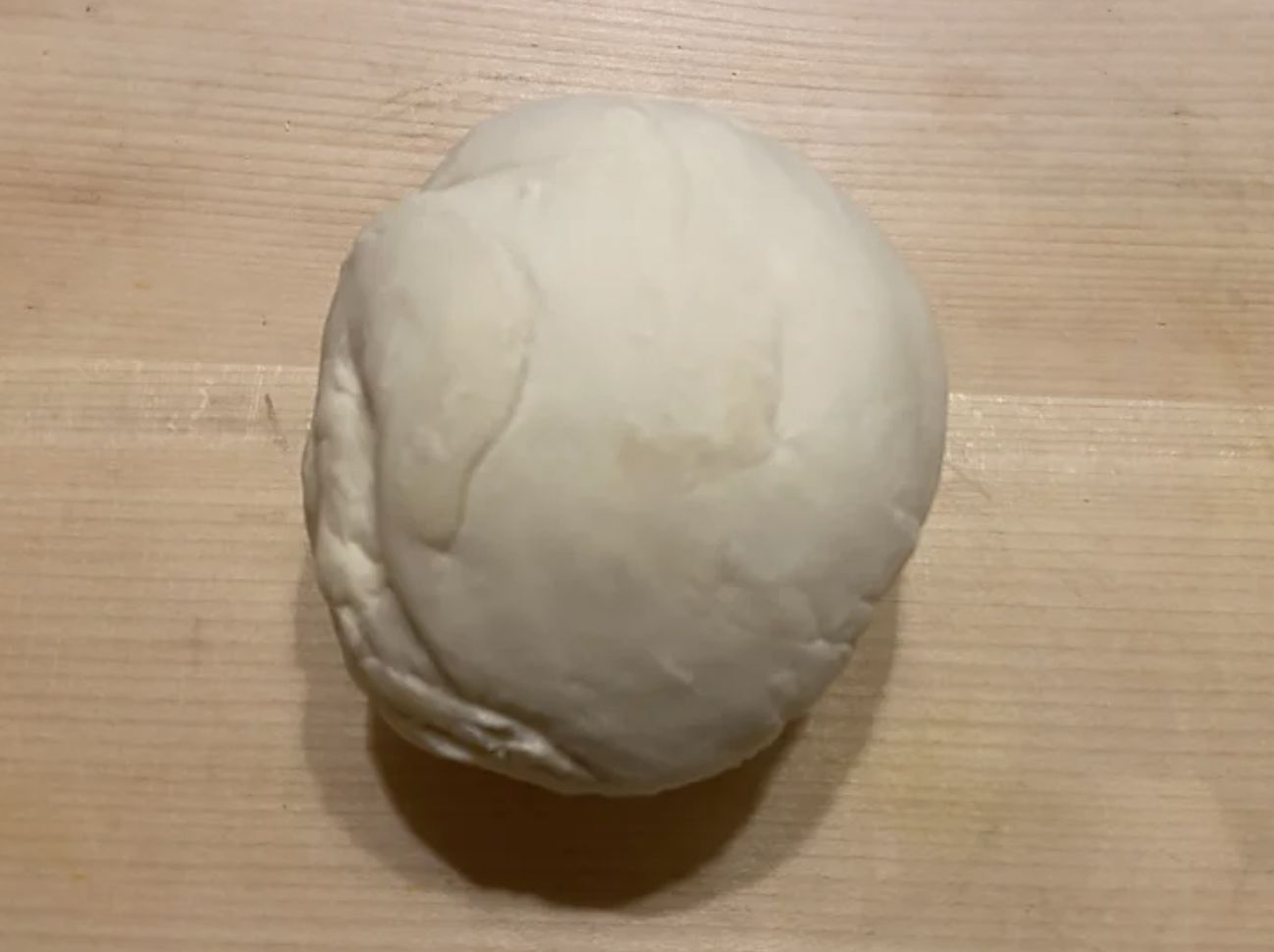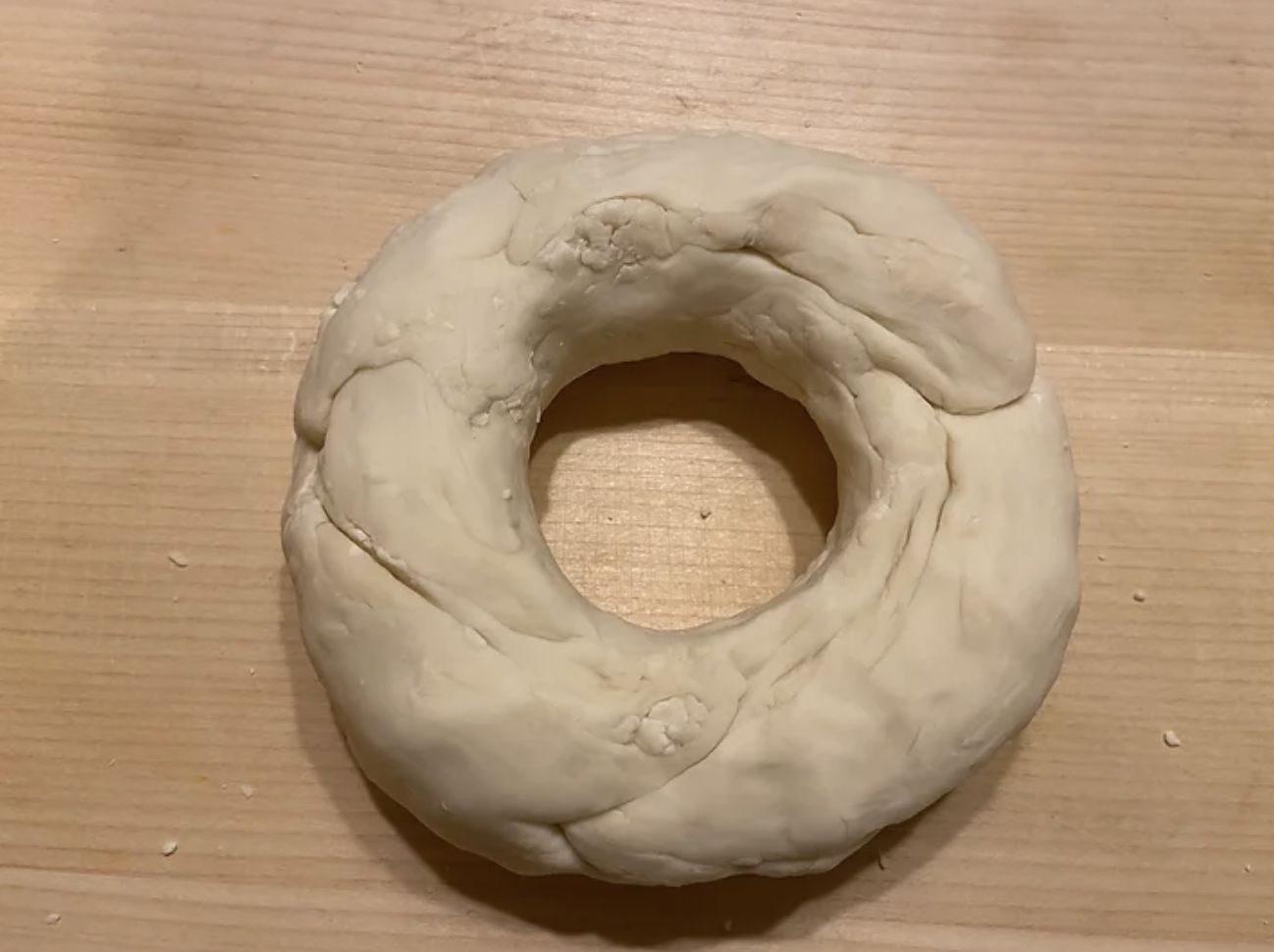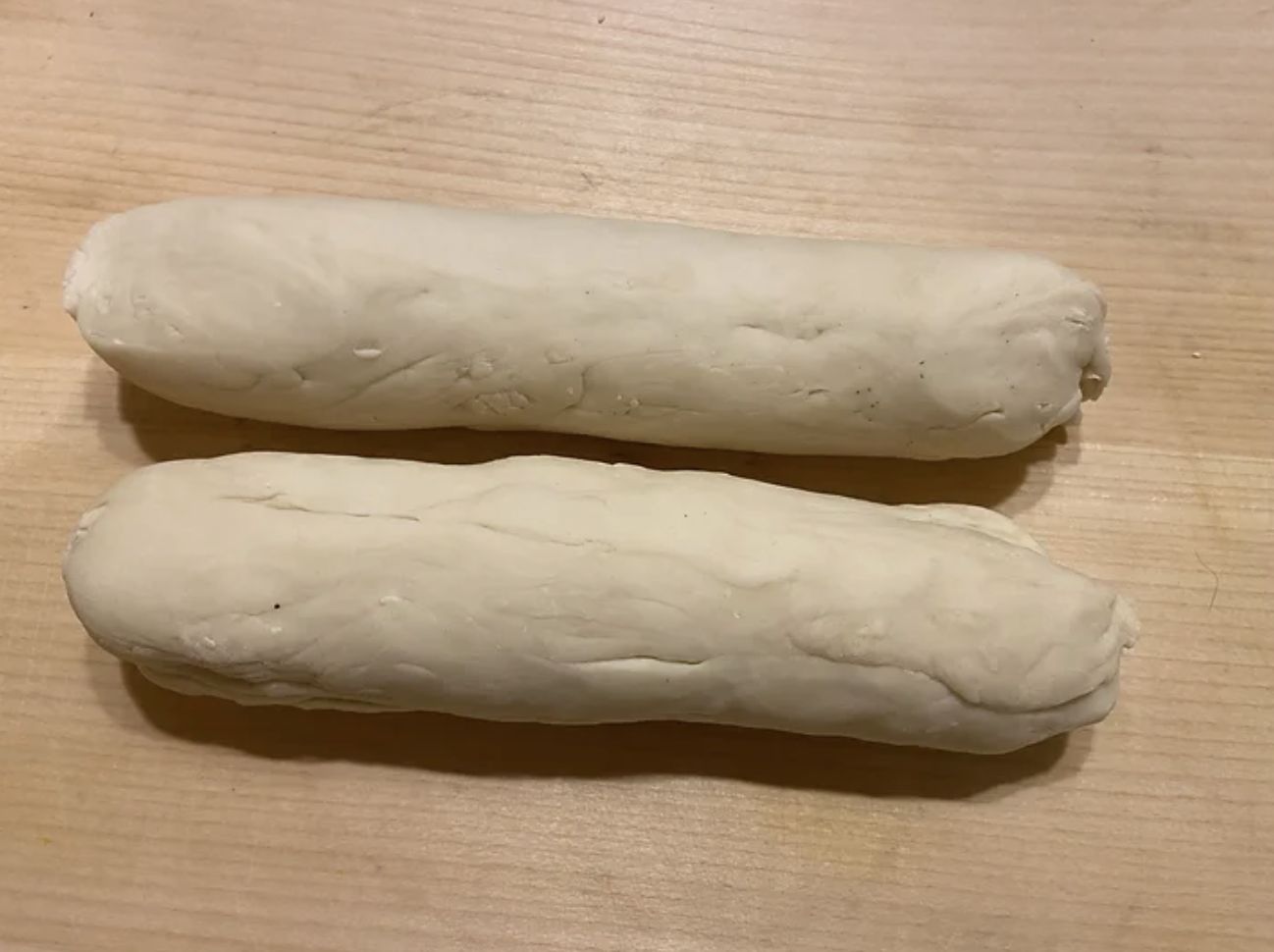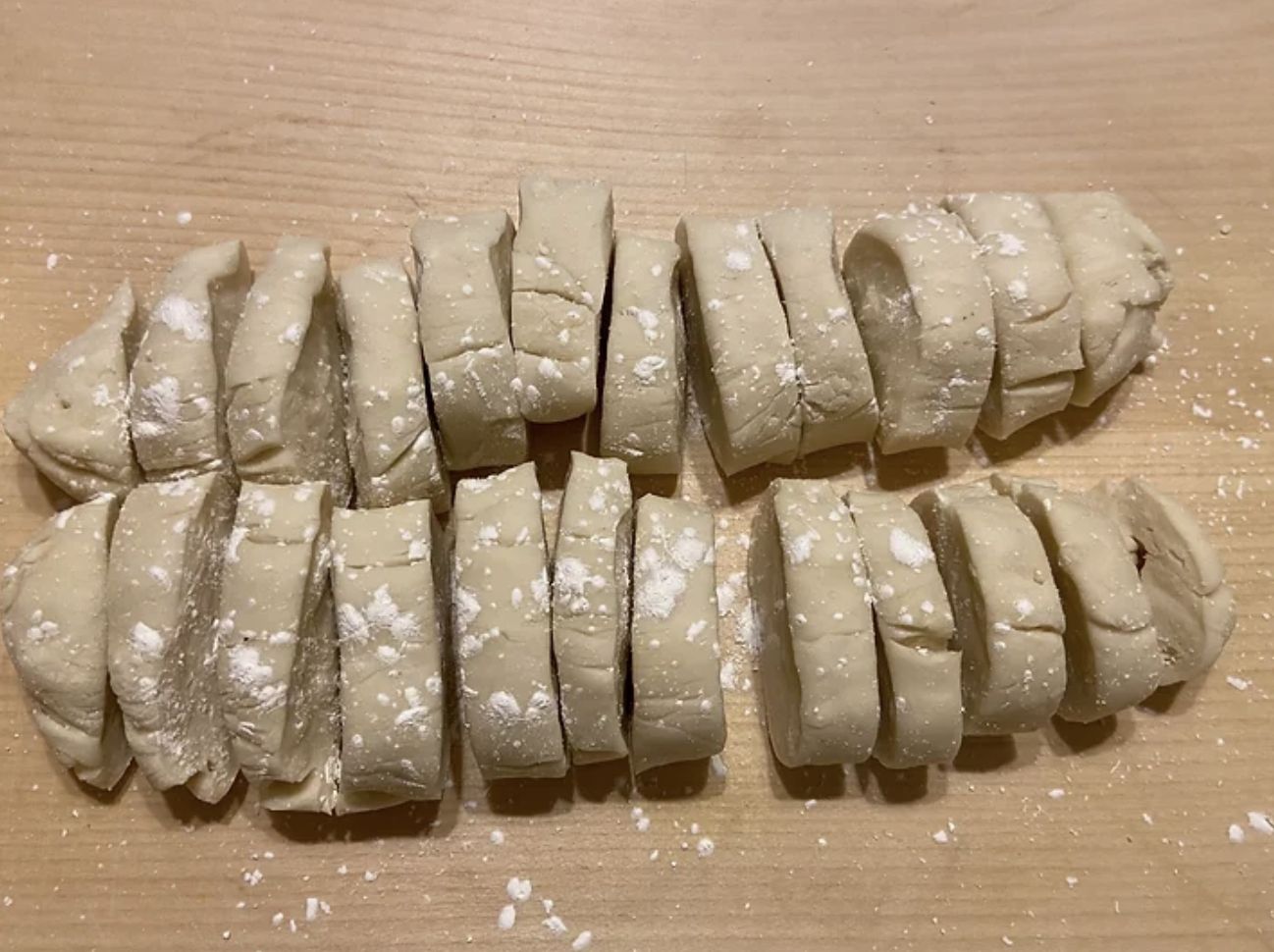 6. To make up the wrappers start by taking out a few pieces of the dough then roll each piece into a small ball. Flatten the dough with your palm to form each piece into flat disks then use a small rolling pin to roll out the dough to make larger thin circular wrappers. The wrappers size will depend on how many pieces of dough you have, however out of 16 pieces the wrappers were approximately 5 inches in diameter and approximately 1/8 of a inch in thickness. Repeat this for all of the dough then dust each wrapper lightly again with cornflour and stack them on top of each other.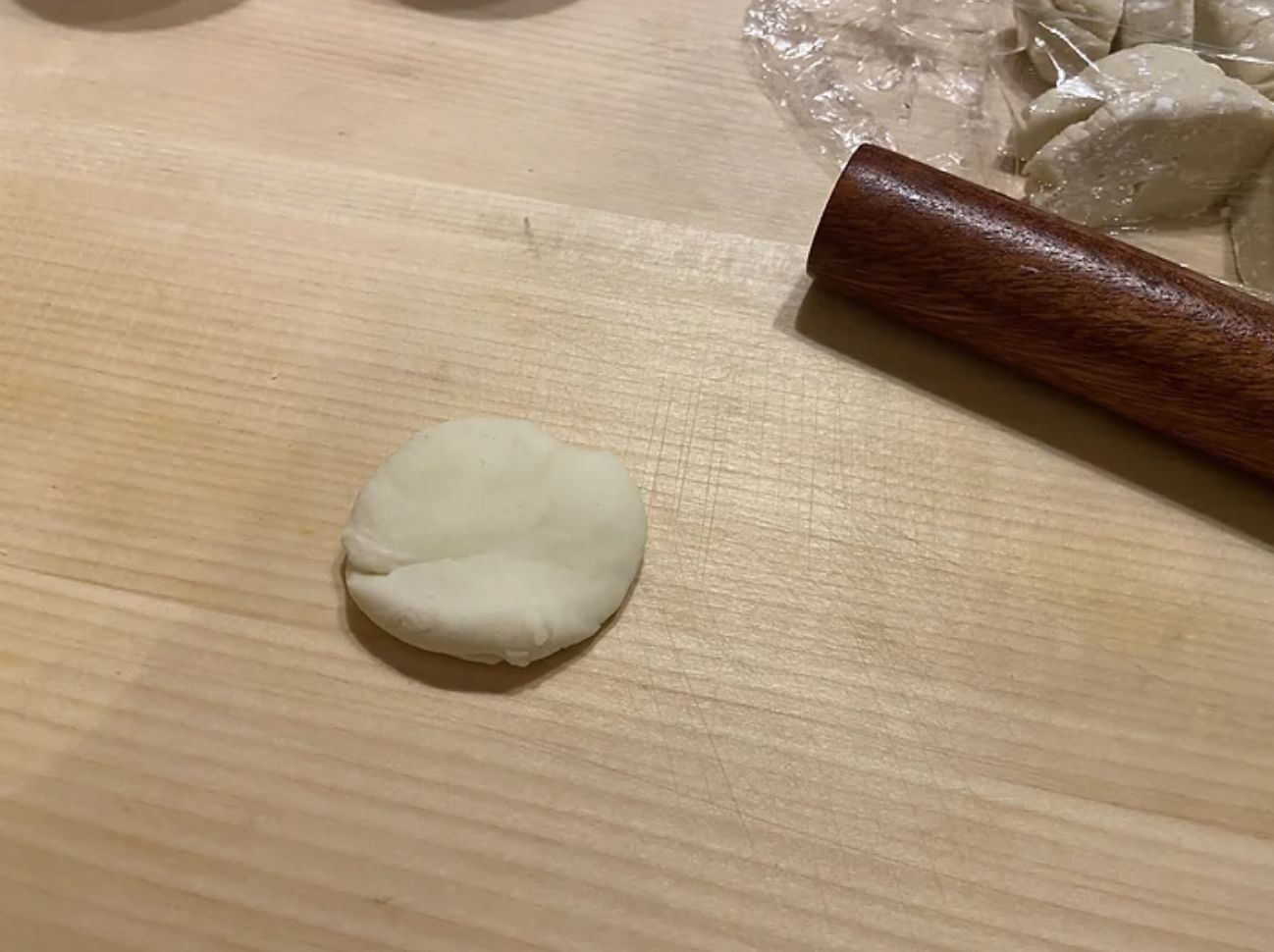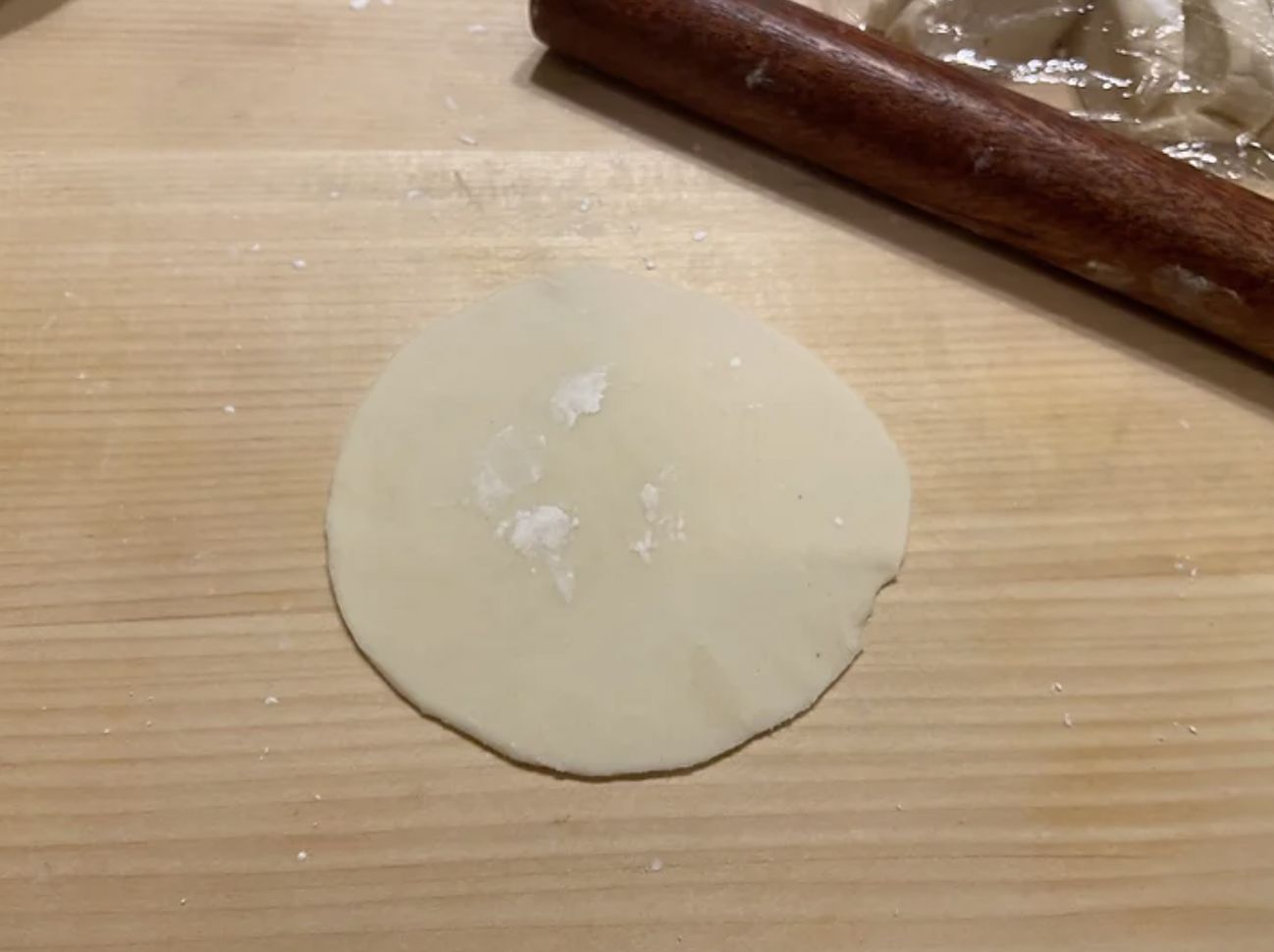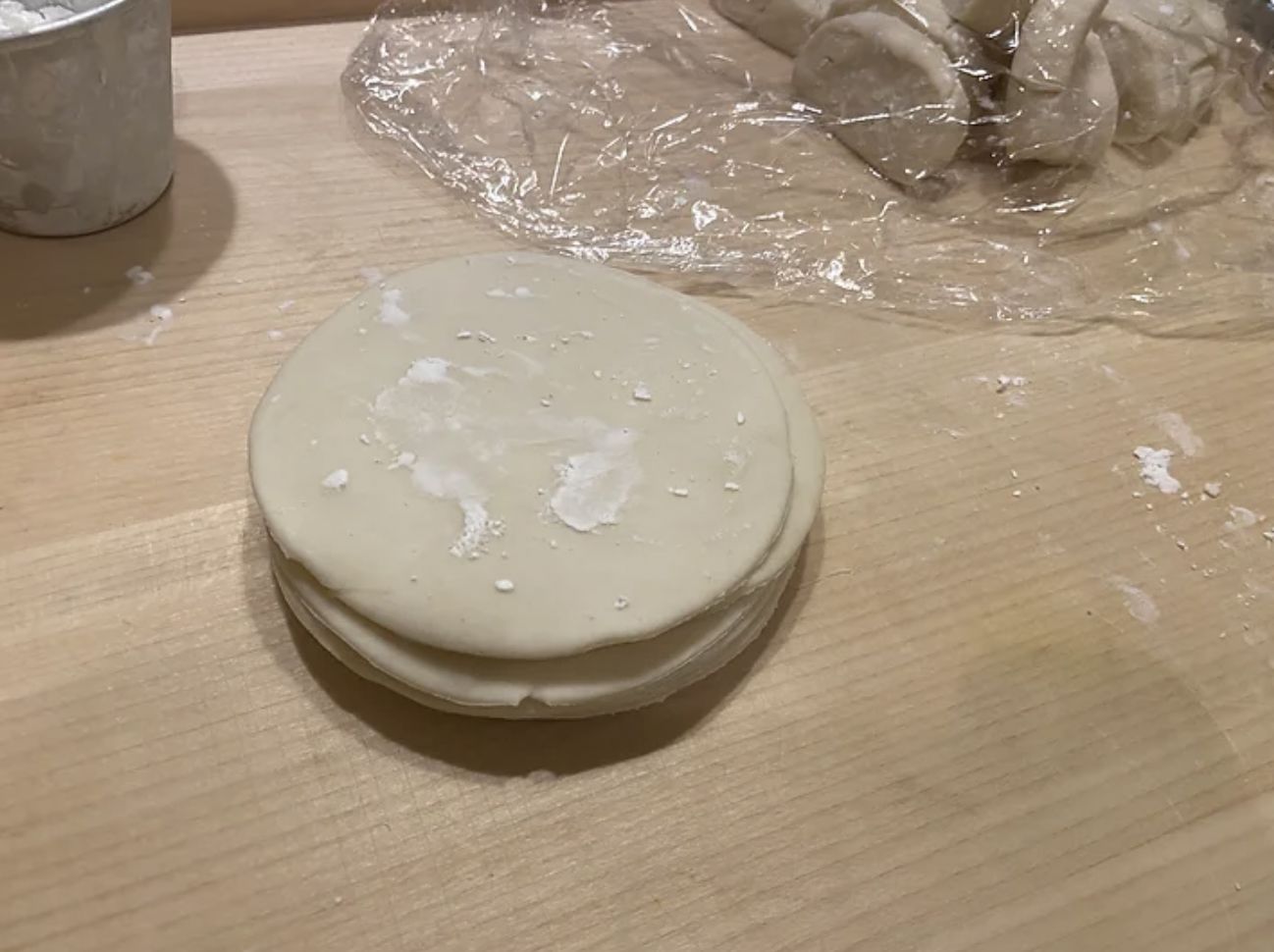 7. Now to make mandu, take out the filling from the refrigerator and we are good to build. Brush half of the dough around the edge with water making it easier to for the dough to stick then add 1 heaped tbsp of the duck filling into the centre of the dough. Leave a small rim of dough around the filling that is approximately 1cm thick then fold the dough in half to form a crescent shape. Seal the edge of the dough together to enclose the dumplings ensuring there are no open gaps.
8. You can use the mandu as it is, however, to make a much more prettier dumpling take each of the bottom corners of the dough and bring them together. Lightly wet each corner with water and seal together. If that sounds like madness then refer to the image below and its really not as bad as it sounds. When ready ensure there are no open gaps and gently tighten up the dumpling by pinching around the edges. Place the dumpling onto a tray and cover with clingfilm. Repeat this process for all of the wrappers then when ready we can place the mandu back into the refrigerator until ready to use. These mandu can also be frozen at this point, therefore, they can be made up in batches or even prepared way in advance.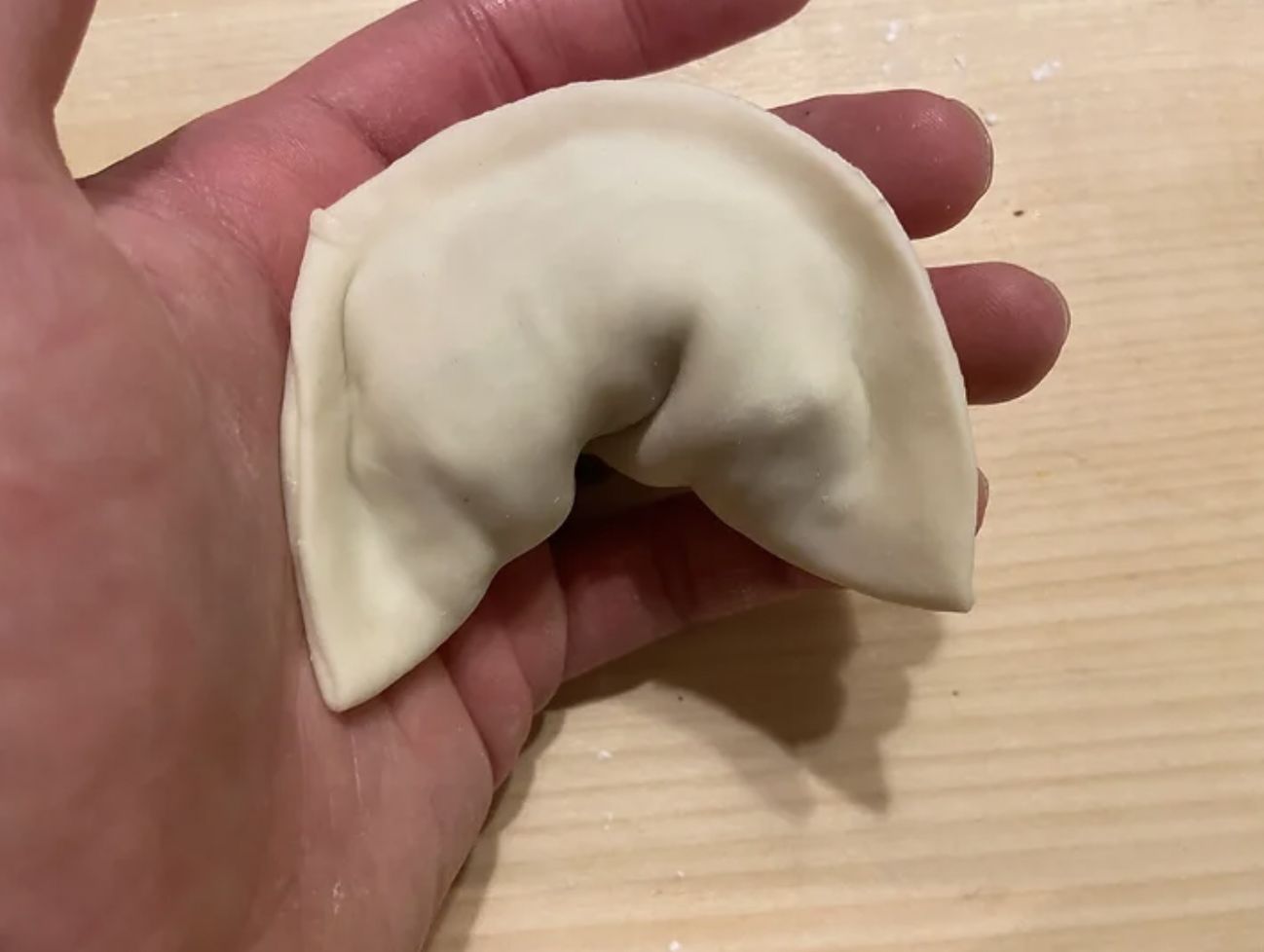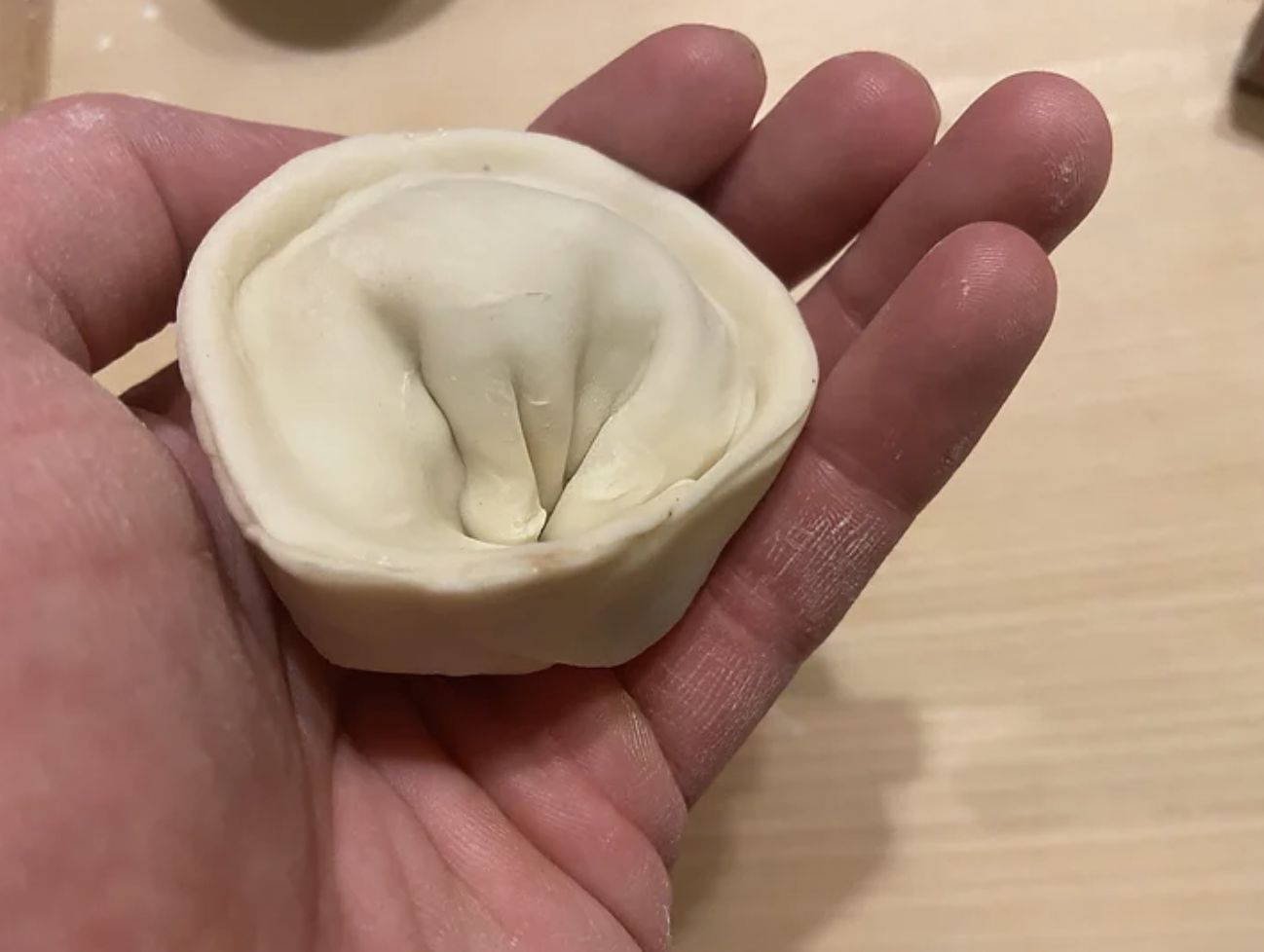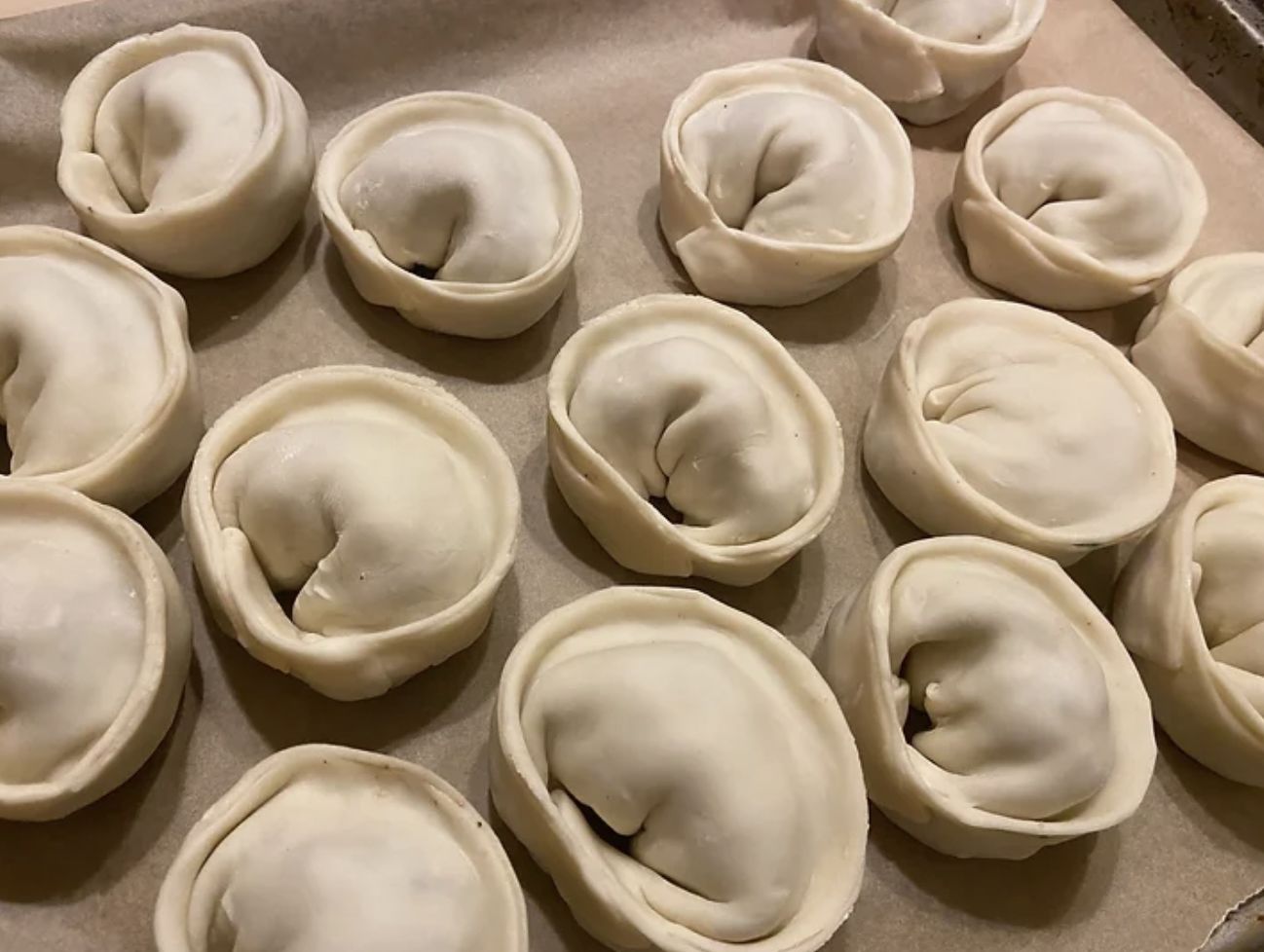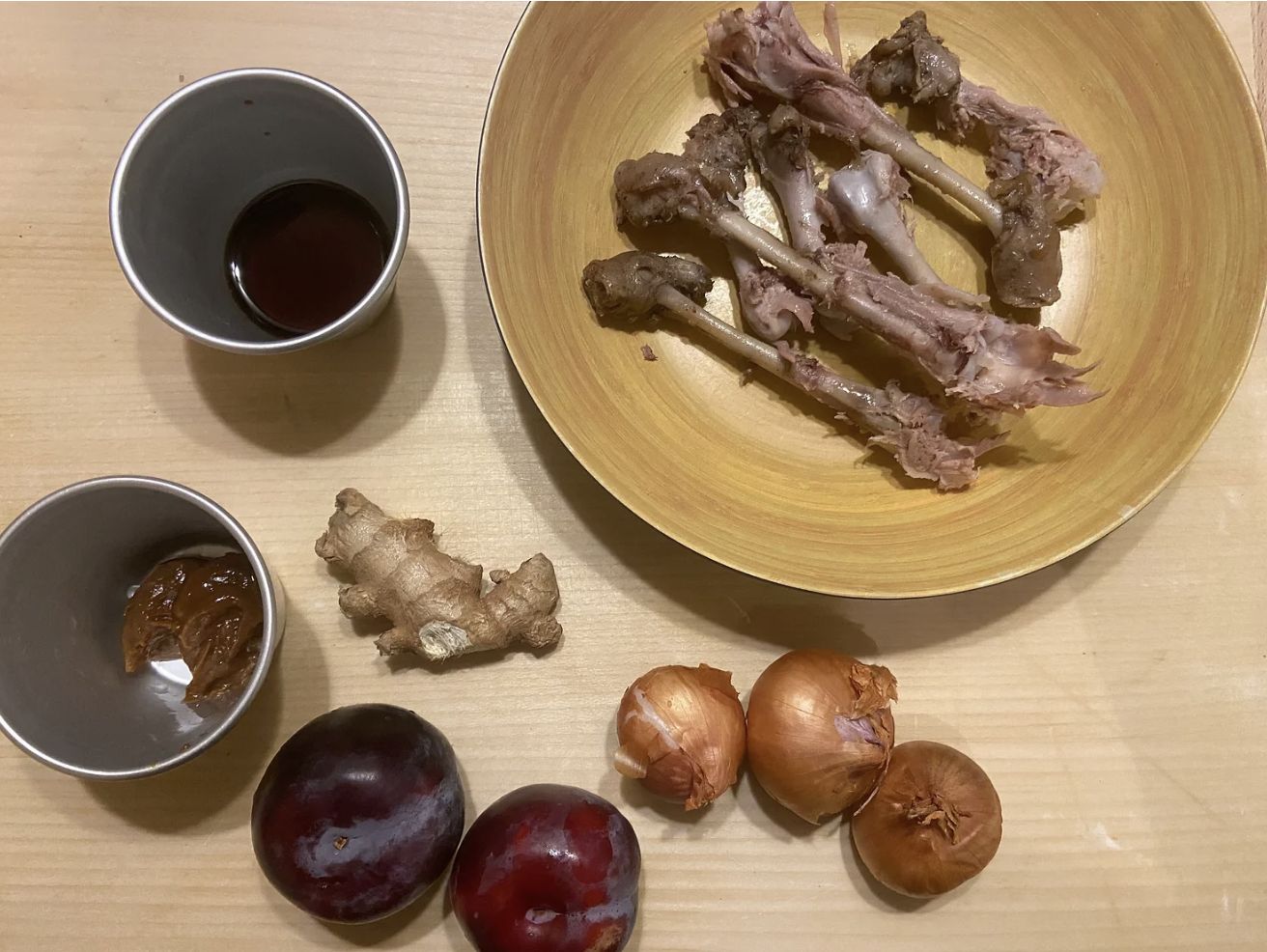 9. Now that the mandu are all made up we can begin to cook, for the broth start by adding the duck bones to a pan lightly drizzled with cooking oil and place onto a high heat. Roast the bones until caramelised then add 10g of sliced ginger, 3 sliced shallots and 2 chopped shiitakes then continue to pan fry for 2-3 minutes until fragrant. Next slice 2 plums into half, remove the seeds and add these to the pan also flesh side down. Next deglaze the pan with 1 tbsp of sake, 1 tbsp of light soy, 1 tbsp of mirin, 1 tbsp sushi vinegar, 1 tsp of white sugar and 1 tsp of red miso. Briefly reduce the liquid then add 300mls of water and reduce the sauce again by half.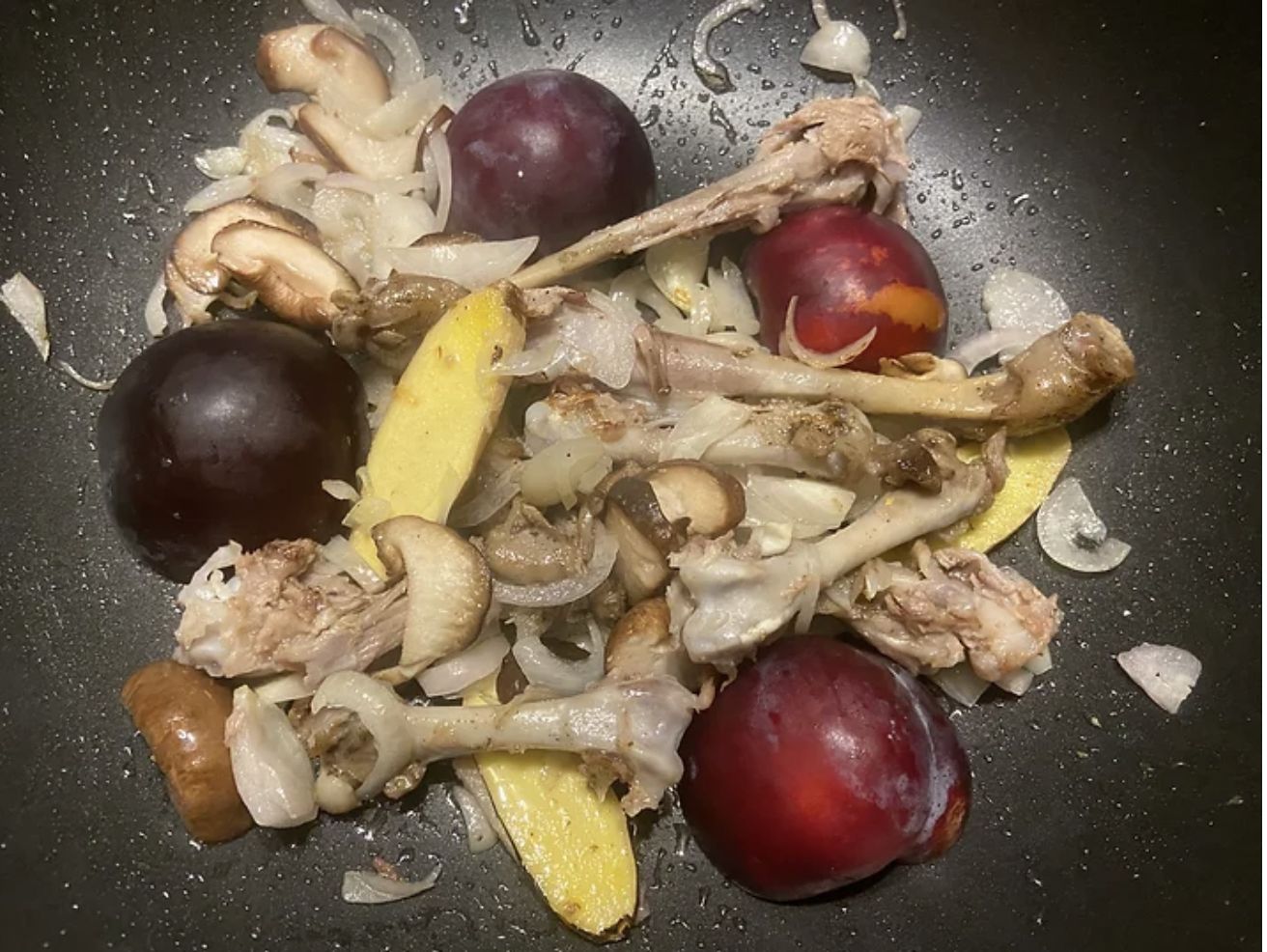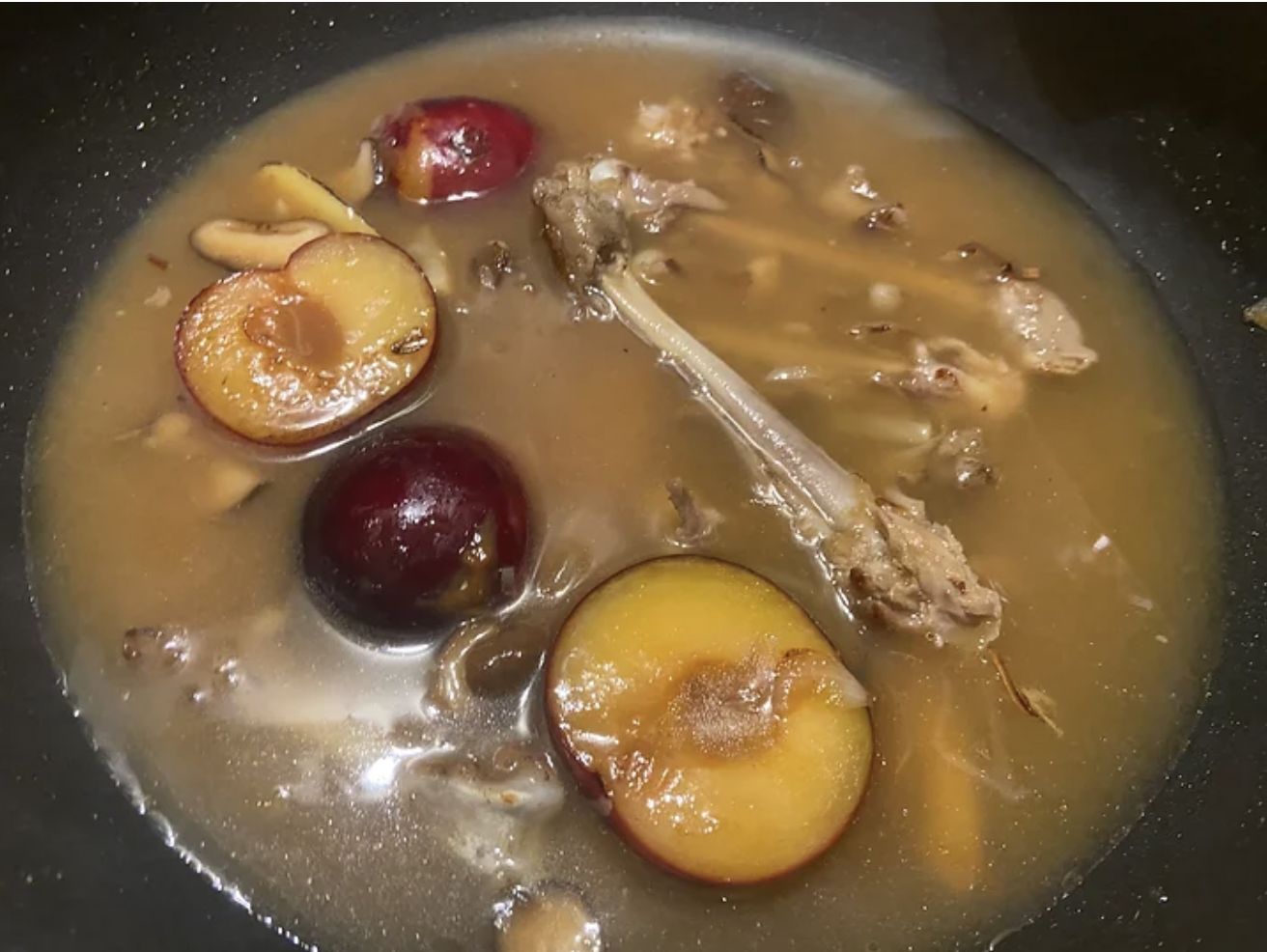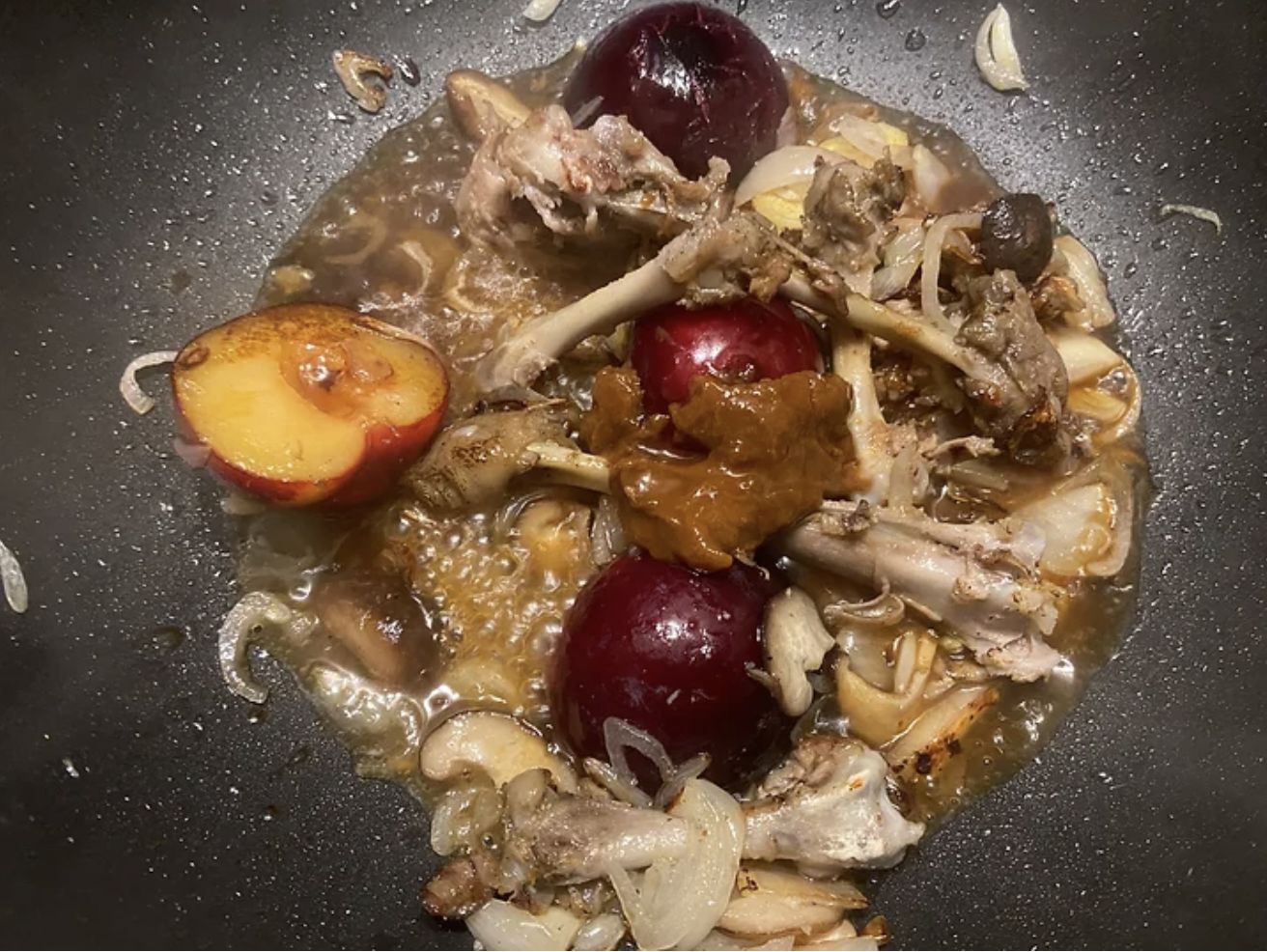 10. When reduced, pass the sauce through a fine sieve into a fresh saucepan. Adjust the seasoning if needed by adding salt or additional sushi vinegar then when happy place onto a low heat to keep the broth warm.
11. All that's left now is to cook the dumplings and to fry a few shiitakes to finish the dish, place a large saucepan onto a high heat then add a drizzle of cooking oil. Place the mandu dumplings in batches flat side down into the pan then fry until the base becomes nice and golden brown. When ready add approximately 150ml of water around the dumplings and place a lid over the top. Allow the dumplings to steam for 8-10 minutes depending on size and when all of the liquid has evaporated they are ready.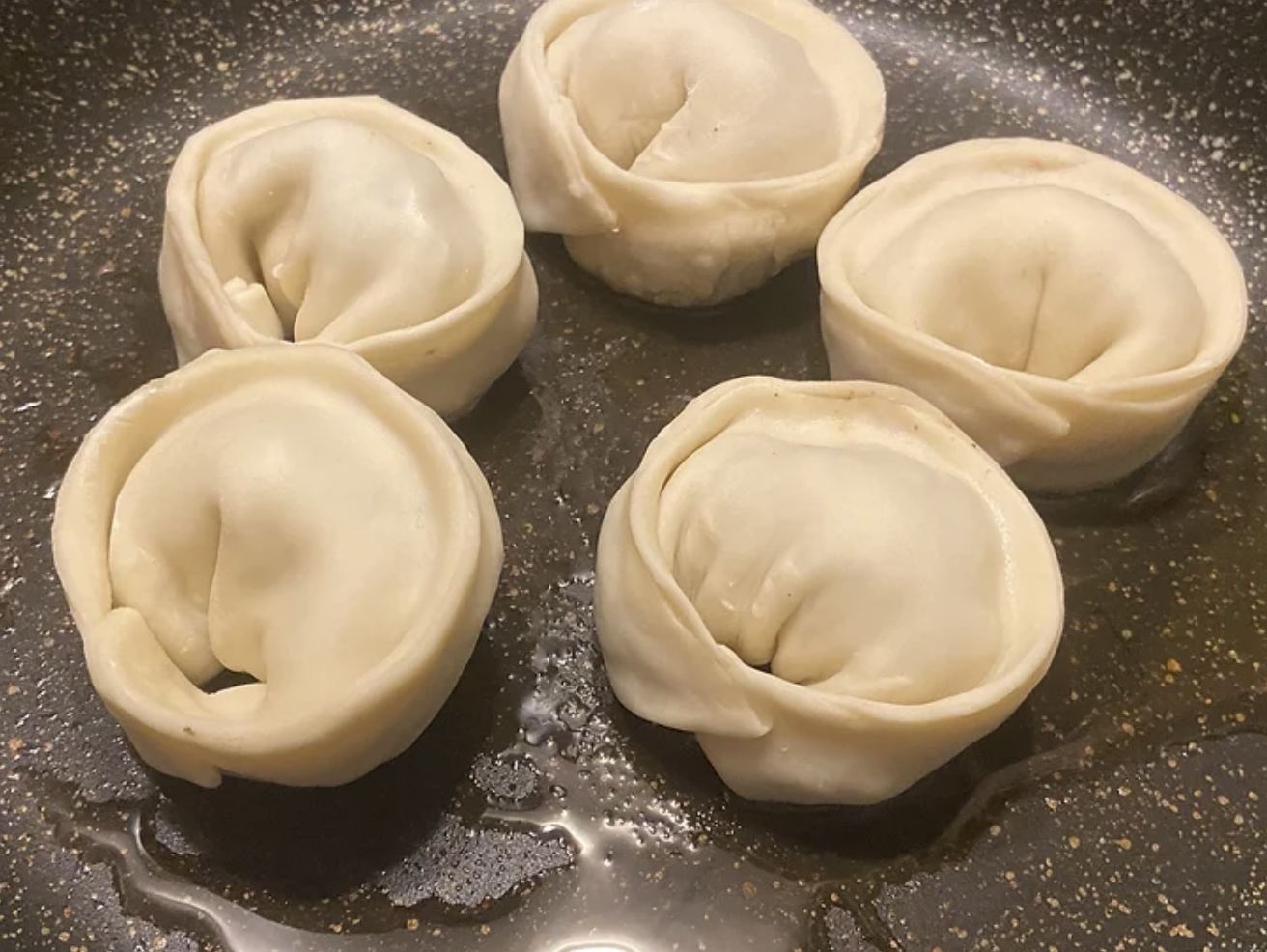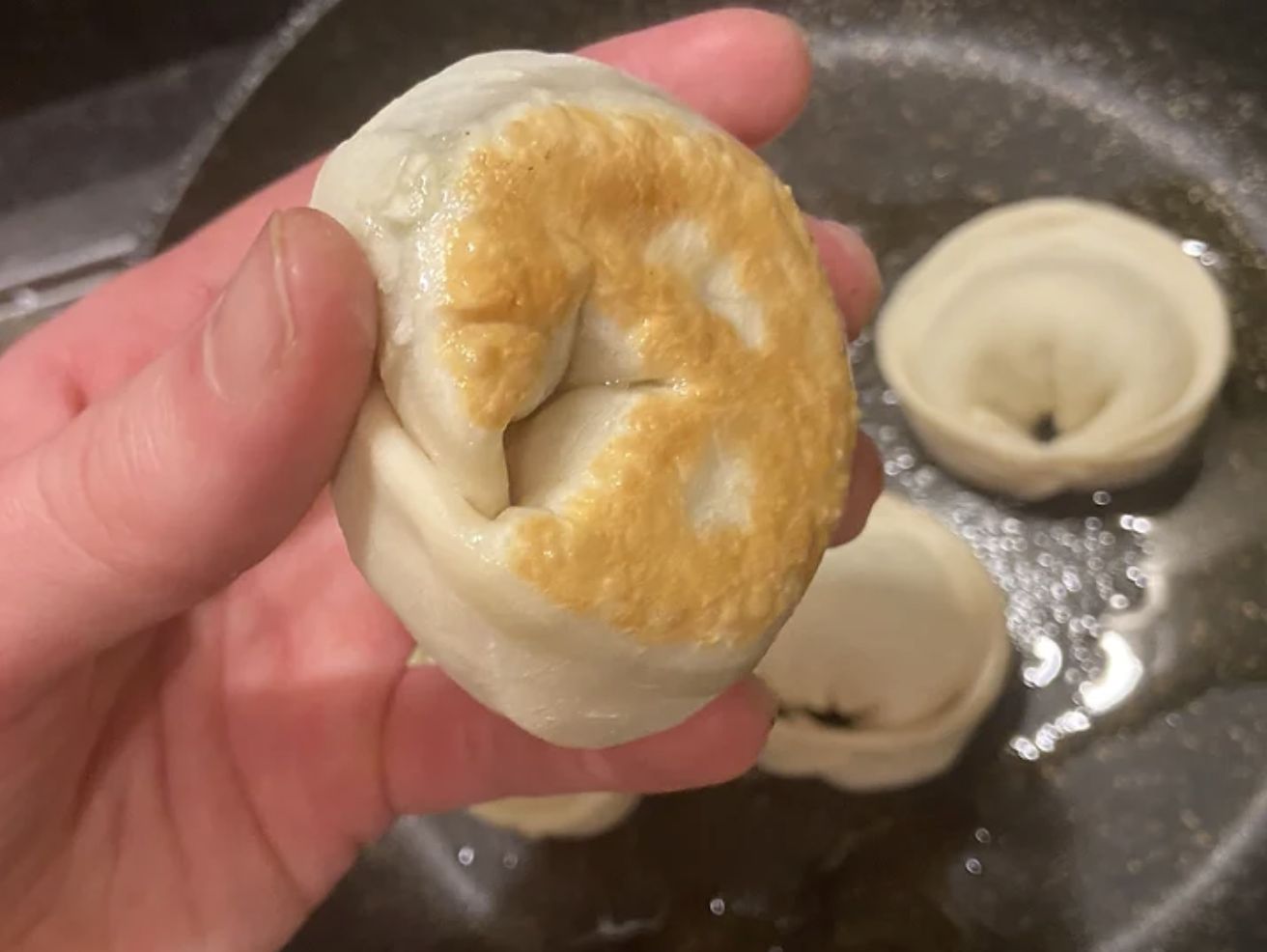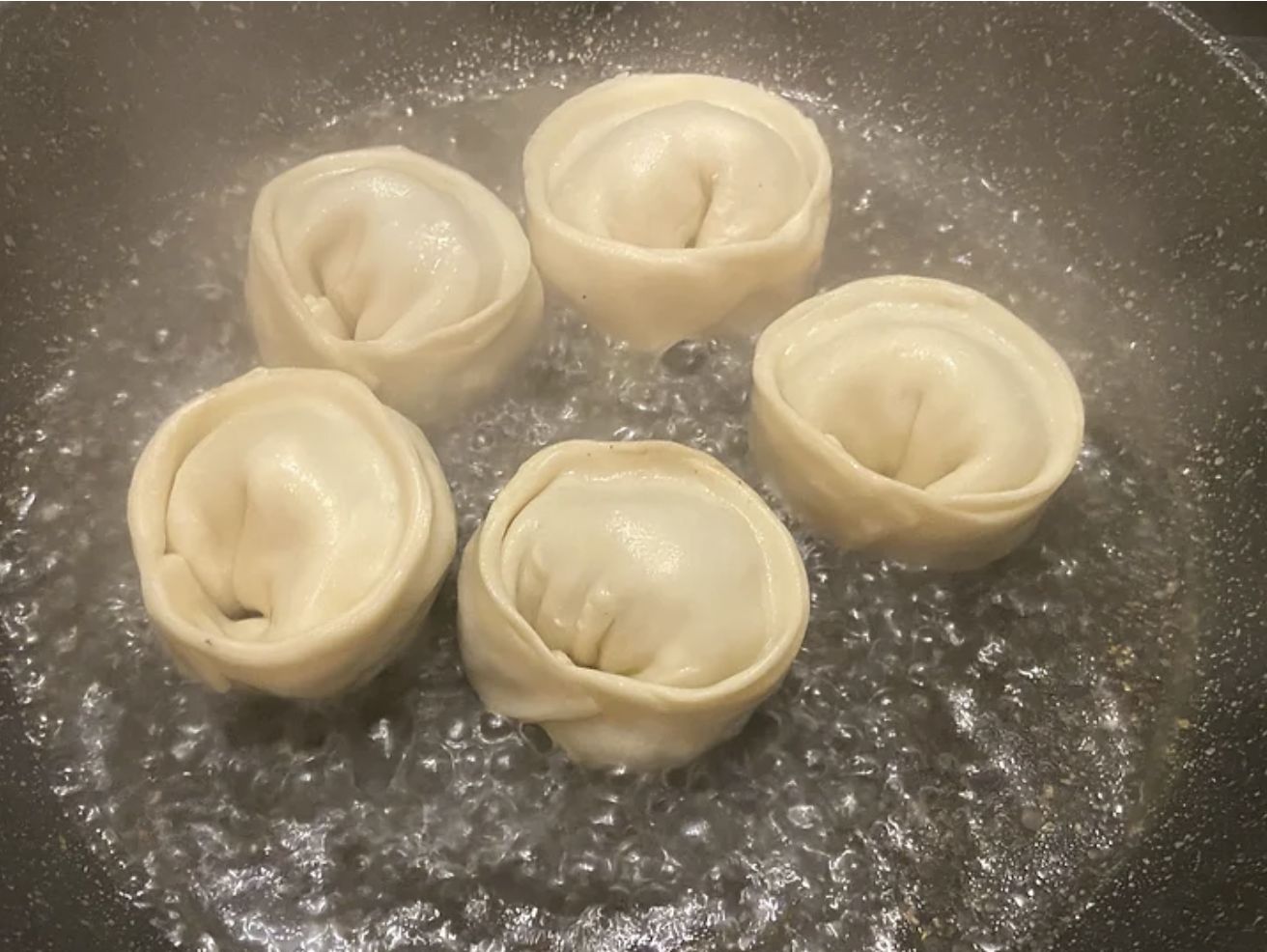 12. Just before we serve optionally we can also saute some shiitake mushrooms either sliced or cut into quarters with a touch of butter until crispy. Lightly season with salt and black pepper then finally slice some green parts of spring onion into a fine julienne then we are now ready to plate up!
13. To serve, add some of the miso, plum broth into bowls then add as many mandu as you like on top of the broth. I found two mandu of this size is perfect per person, however, depends on size and how hungry you are. Next scatter some shiitakes around the dumpling then finish with some sliced spring onion and a small drizzle of olive oil to balance out the broth. Have fun making mandu and I'm sure you will love this dish!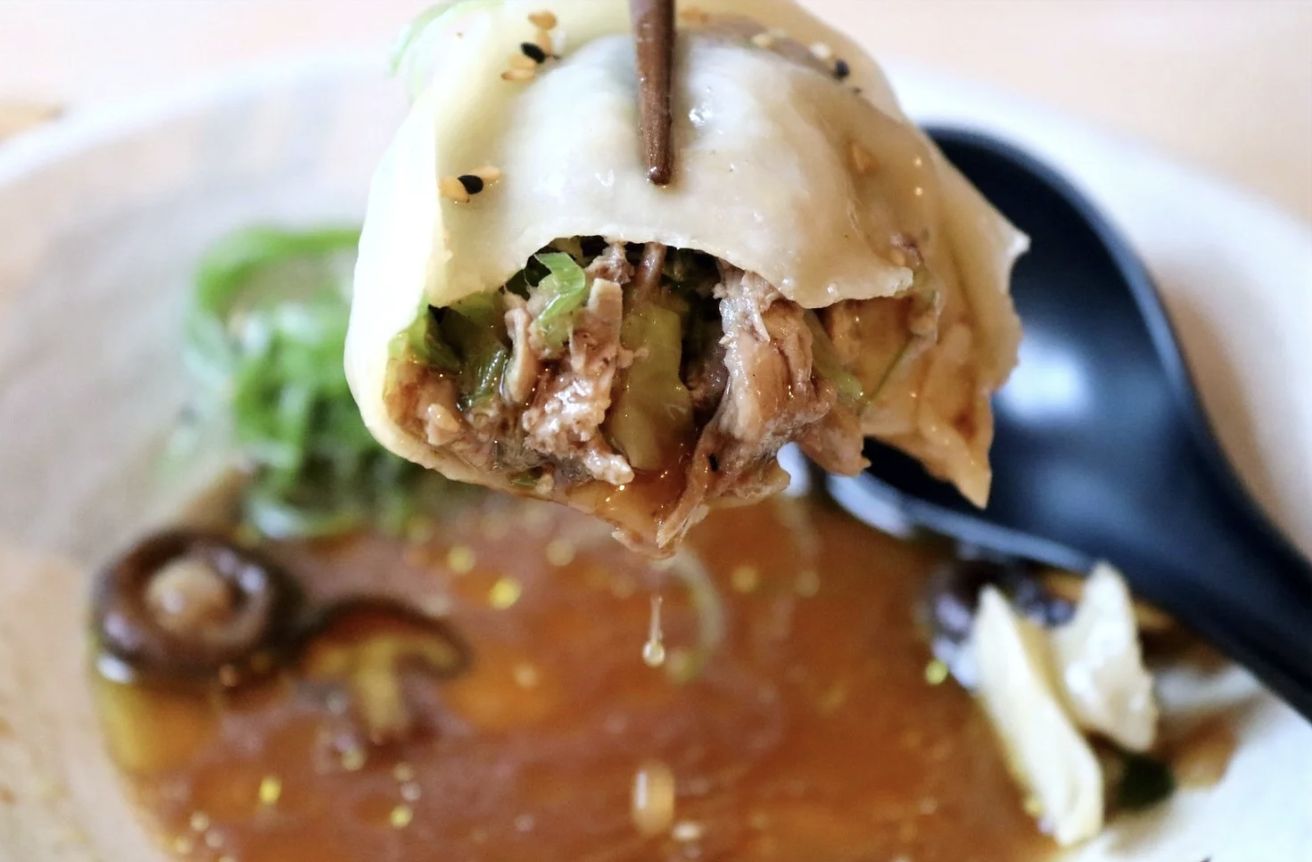 Take as you please for this recipe, whether it only be on how to make mandu dumplings or even just how to confit. I'm sure with these base techniques you can create something delicious! As for the sauce, alternatively, instead of a miso sauce then you could also use a vinegar or chilli oil-based sauce which will also work really well. I hope you like the recipe and as always peace!
Prep Time 2 hours / Total Cook Time 2 hours 30 minutes
390g dumpling flour or high protein flour
Miso Broth and additional ingredients:
duck leg bones from confit
1-2 tbsp sushi vinegar or rice vinegar
shiitakes to serve (optional)