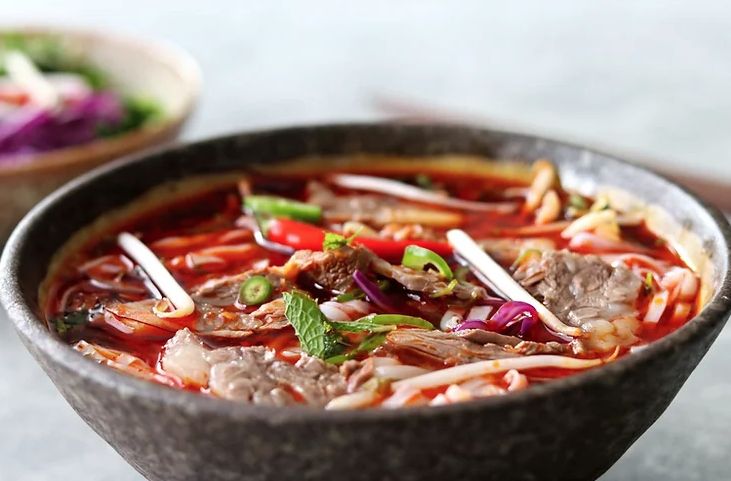 Bun Bo Hue is a classic Vietnamese broth from Hue. This broth is underrated in my opinion as Pho gets all the love internationally but I think Bun Bo Hue may be slightly better!? Spicy, sweet and savoury are the key flavour profiles when making this broth with a delicious and complex base. Usually Bun Bo Hue has many toppings that includes porks blood, Vietnamese ham, pigs trotters and also thinly sliced braised beef. I personally don't think this dish needs that much, therefore for this recipe I only use beef bones and boiling beef to form the base of the stock. I prefer making it this way as you achieve a lighter yet still extremely fragrant broth. With all that said let's jump straight to it!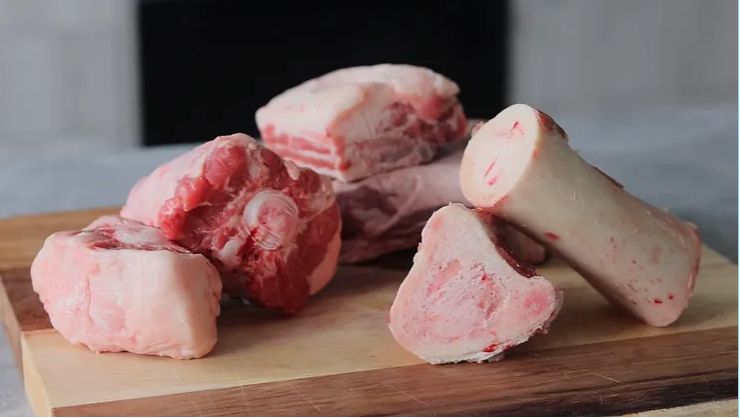 1. Let's start with making the base for the broth as this will need around 4 hours of cooking time. In order to create a clear broth we need to firstly blanch the bones to clean and dispose of any impurities. Place 1kg of beef marrowbone, 1kg short rib and 750g oxtail into a large deep pan then fill with cold water. Place onto a high heat and bring to a boil. When boiling, boil for a further 20-25 minutes or until all of the impurities rise to the top of the pan.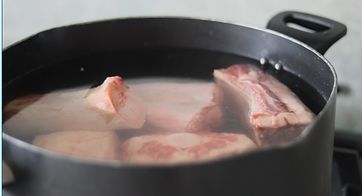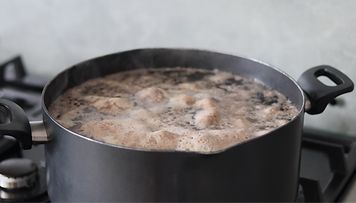 2. When the water looks like the image just above, drain then clean the bones, oxtail and shortrib as best as you can under cold running water. When clean add to a fresh pan and fill completely with fresh water again. Place onto a high heat and bring the pot back up to a boil. When boiling turn the heat down to a medium low heat and simmer.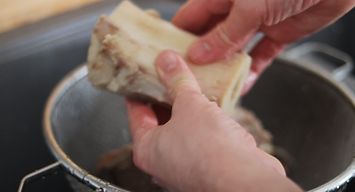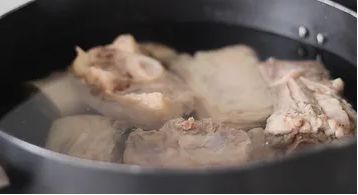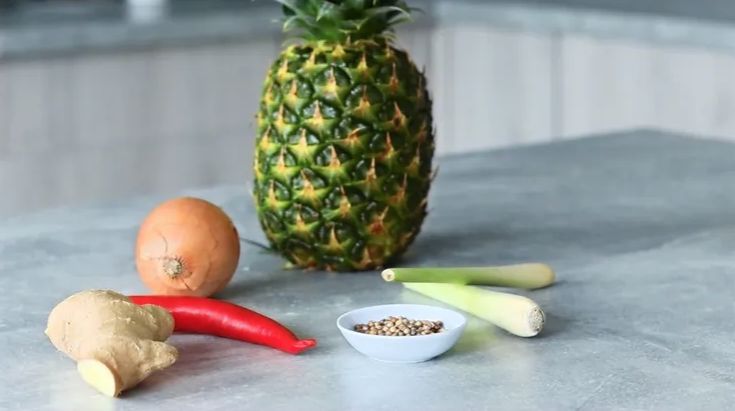 3. To make the broth more aromatic and to add a depth of flavour we now want to incorporate the aromatics. Start by toasting 75g of ginger on a naked flame until completely charred. Next also char 1 whole red chilli also until fragrant. To prepare the aromatics, peel and slice the charred ginger, slice the charred red chilli into half, feel and roughly slice 1/2 pineapple, peel 1 white onion and place 2 tbsps of toasted coriander seed into a small tea strainer or small spice bag. Add all of the aromatics to the broth along with a good 2-3 tbsps of salt and 2 tbsps of rock sugar or 1 tbsp of white sugar. When added allow the broth to simmer for 2 1/2 hours.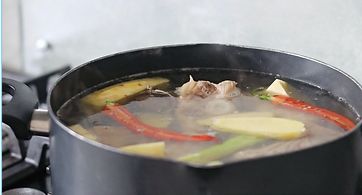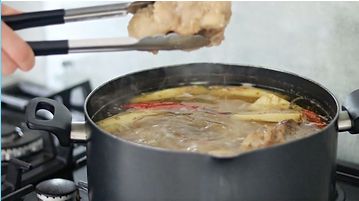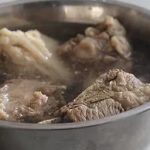 4. After 2 1/2 hours of the broth simmering we now want to remove just the shortrib and oxtail from the broth, as at this point they should be cooked just enough so they are extremely tender but not overcooked to the point where they will break apart when we slice them. Now removed from the broth, chill the shortrib and oxtail uni a bowl of iced cold water as this will not only stop the cooking process but also prevent the meat from browning. Store in the refrigerator and allow to completely chill. When ready, remove the bone from shortrib then slice thinly and for the oxtail simply pull from the bone. Set the meat to one side and we can move onto preparing the rest of the broth.
5. Now onto the satay, this is what will give the broth its colour, spice and even more aroma. Begin by bruising then finely chopping 2 lemongrass stalks and mincing 4 garlic cloves. Add the lemongrass and garlic to a pan with approximately 3-5 tbsp of cooking oil then fry on a medium heat until nice and fragrant. When ready, add 2 tbsp chilli powder, 2 tbsp paprika, 1 tsp ginger powder, 1 tsp onion powder and 1 tsp garlic powder then turn the heat down to low. Cook out the satay for 5 minutes whilst constantly stirring to prevent from catching. If the satay becomes too dry then add a small amount of water.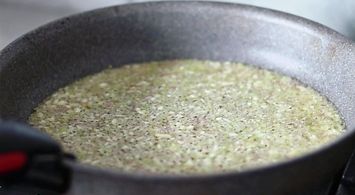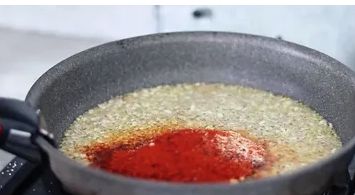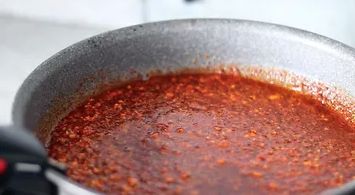 6. We now want to add all of the satay into the broth, before we add the satay we can remove ginger, onion, lemongrass and chilli from the broth as its purpose is now done. I personally prefer to leave the pineapple in the broth as this seems to only intensify the flavour the longer kept in. Now, add the satay and stir to incorporate into the broth removing any scum that may rise to the top. Add additional salt if needed and season the broth with fish sauce and allow the broth to simmer for a further 1 hour or so to allow the broth to mingle with the satay. Now that everything is pretty much set all that's left is to cook the rice noodles and prepare a few herbs to serve.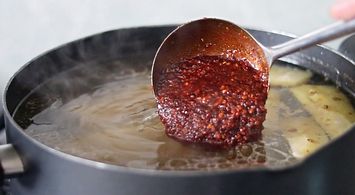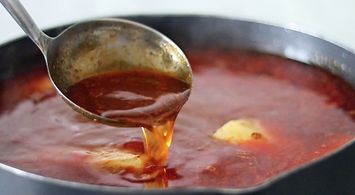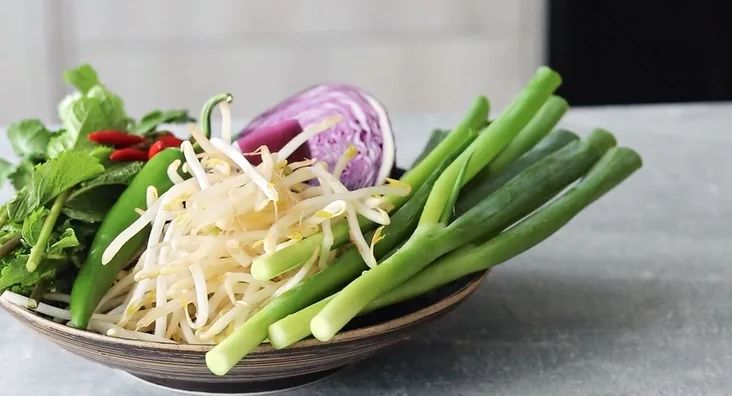 7. For the rice noodles add to a pan of boiling water and cook for 3-5 minutes or the amount of time the packet suggests. We want to cook the noodles to the point where they are just under cooked as they will continue to cook when we add the hot broth at the end. When ready drain from the boiling water and refresh under cold running water until chilled. This will give the rice noodles a more bouncy and sticky texture. When ready place the cooked rice noodles to one side.
8. Finally all that's left is to prep the herbs, I like to build up a big plate of herbs and serve family style when I serve the broth. Begin by washing and picking a bunch of mint, coriander and beansprouts then finely slice 1/2 red cabbage, finely chop 1/2 red onion, 1 green chilli and slice 4 spring onions. Place all the herbs and vegetables onto a serving plate and we are good to go.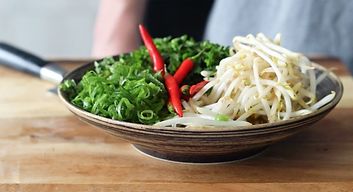 9. To serve the bowls begin by turning the broth onto a high heat and bring up to a boil to heat. Check the seasoning and if needed add more sugar for sweet or fish sauce for salty. To build up the bowls start with a hand full of rice noodles then lay over some of the sliced beef. Place over some of the herbs then generously ladle over the broth. Finish with a squeeze of fresh lime and some chilli and nourish! Hope you like this beautiful bowl of bun bo hue!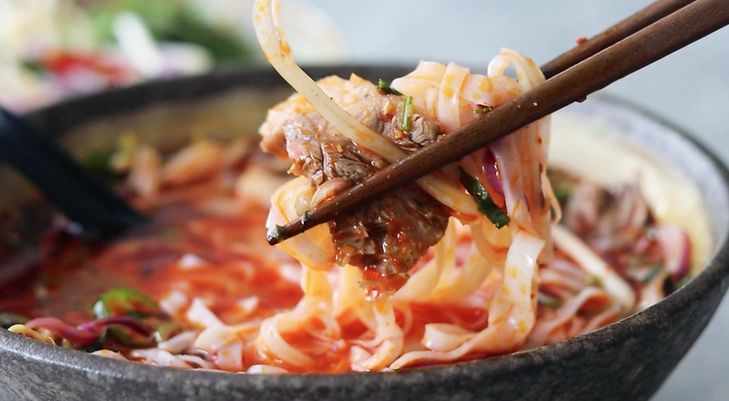 Traditionally bun bo hue consists of Vietnamese ham, braised pork trotters and pigs blood as well as beef so feel free if you want to add those to this recipe also if you can find them. The broth is also quite heavy on adding shrimp paste however, when I tried the broth I felt I did not need shrimp paste as I got that funky umami through the fish sauce alone. Have fun making bun bo hue and I promise if you haven't tried it yet then you are missing out!
To make 4-5 bowls
Broth base:
1kg beef marrowbone
1kg beef short rib
750g oxtail
1/2 pineapple
1 white onion
2 lemongrass stalks
75g ginger
1 medium sized red chilli
2 tbsp coriander seed
2 tbsp rock sugar
4-5 tbsp salt (seasoning)
fish sauce (seasoning)
Satay:
2 lemongrass stalks
4 garlic cloves
2 tbsp mild chilli powder
2 tbsp paprika
1 tsp garlic powder
1 tsp ginger powder
1 tsp onion powder
3-5 tbsp cooking oil
Herbs and Toppings:
400g pho rice noodles
red or green chillies (optional)
1 bunch coriander
1 bunch mint
4 spring onions
100g beansprouts
1/2 red cabbage
1/2 red onion
1 lime