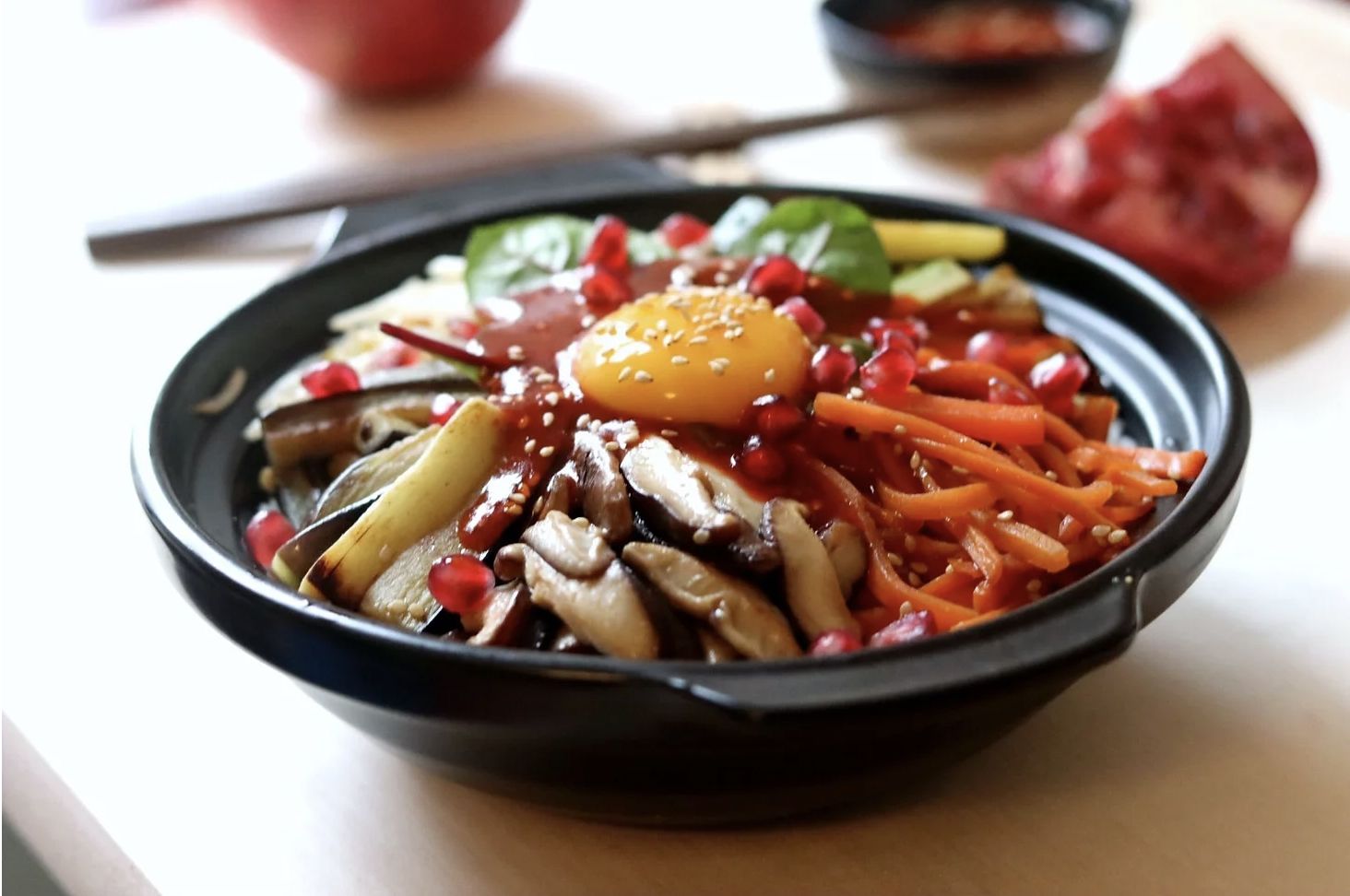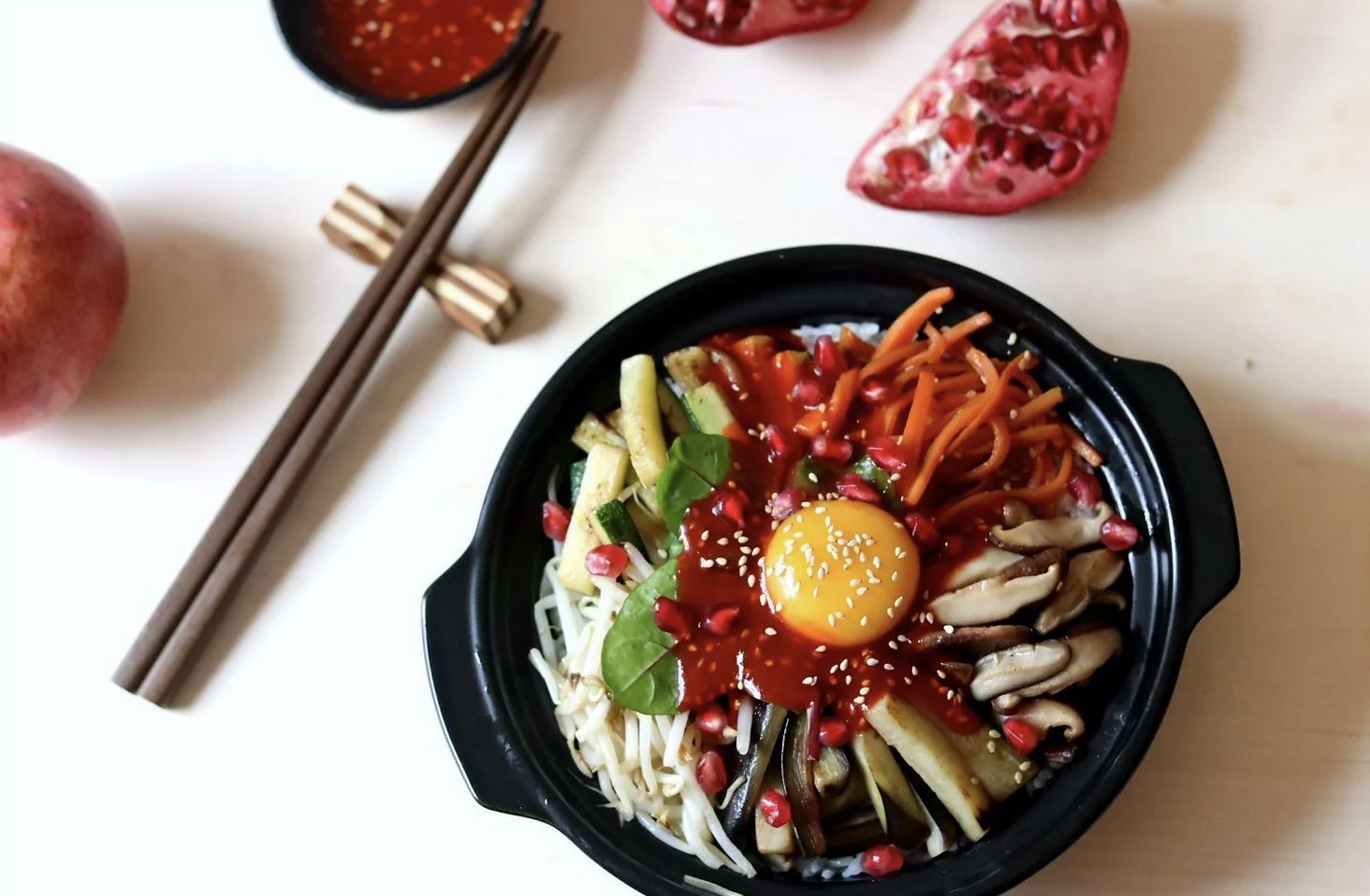 Bibimbap! What can I say a classic Korean dish that is incredibly easy to make yet so delicious? Instead of a traditional bibimbap, I decided to use fresh pomegranate and pomegranate molasses to compliment the spicy gochujang bibimbap sauce. This dish is spicy, salty and sweet giving it a pleasant balance of flavour. As for what ingredients to go into the dish I thought I would keep it nice and simple by using only vegetables. The idea of the dish is that we achieve a nice crispy rice on the bottom of the dish that will add another layer of texture! Bibimbap let's get it!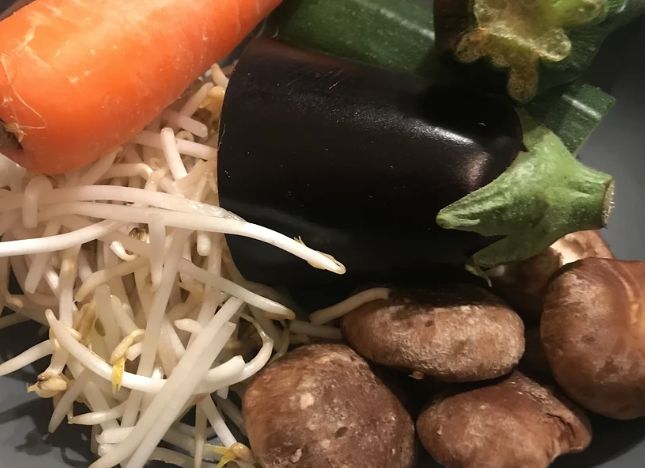 1. Start with the vegetable prep, this is a good excuse to work on those knife skills. Slice 1 carrot into a fine julienne, cut the aubergine and courgette into bite sized batons, cut the shiitake into slices and wash the beansprouts.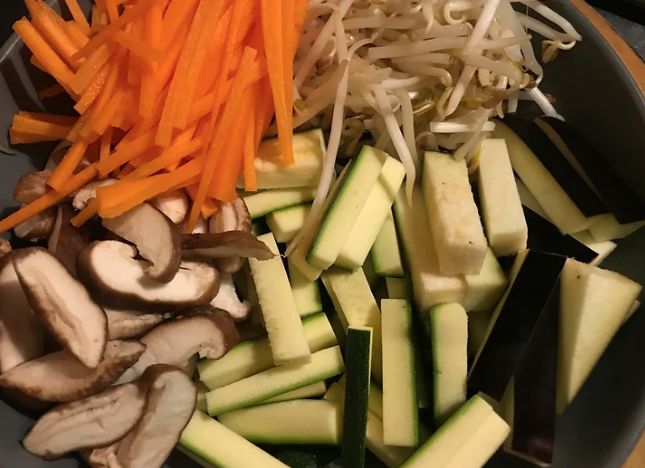 2. When all of the vegetables are prepared we want to part cook each vegetable individually. For the aubergine add to a hot pan with a drizzle of oil. Fry until lightly golden brown then season with a pinch of salt. When ready place to one side in a bowl. For the courgette and shiitake cook in the exact same way as the aubergine again lightly seasoning with salt. Cook each vegetable separately each time. As for the carrot fry again in a pan with a drizzle of oil. When softened, this time add a pinch of sugar, light soy, sesame seeds and a touch of water to prevent from burning. Finally briefly fry the beansprouts with a drizzle of oil and a pinch of salt. Keep all the cooked vegetables separate on a plate and pop to one side for now.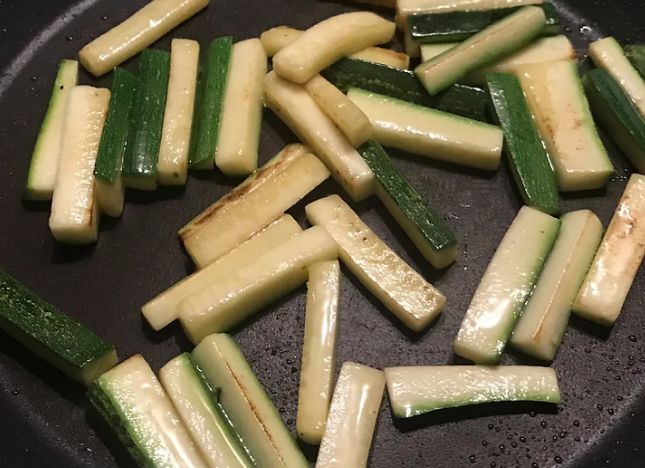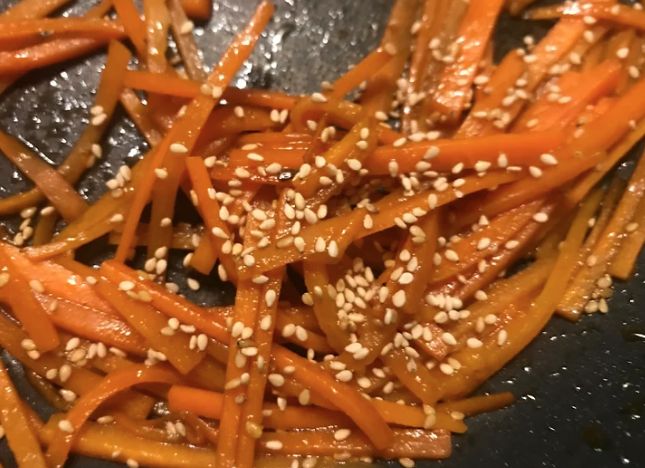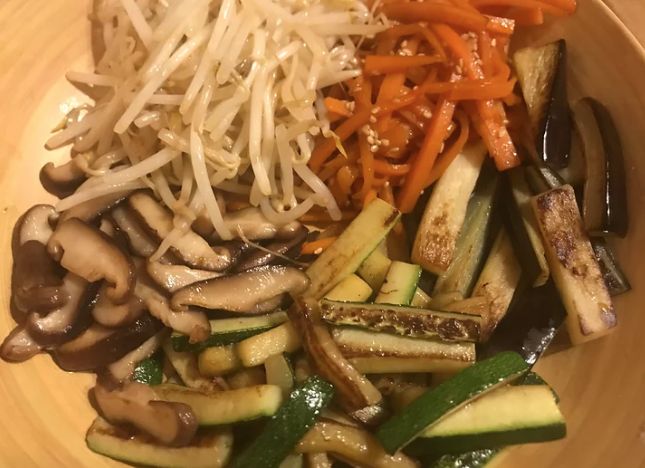 3. Let's move onto the rice, Ideally for this dish you would use a dolsot pot but for this recipe I used a claypot. If neither of these is an option then a pan with a lid would also be ok to use. Firstly add a drizzle of sesame oil to the pot then add 2 finely chopped garlic cloves and fry on a low heat until fragrant. Then wash 170g (1 cup) of short grain rice under cold running water then drain and add to the pot. Cover the rice with approximately 300ml of water then cover the pot with a lid. Turn the heat up to medium high and cook the rice for 20minutes or until all of the water is evaporated and the rice is cooked.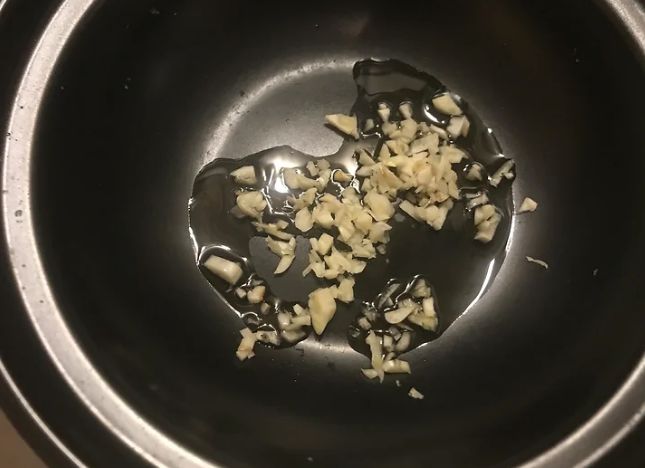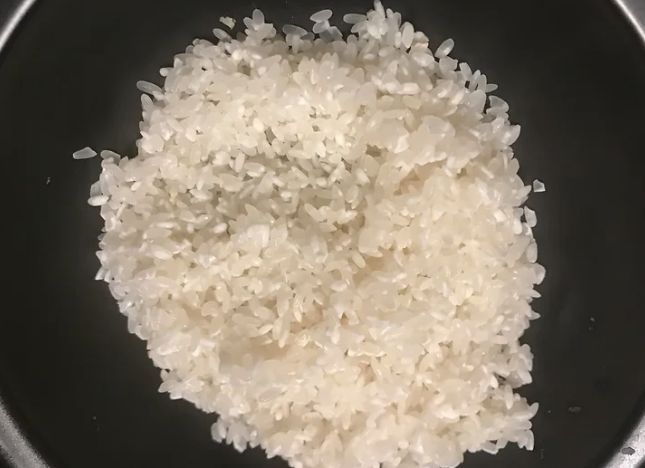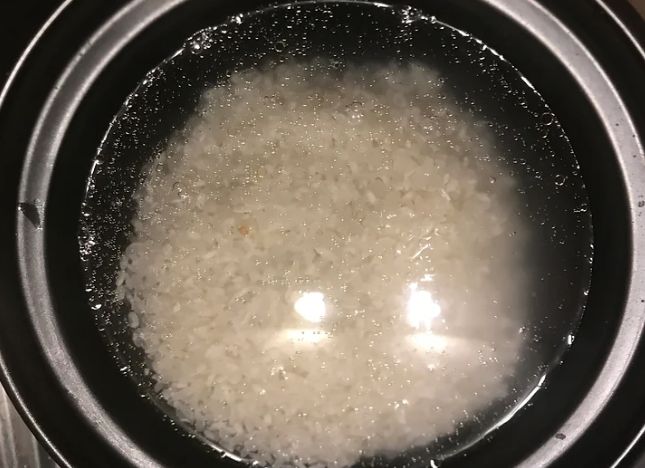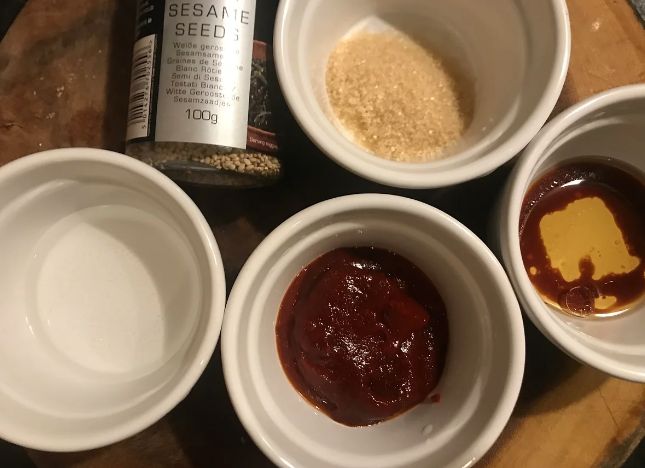 4. To make the sauce in a bowl simply add 3 tbsp gochujang sauce, 1 tsp pomegranate molasses, 1 tbsp sesame oil, 1 tsp brown sugar, 1 tsp rice vinegar a drop of water and some toasted sesame seeds. Mix well then place the sauce to one side.
5. At this stage the rice should be cooked and hopefully started to catch at the bottom of the pan giving us a crispy crust. Remove the lid then drizzle a little sesame oil over the top of the rice then place and arrange the cooked vegetables on top. Place the lid back for 2-3 minutes to warm through the vegetables. At this point the rice should be quite dry, if not, further cook until dry. If the rice hasn't begun to catch on the bottom then turn the heat to high and drizzle a small amount of oil around the side of the pot.
6. Now to serve, open up the lid then place some red chard or leaves into he centre of the pot. Place a decent spoonful of the bibimbap sauce over the top then place a raw egg yolk over the sauce. Finish with some fresh pomegranate and toasted sesame seeds. Best way to eat is to give everything a good mix and nourish! Hope you like this recipe!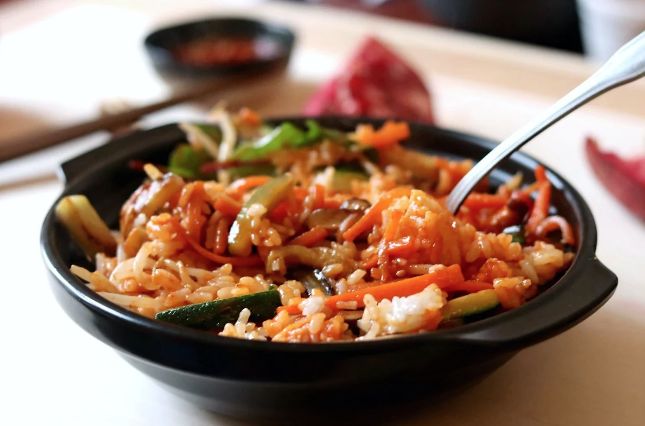 To make this dish completely vegan then quite simply leave out the raw egg yolk. This dish is extremely flexible in terms of what other ingredients to add. You can add tofu, meats, seafood, other vegetables or herbs. Traditionally this dish does not contain pomegranate although it does work great with gochujang. If you wanted to make it more traditional replace the molasses with light soy. Have fun with this recipe I'm sure you will get addicted to bibimbap if you haven't tried it yet!
red chard leaves (optional)
1 tsp pomegranate molasses
1 tsp toasted sesame seeds