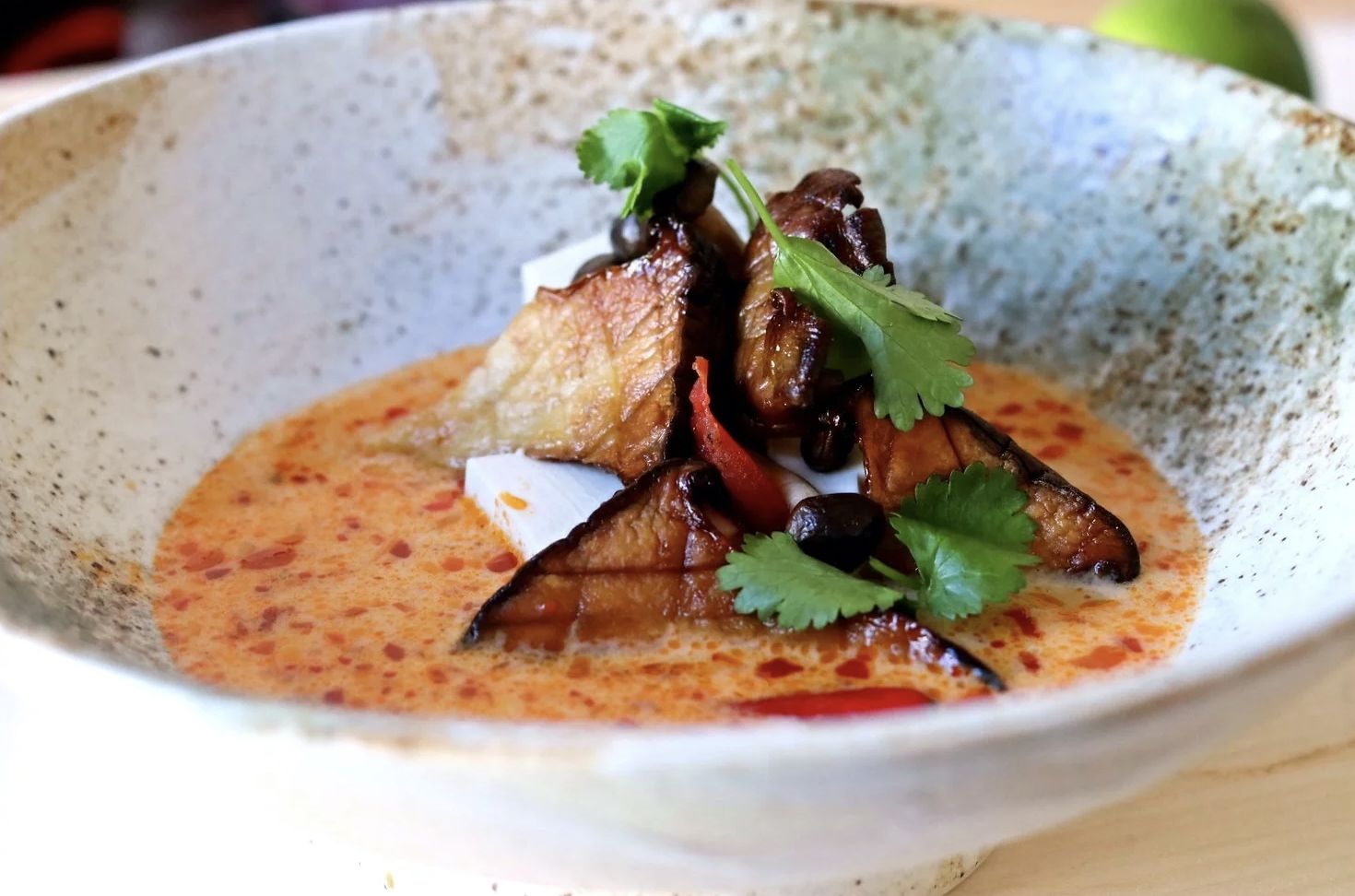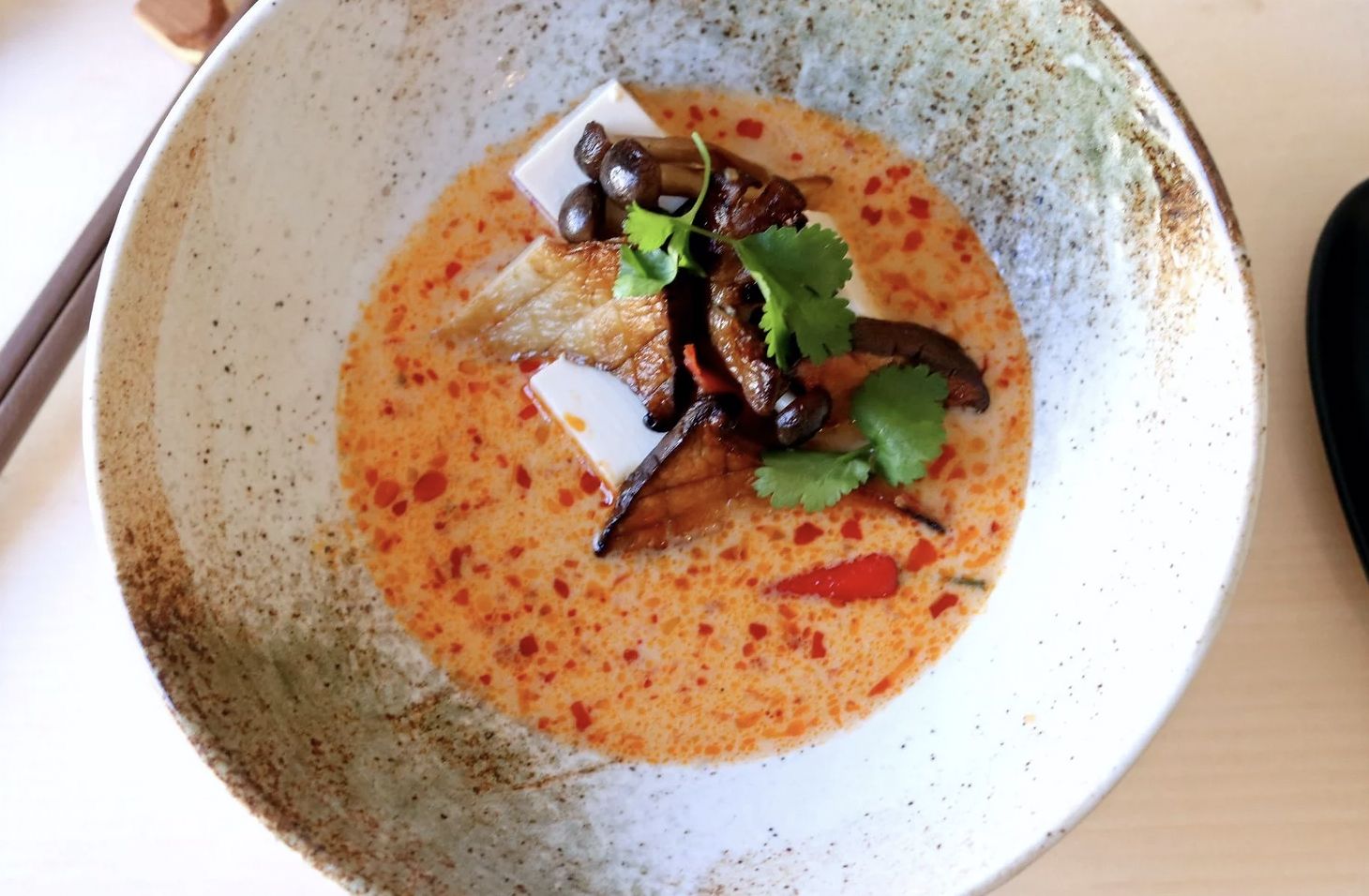 Tom Yum is Thai cooking 101, the aromas of the broth should be spicy, salty and sour. For this recipe, I wanted to create a completely vegan version as I feel when something like Tom Yum is packed full of flavour you do not need to add too much. I split this recipe up into 3 elements, the broth, salad and the nam prik pao paste. Tom Yum usually extracts umami from fish sauce and shrimp paste, however, being a vegan recipe I managed to replicate this by using sea salt and shitake mushrooms to enhance the umami. This broth is incredibly delicious, healthy and easy to prepare and is a must-try even if you are not vegan. With all that said let's make Tom Yum!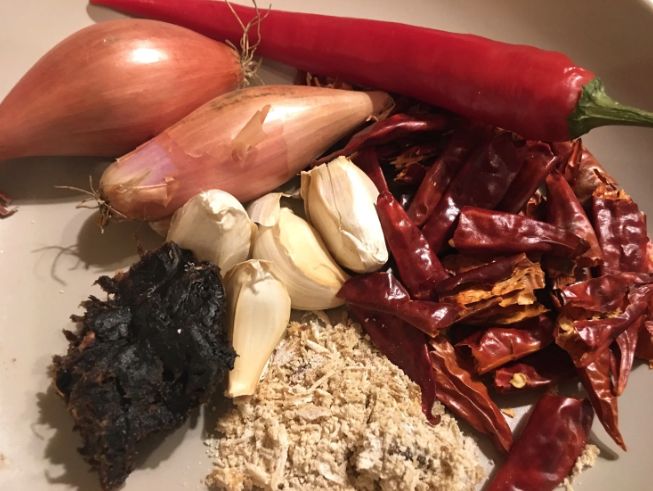 1. Let's start with making nam prik pao, this is the fundamental component to lots of Thai foods. Begin by roughly chopping 2 peeled shallots and crushing 4 peeled garlic cloves. When ready add to a dry pan and fry until fragrant and golden brown. Next deseed 25g of dried red chillies and deseed 1 fresh red chilli. Add the chillies to a food processor and lightly pulse until the chillies are slightly broken down. Now add the toasted shallots and garlic to the chilli and pulse all together until a fine paste.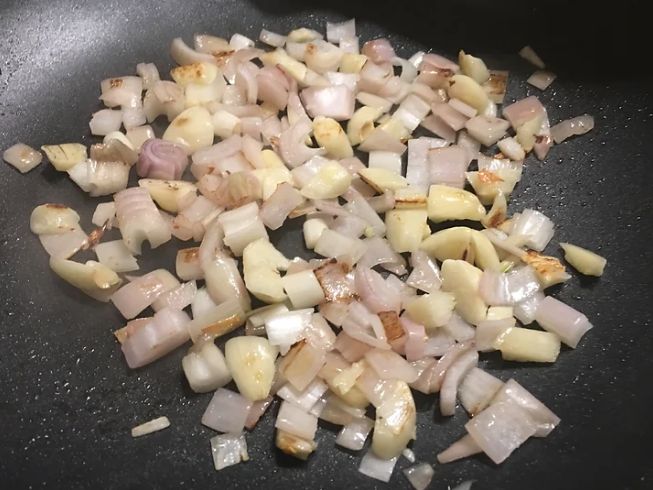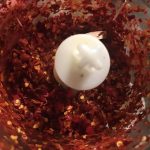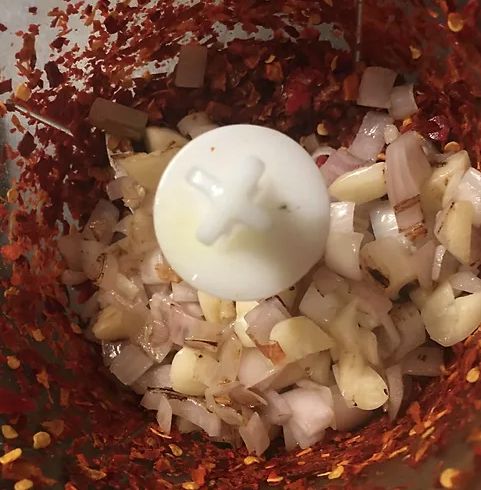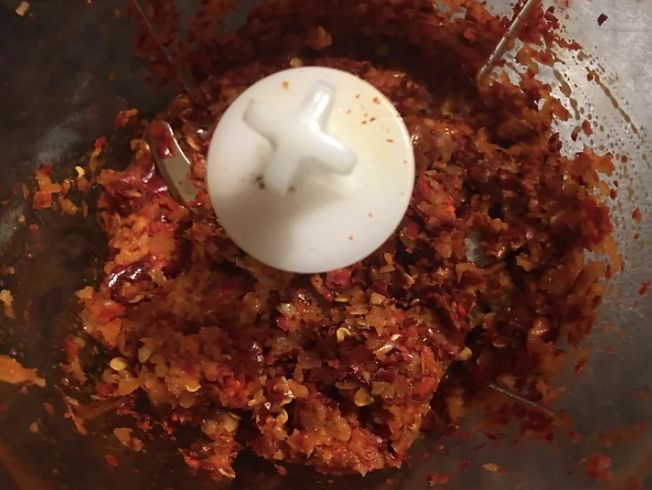 2. To bring the paste to life add a generous 50ml of cooking oil to a pan and place onto a medium to low heat. Add the paste and lightly fry for 10 minutes whilst constantly stirring to prevent from burning. After 10 minutes of cooking the paste should have now become slightly darker and more fragrant. Now add 3 tbsp of shaved palm sugar, 1 1/2 tsp salt and the juice from 5g of tamarind pulp. (Dilute the tamarind pulp in a little hot water to create the juice). Mix well and adjust the seasoning by adding more salt or palm sugar if needed. Reduce the paste until slightly thicker and everything is combined, then when all is ready place into a bowl and set to one side to cool. This paste can be kept for a month and I usually make it in batches for other recipes!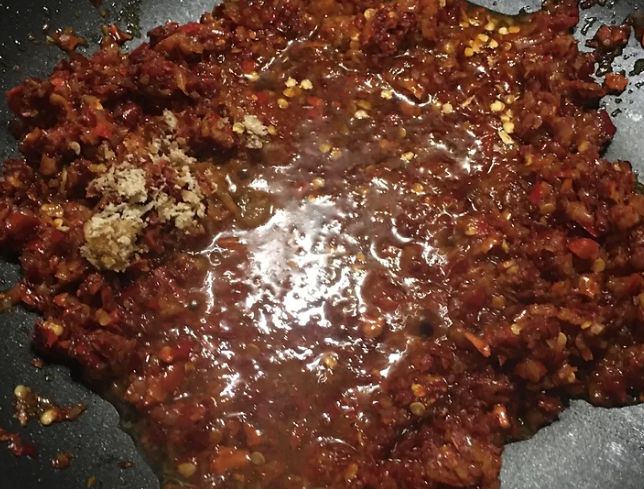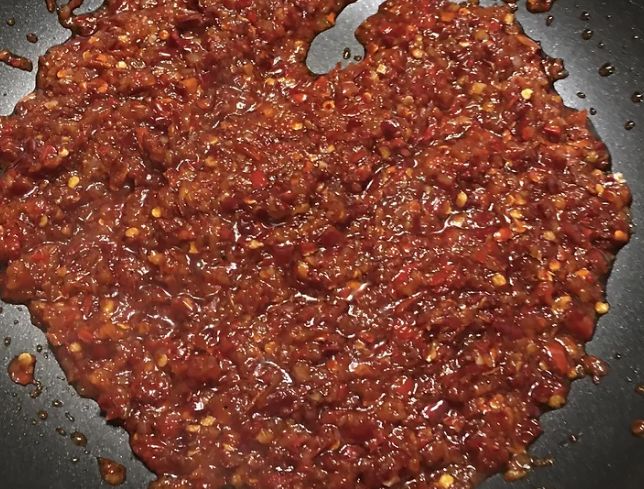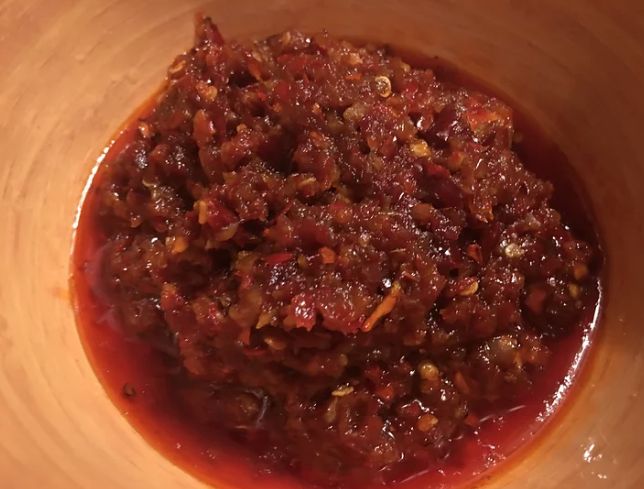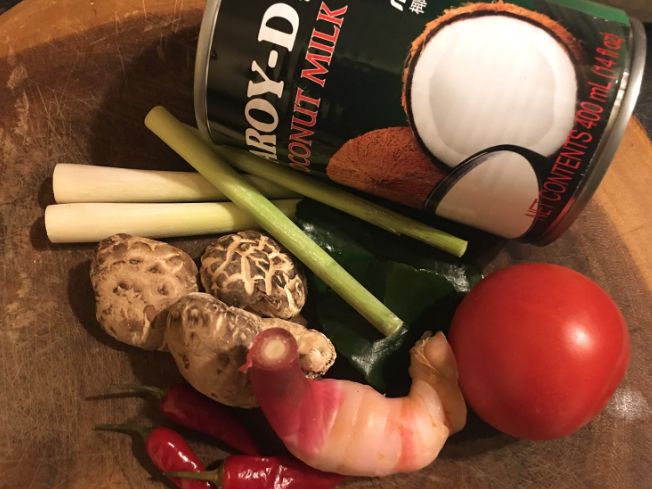 3. Now we have made nam prik pao we can now move onto making the core of the broth itself. Add1.5ml of water to a pan and place onto a medium heat. To transform the water into something special, bruise and add 2 lemongrass stalks, 1 tomato cut into 4, 4 dried shiitake mushrooms, 4 small Birdseye chillies, a roughly sliced 6cm piece of galangal or ginger, 5 ripped kafir lime leaves and pinch of salt. Allow everything to simmer for 45minutes on a medium heat so that all of the aromats infuse. We will come back to the broth at the end of the recipe to incorporate the nam prik pao and coconut milk.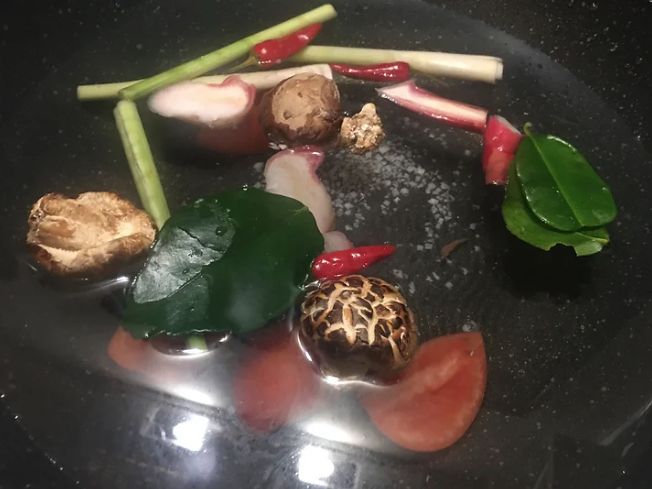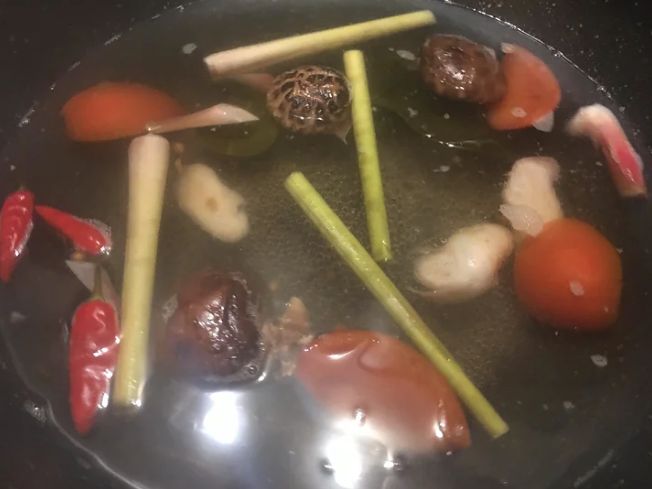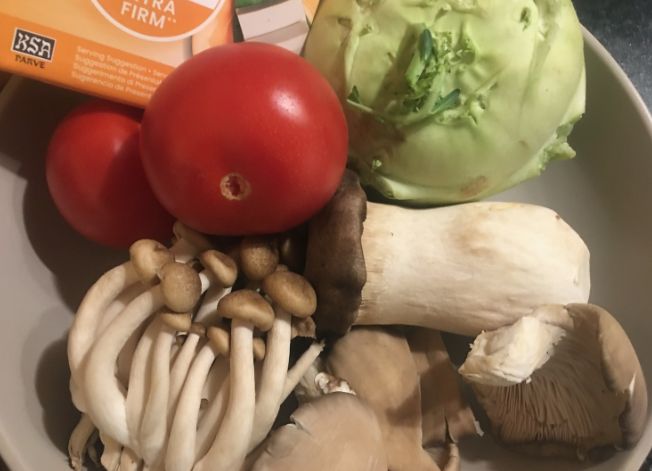 4. Whilst we are waiting on the broth to infuse lets prepare the vegetables. Unlike a usual Tom Yum soup rather than simply adding to the broth we want to cook them separately. This will enable another dynamic by having crispy textures. For the mushrooms slice the king oyster into thick slices lengthways then lightly score into a cross hatch. For the shimeji, tear off into individual mushrooms and for the oysters simply slice into bite sized pieces. We want to keep the mushrooms fairly chunky as they will shrink whilst cooking. For the tomatoes slice into 4 then remove the core leaving only the flesh. If you can manage to find kohlrabi where you live then simply peel the outer skin and slice as thin as possible into small pieces. We will add the kohlrabi raw at the end for freshness and texture. For the tofu simply cut into large cubes, you can either add this as it is or shallow fry until crispy if you prefer. When everything is ready place all the prepped ingredients to one side for now.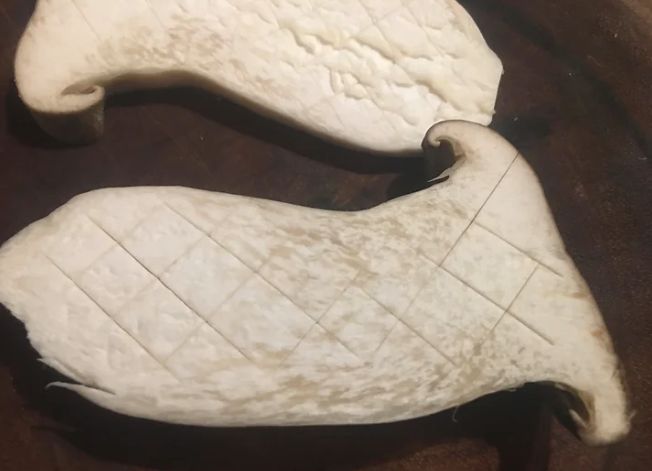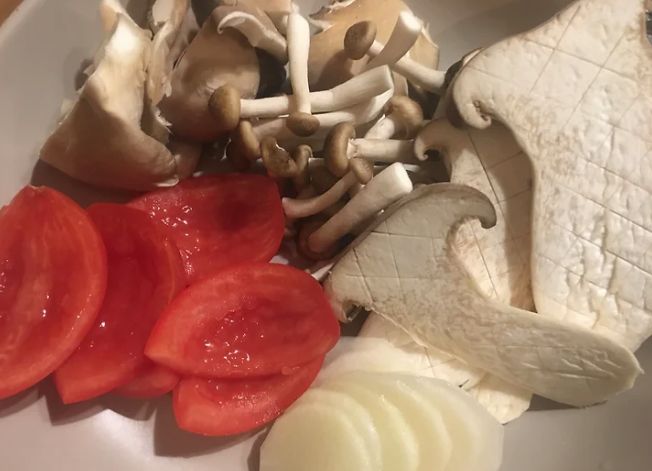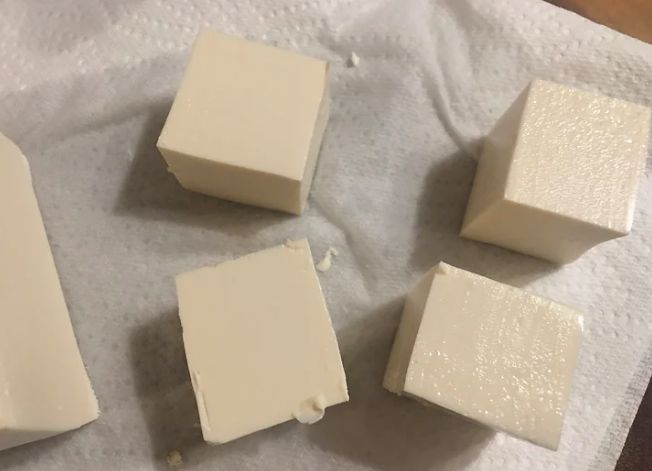 5. Now back to the broth, after a good 45 minutes of infusing we can now bring the broth to life. Add 200ml of coconut milk to the broth and stir well. If you want the soup to be more creamier and mild then add more coconut milk and visa versa. When the coconut milk is incorporated add some of the nam prik pao and mix well. Again depending on how spicy you want the broth to be depends on how much you add. Adjust the seasoning by adding a touch of light soy and salt until satisfied. When ready we are looking for the broth to be spicy, salty and sour. To give the Tom Yum that classic sour taste add the juice of 1or 2 limes then turn the heat down to low and allow to slowly simmer.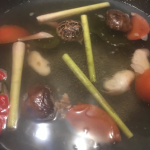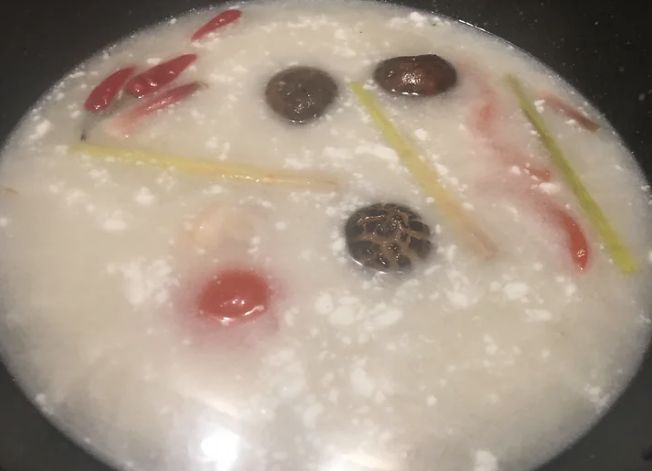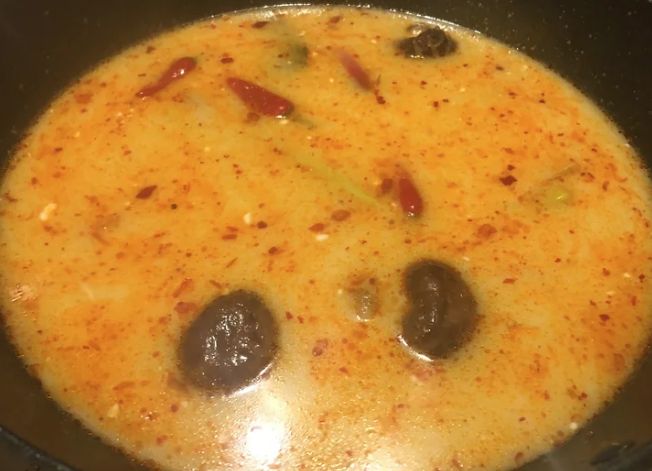 6. Traditionally with Tom Yum you would add the mushrooms, tofu etc raw into the broth at this point to cook through. To add a little more texture and flavour to the mushrooms place a large pan onto a high heat then add a drizzle of oil. Add the king oysters first and fry until golden brown, now add the remaining oyster, shimeji and tomatoes and fry until cooked and crispy. When ready place the mushrooms and tomato onto kitchen paper to drain off any excess oil. Now everything is good to go we are ready to serve.
7. To serve turn the heat on the Tom Yum to high to heat up the broth. Now divide the mushrooms, tomatoes, raw kohlrabi slices and tofu into serving bowls. Ladle over the hot Tom Yum broth and finish with some freshly ripped coriander over the top. Give the Tom Yum a good mix and nourish…Hope you like this simple delicious vegan Tom Yum broth!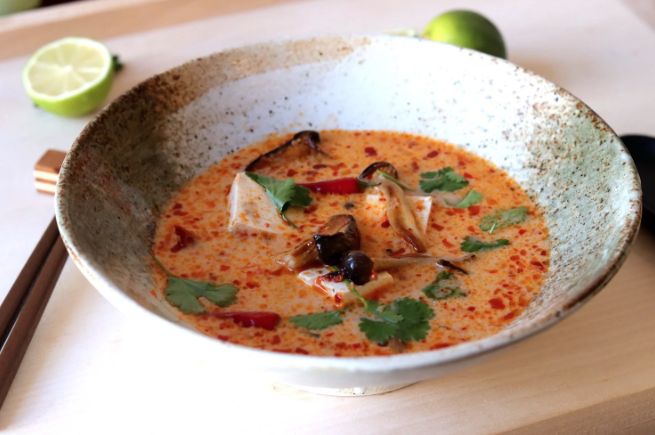 If you really want to get after it with this soup then you could serve it with some freshly cooked rice or add cooked rice noodles towards the end. In terms of seasoning the Tom Yum instead of using mainly salt or soy then you could also use vegan fish sauce to give the Tom Yum that extra umami. Treat this recipe as a base to make a vegan Tom Yum, you can really add whatever vegetables you like, bokchoi, beansprouts, bamboo shoots, various other mushrooms etc…Have fun with this one and even if you are not vegan still give it a try you will be surprised!
6cm piece galangal or ginger
4 dried shiitake mushrooms
4 small birdseye chillies
3 tbsp palm sugar or brown sugar
5g tamarind pulp or concentrate
40g shimeji mushrooms or shiitake