Thai green curry needs very little explanation as its so well-known all over the world. The key to this dish is a really good fresh curry paste. For this recipe, I wanted to make it completely vegan-friendly by replacing the shrimp paste and fish sauce with a vegan fish sauce. This is a great recipe as it's incredibly simple and quick to make yet packed full of flavour. The key to almost all Thai food is that it has to be sweet, salty, and sour therefore those flavour profiles are essential when seasoning the curry. Hopefully, this recipe will get rid of those bizarre curry pastes in a jar and get you always making fresh curry paste. Let's cook!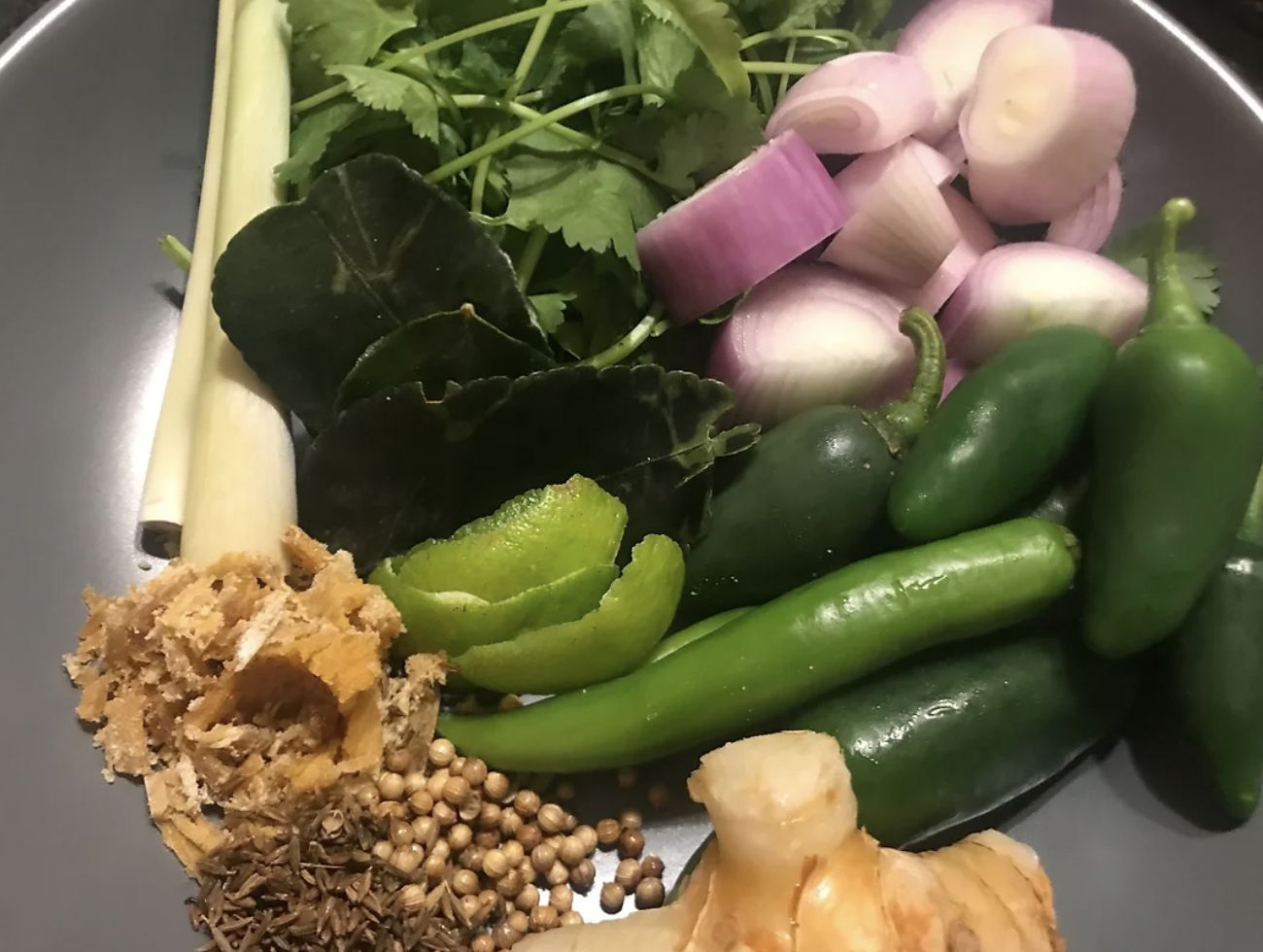 1. Begin by making the curry paste, I decided to make the curry paste the traditional way by using a pestle and mortar, however if easier then you could just use a kitchen blender. The order in which you grind the spices is important as you want to extract as much flavour and aroma as possible. Start by toasting 1/2 tbsp cumin and 1/2 tbsp of coriander seed in a dry pan. When fragrant add to the pestle and mortar then grind until fine.
2. Next add 2 roughly chopped shallots, 4 crushed garlic cloves, 2 chopped lemongrass stalks, 1 tsp turmeric, 1.5 tbsp palm sugar, 5 ripped kafir lime leaves, 1/2 lime zest and a 5cm piece of chopped galangal. Pound again until all of the spices are nicely broken down and aromatic.
3. To finish the curry paste add a bunch of washed chopped coriander, 6 roughly chopped green chillis, and 2 tbsps of vegan fish sauce. Pound the paste until all ingredients are broken down and a fine green curry paste is formed. (If you want to make the paste mild then remove the seeds in the chillis before adding to the paste). When the paste is ready, add to a bowl and place to one side leaving 1/4 of the paste in a separate bowl to cook with the vegetables.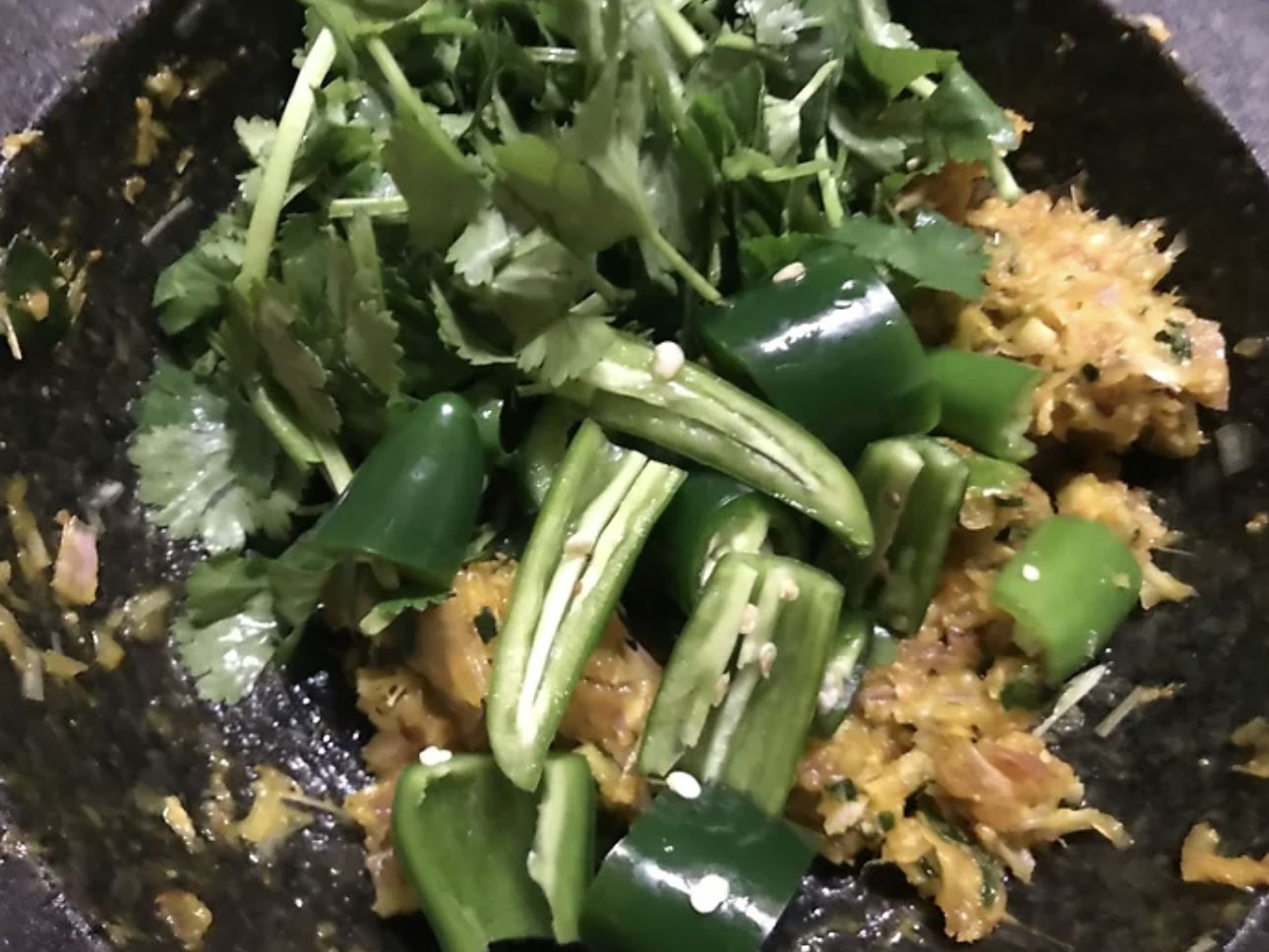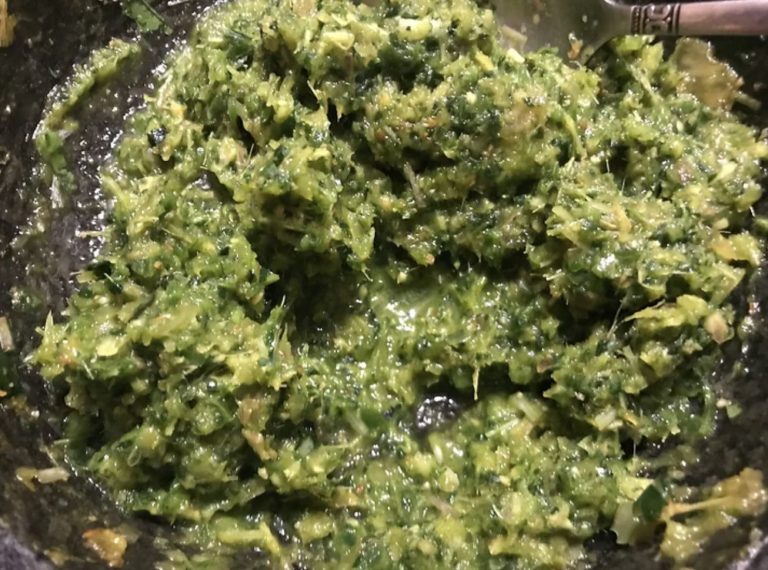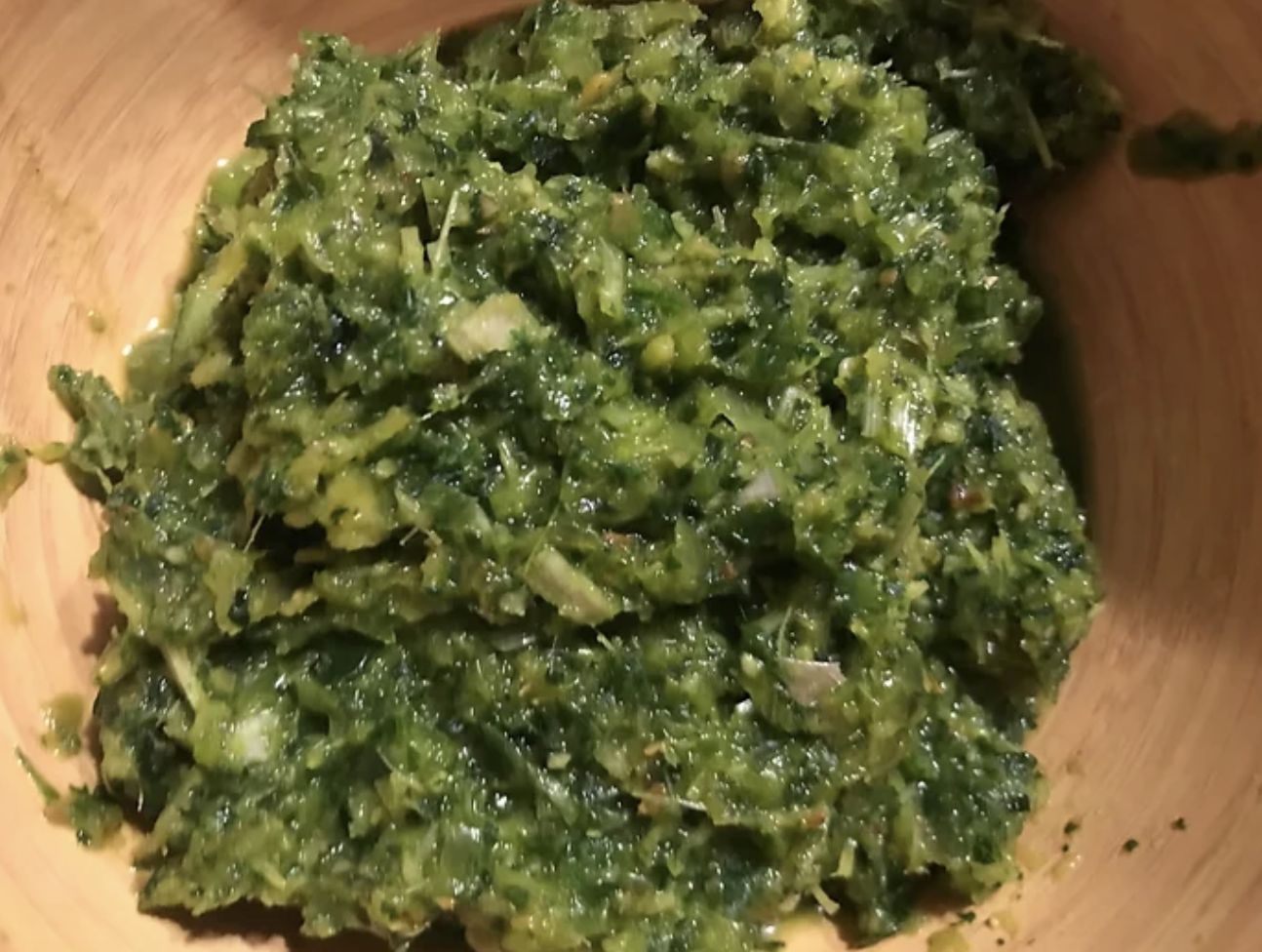 4. To finish the curry add 600ml of coconut milk to a pan and place onto a medium heat. Slightly reduce the coconut milk on a simmer until it starts to thicken. When ready add 3/4 of the curry paste and mix well. Leave the curry to simmer on a low heat for 20 – 30 minutes to allow all the flavours to infuse into the curry.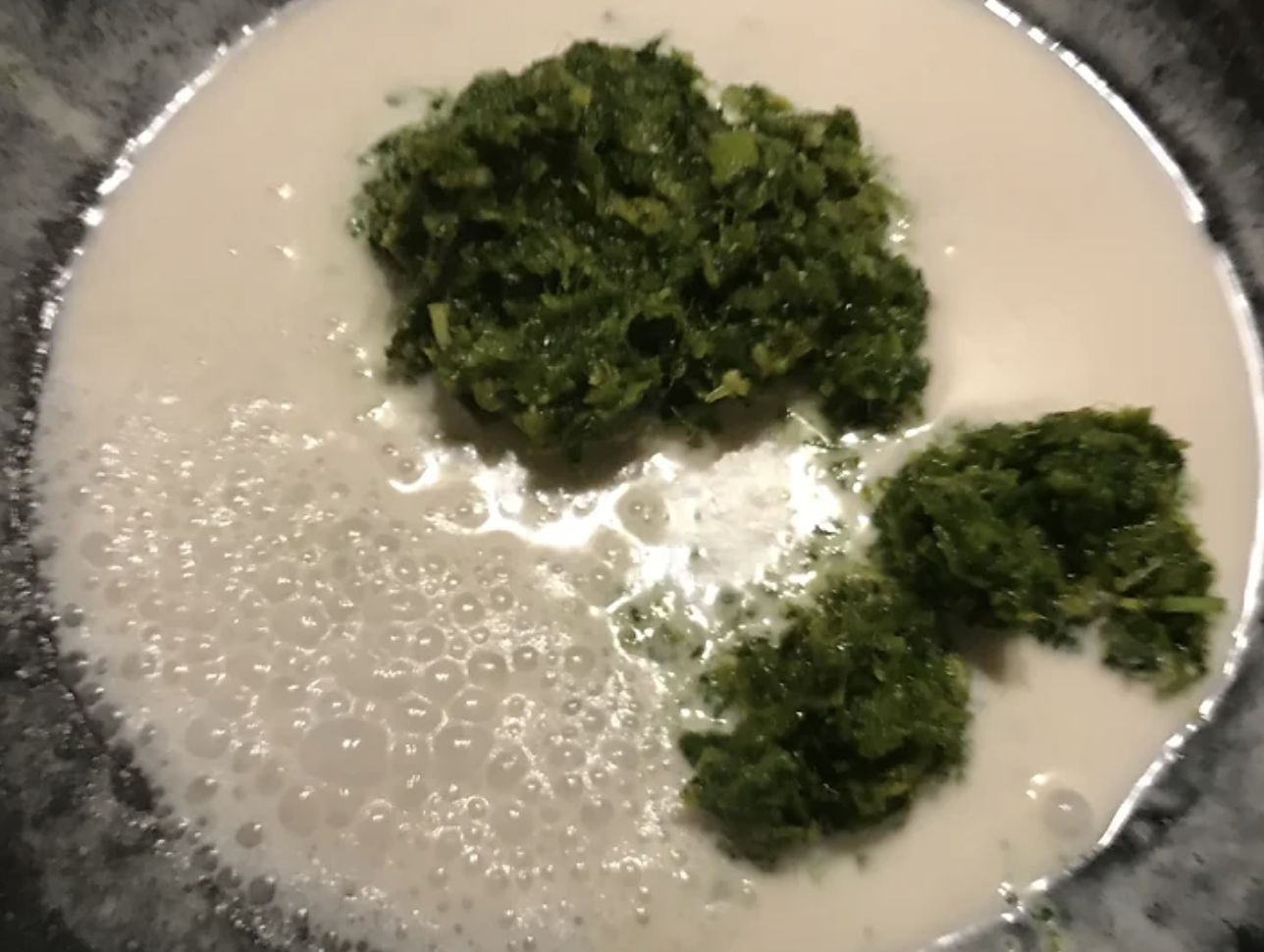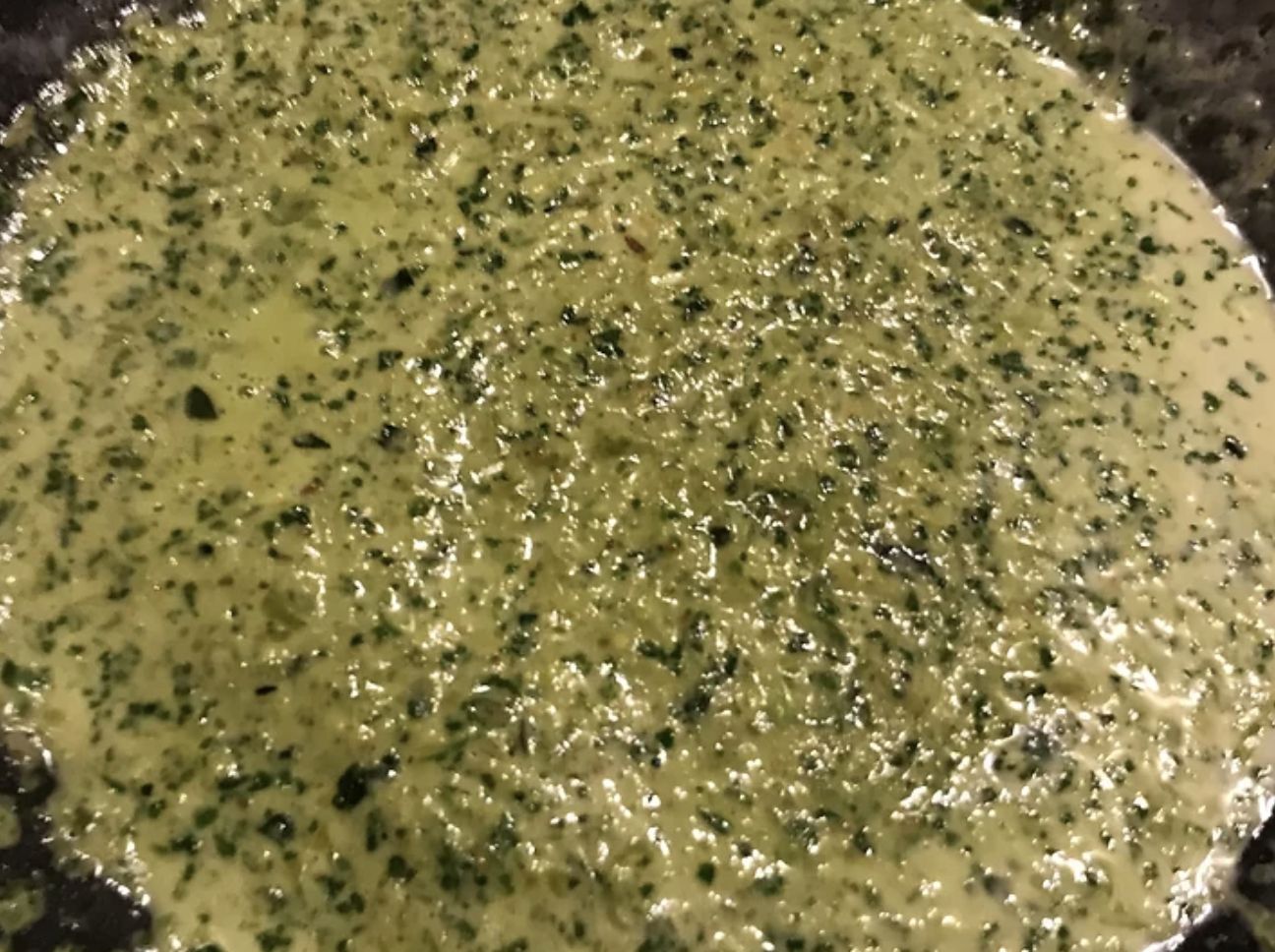 5. Whilst we are waiting for the curry to finish we can prepare and cook all of the vegetables. Cut the baby sweetcorn into 2, trim the tenderstem into bite sized pieces, slice 1/2 courgette into strips and peel the sides on the monge tout. Now wash the vegetables and place into a hot pan with a small drizzle of oil. Cook the vegetables for 5 minutes on a high heat until nicely seared. Now turn the heat down to a simmer and add the remaining 1/4 of chilli paste to the vegetables, stir fry until all the vegetables are cooked. Season the vegetables with a touch of sugar and salt. (I prefer cooking the vegetables in this way opposed to cooking in the curry as it helps keep the vegetables crunch).
6. To finish the curry just before serving I personally prefer to blitz the curry with a stick blender then pass through a fine sieve. This process is optional although you do end up with a silky smooth curry by doing this. To season the curry add additional vegan fish sauce or sugar to taste.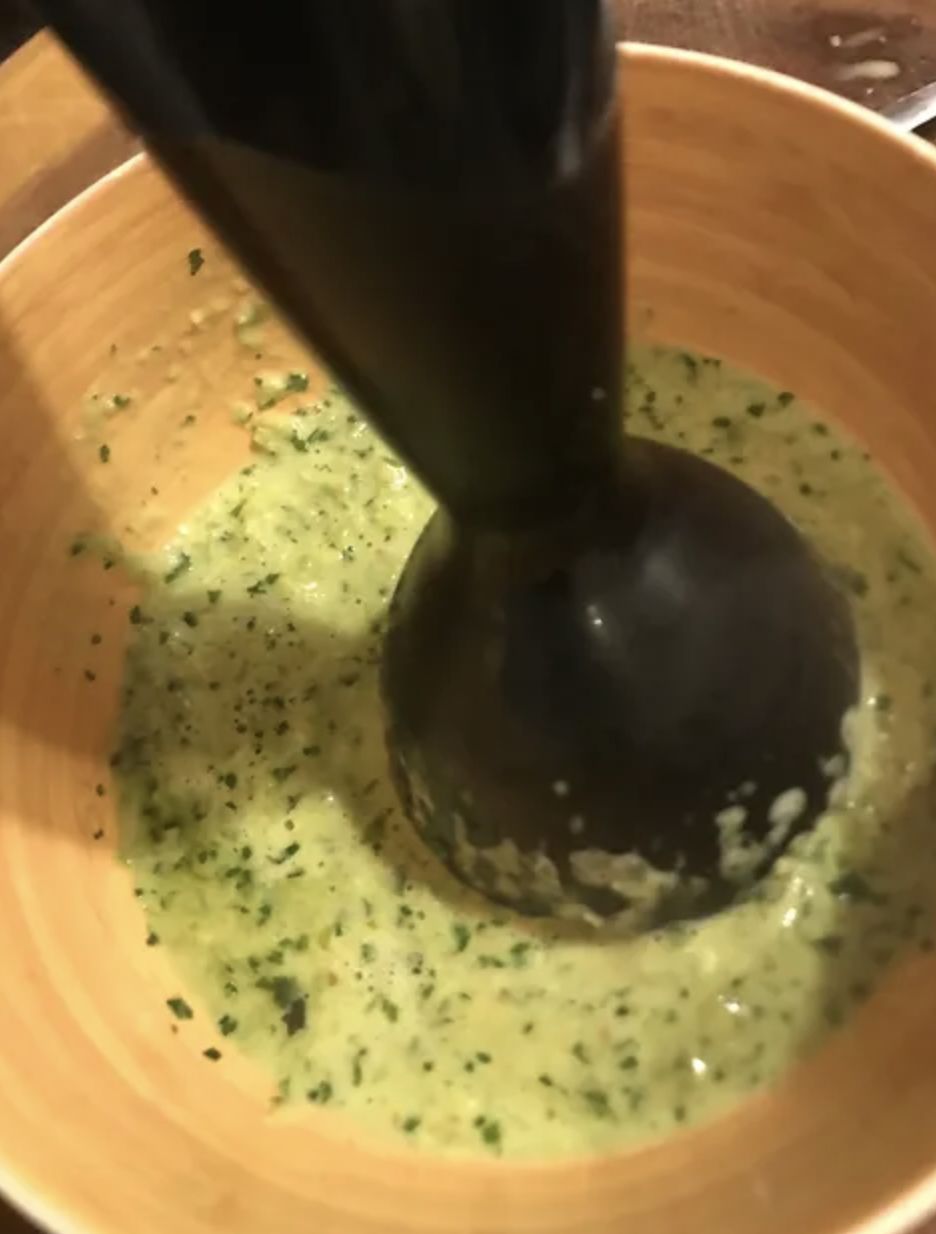 7. Now to serve, Divide the curry into 4 bowls then place the cooked vegetables into the centre. Top with some chopped chillis, coriander and some toasted salted peanuts, a squeeze of lime and serve with some fresh Thai jasmine rice. Hope you like this super quick and easy recipe.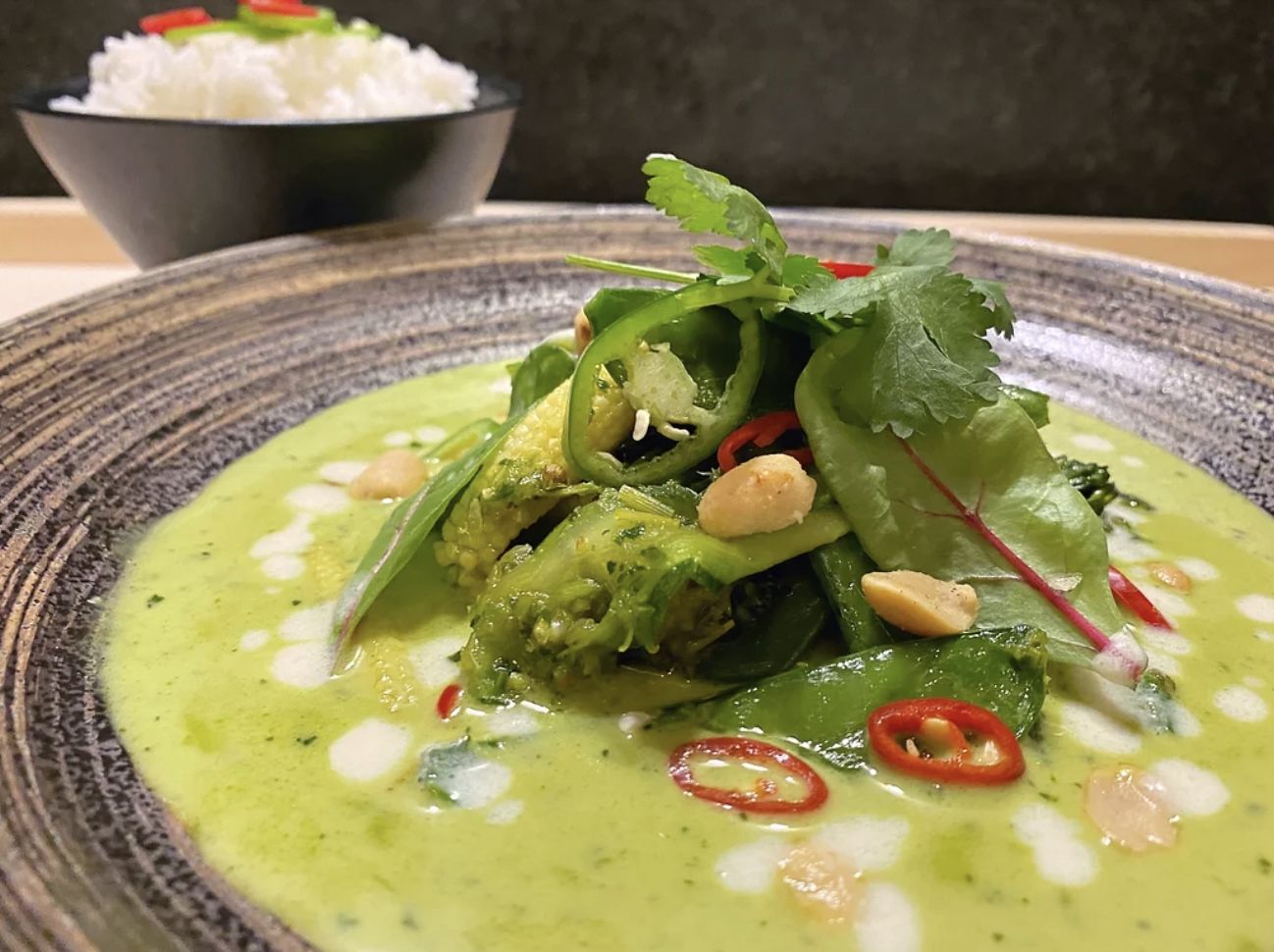 You can quite simply add tofu or chicken to this recipe if you wish. Cook the same way as we did for the vegetable part of the recipe. As to what other vegetables to add you could also add the aubergine, sweet potato, spinach, mushrooms, beansprouts, compote pepper etc. To be honest, whatever you have lying around should work fine. You can make this dish as spicy as you like either remove the seeds in the chilli or keep them in and use small Birdseye chillis for that extra heat. The focus on this recipe was to be able to produce a fragrant and fresh curry paste, so with that said take the curry paste and adapt it however you prefer. Have fun with this one!
5 cm piece of galangal or ginger
2 tbsp vegan fish sauce or tamari soy sauce