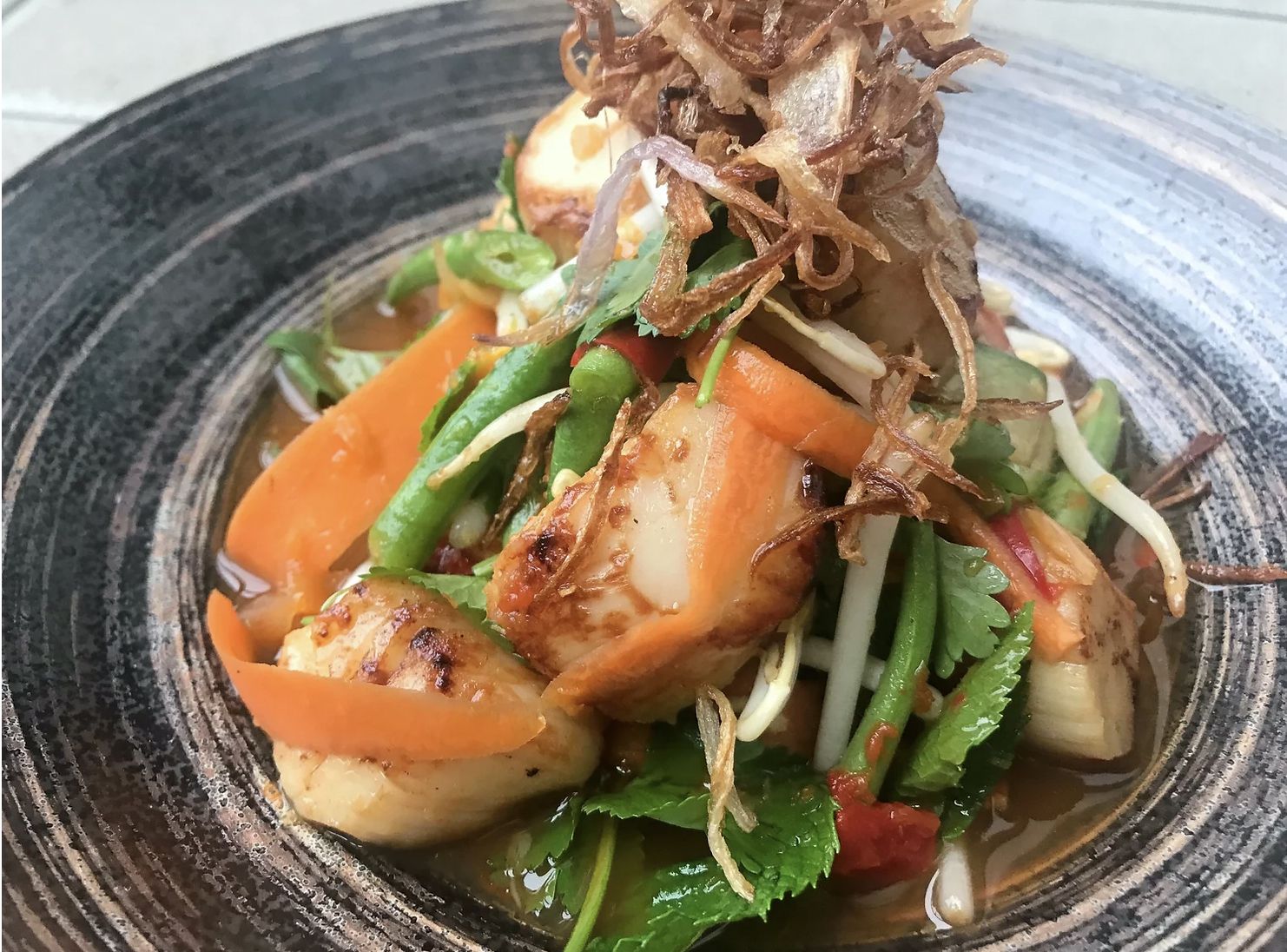 For this salad, I wanted to create a fresh spicy salad that would work great with seafood. You find prawn salads everywhere so I thought scallops would make a great alternative as opposed to the regular mundane seafood salad. The dressing for the salad is quite hot although the sourness and sweetness make the heat a little more subtle so that the scallops are not overpowered. This is a great quick and heathy salad that packs a punch! Let's get to it!
Begin by making the dressing for the salad, add 1 tbsp of sugar to a pestle and mortar, then add roughly chopped chillis, shallot, garlic and finely sliced lemon grass. Pound the ingredients until a roughly ground chilli paste is formed. Add the paste to a dry pan and fry on a medium heat until fragrant (approx 10 minutes).
2. Add palm sugar to the paste and fry for a further 5 minutes until caramelised. Now add 1/2 cup of water and bring to a boil. When boiling turn the heat down to low and simmer for 10 minutes, then remove from the heat. Add the juice of 3 limes then 2 tbsp fish sauce and 1 tbsp of rice vinegar. Check the seasoning of the dressing by adding either more lime juice or fish sauce, when ready set to one side.
3. To prepare the salad, shred the papaya into strips, shave strips of cucumber and carrot with a peeler, wash and tear the mint and coriander, bruise and cut the green beans into half and finally wash the beansprouts. Place the salad into a large mixing bowl and gently mix together then place to one side.
4. Last thing to prepare is the scallops and the fried shallots. Finely slice 1 shallot and fry on a high heat in a generous amount of oil. When golden brown remove the fried shallots from the pan and drain on kitchen paper and season with a pinch of salt. For the scallops place onto a chopping board and lightly season with salt and cracked black pepper. Place a pan onto a high heat and wait until the pan gets hot. Add a drizzle of oil then add the scallops. Fry on one side for 1 minute then add 1 tbsp of butter and flip the scallops over. Fry for a further 1 minute on the other side and baste with the butter. Place the scallops onto a tray and allow to rest for 5 minutes.
5. To serve add the scallops to the salad and add half of the chilli dressing then mix until the salad is nicely coated in the dressing. Divide the salad into two serving bowls and place the fried shallots over the top. Drizzle the remainding dressing over the salad and nourish!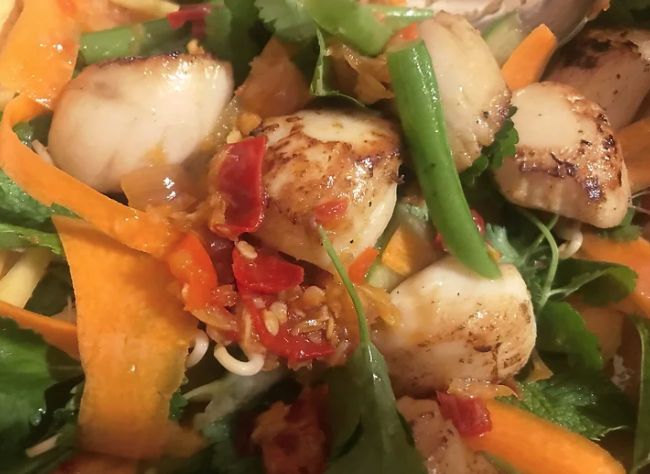 If you are not a huge fan of spicy food then I would recommend leaving out the bird's eye chillis for this dish. Instead, you could use only the larger chillis and remove the seeds. If you wanted to turn this dish into a vegetarian dish then replace scallops with tofu and instead of fish sauce use light soy. Have fun making this salad I think there are multiple ways you could flip it. Have fun…
2-3 small Birdseye chillis