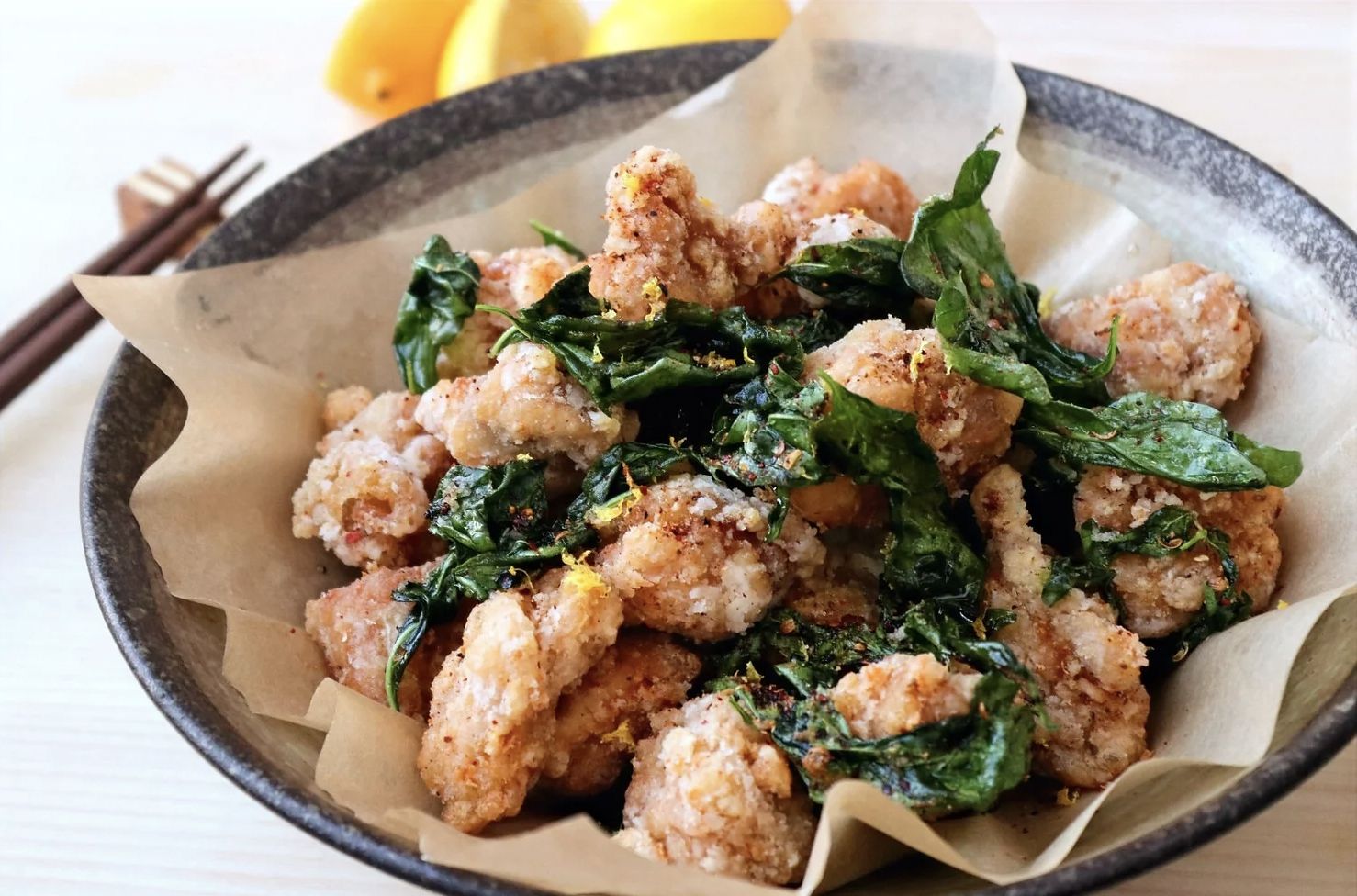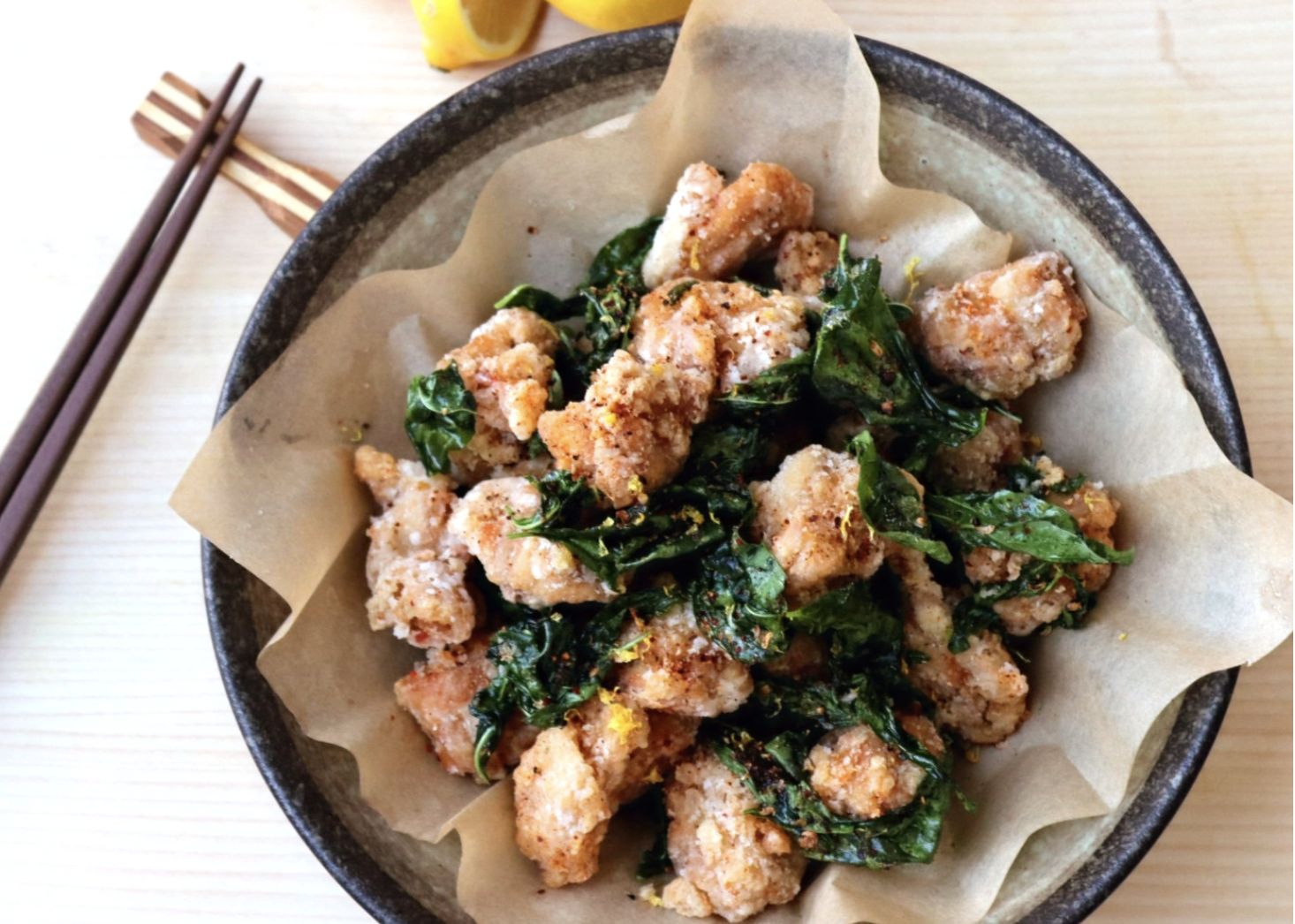 This Taiwanese classic street food dish can be found within all the night markets all over Taiwan. What separates this from ordinary fried chicken is a heavy amount of fried basil and a super crispy coating made from potato starch. What makes the chicken incredibly moist is a brief velvety marinade that protects the chicken from drying out during the frying process. This recipe gives so much in terms of depth of flavour and crispy texture and is perfect for a cheat day! With all that said let's fry some chicken the right way!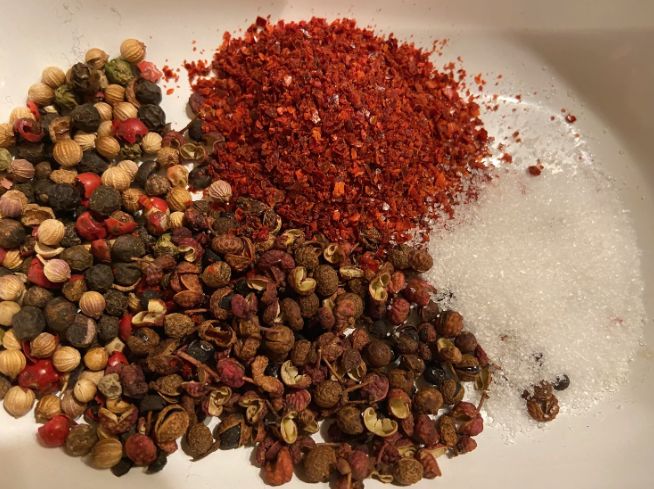 1. Before we begin to prepare the chicken and marinade let's start this recipe by making the chilli pepper seasoning. We will add this towards the end and to the marinade, therefore, best to start with this. In a dry pan add 1 tbsp of Sichuan peppercorns, 1/4 tsp pink peppercorns, 1/4 tsp white peppercorns and 1/4 tsp of black peppercorns. Place onto a high heat and toast for 1 minute until fragrant. Next add 1 tsp of sea salt and 1 tbsp of korean chilli flakes and continue to toast for a further 30-60 seconds. When ready, add all of the spices to a pestle and mortar along with 1 tsp of white sugar and pound until all of the spices are nice and ground. Place the seasoning to one side as we will use this throughout the recipe.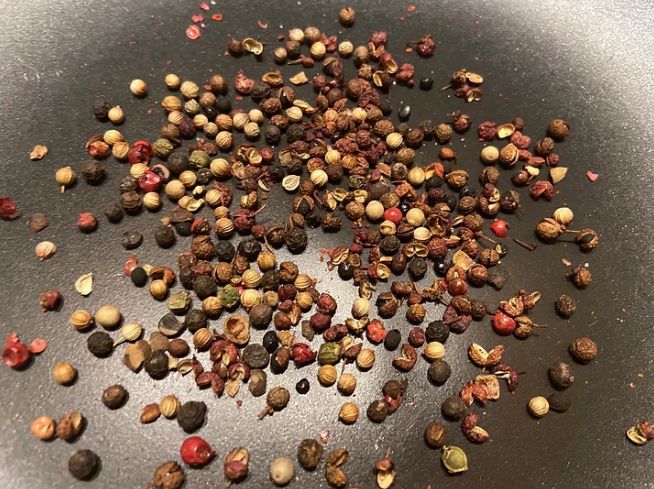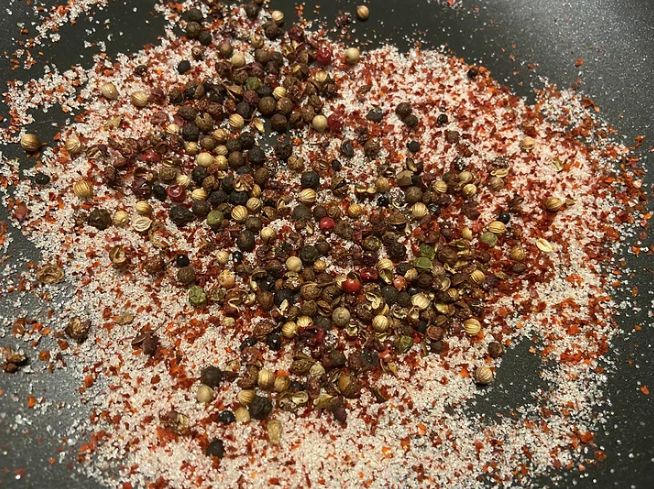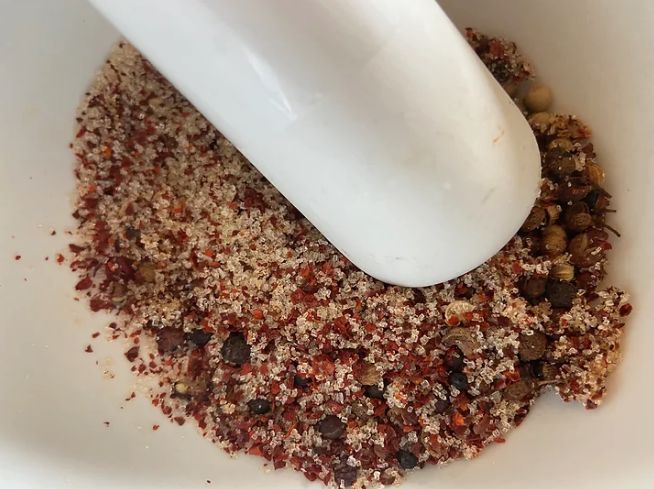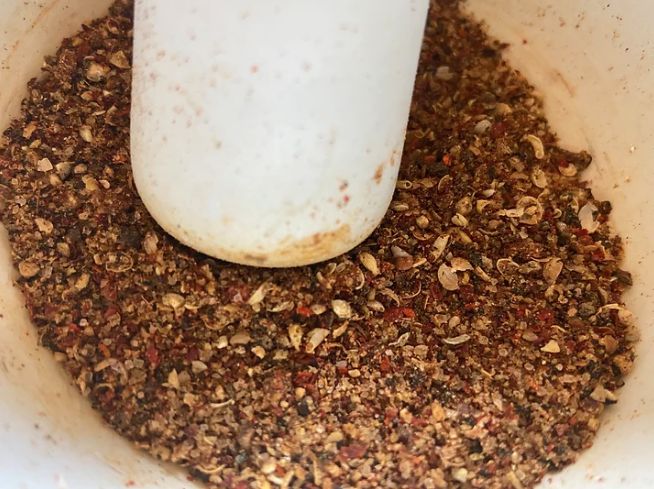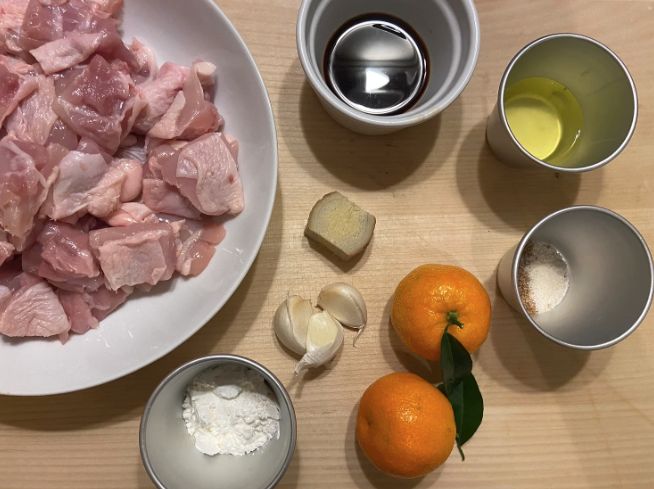 2. As for what type of chicken to use then I always go for thighs, not only are they cheap but also can carry way more flavour and are far more tender when cooked opposed to chicken breasts. Begin by leaving the skin on then carefully slicing around the thigh bone then removing. Next dice the boneless chicken thighs into a bitesized dice then when ready place all of the diced chicken into a mixing bowl.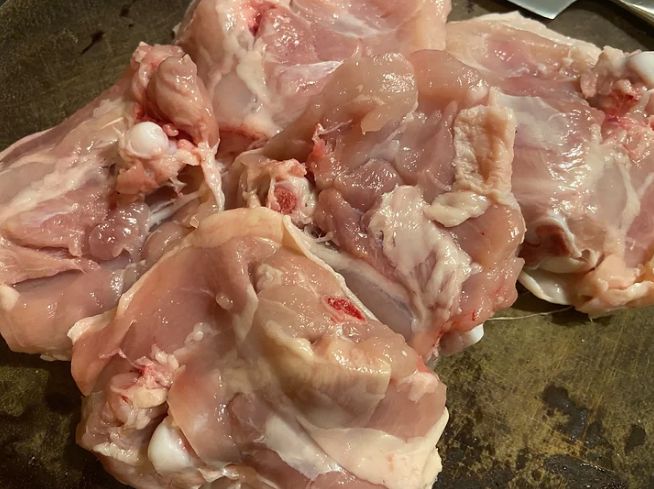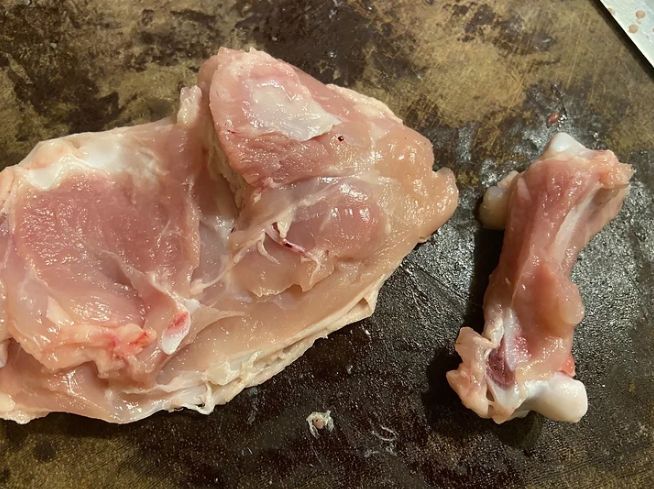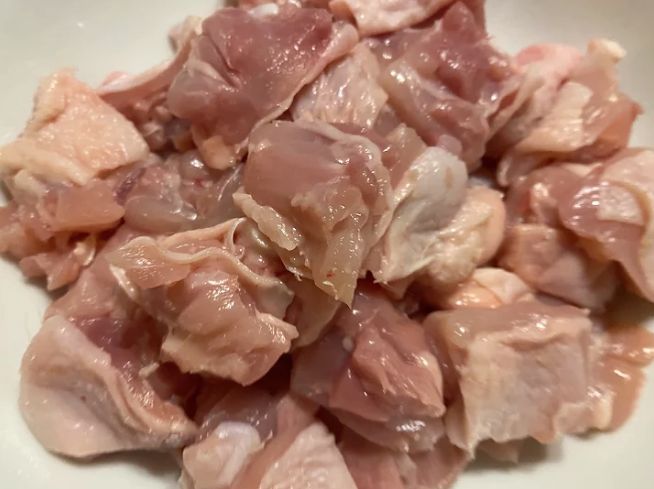 3. The next step for the chicken thighs is to velvet in a simple marinade, ideally this is best done 30 minutes prior to cooking, although, they can also be cooked immediately if time is an issue. To the chicken we now want to add 3 minced garlic cloves, a 3cm piece of minced ginger, 1-2 tsp of the chilli pepper seasoning made earlier, the juice and zest of 1 tangerine, 2 tbsp of light soy, 1 tsp chinese 5 spice, 1 egg white and 1 1/2 tbsp of cornflour. Mix the marinade well by stirring in 1 continuous direction until the chicken becomes smooth and velvety. When ready set to one side and allow to marinade for 30 minutes if possible. Another key component to this dish is basil or Thai basil, just before we are ready to cook seperate 2 bunches of basil leaves from the stems and set to one side. Do not wash the basil at this point as we want to keep it as dry as possible.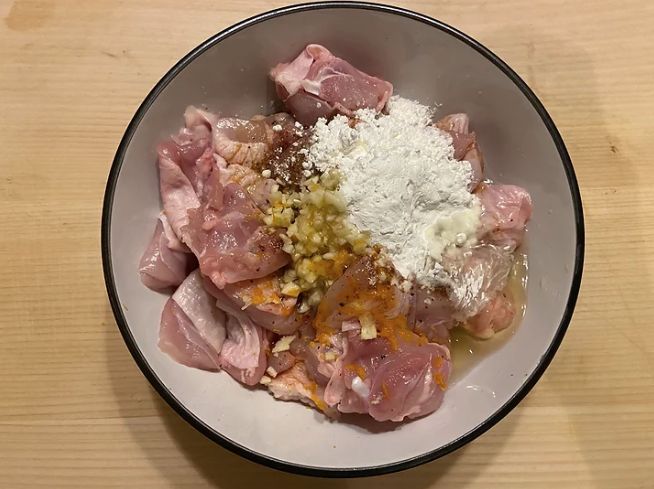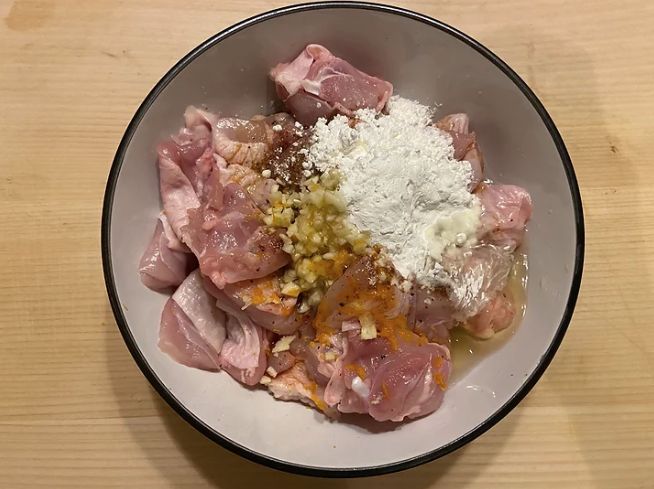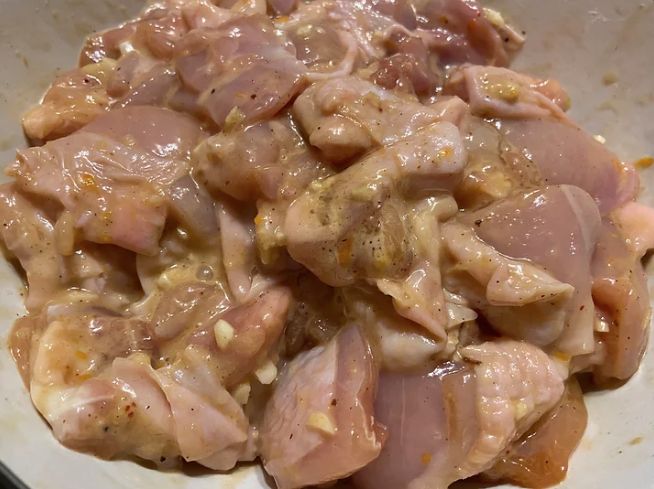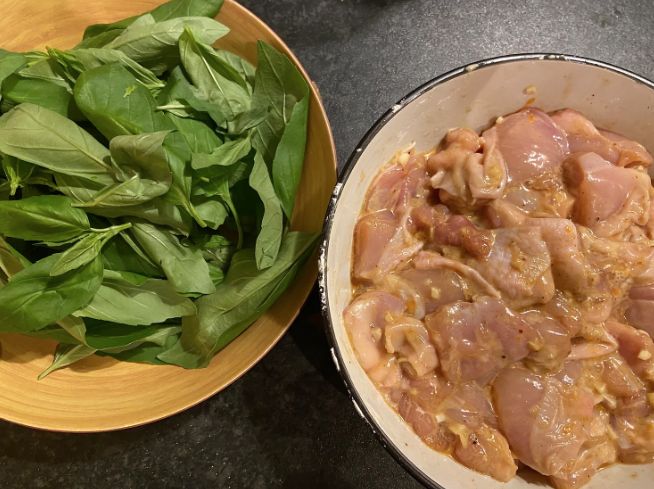 4. Now everything is ready it's time to fry the chicken, to get a super crispy skin there are 3 factors that make this simple, temperature, double frying and using potato starch as the dredge. If you cant get hold of potato starch then cornstarch would also work. Place a large pan around a 3/4 full of a clean oil such as rapeseed then place onto a medium to high heat. Whilst we wait for the oil to heat prepare a small plate/bowl with approximately 200g of potato starch. Add the chicken pieces in batches and evenly coat in the dredge. Remove off any excess potato starch then when the oil temperature reaches 150°c we are ready to fry. Add the chicken in batches and fry for 2-3 minutes, we are not looking for colour at this stage but take the chicken to the point where it starts to become golden brown and is just about cooked. When ready carefully remove the chicken and drain onto a cooling wire rack. Repeat this 1st fry for all of the chicken pieces and drain.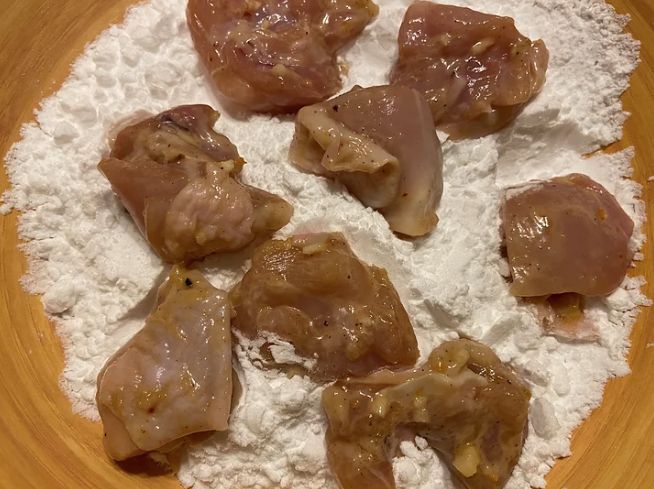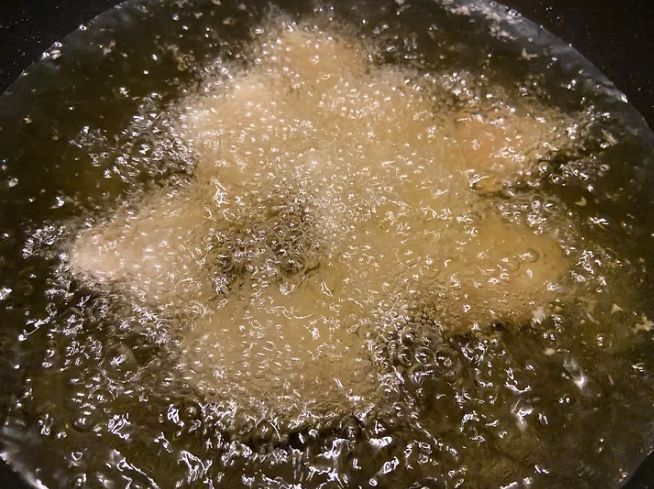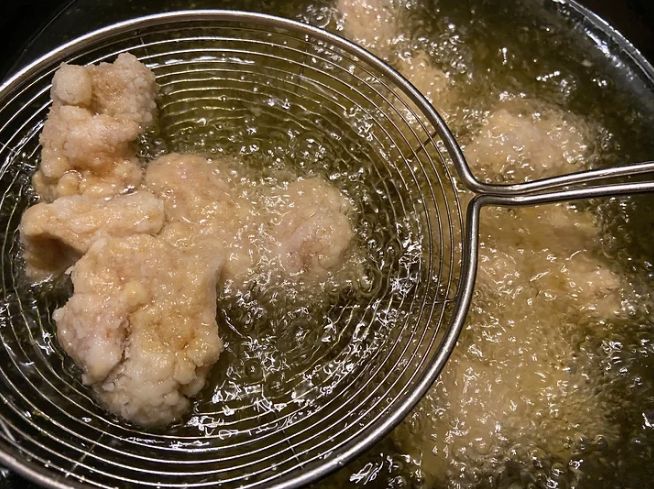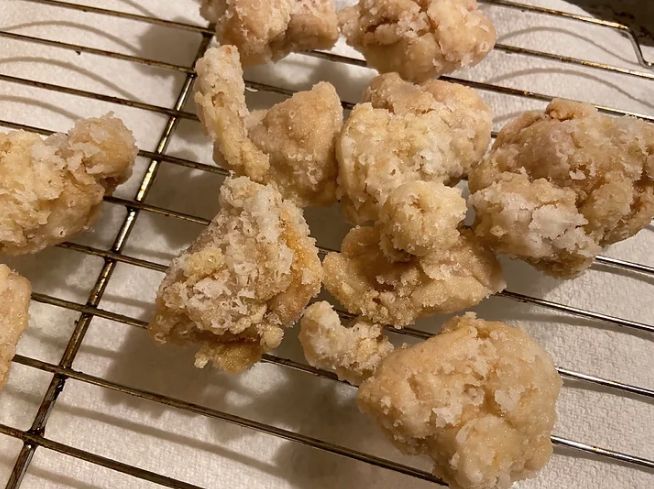 5. When all of the chicken has had its 1st fry place the oil onto a high heat and now bring the oil temperature up to 180°c. When the oil is ready add the pre fried chicken again in batches and fry again for 1-2 minutes or until golden brown. When the chicken is ready, add a handful of basil to the hot oil and fry with the chicken for 5-10 seconds to crisp up the basil. (Take care when adding the basil as if wet the oil will spit). drain the chicken again onto a wire rack then season generously with the chilli pepper spice mix made earlier. Repeat this for all the chicken then when ready were ready to serve!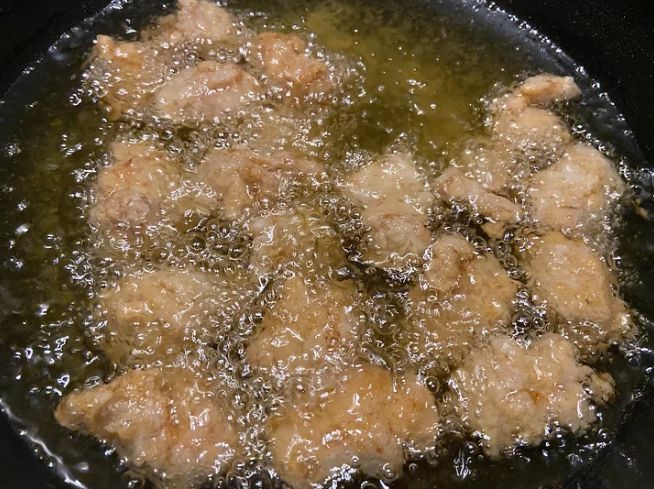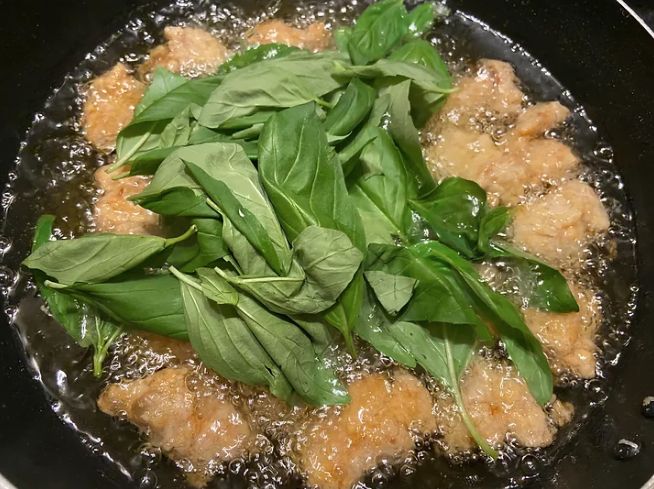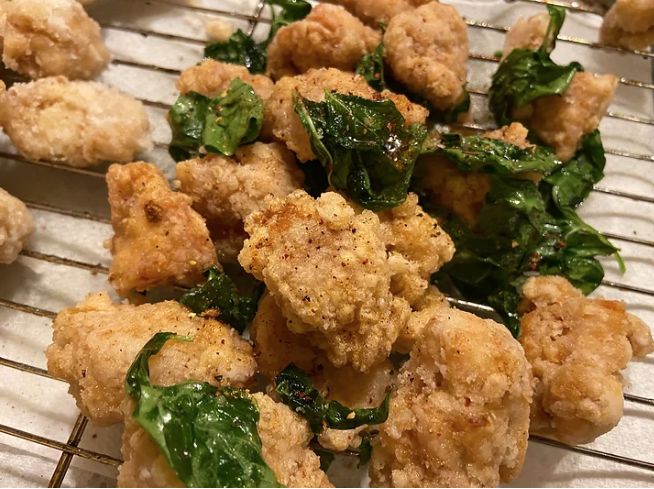 6. I like to allow the chicken to drain for 1-2 minutes just before I serve, add the chicken to a large serving bowl lined with some kitchen paper then add all of that golden goodness. Serve with some of the chilli pepper mix on the side and I personally like to zest over some lemon for a little citrusy hit! Im sure when you try this chicken you will love it! Have fun and enjoy the recipe!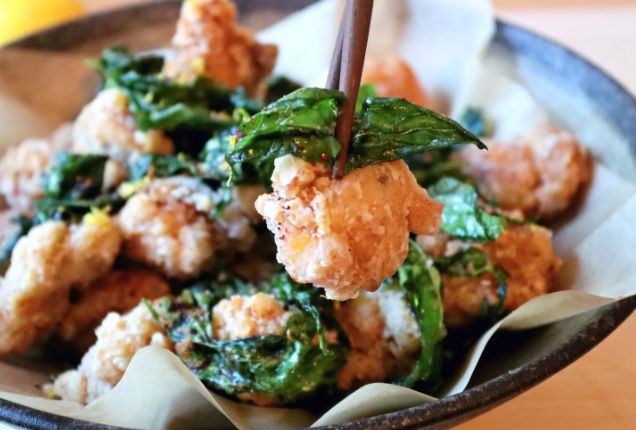 As for additional notes for this recipe I don't really have any if I'm honest, this fried chicken is so tasty and is perfect the way it is! I guess if anything you could substitute the chicken for cauliflower, or a firm tofu to make up a veggie version…as for the basil, traditionally Thai basil is used, but Italian basil also works just as well! Have fun with this one and as always peace!
Cook Time 20 minutes / Prep Time 30 minutes
1 tangarine juice and zest
1 tbsp sichuan peppercorns
1/4 tsp white peppercorns
1/4 tsp black peppercorns
1 tbsp korean red pepper flakes
200g potato starch (dredge)