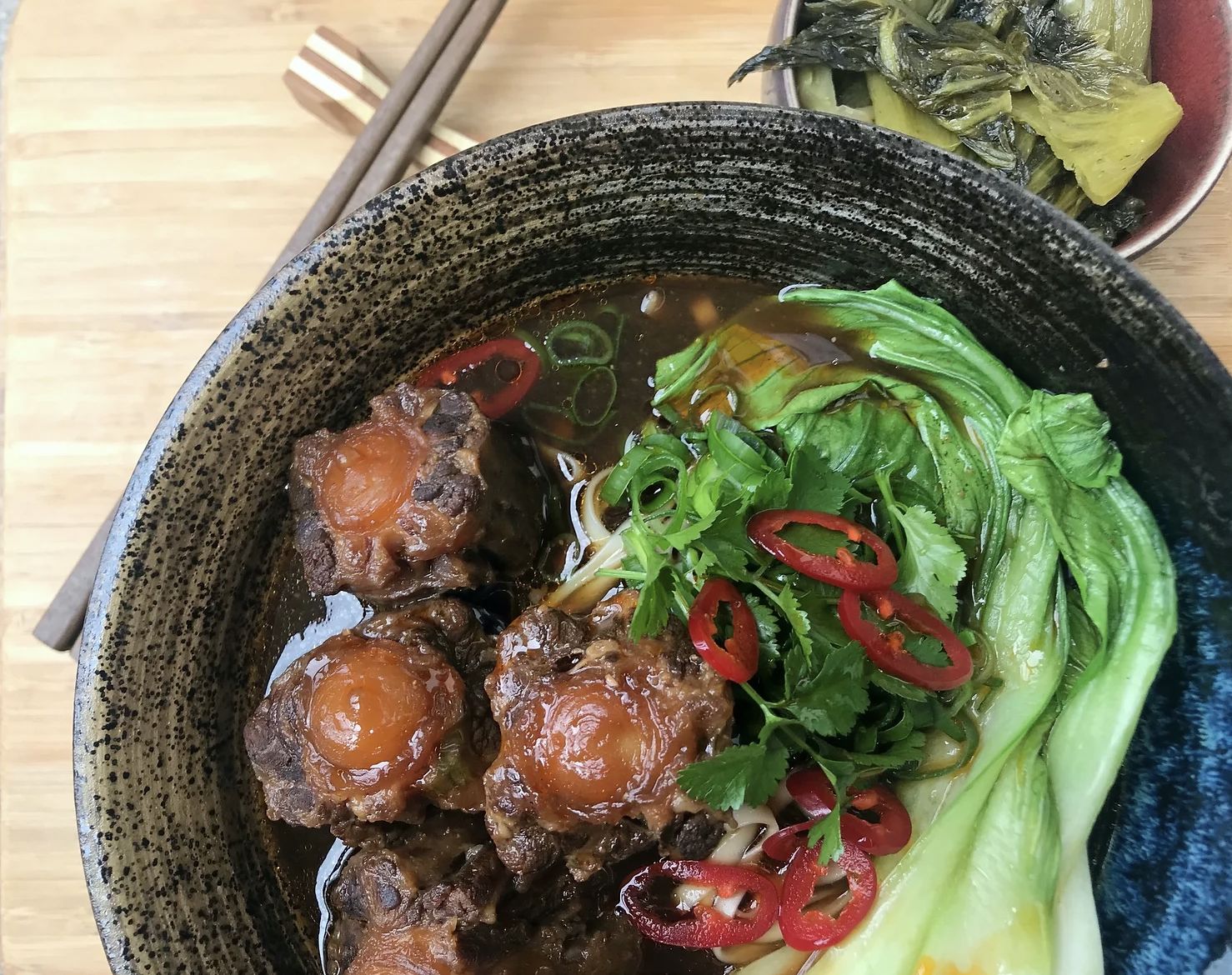 Originally this dish is known as Taiwan beef noodle soup, I decided to switch it up slightly by using oxtail instead. The broth in this dish is packed full of umami and has a super fragrant hit to it. I wanted to try and keep reasonably traditional when it came to the broth and serve it with mustard greens on the side like they do in Taiwan, A fairly simple dish to make and again easy to make for a family, let's cook!
1. Begin this dish with the broth. Start by adding the oxtail to a pan of boiling water then boil for around 10 minutes to remove some of the impurities. Drain the water and clean the oxtail under cold running water, when clean set aside for now.
2. Now onto the broth, in a fresh large pan add a few splashes of oil then add the ginger, spring onion, dried chillis and the garlic bulb cut in half and fry on a medium heat for around 10 minutes until fragrant. Next add the soy bean paste and fry for a further 5 minutes. Deglaze the pan by adding both dark and light soy followed by the star anise, fennel seeds, Szechuan peppercorns and cinnamon.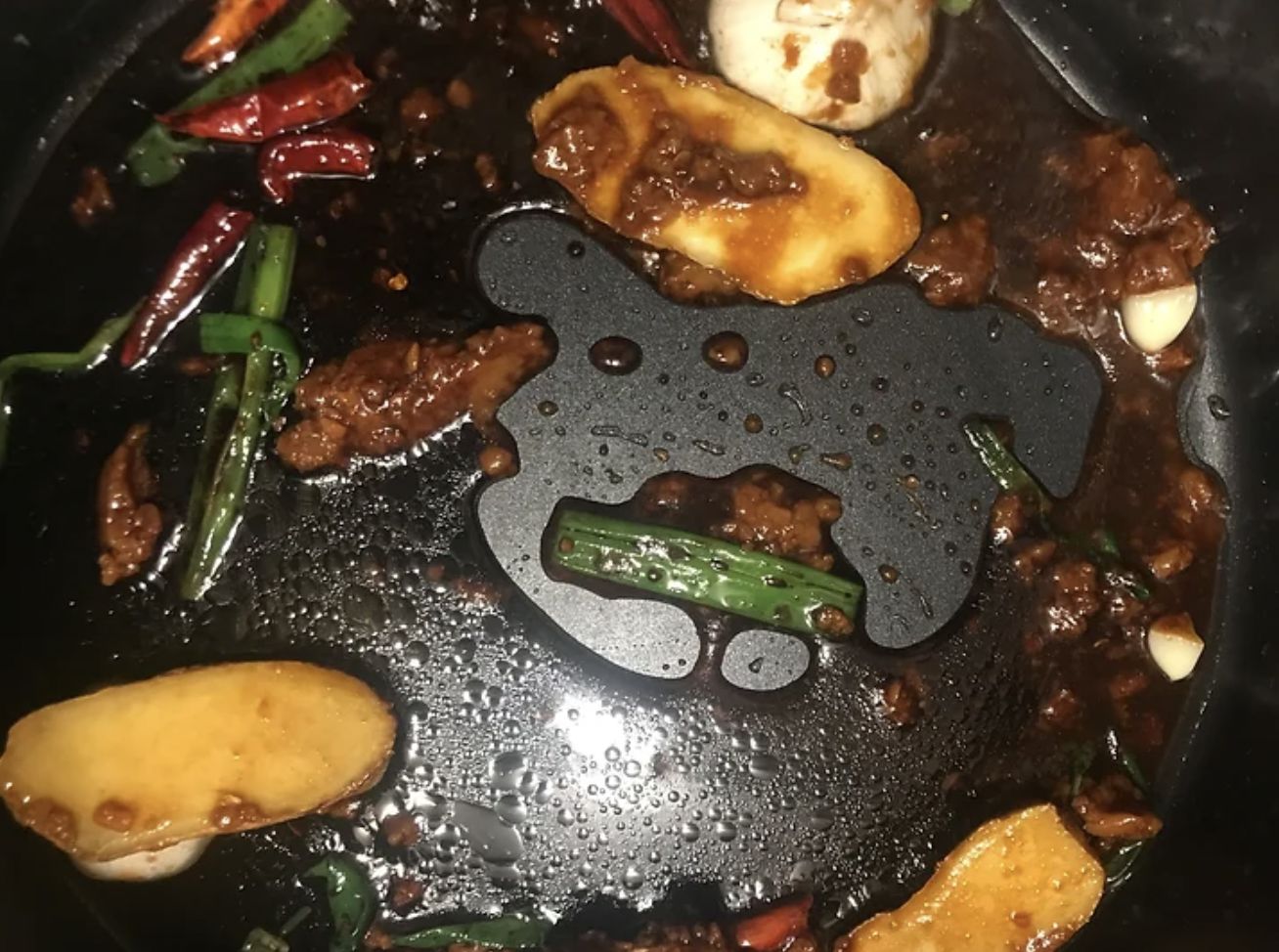 3. Then add all the oxtail we blanched earlier and add around 1.5 litre of water (or beef stock) then bring the broth up to the boil. When boiled turn down the heat to a low simmer and remove any impurities that rise to the top of the broth. Now we can add 1 whole pear chopped in half, 1 sliced tomato, 2 tbsp rock sugar and 2 tbsp of sugar. Cook the broth with a lid on for around two and a half hours skimming occasionally.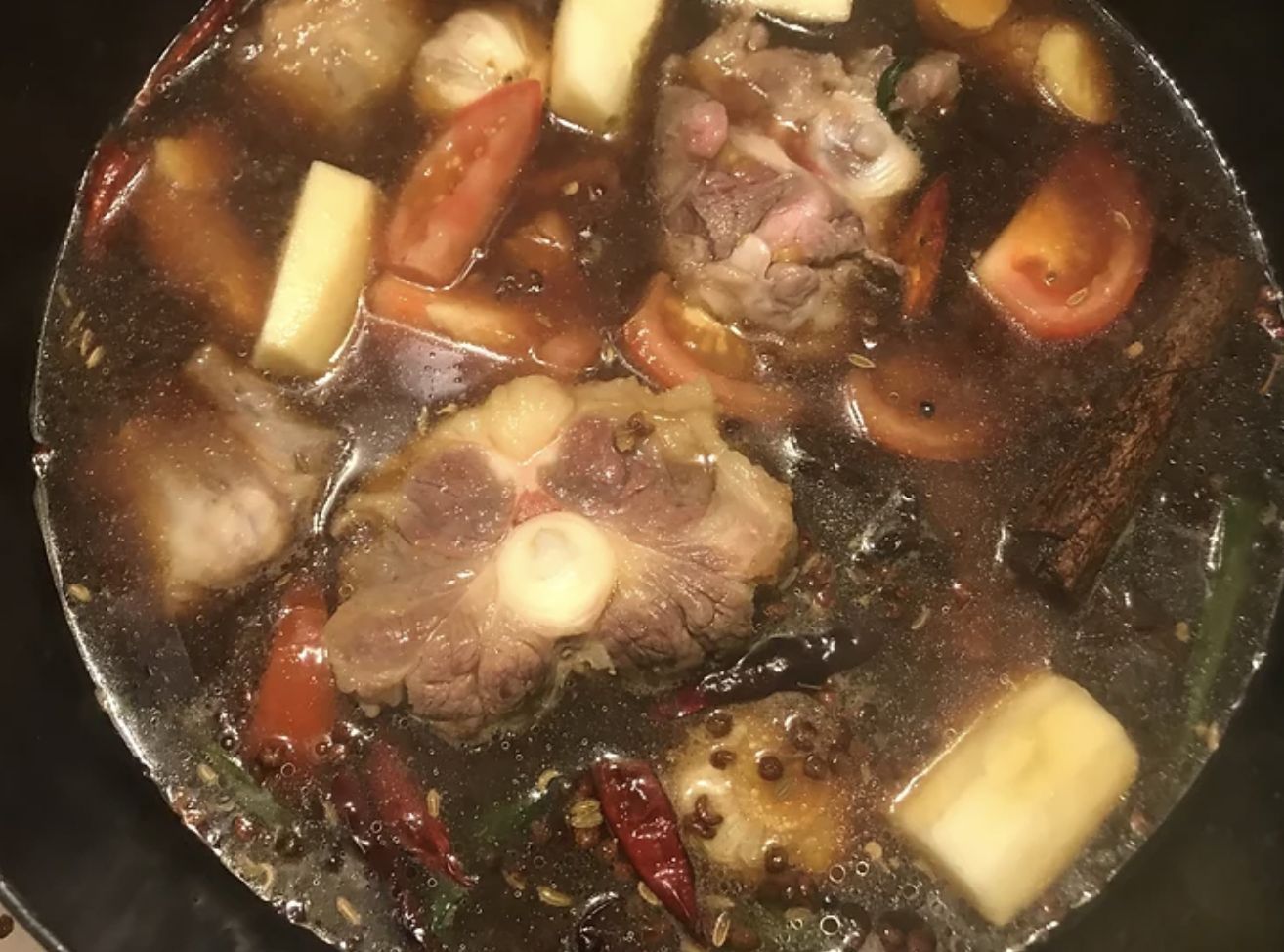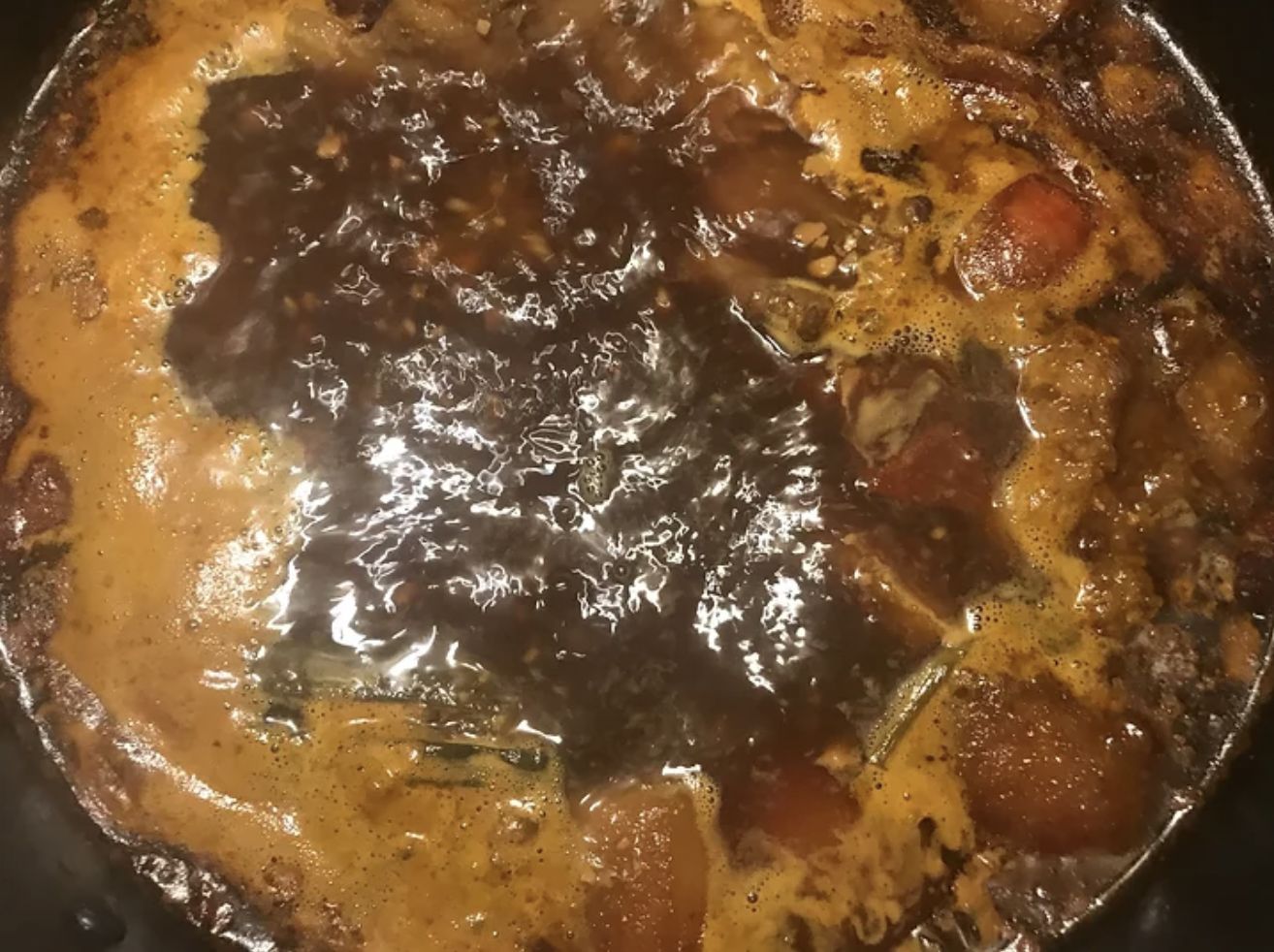 4. After two and a half hours remove the oxtail from the broth and set to one side. Drain the stock through a sieve into a fresh pan and return to a low heat. Add a few drops of sesame oil and black vinegar to balance out the broth then you can adjust the seasoning by adding either more soy or sugar.
5. Now that everything is finished we can prepare the toppings to complete the dish, start with the mustard greens, chop into smaller pieces and fry in a pan for around 10 minutes to warm. Then add 2 tbsp of sugar some chopped garlic and chilli. When ready place aside into a serving bowl. The mustards greens should have an almost sweet, spicy and sour taste when ready.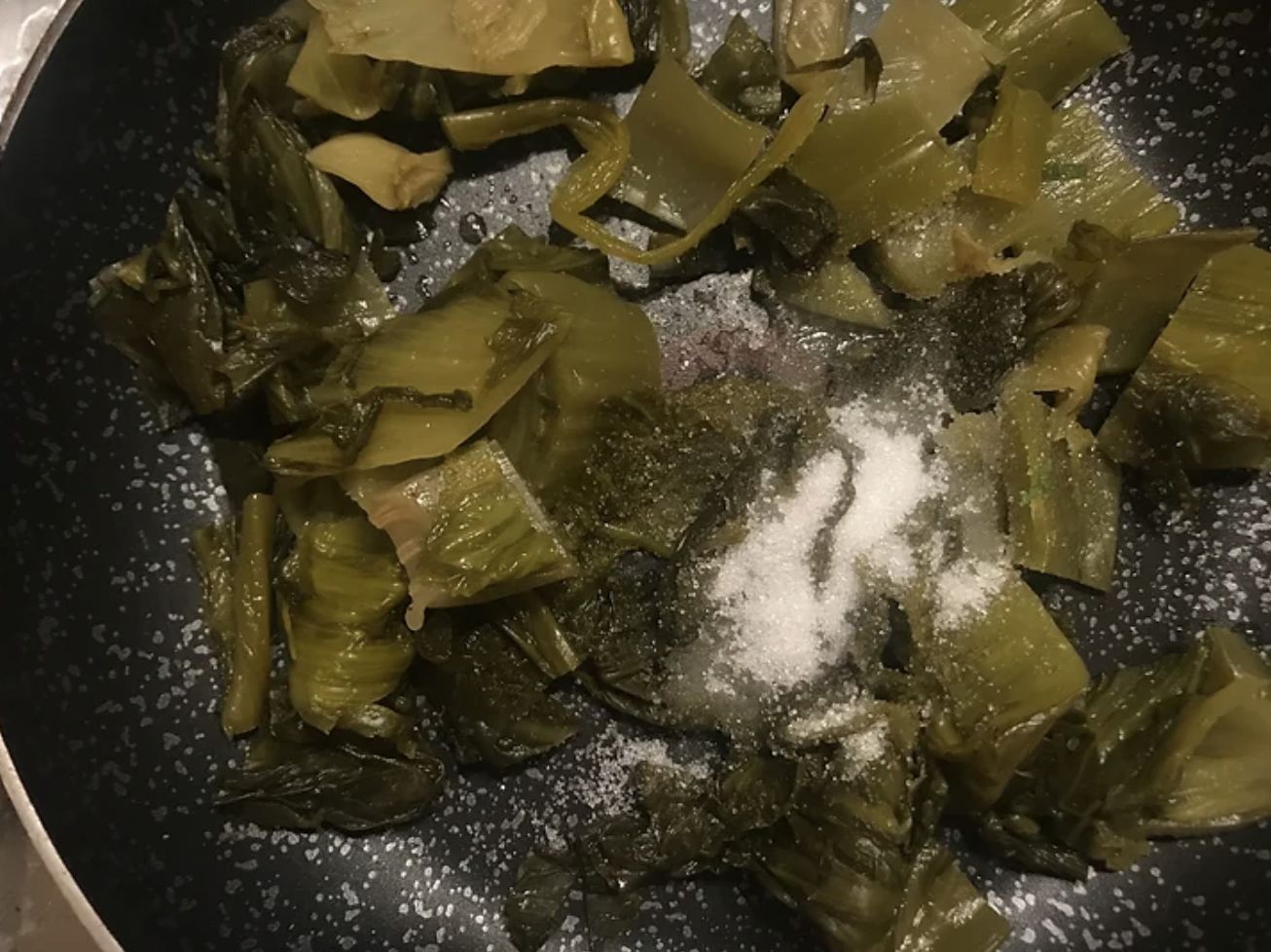 6. Cook some egg noodles in a pan of hot water, and blanch some fresh pak choi in the noodle water until cooked.
7. Now to serve, separate the noodles into 4 bowls then add some of the oxtail to each bowl (if you prefer you can take the oxtail off the bone). Add some pak choi to the bowls then ladle over the hot broth. Finally add some chopped spring onions, coriander and some additional chilli if you want and finish with the mustard greens on the side. Hope you enjoy this dish…
Instead of using oxtail, you could also use beef shin or ox cheeks. This broth is quite intense in flavour and umami, so if you prefer you could always dilute the intensity by adding more water to the broth. Have fun playing around with the aromatics for this recipe!!
10-12 oxtail pieces (roughly one whole tail)
pickled mustard greens (optional)
1 tbsp sesame oil (optional)
1 tbsp black rice vinegar (optional)
1 tsp szechuan peppercorns
1.5 litre water (or beef stock)