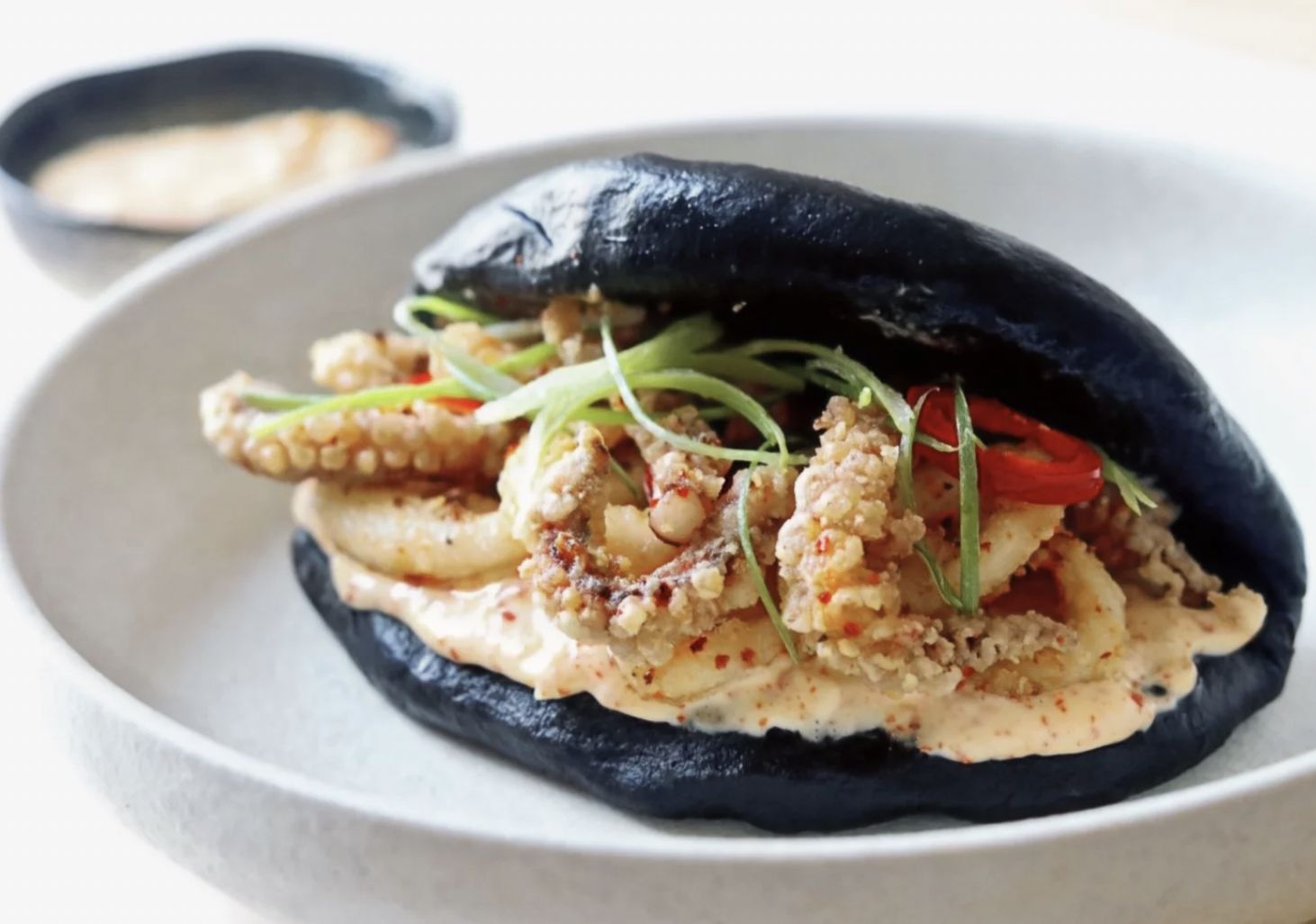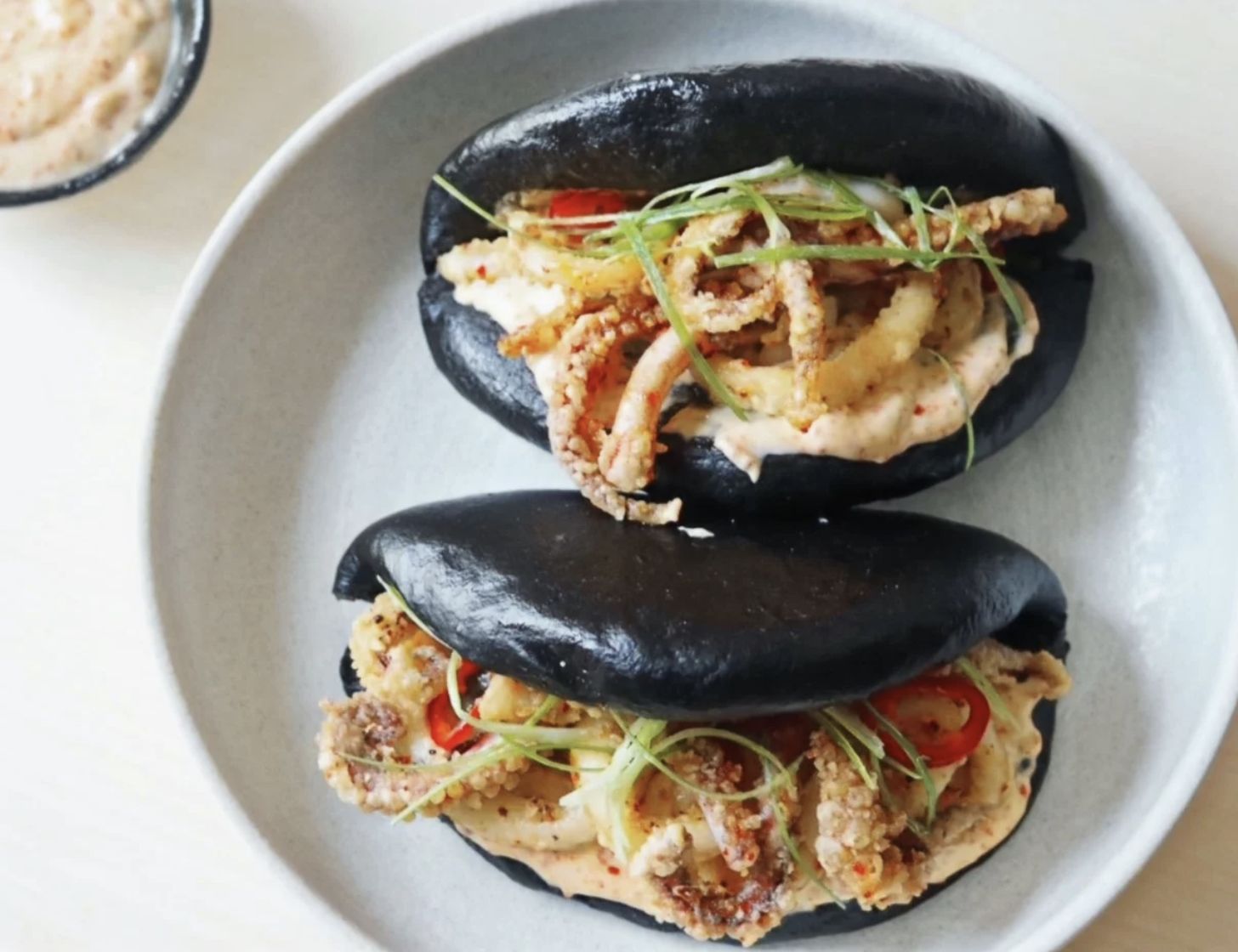 When thinking about bao buns, my personal favourite thing to add would most definitely be stuffing it with as much spicy crispy squid as possible. This whole recipe initially came from a good friend of mine giving me the idea to make squid ink baos and here we are…The baos were insanely good and they are one of those that are a little labour-intensive during the prep but are well worth the effort! The dough is simply made with the addition of squid ink to give it that colour, although, adding it does not give the bao's a particularly intense squid flavour. With all that said let's make baos!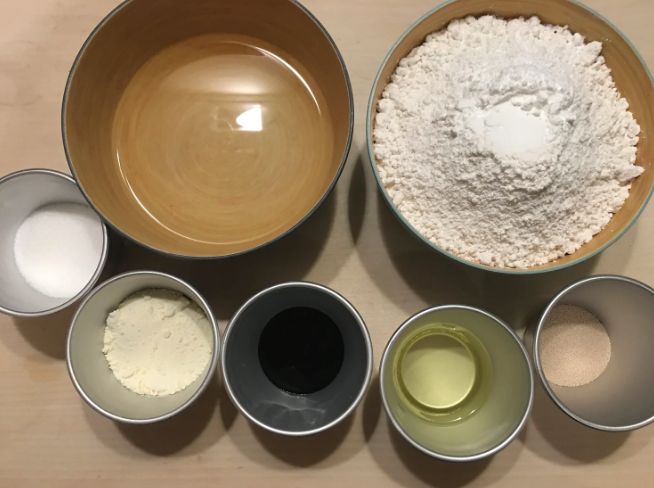 1. Let's begin with making up the baos, we need to allow 1 hour of proving the dough, therefore, let's start here. Start by adding 5g of instant dry yeast to 200ml of warm water, mix and leave for 10-15 minutes. Whilst we are waiting for the yeast to work, we want to sieve then add 270g of plain flour to a mixing bowl then add 30g milk powder, 35g white sugar and 5g of baking powder. Mix then make a well in the centre of the flour. When the yeast and water has begun to foam add into the well along with 35ml rapeseed oil and 1 tbsp of squid ink. Begin to fold in the flour with a spatula then when it begins to come together begin to knead by hand until a rough dough starts to form.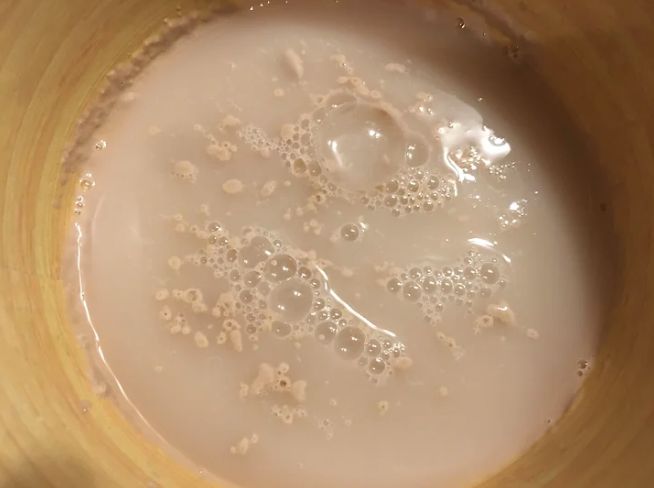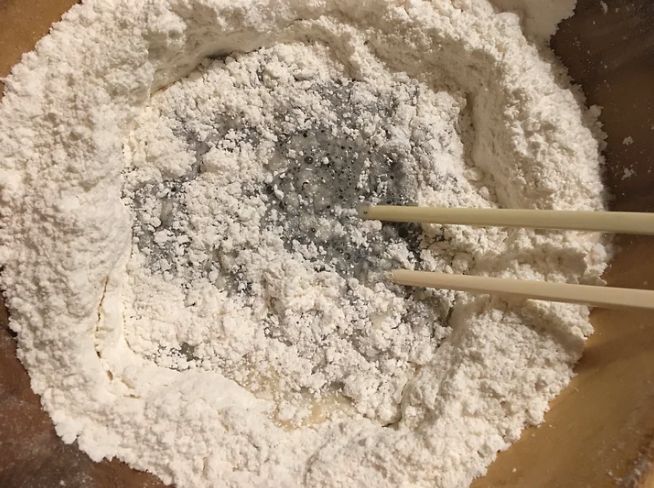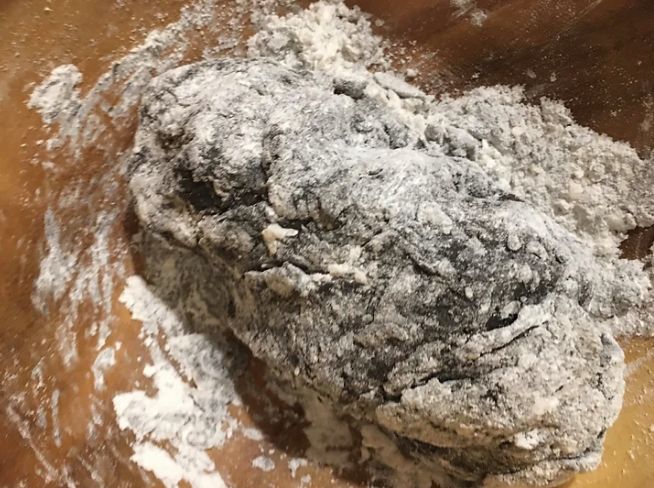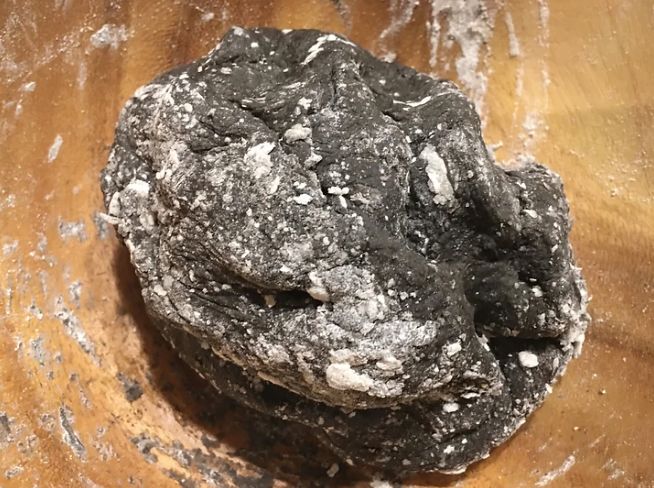 2. Now that we have a rough dough, lightly dust a work top with flour and place the dough onto the work top. We now want to knead the dough for 10-15 minutes until a smooth springy dough is formed adding additional flour if the dough is too sticky. You should be able to tell the dough is ready as when you lightly press with your finger the dough should spring back. Now add the dough to a lightly greased bowl and cover with clingfilm. Allow the dough to prove in a humid area for 1 – 1 1/2 hours or until it has doubled in size.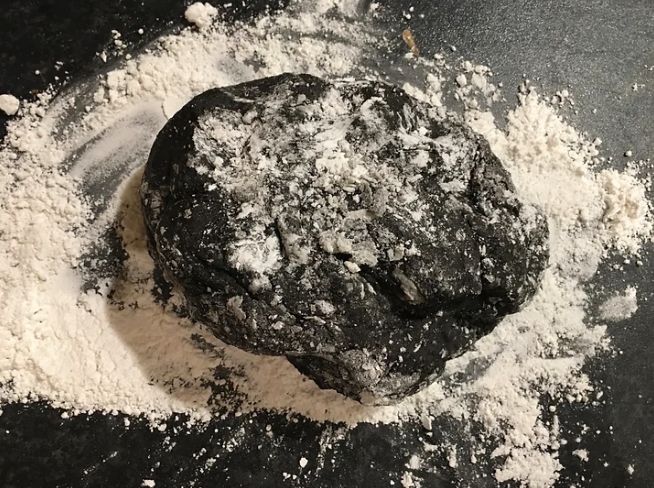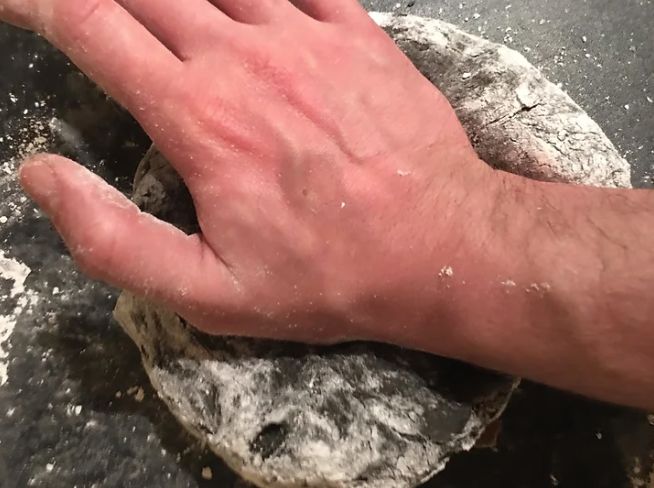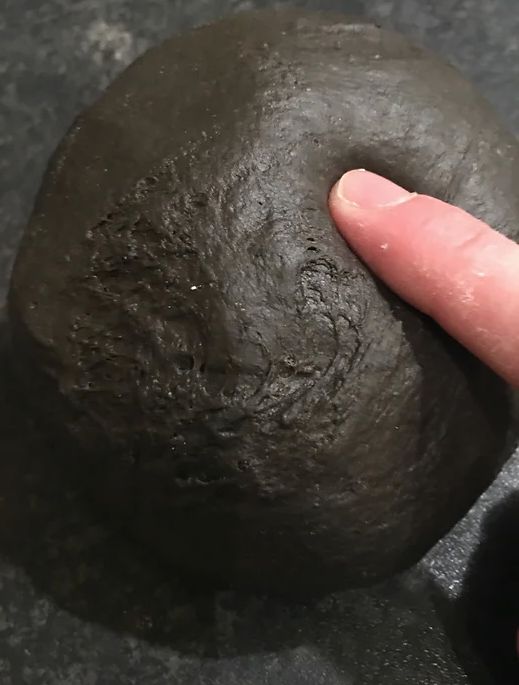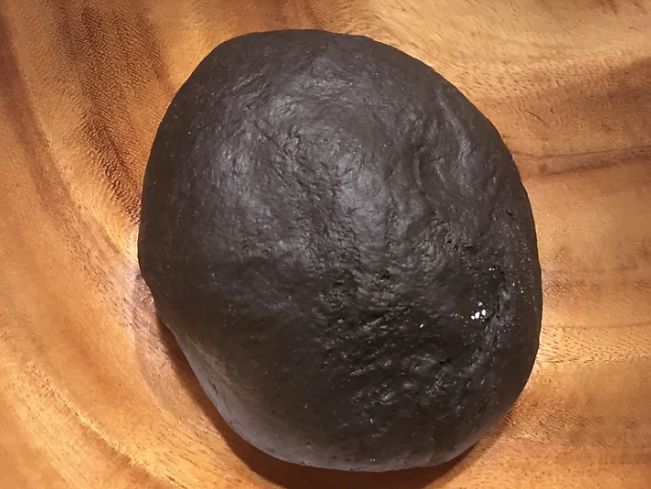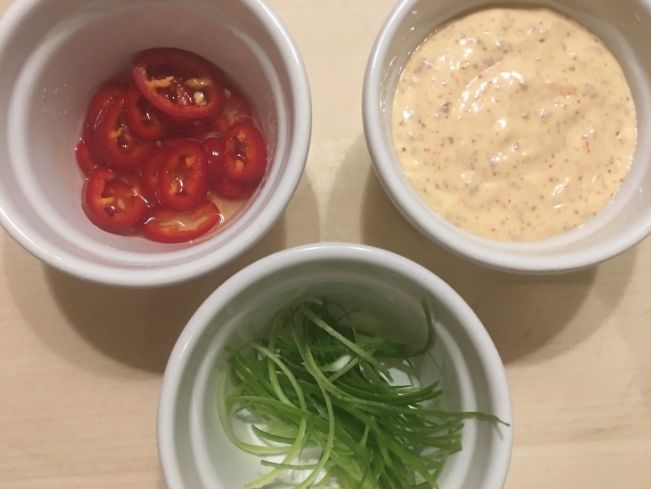 3. Whilst we wait on the dough to prove, we can now move onto making the toppings, sauce and preparing the squid. Let's begin with the pickled red chillies, simply finely slice 2 red chillies leaving the seeds in if preferred. Next in a small bowl add 1 tsp of sugar and 3 tsps of rice vinegar and mix well until the sugar dissolves. Add the chillies and allow to pickle until we are ready to serve. As for the spring onions simply finely slice into a julienne then place to one side. For the spicy mayonnaise, in a small bowl add 1/2 cup of mayonnaise, the juice of 1/2 lemon, 2 finely minced garlic cloves and 1 tbsp of fine chilli flakes. Mix well then place to one side with the other toppings.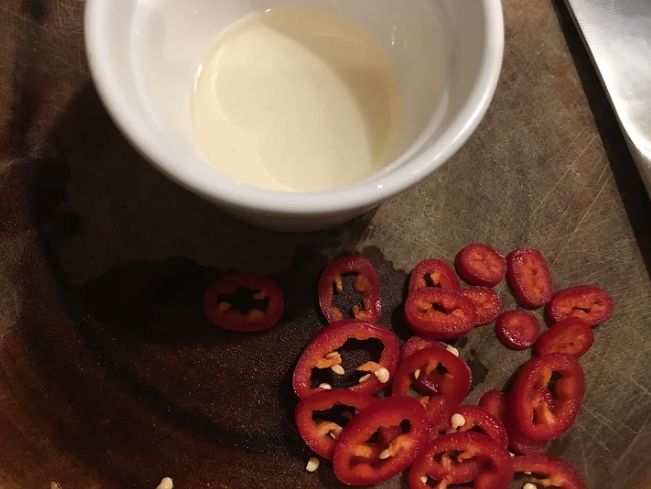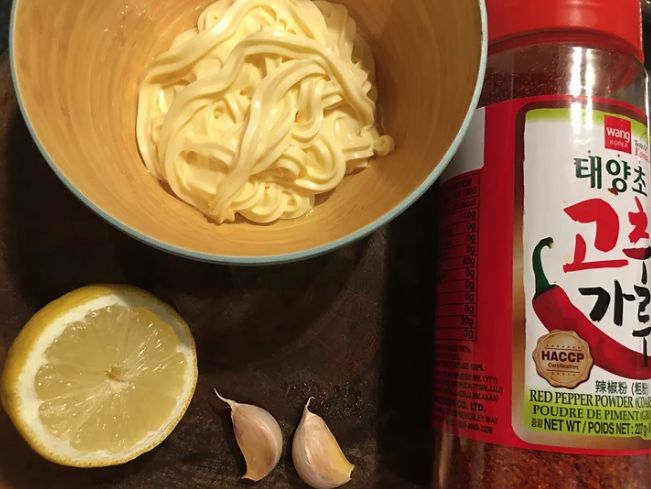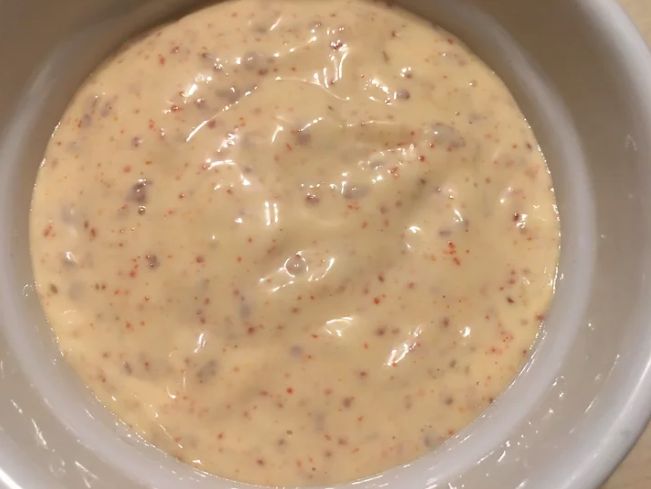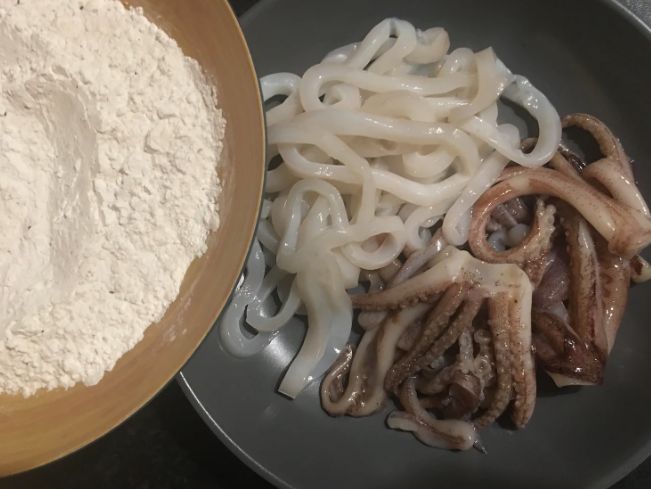 4. For the squid start by removing the outer membrane then remove the tentacles by cutting just below where the eyes are. Remove the beak from where the head is then cut the tentacles into bite sized pieces. For the squid tube remove the spine and innards first then briefly wash. Pat the squid tubes dry then slice into thin rings. Place the squid onto kitchen paper and place back in the refrigerator for now.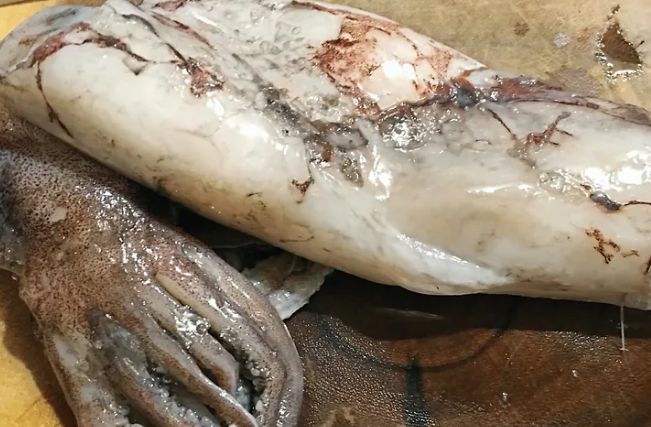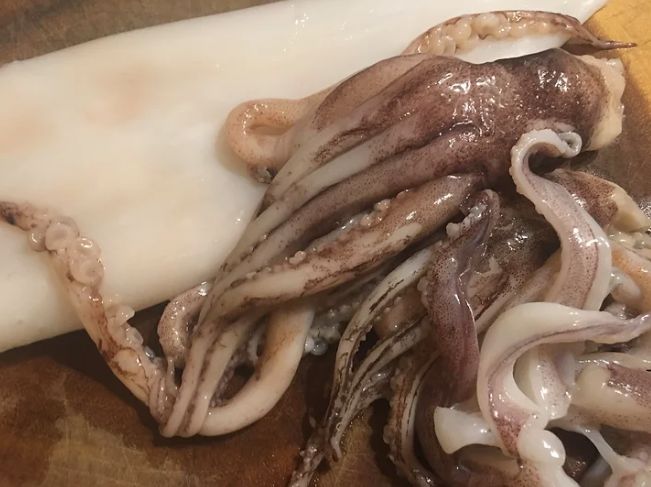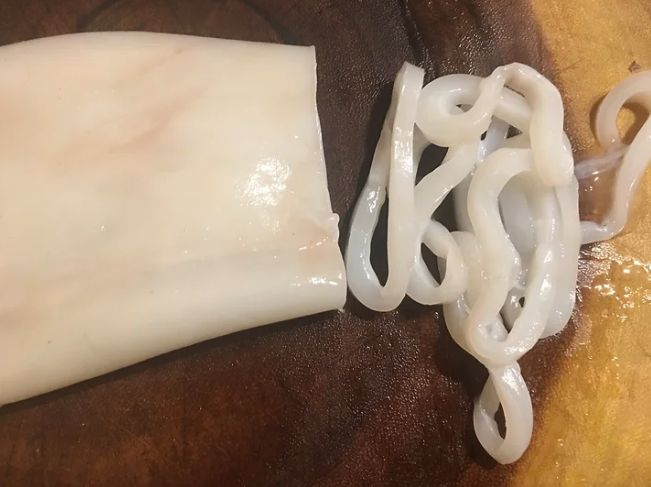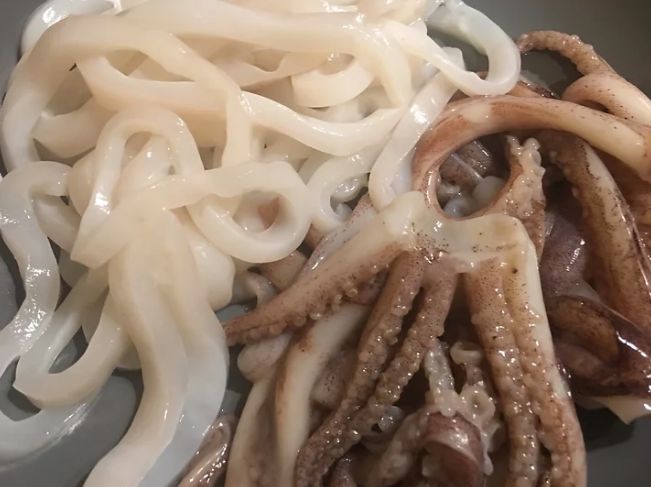 5. Last thing left to prep before we move back to the dough is the dredge, by getting all the components prep completed whilst the dough is proving will make finishing the bao's so much simpler. To make a light dredge for the squid, in a bowl add 1/2 cup of plain flour, 1/2 cup of cornflour, 2 tbsp fine chilli flakes, 1 tbsp sugar and salt and black pepper. Mix well then place the dredge to one side until the very end.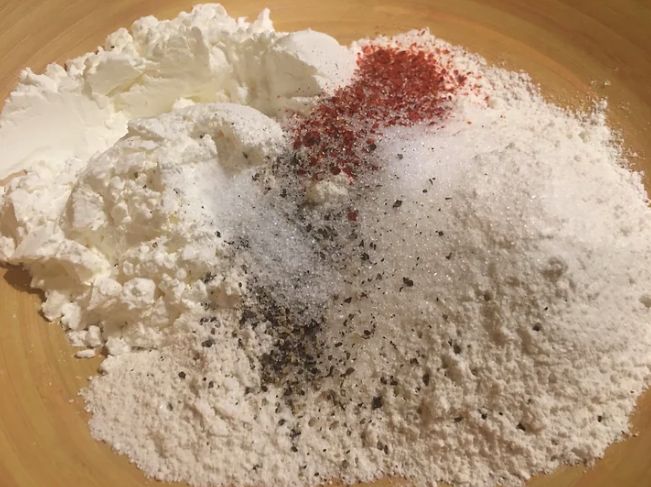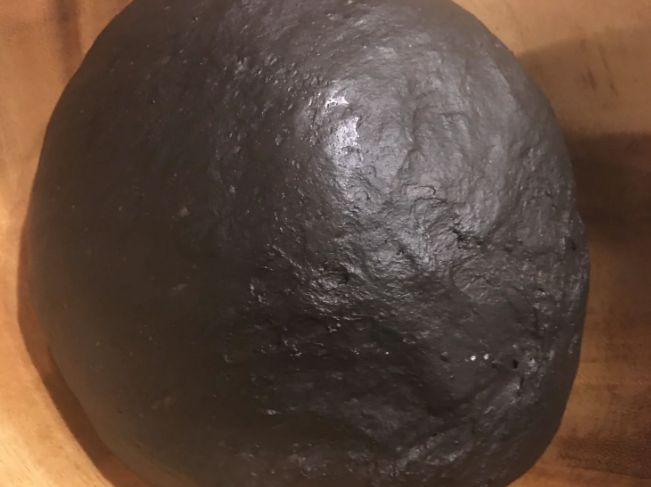 6. Back to the dough, after at least 1 hour of proving the dough should have doubled in size. Press into the dough to release and unwanted air then place onto a work surface dusted lightly with flour. Kneed the dough back into a ball then cut the dough into 4 equal sized quarters. Cut the quarters in half again to make 8 equal sized pieces of dough. Each ball of dough should way approximately 80g each. If you want to make smaller baos then weigh each ball of dough out to 60g each instead. Roll each piece of dough back into a ball then place to the side of the work surface and cover with clingfilm to prevent them from drying out.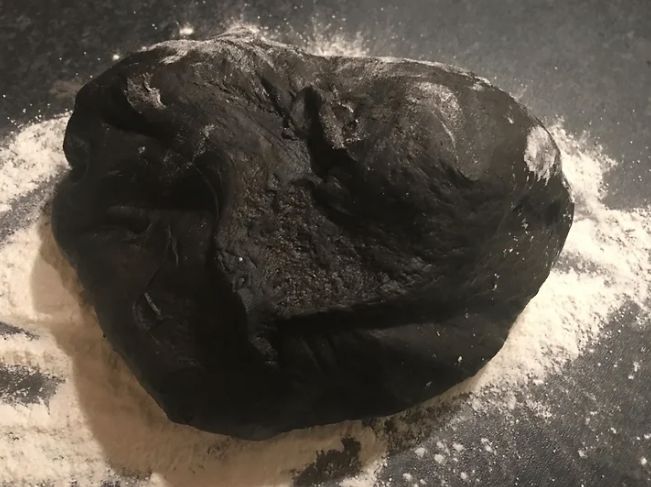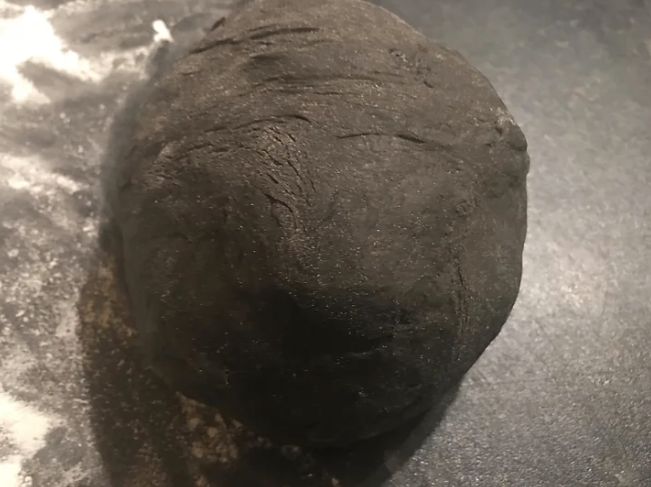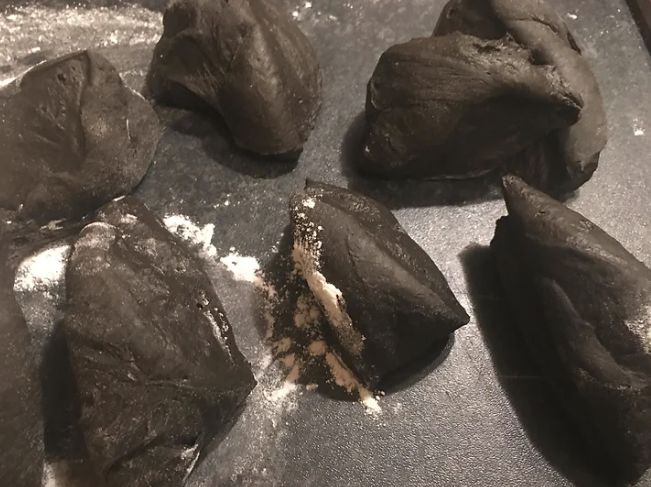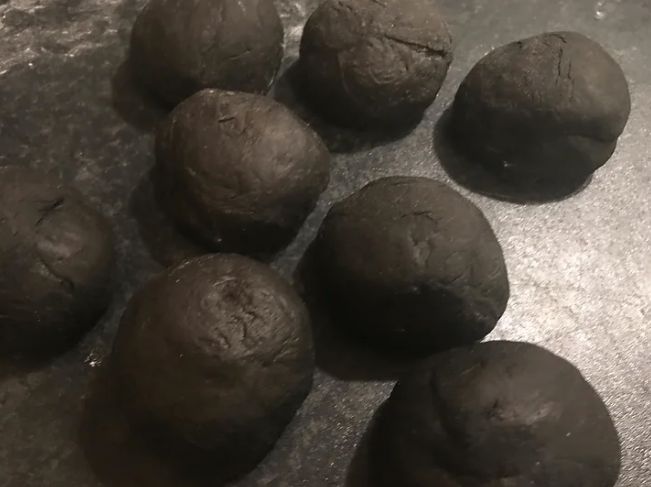 7. Now to transform these balls of dough into bao buns, take one ball of dough then flatten with your palm to form a flat disk. The dough will have a slight bit of resistance at this point, therefore, use a small rolling pin to roll out to form a larger flat disk approximately the size of your hand. We are looking for a size of approximately 16cm in diameter and 1/2 cm in thickness.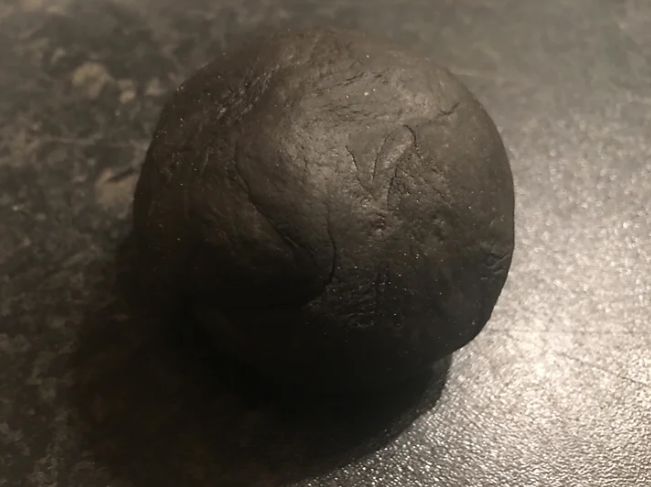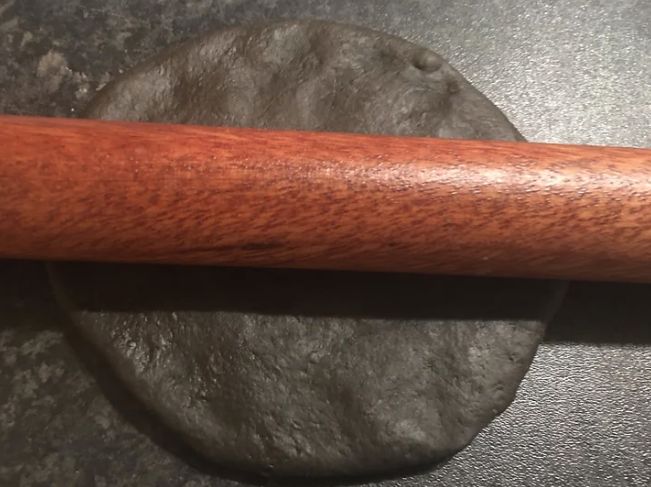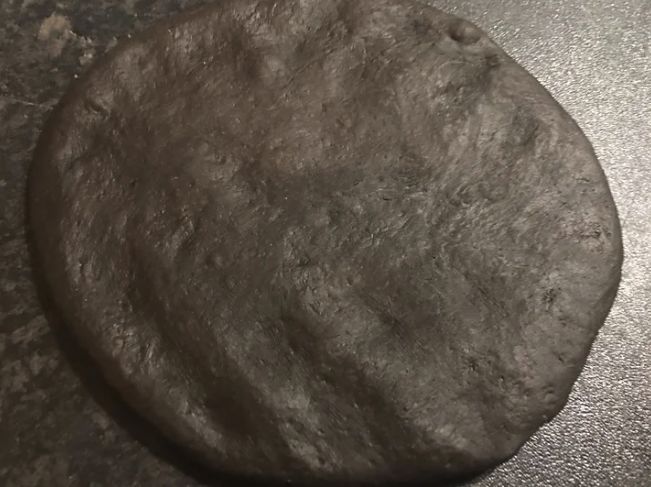 8. Next step is to prevent the bao buns from sticking together when folding in half, lightly brush 1 side of the dough with rapeseed oil then carefully fold in half to make a crescent leaving the lightly oiled side on the inside. When ready place onto a small square piece of parchment paper and gently roll over the top of the dough to shape and slightly flatten. Repeat this process for all of the pieces of dough then place onto a baking tray and cover with clingfilm. Allow the bao buns to prove again in a humid area for 20-30 minutes or until they start to puff up.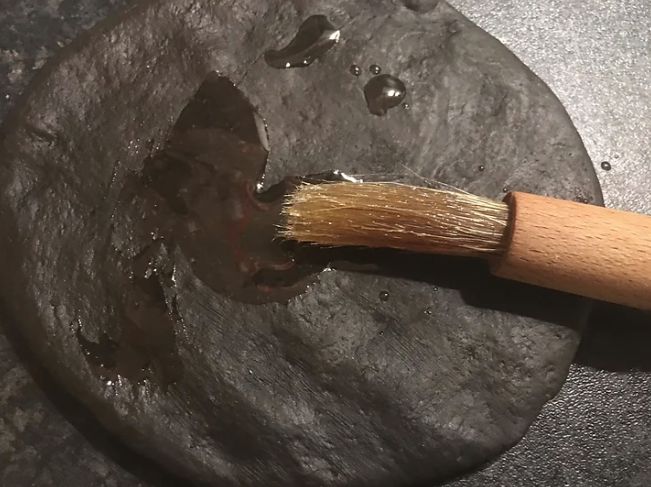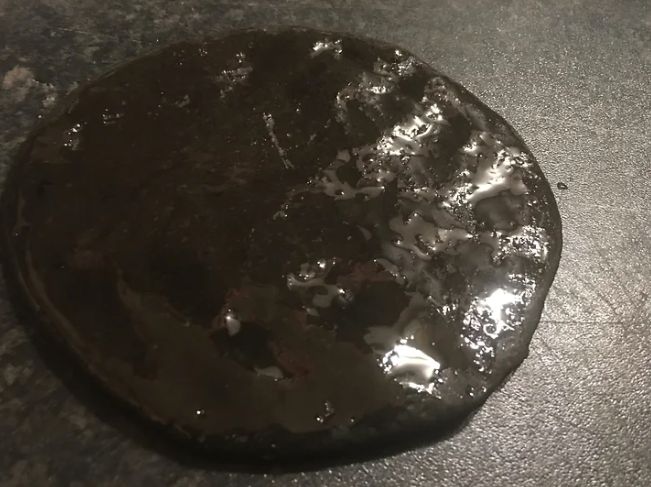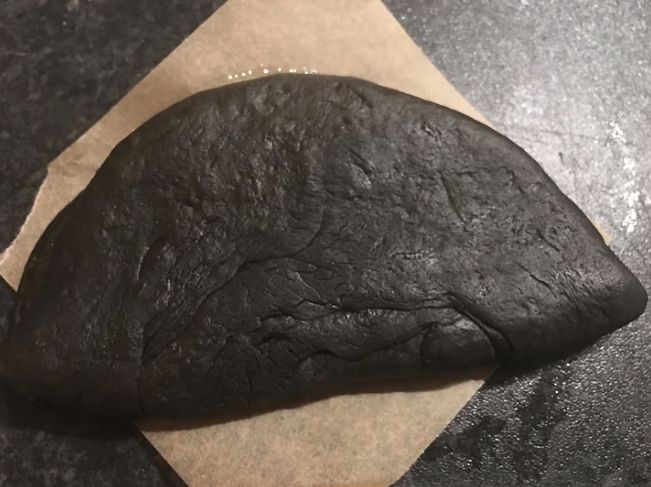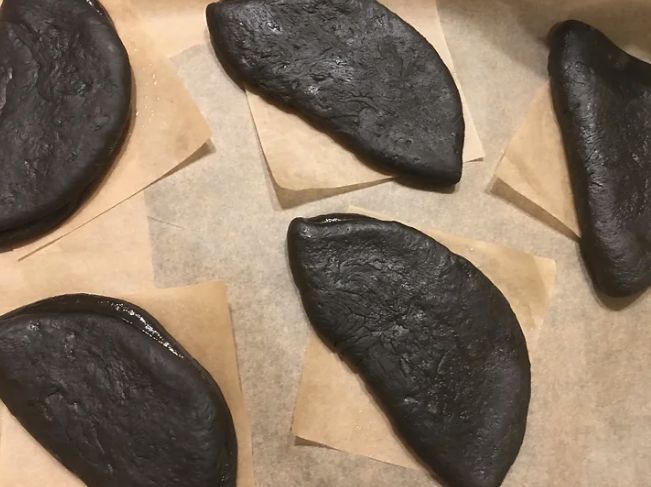 9. After 20-30 minutes the bao buns are ready to steam, place a steamer or bamboo steamer onto a high heat then add the bao buns leaving some space between each one as they will double in size. Steam the bao buns for 10-12 minutes. When ready they should be super soft and fluffy, carefully remove from the steamer and place to one side. All that's left to do now is to fry the squid.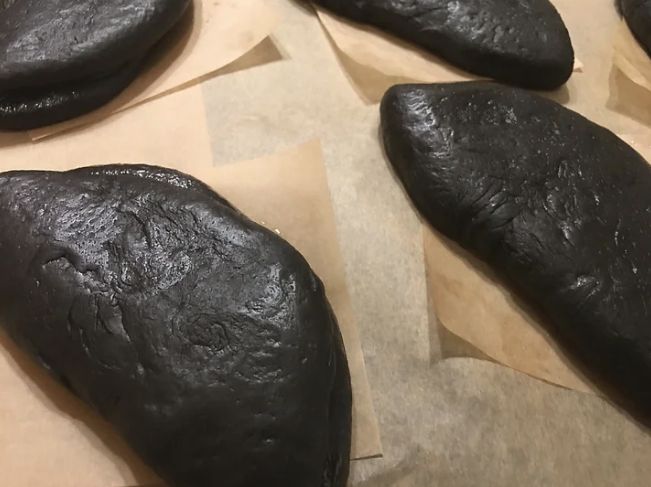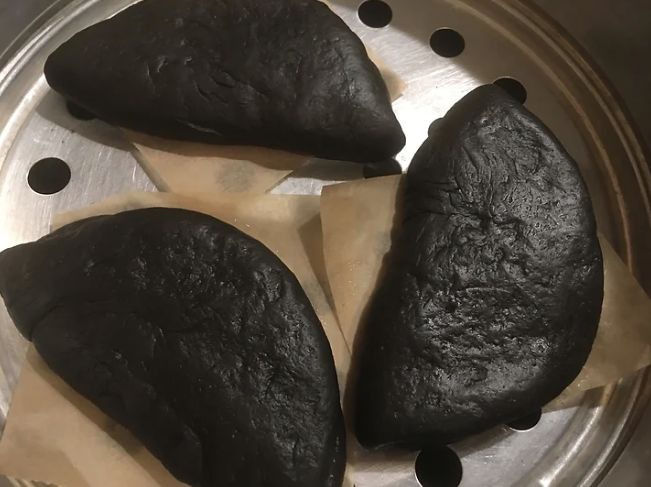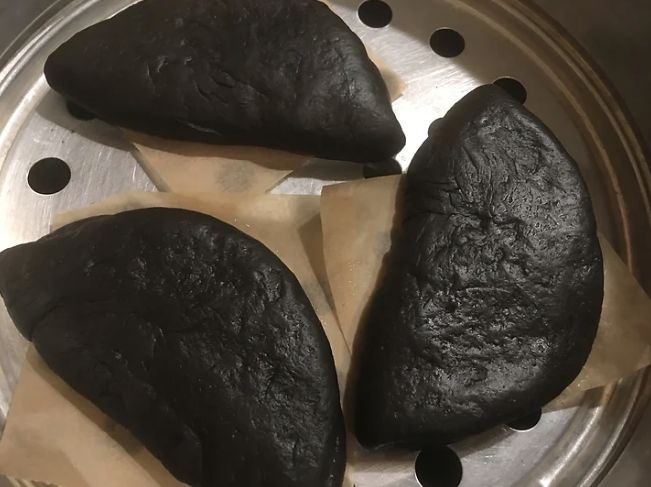 10. Now we have our baos, we can fry the squid just before serving to preserve maximum crispy squid. Place a generous amount of cooking oil to a pan (approximately 2 cups) and place onto a high heat. When the oil reaches 180°c add the squid pieces to the dredge and lightly coat. Add the squid in small batches to prevent the oil temperature from falling and fry for 1-2 minutes until crispy. When ready carefully remove the fried squid from the hot oil and drain briefly onto kitchen paper. Season with a touch of salt and we are now ready to serve.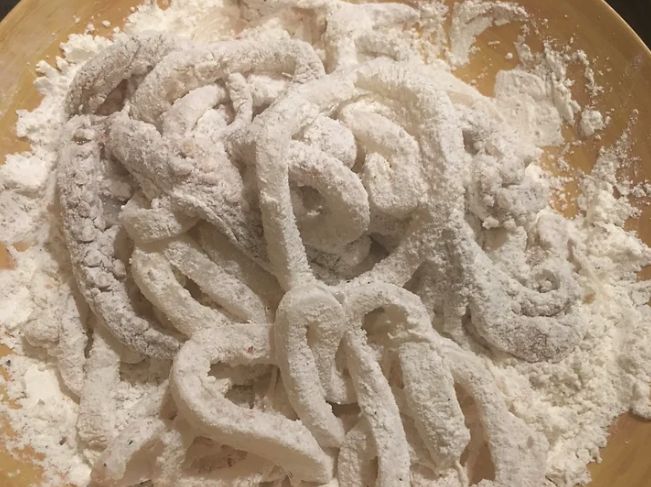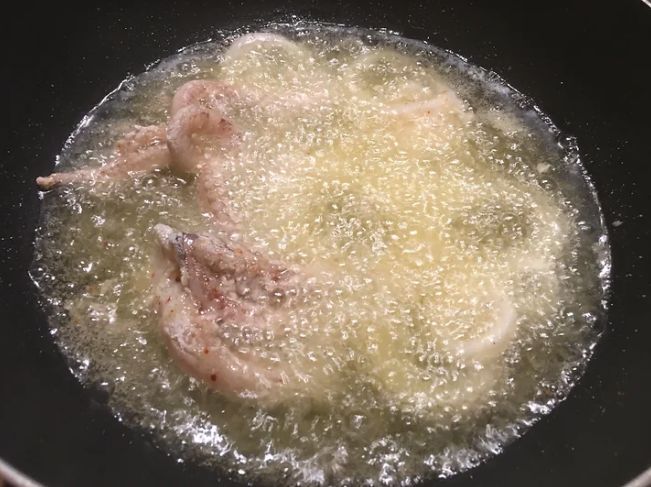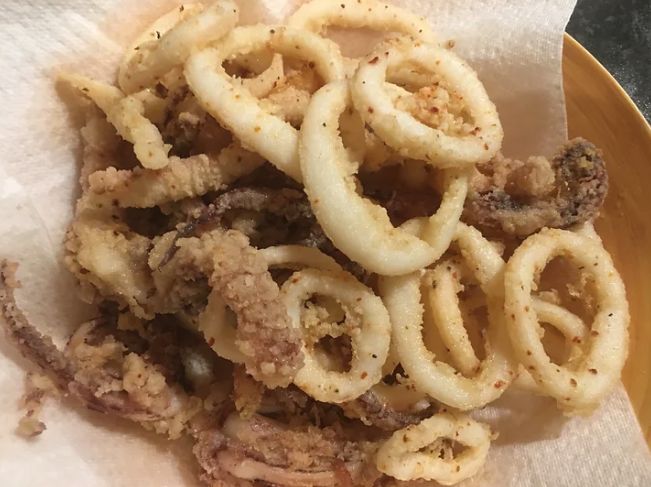 11. Now to build up the baos, open up each bao then add a generous scrape of the spicy mayonnaise. Next layer with crispy squid and top with some of the sliced spring onion and pickled chillies. Finally squeeze some fresh lemon over the top and devour…Hope you like these delicious squid baos!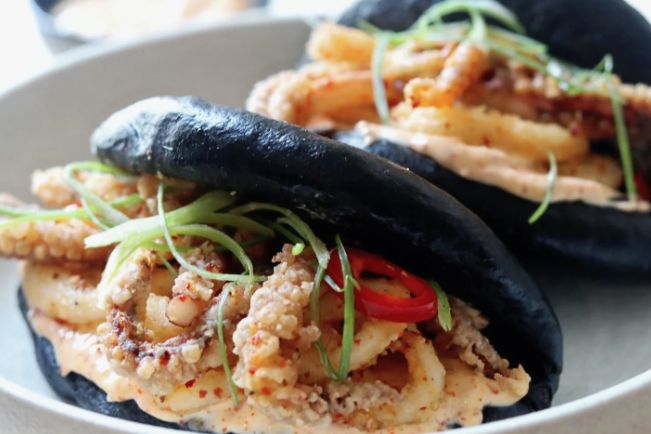 If you cant get hold of squid ink then simply leave it out although I find leaving it out will have a slight effect on how much flour you use. I would probably minus approximately 20g of flour from the dough if you do this…As for what else to add then the possibilities are endless, crispy chicken, braised pork, sautéed mushrooms, tofu etc…I must stress that you try crispy squid first though! Have fun and I'm sure you will love this one!
Cook time 20 minutes / Prep time including proving 1 hour 45 minutes
extra flour and oil for dusting
1/2 cup plain flour (dredge)
1/2 cup cornflour (dredge)
2 tbsp fine chilli flakes (dredge)
1 tbsp white sugar (dredge)
salt and black pepper (dredge)
1 tsp white sugar (pickle optional)
3 tsp rice vinegar (pickle optional)
1 tbsp fine chilli flakes