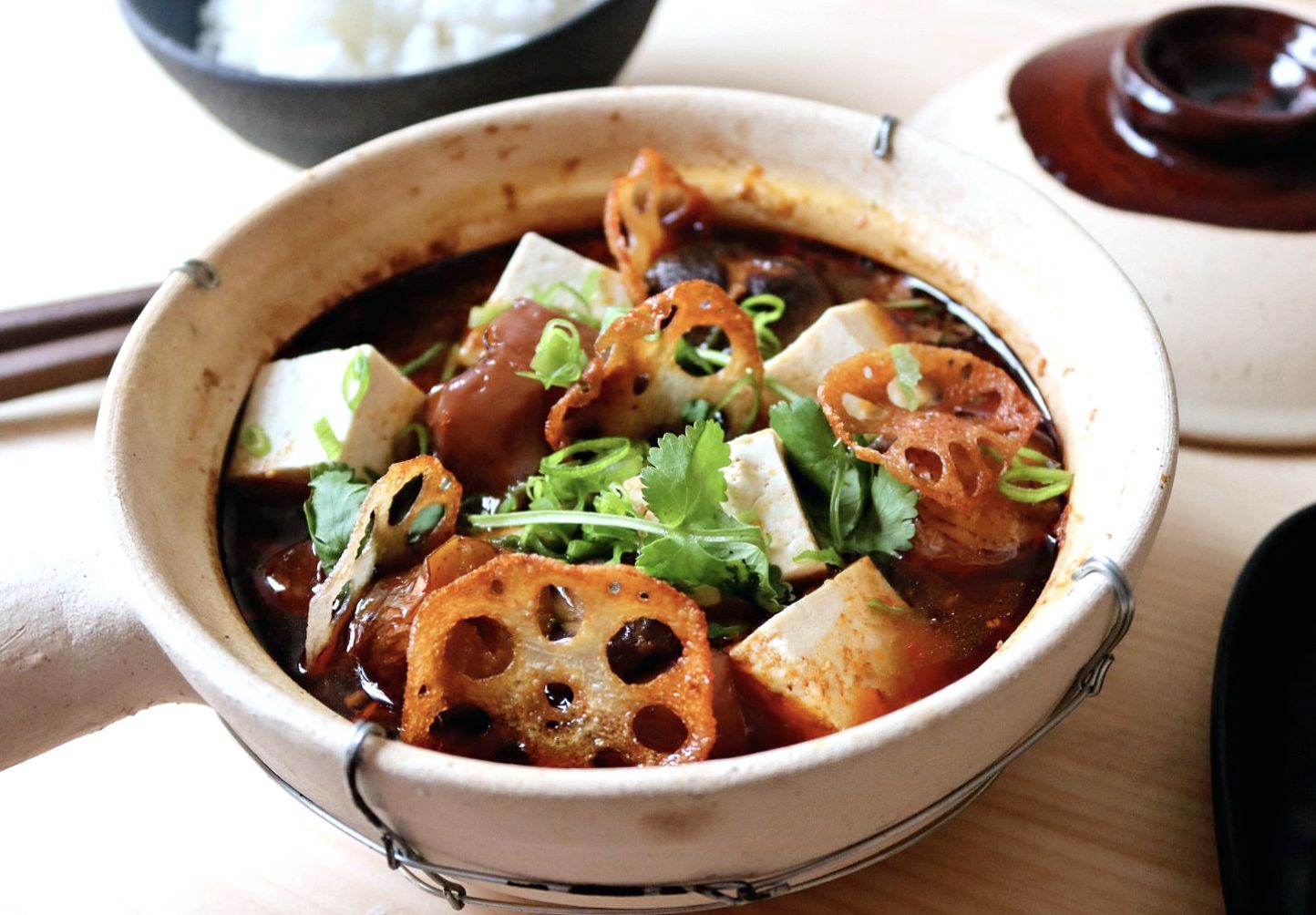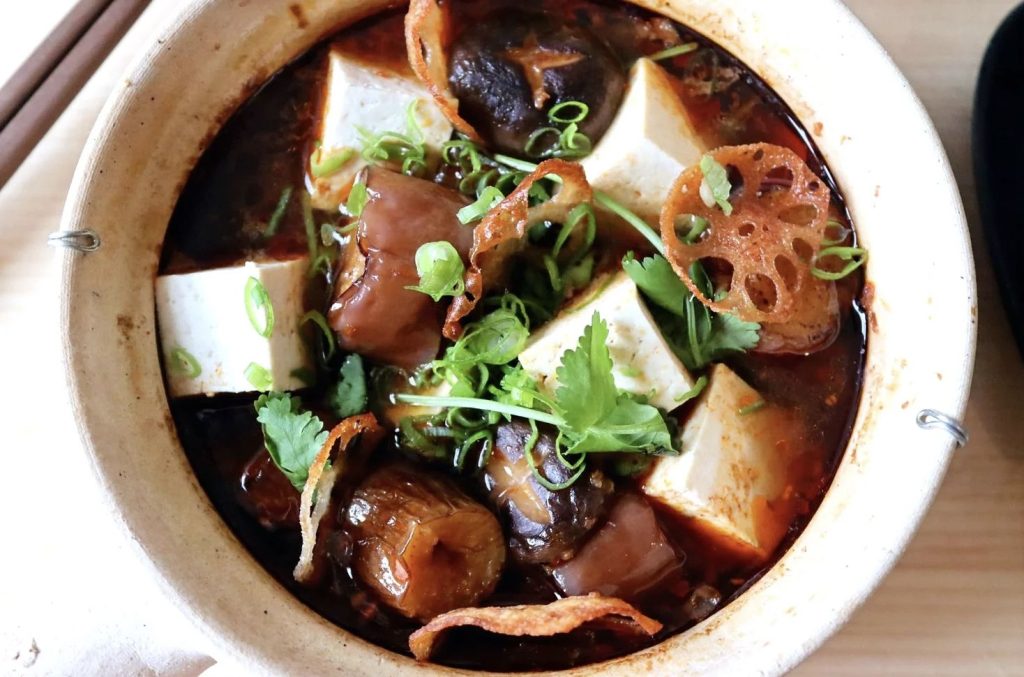 This style of cooking aubergine braised in a claypot is classic chinese cooking 101. What makes this style of dish so special is that depending on which part of china you eat it then it may either be spicy opposed to salty. For this recipe I will make the braise in the Sichuan style which has a touch of heat to it coming from a chilli bean sauce. Optionally if your not a fan of spice then leave out the chilli bean sauce and focus more on the braise using soy based ingredients. Instead of only braising aubergine I wanted to add firm tofu, shiitakes and some fried lotus crisps for a little more finesse. Let's get straight into this recipe!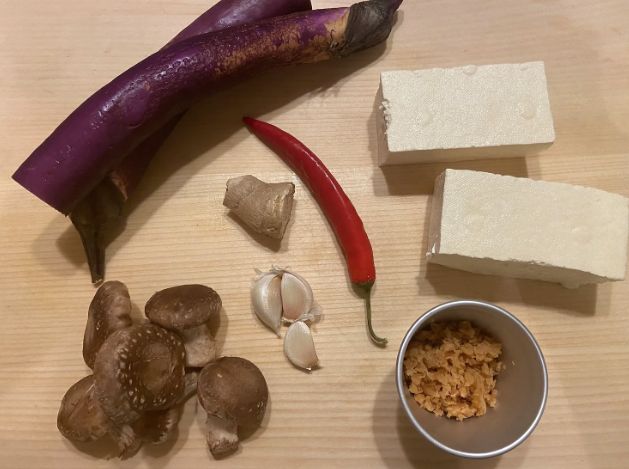 1. Before we begin, this recipe is intended to be made in a fairly decent sized claypot, however, if you cant get hold of one then a deep pan with a fitted lid would also work. This is one of those recipes that as soon as the prep is done the cooking runs nice and smooth. Begin with the mushrooms, remove the stems first then place the stems into a bowl and add approx 400ml of hot water and soak to make up a stock. Keep the tops of the shiitakes whole then lightly cross score the top. As for the aubergines, these Chinese aubergines are fairly long, therefore, simply cut into large bitesized pieces. Cut 350g of firm tofu into cubes then mince 2 garlic cloves and 10g of ginger and finally slice 1 long red chilli into thick slices. Place all of the prepared ingredients to one side as we will cook these at different stages.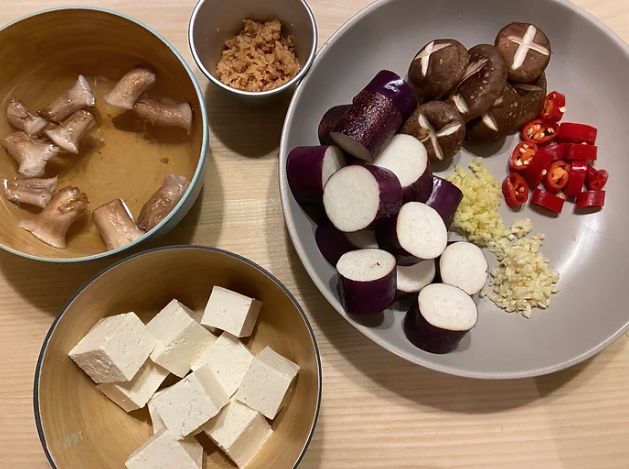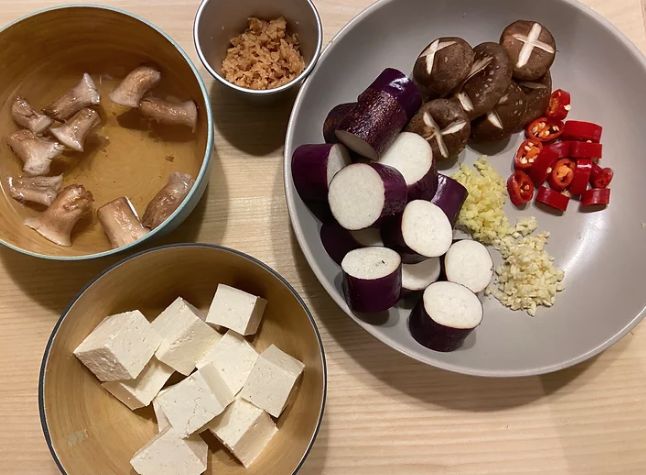 2. Now that the majority of the prep is done we can now move onto the braising base. If spicy food isn't your thing then simply limit or remove the chilli bean based stated in the ingredients list. In a small mixing bowl add 2 tbsp of chilli bean sauce, 2 tbsp hoisin, 2 tbsp light soy, 1 tbsp dark soy, 1 tsp white sugar, 1 tbsp black rice vinegar and 2 tbsp of sesame oil. Mix all of the ingredients well then adjust the taste if needed. We are looking for a salty, spicy, slightly sweet and sour savoury sauce.
3. Now to begin the braise, before we start cooking, we want to seal and add colour to the aubergine. Place the aubergine into a small bowl and drizzle lightly with oil. Massage the oil into the aubergine then add to a large hot dry pan. Sear both sides for 4-5 minutes or until the aubergine is nice and caramelised. When ready set to one side and we can now start the braise.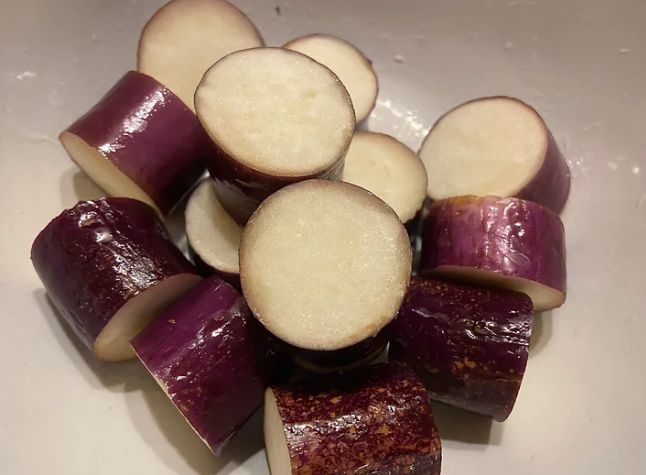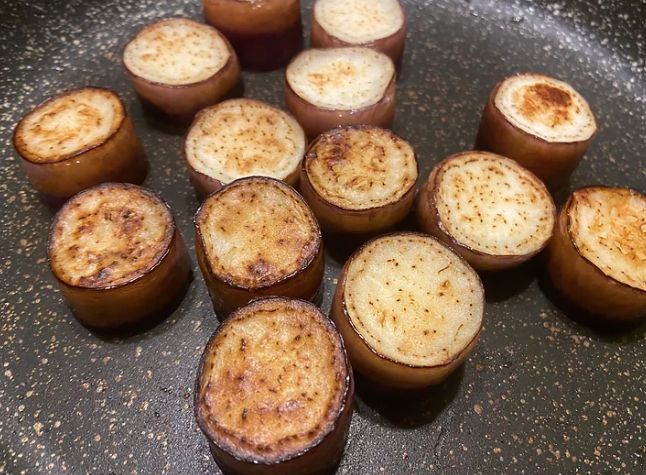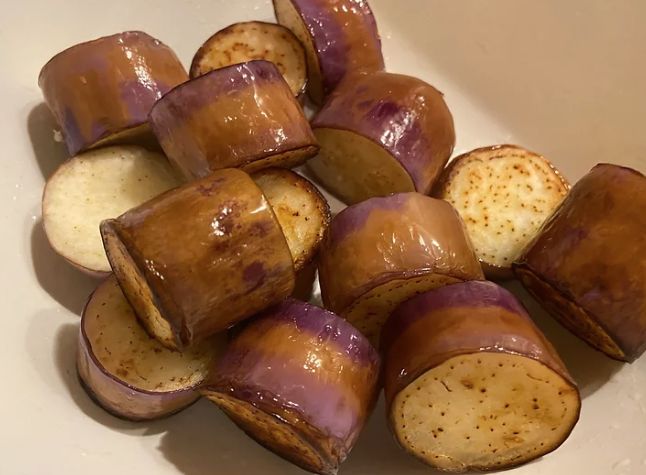 4. To start off the braise begin by adding a drizzle of cooking oil into the claypot then place onto a medium to high heat. Next add the minced ginger, garlic and 2 tbsp of preserved turnip then fry until fragrant. When ready, add all of the seared aubergine, some chopped red chilli and the shitake mushrooms. When all of the vegetables are added to the claypot, briefly fry and we now want to add all of the braising sauce that we made earlier. Fold the sauce into all of the vegetables.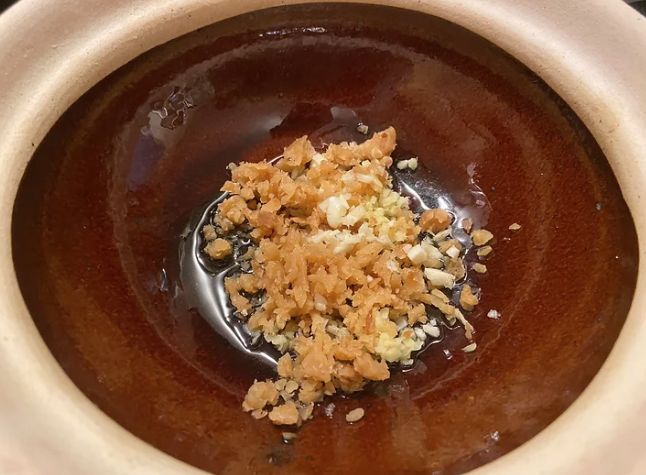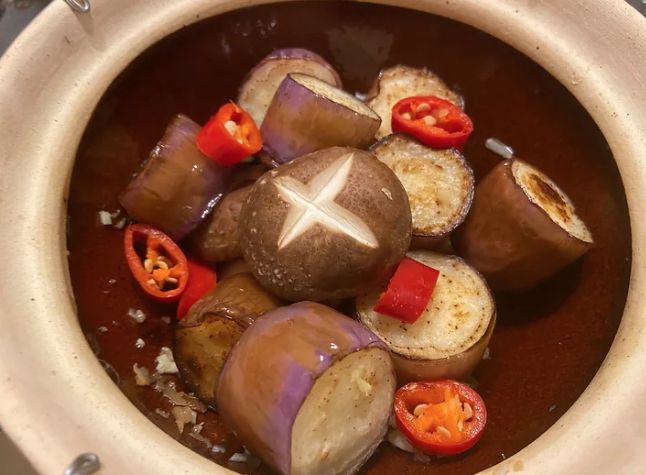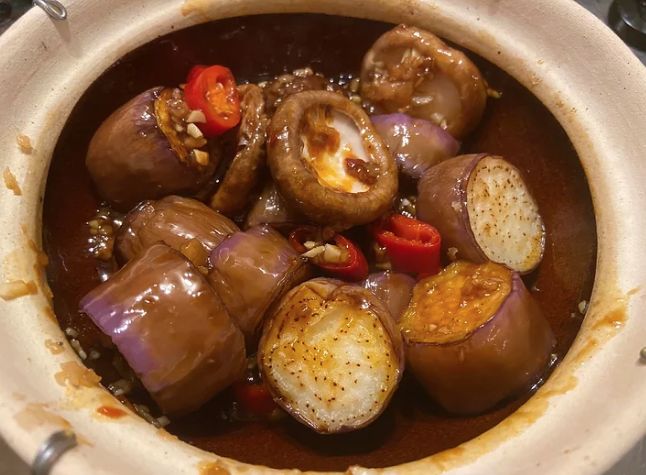 5. To complete the braise we now want to top the claypot up with the mushroom stock that we made earlier from the stems. Add the stock, then bring the braise up to a boil. When boiling place the claypot lid over the top and turn the heat down to a simmer and braise for 15 minutes to cook the aubergines.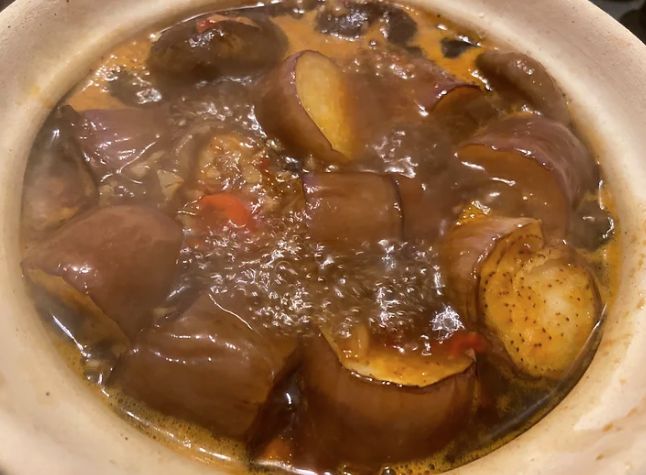 6. After 15 minutes of braising the aubergine should be just about cooked and the braise should have become nice and rich. To add more body and balance to the braise we can now add the diced tofu. Remove the lid from the claypot and turn the heat down to low and slowly reduce the sauce for another 5-10 minutes with the tofu added.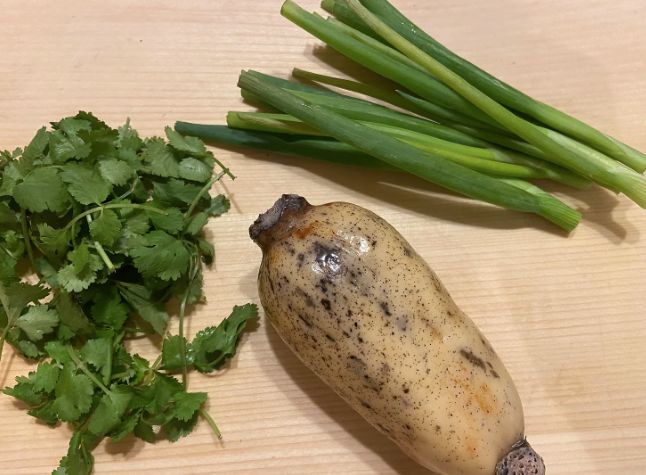 7. As the braise is just about ready to serve let's move onto a few toppings that will add a touch of freshness. Wash and pick 1/2 bunch of coriander and finely slice the green part of 4-5 spring onions. For the lotus root crisps peel then either slice on a mandolin or use a knife to slice as thin as you can. Place a small sauce pan with a generous amount of oil onto a high heat and bring the oil temperature up to approximately 160°c. When hot add the lotus root slices and fry for 4-5 minutes or until nice and golden brown. When cooked, place the crisps onto kitchen paper and season with a touch of sea salt.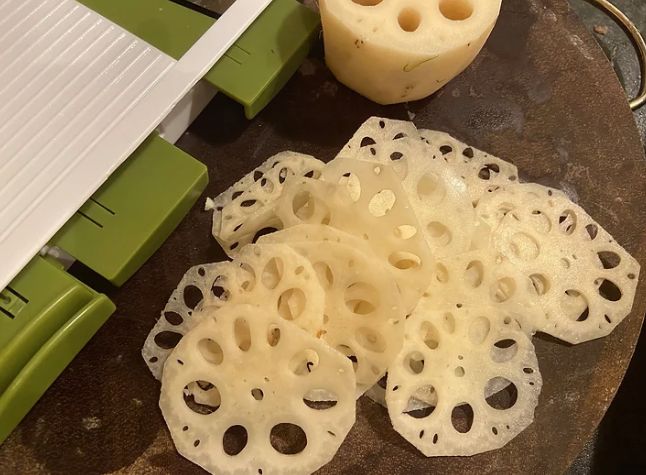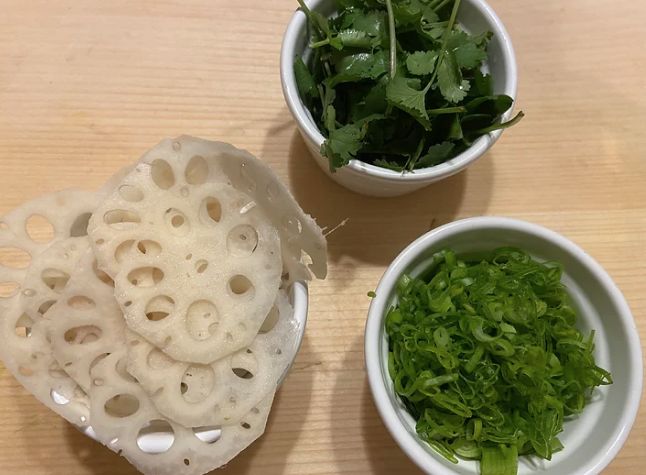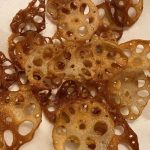 8. Now to serve, when the braise is ready adjust the seasoning if needed buy adding additional light soy, sesame oil or more mushroom stock if too intense. Add some finely sliced spring onion and coriander over the top and finish with lotus crisps to add a little texture. Nourish with some fresh steamed rice on the side and devour! Hope you like this super simple and tasty vegan recipe!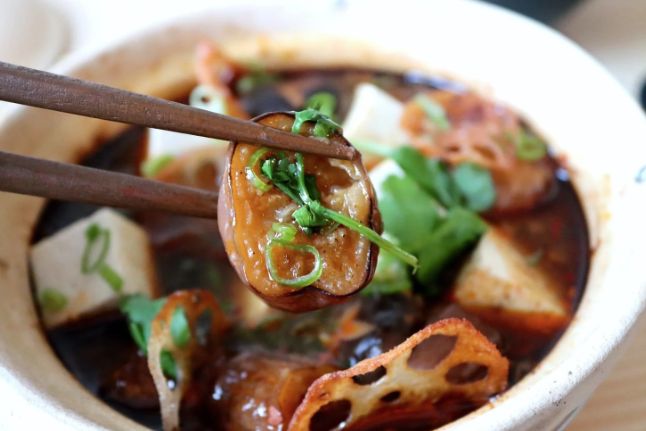 If you cannot source Chinese aubergines then ordinary will do just fine, alternatively instead of using aubergine you could also use various root vegetables instead. As for the cooking method I highly recommend you try and get some claypots or one large one as they are a game changer when it comes to braising. If you cant get hold of one then as said earlier a deep pan with a fitting lid will also work just fine. I think another great addition to this braise would be to add some cooked thick ho fun noodles towards the very end and transform the braise into a noodle soup…Have fun with this simple, healthy, vegan recipe and peace as always!
Cook Time: 30-40mins / Prep Time: 30 mins
2 chinese purple aubergines or 1 large aubergine
8-10 shitake mushrooms plus the stems for stock
2 tbsp preserved turnip (optional)
1-2 tbsp chilli bean sauce
1 tbsp black rice vinegar
400ml shitake stock from stems
1/2 lotus root for crisps (optional)