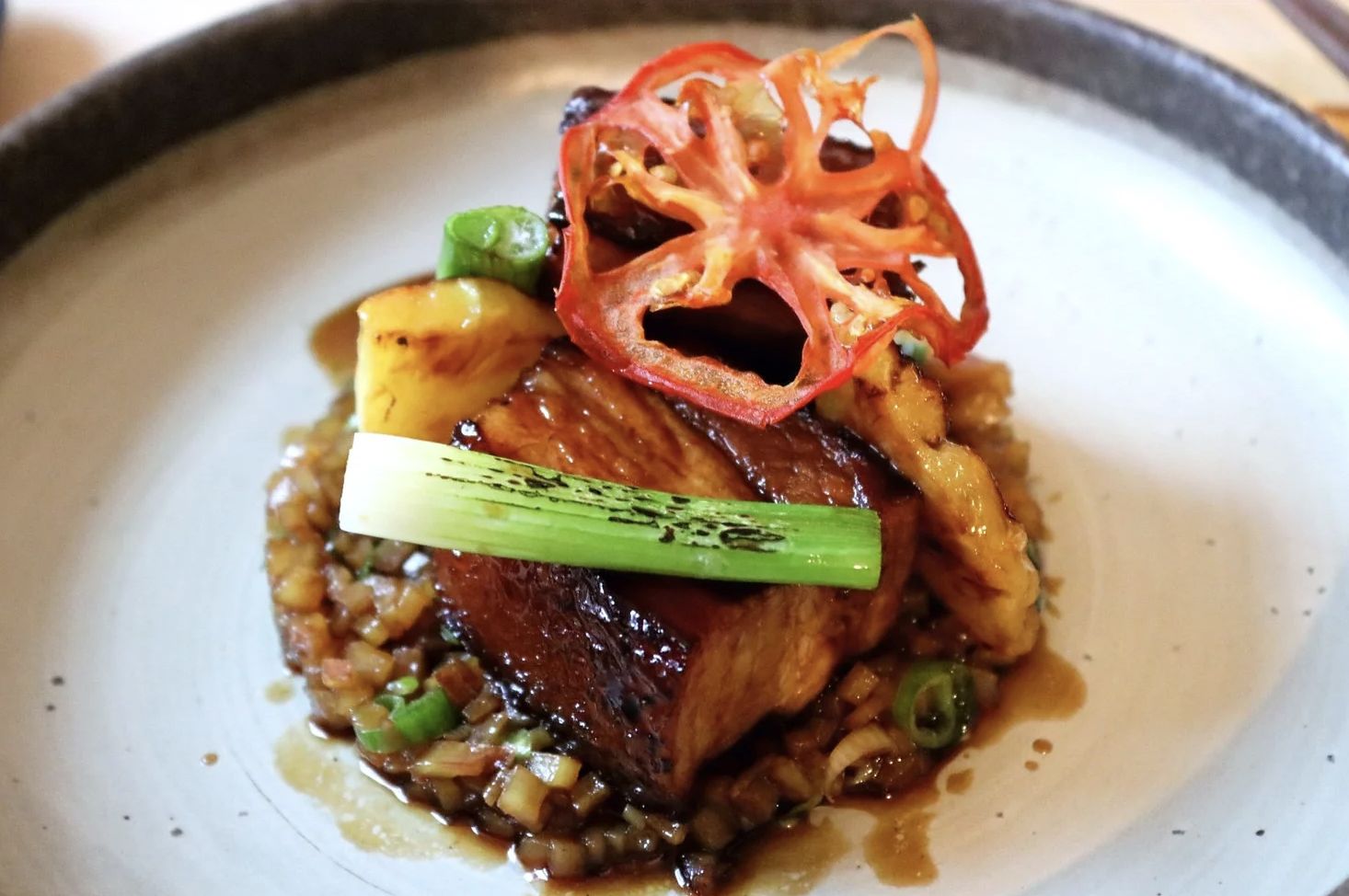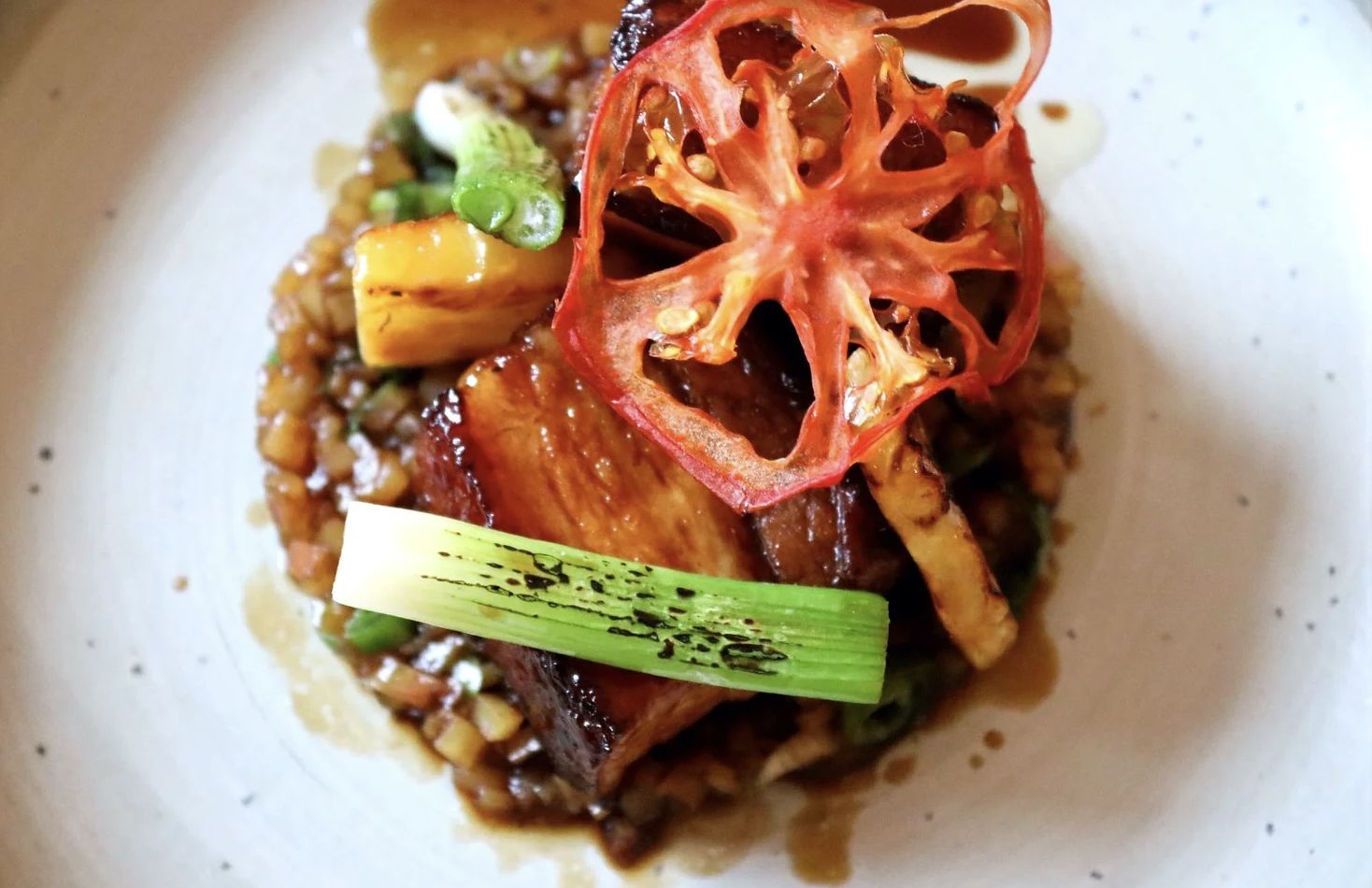 This recipe is my take on a Philippines classic pork adobo. What makes adobo so incredibly delicious is a super aromatic braise that is made up of vinegar, soy and lots of garlic! Traditionally adobo would use pork or chicken that's braised and served over rice, however, I wanted to flip the original slightly by replacing the rice with potato and adding a few extras that would compliment the pork such as pineapple and slow dried tomatoes. This dish packs a punch and is packed full of umami and is a straight up go and make immediately type of dish! With all that said let's cook!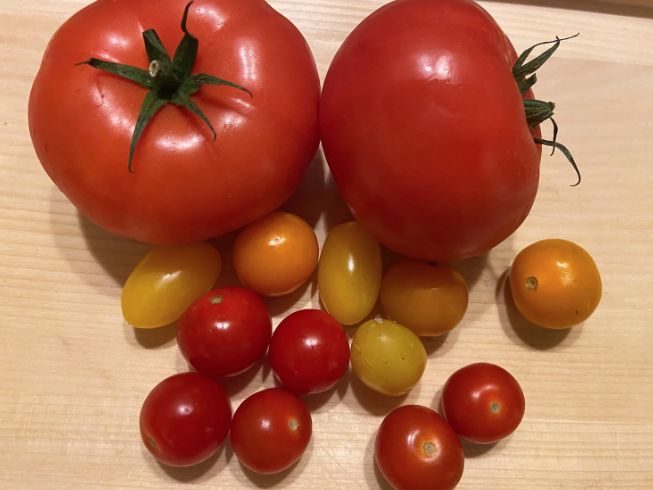 1. Let's start this recipe off by making the dehydrated tomato slices, this is totally optional, although, they have a ton of flavour and are super simple. All that's needed to make these is time. Simply slice various tomatoes as thinly as possible then when ready place the tomatoes onto a lined baking matt. Place into an oven set at 65-75°c and dehydrate until completely dry 4-6 hrs approx. You can speed this process up by using a dehydrator if you have one or I read there's a microwave method also but I prefer low and slow. This can be done days in advance also as they will keep when dried.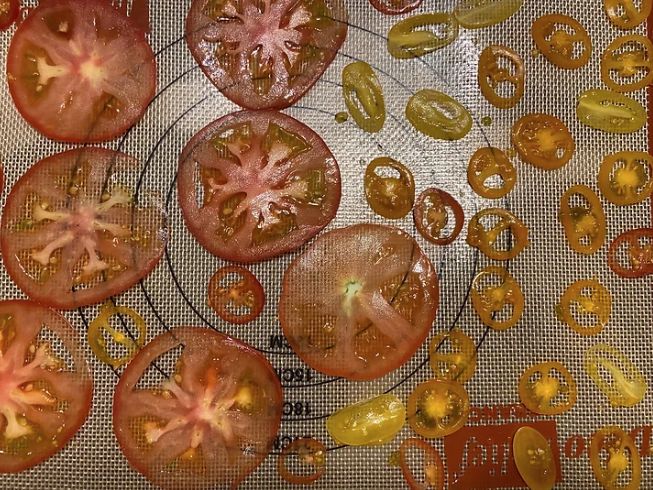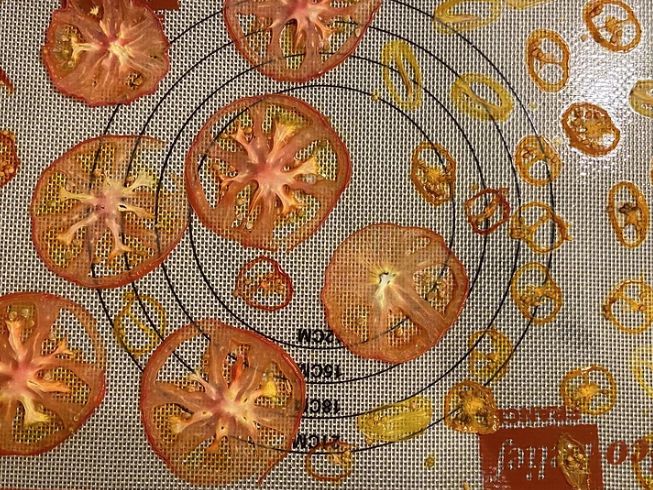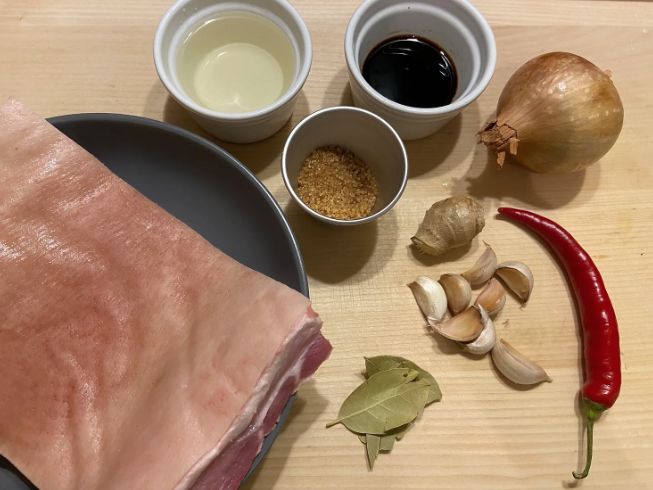 2. Now to make the adobo, before we start the braising we want to briefly marinade the pork belly for at least 30 minutes prior. In a large mixing bowl add 125mls of apple vinegar, 75ml of light soy, 3 tbsp of brown sugar, 2 tbsp oyster sauce, 2 tbsp kappa manis or dark soy and 4 minced garlic cloves and a 3cm piece of minced ginger. Mix well until the sugar completely dissolves. For the pork we are after a slab of belly pork, traditionally the pork is diced, however, I like a whole piece as I want to press it when braised. Remove any hairs on the skin by using a blowtorch then when ready add to the marinade. Marinade the pork belly for at least 30 minutes.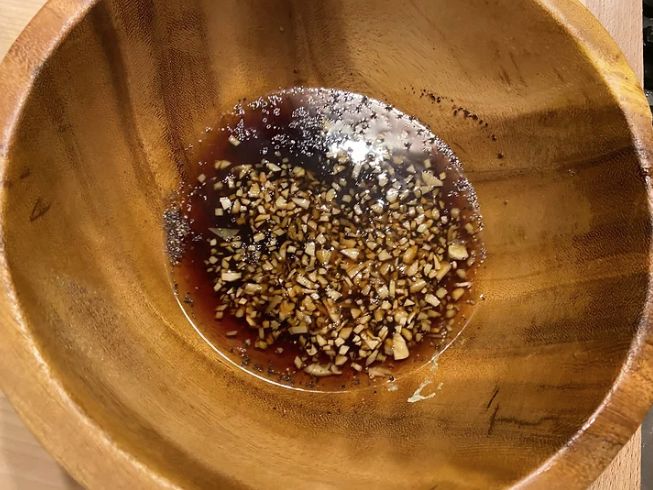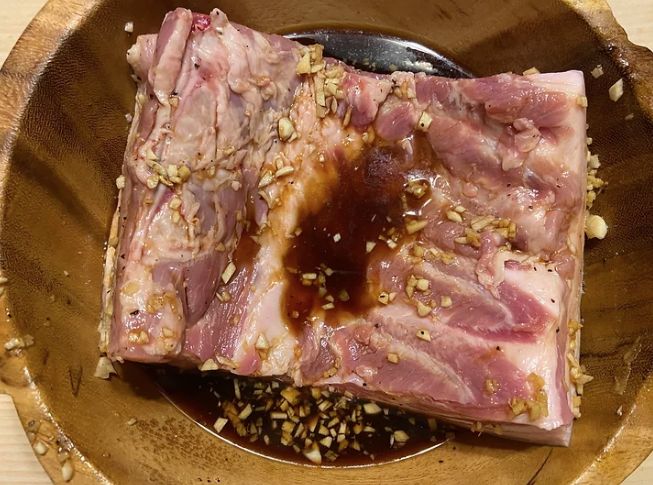 3. When the pork has finished marinating we can start the braising. Remove the pork from the marinade and briefly pat dry with kitchen paper. Keep the marinade also as we will use this as a base for the braise. Next in a large saucepan add a drizzle of oil and place onto a high heat. When hot add the pork belly skin side down first and sear on both sides until sealed.
4. Now, remove the pork belly from the pan then in the same pan remove of any excess oil then add 1 finely sliced white onion. Saute the onion for 4-5 minutes then when softened add 1 finely sliced red chilli (optional) and 2 chopped garlic cloves and continue to cook for a further 2 minutes.
5. When the aromats become fragrant, add the seared belly pork back into the pan along with all of the marinade saved from the pork, 1/2 tsp black peppercorns and 3 bay leaves. Top the braise up with water until the pork belly is just about covered and bring the braise up to a boil. When boiling turn the heat down to a low simmer and place a lid on top. Allow a slab of pork this size to braise for 2 hours.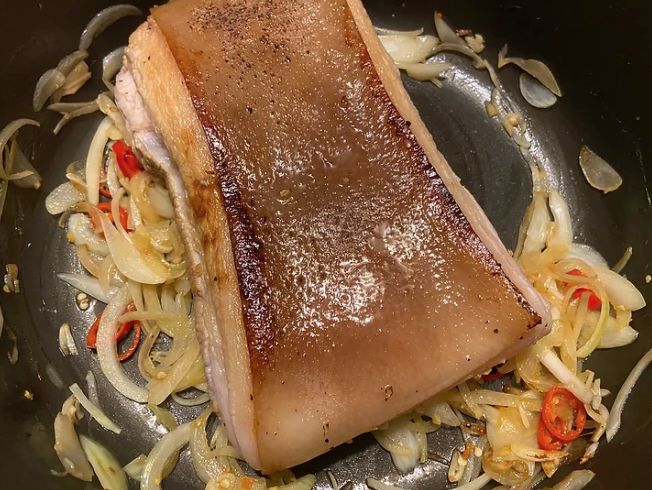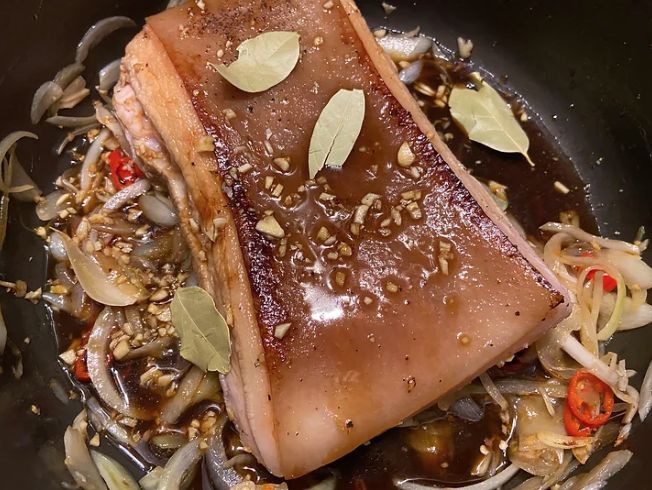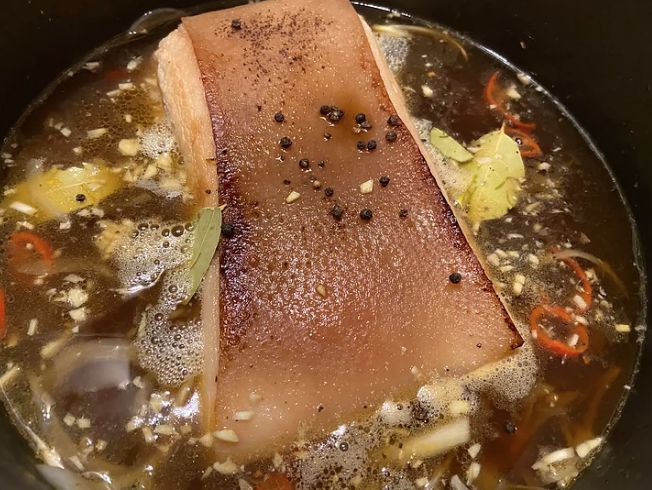 After 2 hours of braising: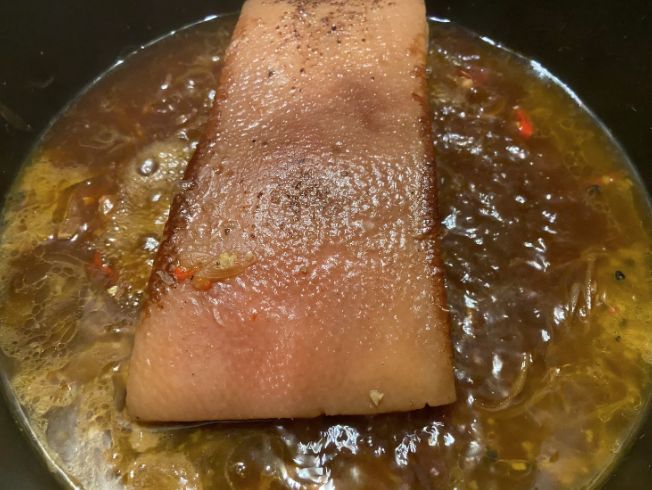 6. When the braising time has finished you can tell the pork is ready as when removed it will have a nice gelatinous jiggle to it. Place the pork belly onto a tray to cool then to press simply place another tray over the top and weigh down using a few tins or a bowl of water and store in the fridge to completely chill. As for the braise we want to keep this as it will make the perfect glaze for the potatoes and to finish the pork. Place onto a high heat and reduce until half. When ready pass through a fine sieve and store to one side for now.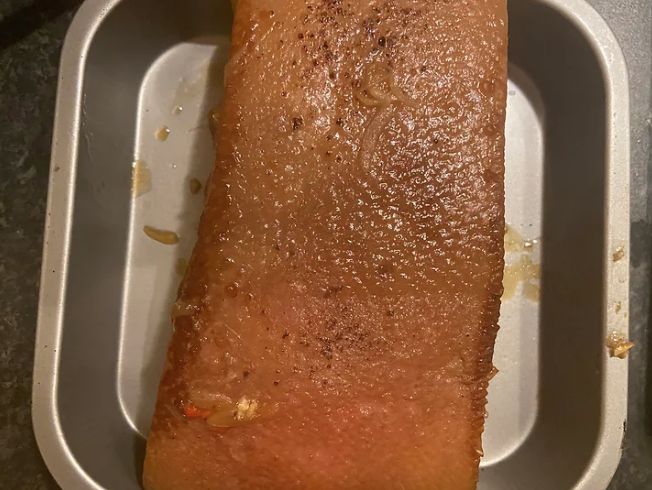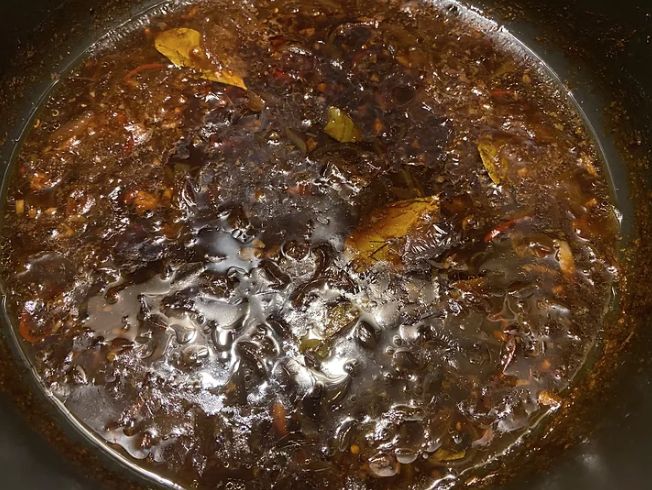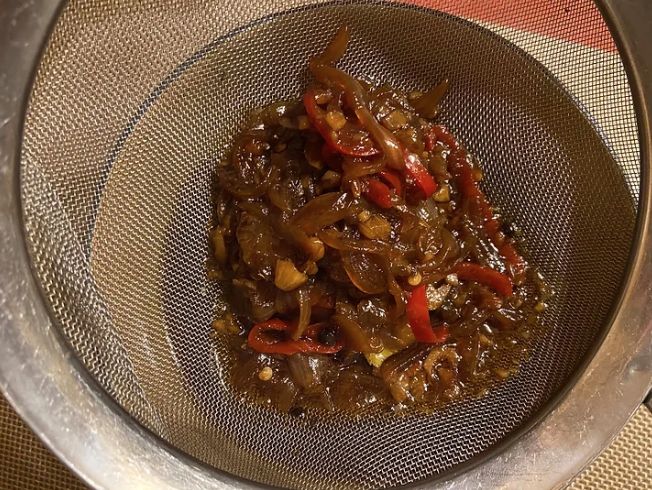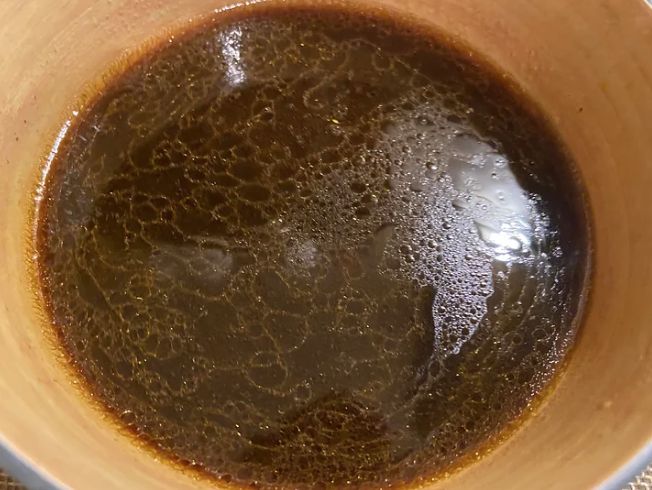 Potatoes and Additional ingredients: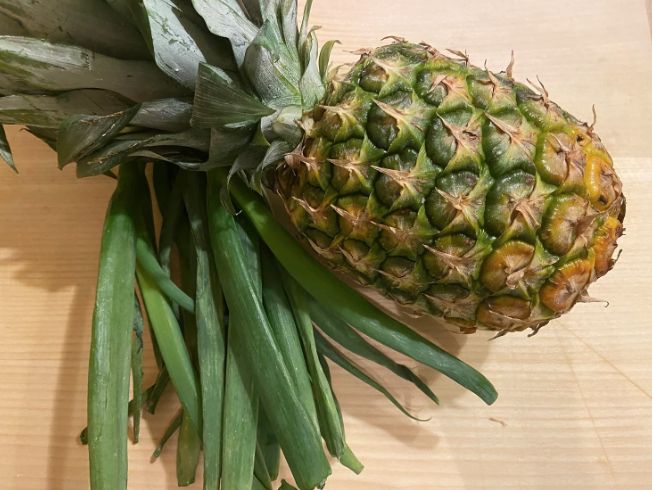 7. Whilst we wait for the pork to press we can now begin the other elements of this dish, traditionally adobo is served over rice, however, I wanted to use potato instead by slicing into a fine brunois to replicate that. Feel free to just use rice though both are good! Start by finely slicing 2 large potatoes lengthways first. Next cut into a julienne then finally into a fine dice. Add the dice potatoes to a bowl of water and rinse to remove the starch content. When ready, drain and place onto kitchen paper and pat dry.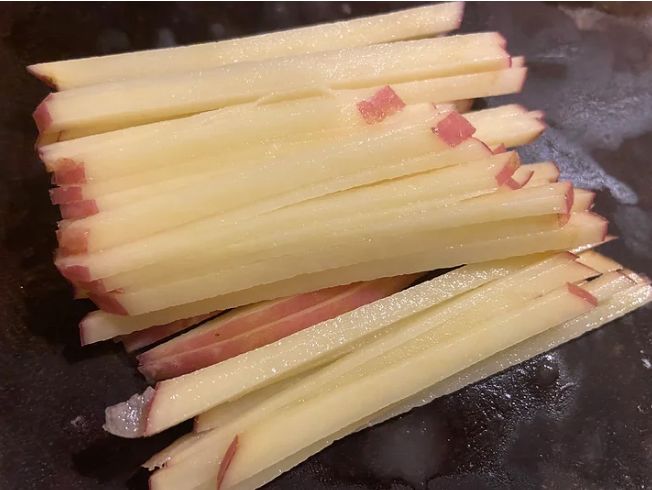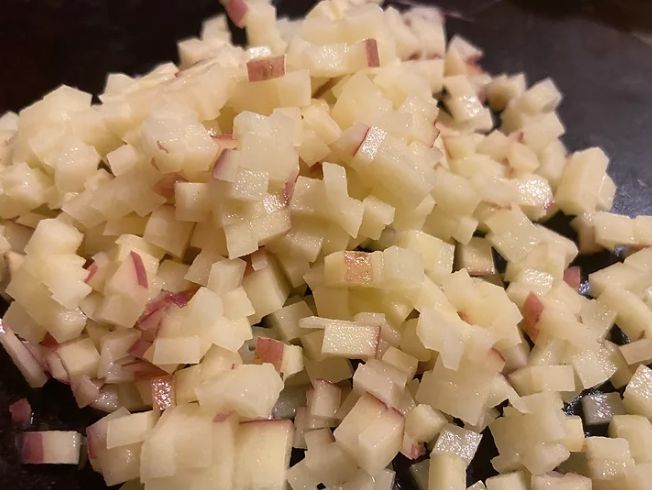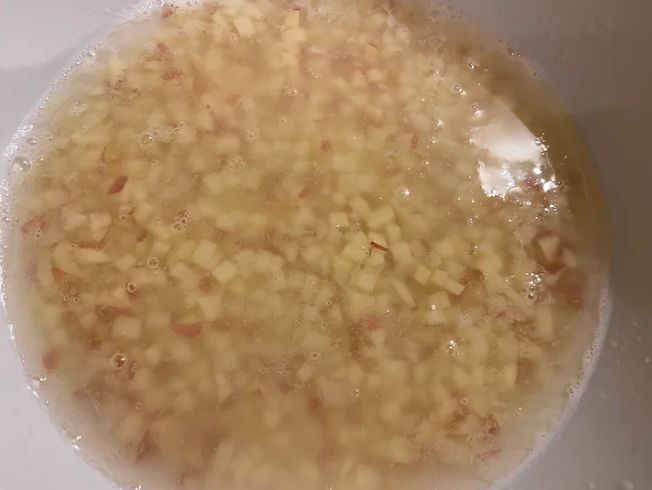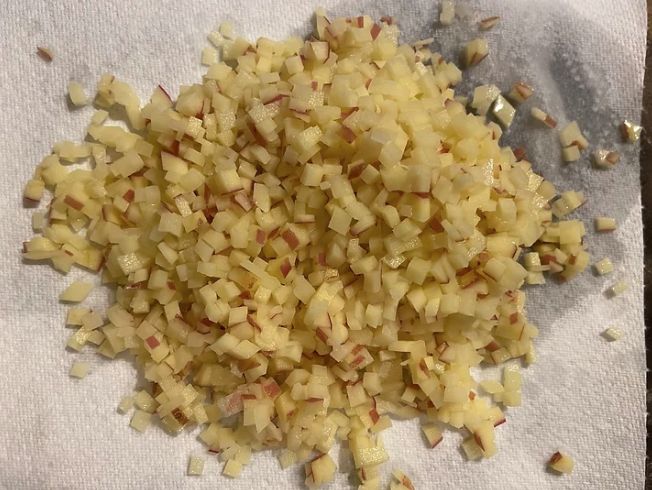 8. Next, place a large pan onto a high heat then when smoking hot add a drizzle of cooking oil then carefully add the diced potato. Fry for 10 minutes or until golden, then mince and add 2 garlic cloves, 1 bay leaf and a few spoonfuls of the braising stock saved from earlier. Reduce the liquid until the potatoes are cooked then when ready finely slice a few spring onions and season if needed. You can substitute the potato for cooked rice if you prefer and re cook the same way, however, when you try these potatoes cooked like this you will see why!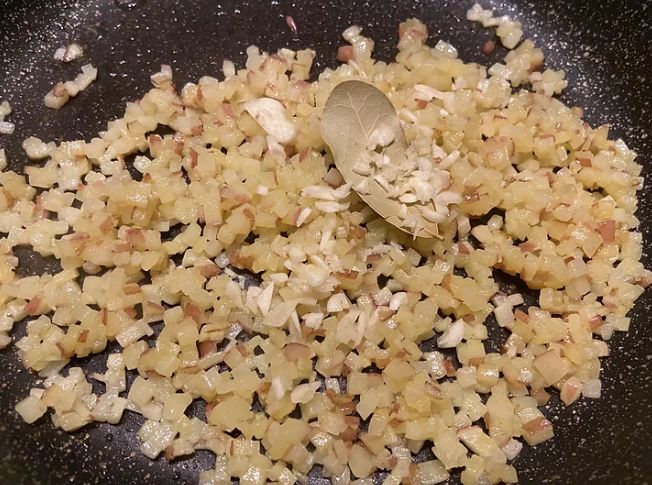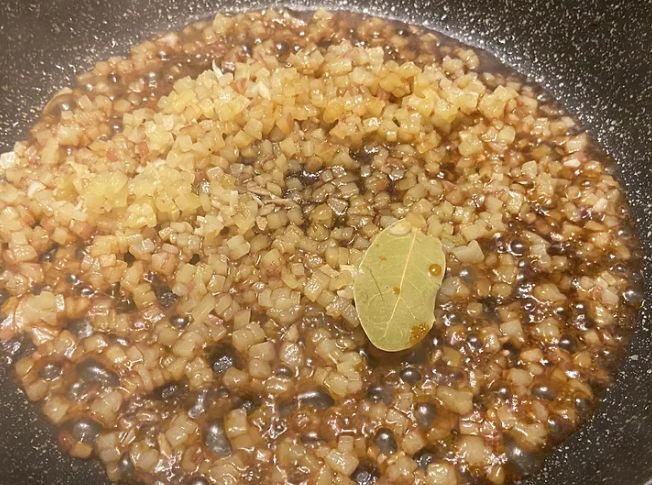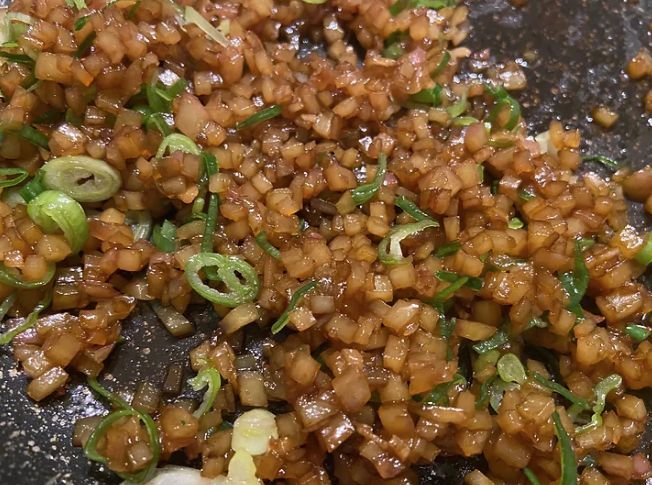 9. For a few extra touches slice 1/4 pineapple into bite sized pieces and slice a few spring onions into large pieces. Sear the spring onion and pineapple in either a pan or use a blow torch until nice and caramelised. This pineapple becomes slightly bitter when seared and works perfectly with the pork.
10. Now back to the pork belly, when chilled the pork should have slightly pressed. Its best to usually press over night but for this dish its only a small added extra step which can also be skipped. Slice the pork belly into decently large bite sized pieces. Next add a pan again onto a high heat and drizzle very lightly with cooking oil. Place the pork skin side down first then sear each side until nice and crispy. When ready add all of the remaining braising liquid and reduce and coat the pork. Keep reducing until the consistency transforms into a thin glaze. When ready remove from the heat and allow the pork to sit in all of that goodness.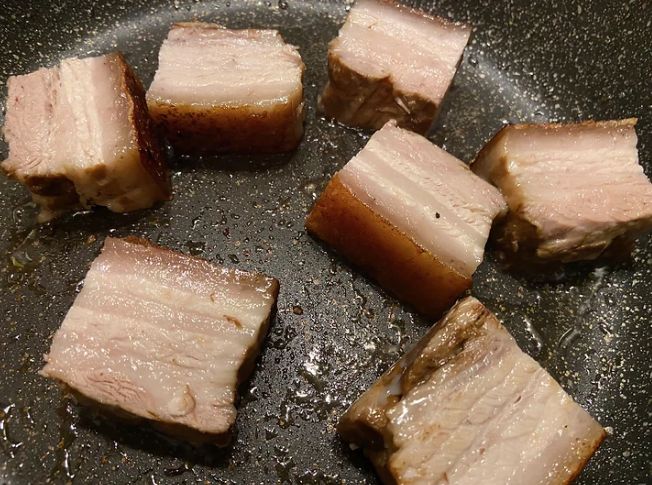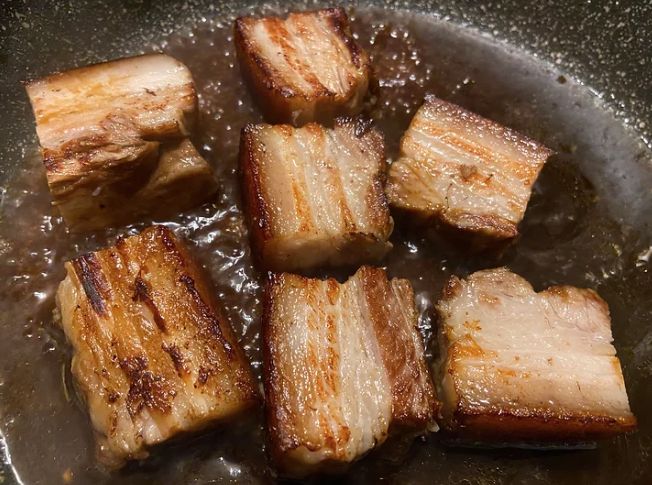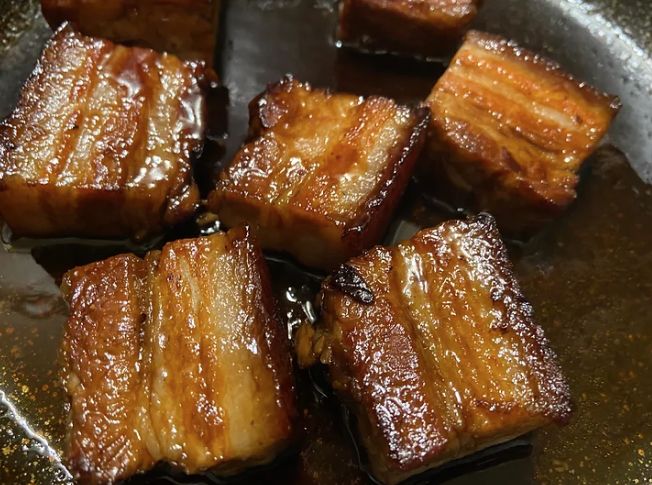 11. Now to serve, spoon some of the braised potato down first then scatter some of the braised pork over the top. Add a few charred spring onions and pineapple then drizzle with some of the glaze. Finish with a few dehydrated tomatoes on top and nourish. Have fun and I hope you like my take on adobo, yes its not quite like the traditional way but all of the flavour profiles are right there…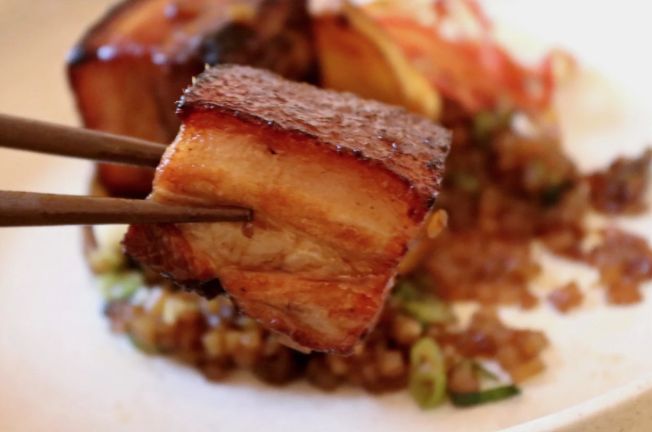 To create a much more authentic pork adobo simply replace the potato with steamed rice and cook in the same way as we did with the diced potatoes. As for the pork then you can skip the pressing process and simply dice first then braise again until reduced. Instead of pork, chicken also works perfectly for adobo. Have fun with this recipe and peace as always!
Cook Time 2 hrs 30 mins plus marinade 30 mins / Prep Time 1 hour
2 tbsp kacip manis or dark soy
1/2 tsp black peppercorns