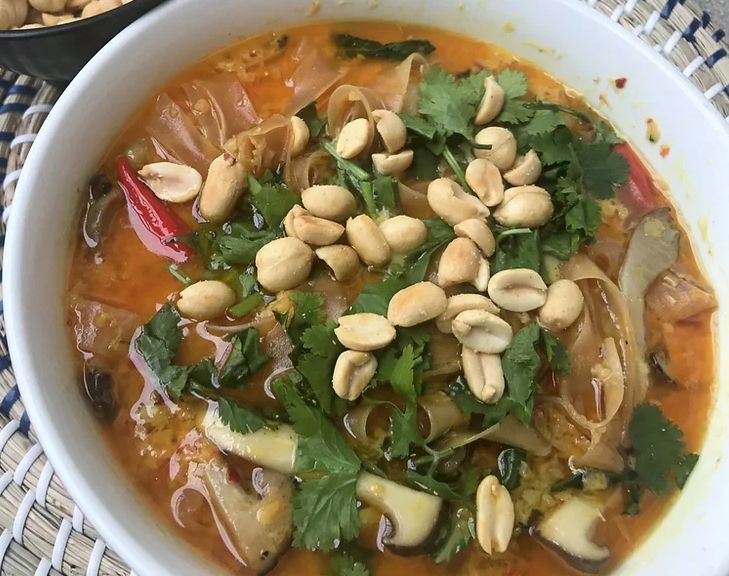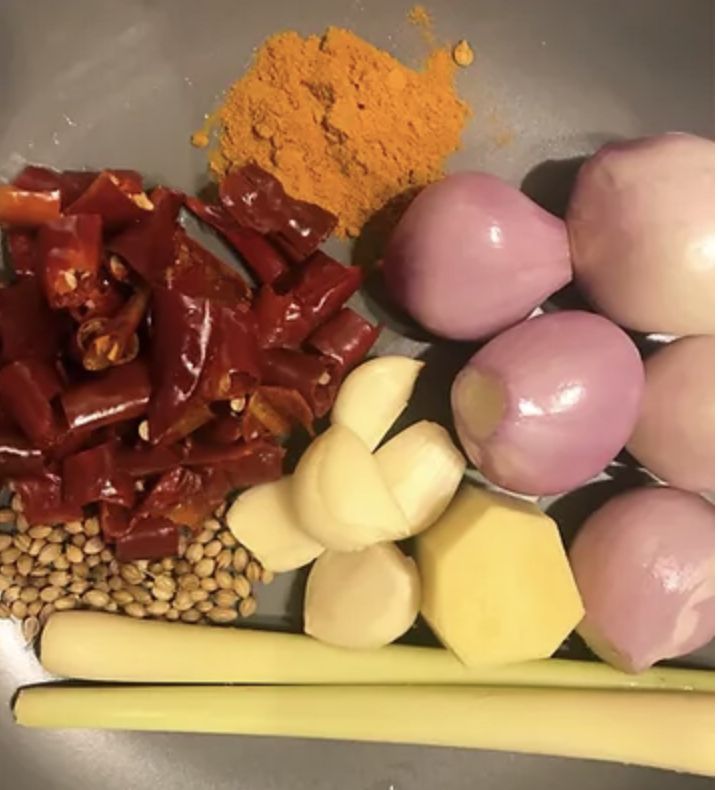 1. Start this dish by making a curry paste, add hot water to the dried red chillis and soak for 5 minutes until soft. Next in a pestle and mortar add peeled shallots, ginger, coriander seeds and garlic and grind down. Remove the dried chillis from the water then add to the pestle and mortar along with the fresh chilli and pound, when these ingredients are nicely ground, add bruised chopped lemon grass, turmeric, a touch of vegetable oil and grind. The paste should be nicely combined although its entirely up to you how fine you would prefer the soup to be.
2. Now we have our curry paste add to a pan with oil and fry for a good 10 minutes on a medium heat taking care not to let the paste burn. You will know when the paste is ready as the colour will get darker and you should smell a strong aroma of the spices.
3. When the paste is ready add 1 tbsp of brown sugar followed by the coconut milk then turn down the heat to make sure that you do not split the broth. The broth will leak some oil but this is fine as it is from the curry paste. Next add 200ml of water and allow the broth to cook slowly for approximately 45 minutes.
4. For the toppings begin by cooking the noodles, for this dish I used brown rice noodles therefore all I had to do was soak them in cold water for 10 minutes before serving. If you use white rice noodles then usually you soak them in hot water for around the same time. Wash and roughly slice the bok choi then wash and slice the mixed mushrooms (yes you can wash mushrooms). When ready stir fry the mushrooms until golden brown, next add the bok choi and birds eye chillis and stir fry until cooked, when ready season with salt and black pepper and set aside.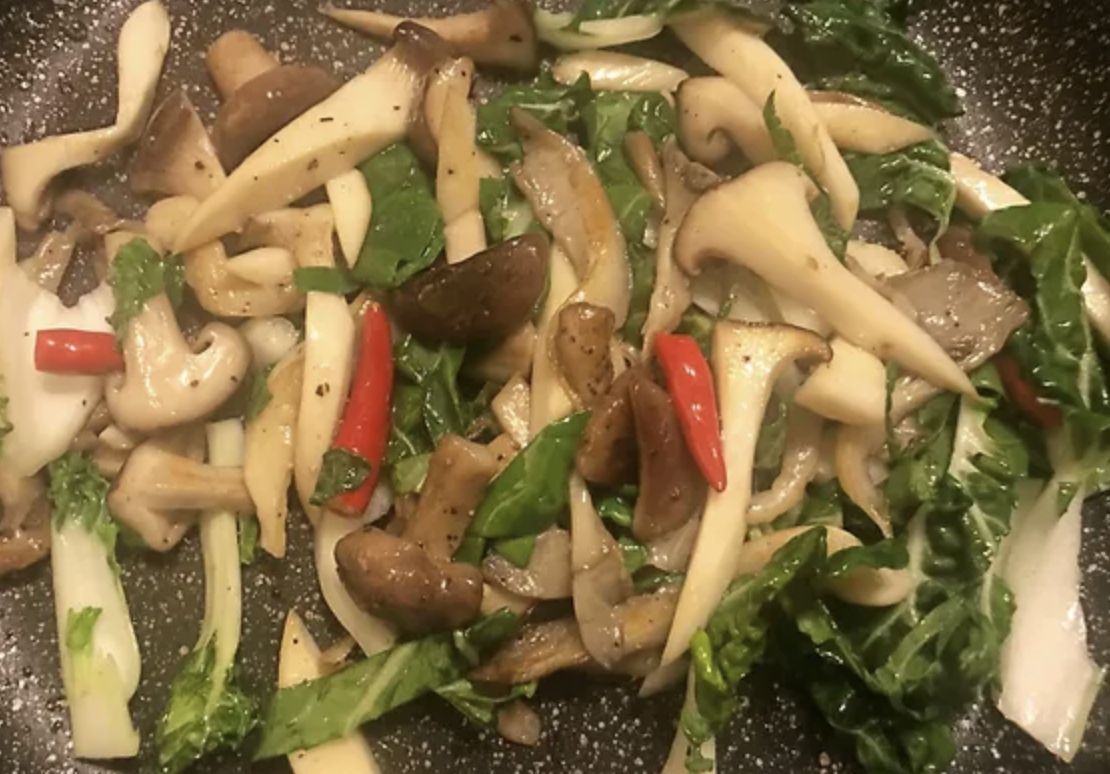 5. We're now ready to serve! in a bowl add the soaked rice noodles then add the mushrooms and bok choi on top, Next check the seasoning of the broth adding additional salt and a squeeze of lime. Ladle the broth over the top of the noodles then mix all together, add toasted peanuts and coriander and enjoy.
This was fun to make, enjoy this quick healthy dish!!
This curry can be as spicy as you like, if you prefer add more chillis if not then you could replace chillis with red pepper. Now what mushrooms to use? I used oyster, loose oyster and shitake mushrooms, however you could use any mushrooms you prefer or could get a hold of. Usually this broth has shrimp paste and fish sauce but to keep it vegan I replaced these with salt and lime.
1 whole red chilli (seeds optional)
3-5 birds eye chillis (optional)