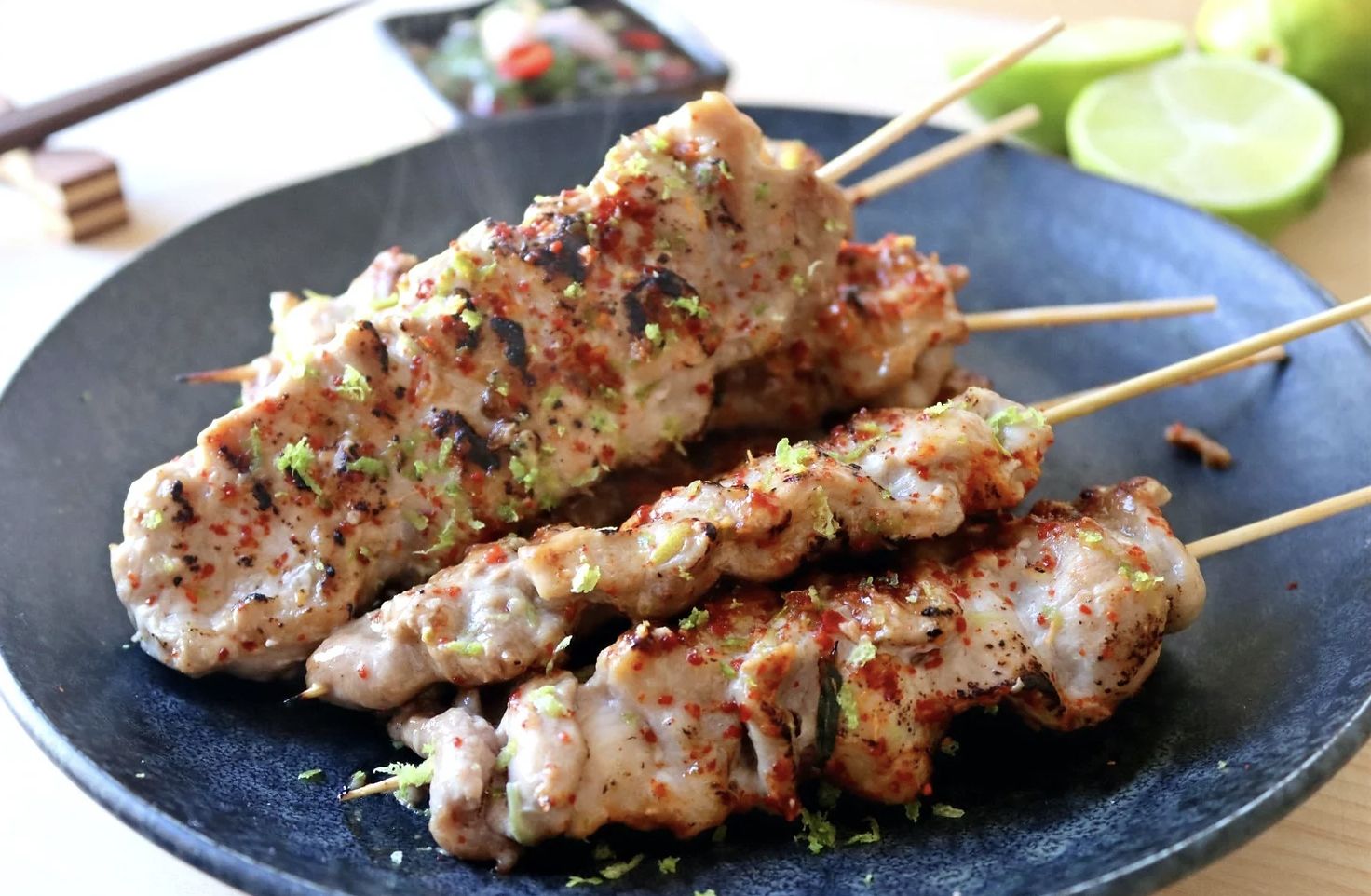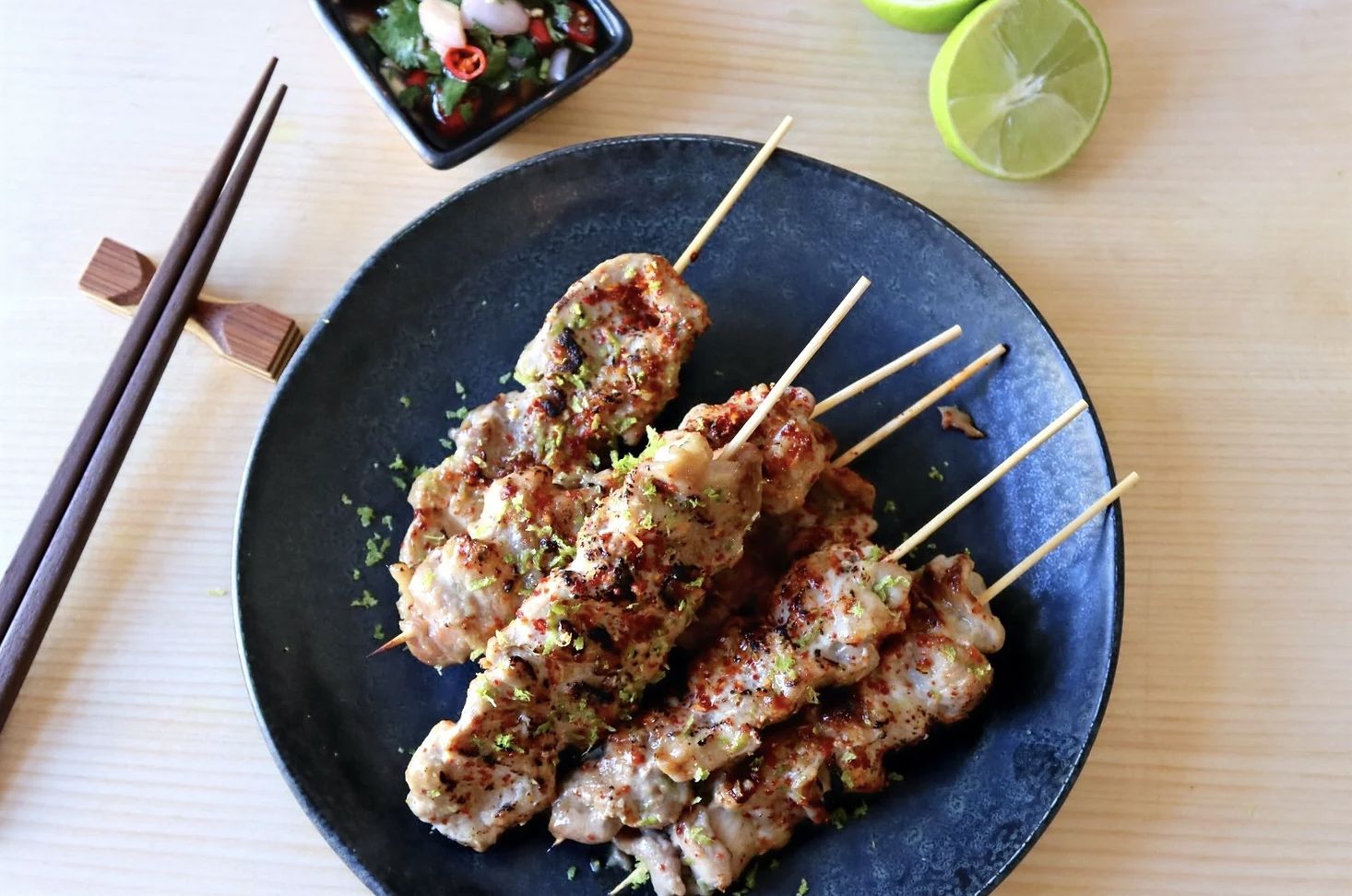 Moo Ping is a classic popular Thai street food snack that can be found all over Thailand! Most people associate satay when thinking about Thai skewers, however, moo ping may be just as good! Unlike regular Moo Ping, I decided to up the ante by making a simple chilli, coconut, citrus aromatic dry rub to help enhance the flavour of the skewers when grilled. All that's needed to go along with these delicious treats is a simple punchy Thai dipping sauce to assist the skewers! With all that said let's get straight into making moo ping!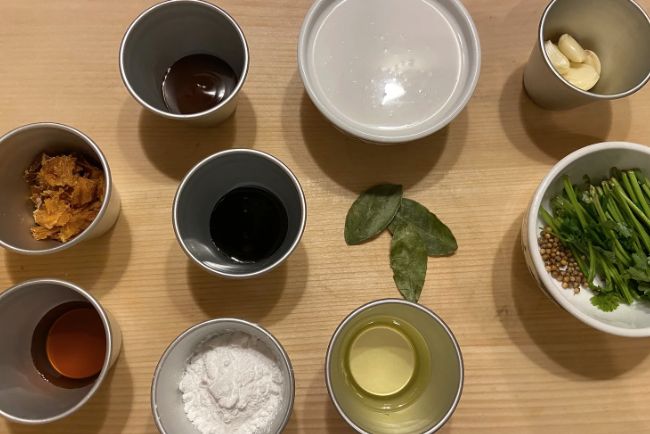 1. Let's start off by making up the moo ping marinade, this ideally is best done the night before, however, at least 2 hours before would also work. Start by adding 6-8 peeled garlic cloves, 1/2 bunch coriander stalks and 1 tbsp of coriander seeds to a pestle and mortar. Pound the spices until fine then add to a mixing bowl. To the ground spicesl we now want to add 2 tbsp kapip manis, 1 tbsp oyster sauce, 3 tbsp shaved palm sugar, 3 tbsp fish sauce, 30g tapioca starch, 50ml rapeseed oil, 3 finely sliced kafir lime leaves and finally 200ml of coconut milk. Mix well then place the marinade to one side for now.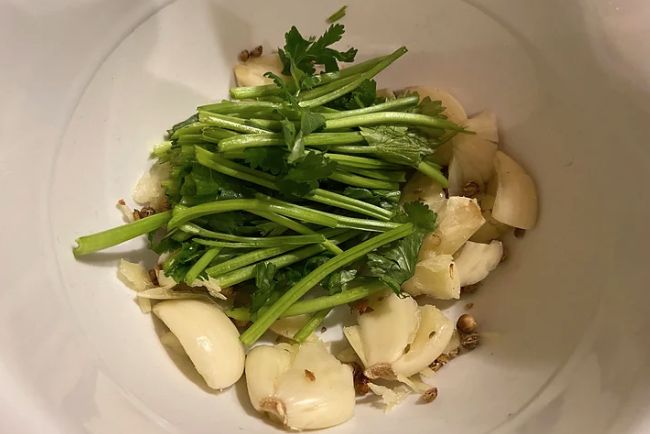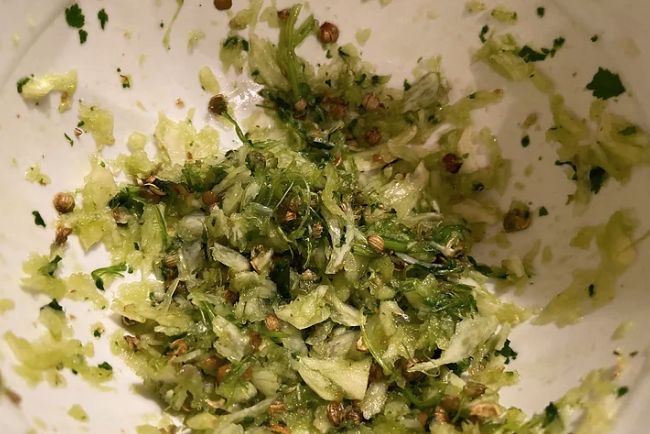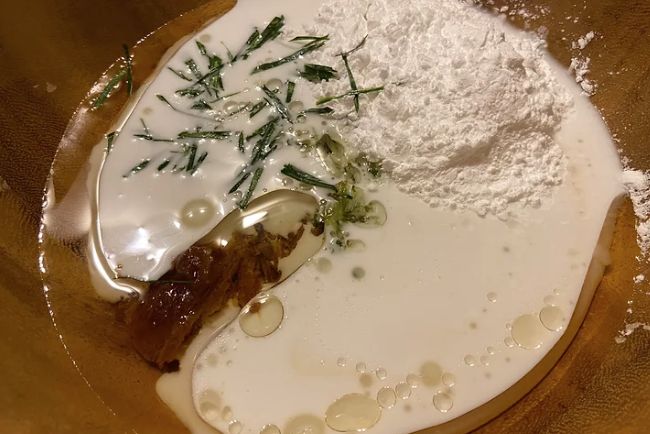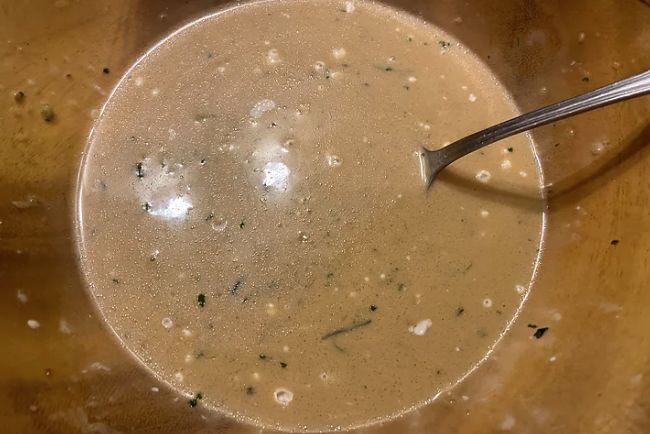 2. Now onto the pork, for this recipe I used pork shoulder, although, you could also use pork fillet, neck or even leg, however, cooking times may vary. Begin by carefully removing the skin with a boning knife, the reason for removing this is a quick cook time will not be long enough for the fat to render. When removed slice the joint into more manageable pieces then slice into thin strips as long as possible.
3. Now that our pork is thinly sliced, add to the marinade along with a pinch of salt and cracked black pepper. Mix the pork into the marinade until the pork absorbs all of the marinade. Cover with clingfilm and place into the refrigerator to marinade for at least 2 hours or over night if possible.
4. When the pork has finished marinading we can now move onto skewering. The best way to skewer moo ping is to create densely tight layers that are threaded through as many times as possible onto the skewer. By doing this you end up with a much more tender pork when cooked. When all of the strips of pork are skewered place to one side and we can now move onto making up the dipping sauce and dry rub.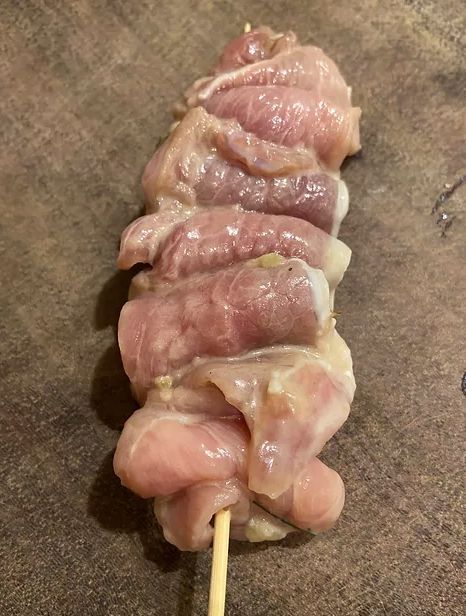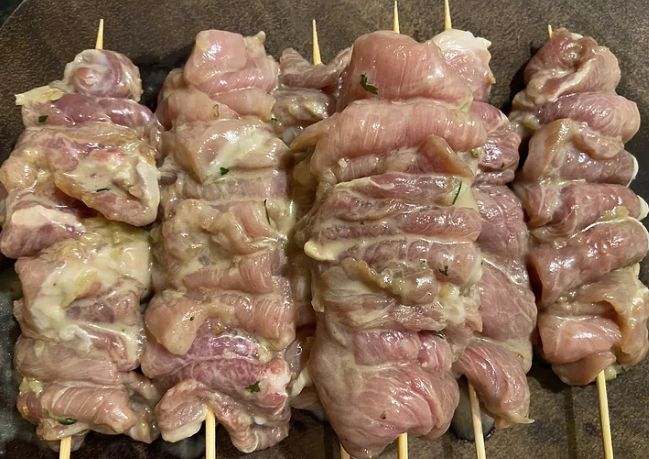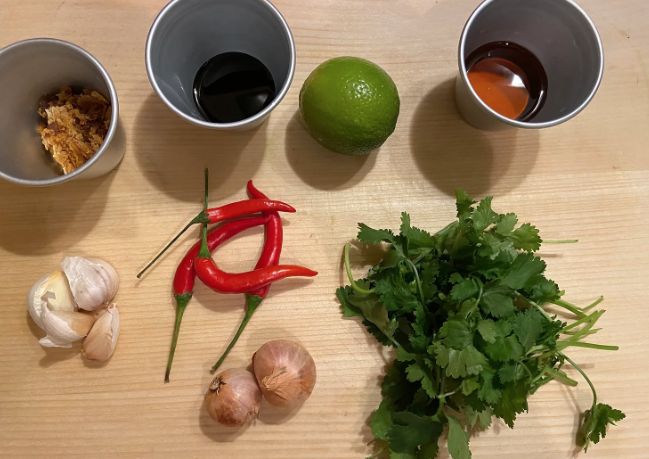 5. This type of dipping sauce is a classic when it comes to grilled meat or fish. We are looking for a slightly sweet, salty and sour fragrant punch for this sauce. In a bowl add 2 tbsp of shaved palm sugar, 2 tbsp of fish sauce, the juice of 1 lime, 1 tbsp of kapip manis and 30mls approx of rapeseed oil. Mix well to dissolve the palm sugar then add 2-4 roughly sliced birdseye chillies (you can remove the seeds if you prefer), 3 finely sliced garlic cloves and 2 sliced small shallots. Finish the dressing by adding 1/2 bunch of roughly chopped coriander then top the dressing up with enough water too balance out the dipping sauce. You want to keep tasting as you add the water as adding too much will dilute the dipping sauce. When ready place to one side and we can move on to making up the dry rub.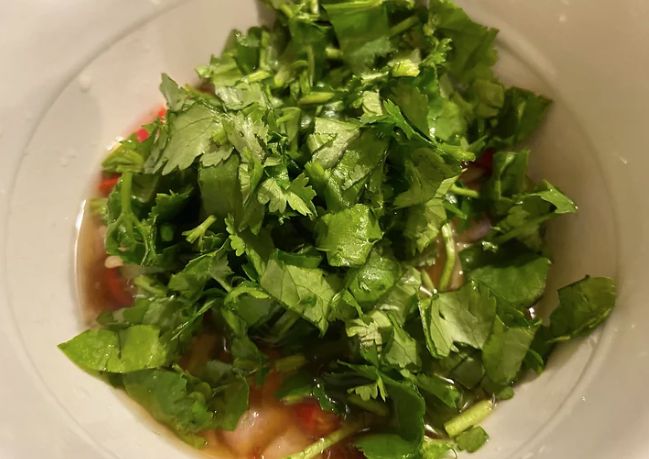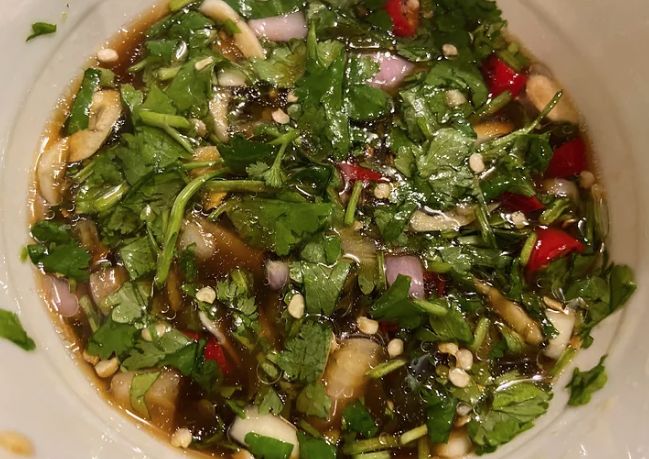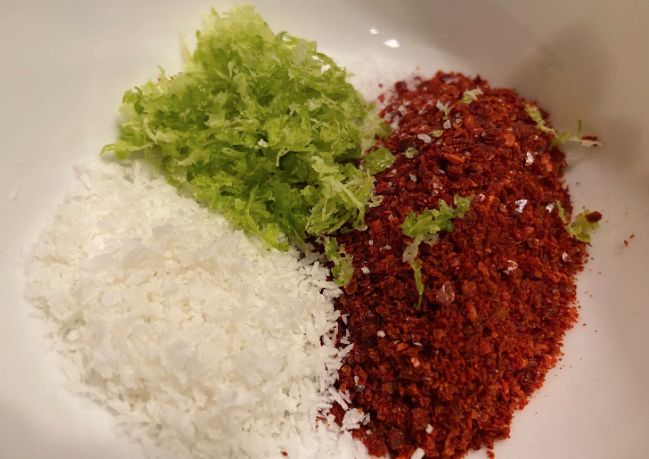 6. The dry rub is a blend of spices that we want to season the skewers with at the very end when cooked to give them an extra lift. In a dry pan add 2 tbsp of fine korean chilli pepper, 1 tbsp desiccated coconut and 1 tsp garlic powder then toast on a high heat for 1-2 minutes or until fragrant. When fragrant add the toasted spices to a small mixing bowl then add the zest of 1 or 2 limes a pinch of salt and sugar then mix. Just before grilling the skewers in a separate small container we also want 100ml of coconut milk as we will use this to baste the skewers when cooking.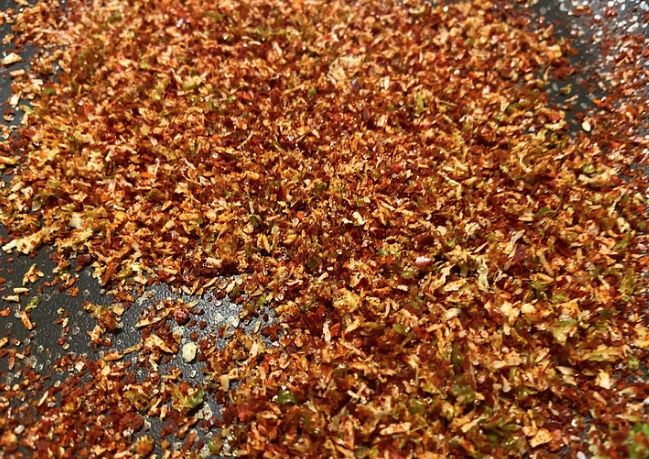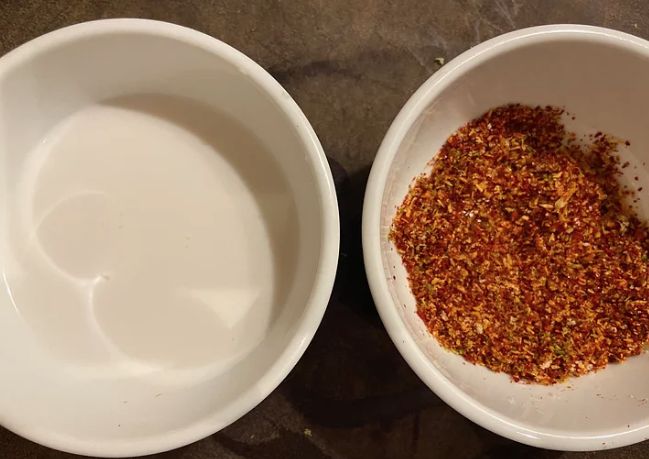 7. Now that all the components are ready we are all set to grill the skewers. To grill the skewers you can either use a griddle pan, pan fry, roast or cook over charcoal. This time I went with a griddle pan, place the pan onto a high heat and wait for the pan to get smoking hot. When hot drizzle lightly with cooking oil then add the skewers onto the grill. Cook on one side for 2 minutes, then turn and brush the seared side generously with coconut milk. Grill the other side for an additional 2 minutes then again brush with more coconut milk. Grill either side for an additional 1-2 minutes either side or until cooked then pull the skewers from the grill. Baste again one last time with coconut milk and place onto a tray.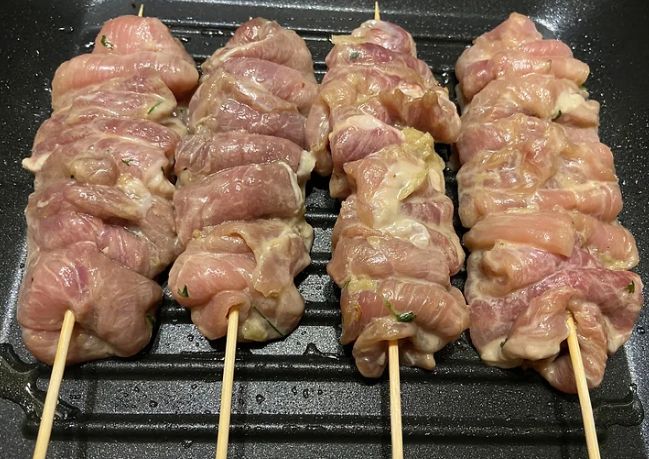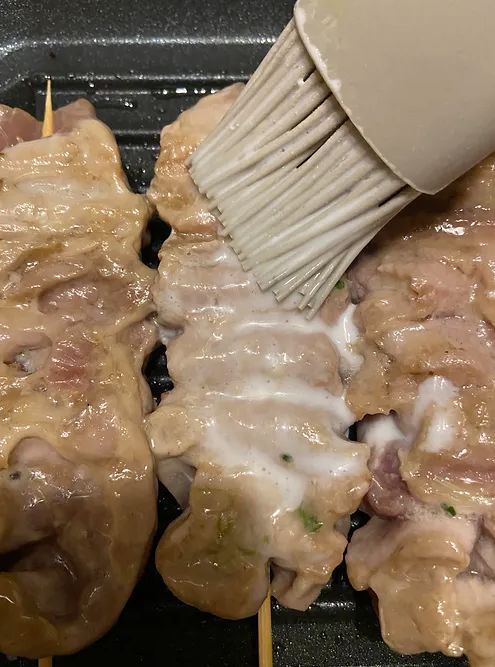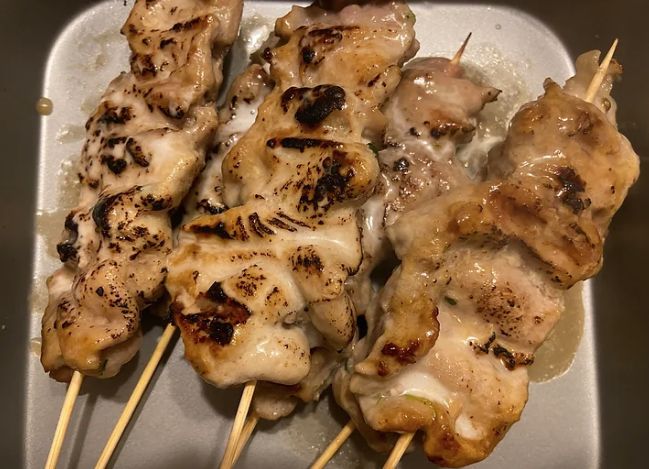 8. To finish the skewers and to take them to that next level we now want to dust generously with the dry rub that we made earlier. If cooking the skewers indoors you can also hit them briefly with a blow torch to create that extra char aroma and to add a bit more colour.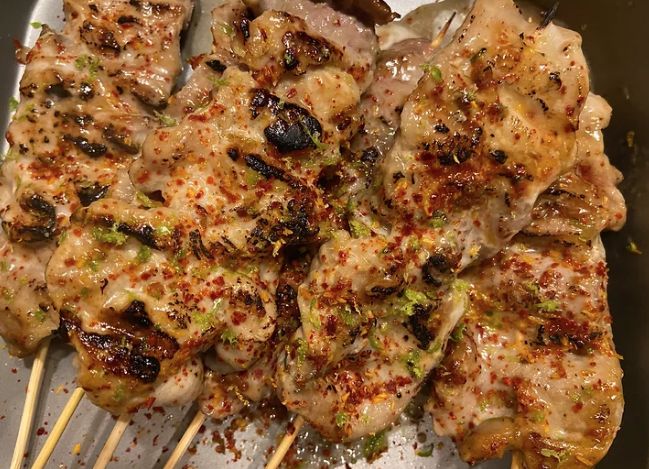 9. To serve, squeeze over some fresh lime juice and zest and serve up with the dipping sauce on the side. If you really want to get after the carbs then some sticky rice or coconut rice would work perfectly with these skewers.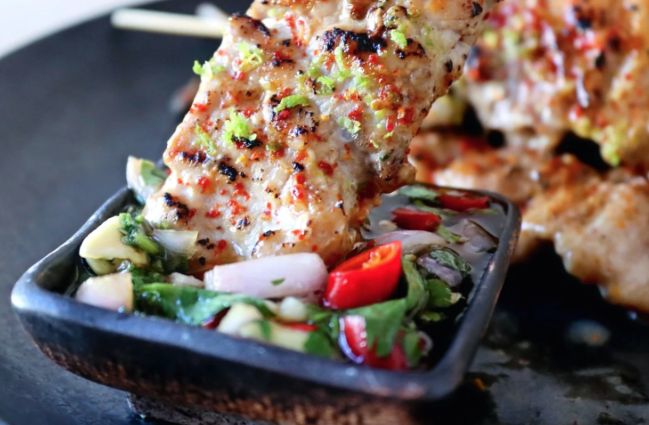 Instead of using pork then chicken, shrimp, beef or even a firm tofu would also work just fine. Going back to the marinade this ideally would be best done the night before. If you cant get hold of tapioca starch then alternatively you could use cornflour. The best method I'd recommend to cook moo ping would be to grill over charcoal if you can. Have fun with this recipe and I'm sure you will be hooked once you try them! Have fun and peace!
Cook Time 25 mins / Prep Time 45 mins / Marinade Time minimum 2 hrs
1/2 bunch coriander stalks
2 tbsp kapip manis (sweetened thick soy)
100ml coconut milk to baste
pinch of salt and black pepper
2 tbsp fine korean chilli pepper
1 tbsp desiccated coconut