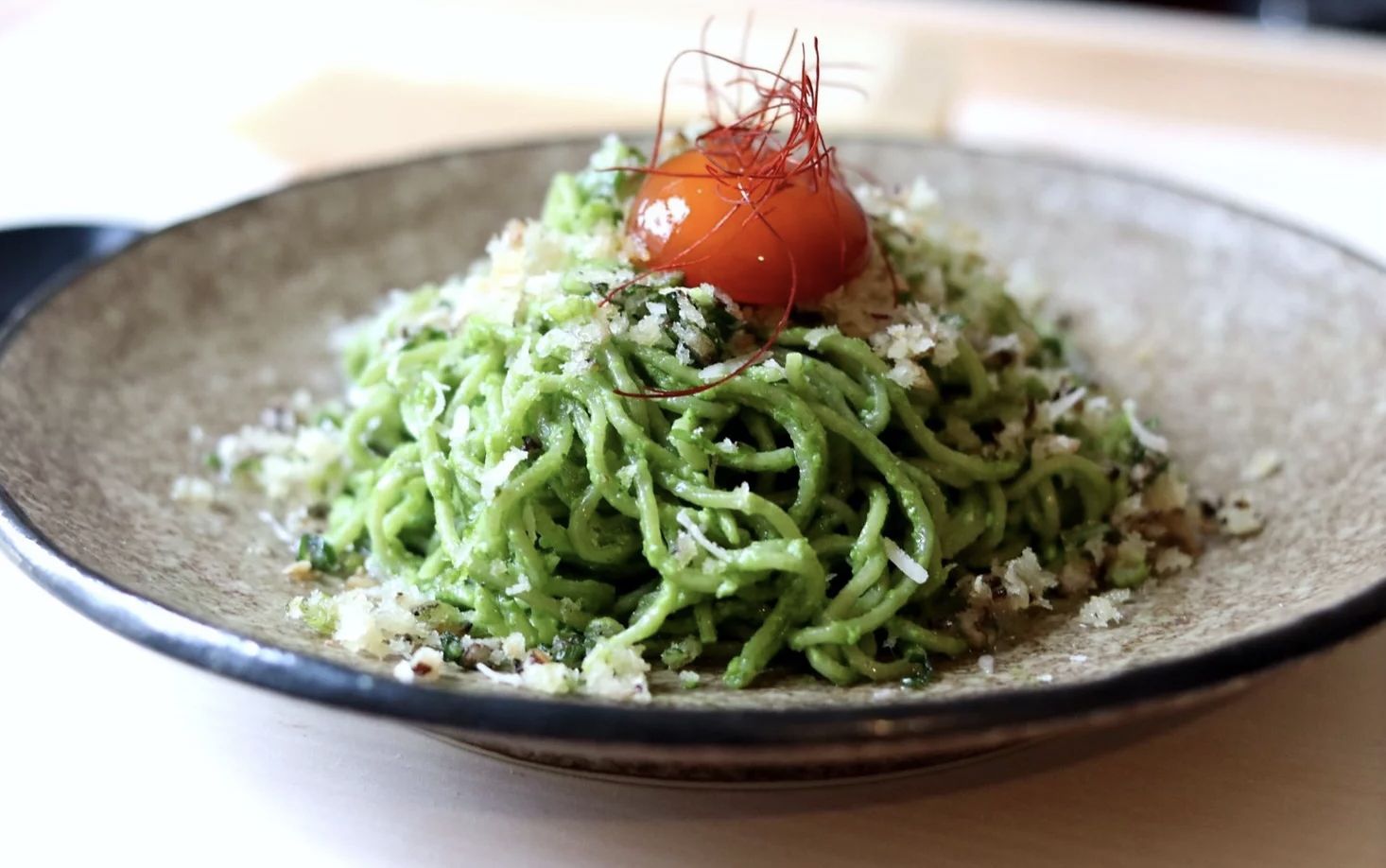 Japanese Italian food is pretty big in Japan and to be honest I would have to put it in its own category as to what type of cuisine it is…Italian food in Japan is pretty delicious, to be honest as the combination of Parmesan, miso and soy deliver lots and lots of umami! This recipe is my take on the cuisine using Italian techniques with Japanese ingredients. The noodles in the recipe are a 40 percent hydration alkaline ramen noodle which I found worked really well with this dish! This recipe will be split into day 1 and 2 as the noodles will need to rest overnight before using them. Italian Japanese food let's get it!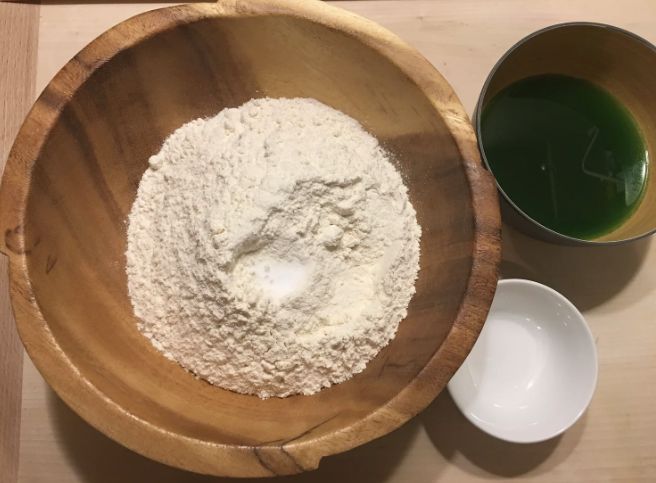 1. Before we make the noodles we firstly need to make the spinach water. Add just over 200ml of water to a pan and bring up to a boil. When boiling add a decent 40g of spinach and cook for 60 seconds. Remove from the heat then immediately place into a blender and pulse into a liquid. When ready pass through a fine sieve then allow to cool to one side.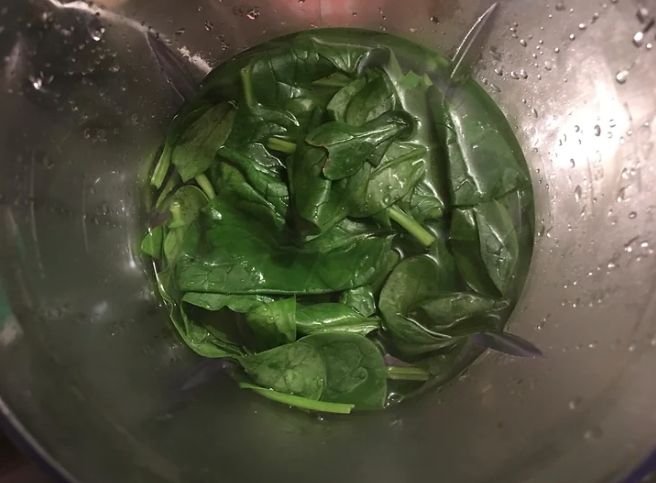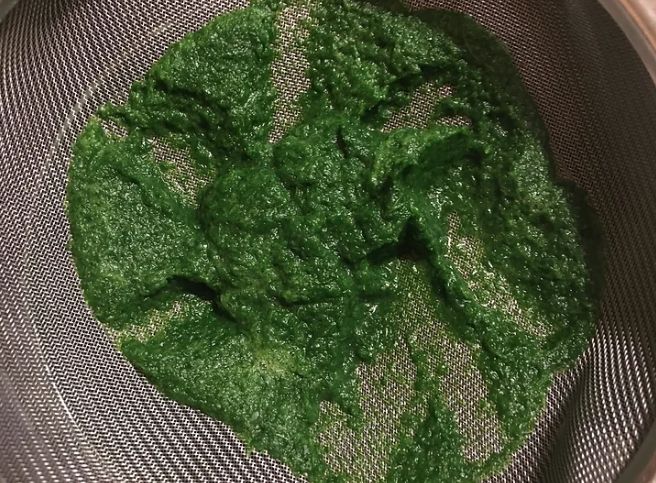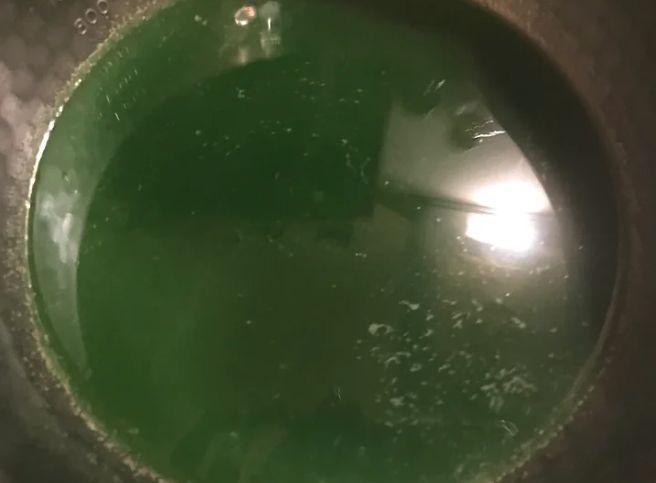 2. When the spinach water is cool we can make up the noodle dough. Add 500g strong bread flour and 5g of salt to a large mixing bowl. Next measure out 200ml of the spinach water and add 5g of kansui (lye water) and mix well. (If you cannot find lye water then you can simply add 5g of baked bicarbonate of soda that is baked in an oven at 100°c for 1 hour). Slowly add the spinach water to the flour mixing constantly with chop sticks to allow all of the flour to get well hydrated. We want the dough to be fairly dry and to have an almost crumble like texture as these noodles are a 40 percent hydration noodle. When all of the spinach water has been added try to ensure there are no large clumps of dough by running the flour through your fingers. When ready place the crumble like dough into a ziplock bag and allow to rest at room temp for 30 minutes.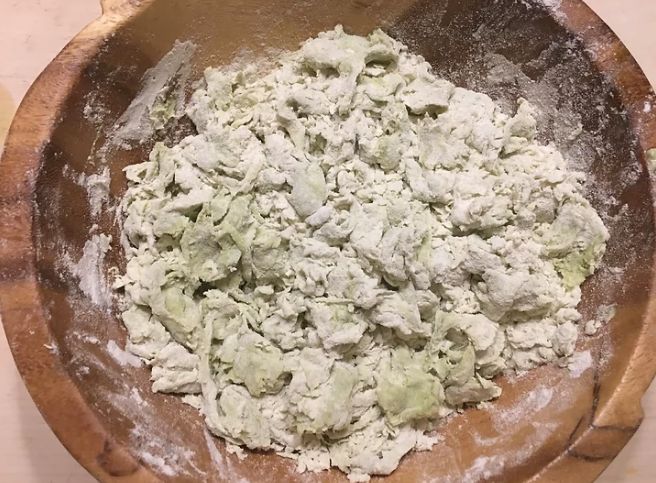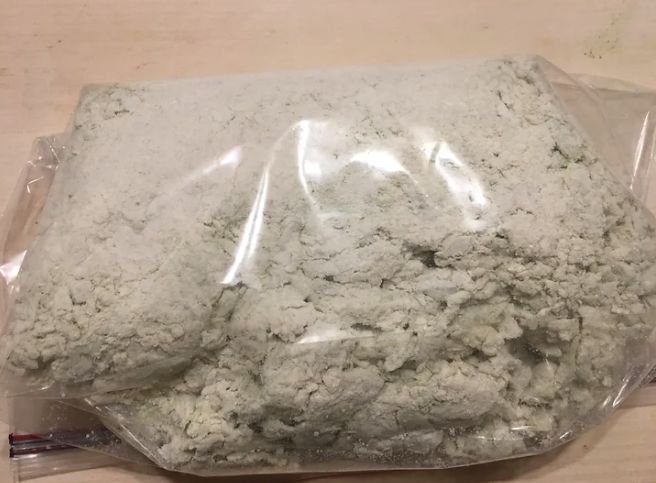 3. After 30 minutes of resting we can now begin to kneed to form a dough. The simplest way to kneed the dough is by placing a towel over the ziplock then to use your feet to kneed. This may seem a little off at first but this is quite common practice in Japan and also just make sure your socks are clean…This method works well as the dough at this stage is incredibly hard to kneed by hand. Kneed for 10 minutes until a flat dough forms then keep in the ziplock bag and rest for a further 45-60 minutes.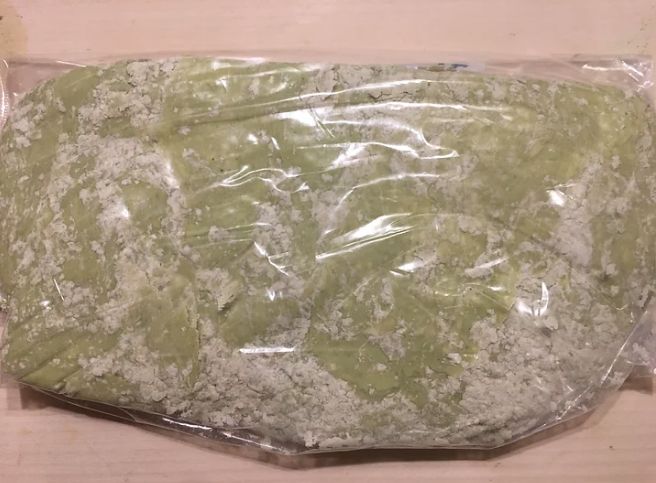 4. Now that our dough has had plenty of resting time we can now begin to work. Place the dough onto a work surface then use a rolling pin to roll out the dough to form a flat rectangular piece. When flat divide the dough by using a knife to cut the dough into 4 equal sized strips. To roll out the dough my go to method is to use an atlas pasta machine, however, you can simply follow the instructions here and use a rolling pin instead although it may take some effort. Now take one of the strips of dough and roll it thick enough so that it will pass through the largest setting on your pasta machine.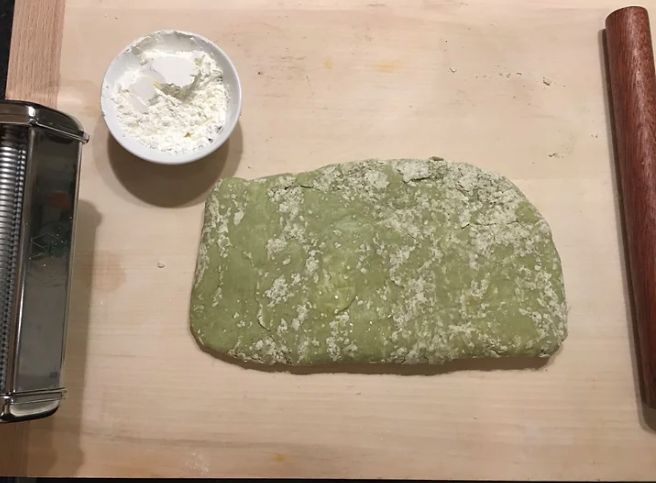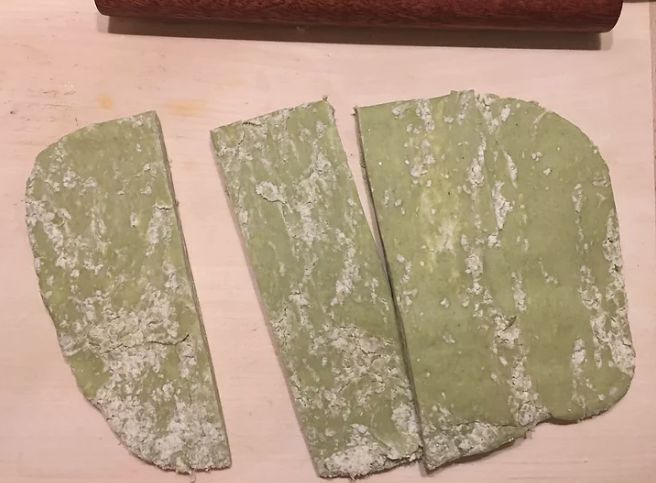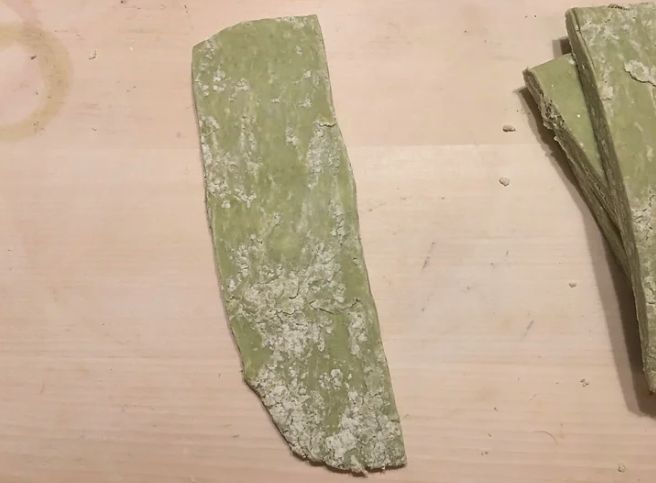 5. Place the strip through the largest setting on your pasta machine (atlas no 0) then after the first feed fold the dough in half lengthways and flatten out again with a rolling pin. Pass the folded dough through the pasta machine again on the widest setting starting from the fold point. Repeat this process twice before working your way through the thickness settings. (This process is called laminating the dough and works the gluten to give us a bouncier noodle). Continue feeding the dough through the settings until the dough becomes 1.2mm in thickness (no 5 on the atlas).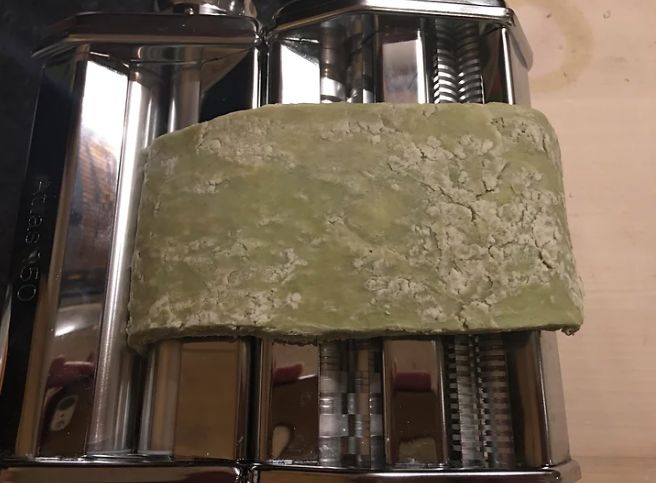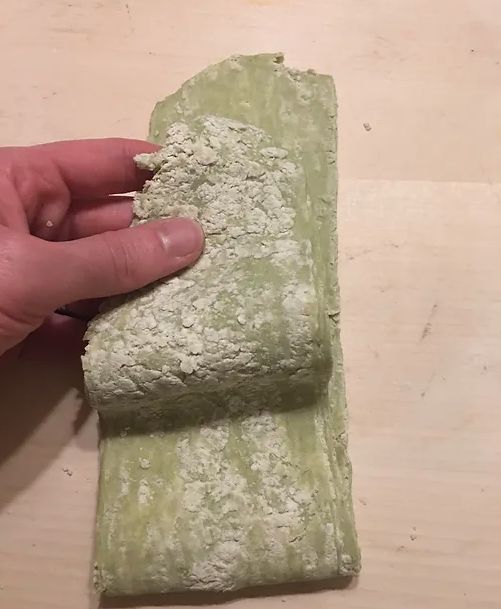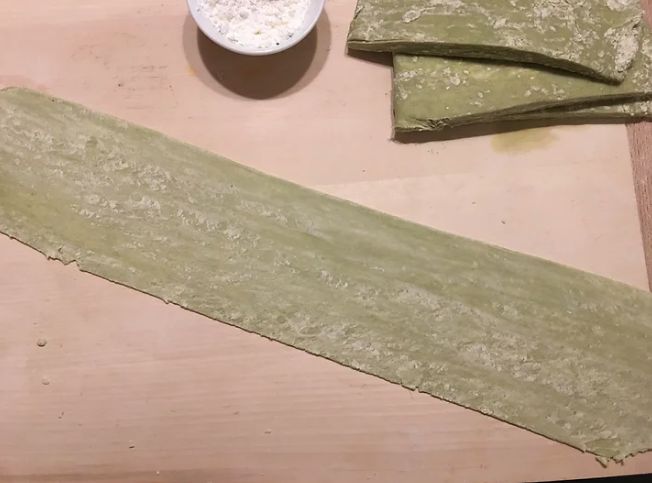 6. Now to transform the dough into noodles, dust the dough both sides with cornflour to prevent from sticking then slide the dough through the cutting attachment on the pasta machine. (If cutting by hand overlap the dough by folding into 3 then slice thinly to make ramen noodles). When cut gather the noodles and store in a plastic container lightly dusted in cornflour. Repeat this process with each strip of cut dough then store in the refrigerator overnight.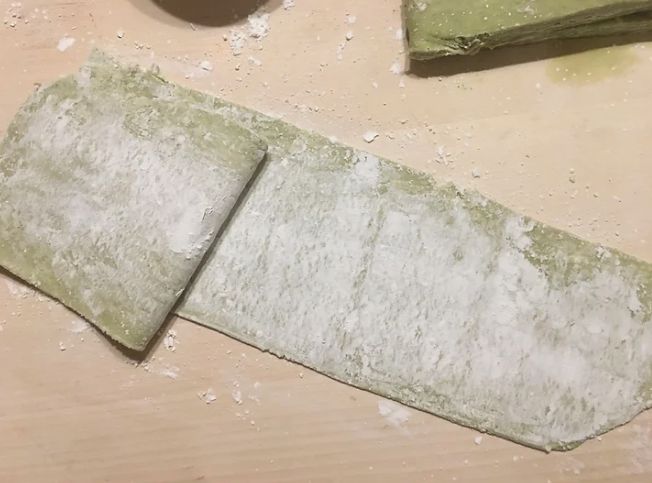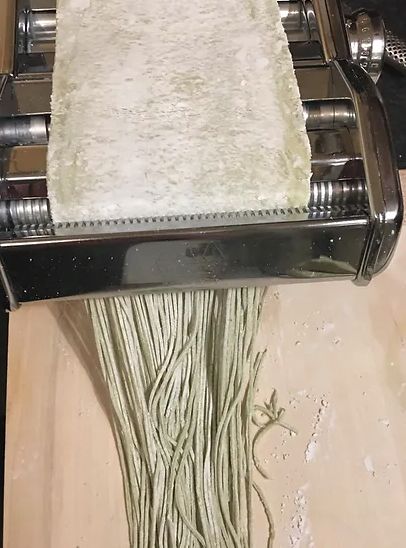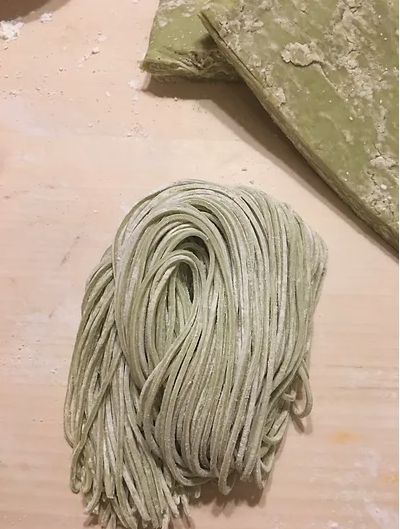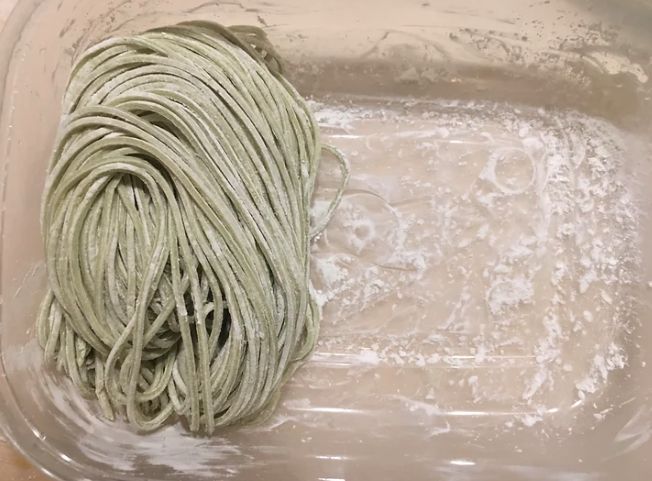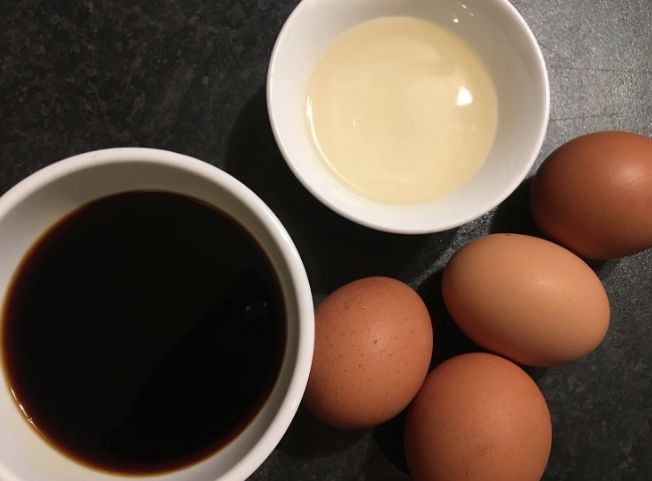 7. Last bit of prep the night before is to make the soy eggs, these are also best to be left overnight as the longer they have to cure the more umami we can get from them. Simply divide 4 egg yolks from the white and place the egg yolks into a bowl (don't waste the egg whites you can store for something else to make at a later date). Now add 90ml light soy and 40ml of mirin and cover the bowl with clingfilm. Store in the refrigerator overnight to cure flipping the yolks over halfway through the curing stage.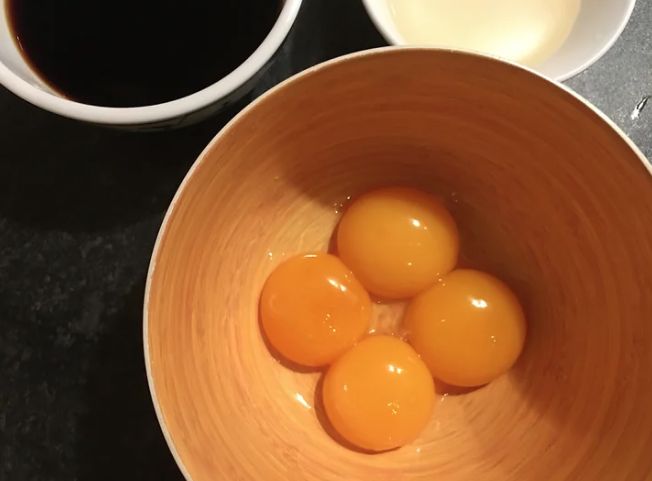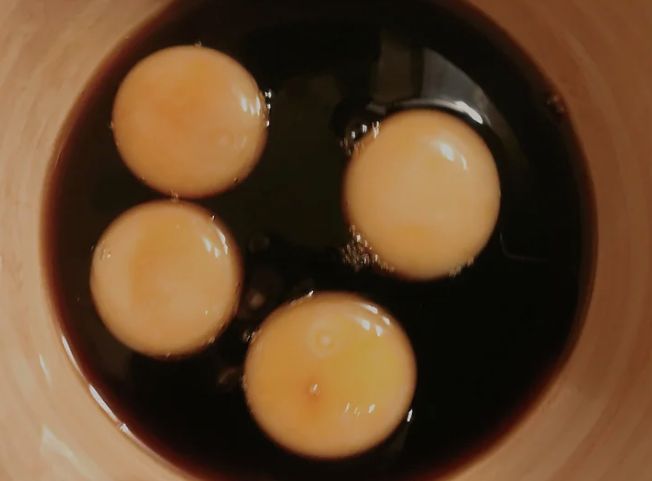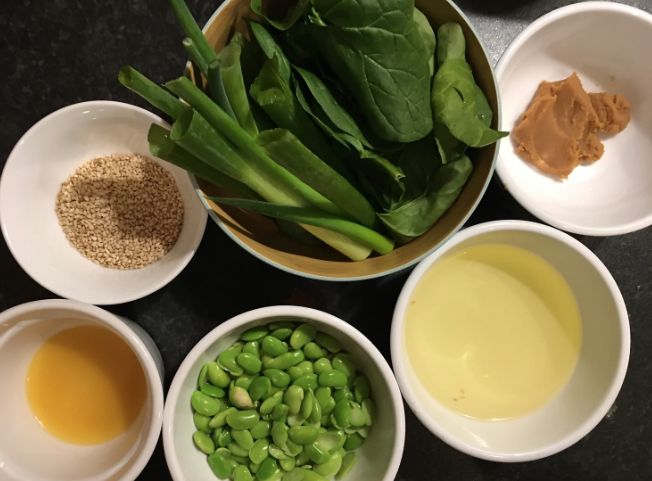 1. Now we can begin to finish the dish, start by making the miso pesto. Then remove the outer shell from approx 50g edamame beans. Then place into a food processor along with 40g of roughly chopped washed spinach, 4 chopped spring onions, 1 tbsp white miso, 1 tbsp mirin, 2 tbsp toasted sesame seeds, 1 tbsp yuzu or 1/2 lemon juice, 100ml olive oil, 1 tsp sugar and a pinch of salt to season. Pulse until a smooth pesto is formed and if too thick then add a touch more olive oil. Adjust the seasoning if needed by adding more salt, sugar or yuzu juice, then when ready place in to a bowl and set to one side for now.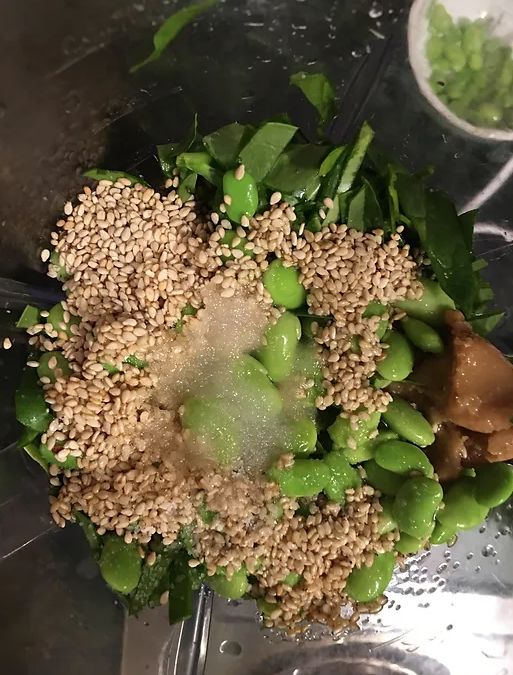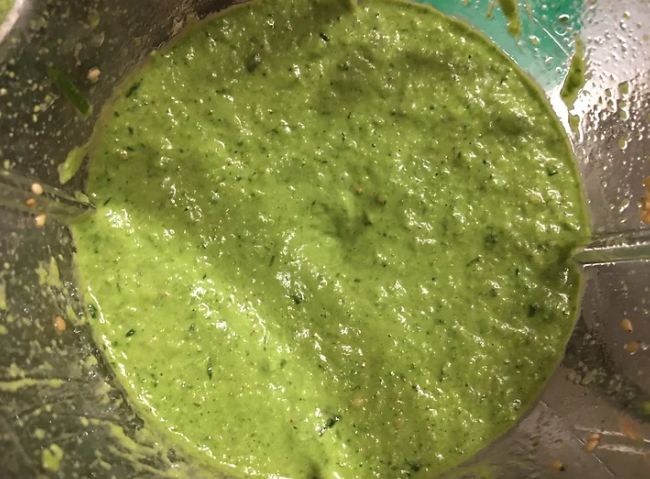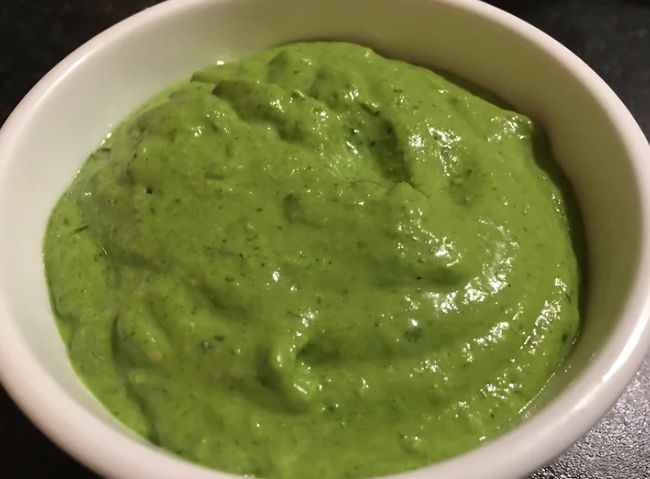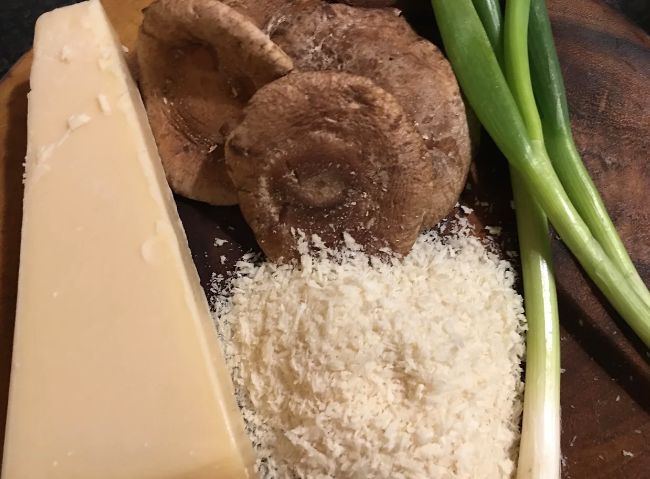 2. To make the crumb start by chopping 4 shitake mushrooms into a fine dice then finely slice the green part of 2 spring onions. Now add a drizzle of olive oil to a hot pan and add the chopped shitake and spring onions and fry for 2-3 minutes until fragrant. Next add approximately 30g of panko breadcrumbs and continue to fry until dry and golden brown. Finally grate and add 1-2 tbsp of Parmesan then season with salt and black pepper. Remove the crumb from the heat and place to one side along with the pesto and soy cured eggs and we can now begin to bring everything together.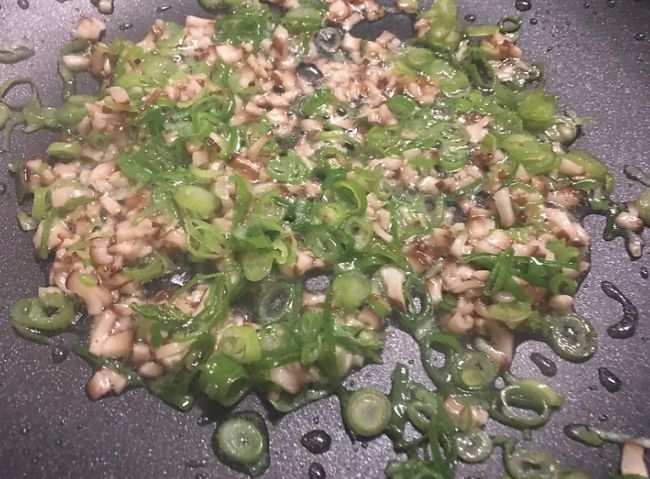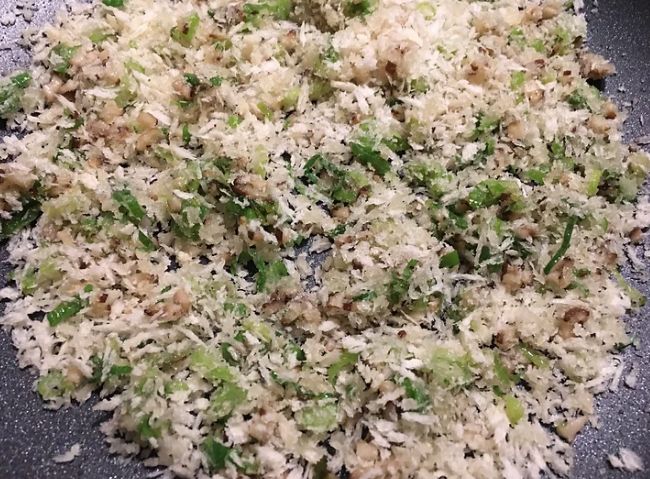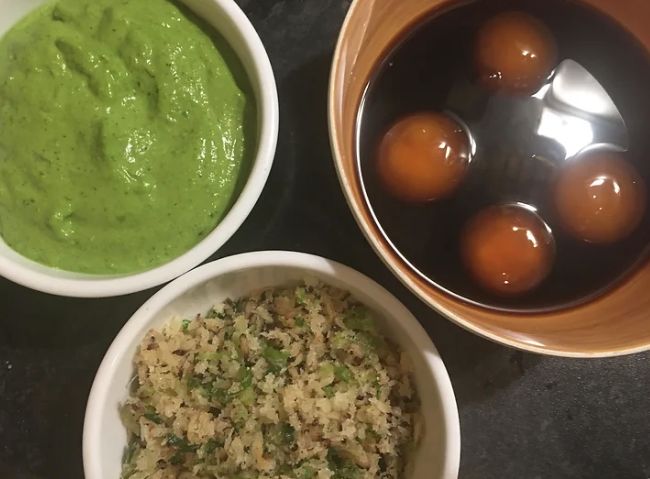 3. The only part of cooking we have to do now is to cook the ramen noodles, add to a pan of boiling water and literally cook for 45-60 seconds. When cooked drain from the water then add the cooked noodles to a mixing bowl. Add some of the pesto, a drizzle of olive oil and mix well so that the ramen is evenly coated.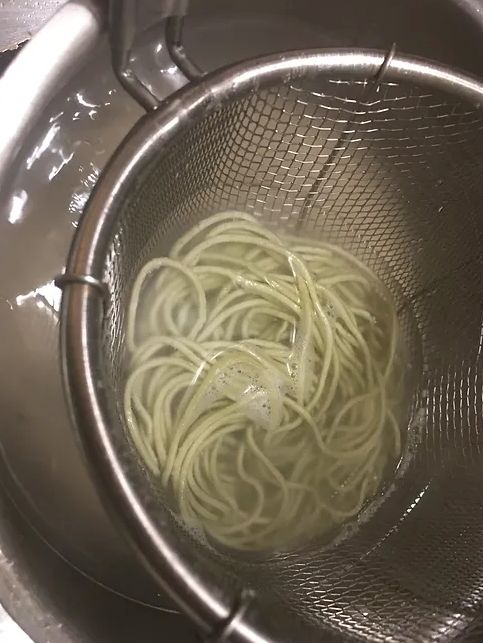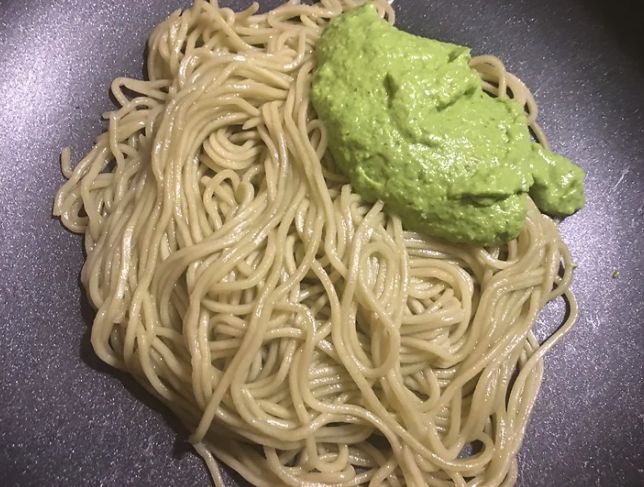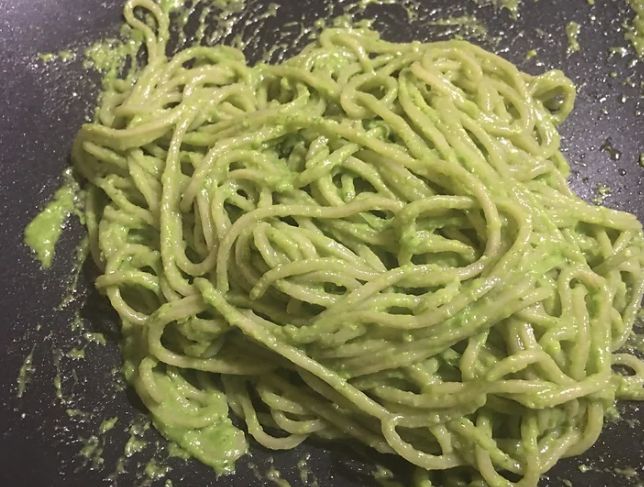 4. Now its time to plate up, divide the noodles into serving bowls then grate a touch of Parmesan over the top. Next place some of the shitake crumb over then drizzle lightly with olive oil. Add the cured egg yolk over the ramen then we are good to go! Hope you like this unique alternative Japanese/Italian recipe!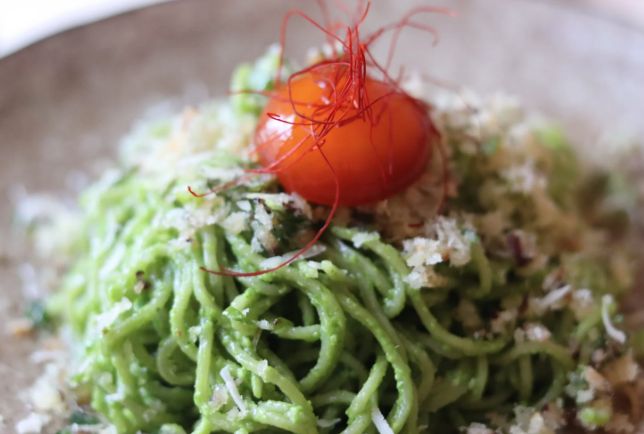 I know it may seem fairly long to make fresh ramen noodles but with such a simple dish it's all about the details to take things to that next level. Saying that if you really wanted to you could simply just buy dry ramen noodles or even use spinach pasta but you will miss out on texture. Ideally, instead of spinach, I wanted to use shiso leaves but currently, I can't get hold of any if you can then use those! This dish is also asking for uni or ikura I think, feel free to add that to the dish also! If you want to make this dish vegan then simply remove the egg yolk and Parmesan from the recipe. Have fun with this one and I know you will love it!
40g spinach (for spinach water)
2 tbsp toasted sesame seeds
1 tbsp yuzu juice or 1/2 lemon juice