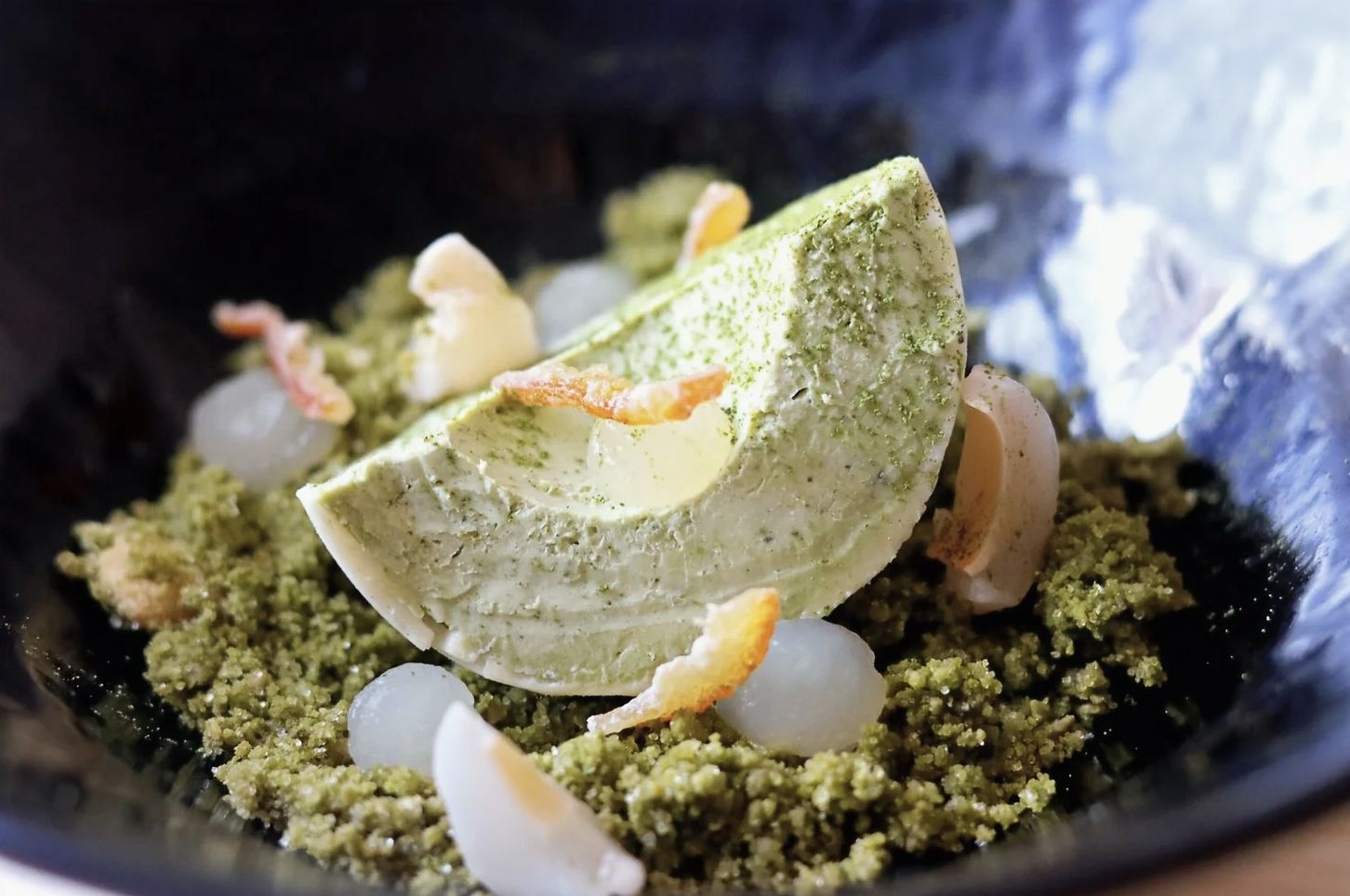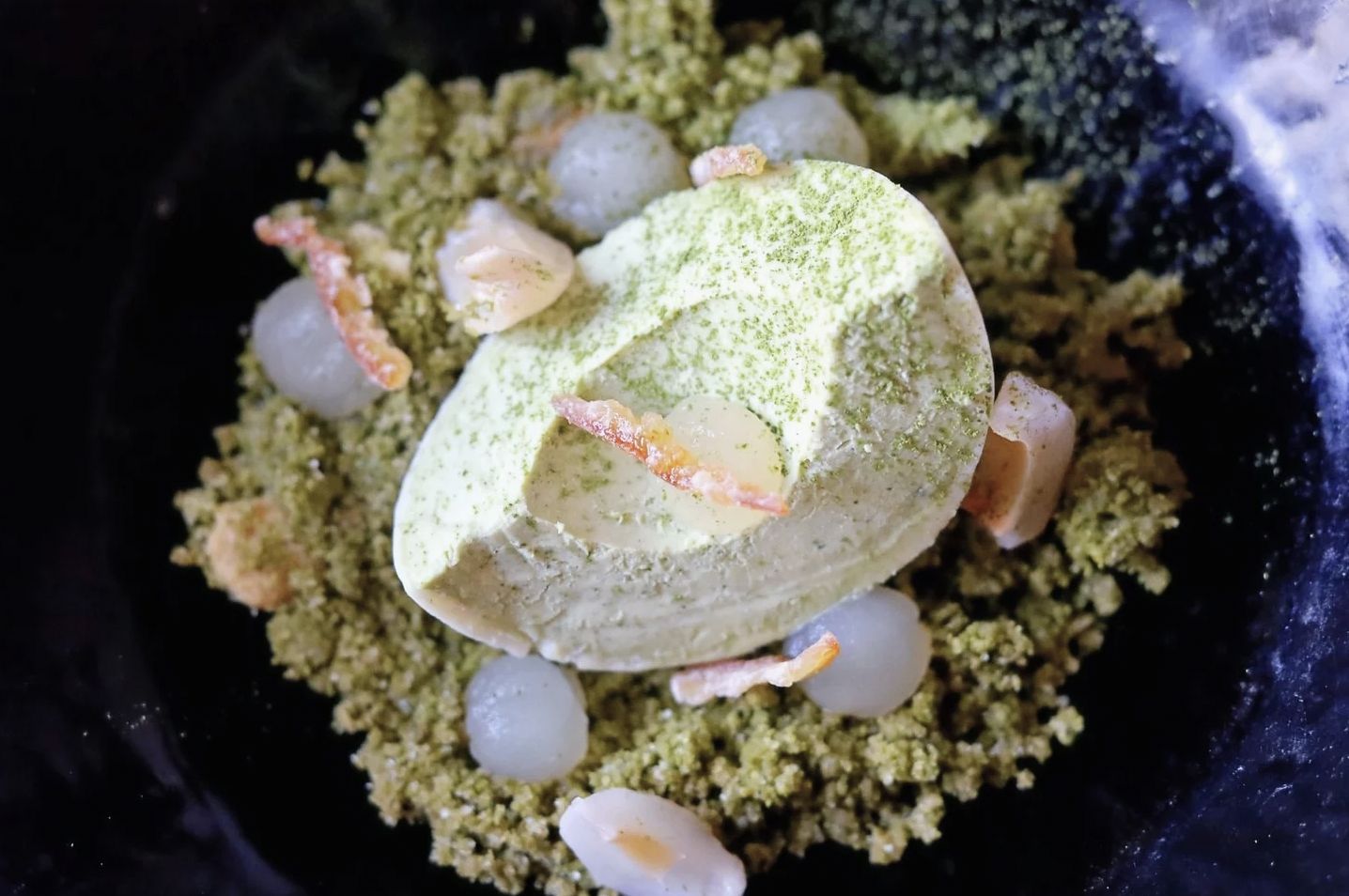 When coming up with this dish I literally went in with a few ingredients that I wanted to highlight matcha, yuzu and lychee. These ingredients work perfectly together and this is my take on using those ingredients to create a dessert with those flavours and lots of texture. The matcha mousse is probably the highlight of the dessert with a snappy white chocolate shell. This dessert had a really nice balance in the final result, and more importantly, you can distinguish each of the flavours of matcha, yuzu and lychee. The good thing about making these types of desserts is that you can either complete it in 1 go or make it bit by bit over a few days…With all that said let's get straight into it!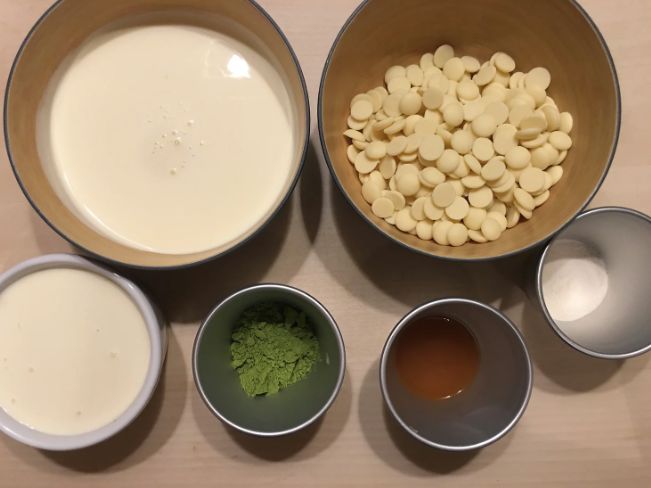 1. Just before we begin to make up the mousse we want to make the outer white chocolate shell. To get a nice silky and snappy chocolate we firstly need to temper the white chocolate. This is my go to way on how to temper chocolate and is incredibly simple to do. Begin by adding 200g of white chocolate to a bowl then place over a sauce pan 1/4 filled with water. Bring up to a simmer and allow the chocolate to completely melt. When ready remove the bowl from the heat and slowly add an additional 50g of white chocolate. Mix the additional chocolate in gradually until the chocolate has melted, then when the chocolate is unable to melt, the chocolate is tempered and ready to go.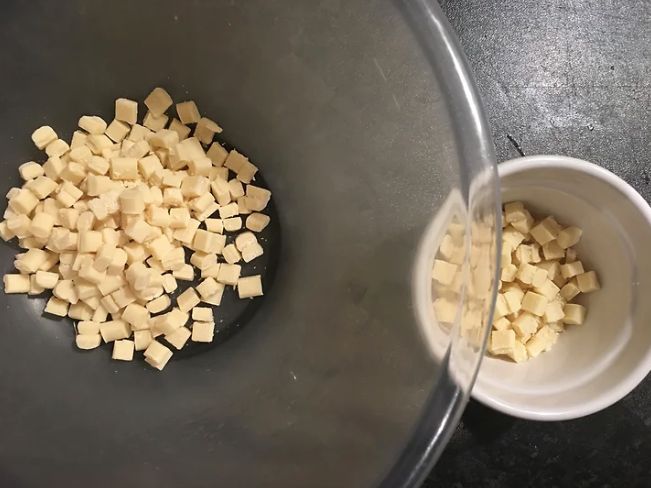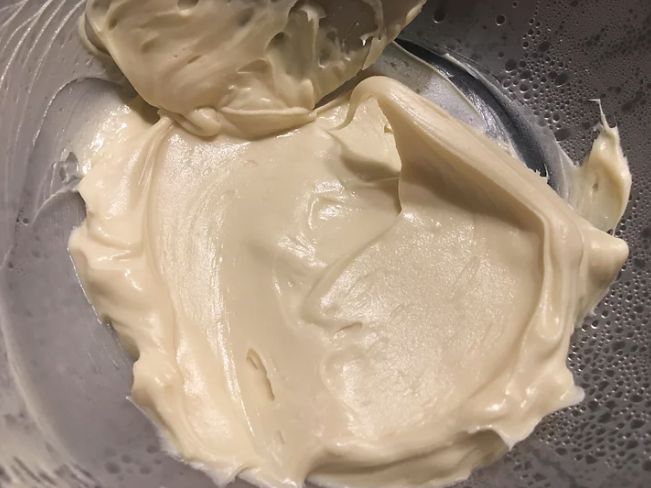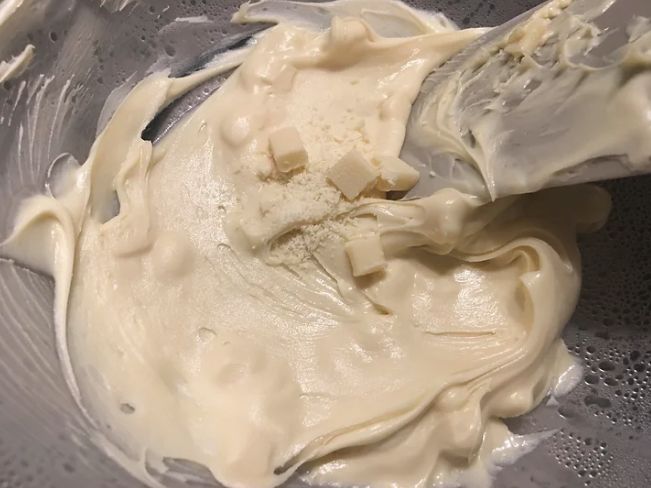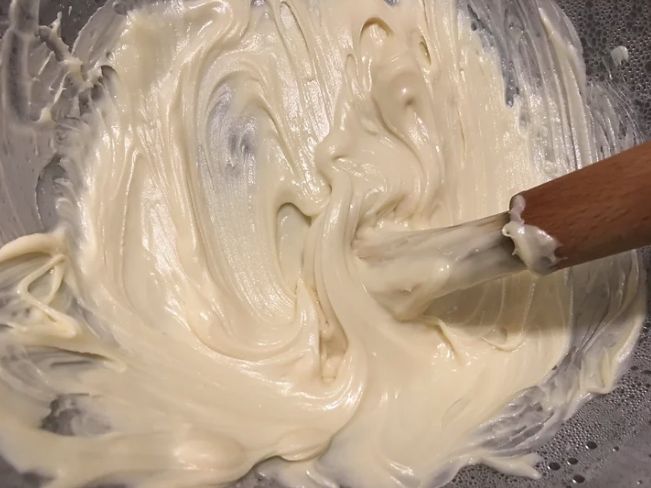 2. Now that we have our tempered chocolate we can make up the outer shells, for this you will need a large 1/2 sphere silicone mould. Use a brush to lightly fill in the 1/2 spheres by brushing in an upwards motion. We want the shells to be quite thin at this point as we will add an additional layer once it has set. When all of the spheres are evenly coated place into the fridge for 5 minutes to set. We can now repeat the process to form another thin layer of chocolate then when ready use an offset spatula to tidy around the 1/2 spheres. Cover with cling film and store in the refrigerator for now and we now have our shells.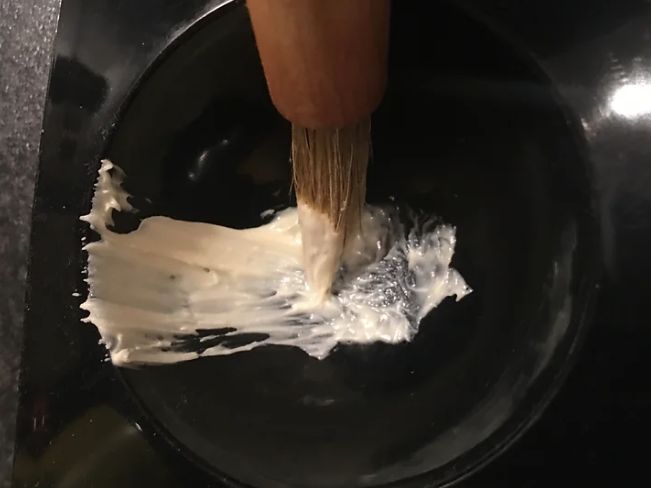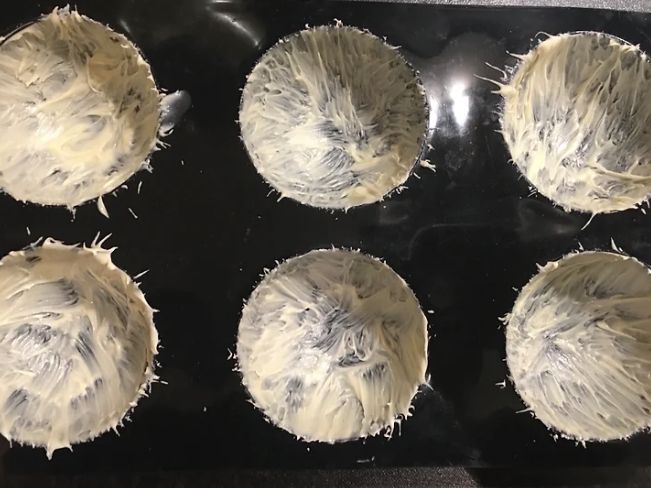 3. Now that our shells are made we can move onto making the matcha yuzu mousse. Start by placing a saucepan 1/4 full with water onto a medium heat. Add 160g of white chocolate into a bowl and place over the saucepan to melt the chocolate. Whilst we are waiting on the chocolate to melt, in a separate pan add 300ml of heavy cream and bring up to a boil. When boiling add 2 tbsp of matcha powder, 5g of agar agar and 40ml of yuzu concentrate. Continue to boil for an additional 1 minute whisking constantly, after 1 minute the agar agar should be active, remove from the heat and we can now bring the mousse together.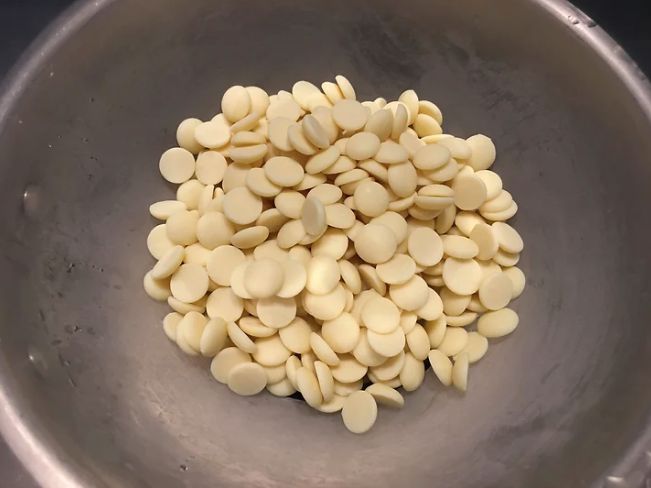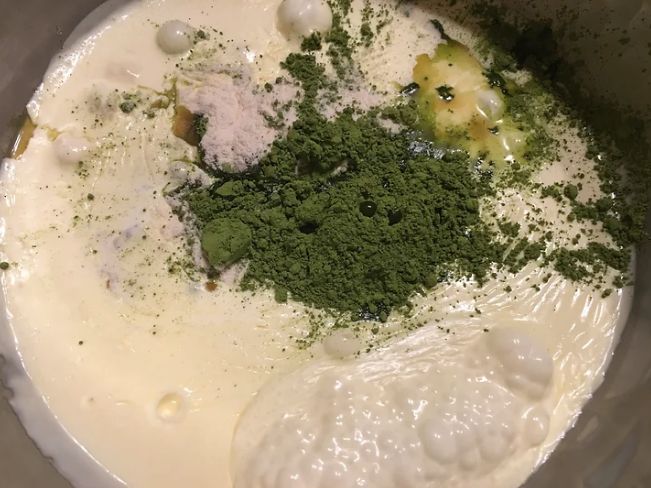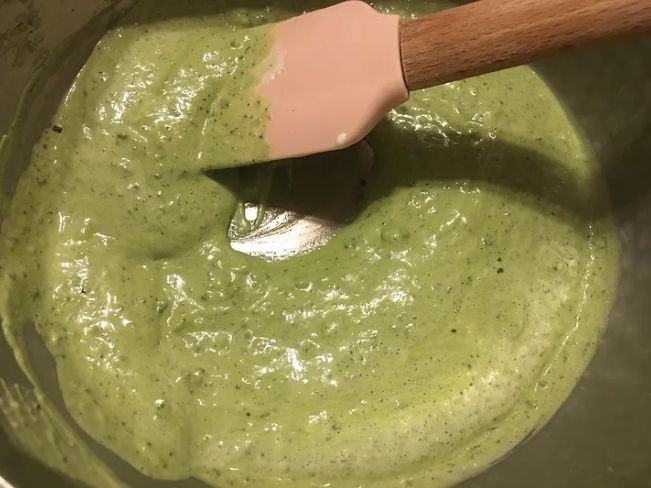 4. Now in a mixing bowl add 150ml of chilled heavy cream, the melted white chocolate and the matcha yuzu cream. Use a stick blender to pulse to bring everything together then when smooth pass the mix through a fine sieve into a fresh container. Allow the mix to cool then cover tightly with clingfilm and chill in the refrigerator for 2+ hours to thicken the mousse.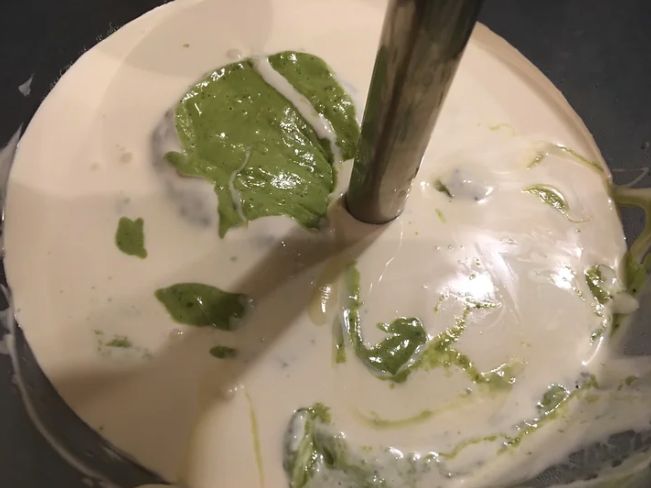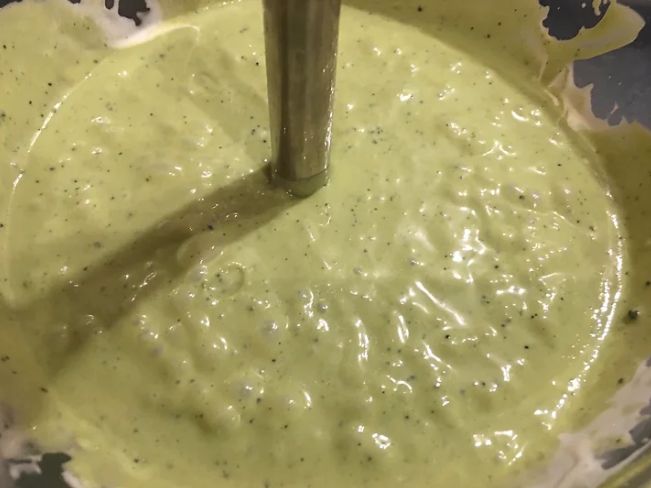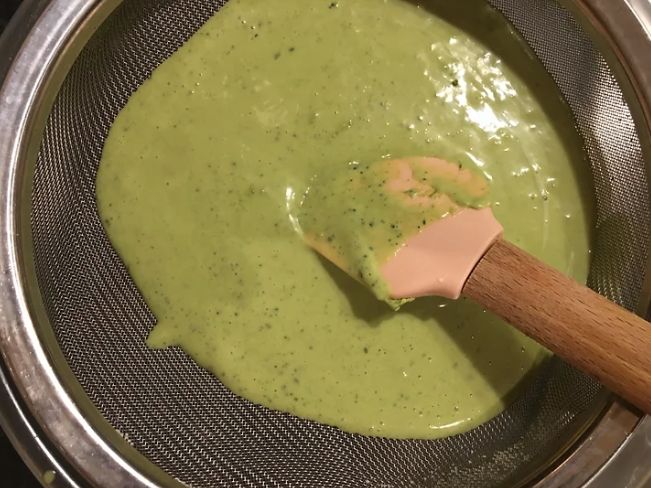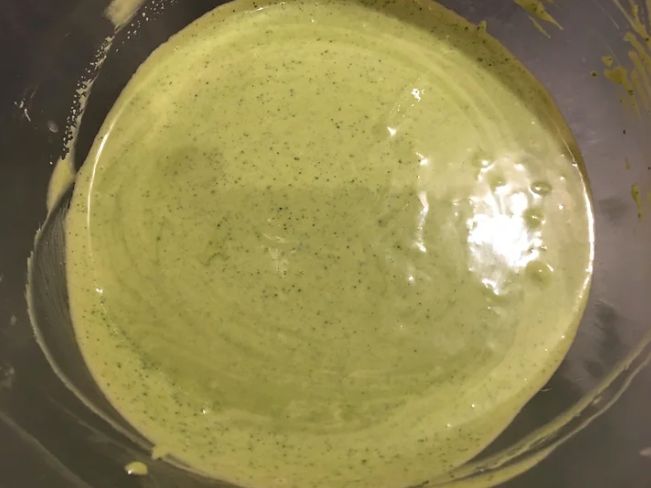 5. When the mousse has thickened we now want to whisk together to make a much lighter mousse. Whisk for approximately 1 minute until the mousse becomes light and has soft peaks then add to a piping bag removing any air pockets by swirling the piping bag if there are any.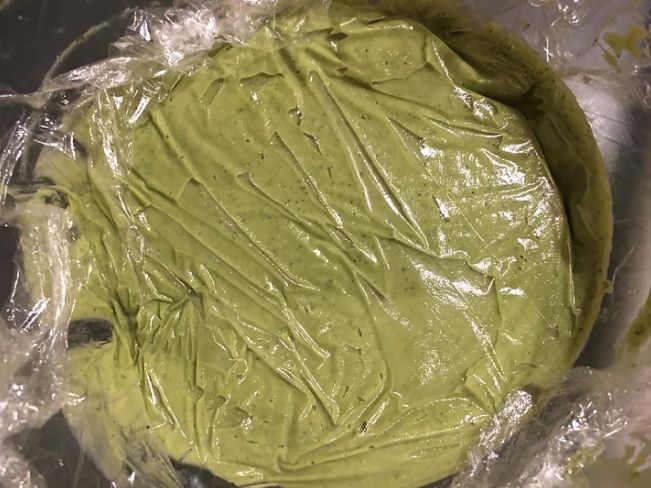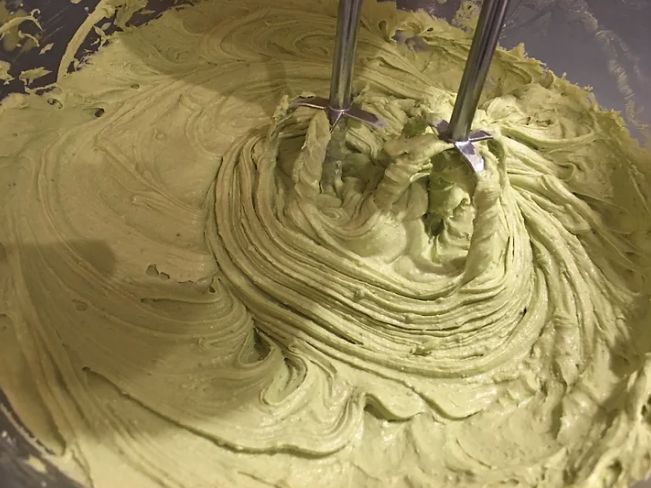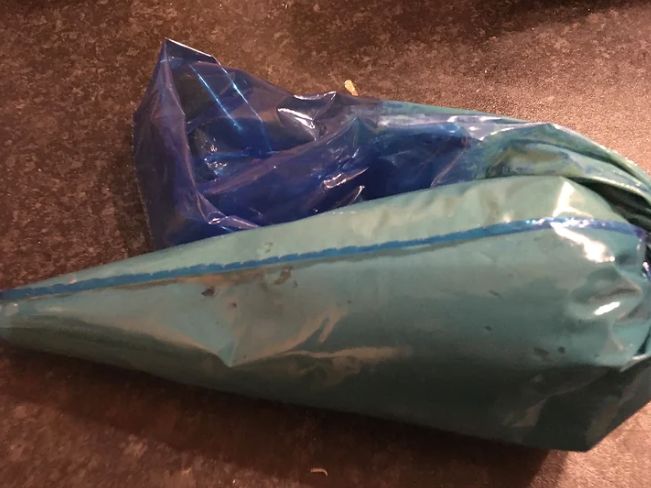 6. Next step is to make up the 1/2 spheres. Take out the white chocolate shells leaving them still in the mould then pipe the mousse right up to the top of the 1/2 spheres. Flatten and tidy the mousse out by using an offset spatula. When ready place the mousse into the freezer for 2-3 hours or overnight until completely frozen.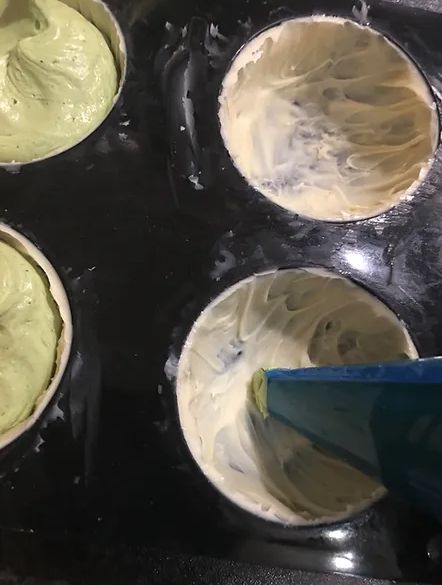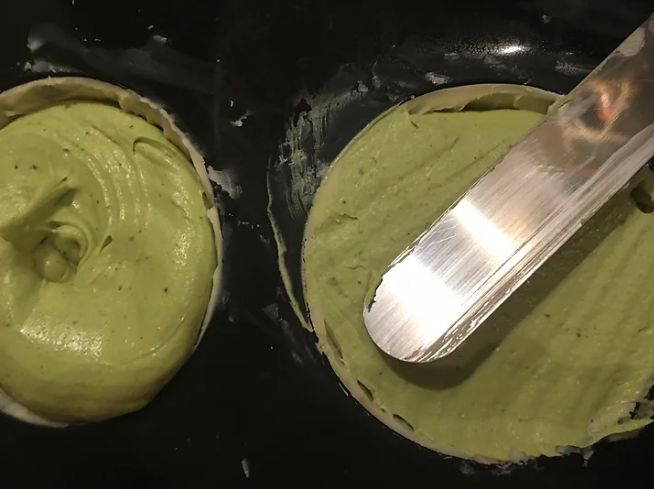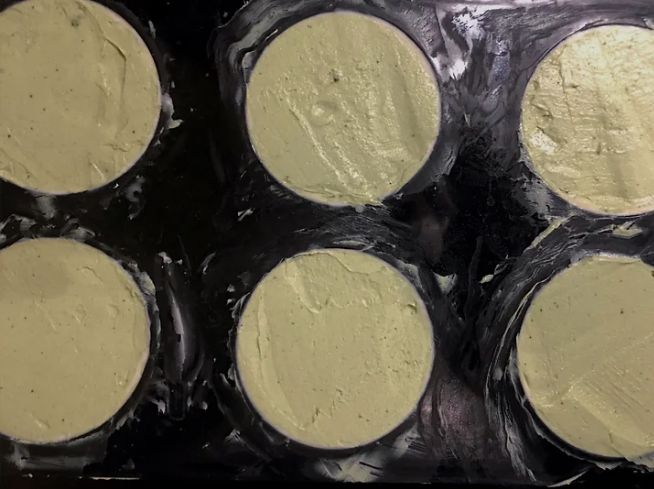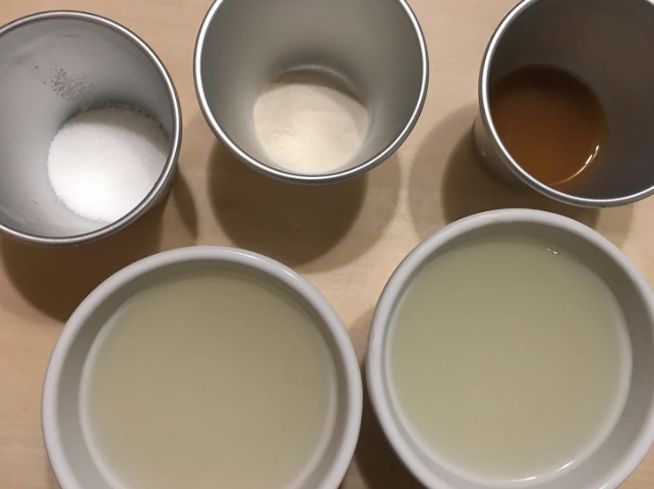 7. Whilst we wait on the on mousse to freeze and set we can now create the other components of the desert. To make the lychee gel begin by 125ml of the lychee juice (1/2 of the juice) into a saucepan along with 20g white sugar and 20ml of yuzu concentrate. Bring up to a boil then when boiling add 2g of agar agar and whisk well. Once we have added the agar agar continue to boil for a further 1 minute to activate the agar. Next remove from the heat and add the hot liquid to a bowl then add the remaining 125ml of lychee juice. Whisk again then allow the mix to cool to room temperature. When cool cover with clingfilm andstore in the fridge for 1 hour to turn the liquid into a jelly.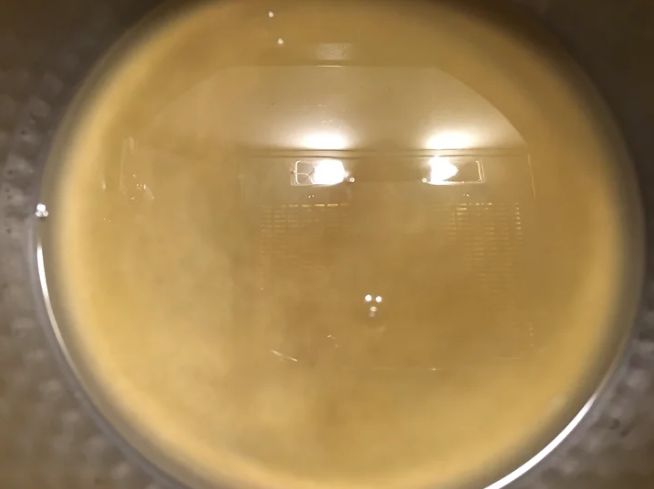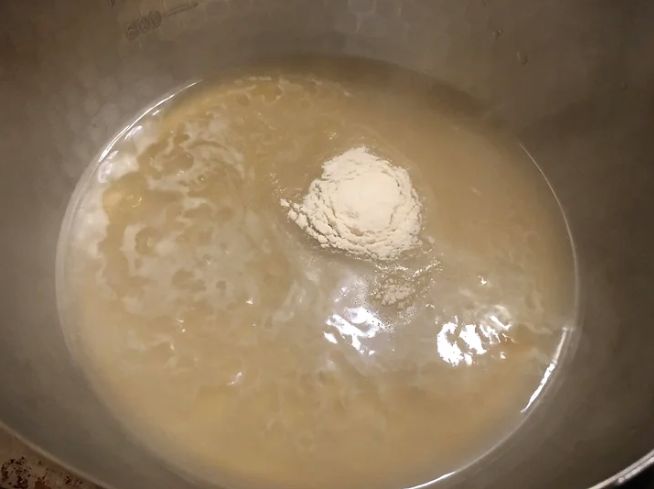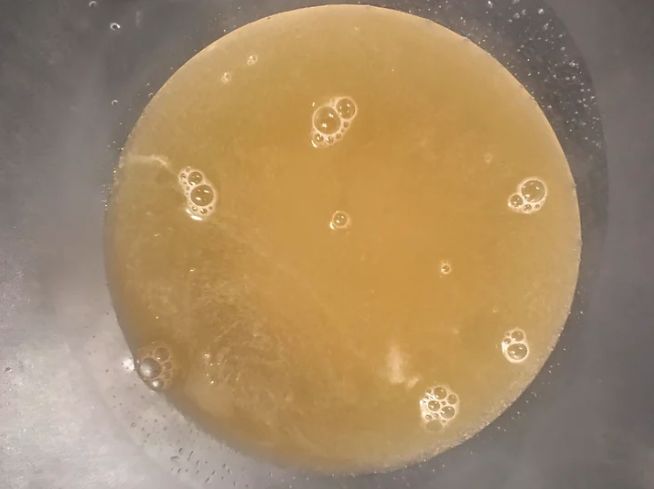 8. When the lychee mix has completely set we now want to run a knife through the jelly to turn the mix into cubes. Then we want to transfer the cubes into a food processor and pulse until a silky smooth gel is formed. When ready place the lychee gel into a squeeze bottle or bowl and store in the refrigerator until its time to plate up. This method of making a gel is pretty standard. For future reference you can apply various other ingredients instead of lychee to make many other types of gels.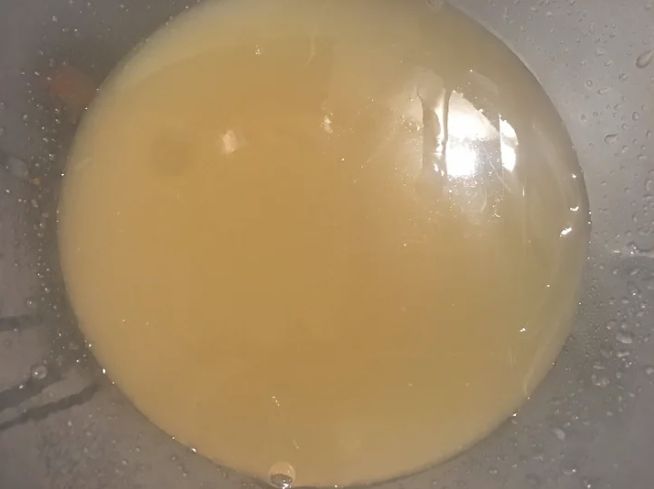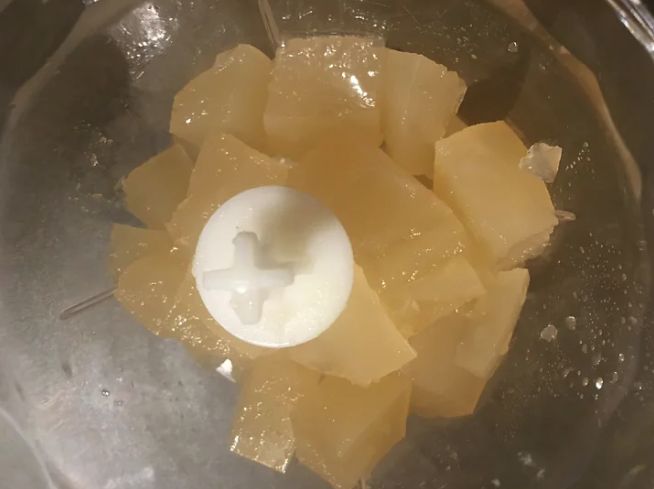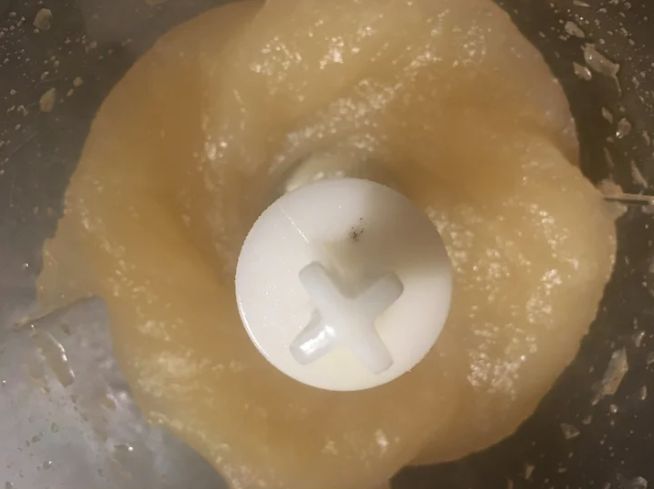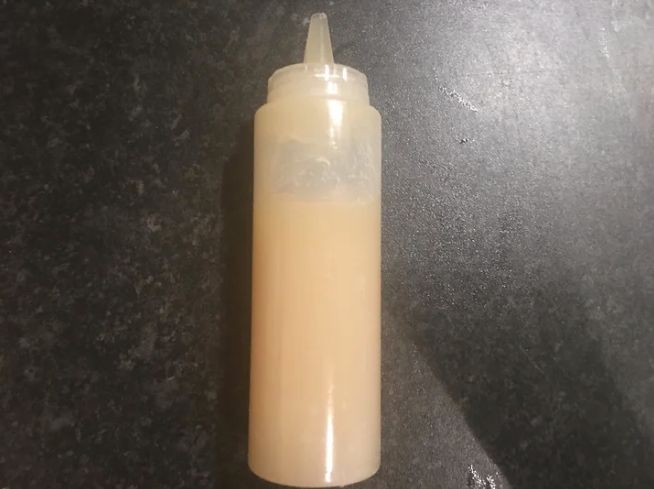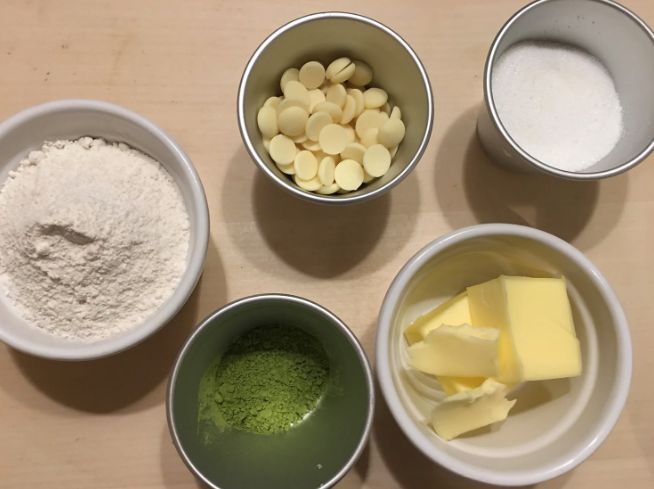 9. Now onto the matcha soil, the purpose of this element is to simply enhance the flavour of matcha, make the desert more moorish and to add a layer of texture. Start by melting 40g of white chocolate in a microwave until the chocolate has just about melted. Now in a separate mixing bowl add 100g of plain flour, 60g white sugar, 1 tbsp matcha powder, 55g of softened butter and all of the melted white chocolate. Mix well using a spatula until the mix transforms into a rough crumb like consistency. Leave a little texture in the soil as this will make the soil much more interesting to eat.
10. Now to briefly bake the soil, flatten all of the mix onto a baking tray lined with parchment paper. Bake in an oven set at 160°c for 10-12 minutes or until a crumbly, crispy soil is formed. When ready break up the soil and place into a bowl to cool and we are now ready to plate up.
11. Now all the components are ready we can apply the last few finishing touches, this next stage is optional as it is only really for presentation. Before we plate up the dessert we want to defrost the 1/2 spheres regardless. When the mousse becomes slightly less frozen we can use a small spoon or ice cream scoop to remove some of the core of the mousse to make a well in the centre. Next we can use a hot knife to cut the 1/2 sphere into 2 to make a wedge. As said before this stage is totally optional and is only really for presentation. When the mousse is defrosted tidy up the edges by using an offset spatula and we are now ready to plate up.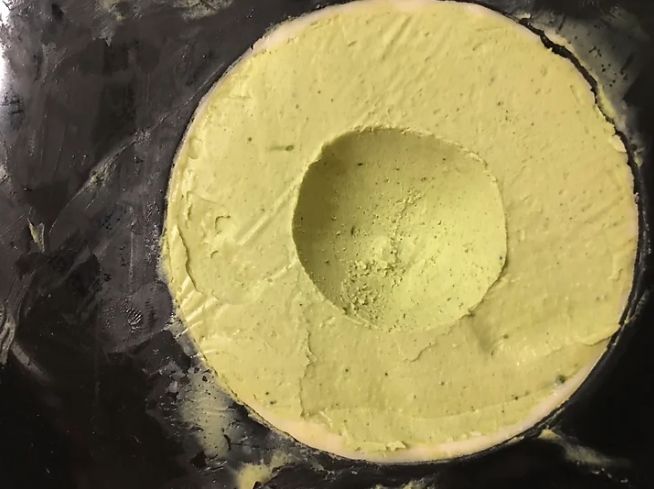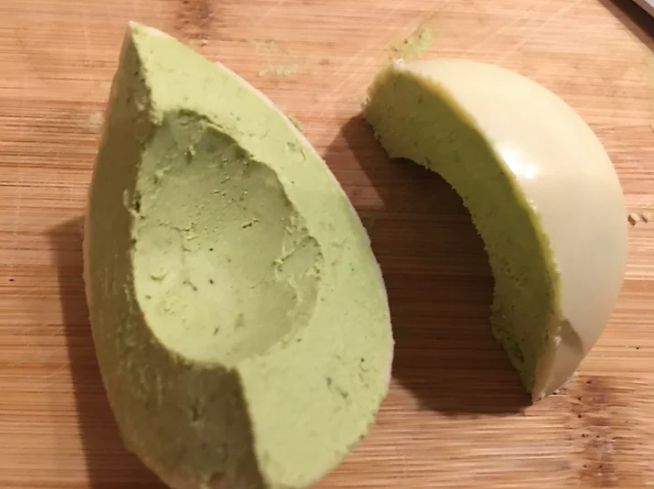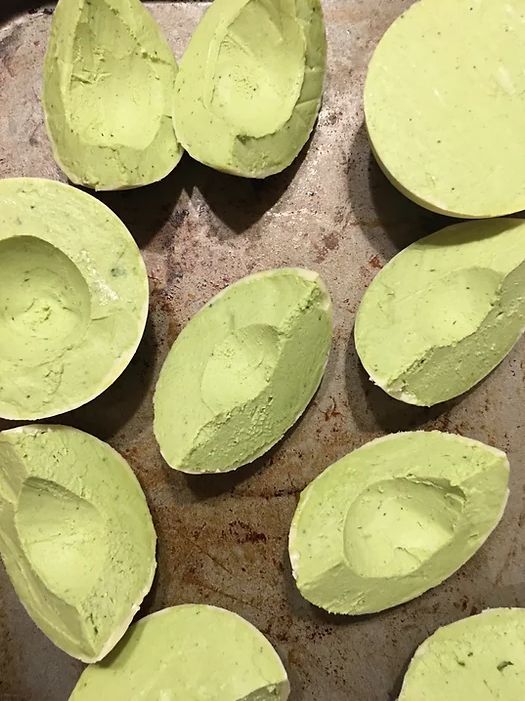 12. Now to plate, add a generous amount of the matcha soil into the centre of the bowl. Place the mousse on top and a generous amount of the lychee gel dotted around the dessert. To add another extra layer add some sliced fresh lychees and some candied yuzu or lemon peel. I hope you like this lengthly yet Moorish dessert! (I will leave an image of an additional way of serving the mousse below).
As for what to use instead of matcha as the key ingredient, you could also add raspberry, strawberry, citrus or just simply leave it as a white chocolate mousse. Take as you please from this recipe as there are multiple techniques within. I'm sure if you make it as it is though you are going to love it! For the mousse, there are many ways in which you can serve it. Leave it as a 1/2 sphere or stick them together by briefly heating it to form a full sphere…Have fun, enjoy the recipe and peace!
Prep Time 1 1/2 hrs / Set and Freeze Time approx 5-7 hours
Matcha Yuzu Mousse and outer shell:
40ml yuzu concentrate or lemon juice
250g white chocolate (outer shell)
20ml yuzu concentrate or lemon
candied yuzu or lemon skin (optional)