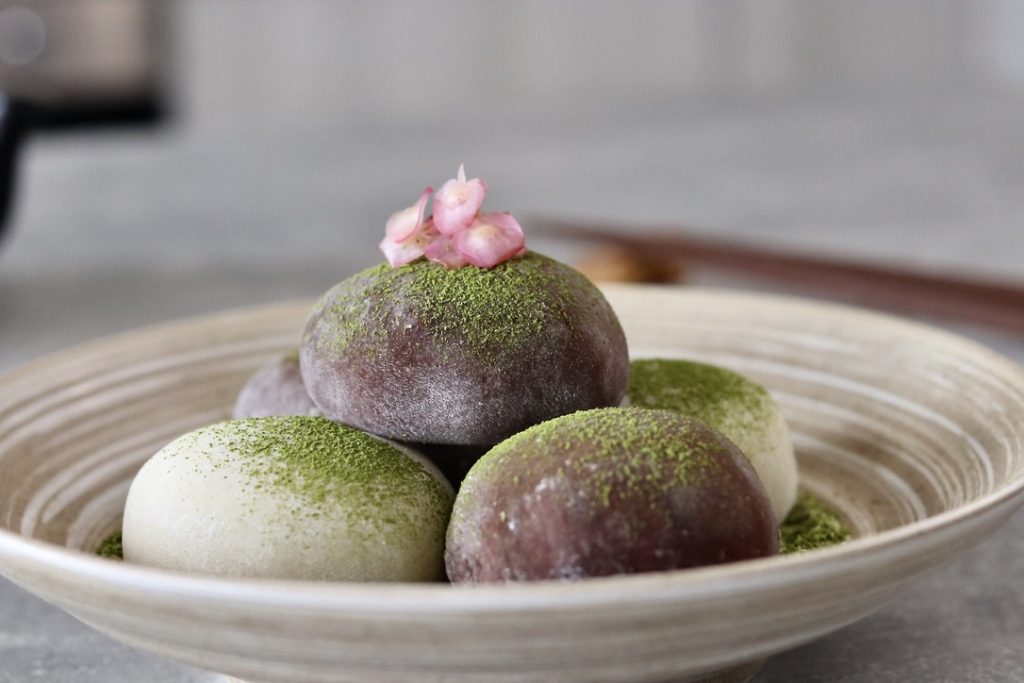 Mochi is truly a staple when it comes to Japanese sweet desserts and what makes a good Mochi is a delicious sweet soft filling along with a stretchy cloud like Mochi to hold everything together. For this recipe we are going to be making 2 different flavours of Mochi, a plain one and a dark chocolate version, however, various other flavoured Mochi such as taro, Pandan, fruit Mochi would also work perfectly well with this filling. With that said let's get straight into this recipe!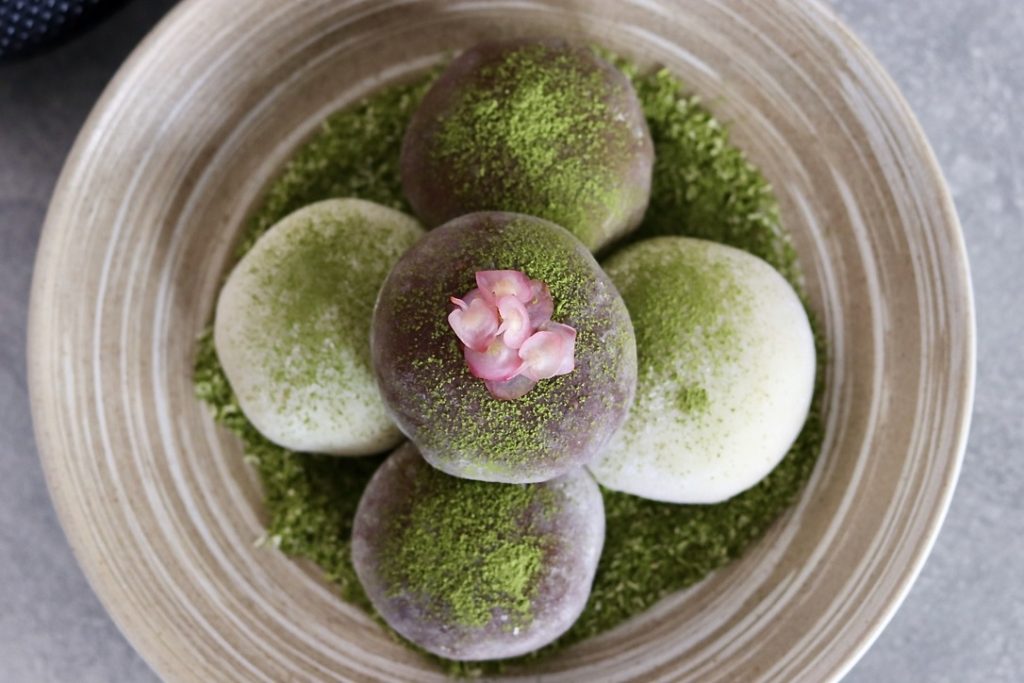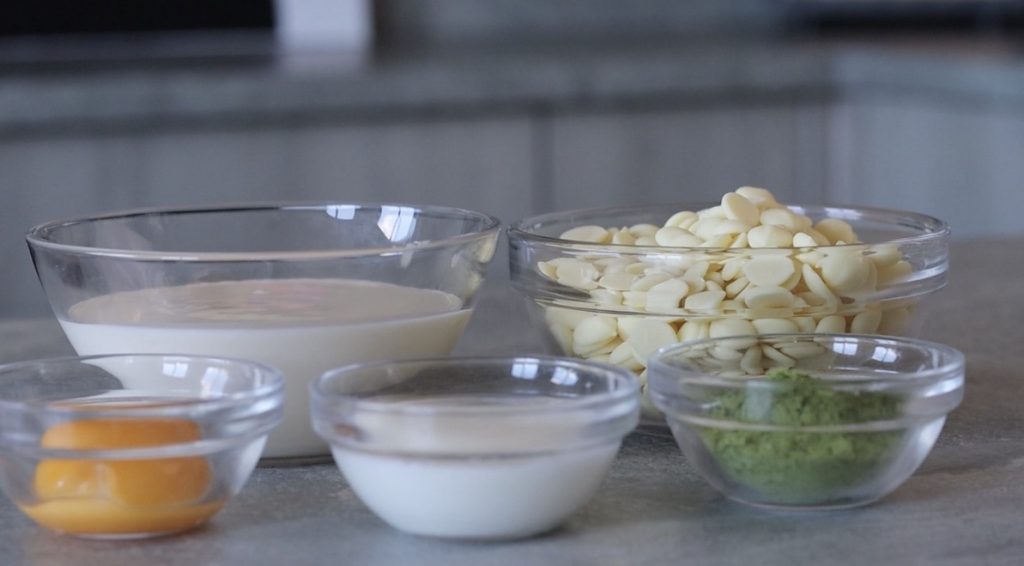 1. To start off this recipe we first need to make the Matcha ganache. This will need some time to slightly set so let's begin here. First let's make a matcha paste. In a small bowl add 20g of whole milk and 20g of good matcha powder. Mix well until a paste is formed then keep this to one side for now. Next in a small saucepan add 133g of heavy cream and 1 egg yolk. Mix well to incorporate the egg yolk into the cream then place onto a low heat. Slowly heat up the cream whilst constantly mixing until the temperature reaches approximately 70 degrees centigrade. When ready remove the cream from the heat and place to one side.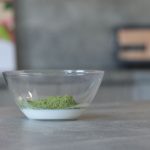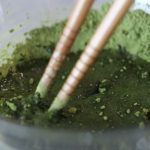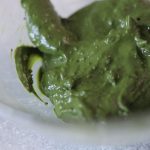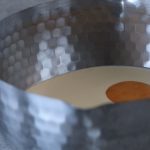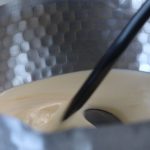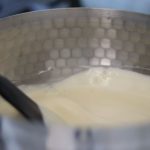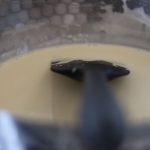 2. To the heated cream we now want to add 400g of white chocolate, the matcha paste made earlier. Slowly mix in the chocolate and matcha into the heated cream and at continue to mix to completely dissolve the white chocolate. When nice and smooth, pass the ganache through a fine sieve into a fresh bowl then for some texture we can also add 20g of chopped de shelled pistachio and 20g of desiccated coconut. Mix again then pour the ganache into a small baking tray lined with clingfilm. Cover nice and tightly and store in the fridge until set.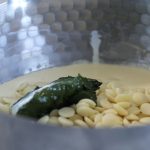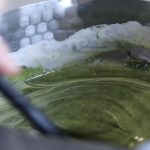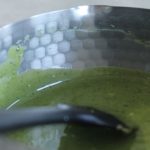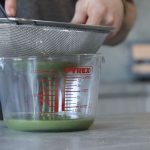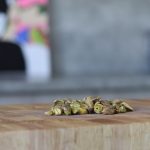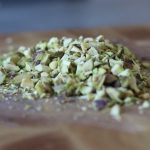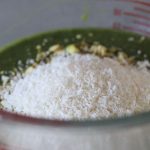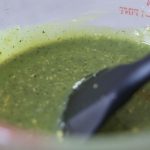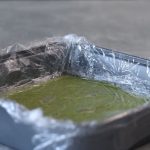 3. When the ganache has set we can remove from the baking tray and place onto a chopping board. Cut the ganache into 16 equal sized bite sized pieces then roll each one into a ball. The ganache can be quite tricky to handle at this point, therefore, some gloves or even roll out the ganache using clingfilm makes this step far easier. When rolled, dredge the ganache in a small tray filled with around 1/2 cup of desiccated coconut then tidy up if needed. Place the rolled ganache onto a tray and repeat this for the rest of the pieces. When ready cover tightly again and store back in the fridge until we are ready to finish the Mochi.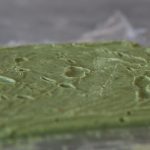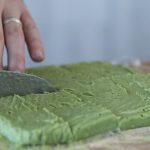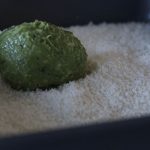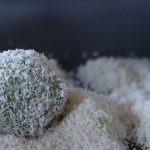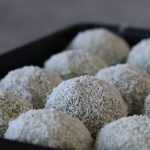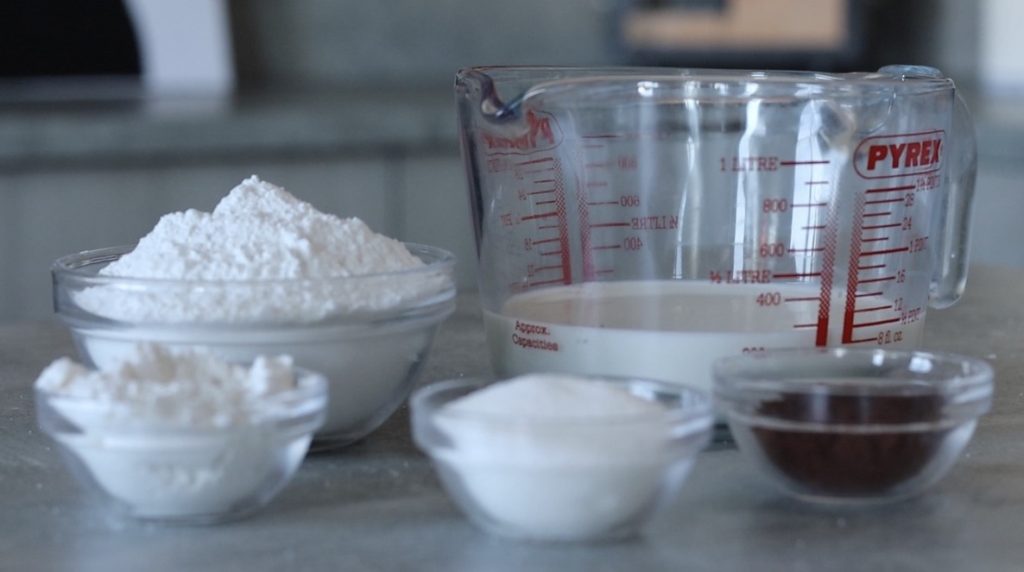 4. Now that we have our ganache it's time to make up the Mochi. In a large mixing bowl add 160g of glutinous rice flour, 60g of white sugar and 40g cornstarch. Whisk the dry ingredients well then slowly add 280g of whole milk whist constantly mixing. When all the milk is added we should be left with a smooth liquid. Next, add 20g of neutral oil and whisk again to incorporate the oil.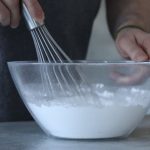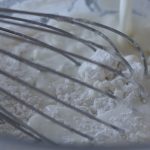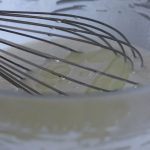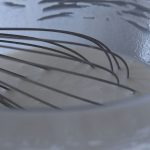 5. Before we cook lightly grease a large enough baking tray with cooking oil then add the Mochi liquid. Now place the tray uncovered into a steamer or in this case the tray would not fit my steamer, therefore, I placed the tray into a wok slightly filled with water. Cover the steamer or wok in my case nice and tightly then steam the liquid for 20 25 minutes. Whilst the Mochi is steaming away we can also add 1/2 cup of cornstarch into a dry pan and roast on a low heat for a few minutes to take away the rawness of the cornstarch. 1/2 cup may seem a lot but Mochi needs a generous amount of starch to work. When cooked the liquid should be set and now slightly transparent. Carefully remove from steamer and place to one side.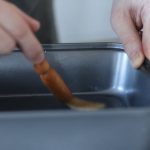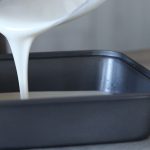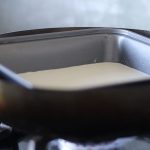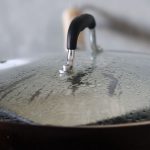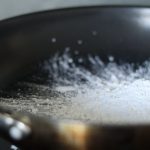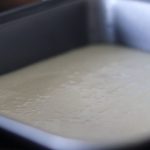 6. Whilst the Mochi is still hot, use a spatula to break up the sheet then fold together until cooled then when more manageable empty out the Mochi onto a work top. Dust generously with the slightly cooked corn starch then begin to knead the dough. The Mochi still may be quite warm and still sticky so i would recommend using some latex gloves for this. After around 15 minutes of needing and generously dusting with cornstarch the dough should now be relatively smooth.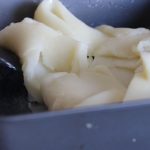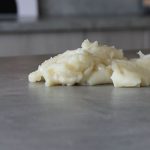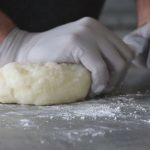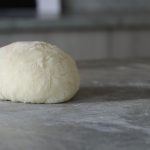 7. Now that we have 1 rather large but smooth piece of dough, divide into 2 equal sized pieces. Next take one of the pieces then add 1 tbsp of 70% dark chocolate powder into the centre of the dough. Knead again until this half of the dough gets evenly coated in the dark chocolate powder adding additional cornstarch if needed. When nice and elastic roll this half of the now chocolate Mochi into a log then cut into 6 equal sized pieces then roll each piece into small balls then place onto a tray lightly dusted with cornstarch. As for the other half of dough, knead this again until elastic the same way as the other half then also when ready roll into a log and cut into 6 equal pieces and place along side with the chocoolate Mochi balls.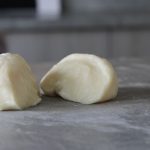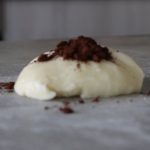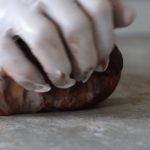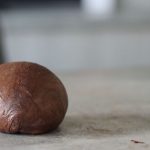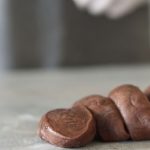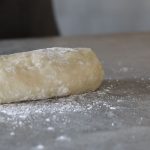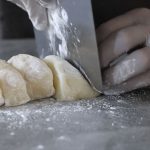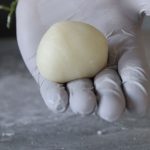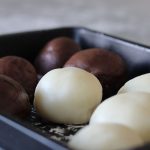 8. Now that we have our small balls of Mochi ready to go it's time to bring everything together. Take out one of the balls of Mochi then dust both sides with cornstarch. Now flatten the ball of Mochi to form a flat disk then use a rolling pin to briefly roll out into a disk that is approximately the size of your palm. When rolled, dust of any excess cornstarch then take out one of the pieces of matcha ganache then place into the centre of the Mochi. Bring the edges of the Mochi together to enclose the ganache then pinch to seal the opening together. If there is too much excess Mochi at this point simply twist the base of the Mochi and remove. Now enclosed, shape the Mochi into a tight neat ball then again dust off any excess cornstarch on the surface. Now ready, place the Mochi onto a tray and repeat this process for each of the Mochi balls and ganache then the Mochi are ready to serve!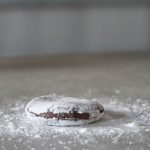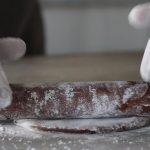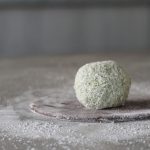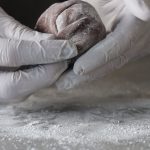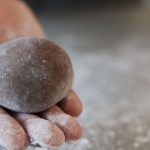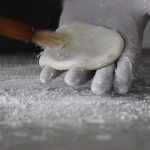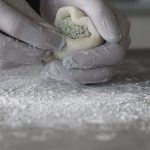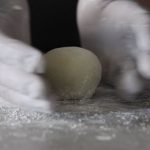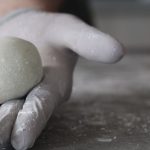 9. To serve I like to firstly like to add a coconut matcha crumb onto the plate to lay the Mochi on. To make this simply mix 1 tbsp of matcha powder with 2 tbsps of desiccated coconut and 1 tbsp of white sugar. Next add the Mochi on top then finally dust the Mochi with some additional matcha powder then the Mochi are finally ready! I personally like a pot of green tea on the side but I will leave this up to you…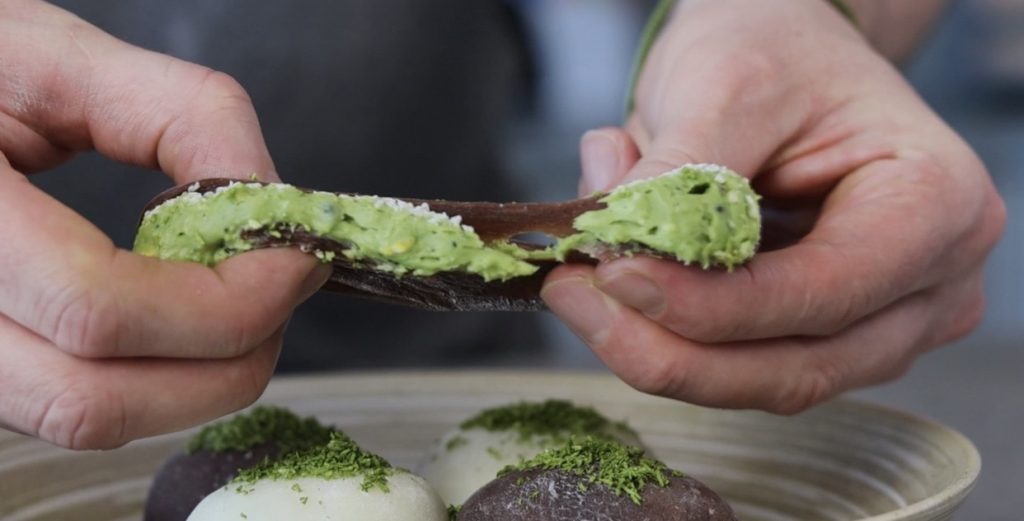 In terms of fillings then various ice creams, red bean paste or nut pastes would work perfectly for this recipe. Instead of making 1/2 of the Mochi dark chocolate then various food colourings and flavoured powders would also work such as Taro, milk chocolate, Pandan or fruit flavours. I think as long as the you have the base of how to make the Mochi then the possibilities are endless! Have fun making/eating Mochi and peace as always! 
Ingredients
To serve 4-6
Cook Time: 30 minutes
Prep Time: 1 hour
160g glutinous rice flour
60g white sugar
40g corn starch
280g whole milk
20g neutral oil
1 tbsp 70% cocoa powder
1/2 cup cornstarch for dusting
Matcha Ganache
400g white Chocolate
133g heavy cream
1 egg yolk
20g matcha powder
20g whole milk
20g pistachio
20g desiccated coconut
1/2 cup desiccated coconut for dredge
Optional Matcha Coconut crumb
1 tbsp matcha
2 tbsp desiccated coconut
1 tbsp white sugar