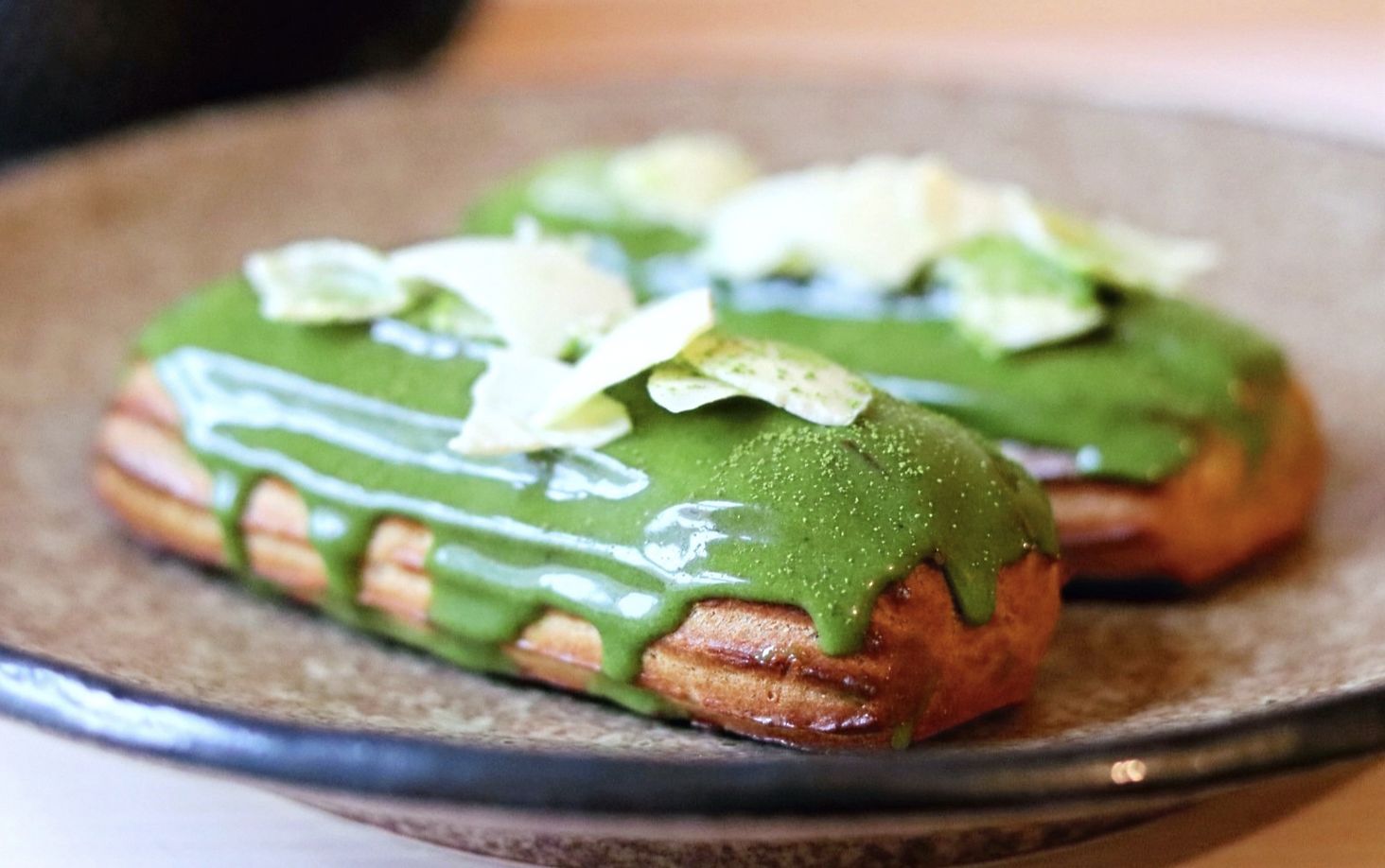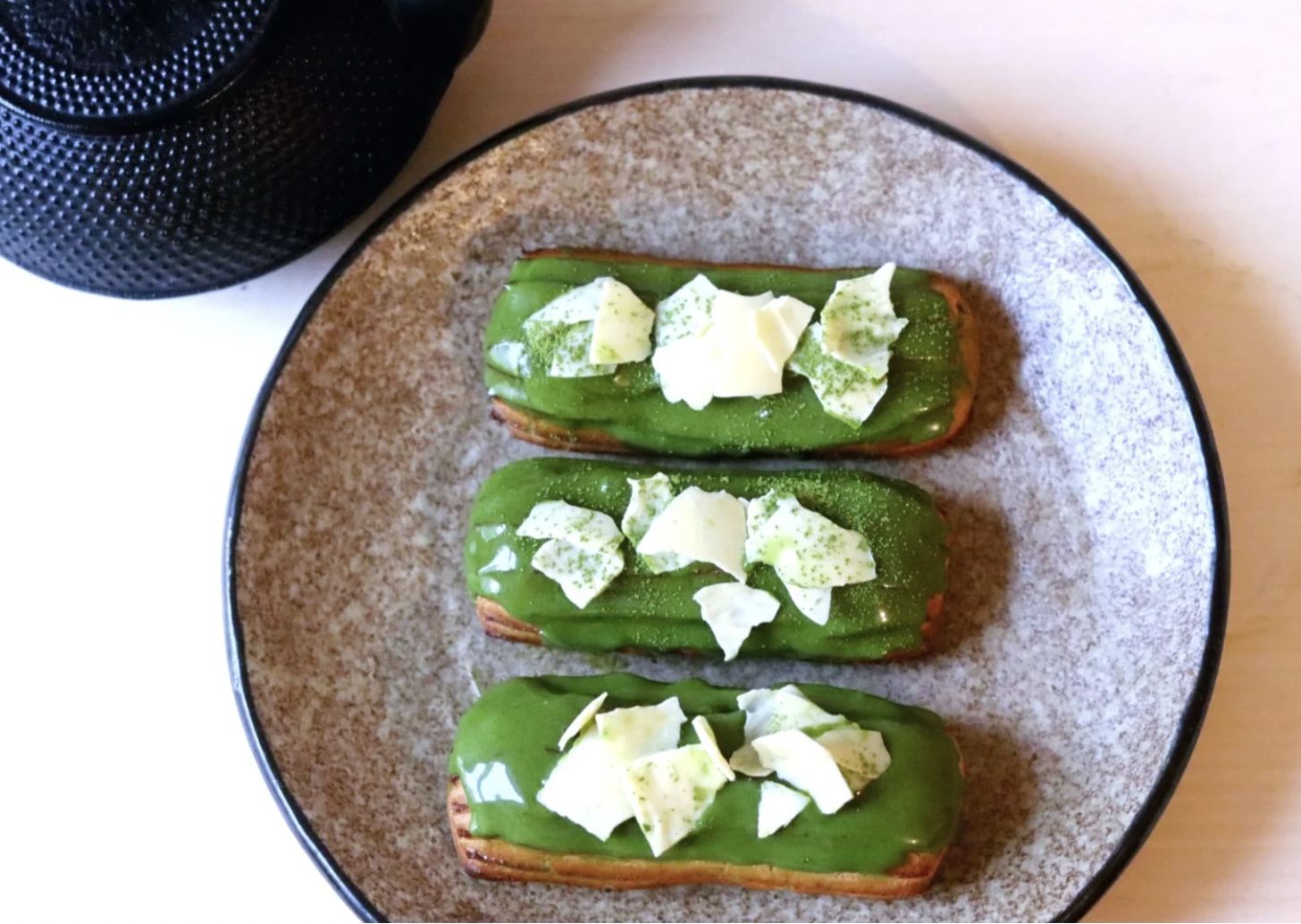 For these Eclairs, I decided to switch this recipe up by adding elements of white chocolate and matcha in both the filling and glaze. The choux pasty in this recipe is based on a classic Pate a Choux which is a French 101 when it comes to baking. The great thing about this recipe is that the prep can be done days in advance and you can really take your time on the 3 main components in these eclairs. Let's get straight into it!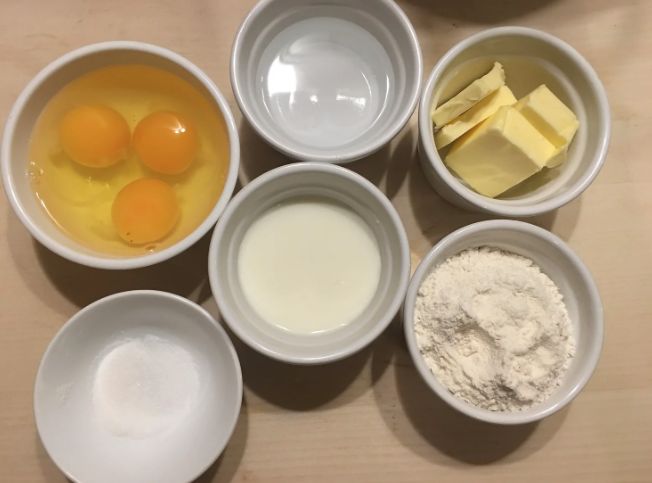 1. Let's begin this recipe by making the choux pastry, there are a few key factors when making choux pastry to keep in mind as otherwise your choux can be either too wet, deflate when baked or crack. I will highlight these key factors throughout each stage in the recipe. Let's begin, in a saucepan add 155ml of milk, 160ml water, 150g unsalted butter, a pinch of salt and a pinch of sugar. Place onto a medium heat and bring to a slow simmer to melt the butter. When ready remove from the heat then sift and add 190g strong flour. Now using a spatula, mix well until a smooth dough is formed.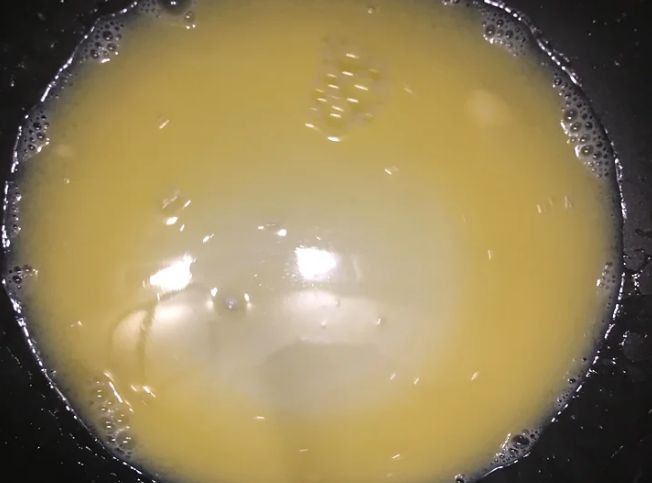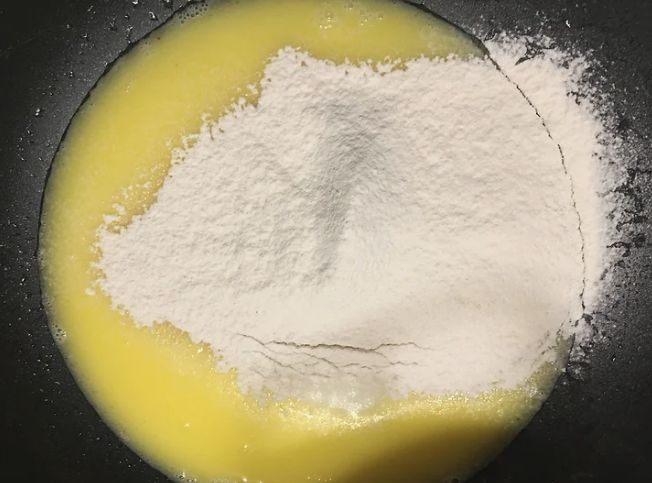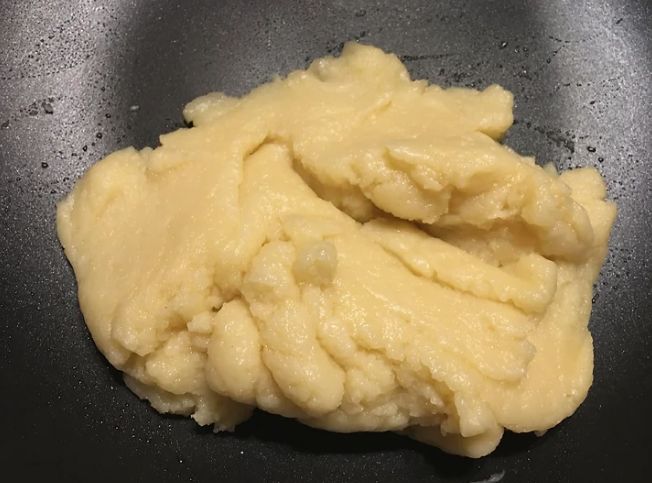 2. Now the base of the dough is ready we now need to place back onto the heat to cook for 2-3 minutes on a medium to high heat. This step is important as it will enable moisture to release from the dough and prevent it from being too wet. Cook for 2-3 minutes whilst constantly mixing with a spatula. When slightly dryer and the dough begins to form a film on the bottom of the saucepan remove from the heat. Place into a mixing bowl to allow to cool.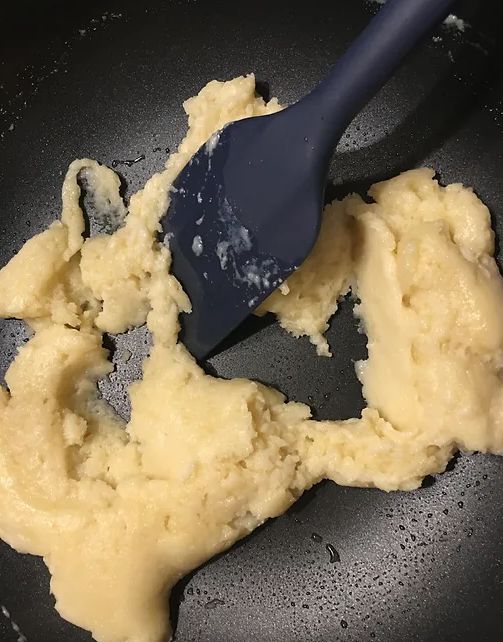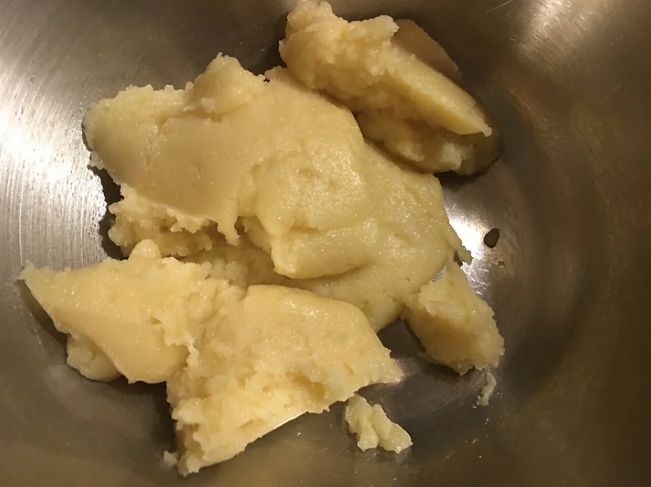 3. When the dough has cooled the next stage it is best to use a kitchen aid to assist. If this is not possible then alternatively use a spatula and a mixing bowl. Place the dough into a kitchen aid and lightly beat for 1-2 minutes on a low setting. Now in a separate bowl add 320g of whole egg (approx 6 eggs) and whisk. Slowly add the beaten egg to the dough whilst constantly mixing. At first the dough will look split but wait for the dough to come together before adding more of the whole egg. Once all of the egg is added the dough should have become smooth and just able to fall off the back of a spoon. When ready place the dough into a piping bag fit with a large star shaped nozzle.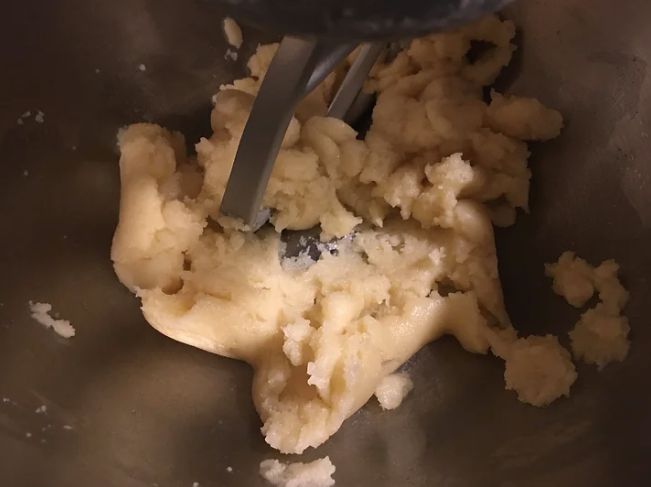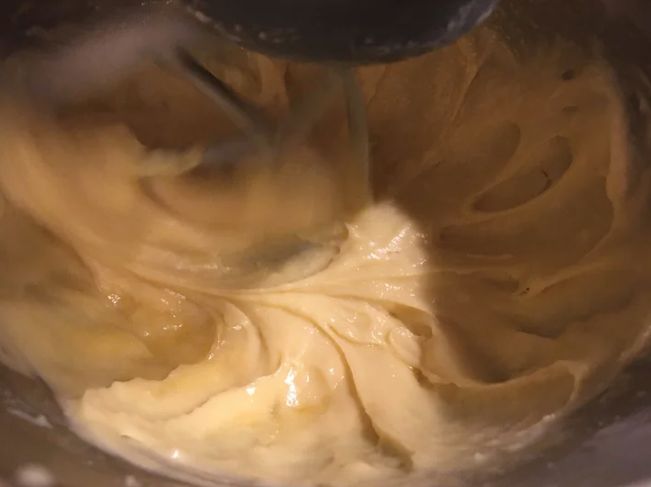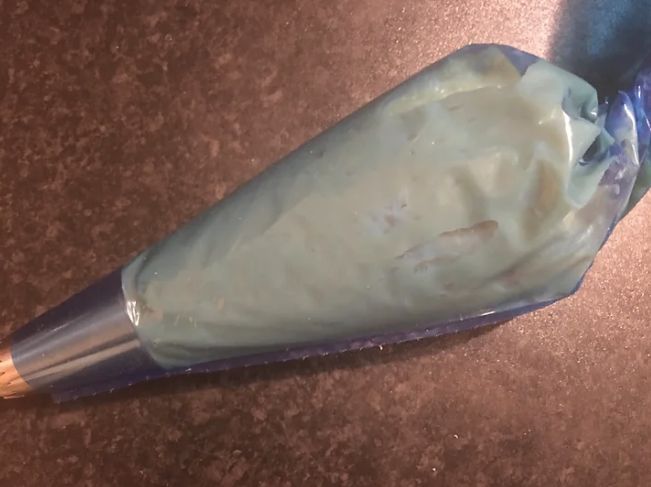 4. Before we begin to pipe, layer a large baking tray with parchment or use a silicone baking mat if you have one. Now to make piping the choux much easier and to create a more uniformed choux pastry, pipe into 3-4 long straight lines roughly 2cm in width onto the tray. When ready place the dough into the freezer to set. If you want to skip this stage then simply pipe the choux individually which ever size you want the eclairs to be. When the choux is frozen use a knife to trim off the ends then cut into uniformed pieces approx 4-5 inches long. When ready place onto a baking tray evenly spread apart to prevent the choux pastry from sticking together.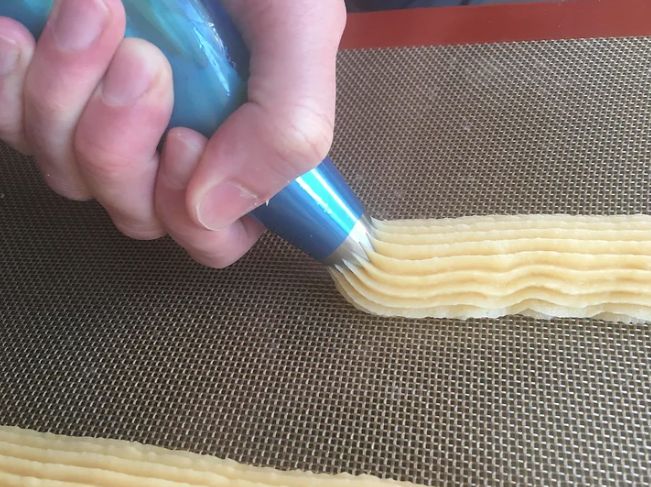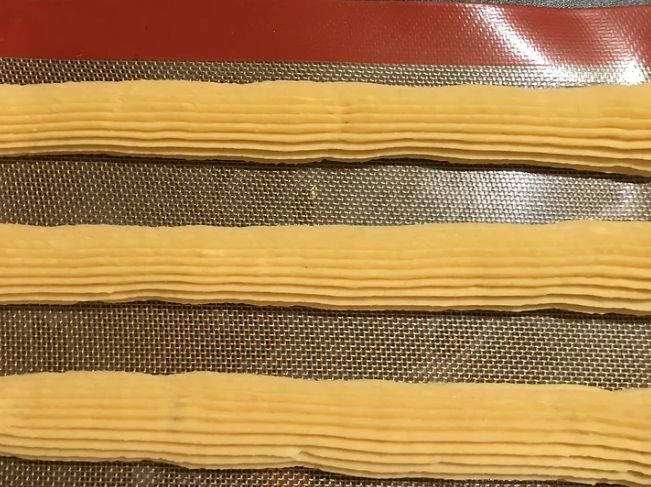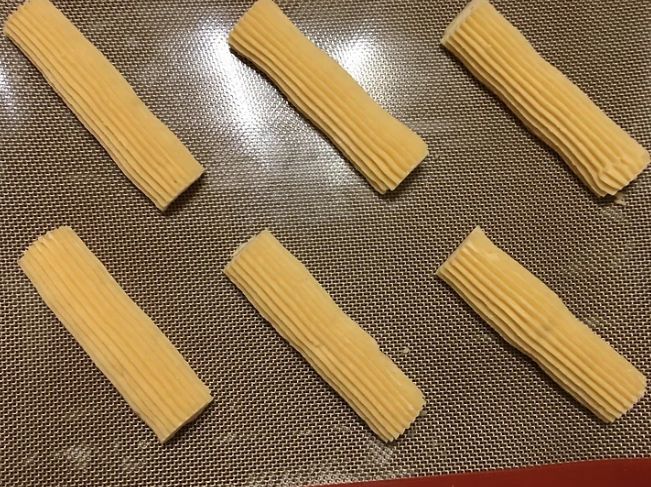 5. To bake the choux pastry, first preheat the oven to 180°c. Before we bake the choux lightly spray the tray and bottom of the oven with water to create additional steam. Now place the tray into the hot oven and turn the heat down to 160°c and bake for 36-40 minutes. (You can bake the choux from frozen if you wish but slightly defrosted would be best). When the choux is cooked they should be light and crispy. Then place the choux pastry onto a wire rack and allow to cool.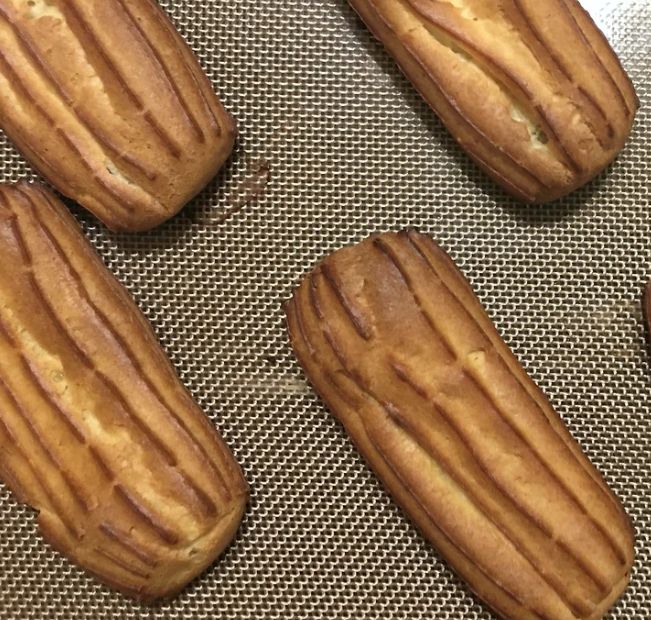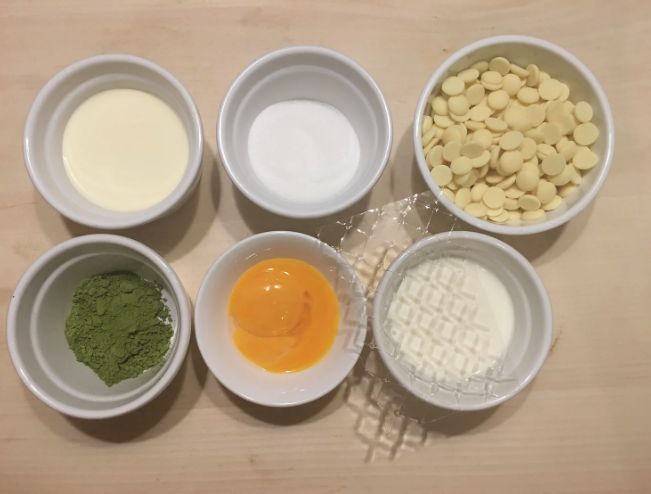 6. Now onto the pastry cream, you can either make this at the point when we are waiting for the choux pastry to freeze or whilst it is baking. Start by adding 2 gelatine leaves to a small bowl of ice cold water to hydrate. Next we are going to make a creme anglaise, in a pan add 160ml of heavy cream and 150ml of whole milk and bring up to a low simmer. Whilst we are waiting on the milk and cream to heat, in a bowl add 70g egg yolk (approx 4 egg yolks) and 80g of white sugar. Whisk together the egg yolk and sugar until the egg becomes light in colour and fluffy. Now shock/temper the eggs by adding a few drops of the hot milk and cream and continue to whisk. Repeat this 2-3 times then pour in all of the heated cream and milk and whisk together. Now add back to the pan and slowly cook until the consistency coats the back of a spoon. Take care not to boil and constantly stir or whisk to prevent from curdling then when ready remove from the heat.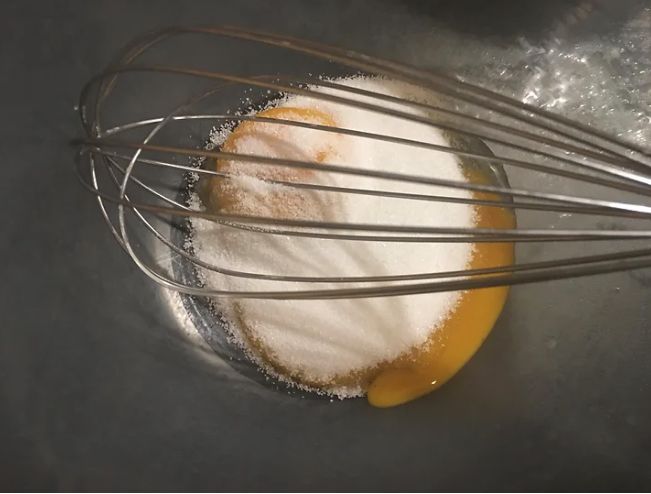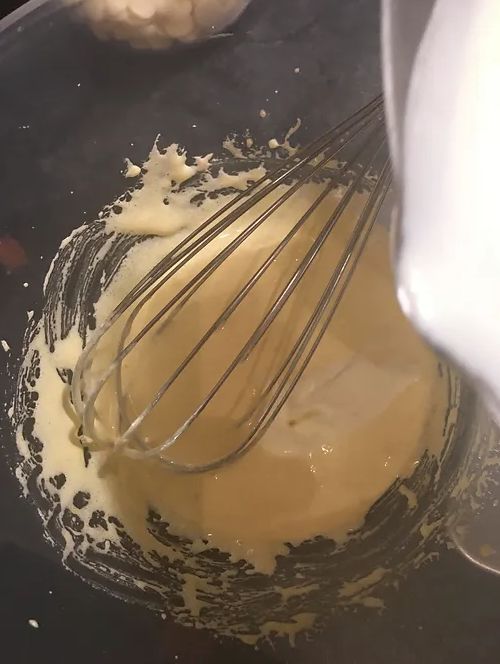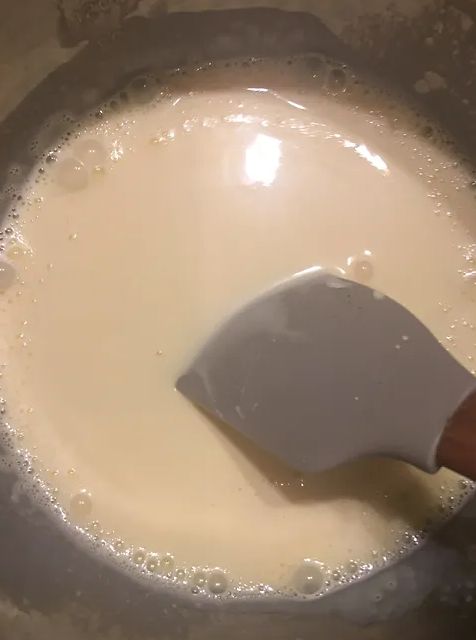 7. To bring the matcha pastry cream together, in a bowl or jug add 250g white chocolate, 1 1/2 tbsp of matcha powder and the 2 leaves of hydrated gelatine. Pour over the creme anglaise whilst still hot and allow to sit for 1-2 minutes as this will enable the white chocolate to melt. When ready use a hand stick blender and pulse until silky smooth. Pass through a fine sieve into a container and cover tightly with clingfilm then allow the pastry cream to set in the fridge.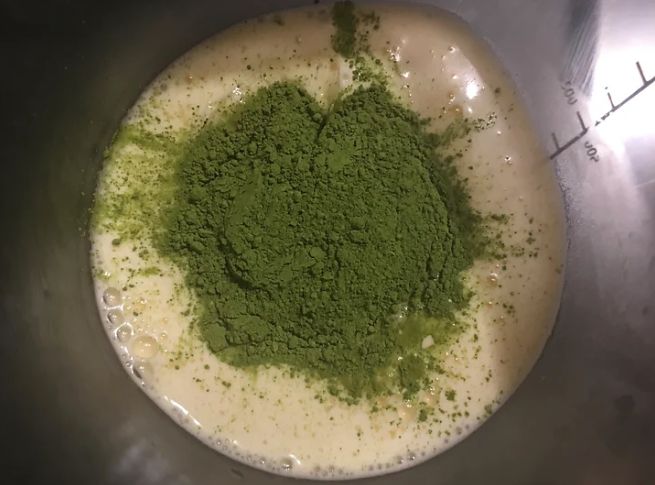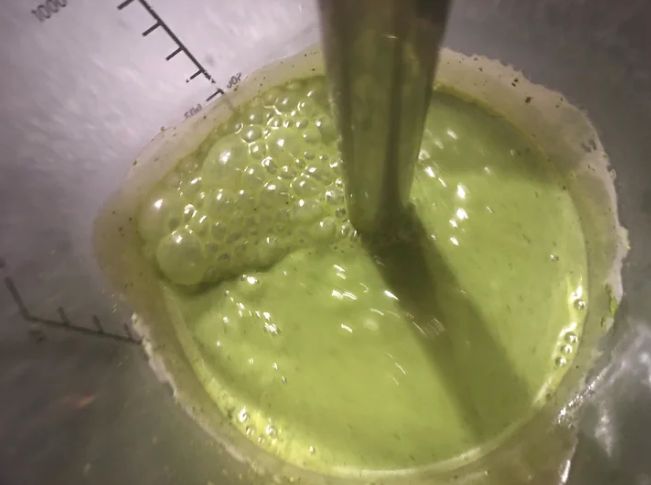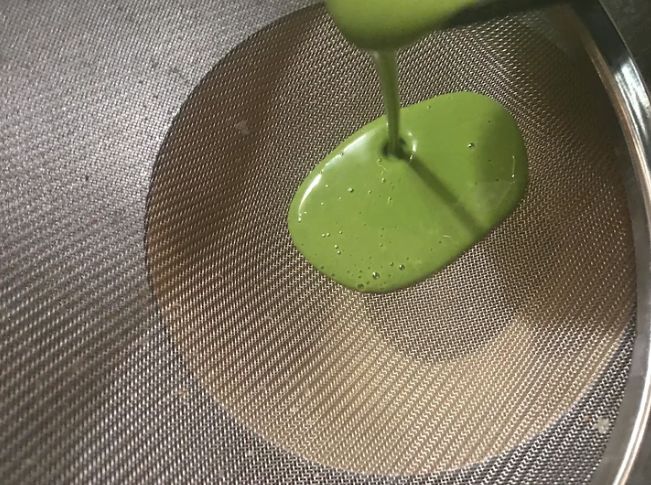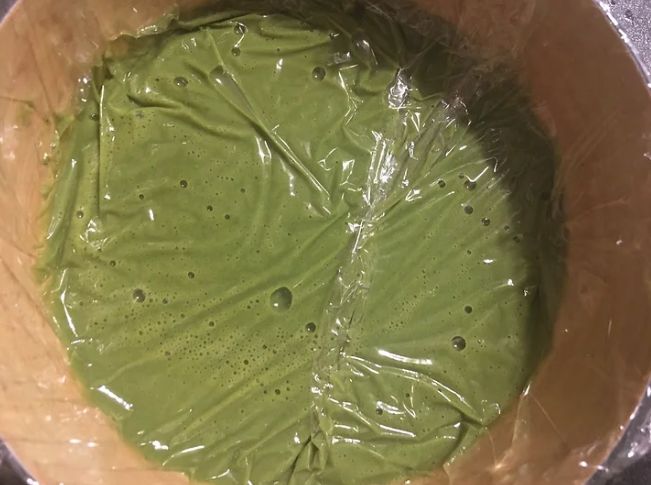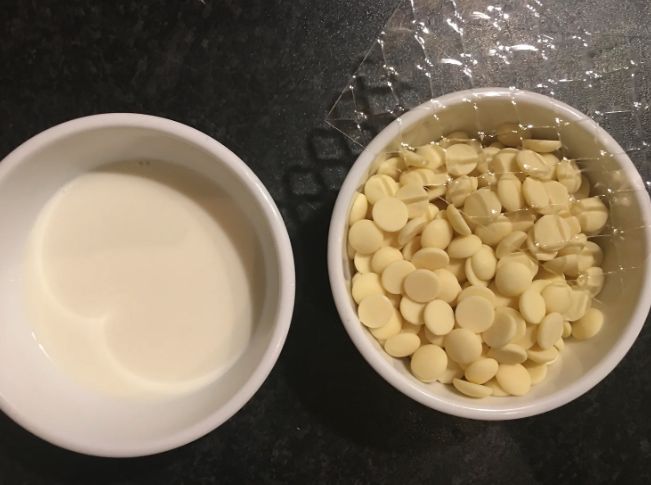 8. The last thing we need to prepare is the glaze, this is the last component and is extremely simple to make. This process is quite similar to the pastry cream. Start by adding 1 gelatine leaf into ice cold water and allow to sit until hydrated. Now in a small pan or microwave heat 60ml of whole milk and 20g of corn syrup. Next place 140g of white chocolate into a bowl or jug then add 2 tsp of matcha powder and the hydrated gelatine when ready. Pour the hot milk and corn syrup over then allow to sit for 1-2 minutes to melt the chocolate. When ready use a stick blender to pulse until silky smooth then pass the glaze through a fine sieve into a fresh bowl. Allow the glaze to sit and cool to a temperature of 24-26°c.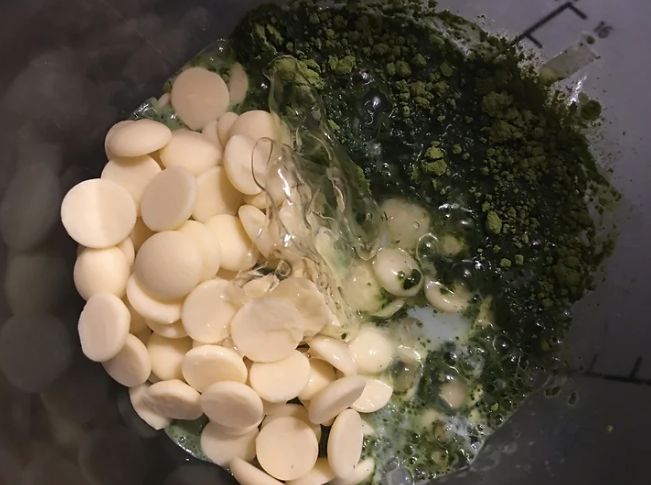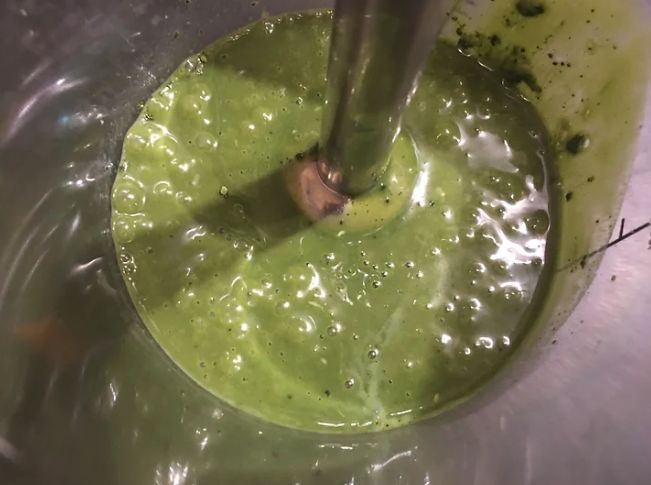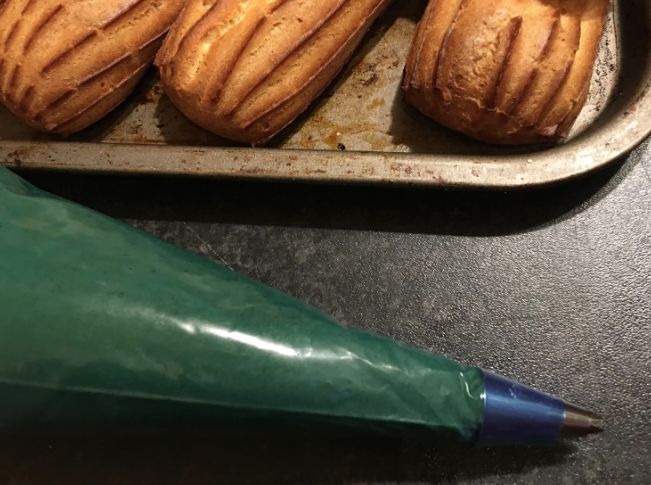 9. Now we are set to build up the eclairs, when the matcha pastry cream is set add to a piping bag fit with a small nozzle. To fill the choux pastry begin by creating two small holes on the bottom of all the pastry with a small pairing knife. Fill in the choux pastry until as full as possible then tidy up where the holes are by scraping off any excess pastry cream. When ready place all of the filled pastry onto a tray then back in the refrigerator to chill.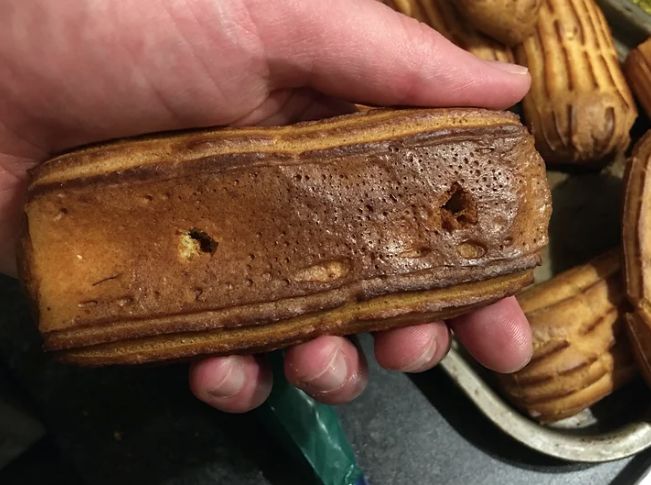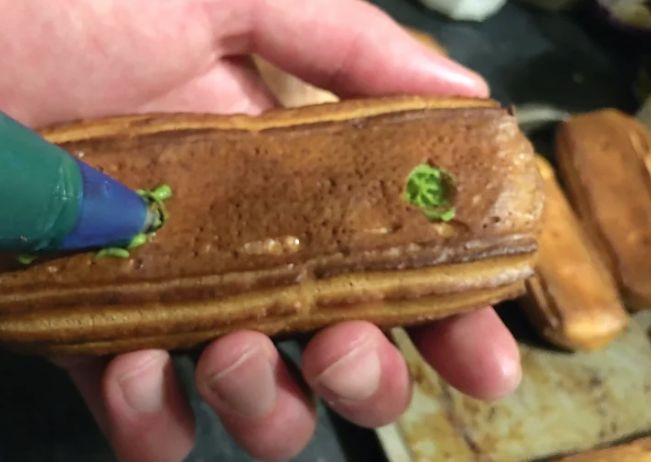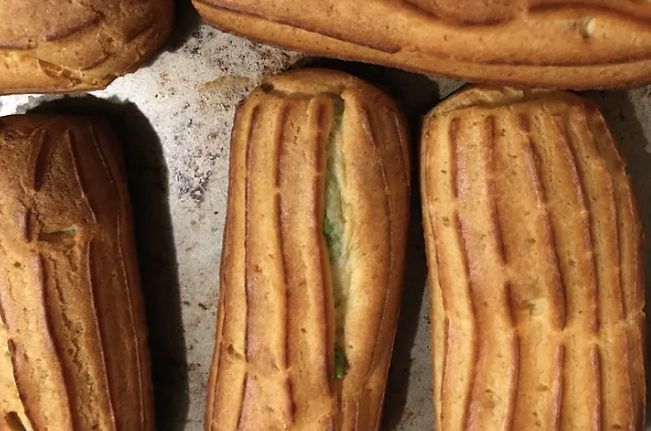 10. All that's left to do now is glaze the eclairs, when the temperature of the glaze reaches approximately 24-26°c we are good to go. Place the glaze into a slightly deep tray then carefully dip the filled eclairs until 1/4 of the way deep. You can repeat this twice if you want a thicker glaze. Now carefully remove the eclairs scraping off any excess glaze or just let it drip…when all of the eclairs are glazed place onto a tray to set the glaze.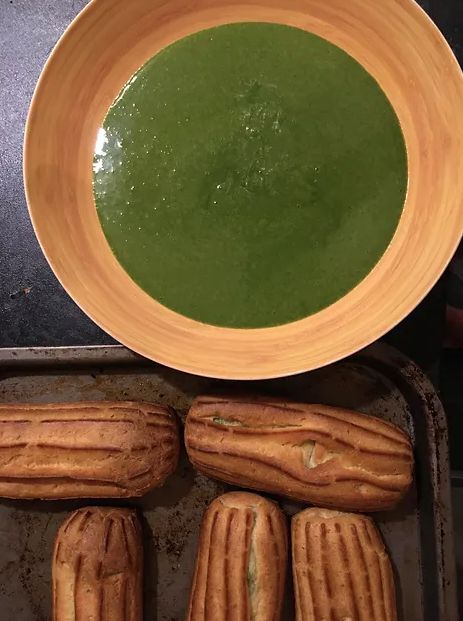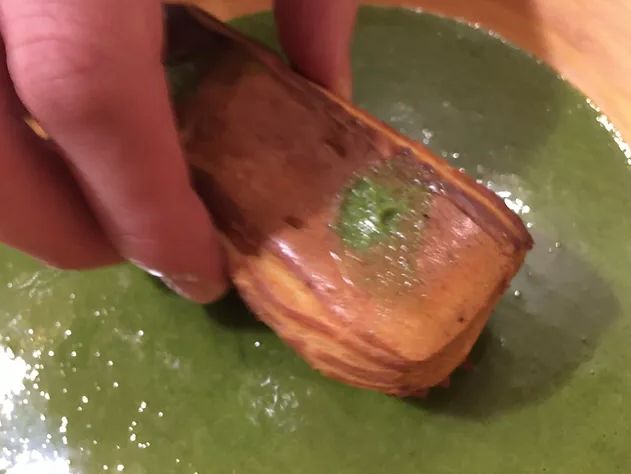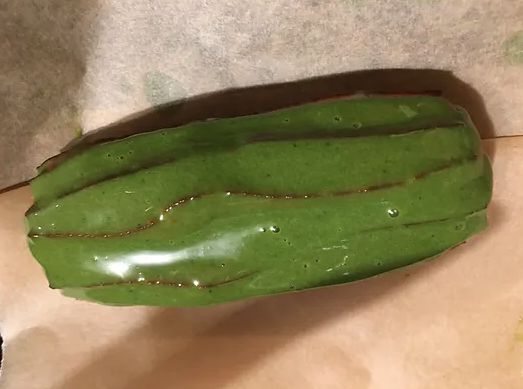 11. These matcha eclairs are now ready to serve, if you want to make them ever so slightly more fancy then dust lightly with matcha powder and shave some white chocolate over the top! Hope you like these matcha eclairs and have fun!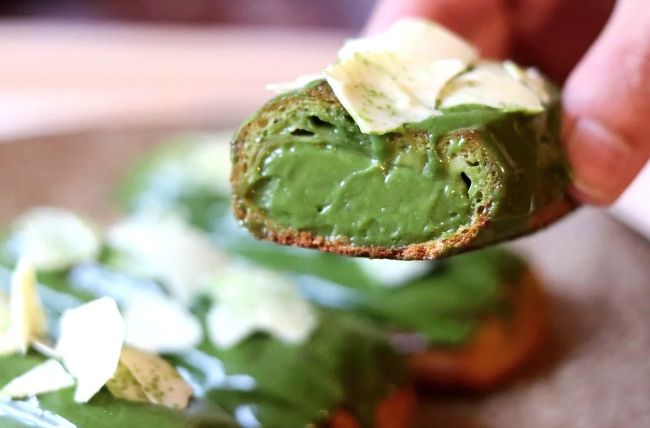 If you want to replace the matcha with dark chocolate or just white chocolate then go for it simply remove the matcha powder from the recipe. As for the white chocolate on top, I simply tempered some white chocolate, wait for it to set then broke it into pieces. Overall this recipe should be a good guide on how to make choux pastry. This can also be used for various other desserts such as profiteroles, choux buns, cruller doughnuts, gouges etc. Have fun with this recipe and I'm sure you will love it if you have a sweet tooth!
Prep time: approx 1h 30 mins + Freeze/Setting time / Cook time: approx 1h
320g whole egg (approx 6 eggs)