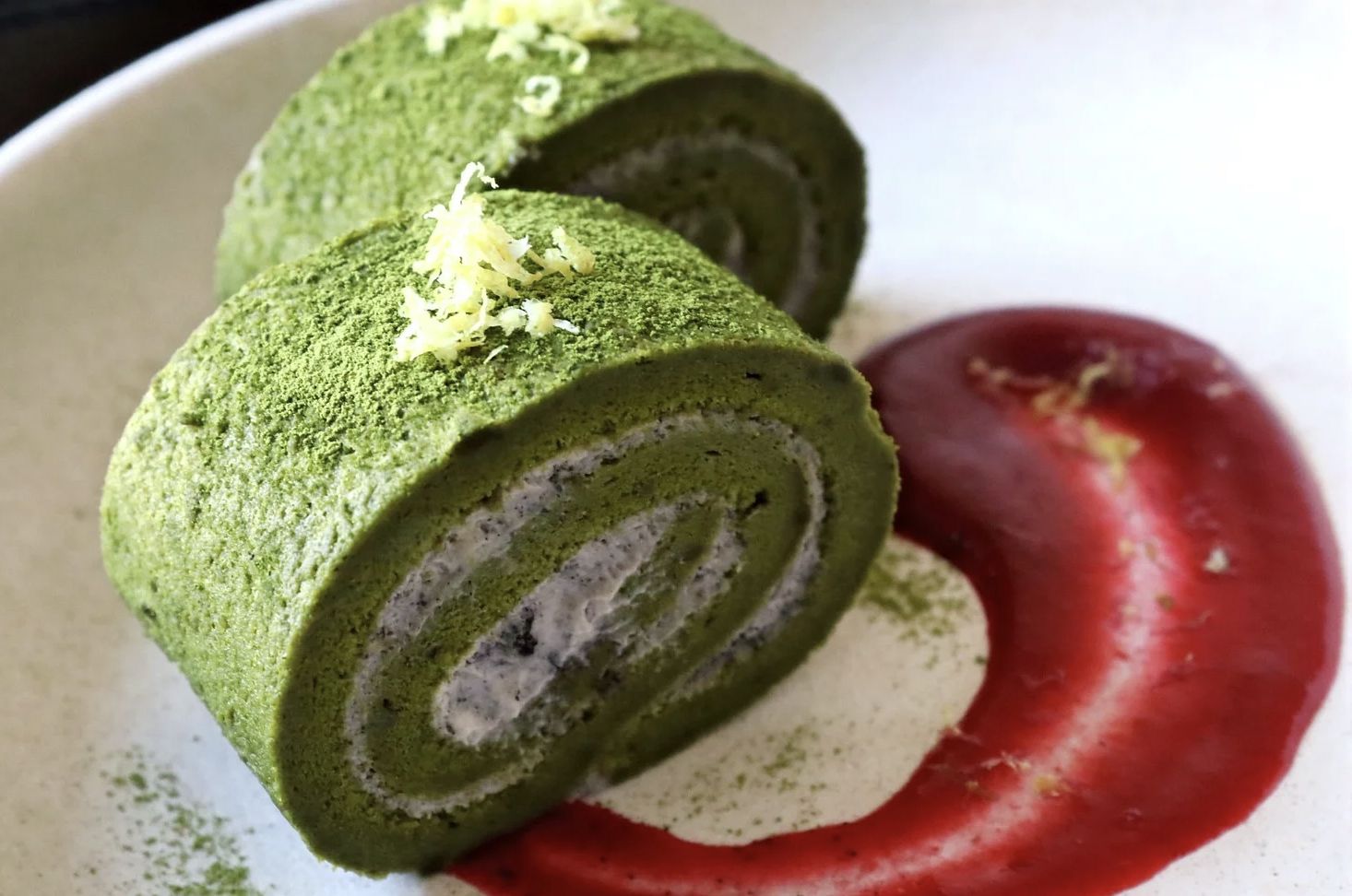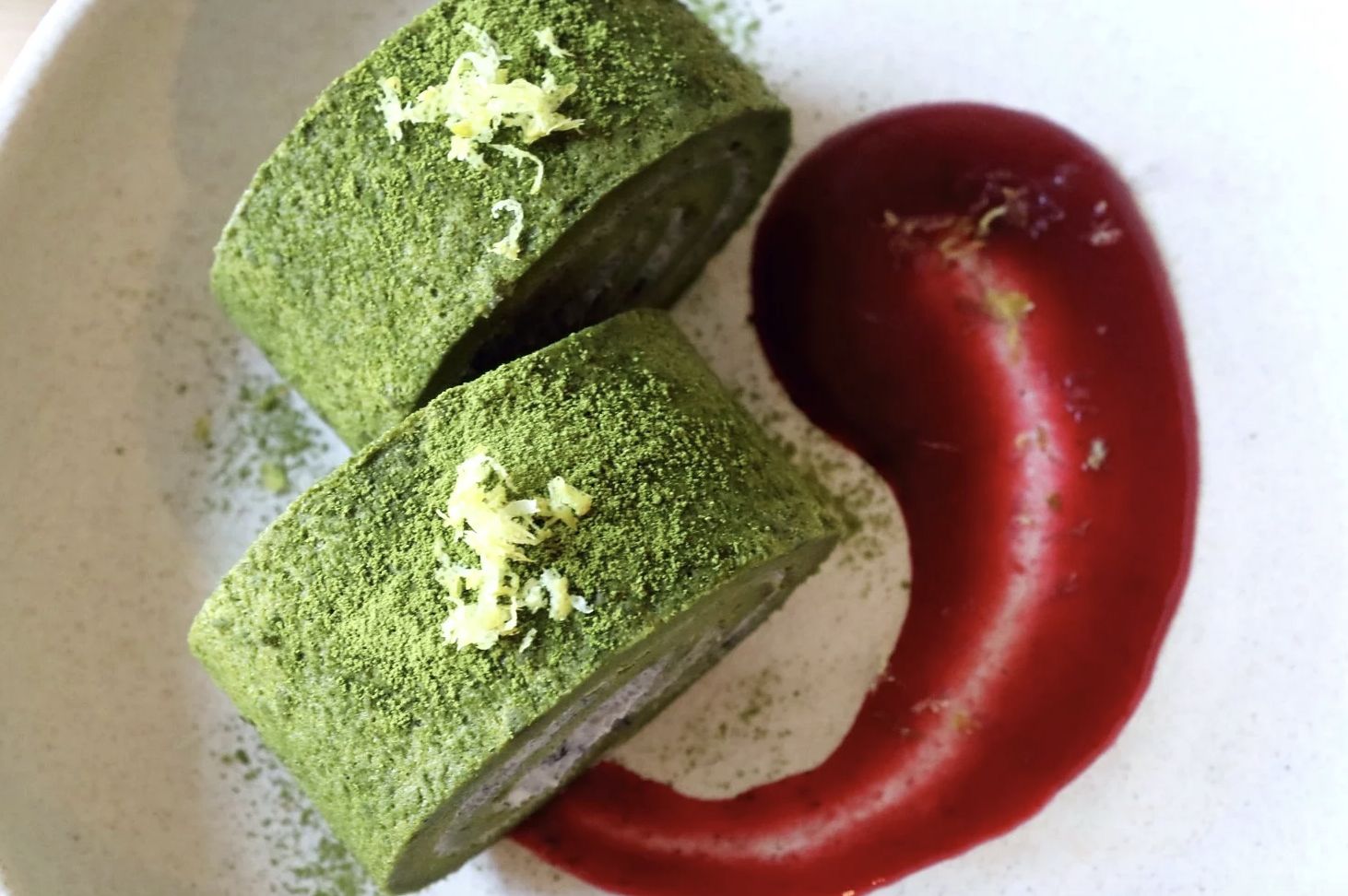 For this recipe, I wanted to make a desert that wasn't too sweet yet had slight subtle bitter/sour notes coming from the matcha and berries. What makes a really good roll cake is a super soft and moist sponge and the brief bake time for this sponge makes sure of that. As for the cream patisserie, I went with a classic recipe with the addition of adding black sesame and honey which works perfectly with matcha. With that said let's get straight into the recipe!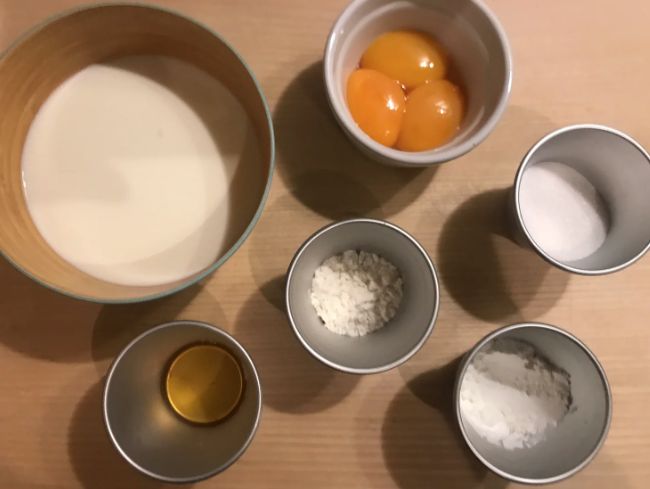 1. Let's start off this recipe by making a classic old school creme patisserie as a base for the pastry cream. In a small saucepan add 250ml of whole milk and 40g of honey. Place onto a medium heat and slowly bring up to a boil. Whilst we wait to heat the milk, in a small bowl add 55g of egg yolks (approx 3 egg yolks) and 50g of white sugar. Whisk the egg yolk and sugar until the sugar dissolves and the egg yolks become light and fluffy. To stabilise the egg yolks now add 10g of plain flour and 10g of cornflour then fold into the egg yolks until smooth.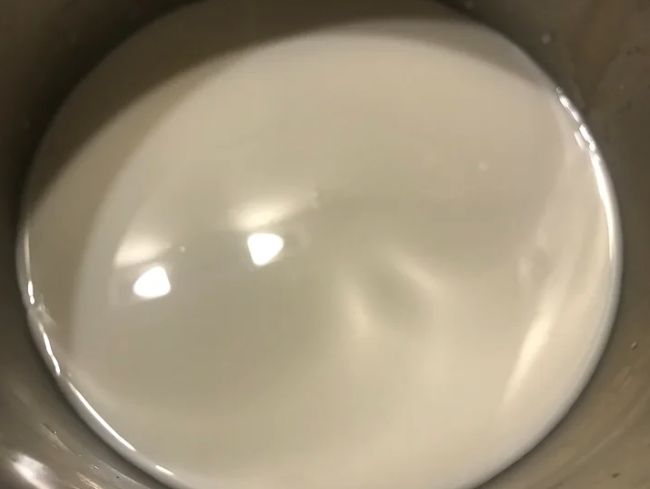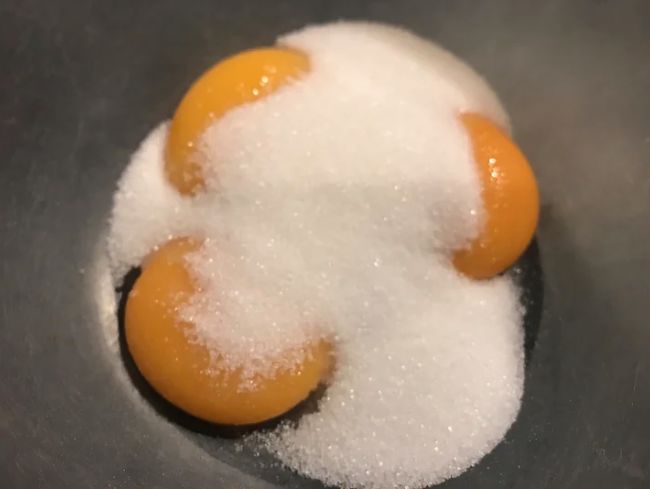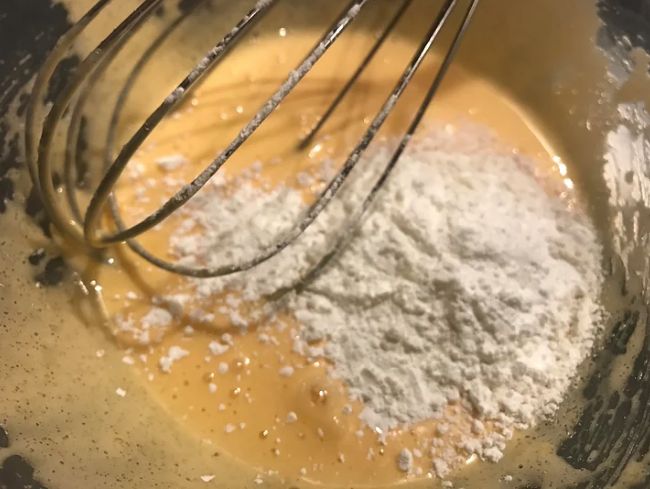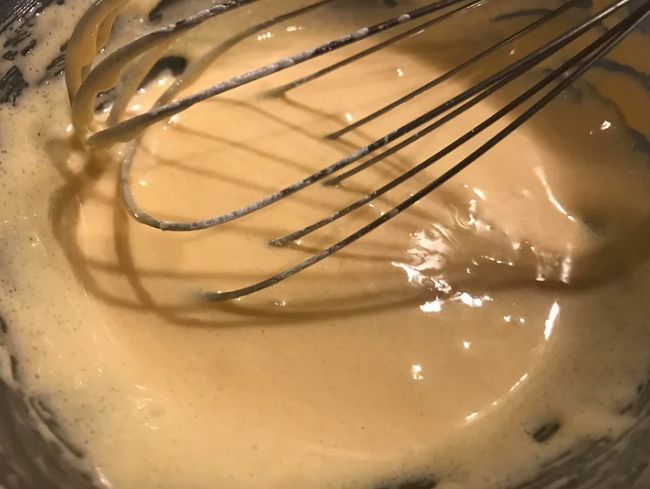 2. When the milk comes up to just before boiling remove from the heat and allow to briefly cool. We now want to temper the egg yolks by adding a small drizzle of the hot milk and honey then mix well. Gradually continue to add the hot milk while constantly stirring until all combined (This process will prevent the egg yolk from scrambling). When ready add the mix back into the pan we heated the milk in and cook on a medium to high heat whilst constantly stirring. The mix will gradually start to form lumps, and no worries this is a good thing, continue to mix well until the mixture thickens and has a thick custard like consistency. When ready remove from the heat and place the creme patisserie base into a bowl to chill (you can use a bowl of ice water to speed this stage up). Cover tightly with clingfilm to prevent a skin forming and place to one side.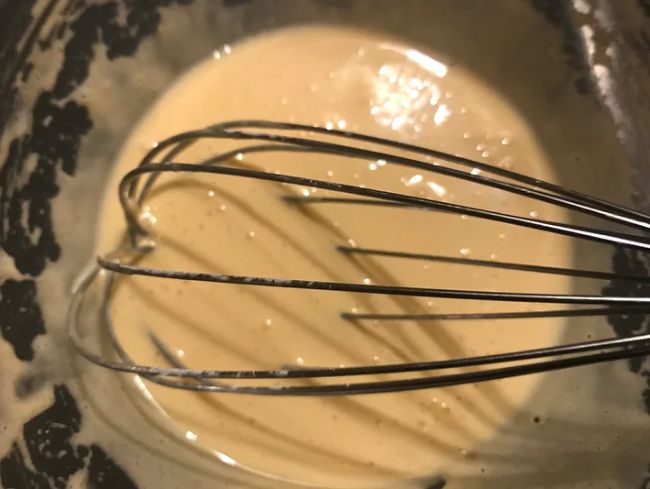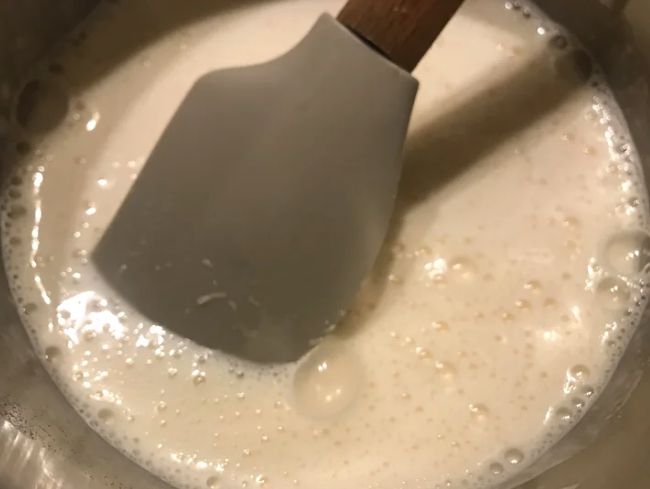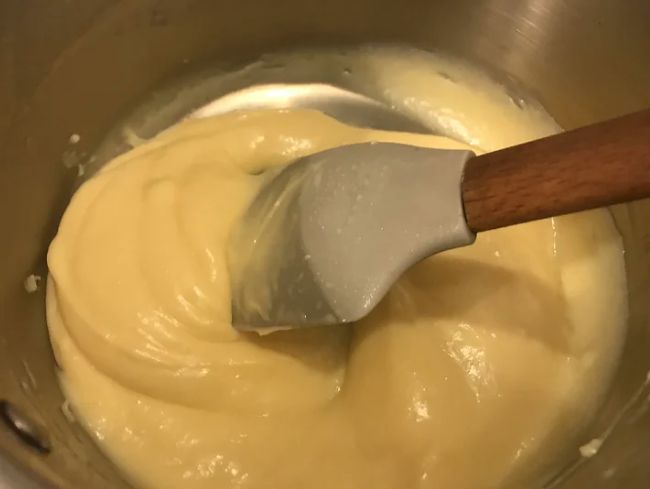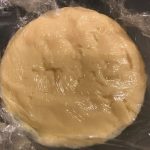 Black Sesame Pastry Cream: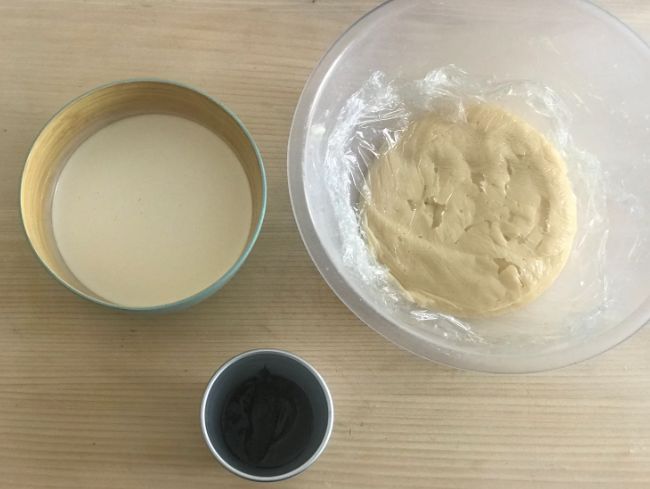 3. When the creme patisserie is nice and chilled we can move onto incorporating whipped cream and black sesame paste to add more life to the pastry cream. Start by adding 100ml of double cream into a mixing bowl then whisk until stiff peaks. When ready fold in all of the chilled creme patisserie and mix until smooth. Finish by adding 50g of black sesame paste and again lightly fold into the mix well. Cover with cling film then store in the refrigerator and we now have our pastry cream.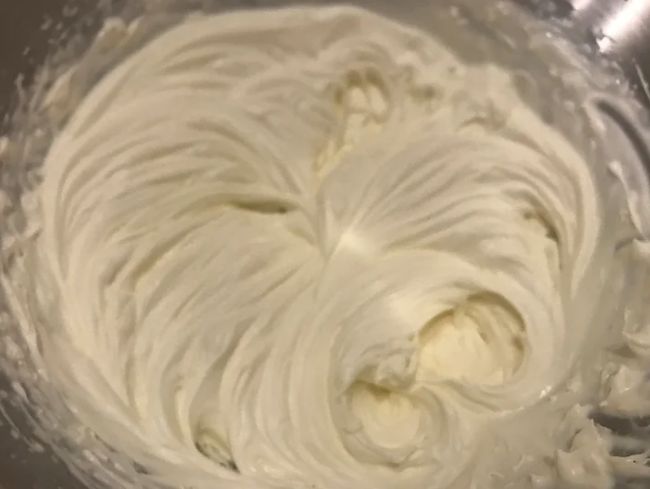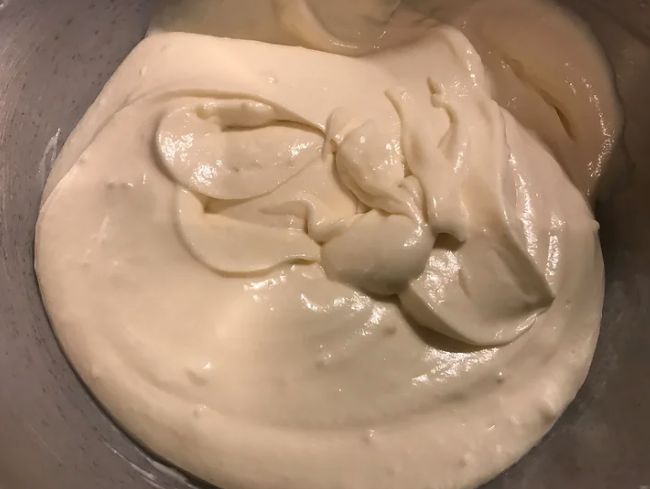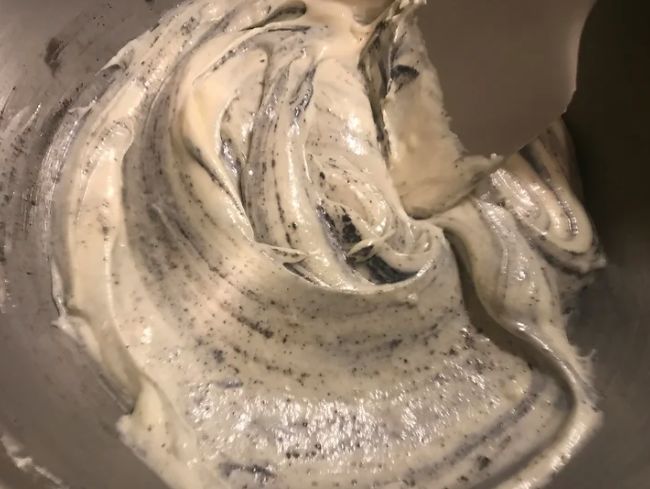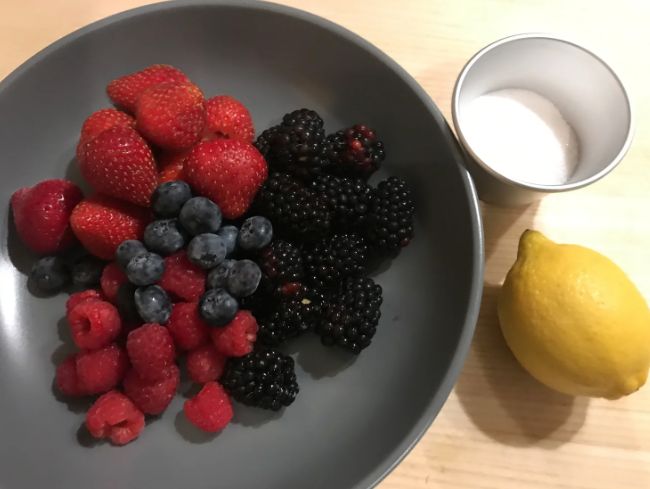 4. The next component we want to make for this recipe is the mixed berries. This will help give the matcha roll more of a balance and boost. Begin by washing 200g of mixed berries, for this I used a mix of strawberries, raspberries, blackberries and blueberries but feel free to use what you prefer. Next add the berries to a saucepan with the juice and zest of 1 lemon and 50g of white sugar. Place onto a medium heat and cook the berries until reduced and jam like. 2 minutes before we pull the berries add 2g of agar agar and mix well. Place the berry compote into a container to chill and set. You can either serve the berries as they are when chilled and set or blend to make a smooth gel then pass through a fine sieve. This last stage is completely up to you.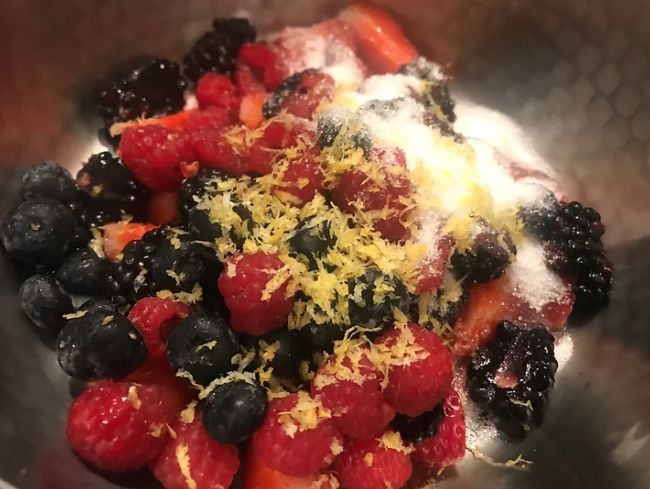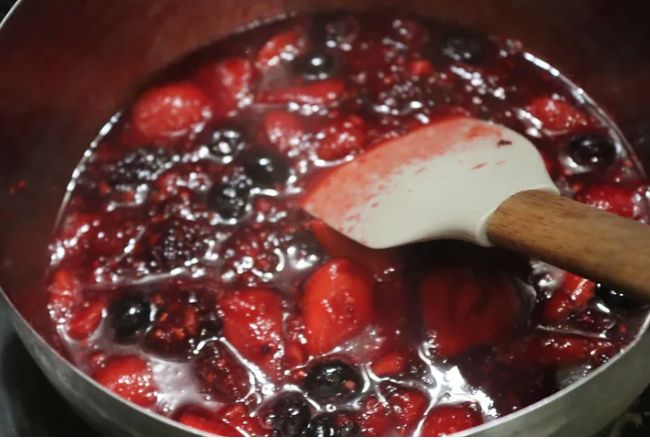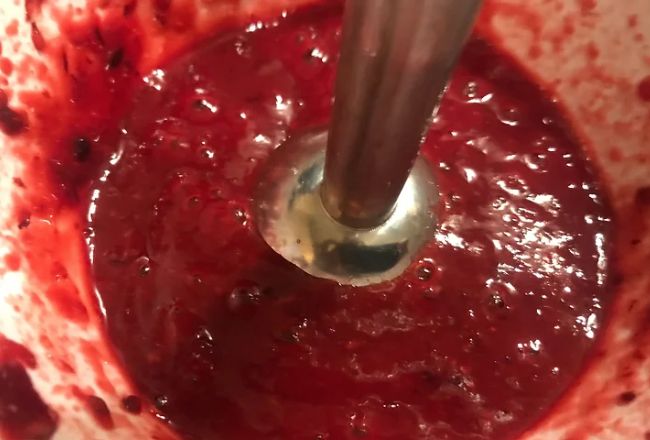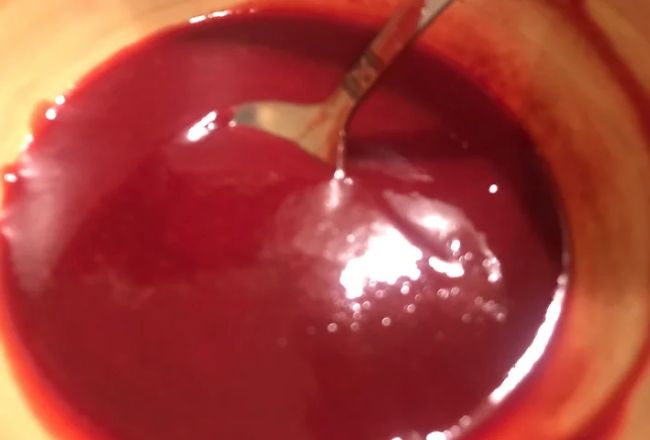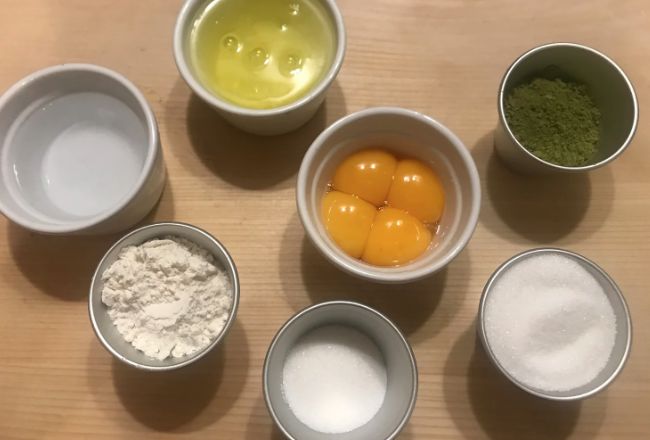 5. The last thing we need to make for this recipe is the matcha sponge itself to complete the desert. Start by adding 4 egg yolks (75g) to a small bowl with 50g of white sugar then whisk vigourosly until the egg yolks become light and fluffy. In a separate bowl add 25g of good matcha powder then whisk in 120 mls of hot water until a smooth paste is made. To the matcha paste we now want to add 60g of plain flour and again fold in until smooth. If too dry then add a small amount of additional water to loosen.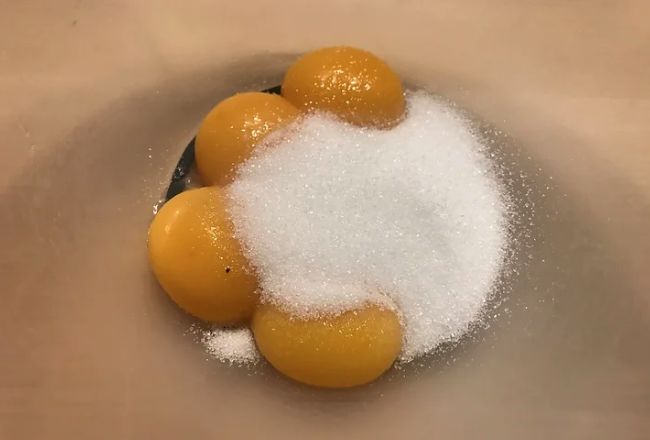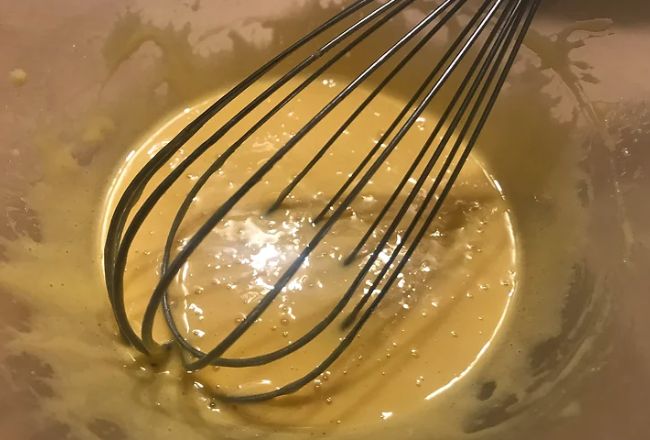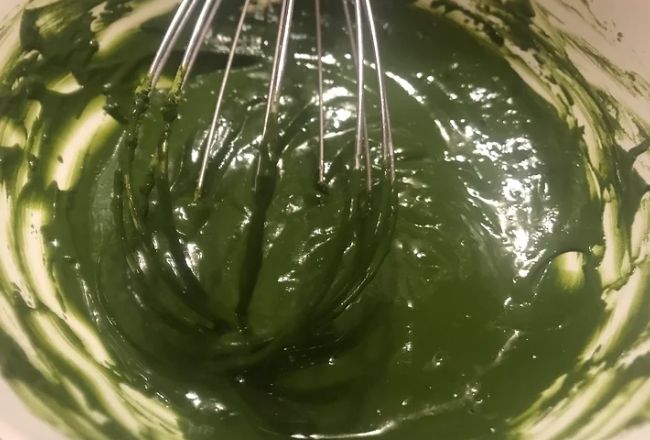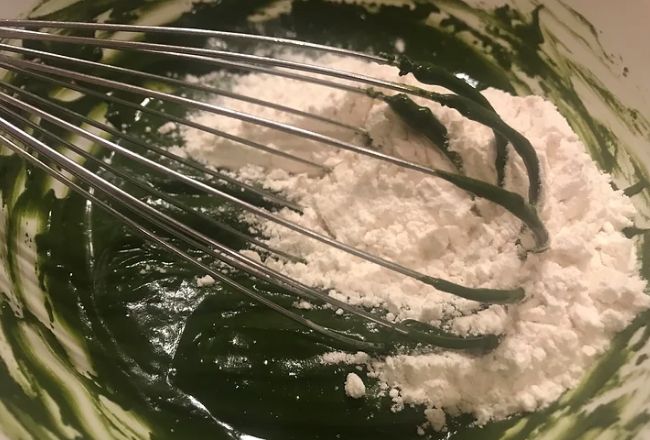 6. Next we want to add the matcha mix to the whisked up egg yolks and fold in until smooth then when ready place to one side for now. To finish the cake mixture, in a large bowl add 4 egg white and begin to whisk (you can use a machine whisk here). When the egg whites become pale and fluffy gradually add 120g of white sugar in stages and continue to whisk until stiff peaks are formed.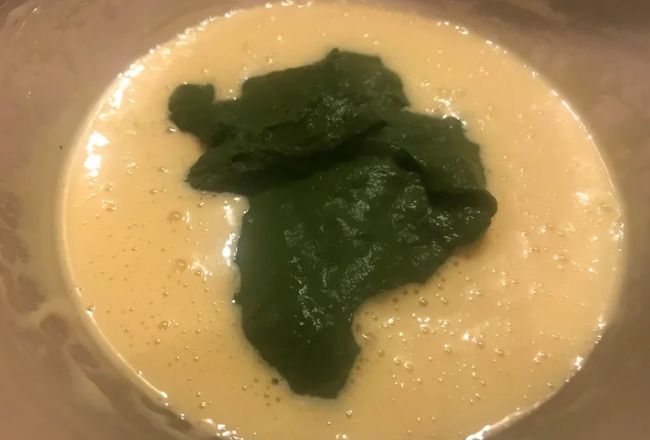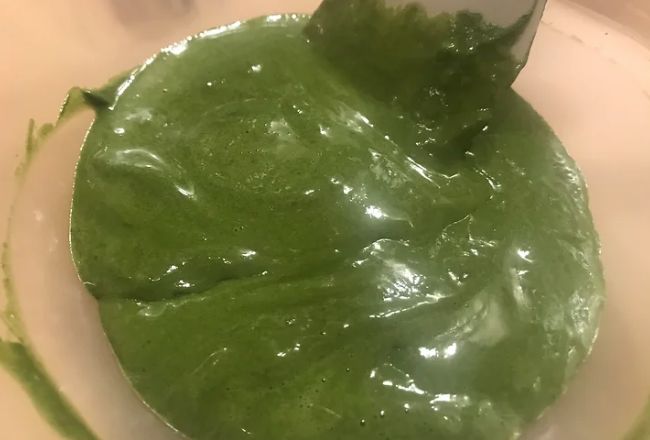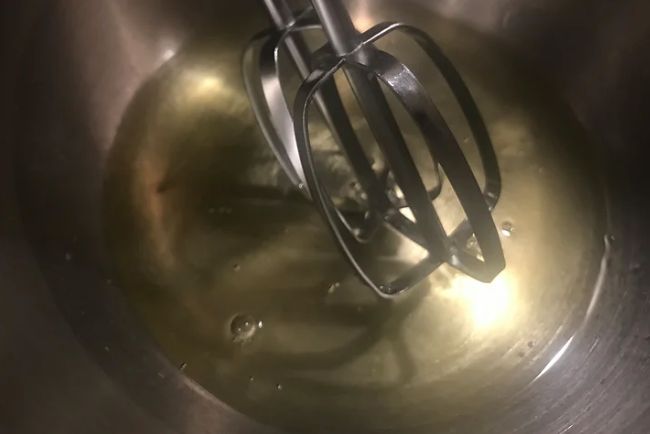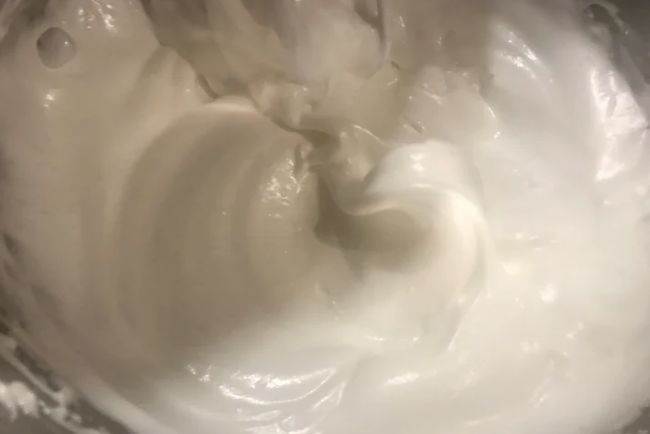 7. To finish the cake mix all that's left to do now is to gradually fold in the whisked up egg whites into the matcha mix. Take care when doing this as we want to try and keep as much air in the cake mixture as possible. When ready ensure the egg whites are smoothly combined and we can now move onto baking the sponge.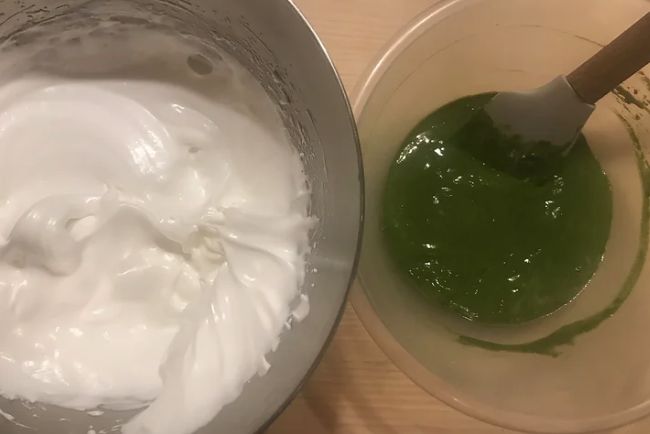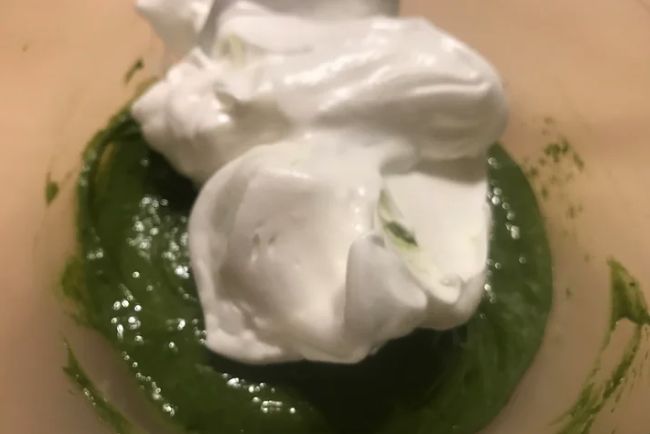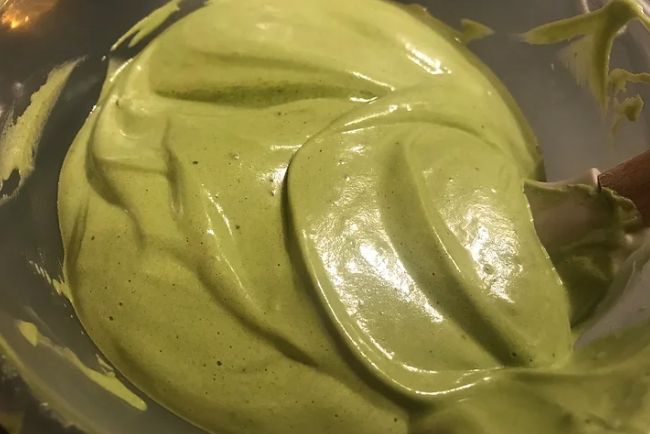 8. Before we bake the sponge, tightly line a slightly deep baking tray approx 30cm by 45cm with baking parchment paper. Now add all of the cake mix and use a spatula to evenly spread all of the batter into the baking tray. To bake, pre heat an oven to 160°c then when hot add the sponge and bake for a brief 9-10 minutes. When cooked the sponge should be super moist yet set in the centre, remove from the oven and allow to cool.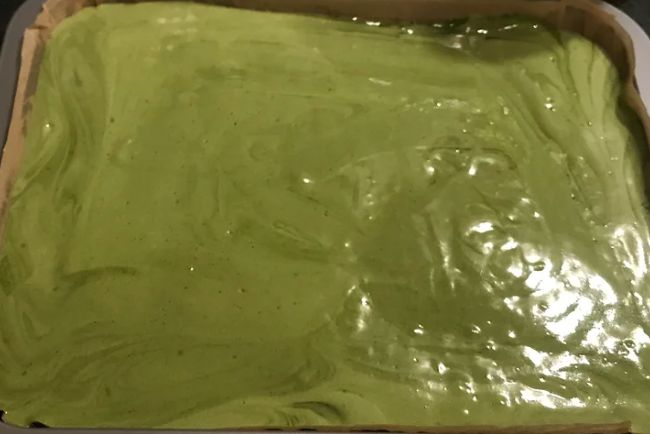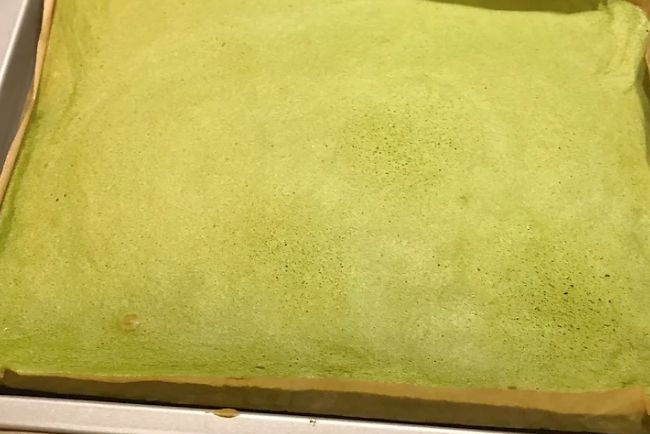 9. When the sponge has completely cooled we now want to trim the edges of the sponge using a knife to tidy up. Next bring out the sesame pastry cream that we made earlier and add a generous amount onto the centre of the sponge. Use a spatula to even out and create a thin layer that completely covers the sponge.
10. Now onto the all important rolling and finishing the sponge, you can either roll the sponge length or width ways depending on what look you want the sponge to have when rolled. The best way to go about this is by using the parchment paper the cake was baked in to assist when rolling. Carefully roll the sponge until a log is made peeling back the parchment paper as you roll. When ready carefully place the sponge onto a generous amount of clingfilm then wrap in a few layers of the clingfilm. Twist the edges of the clingfilm and gently roll to tighten up the sponge. When ready place into the refrigerator to chill for at least 1hour.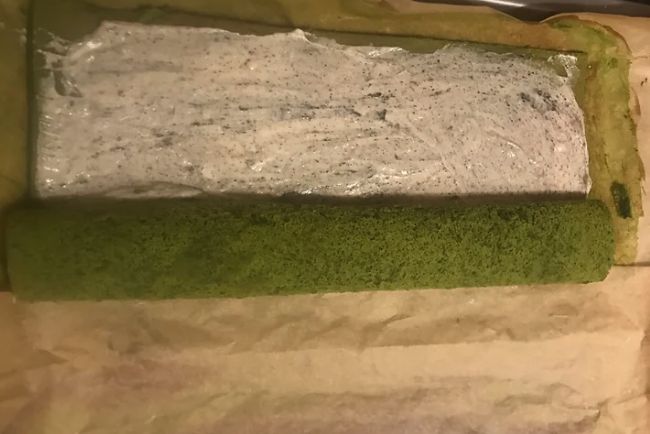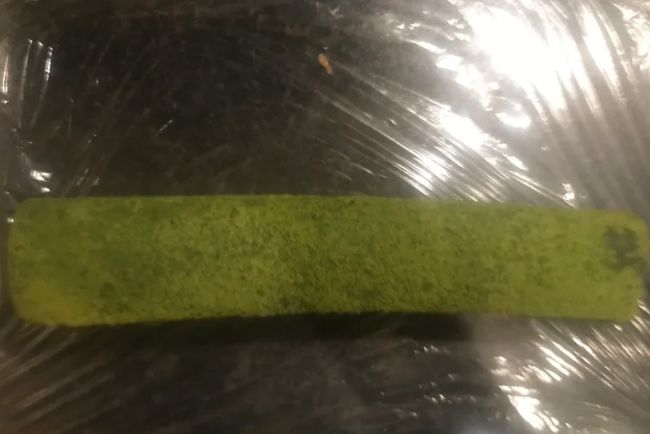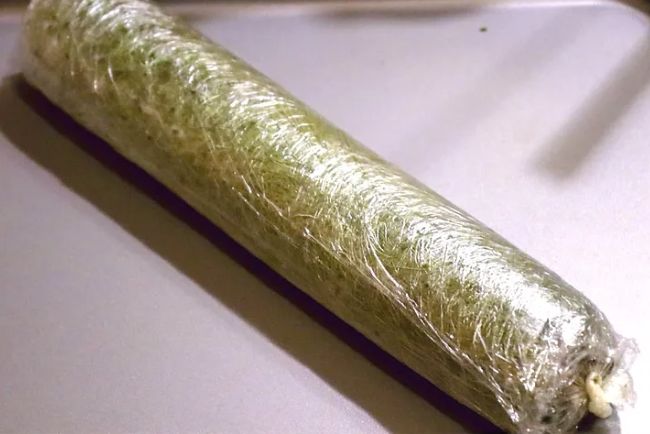 11. We are now finally ready to serve and plate up! When the cake is chilled and much firmer, slice the sponge into portions. Divide into serving bowls then add a generous spoon of the mixed berries on the side. Finish the cake with a little extra dusting of matcha powder and some fresh lime zest. Hope you like this delicious super moist matcha roll cake!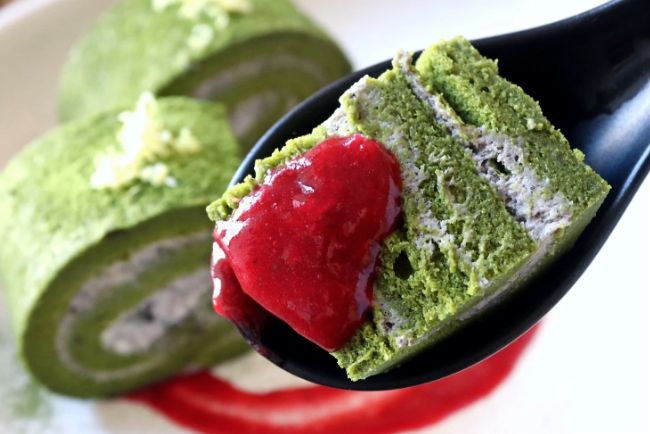 If you wanted to make a classic roll cake opposed to making a matcha one then simply remove the matcha from the recipe. Another way of making this desert would be to swap the matcha into the pastry cream and to make a black sesame sponge instead. Honestly I tossed a coin as to what I would make the sponge base out of! To make this recipe easier for you then instead of making it in one go then you could make this dessert up over 1 or 2 days to eliminate the labour time. Have fun with this desert and peace!
Bake Time 8-10 minutes / Prep Time 1hr 30mins / Additional cooling time
75g egg yolk (4 egg yolks)
120g egg whites (4 egg whites)
Black Sesame Pastry Cream:
55g egg yolks (3 egg yolks)
2 lemons (zest and juice)