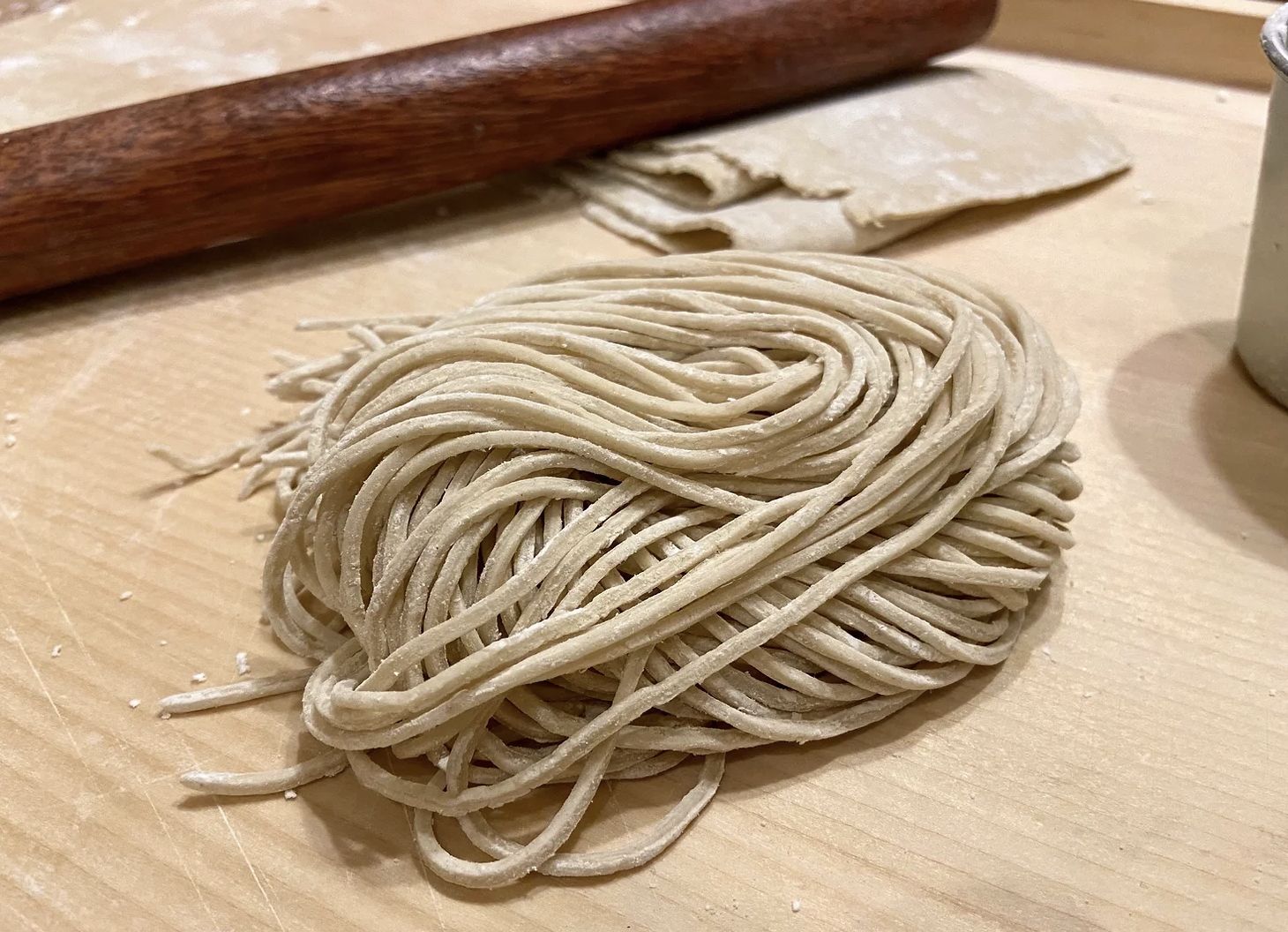 Ramen noodles are a variation of Chinese noodles, the alkaline component within the dough is a part of the fabrication process. In Japanese this is known Kansui. The benefits to making alkaline noodles are that they are much more elastic in texture compared to various other noodles. These noodles are most commonly used in ramen, however, they can also be used in stirfrys such as yakisoba or even in salads. The noodles in this recipe are a 41% hydration noodle, meaning there is 41g of liquid to 100g of flour. Hydration usually hovers around the 35-45 percent range, however, the lower the hydration the more difficult and dry the dough becomes. For this recipe I will be using an atlas pasta machine to make life simple, although if you do not have a pasta machine then these noodles can also be rolled out with a rolling pin then knife cut at the very end. Let's get straight to it!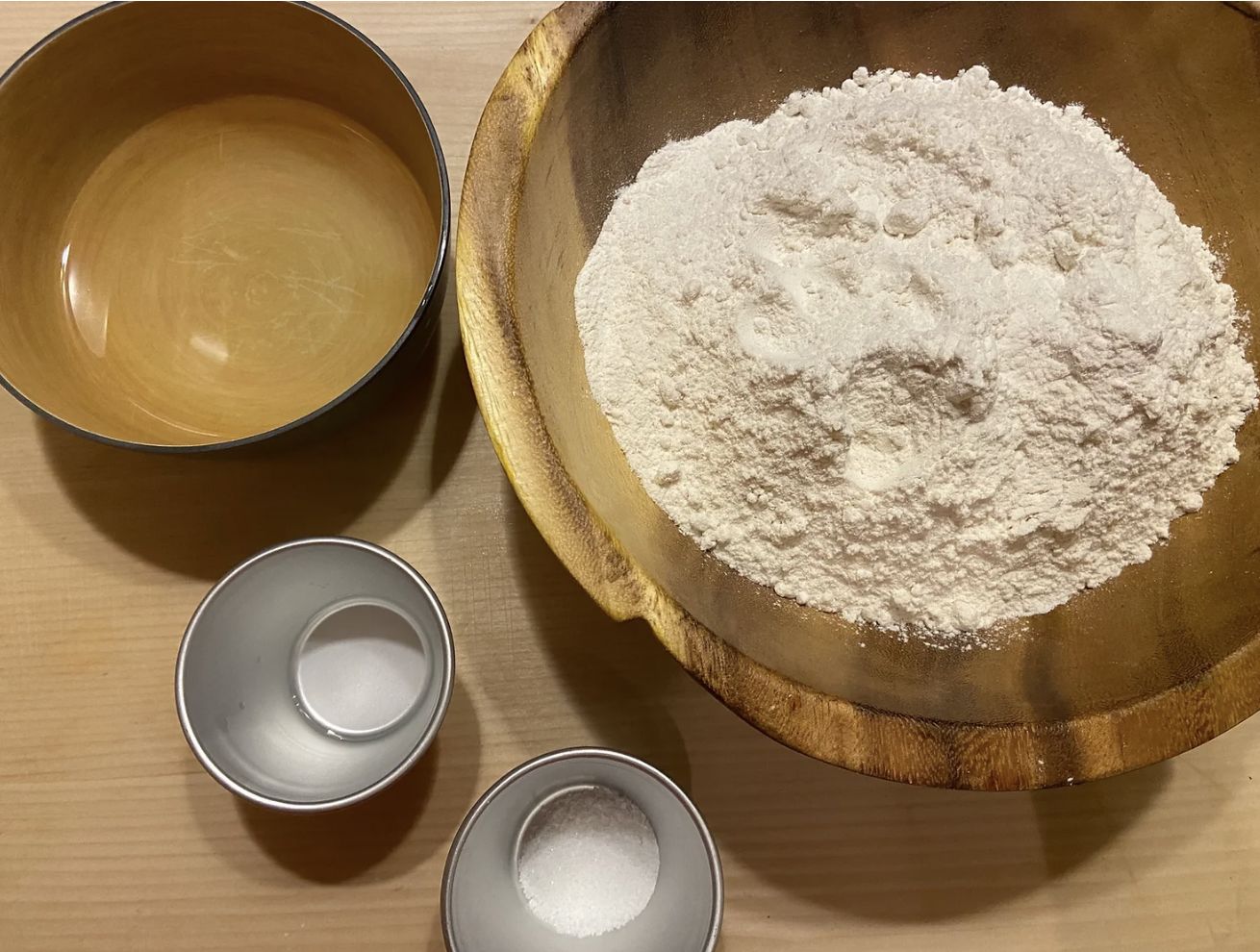 Start by weighing out 5g of lye water then add this to 200ml of cold water and 5g of salt. Mix the liquid well until the salt dissolves then in a separate large mixing bowl add 500g of bread flour. Slowly begin to add the liquid to the flour whilst constantly mixing. The reason for doing this is to ensure that we hydrate as much of the flour as possible. When all of the liquid has been added we are looking for a flour that has an almost crumble like consistency. Place the flour into a ziplock bag and allow to rest for 30 minutes.
2. After the dough has had time to rest it should now be much more manageable to work with and able to form together. The dough will still be slightly dry but still be able to bring together to form a sheet of dough. At this stage begin to kneed the dough together to form a flat sheet of dough. The best way to do this is to kneed the dough by placing a towel over the top of the ziplock bag and to use your feet as the dough is incredibly hard to kneed by hand. When a flat piece of dough is formed, remove from the ziplock and roll up the dough to form a cylinder. Place back into the ziplock then kneed back into a flat sheet again. Repeat this 3-4 times rolling up the dough in the opposite direction each time. When ready place back into the ziplock and rest for a further 45 minutes at room temperature.
3. After 45 minutes the dough is now ready to roll, remove from the ziplock bag and place onto a work top lightly dusted with cornflour. Cut the dough into 3- 4 pieces depending on the width of your pasta machine. Using a small rolling pin, roll out each piece of dough so that it is thick enough to fit through the largest setting on you pasta machine. Feed each piece of dough through the machine then after the first feed laminate the dough by folding in half lengthways then feeding through the largest setting again. Repeat the laminating method twice and this will help with the gluten formation making the dough easier to hold together.
4. After the dough has been laminated we can feed the dough through the pasta machine working through each setting to create 1 long strip of dough. On the atlas machine, I went up to number 5 which is 1.4mm in thickness. When the sheet of dough is ready, dust both sides generously with cornflour. All that's left now is to pass the sheet of dough through the cutting attachment to make the ramen noodles. When cut, gather the noodles and dust again with cornflour and repeat this process with each sheet of dough. Store the ramen noodles in a container or tray that is also lightly dusted with cornflour. Cover the noodles then allow to rest and to slightly dry out for at least 24 hours.
After resting for at least 24 hours the noodles are ready to use. These noodles are also possible to freeze at this point, however, I would recommend freezing each portion individually to prevent them from sticking. As for cooking times, these will take between 45-60 seconds in boiling water depending on how chewy you prefer your noodles to be. You can try out various hydrations and by adding various other flours also to make different kinds of ramen noodles. Good luck making ramen noodles and as always peace!
5g lye water or 5g baked bicarbonate of soda