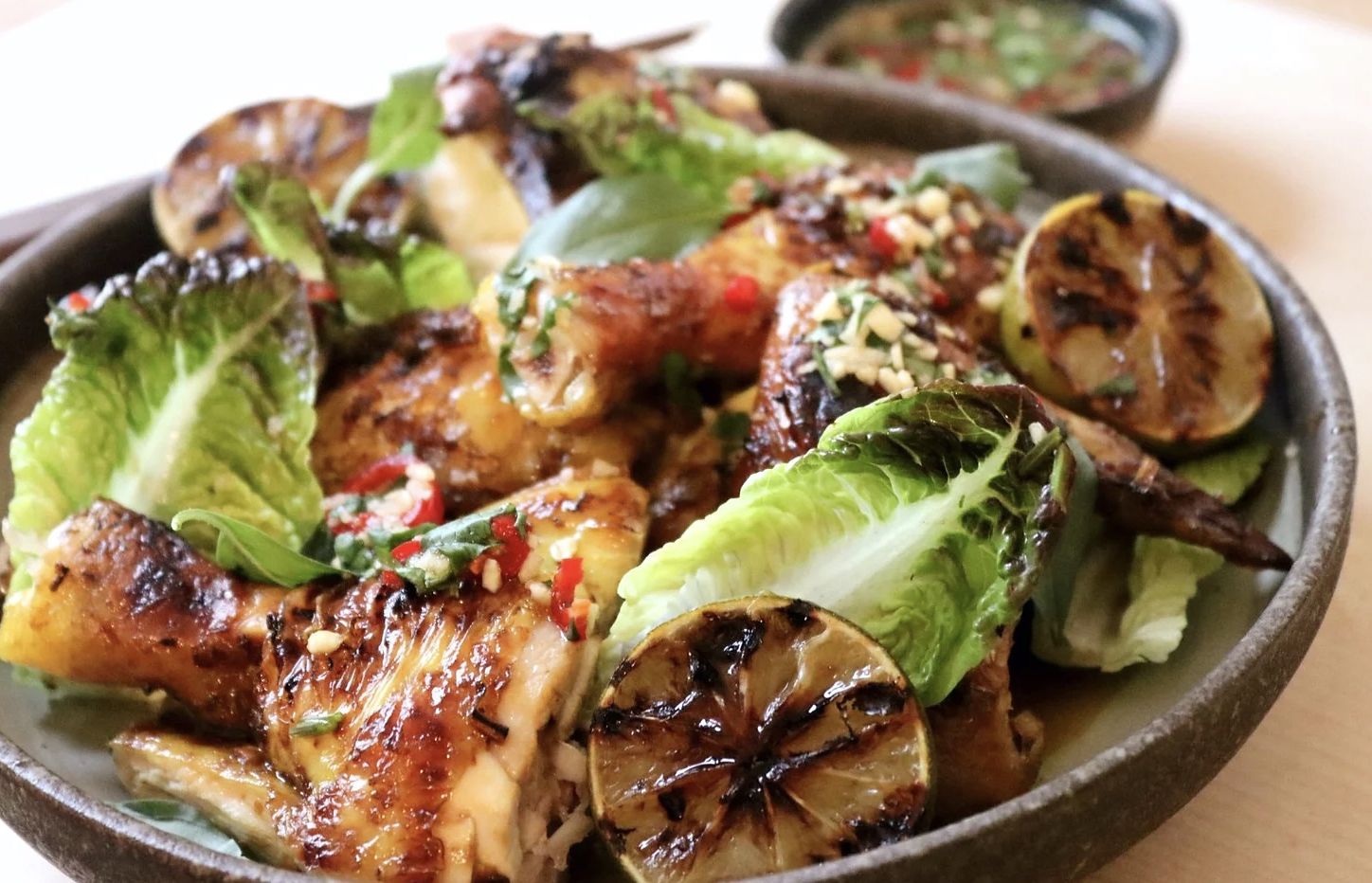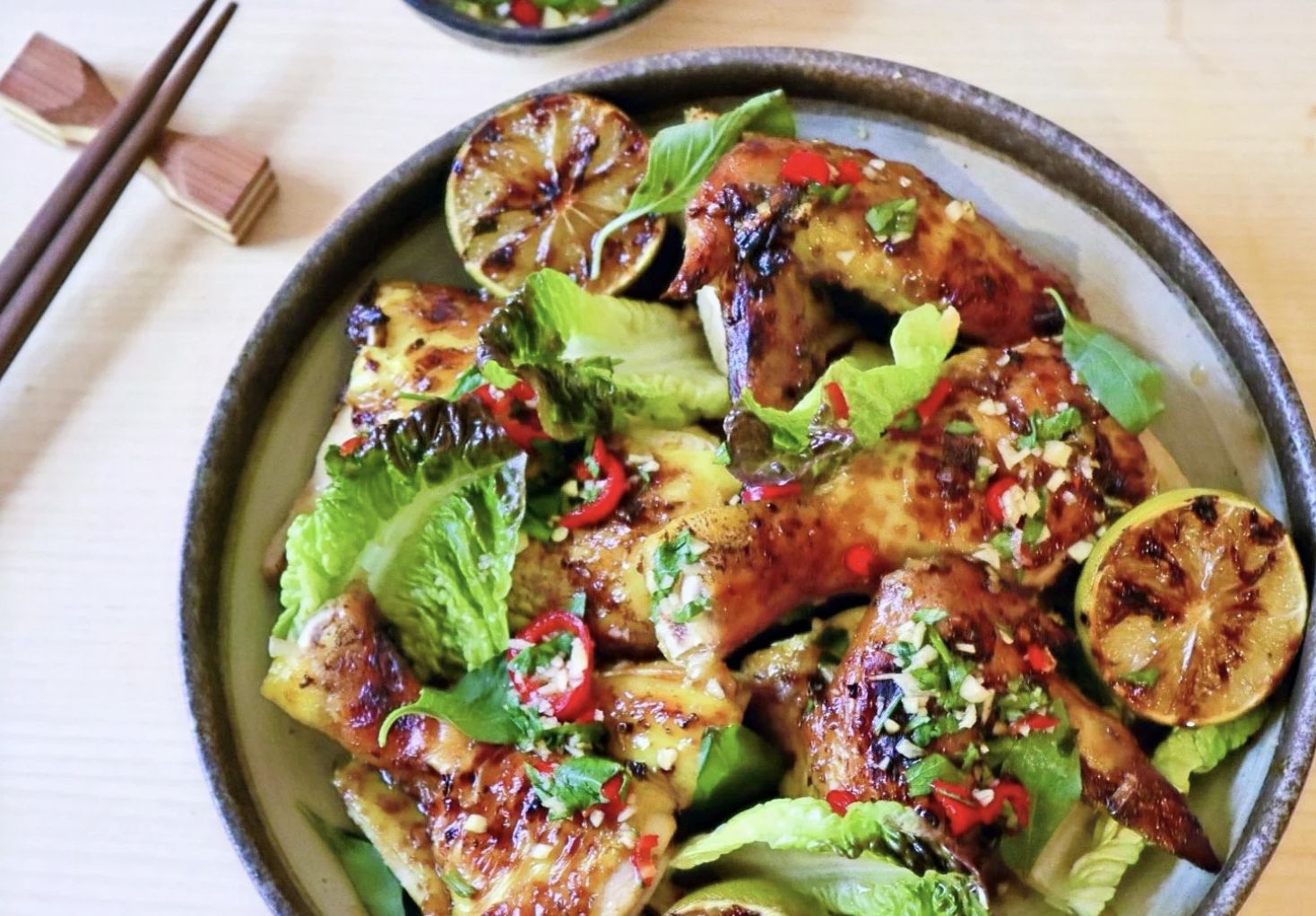 Gai Yang is a street food dish that can be found all throughout Thailand especially on the streets in Bangkok, however, Gai Yang originates from the north eastern Isan part of Thailand. Lots of garlic, lemongrass and tamarind are what makes this humble simple grilled chicken so delicious, and with a similar style of Thai dipping sauce to go with it your in for a treat! This dish is usually grilled over charcoal, however, I went with roasting low and slow to create a much more succulent chicken. Let's get straight into making Gai Yang!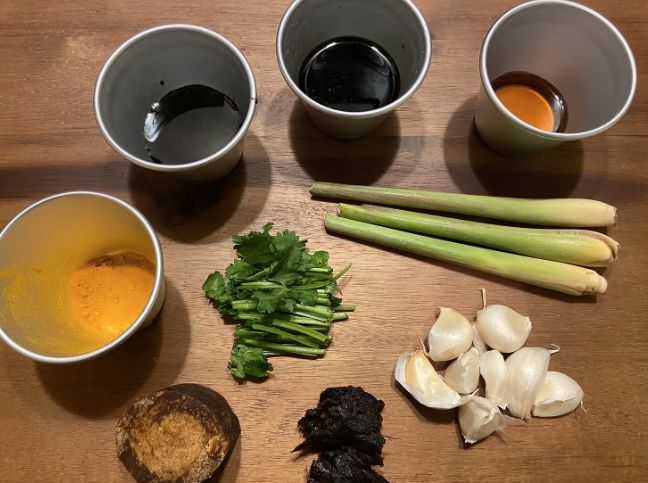 1. Let's begin with the Gai Yang marinade, the crucial elements we are looking for here is a salty, sweet, sour, fragrant marinade. Ideally this is best done the night before, however, at least 1 hour before roasting also works. Start by adding 1 tbsp of tamarind pulp to approximately 50mls of boiled water and mix well to form a concentrate. Next remove the outer stalks from 3 lemongrass then finely slice and add to a pestle and mortar. Next we can also add a generous 6-8 sliced peeled garlic cloves and 1/4 bunch of coriander stalks then begin to pound until broken down. You can also use a food processor but I find a pestle and mortar enables more oils and aroma to come out.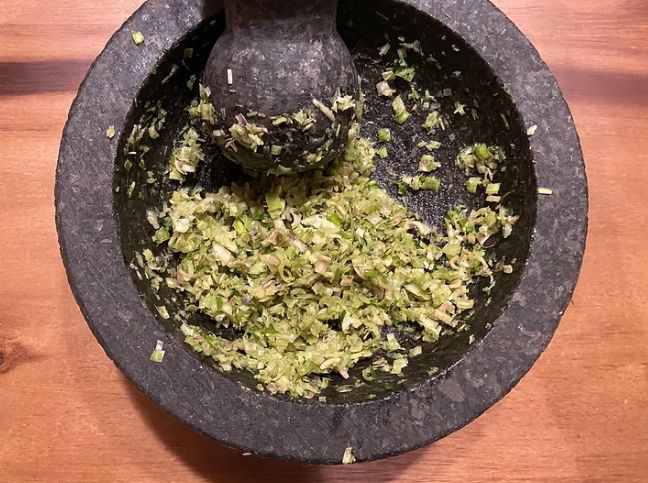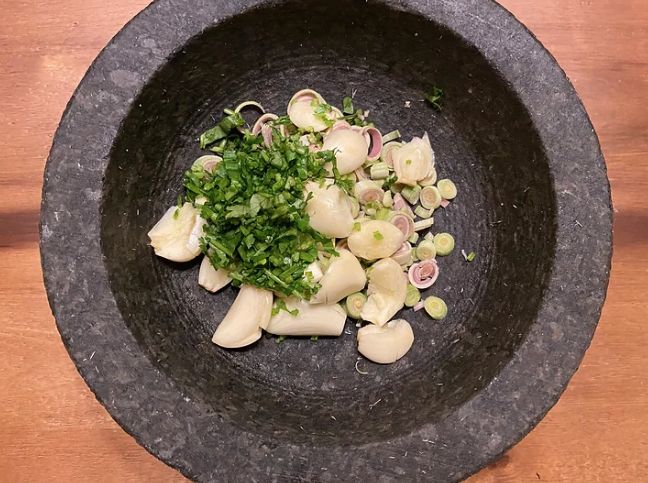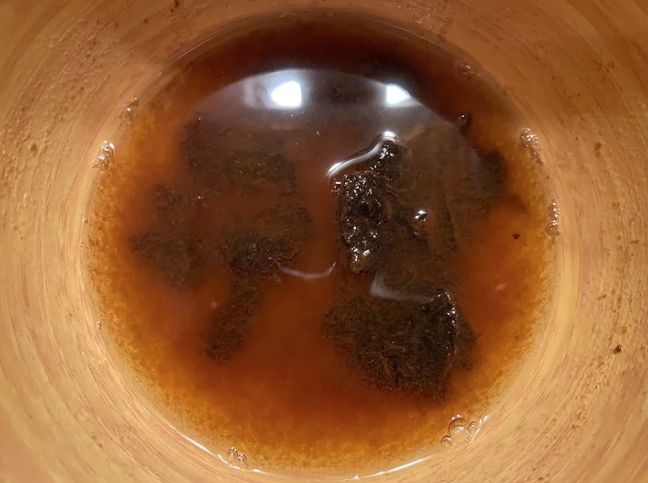 2. Now that we have the base to the marinade we can now also add 3-4 tbsp of the tamarind concentrate, 2 tbsp light soy, 2 tbsp fish sauce, 1 1/2 tbsp of kacip manis or dark soy, 3 tbsp shaved palm sugar, 1 tbsp of turmeric and finally 1 tsp of black pepper. Mix the marinade well then adjust the amount of black pepper, palm sugar and tamarind if needed. When satisfied place to one side for now.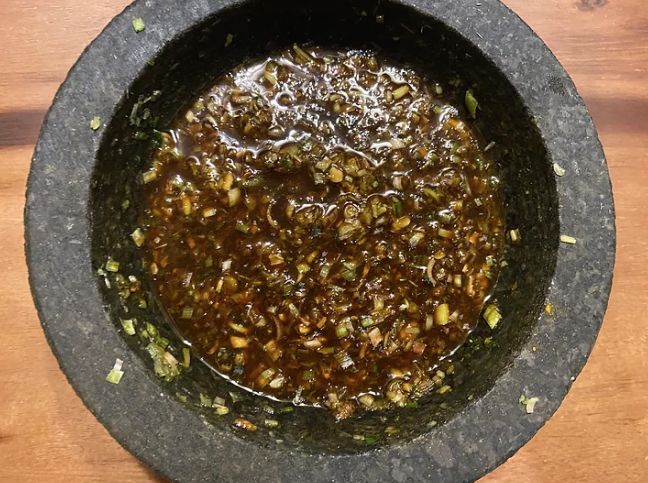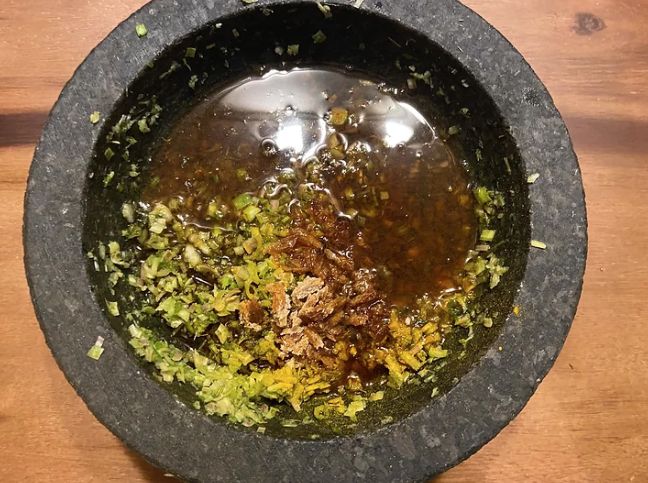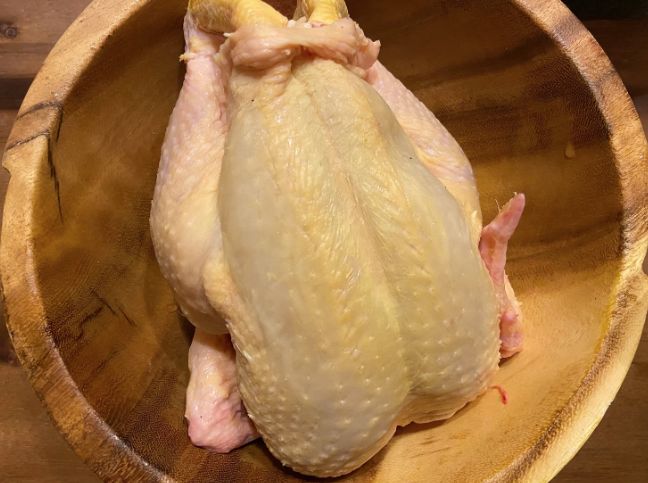 3. Now that the marinade is ready we can move onto to preparing the chicken. Traditionally Gai Yang is chicken that has been spatchcocked then grilled, however, the grill I use simply isn't big enough, therefore, I find slicing the chicken in half makes things easier. Using a large cleaver slice the chicken directly down the centre of where the front breastbone is. Slice directly down to cut the chicken into 2 then place into a large mixing bowl. Add all of the marinade then massage into the chicken getting in between all the crevasses and under the skin. When ready cover with clingfilm and allow to marinade in the fridge from anywhere between 1 hour – overnight if possible.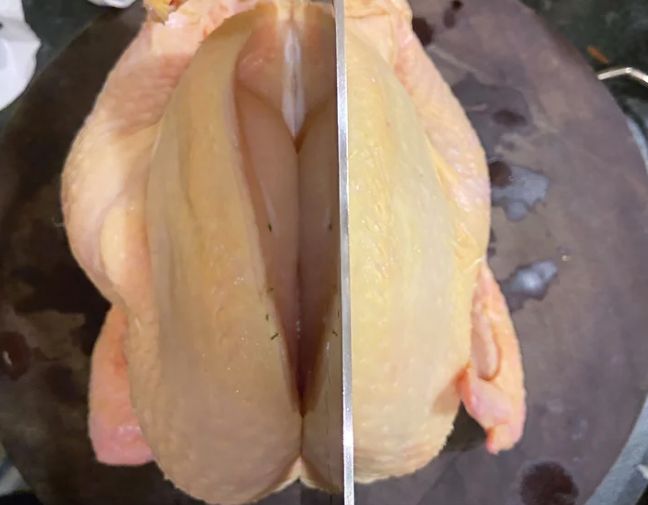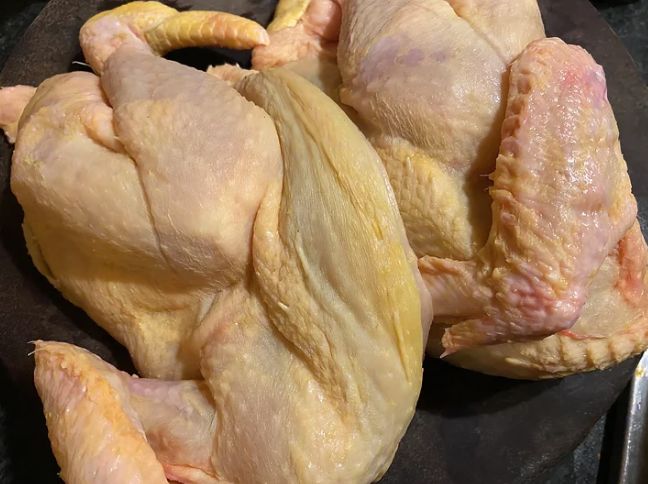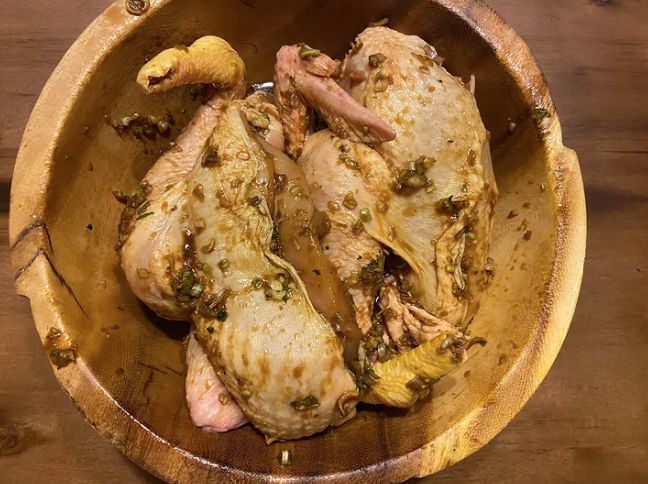 Grilling/Roasting the Chicken:
4. The key to creating a super moist chicken is time and temperature. As said previously Gai Yang is cooked over charcoal, however, as at home it is more practical and we want to go about this by roasting low and slow. To start we want to imitate that char and aroma by placing a griddle pan onto a high heat. When smoking hot, add a drizzle of neutral oil then add the chicken skin side down keeping the marinade to one side to baste. Sear for 2-3 minutes then flip the chicken over and sear for a further 2 minutes. When both chicken halves are nicely seared place them onto a baking tray lined with parchment then baste with some of the marinade. Place the chicken into the oven set at
140°c and roast for 3 hours. Whilst roasting occasionally baste the chicken with the marinade whenever needed.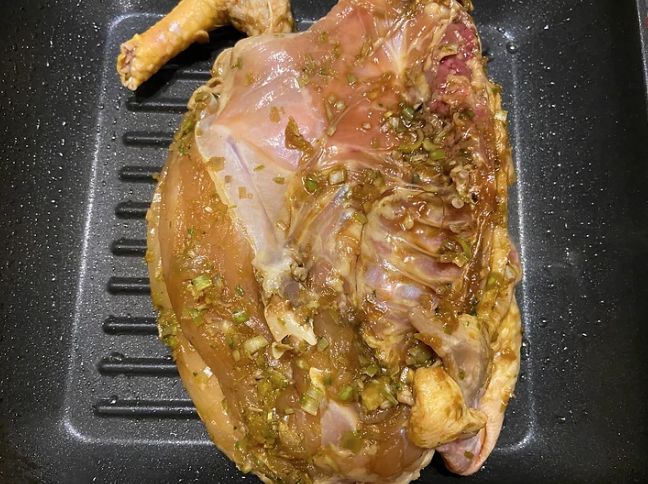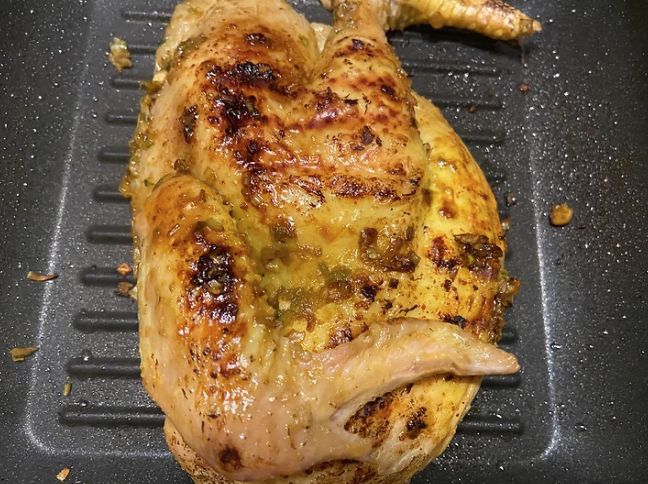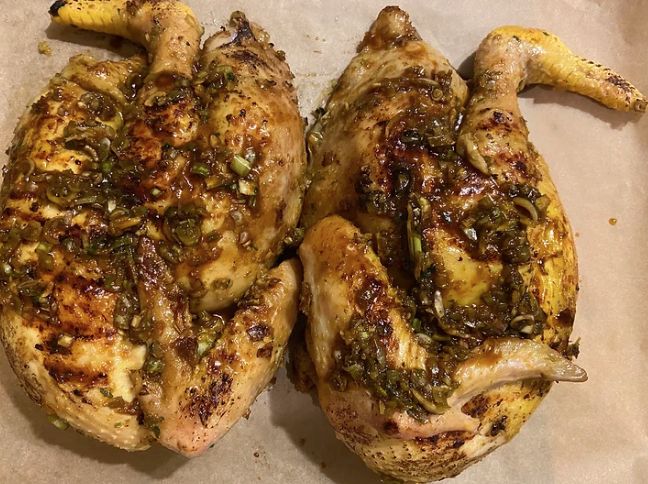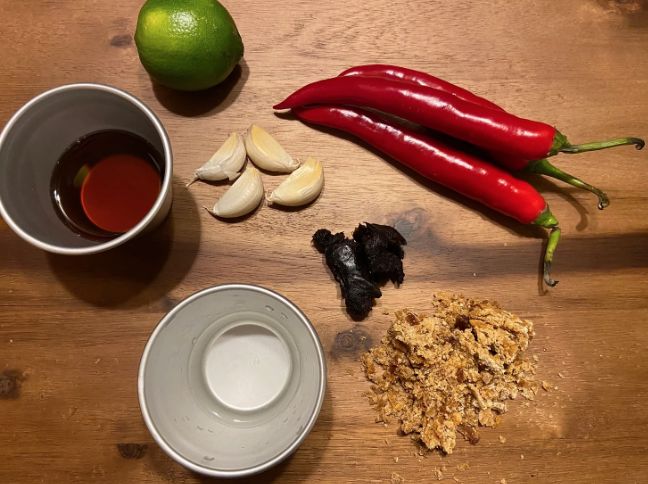 5. Whilst we wait for the chicken to roast we can begin to make up the dipping sauce that works perfectly with grilled chicken and a few optional herbs to lighten up the dish. For the dipping sauce start by roasting 1 tbsp of short grain rice in a dry hot pan until toasted. When ready add the rice to a mortar and pestle and grind until fine.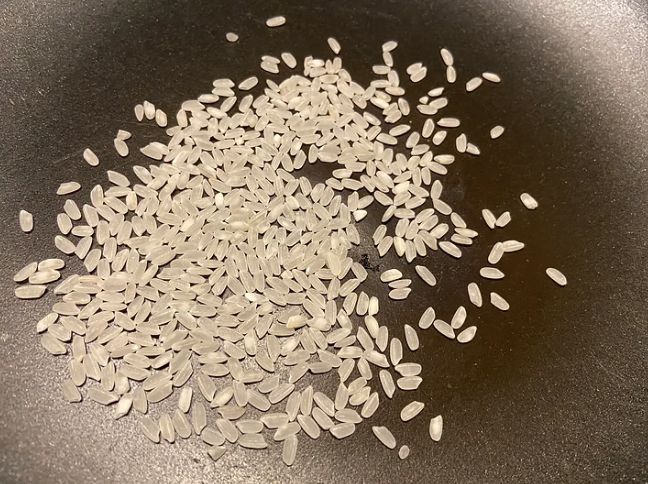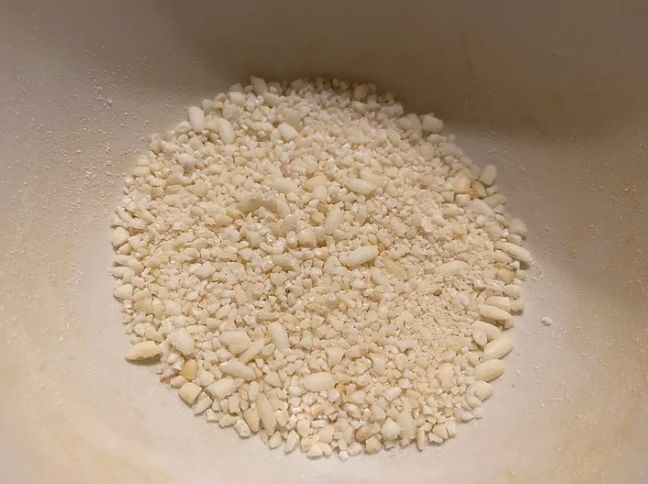 6. Now in a small mixing bowl add 1 tsp of tamarind pulp and a few drops of hot water then mix again as like earlier to form a concentrate. Next add 3 tbsp of the tamarind concentrate to a small mixing bowl along with 3 tbsps of palm sugar, 3 tbsp of fish sauce, 2 tbsp rice vinegar, the juice of 1/2 a lime and 2 tbsps of hot water. Whisk well until the sugar dissolves then finish the dressing by adding 3 finely chopped red chillies, 3 finely minced garlic cloves, 1/4 bunch of chopped coriander, all of the toasted rice and a pinch of black pepper. Adjust the seasoning if needed then the dressing is ready.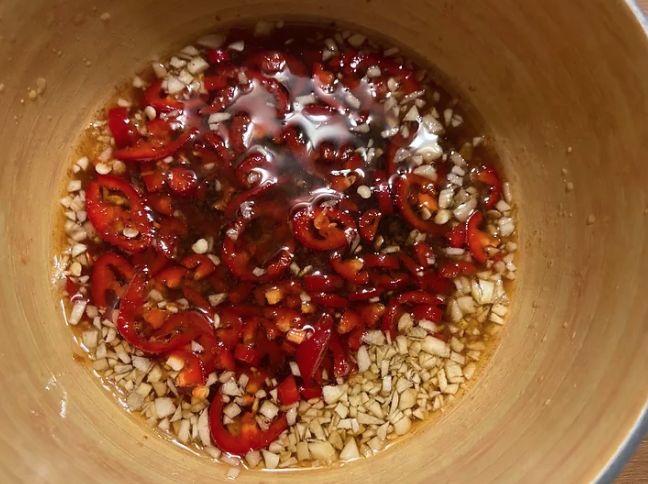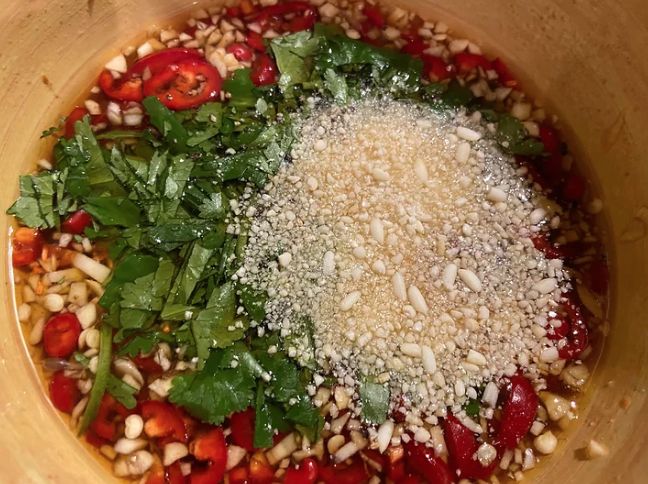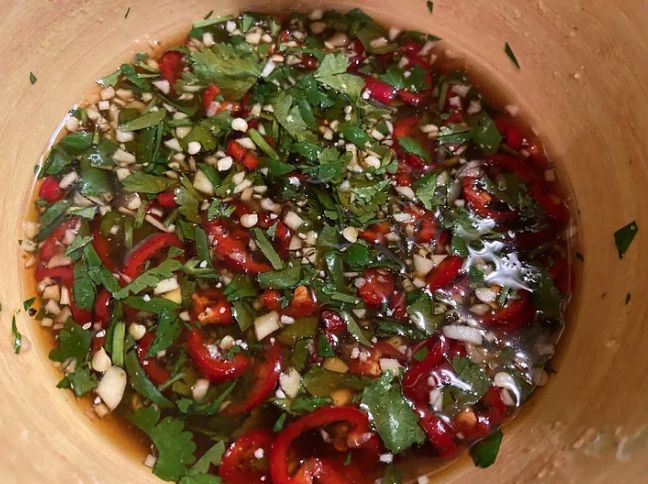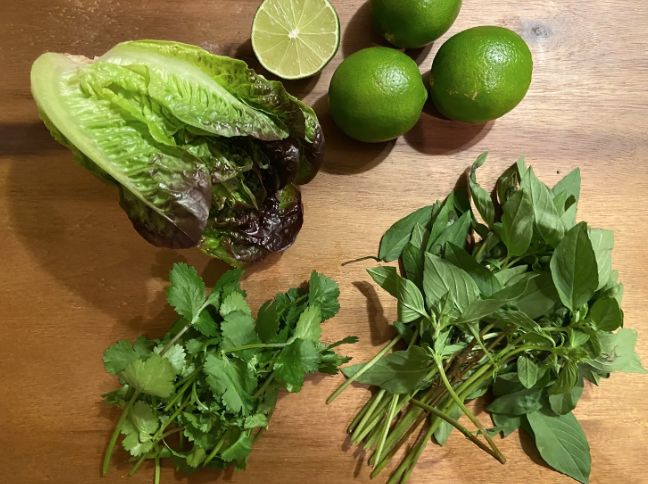 7. When the chicken has just about finished roasting we can prepare a few optional herbs, leaves and limes to make the Gai Yang slightly fresher. Simply wash and pick 1/4 bunch of coriander and 1/4 bunch of Thai basil. Wash then pick the leaves of some baby gem lettuce, then finally slice some limes into half then add to a hot dry griddle pan and char. Place all of the herbs to one side then we can move onto finishing the chicken.
8. After a 3 hour low and slow roast the chicken should be cooked, the best way to check if the chicken is cooked is to use a probe and we are looking for the chickens internal temperature to be 67°c. When cooked remove from the oven and cover tightly with tinfoil then allow to rest for 15-20 minutes. Now place the chicken onto a chopping board and using a heavy cleaver cut the chicken into bite sized pieces. I like to keep the wings together, chop the breast into 3 and the leg and thigh into 3. When chopped the chicken is ready to serve.
9. To serve, place the chicken onto a serving plate then add a generous amount of herbs, leaves and some charred limes. Drizzle with some dipping sauce and Gai Yang is best eaten with your hands! If you really want to get after it with this dish then some steamed sticky rice works perfectly with Gai Yang! Hope you like this simple and delicious Thai classic street food dish!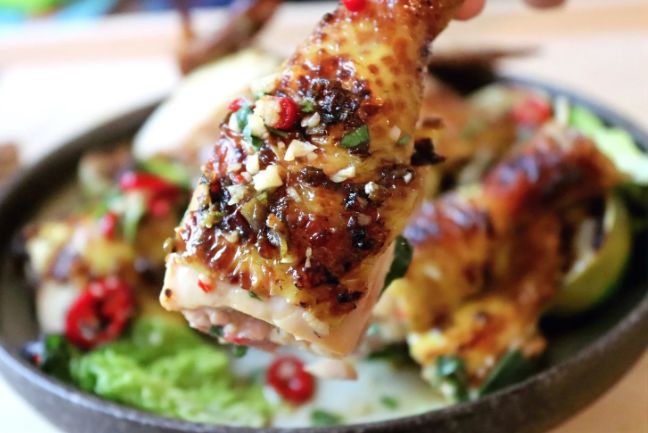 As said earlier in this recipe Gai Yang is best grilled over a bbq and if you can grill the chicken this way that would be perfect. The benefits of roasting in an oven however, are that you can control the temperature of the cook much easier. Standard practice suggests roasting a chicken at 180-200°c but to be honest that is far too hot and will create a far less moist chicken. One may even suggest that 140°c is also too hot, however, lower than this then your looking at a 4 hour roast which may not be practical. Having an oven thermometer and temperature probe really makes it much easier to cook chicken and worth a purchase if you do not have already. Im sure with this in mind you will end up with a super succulent chicken! Have fun with the recipe and as always peace!
Cook Time 3 hours / Prep Time 30 minutes / Marinade overnight if possible
1 whole free range chicken
1 1/2 tbsp kacip manis or dark soy
1 tbsp tamarind pulp or 3 tbsp tamarind concentrate
1 tbsp toasted short grain rice
1/4 bunch Thai basil (optional)