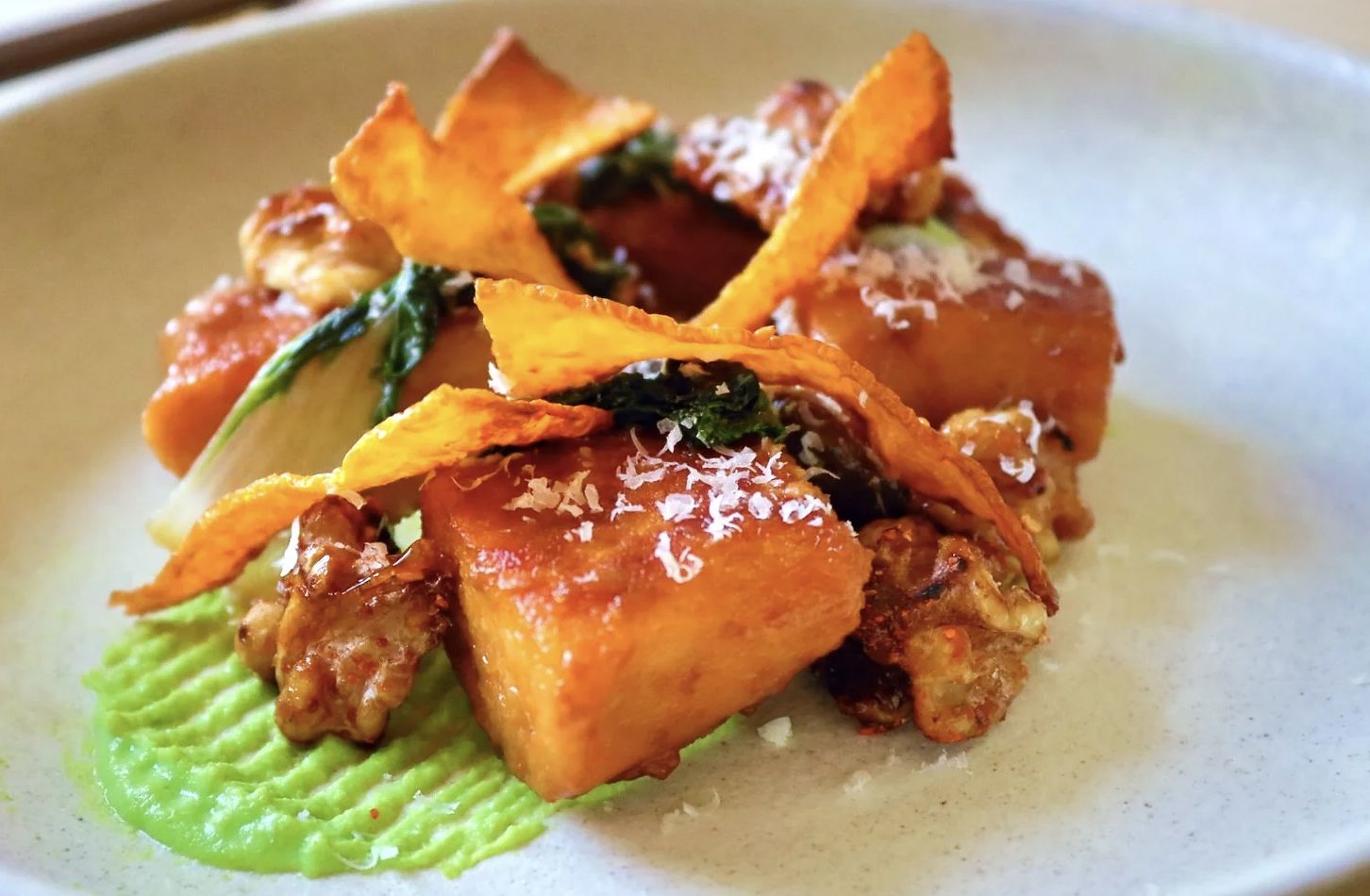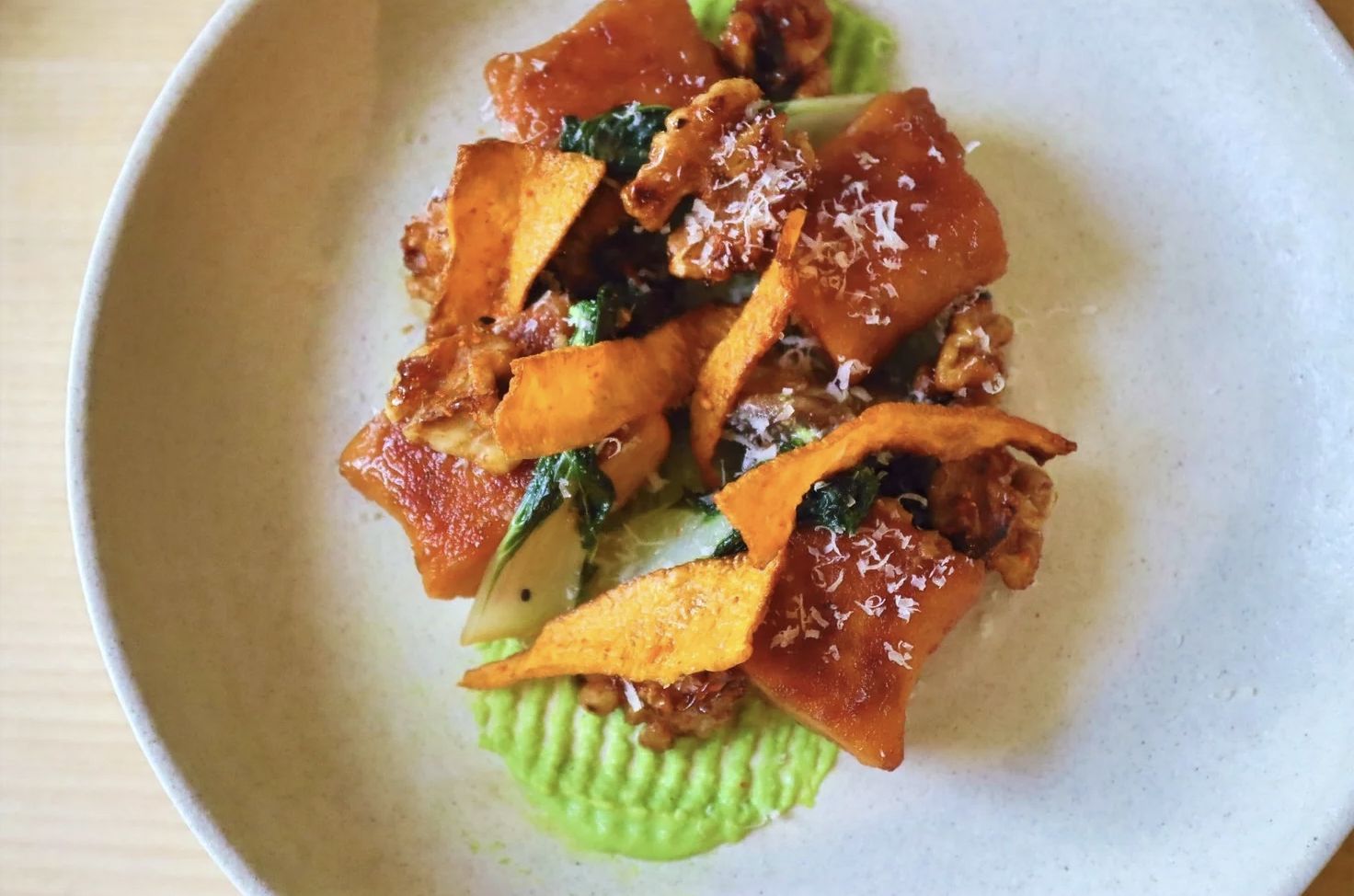 Japanese and Italian food are a perfect match, Japanese/Italian food is actually a thing in Japan works so well due to its rich umami flavours coming from soy, miso, various cheeses. For this recipe I wanted to make a simple squash and sweet potato gnocchi made up of red miso, soy and butter. As for the remaining components for this dish I made up a simple edamame puree, some soy candied walnuts, bok choi and shiitakes. Overall the dish had tons of umami and was incredibly light, tasty and a must try if your vegetarian. With all that said let's get straight to it!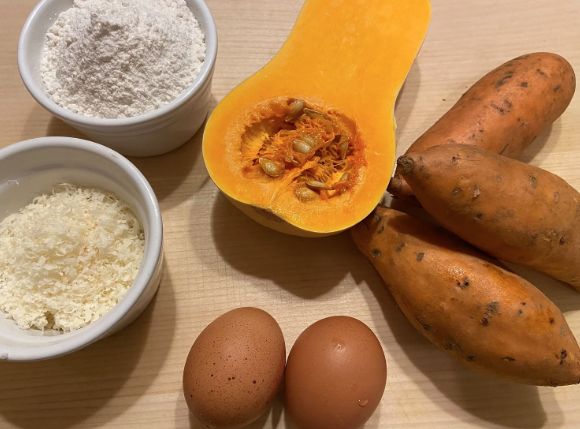 1. Let's begin making the Gnocchi dough, start by slicing 1 butternut squash into half and remove the seeds (Save the other half for later). Next score the flesh side then place skin side up on a baking tray. Next prick 5 sweet potatoes all over with a fork then place along side the butternut squash whole with the skin on. Roast in a hot oven set at 180°c for 45-60 minutes or until the vegetables are completely softened. When cooked allow to briefly cool then peel off the skins. When peeled, mash the vegetables using a fork or ricer then we are looking for approximately 400g of the minced veg. Next place 400g onto a work top dusted with flour and we are set to make the dough. One of the most important things when making gnocchi is if using any type of mash ensure it is not too wet. If the mash is wet at this stage you can add to a dry pan and cook out on a high heat to dry.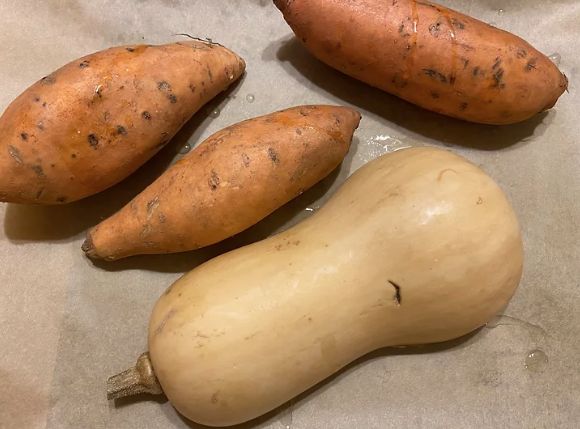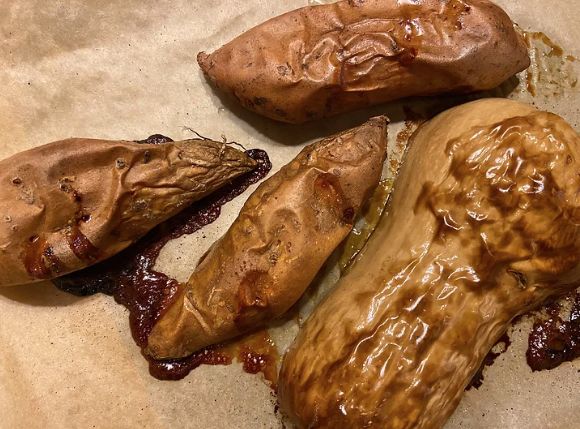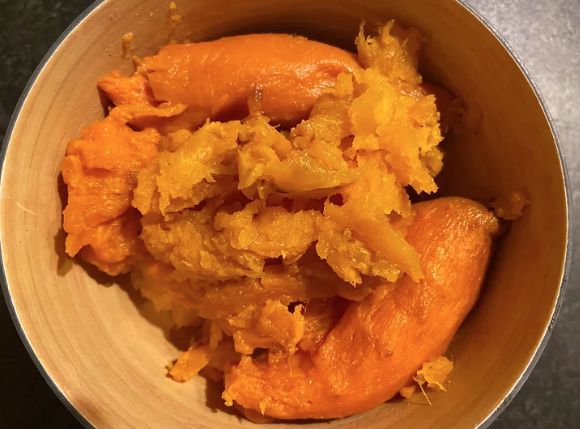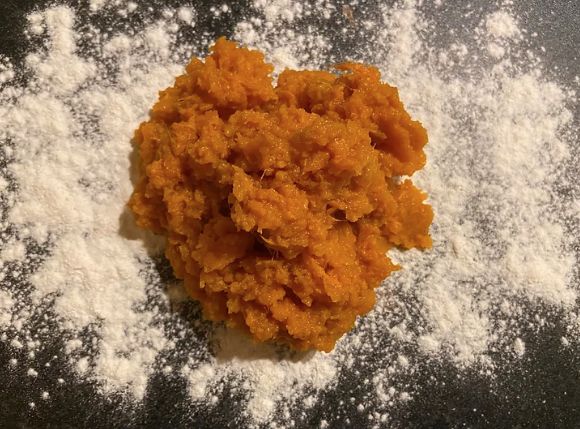 2. Next on top of the minced squash and sweet potato add 250g of sifted plain flour, 25g of grated Parmesan, 1 tsp of red miso, and season with salt and black pepper. Now make a well into the centre of the dough and add 2 egg yolks. Dust your hands generously with flour then begin to fold and knead the dough for 5-10 minutes until 1 smooth cohesive ball of dough is formed. It's quite difficult to give an exact measurement of flour as the moisture can vary, however, if the dough is too wet then add additional flour. You are looking for a dough that is neither too wet yet also not too dry.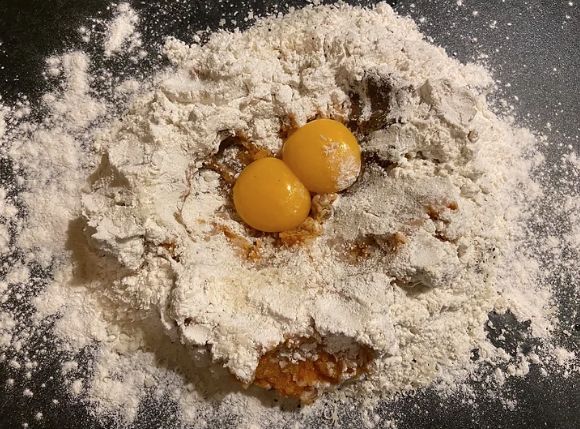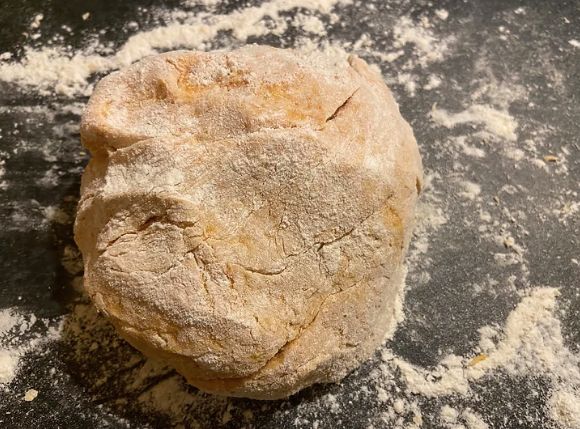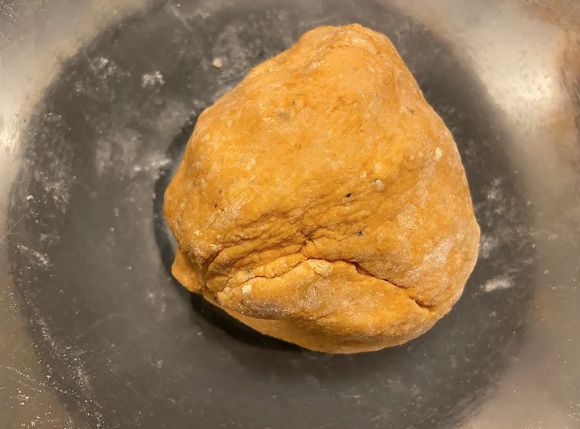 3. Now that the dough is ready we can begin to roll, start by cutting the dough into 2 or 4 equal pieces then dust the worktop again with flour. Place one piece of dough onto the work top then roll out the dough with your hands to make 1 long log of dough that is approximately 1 inch in diameter. Next cut and divide the log of dough into bite sized pieces. I like to make fairly large rectangular pillows of gnocchi, however, you can cut the gnocchi however you prefer at this point. Repeat this process for each piece of dough then when cut they are ready to blanch in boiling water.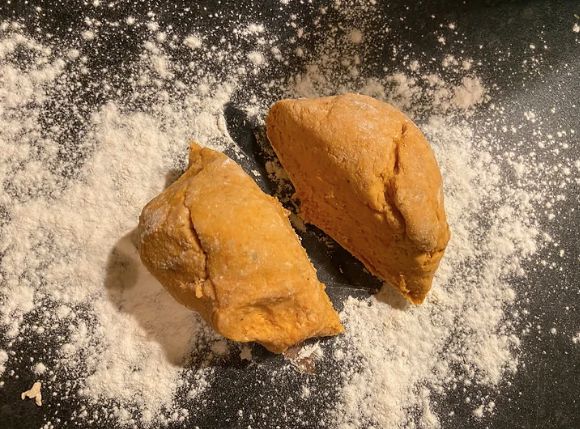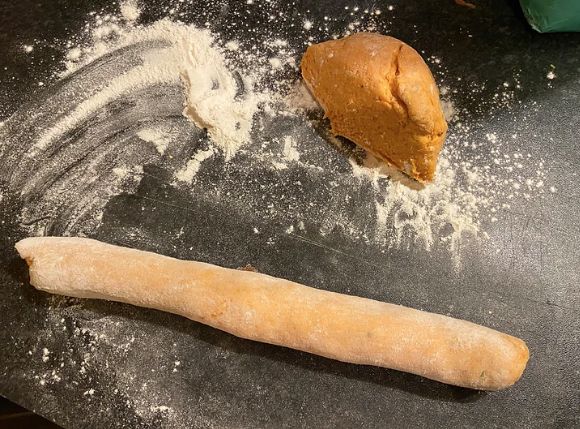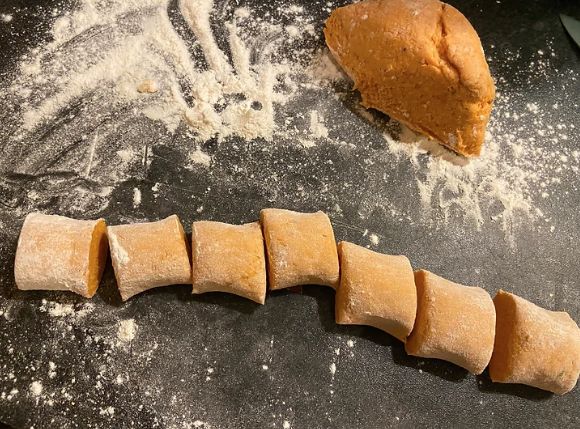 4. To cook/blanch the gnocchi, place a medium sized saucepan filled with water onto a high heat and bring up to a boil. When boiling add a drizzle of olive oil, a pinch of salt then add the gnocchi in batches. Depending on size add and boil the gnocchi for around 5-10 minutes or until the gnocchi begin to rise to the surface of the water. When ready carefully remove from the hot water then place the blanched gnocchi into a bowl filled with ice water to stop the cooking process. When completely chilled place onto a tray and we will come back to cook these towards the end.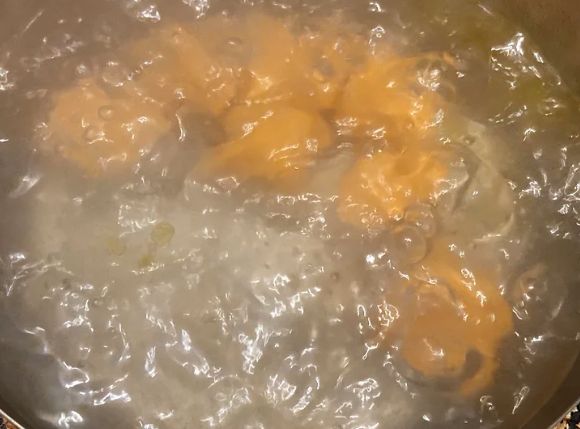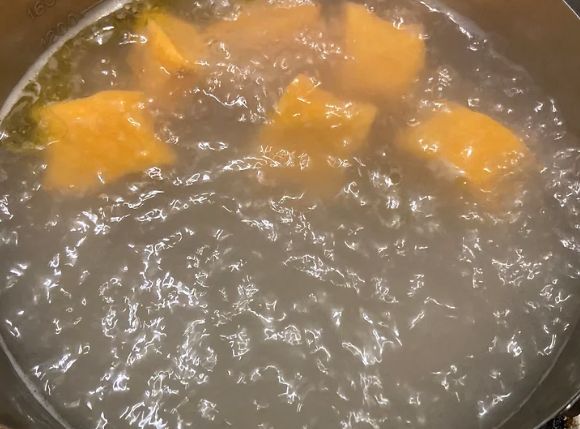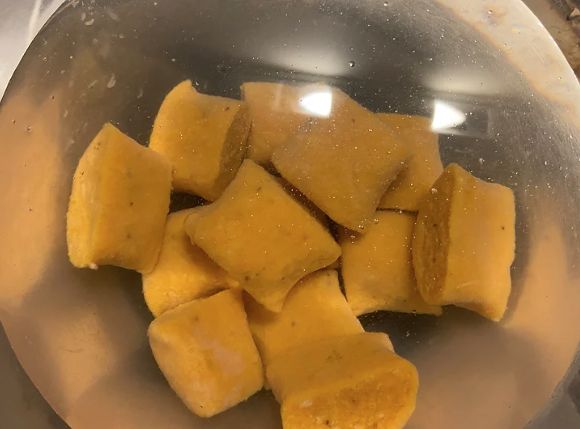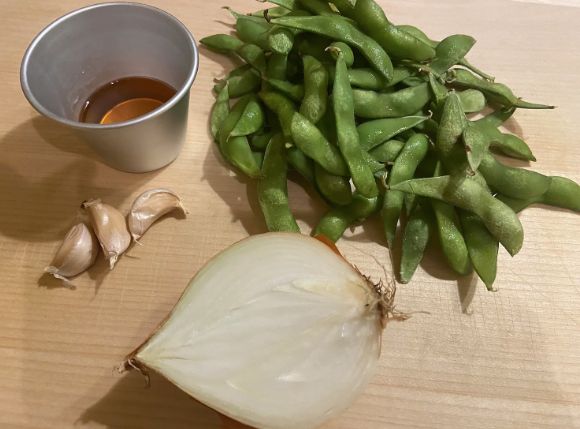 5. Moving on swiftly onto the other components of the dish, starting with the edamame puree, start by removing the beans from 250g of edamame beans. When ready place a saucepan filled with water onto a high heat and bring up to the boil. When boiling add the edamame beans along with 1/2 a roughly chopped white onion and 2 peeled garlic cloves. Boil for 2 minutes or until the edamame slightly softens. Next drain from the water and run under cold running water to completely chill.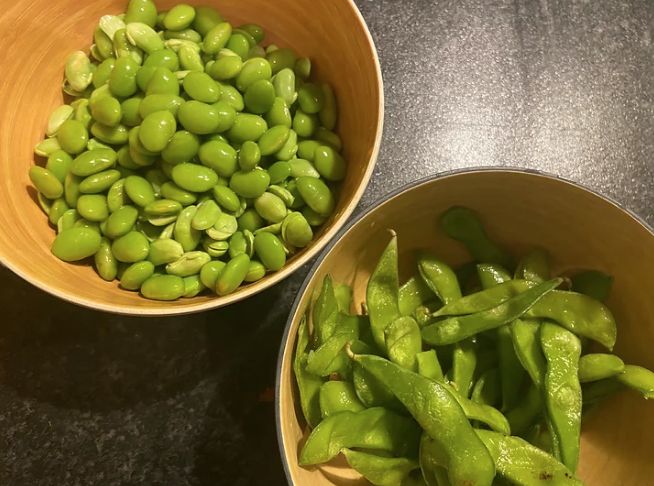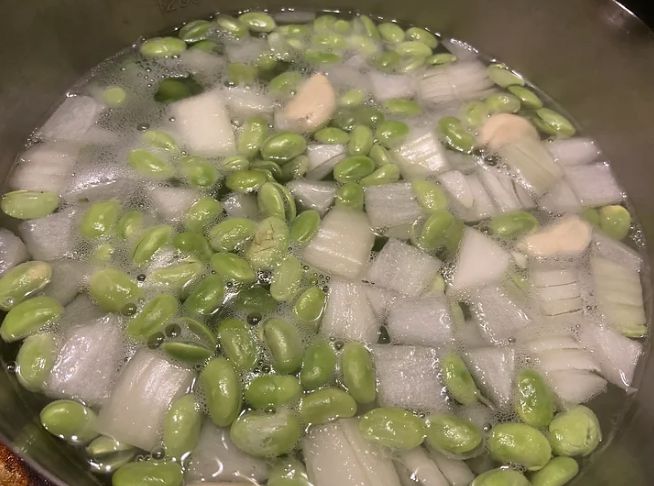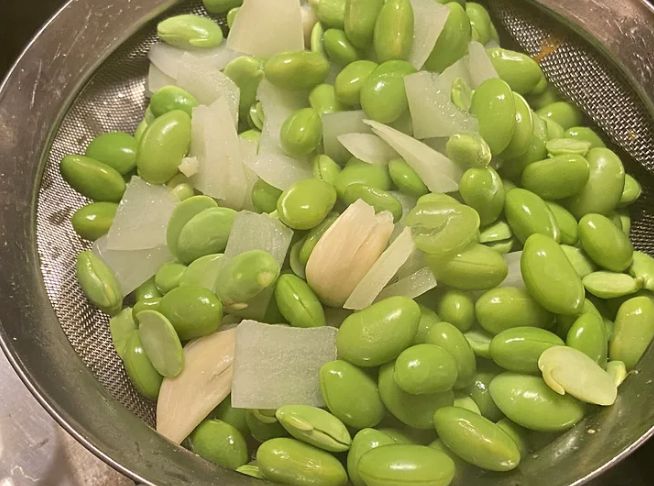 6. Now chilled add to a food processor followed by 50 mls of sesame oil, a drop of water and season with salt and white pepper. Pulse the edamame until as smooth as possible, if the puree is too thick then add additional water or sesame oil if needed. To finish pass the puree through a fine sieve into a container. Store the puree to one side for now as this can easily be heated using a microwave or in a pan.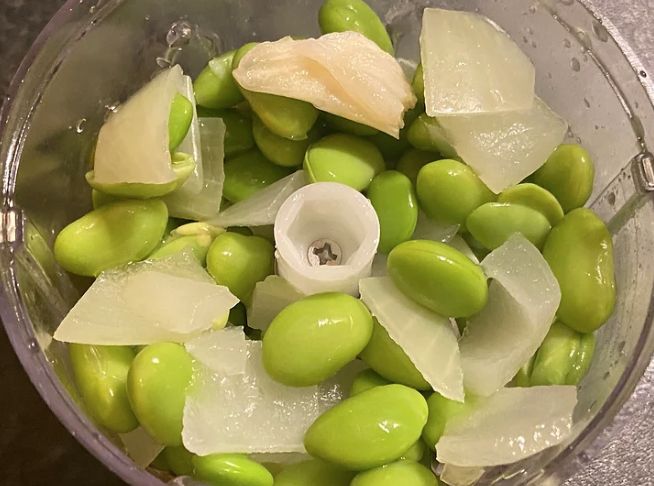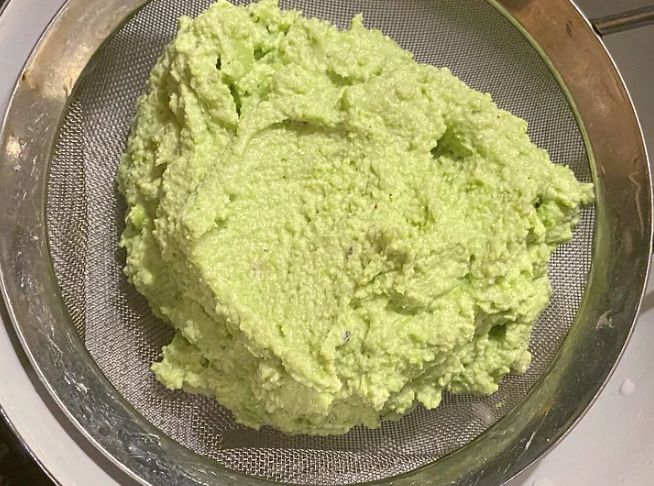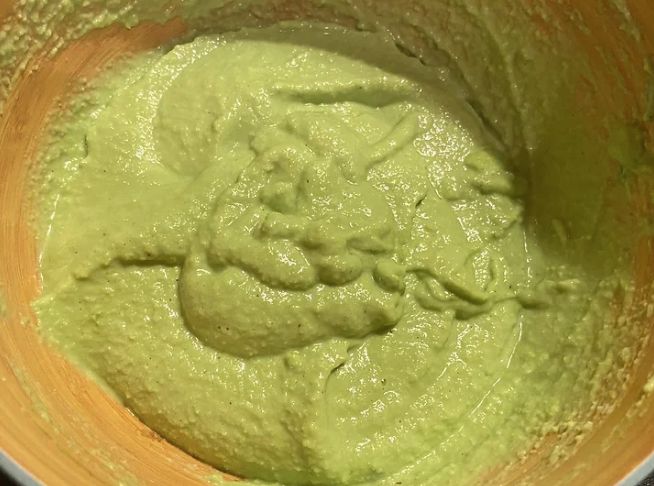 Soy Candied Walnuts and Squash Crisps: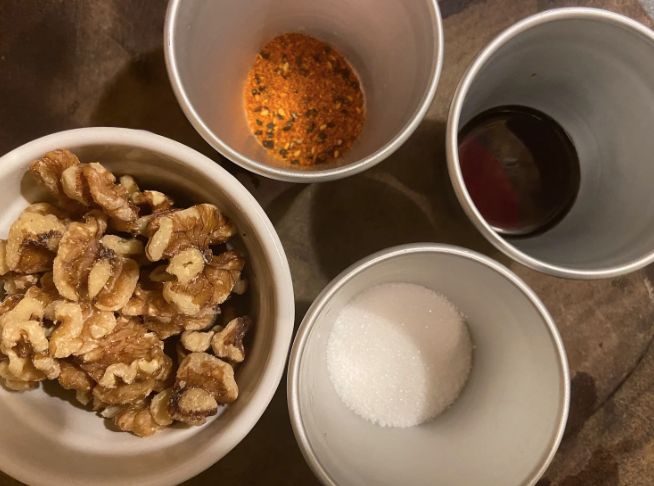 7. To add a little texture and another dynamic to this dish these are some super simple candied walnuts. Whats great about these is that you can make a bunch and store for a later snack. Start by adding 100g of walnuts to a dry pan and roast until nice and toasted. When ready set to one side then again in a dry pan add 50g of white sugar and place onto a high heat. Cook the sugar without stirring too much until a golden caramel is formed then when ready add the toasted walnuts and coat. Add a touch of light soy and season with some slightly spicy togarashi Japanese pepper. Allow to cool and store to one side then when cool separate the walnuts into more manageable pieces.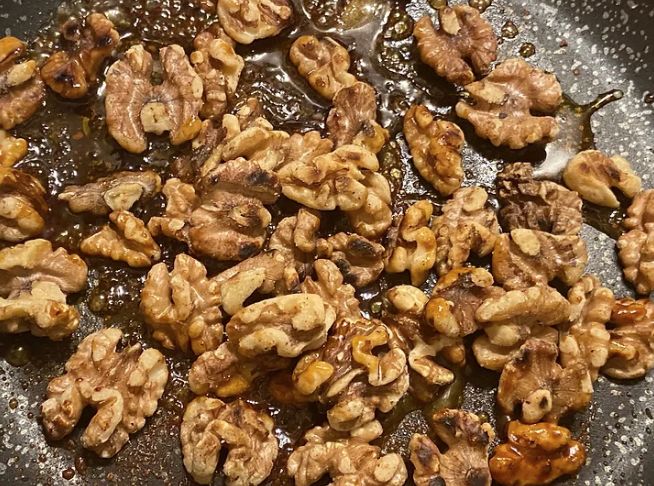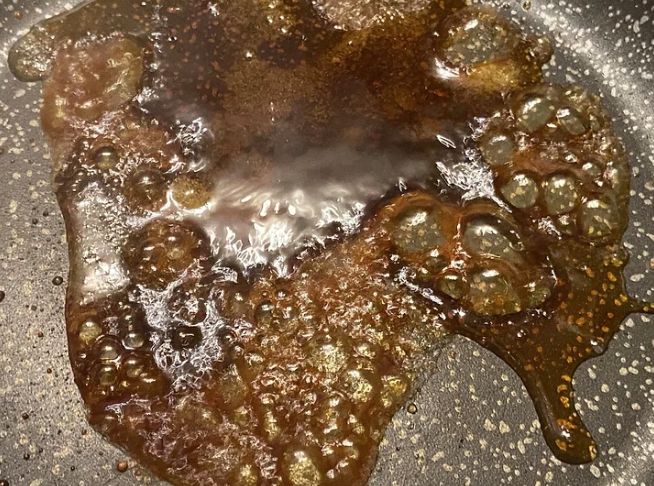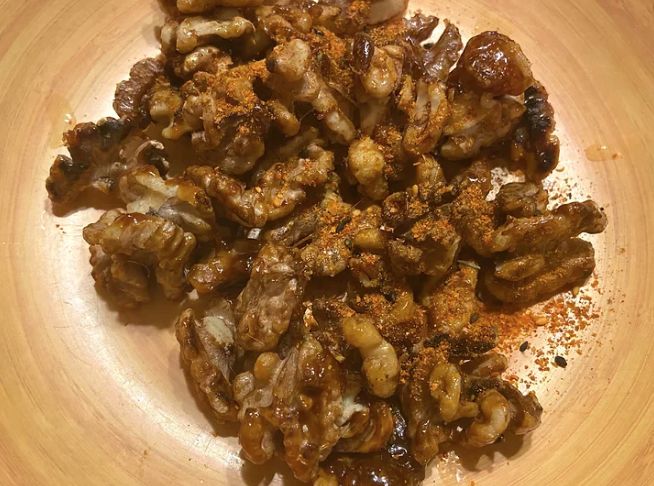 8. The last element before we begin to cook the gnocchi is some simple butternut crisps utilising the remainding half of squash saved from making the gnocchi. Peel then slice 1/2 of the butternut squash into thin strips either using a peeler or mandolin. When ready place a generous amount of oil into a small saucepan and place onto a high heat. When the oil temperature reaches approximately 170°c add all of the butternut slices and fry until golden brown. When ready carefully remove and drain onto kitchen paper. Season the crisps with some togarashi and they are ready.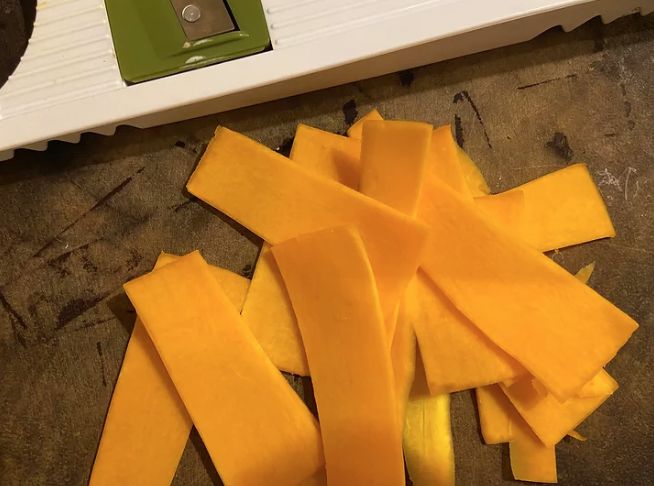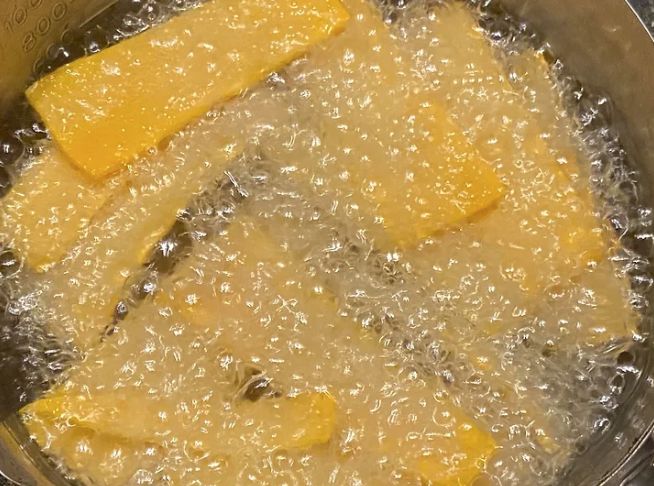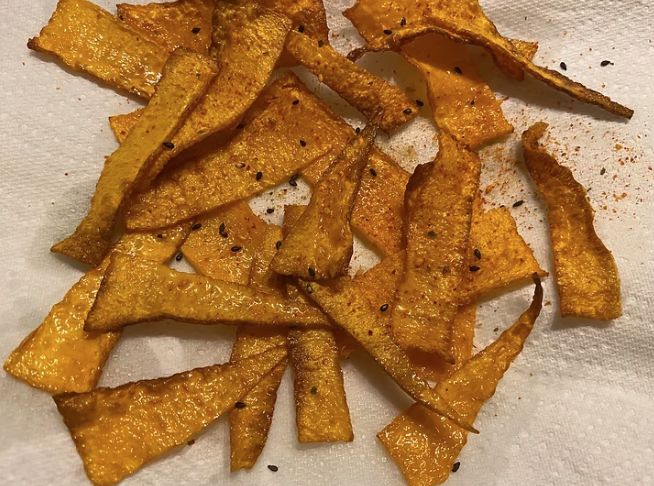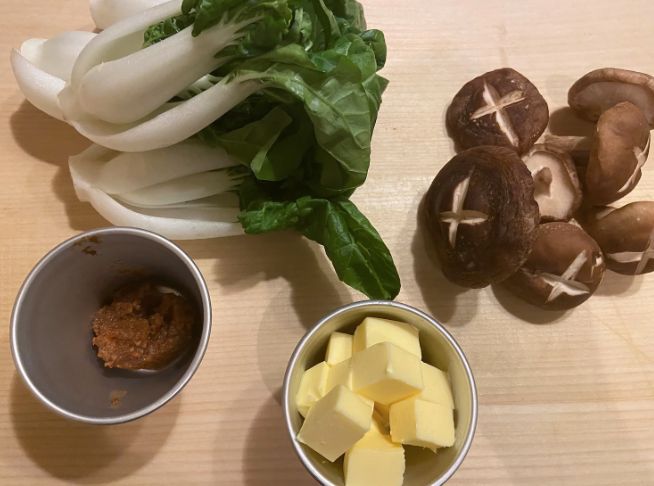 9. Now all of the additional components are ready we can move onto actually cooking the gnocchi and finish the dish. Start by preparing a few stems of bok choi by washing then cutting into bite sized pieces. For the shiitakes I simply removed some of the stem and sliced a small cross score on the top. Dice 30g of butter into small cubes then we are set. To cook the gnocchi, place a large pan onto a high heat then when hot add a drizzle of oil and add the gnocchi. Fry the gnocchi on both sides until nice and golden brown. When golden, add the shiitake mushrooms and continue to pan fry until they also become nice and golden.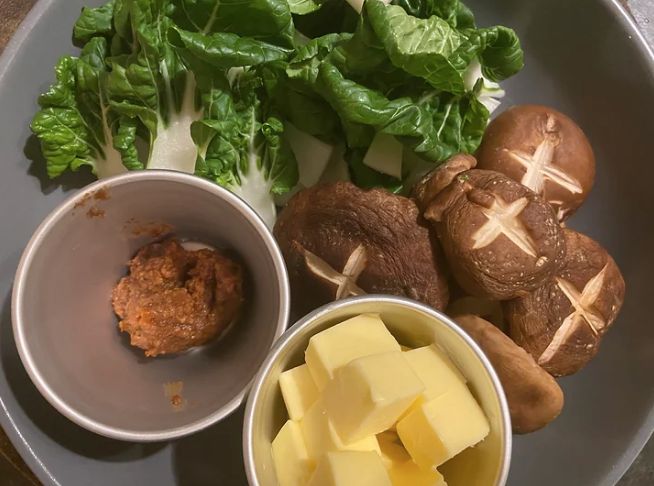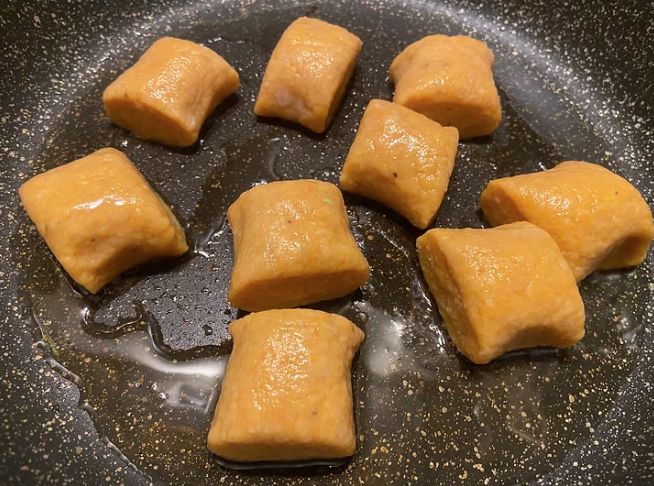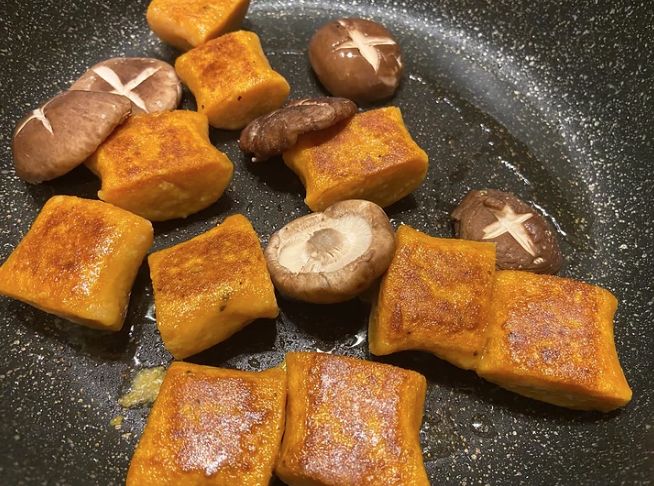 10. To finish the gnocchi now add 30g of diced butter, 1 tsp of red miso and the bok choi pieces. cook well to allow the ingredients to blend together then add a drop of water to allow the butter and miso to emulsify together. Reduce until the sauce can coat the gnocchi then when ready remove from the heat and we are now ready to plate up!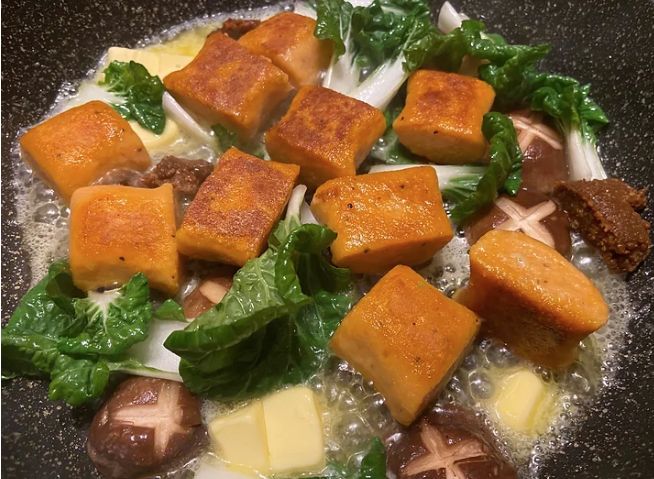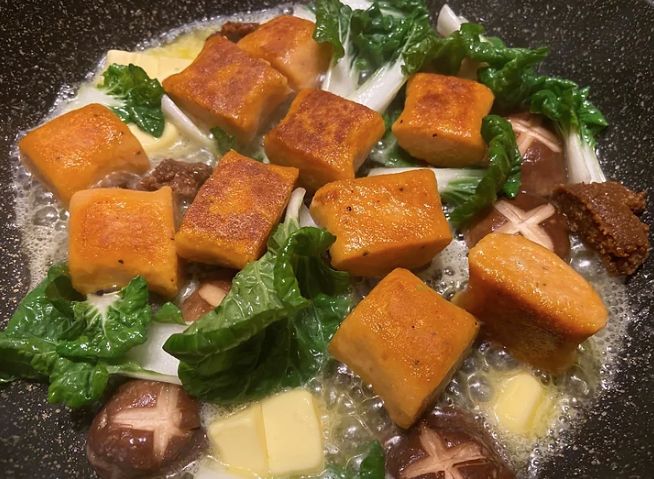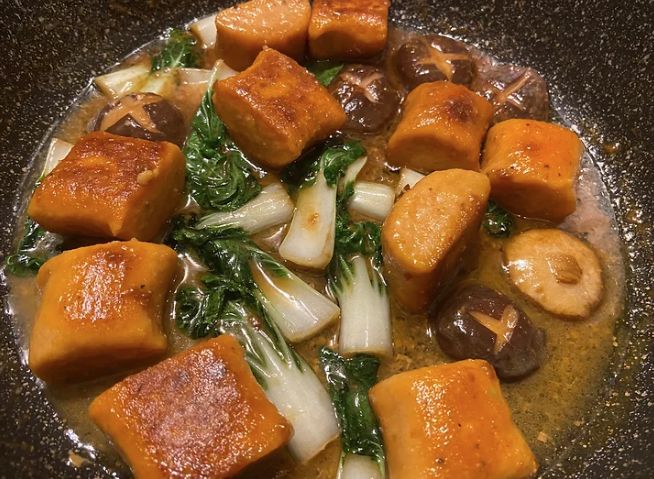 11. To plate up begin by briefly re heating the edamame puree then when hot add a generous amount to the centre of the plate. Next add some gnocchi, bok choi, and few shiitakes over the puree and drizzle over lightly with some of the miso sauce. Finish with some candied walnut pieces, some grated parmesan and finally top with some butternut squash crisps and nourish…Have fun with this recipe and I'm sure you will love it!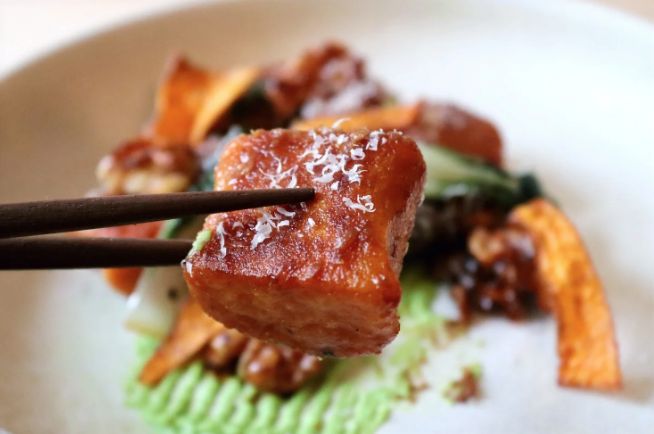 By all means, take what you want from this recipe, yes there are many elements to it but gnocchi can be adapted in so many various other ways. Instead of using butternut squash and sweet potato then ordinary potato will also do just fine or even you could try adding spinach or various herbs also. As for the other components then you can simply skip those and make gnocchi with emulsified butter if you like…Have fun with this one and as always peace!
Prep Time 1 hour 30 mins / Cook Time 1 hour 30 minutes
1 tbsp Japanese togarashi pepper
1/2 butternut squash (crisps)