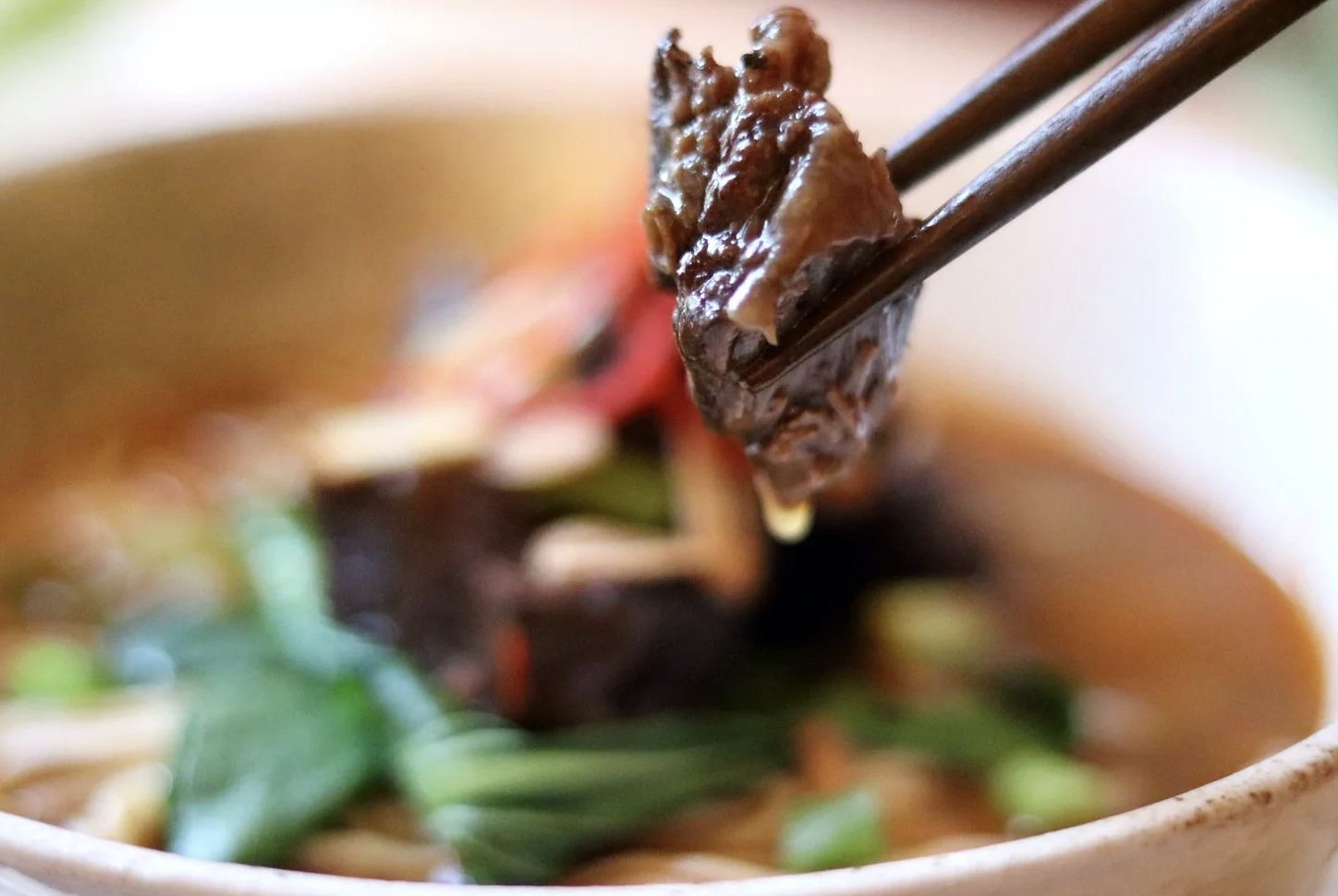 Ox cheek! When braised low and slow with the right aromatics you can transform something quite humble into something special. If ox cheeks are not your thing then simply replace them with brisket, lamb shoulder, ox tail or beef shin. I made fresh egg noodles in this recipe by using an atlas pasta machine although if you check out my shrimp lomein recipe I show you there how to knife cut if you don't have a pasta machine. For the broth, I simply went with the flow mixing Taiwanese noodle soup with a Sichuan-inspired broth. The dish came out great and definitely recommend giving it a try! Let's get to it!
Start with the egg noodles, whisk together 2 eggs (100g) and 30ml of cold water. Next in a large mixing bowl add 260g of bread flour and 1 tsp of salt. Gradually add the egg mixture to the flour slowly whilst constantly mixing with either chop sticks or a fork. Adding the egg slowly enables us to ensure that all of the flour is well hydrated. When all the egg is added begin to kneed the dough by hand until it comes together. The dough will seem very dry although resist adding more water as I promise with some kneading the dough will come together. When a smooth ish dough is formed clingfilm and allow to rest for 30 minutes.
2. After 30 minutes of resting the dough should be much smoother as the gluten has had time to relax. Kneed the dough again for 5 minutes then use a small rolling pin to flatten out the dough into a flat rectangular shape. Cover the dough in clingfilm one last time and rest again for another 30 minutes.
3. Now we are ready to work with the dough, lightly dust a work top with flour and take out the dough. Roll out the dough again until its slightly thinner and larger (this may take some effort). Cut the dough into 3 equal sized strips and try and flatten out each strip enough so that it will go through the largest setting on your pasta machine i.e number 0 on the atlas. Feed 1 strip of dough then after the first feed fold the dough in half lengthways and feed through the largest setting again. This process is called laminating the dough and I usually do this twice before working my way through the settings.
4. When the dough has been laminated run one last time through the widest setting then begin to feed the dough through the machine working your way through the settings. I went up to number 6 on the atlas which makes a 1.2mm thick noodle. Now we are ready to cut, dust the dough with flour on both sides then run the dough through the cutting setting. Repeat this process with each strip of dough then when all the noodles are cut place onto a tray, clingfilm and refrigerate the noodles for now.
5. Now let's move onto the ox cheek, these are best when cooked low and slow in a braise. We will use the braise as our soup broth also. Cut the ox cheek into bite sized cubes, then season well with salt and black pepper. When seasoned add the ox cheek to a hot pan with a drizzle of oil. Sear the ox cheek on all sides until golden brown. When seared remove from the pan and place the ox cheek to one side.
6. To start the base of the braise add another drizzle of oil in the same pan we seared the ox cheek in, then add 1 tbsp minced garlic, 1 tbsp minced ginger, 1 tsp crushed Szechuan peppercorns and 4 roughly chopped spring onion white parts. Fry on a low heat for 2-3 minutes until the aromas start to pop then add 1 tbsp doubanjiang chilli bean paste, 1 tsp brown sugar, 1 tsp black rice vinegar, 2 tbsp light soy and 1 tbsp hoisin sauce. Next add the seared beef cheeks and mix well to cover the meat in all that amazing flavour. Finally add approximately 1200ml of water to the pan and place a lid on top. Cook the ox cheeks on a medium heat for 2-3 hours occasionally removing any scum that rises to the top of the braise. At this point of the recipe everything is pretty much done therefore leave the ox cheek to do its thing and come back to finish the dish just before the braise has finished.
7. When the braise has finished and the ox cheeks have become incredibly soft the last few things to do before serving are a few toppings and to cook the egg noodles. Firstly place a pan filled with water onto a high heat and bring to a boil. Slice some pak choi into manageable pieces and briefly blanch in the hot water for 1 minute. When ready remove and chill under cold running water. Using the same water we blanched the pak choi in add the noodles we prepared earlier and cook for 2-3 minutes (size depending). When cooked remove from the hot water and briefly rinse under cold water. Finally chop some spring onion, fry some sliced garlic until crispy and julienne some fresh red chilli.
8. Now we are good to serve, adjust the seasoning of the broth by adding additional light soy or brown sugar if needed. If the flavour is too intense then add a little water. Serve by dividing the broth into serving bowls then place the noodles into the broth to warm. Top with some blanched pak choi and some of the braised ox cheek. Finally add fried garlic, chopped spring onions and a few slices of chilli. Have fun with this recipe and I am sure you will like it!
If you really wish to just simply buy the egg noodles for this recipe however do so with a slight touch of guilt as they are incredibly easy to make and taste so much better! If ox cheeks are not your thing then you could alternatively use brisket, lamb shoulder or beef shin. This dish is slightly spicy therefore if you want to tone it down a bit then add just a touch of the doubanjiang chilli paste. If you cant find doubanjiang then you can use a chilli paste instead. Have fun with this recipe!
100g whole egg (approx 2 medium eggs)
4 spring onion (white part)
1 tsp szechuan peppercorns
1 tsp black rice vinegar (or balsamic vinegar)
1 tbsp doubanjiang (or chilli paste)
4 Spring onion (green part)