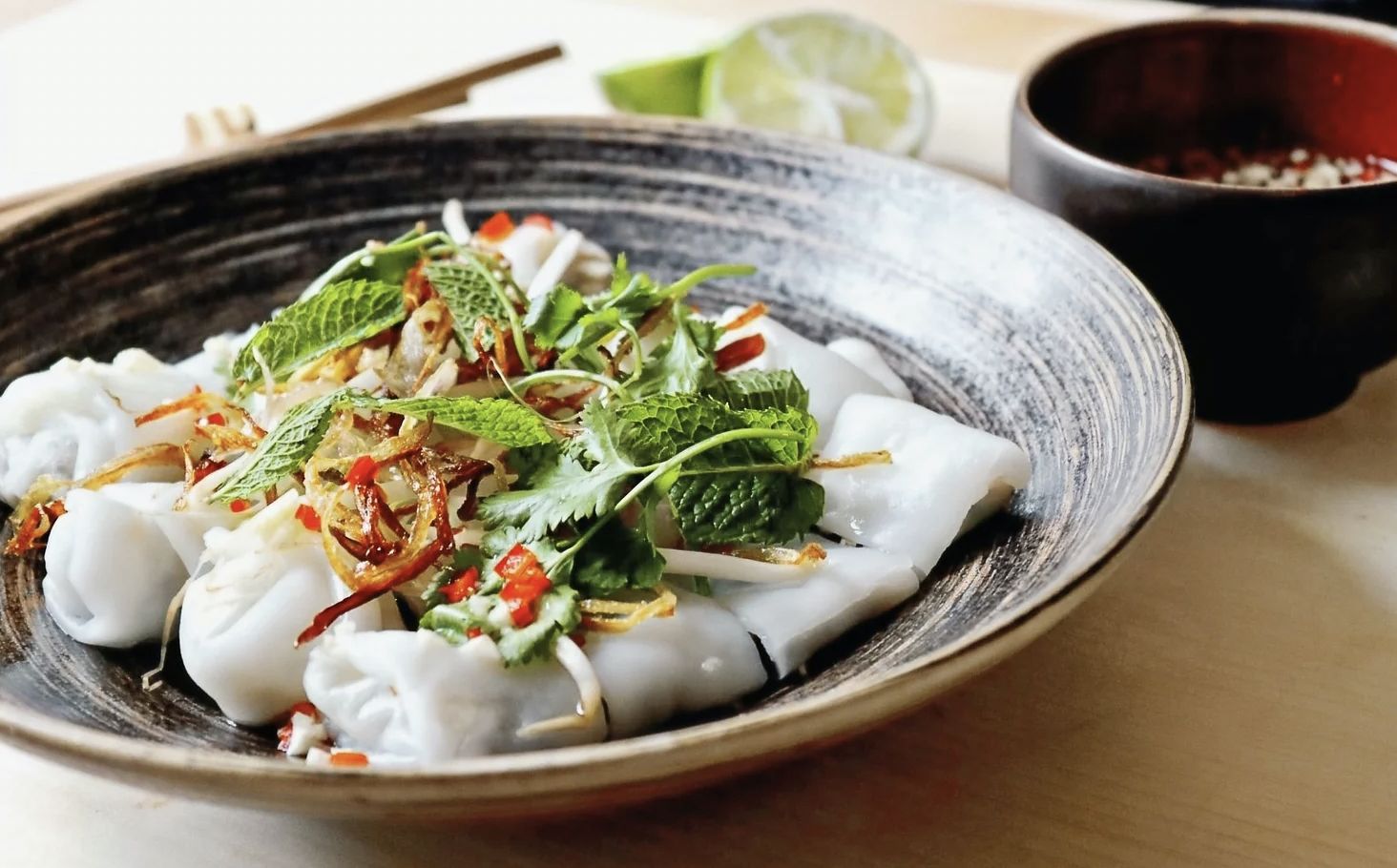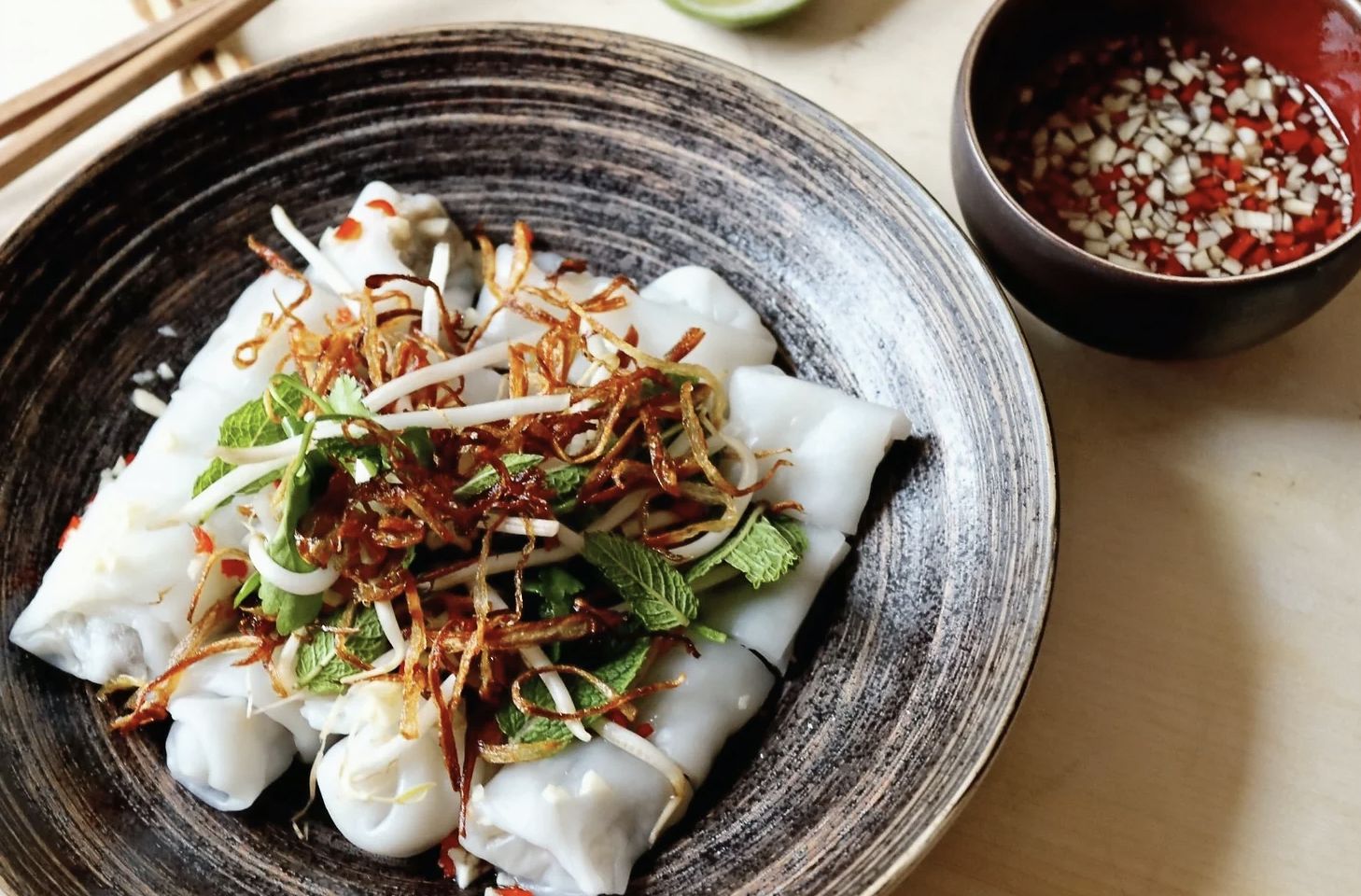 The first time I tried Banh Cuon was on an early morning in the Nam Dinh province. Down a dusty hazy alleyway I sat down on the world's smallest chair and table and a plate of this was literally thrown in front of me. At first, I thought nothing of it as it was breakfast and I just went with the morning flow, however, when I took a bite what slapped me in the face was an array of textures, flavour and a wake-up call. These spring rolls are truly delicious and are a must-try! As for the filling I opted to create a vegan version as the texture alone is enough in itself without adding too much. With all that said let's make Banh Cuon!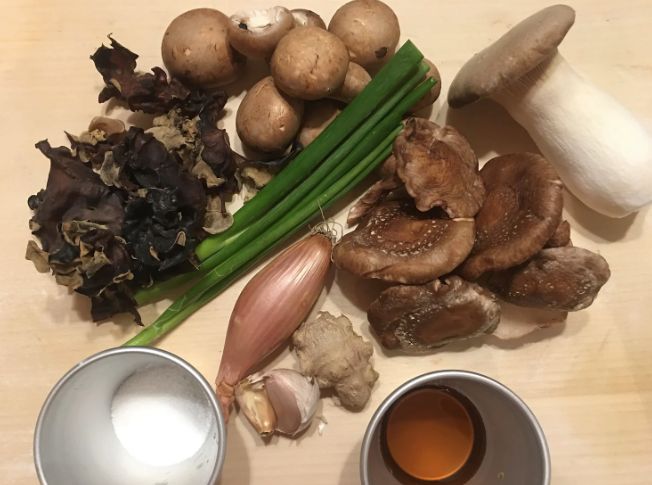 1. Let's start off this recipe by making the filling for the steamed rolls. Traditionally the filling is made with ground pork, however, this being a vegan recipe we shall substitute the pork with various mushrooms. Start by hydrating a hand full of wood ear mushrooms by soaking them in a bowl of warm water for 10-15 minutes. Whilst the wood ear mushrooms are hydrating we now want to finely dice 1 oyster, 6-8 shiitakes and approx 10 chestnut mushrooms. Place the diced mushrooms into a bowl and place to one side. When the wood ear mushrooms become hydrated we want to finely dice these also and place separately to one side. In another separate bowl finely mince 1 shallot, 2 garlic cloves and 10g of ginger. Lastly finely slice 2 spring onion then when all of the filling ingredients are prepped we can begin to bring everything together.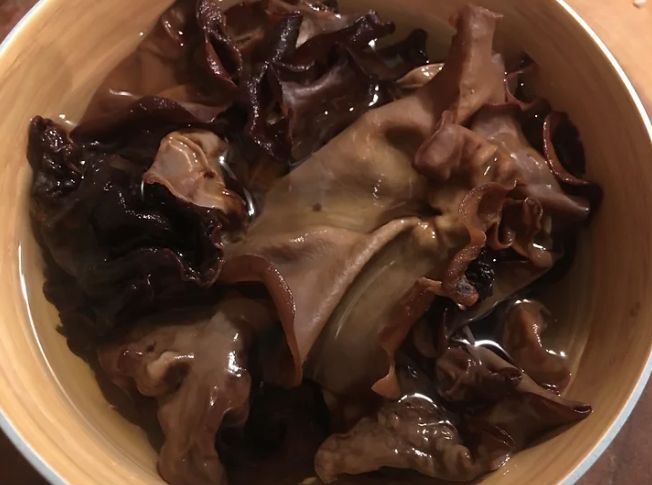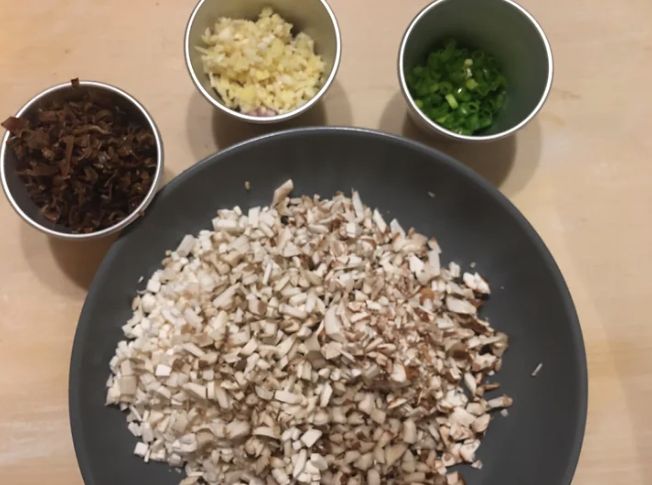 2. To cook the filling start by placing a large wok or pan onto a high heat with a drizzle of cooking oil. First add the minced shallot, ginger and garlic and fry briefly until fragrant. Then we want to add the diced, oyster, shitake and chestnut mushrooms and fry for 5-8 minutes or until golden brown adding additional oil if needed.
3. When the mushrooms are cooked this is the point where we want to add the wood ear mushrooms, 1 tbsp vegan fish sauce, 1 tbsp oyster sauce, 1 tsp white sugar and a touch of white pepper. Cook out the filling for a further 3-4 minutes then finish the filling with the minced spring onions and adjust the seasoning if needed. Place into a bowl to one side and allow to cool.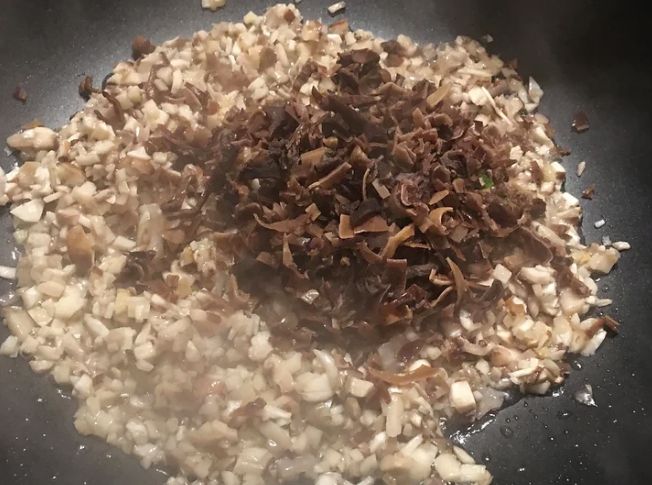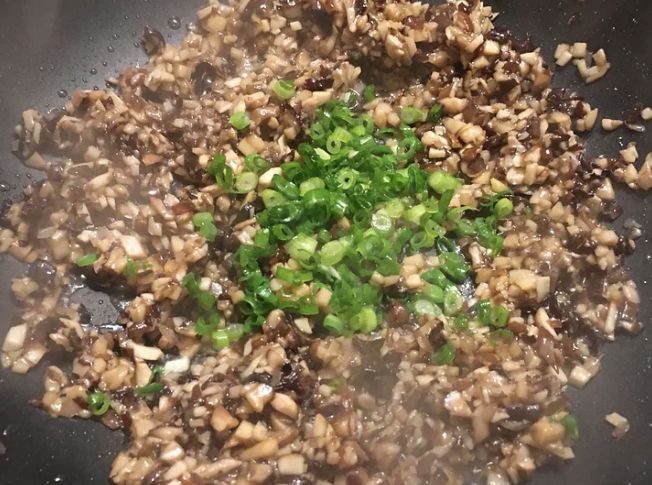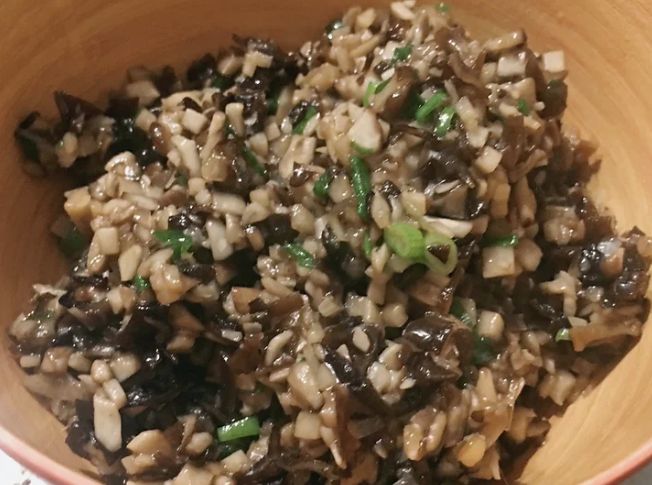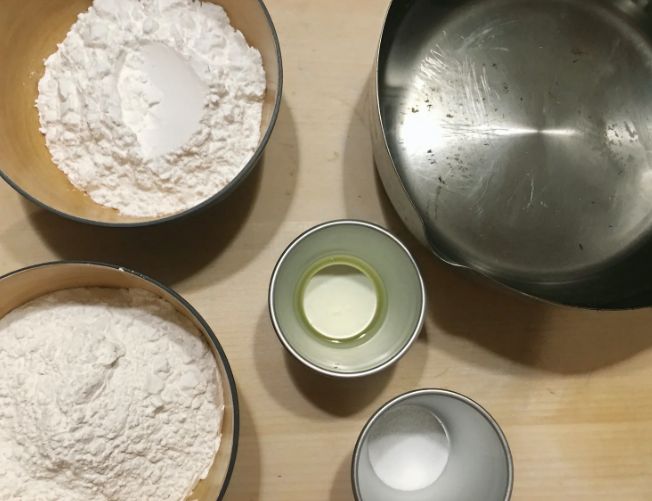 4. Now that we have our filling, let's move onto making the batter for the wrappers. In a large mixing bowl add 150g of rice flour and 110g of tapioca starch. Mix well to combine the flours then add 1000ml of warm water, 1 tbsp of oil and a pinch of salt. Whisk well until a smooth thin batter is formed. When ready allow the batter to rest for 25-30 minutes so that all of the ingredients have the chance to bind.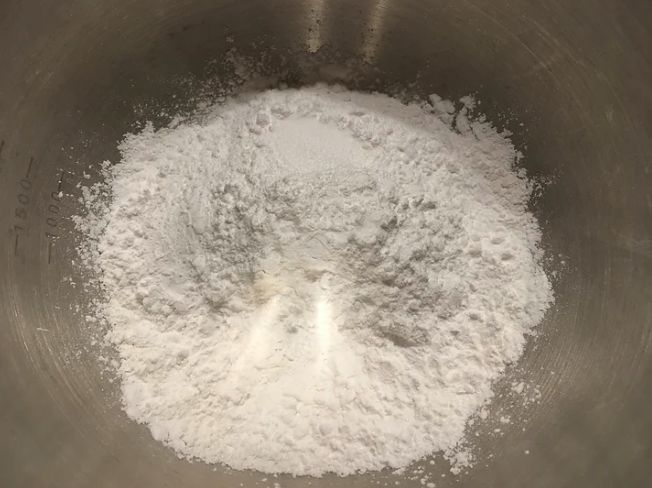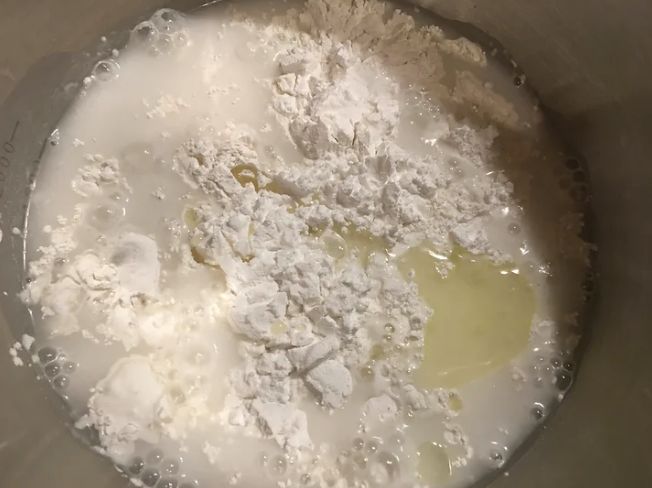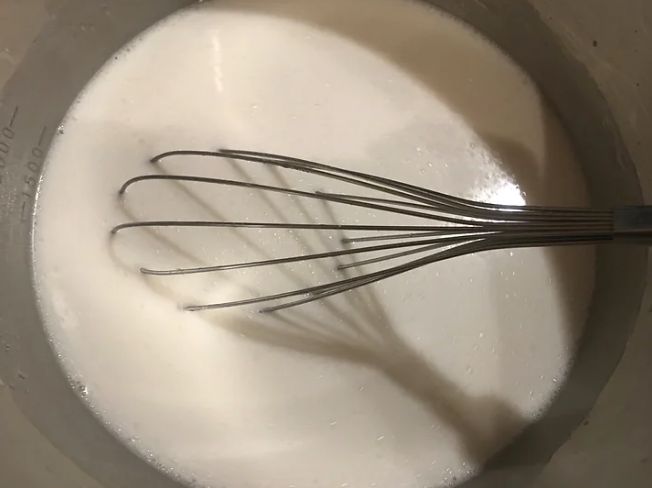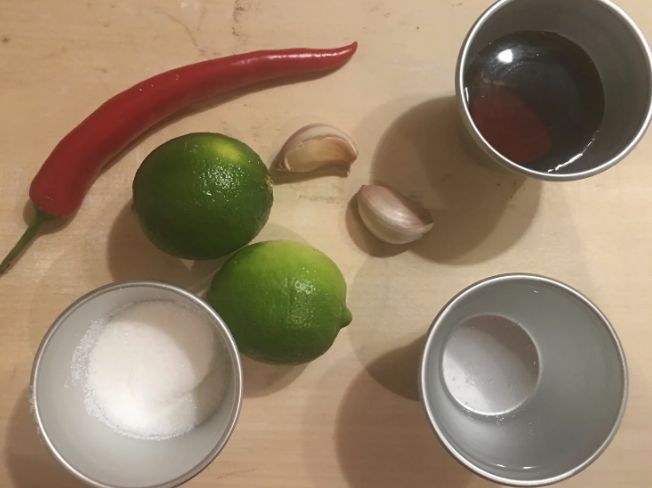 5. Whilst we wait on the batter to rest now would be a good time to prep the rest of the components for this dish. Start with making Nouc Cham, in a small bowl add 50g of sugar, the juice of 1 lime, 70ml of vegan fish sauce and 100ml of warm water. Whisk well until the sugar dissolves then mince and add 1 red chilli and 2 garlic cloves. Adjust the seasoning if needed by adding more water if too intense, lime for acidity, fish sauce for salt and sugar for sweetness. When ready place the Nouc Cham to one side.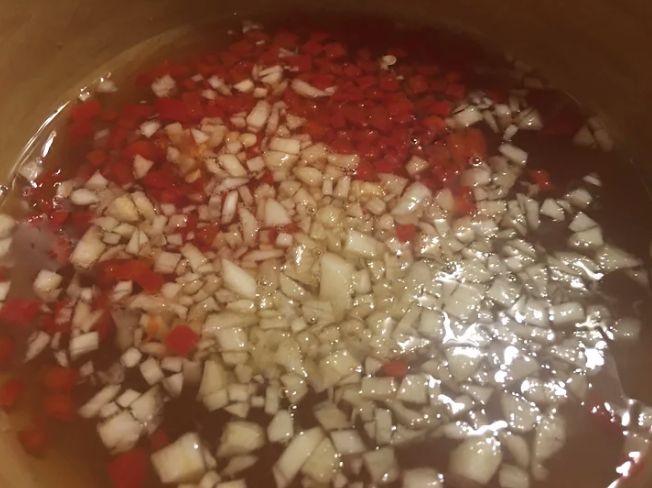 6. To make the fried shallots, start by peeling then slicing thinly lengthways and add to a small pan with enough oil to cover the shallots. Place onto a high heat and fry until golden brown. When ready carefully remove from the hot oil and drain onto kitchen paper and season with a pinch of salt and sugar. As for the other toppings wash 100g of beansprouts, and wash and roughly chop 1/2 bunch of mint and coriander. Place to one side and we can begin to make Banh Cuon.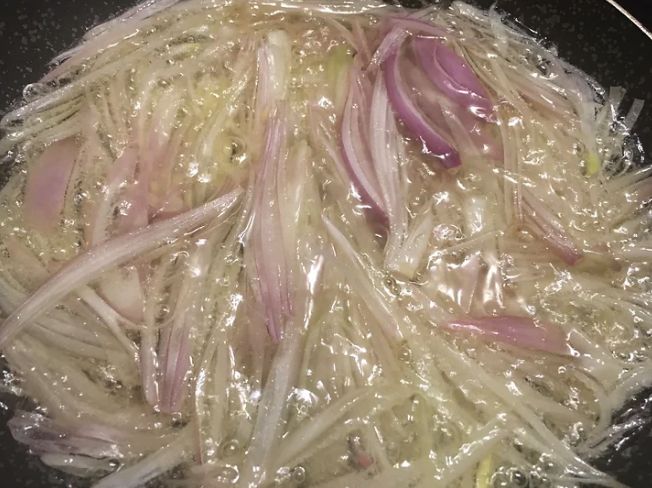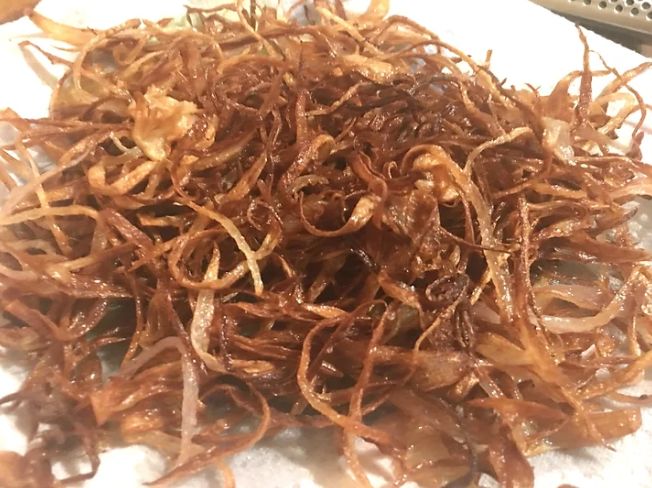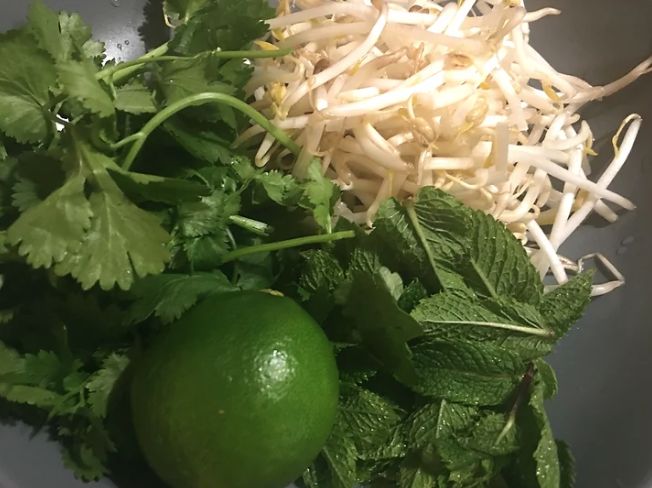 7. Now to cook the Banh Cuon, this process is quite hands on as we will cook/steam each wrapper individually whilst rolling in between cooking each one. Sounds intense but after 2 or 3 you will get into the swing of it. Begin by placing a large non stick pan onto a medium to high heat then when hot add a touch of oil. Brush the oil evenly around the pan then when hot mix the batter well until smooth again then add approx 3/4 of an average ladle worth to the pan. Immediately swirl the pan to create a thin round layer of the batter around the bottom of the pan then place a lid over the top. Steam the wrapper for 45-60 seconds until set then flip the wrapper out onto a chopping board or tray. The first wrapper is always by far the worse as the amount of oil in the pan. As for the amount of batter to add this all depends on the size of your pan, one thing to keep in mind is that the thinner the batter when cooked, the better the Banh Cuon.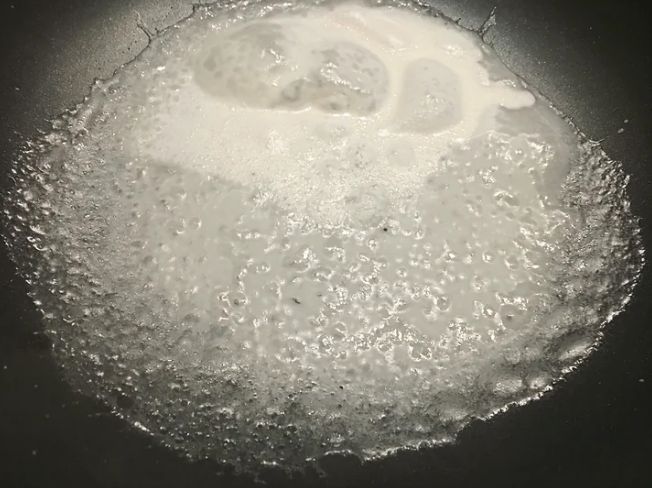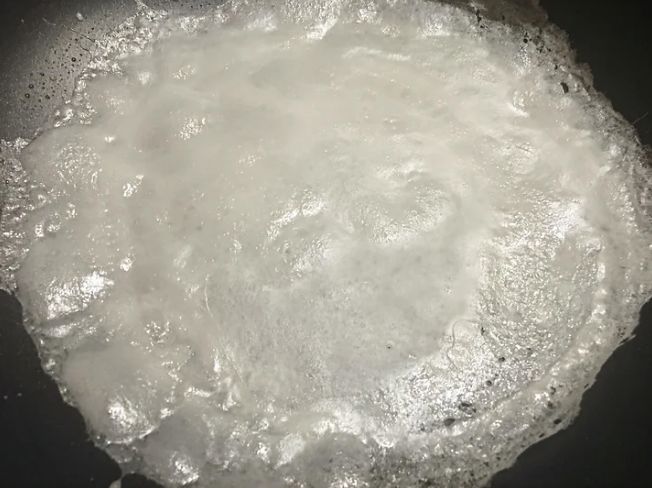 8. Now that we have our wrapper allow to cool briefly then stir the batter again (you want to do this each time). Add another 3/4 ladle of the batter to the pan and swirl and again place a lid back on to steam. This time whilst the 2nd wrapper is steaming we can roll the cooked wrapper. Flatten out the cooked wrapper then add approx 1 tbsp of the filling into the centre. Fold over the sides and bottom over the filling to make a cigar shape then continue to roll to enclose the steamed roll. Place onto a tray then repeat this whole process until all of the batter is steamed. It may seem a bit busy at first but if you will quickly get into the swing of it. You can simply steam and roll each one individually also if it makes things easier. When all of the Banh Cuon are made up we are ready to serve.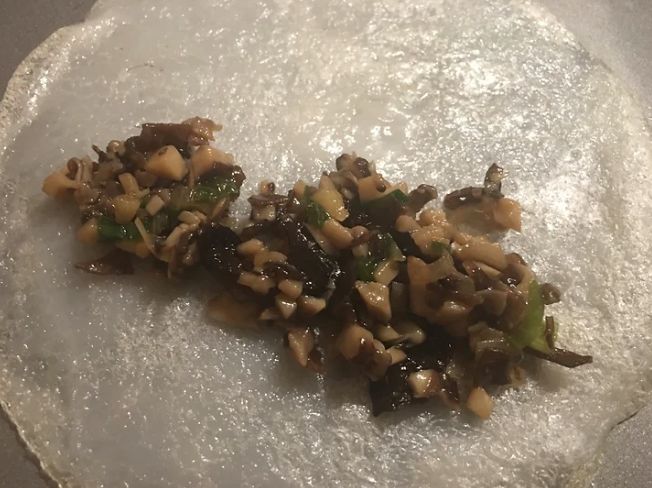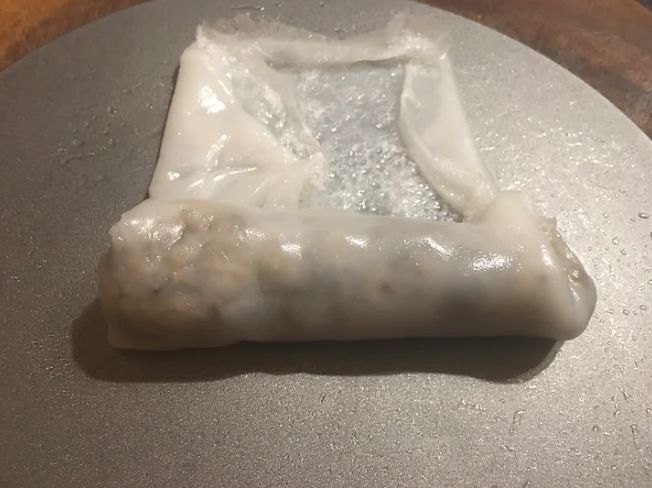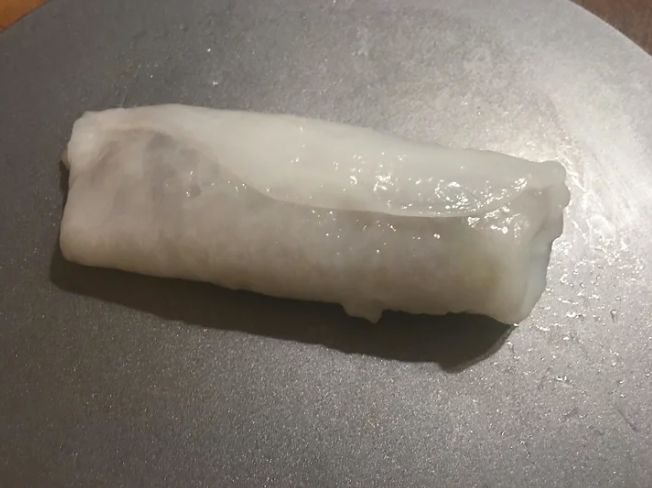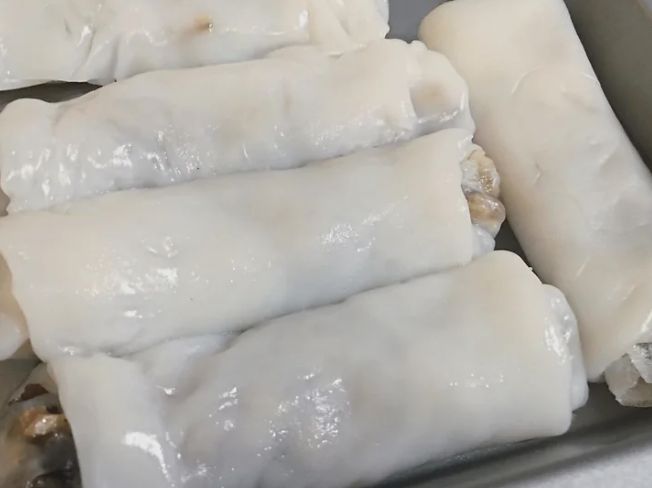 9. To serve I personally prefer to cut the Banh Cuon into bite sized pieces first then place onto a serving plate. Add some herbs and beansprouts over the top and finish with some fried shallots and some Nouc Cham on the side to dip the Banh Cuon into. Have fun making this delicious vegan version and I think this dish is best served for breakfast!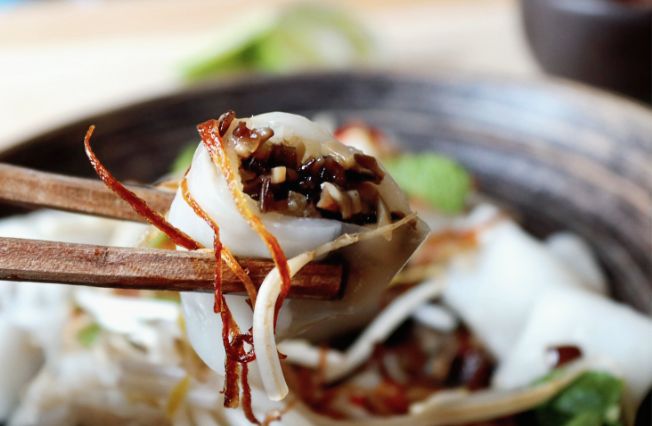 Traditionally Banh Cuon is filled with minced pork and wood ear mushrooms, feel free to add these if you like but I think the best part of Banh Cuon is its unique texture as opposed to its filling. Regarding how to make a good Banh Cuon what you are looking for is a super thin wrapper that is nice and smooth. To make steaming the wrappers easier it would be best to use a flat crepe pan. Have fun making This Vietnamese classic…peace!
Cook Time 1 hour / Prep Time 30 mins
handfull dried woodear mushrooms
1 tbsp vegan fish sauce or light soy
4-5 shallots (fried shallots)
200ml cooking oil (fried shallots)